Julia — Linen Wrap Tops and Tiered Skirts
Julia — Linen Wrap Tops and Tiered Skirts
Price:
Paper Pattern : $45.00

The six pieces in the Julia collection are inspired by the romantic allure of a full-volume, three-tiered maxi skirt. Mix it up by using contrast fabric for each tier or shorten the length to two tiers and add front patch pockets for a fun on-the-go look. Pair it with the included cropped wrap top, with two sleeve options or go sleeveless.

What you get with your pattern:

- 1:1 fit and pattern consultation with our in-house pattern maker and fit expert.
- The latest in sizing. We use up-to-date technology and body shape data to get you a better fit.
- Professional clothing construction techniques. Developed by industry insiders with 100 years of shared experience.
- Illustrated instructional booklet to get you from start to finish. Written with the beginner in mind.
- Comes printed on crease-free, rolled plotting paper. Professional quality.
- Your pattern comes with only the sizes you requested printed in vibrant colors. Less clutter for easier cutting.
- Complimentary pattern storage tube and pattern hook.
- Pattern card for easy reference.
- Sew for your business? The pattern license is free with purchase.

Pattern specifications:
| | |
| --- | --- |
| Type: | Paper Pattern |
| Design Variations: | 6 |
| Sizes: | 2 to 8, 10 to 16, 18 to 24 |
| Illustrations: | Yes |
| Instructions: | Yes |
Reviewer: Mariann
Firstly, I have to say the drafting of the Fabrics Store patterns is exemplary. This is the 4th purchased F-S pattern I have made this Spring/Summer and am always delighted to find that things line up and very few adjustments every have to be made. When I do, it is a result of my lack of care in tracing or cutting. My first make of the Julia pattern set is a sleeveless version in the gloriously dark Dress Blue Softened IL019. From 3 yards I was able to cut 1 pair of Anna Allen Clothing Pomona pants (as calf length) I pair of the same patter as shorts, both size 14 (for hips) and a size 10 Julia top. My intent was to emulate the so popular jumpsuit look without actually being a jumpsuit. I finished the pants weeks ago but had not yet progressed to the top. Finished it this morning and it is WONDERFUL. I like the dress blue so much, I have ordered more in hopes the dye will match. I may make a wrap shirt and a mid-sleeve top to extend the season. I am definitely making more Julia tops, might lengthen a bit, I am absolutely planning to make more Julia/bottom combos. Love the look.
Reviewer: Clara
Love the looks in this pattern, but it's not first on the list; I'm booked several projects ahead. Excited to get to it though -- I'll update when I've actually made one or two of the garments.
Reviewer: charlotte
I got out of my cast and immediately cut out the Julia top. The pattern is perfect! I have never had all the notches and edges line up perfectly, probably me, but this pattern went together perfectly. Not anything off the least little bit once I cut it out. The waist is a little short, but I am long waisted, so I will fix that on the next pattern. I used a challis print to make the bias for the front, and it really looks special with the black linen. I'm planning to make several more. A quick sew that really shows off you top-stitching skills. Next up, a bleached IL019 with embroidery on it!
Reviewer: charlotte
I'm not able to sew yet, due to an accidental injury, but I've opened and studied the pattern. I am never disappointed with Fabrics-Store purchases. Whether it is a pattern or fabric, I know it will be quality. The support from the website is superb! Many more happy linen garments and furnishings coming our way.
Reviewer: Linda
I made the short-sleeved top out of IL020 linen. I had to get a serger and learn how to thread it, but the top turned out great. I appreciated having multiple sizes in pattern so that I could grade up to the next size in the waist. I thought the process of sewing the waistband was novel and worked out well. I have more of your linen and will make more tops. I want to be the woman in that red skirt, but I have not decided if I could pull off the drama. I may make the skirt anyway!

I am, admittedly, a creature of habit. Once I discover a style that works for me, I just add more of it to my wardrobe. This is exactly what happened when I discovered the beauty of a wrap top! For me, nothing beats the wrap top when it comes to comfort and ease. It just so feminine and flattering on any body-type as it hugs your curves in all the right places.

Here is the Julia skirt in midi length coupled with the Charlie top. For the Julia skirt I used Signature Finish Bleached middle weight linen. I took 6 inches off the bottom tier and 3 inches off the middle tier to get to a midi length. I am 5'5" I am very happy with the result! Hardest part is a table big enough to cut the long tiers. Pattern instructions are great as with all your patterns. I have a beautiful skirt with a linen lining (Store bought skirts line with polyester) which I will last all my life! Wonderful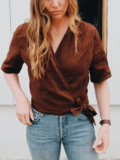 My love for surplice tops continues as I added the JULIA Wrap Top in FS POTTING SOIL brown linen. This pattern includes so many of my favorite elements; an elegant wrap top, bias binding neckline, and a tie closure along the waistline. Like so many of FS sewing patterns, this pattern is roomy and comfortable but still feels high-end and timeless. The yoke and set sleeve remind me of a classic men's button-down shirt, while the gathers and cropped hem give it a feminine twist. The top tapers slightly and hugs the waist at the perfect spot when paired with a high-rise bottom. I always love the combination of a flowy linen top with structured denim and leather boots.
Enter the e-mail address associated with your Fabrics-store.com account:
Temporary password has been emailed
Temporary password has been emailed to ivan@ecwm.com, and should arrive shortly. If you have any questions or problems, please contact our customer care center at 1-866-620-2008.
Your account has been disabled. If you believe this to be a mistake, please call our customer service at 1-866-620-2008 and we will help you with your order. We appreciate your cooperation.
Web Accessibility Toolbar