Gia — Linen Jumpsuits, Type - Premium Paper, Single Size - 2 to 8
Gia — Linen Jumpsuits Sewing Pattern (Premium Paper)
EXCLUSIVE - Only At Fabrics-Store
Purchased By:

643 people!
$45.00
Size Guide and Yardage Requirements
Description:
Brisk, beautiful, great about holding a wonderful shape, right for any sunny or starry hour! Gia -- the pattern collection of playful jumpsuits with a button-front closure, self-belt, and side pockets. With four variations, three in length and a sleeve option, there are plenty of ways to make this piece yours. Semi-fitted with room to move.
Roll paper patterns ready to cut and sew with fully illustrated, step by step instructions for the beginner seamstress.
What you get with your pattern:
1:1 fit and pattern consultation with our in-house pattern maker and fit expert.
The latest in sizing. We use up-to-date technology and body shape data to get you a better fit.
Professional clothing construction techniques. Developed by industry insiders with 100 years of shared experience.
Illustrated instructional booklet to get you from start to finish. Written with the beginner in mind.
Comes printed on crease-free, rolled plotting paper. Professional quality.
Your pattern comes with only the sizes you requested printed in vibrant colors. Less clutter for easier cutting.
Complimentary pattern storage tube and pattern hook.
Pattern card for easy reference.
Sew for your business? The pattern license is free with purchase.
Specifications:
| | |
| --- | --- |
| Type: | Paper Pattern |
| Skill Level: | Intermediate |
| Design Variations: | 4 |
| Sizes: | 2 to 8, 10 to 16 |
| Illustrations: | Yes |
| Instructions: | Yes |
Customer Questions and Answers
I can't quite tell for sure but does this pattern have a defined waistline? thanks
Elisabeth • July 7, 2023
There is waistline shaping included in the pattern and it is further defined by the waist tie :)
Lauren • July 7, 2023
Hi! I was wondering if this would be available in sizes 18 and up. I am between sizes and sometimes need at 16 and others an 18.
Kristin • May 27, 2023
At this time, Gia is only available in the listed sizes.
Lauren • May 27, 2023
Hi! I would love to make this but wondered if there was a digital PDF version i could purchase? Thanks, Mel
Mel • November 16, 2022
Hello, Our premium patterns are only available in the hard-copy paper versions at this time.
Lauren • November 16, 2022
This is an easy pattern that sewed up beautifully. I raised the neckline about 2 inches for modesty, and the adjustment was very simple to accomplish. I used the turquoise IL019 and it was perfect for this pattern.
Jacqueline • April 24, 2021
If you're sewing a jumpsuit for the first time or nervous about it like I was, this pattern really makes it super simple and breezy. I just followed each step in the well-written instruction booklet and didn't really hit a snag anywhere. Overall, I am very happy with the way this jumpsuit turned out. I think it could be dressed up or down depending on the occasion and fabric chosen. This jumpsuit would look amazing in Fabric-Stores' Heavyweight linen as well for the Fall/Winter months, layered with a long sleeve underneath or the long sleeve version.
Brooke • August 4, 2020
I'm so glad I bought this! Such a cute jumpsuit and perfect in linen. Instructions were easy to follow. You can dress it up with heels or down with sandals. It's exactly like the picture!
Peter • November 12, 2019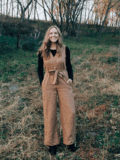 So as I made my personal sewing wish list for fall/winter, I purposely included another linen jumpsuit. The GIA Jumpsuit in GINGER. Since my existing linen jumpsuit has sleeves and a cropped leg, I chose to make the Gia jumpsuit with full length pants and a sleeveless top. My thought was to wear it with an extra layer of leggings, a long sleeve tee, wool socks, jacket, and tall boots during the colder months, then easily transition it to summer when it will shine on its own. Also, when picking new patterns to sew, I try to find gaps in my wardrobe and focus on filling those first.
Morgann • November 12, 2020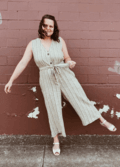 I love jumpsuits. I mean, who doesn't? They are one and done outfits that give you the comfort of wearing a onesie. With that being said, I am always on the lookout for simple yet classic jumpsuit sewing patterns so when I saw the GIA I knew I wanted to try it! It has a nice button front closure detail with an optional tie belt and can be made as sleeveless, short sleeve with pants (cropped or full length) and shorts making for a very versatile sewing pattern. Made in the Heavyweight IL078 940 FS Premier Finish: a brown, black and cream stripe fabric with lovely texture due to the twill weave and yarn-dyed process. It is truly unique and beautiful!
Christina • October 29, 2020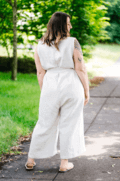 I have been searching for a good jumpsuit pattern that not only fits my hips, but is somewhat easy to make with a simple design. It's been hard to find! Jumpsuits are not made to fit a short curvy Woman's body – but the GIA Jumpsuit really does check all the boxes. I chose the IL042 889 FS Premier Finish Midweight 100% Linen fabric to make it and was amazed by how luscious and soft this linen is.
Brooke • August 4, 2020

E-MAIL
Please contact us by following the link below.
SUBMIT A REQUEST

PHONE
1-866-620-2008
Call us Monday through Friday 10 am - 6 pm PST
Once you are happy with your order, please proceed to checkout where you are able to review your order and estimated shipping charges before you complete payment. Shipping charges are calculated by the weight and location your order is shipping to.
You will be able to choose from the following options:
Standard Shipping: 4 - 8 Business Days
Expedited Shipping: 3 - 4 Business Days
Priority Shipping: 2- 3 Business Days
International shipping charges are also calculated at the time of checkout. Please note there may be fewer shipping options available to you as the options are based on the destination of your package.
Delivery times begin one business day after the order is placed with a 24-48 hour time frame for processing.This processing period applies to all in stock items and allows for the time needed to manually cut and package your order to ensure it is checked for quality and accuracy before it leaves our facility.
Business days are Monday - Friday, 9AM - 4PM PST. Saturday, Sunday and Holdays are not considered business days.
Sample color chips are sent via regular mail and may take up to a week to arrive.
All goods are subject to prior sale and please feel free to Visit My Order to check the most up-to-date status of your order.
Making a return is quick and easy, you have 30 days from delivery to return the item or items in their original condition (unwashed, uncut and unaltered). Please include a copy of your packing list and once the return is received we will contact you to see if you would like an exchange, a credit to your Fabrics-store account or the monies returned to your original payment method.
Ship Returns to:
Fabrics-store.com
6013 Scott Way
Commerce, CA 90040
HOW DOES FREE SHIPPING WORK?
Take advantage of our Free Shipping offer on orders shipping within the contiguous US.
Every day on orders of $150 or more - we will pay for your shipping.
Your order will be shipped Standard Shipping (4-8 Business Days) with the shipper of our choice. No international orders.
Standard shipping takes 24-48 hours for processing. Delivery times begin one business day after the order is placed. This is due to your order being manually cut and packaged to ensure quality.
Beginner: A beginner sewist is someone who is new to sewing and has limited experience using a sewing machine or hand sewing techniques. They are ready to follow basic patterns and sew simple projects, but may struggle with more complex designs.
Intermediate: An intermediate sewist has some experience with sewing and can tackle more challenging projects, such as making clothing with more intricate details or using more advanced techniques including sewing invisible zippers or sewing a partial placket. They likely have a good understanding of pattern making, fabric selection, and sewing machine maintenance.
Advanced: An advanced sewist is someone who has years of experience and can tackle complex projects, including custom designs or alterations. They have a good understanding of fabrics, garment construction, and tailoring. They may also have advanced skills in pattern drafting, draping, and couture sewing techniques.
Gia — Linen Jumpsuits Sewing Pattern (Premium Paper)
Ladies Size Guide Based on Body Measurements in Inches*
| Size | 2 | 4 | 6 | 8 |
| --- | --- | --- | --- | --- |
| Bust | 33 1/4 | 34 1/4 | 35 1/4 | 36 1/4 |
| Waist | 25 | 26 | 27 | 28 |
| Hip | 36 1/4 | 37 1/4 | 38 1/4 | 39 1/4 |
Approximate Finished Garment Measurements in Inches
| Size | 2 | 4 | 6 | 8 |
| --- | --- | --- | --- | --- |
| Bust | 37 1/2 | 38 1/2 | 39 1/2 | 40 5/8 |
| Waist | 36 3/4 | 37 3/4 | 38 3/4 | 39 3/4 |
| Hip | 40 3/8 | 41 3/8 | 42 3/8 | 43 1/2 |
| Shorts Length | 33 3/8 | 33 1/2 | 33 5/8 | 33 3/4 |
| Capris Length | 48 1/4 | 48 3/8 | 48 1/2 | 48 5/8 |
| Pants Length | 60 1/2 | 60 3/8 | 60 5/8 | 60 3/4 |
| Sleeve Length | 9 3/4 | 9 7/8 | 9 7/8 | 10 |
| Sleeve Bicep | 14 3/8 | 14 7/8 | 15 3/8 | 15 7/8 |
| Shoulder Length | 3 5/8 | 3 3/4 | 3 3/4 | 3 3/4 |
Estimated Yardage in 55"-Width Linen**
| Size | 2 | 4 | 6 | 8 |
| --- | --- | --- | --- | --- |
| Sleeveless Shorts-Length | 2 1/8 | 2 1/8 | 2 1/8 | 2 1/8 |
| Sleeveless Capris-Length | 3 | 3 | 3 | 3 |
| Sleeveless Pants-Length | 3 3/8 | 3 3/8 | 3 3/8 | 3 3/8 |
| Pants-Length w/ Sleeves | 3 5/8 | 3 5/8 | 3 5/8 | 3 5/8 |
* Upper bust measurement provided for reference
** Extra 10% of fabric is included due to shrinkage
*** Elastic length may vary depending on your fit preference and elastic type
ALL SEAM ALLOWANCES ARE INCLUDED AND NOTED ON THE PATTERN AND IN THE TUTORIAL
Ladies Size Guide Based on Body Measurements in Inches*
| Size | 10 | 12 | 14 | 16 |
| --- | --- | --- | --- | --- |
| Bust | 37 1/4 | 38 3/4 | 40 1/4 | 41 3/4 |
| Waist | 29 | 30 1/2 | 32 | 33 1/2 |
| Hip | 40 1/4 | 41 3/4 | 43 1/4 | 44 3/4 |
Approximate Finished Garment Measurements in Inches
| Size | 10 | 12 | 14 | 16 |
| --- | --- | --- | --- | --- |
| Bust | 41 5/8 | 43 1/8 | 44 3/4 | 46 1/4 |
| Waist | 40 3/4 | 42 3/8 | 43 7/8 | 45 1/2 |
| Hip | 44 1/2 | 46 1/8 | 47 5/8 | 49 1/4 |
| Shorts Length | 33 7/8 | 34 1/8 | 34 1/4 | 34 5/8 |
| Capris Length | 48 3/4 | 49 | 49 1/4 | 49 3/8 |
| Pants Length | 60 7/8 | 61 1/4 | 61 3/8 | 61 3/4 |
| Sleeve Length | 10 | 10 1/4 | 10 1/4 | 10 3/8 |
| Sleeve Bicep | 16 3/8 | 17 1/8 | 17 3/4 | 18 5/8 |
| Shoulder Length | 3 7/8 | 4 | 4 1/8 | 4 1/4 |
Estimated Yardage in 55"-Width Linen**
| Size | 10 | 12 | 14 | 16 |
| --- | --- | --- | --- | --- |
| Sleeveless Shorts-Length | 2 5/8 | 2 5/8 | 2 5/8 | 2 5/8 |
| Sleeveless Capris-Length | 3 1/8 | 3 1/8 | 3 1/8 | 3 1/8 |
| Sleeveless Pants-Length | 3 3/4 | 3 3/4 | 3 3/4 | 3 3/4 |
| Pants-Length w/ Sleeves | 4 | 4 | 4 | 4 |
* Upper bust measurement provided for reference
** Extra 10% of fabric is included due to shrinkage
*** Elastic length may vary depending on your fit preference and elastic type
ALL SEAM ALLOWANCES ARE INCLUDED AND NOTED ON THE PATTERN AND IN THE TUTORIAL
Ladies Size Guide Based on Body Measurements in Inches*
Approximate Finished Garment Measurements in Inches
Size
Bust
Waist
Hip
Shorts Length
Capris Length
Pants Length
Sleeve Length
Sleeve Bicep
Shoulder Length
Estimated Yardage in 55"-Width Linen**
Size
Sleeveless Shorts-Length
Sleeveless Capris-Length
Sleeveless Pants-Length
Pants-Length w/ Sleeves
* Upper bust measurement provided for reference
** Extra 10% of fabric is included due to shrinkage
*** Elastic length may vary depending on your fit preference and elastic type
ALL SEAM ALLOWANCES ARE INCLUDED AND NOTED ON THE PATTERN AND IN THE TUTORIAL