Cass — Cass Wide Leg Culottes
Cass — Cass Wide Leg Culottes
As advertised by nearly every minimalist-chic clothing brand, culottes are making a major comeback and becoming an indispensable wardrobe item. But there is one style the fashion world is most crazy about – the high-waisted, wide-leg culottes. Charged with the ability to skim over curvy hips and elongate the silhouette, the wide-leg culottes are as comfortable as they are versatile.
If you are interested in trying out this cool style without paying the store price tag, then our Cass Culottes sewing pattern is for you! With its high rise, wide legs, hidden inseam pockets, and elastic waistband, it is probably the most comfortable pair of culottes you'll ever own.
What you get with your pattern:

- Free PDF download for our registered customers.
- Print-at-home format on Letter/A4 paper.
- Layered PDF to print just the sizes you want.
- Most patterns available graded in size 0/2 to 28/30.
- Step-by-step instructions on The Thread blog.
- No licensing restrictions. Sew as many as you like for yourself, your family, even your sewing business.

Pattern specifications:
| | |
| --- | --- |
| Type: | PDF Pattern |
| Design Variations: | |
| Sizes: | 0/2 to 12/14, 16/18 to 28/30 |
| Illustrations: | Yes |
| Instructions: | Yes |
Reviewer: Alice
I find a line drawing necessary for deciding to purchase a pattern. Showing photos of various women wearing the garment is unhelpful.
Lauren
Hello, This is one of our many free patterns, so we have put all of the important pattern information inside the .pdf download :)
Reviewer: Jael
I know these pants are super simple, but the instructions could be a little more specific. I am new to pants making so I was following the instructions exactly, and because the directions don't explicitly state to finish the edge of the pants pieces prior to sewing the pocket pieces on, I didn't! I only noticed that I had a raw edge once I had one pant leg almost fully assembled. On the instructions, step number 1 is to attach the pockets, and it does mention to serge the outer edge of the pockets, but it does NOT say to serge the pants edge prior to sewing on the pocket. In the first photo, the serged pocket pieces are laying on top of the unserged pant piece, and in the next photo, the pocket has been sewn to the pant piece, which is now serged! For anyone who has made similar pants before, you would probably not need this to be stated, but since I was just following along, I missed it. For the second leg, I went ahead and did French seams, and I really should have unpicked the first leg and French seamed that one as well, but I just put some fray-check on the exposed edges and will know for next time. Because as far as the fit and style of these pants, I love them! I like that the waistband isn't a separate piece, you just roll it down to create the waistband, and I like that it's 2" wide. I like that there are in seam pockets, and based on the previous review, I made mine about an inch longer, and I'm glad I did. My only other mods were to add an inch of length (I'm 5'8") and do a slight flat-seat adjustment. My waist is 34" and my hips are 38.5" and I made the size 8/10, and I like the way they fit. I will be making these again. This free pattern was a great lower risk way to try out wide leg pants to see if they are for me, and I love them.
Reviewer: Georgie
Just to clarify I am a UK size 8 and the fit of 4/6 of this pattern is perfect for me. The only thing I will do next time is make the pocket pouch bigger. Other than that I wouldn't change a thing.
Reviewer: Georgie
I have been after a pattern for a wide leg culotte style pant for so long and when I came across this Cass pattern I was hopeful they would fit the bill and oh my goodness they did not disappoint! I absolutely love them! I made them exactly as the pattern dictated with no alterations. I'm 5'6 and a size 8 and I made them in size 4/6 in a light/med weight navy blue linen.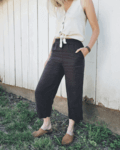 After looking through many wide leg pant designs, I landed on the CASS pattern for its many design details I love for a summer pant. The combination of a high-waist, inseam pockets, elastic waistband, and a wide-leg silhouette results in pants as comfortable as pyjama bottoms, while looking as timeless as a pair of dress trousers. The three rows of elastic along the waistband looks intimating, but the process is the same as a single casing. This little detail adds so much interest and sophistication to an otherwise very simple design. You can read more about this project here: blog.fabrics-store.com/2021/06/17/pattern-review-cass-wide-leg-culottes-in-black/
We're proud to share our patterns without licensing restrictions. You may use our patterns to sew for personal use or for your business. For paid digital patterns, we do not offer returns. Please make sure to ask any questions you may have before purchasing a digital pattern.
Please read: Our patterns are formatted to work reliably across all devices that run Adobe Acrobat Reader applications. Each patterns comes with detailed printing instructions on terms of use. If you have any questions, e-mail us at ask@fabrics-store.com and our pattern makers will reply to you as quickly as possible.
Cass
*If prewashing in hot water, you may need up to extra 10% fabric due to shrinkage. ALL SEAM ALLOWANCES ARE INCLUDED AND NOTED ON THE PATTERN AND IN THE TUTORIAL.
*If prewashing in hot water, you may need up to extra 10% fabric due to shrinkage. ALL SEAM ALLOWANCES ARE INCLUDED AND NOTED ON THE PATTERN AND IN THE TUTORIAL.

E-MAIL
Please contact us by following the link below.
SUBMIT A REQUEST

PHONE
1 866 620 2008
Call us Monday through Friday 10 am - 6 pm PST
Enter the e-mail address associated with your Fabrics-store.com account:
Temporary password has been emailed
Temporary password has been emailed to ivan@ecwm.com, and should arrive shortly. If you have any questions or problems, please contact our customer care center at 1-866-620-2008.
Your account has been disabled. If you believe this to be a mistake, please call our customer service at 1-866-620-2008 and we will help you with your order. We appreciate your cooperation.
Web Accessibility Toolbar