Ruby — Crossover Linen Dress Pattern (PDF)
Ruby — Crossover Linen Dress Pattern (PDF)
Simple, chic and oh so stylish, this crossover dress gives maximum impact with minimum effort. The prefect pull on and go piece, this dreamy dress will hug your curves in all the right places and create a flattering V-neckline. Plus, we all know it, slender vertical stripes elongate the figure and contrasting pockets and binding bring a touch of fun!
Free print-at-home format on A4 paper
Layered PDF to print just your size
Most patterns graded in size 0/2 to 28/30
Many have Step-by-step instructions on The Thread blog
No licensing restrictions. Sew as many as you like
Pattern specifications:
| | |
| --- | --- |
| Type: | PDF Pattern |
| Skill Level: | Advanced Beginner |
| Design Variations: | Crossover Linen Dress Pattern |
| Sizes: | 0/2 to 12/14, 16/18 to 28/30 |
| Illustrations: | Yes |
| Instructions: | Yes |
Customer Questions and Answers
I love the striped fabric in this dress. It was available when I first found FS, but silly me, I didn't order it at the time. Would love to find nice stripes in red, blue, black, well, lots of colors. Any chance we'll see that in an IL19 in the future?
Karen • July 30, 2022
I just finished this dress. I would describe myself as a chronic beginner; I've been sewing for many years but only occasionally so I haven't really advanced much. I had some problems with a few of the steps in the tutorial, but managed to finish it (and it looks like it's supposed to!). I like it, but can't say I love it, and I wanted to share a few things that came up in hopes this information will help others. 1) It runs big. Based on my measurements, which I took very diligently, I ended up making a size that was somewhere between S and M (I usually wear size 6 or 8 depending, so this made sense). However, I had to alter the dress after finishing it because it was just too darn big, especially in the top. I wear a D cup and was worried that the crossover V would end up being too wide/low, but I had to take in the sides of the bodice about half an inch on each side because the bodice as a whole was way too wide and the sides poofed out. 2) The arm holes were also too big, gaping at the bottom, and I had to sew them up about an inch smaller. 3) I might shorten the dress, because the skirt is narrow enough that it constricts my gait when I take a large step. I tend to take large, un-lady-like steps, and skirts like this always strike me as sexist. 4) I'm hoping that this settles down when I wash it, but the sleeve edges and the pocket edges stick out, as the bias tape hems are rather stiff. It's entirely possible that some of these challenges are due to my own lack of sewing knowledge/experience, but, considering it's billed for "beginners," I thought I should warn folks who are also beginners what some of the complications might be. Thanks for reading!
Rosemary • August 13, 2021
I have read suggestions to increase modesty of wrap dresses/tops by using wider neck binding (bias but wider). Would this be successful?
Elizabeth • April 19, 2021
Lauren
Hello, you absolutely do this. If you would like assistance with it, please feel free to send us an email, and I'd be happy to lend a hand.
I love this pattern, but I sure wish there was a cup option.
Dianne • April 15, 2021
Love the look. Need line drawing.
Alice • April 8, 2021
Lauren
Hello, There is a line drawing in the free downloadable .pdf booklet.
Hello! Interested in sewing this lovely dress, but when I copy and paste the link into my browser I receive an error message "page not found". Hoping you can send along the pattern and tutorial. Thank you!
Alana • May 8, 2020
Oksana
Hi! I am sorry to hear that - the tutorial is here blog.fabrics-store.com/2018/06/19/crossover-linen-dress-tutorial/ Please email us at askfabrics-store.com if you have any problems accessing the pattern PDF and I can email you the file as an attachment. Hope this helps and have a great day!
See All >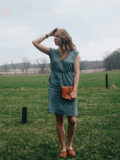 If you have followed my writings and sewing pattern reviews over the last year, then you know how much I'm drawn to a surplice top. This week, my obsession continued by creating the RUBY Crossover Dress in Midweight LAGOON linen. The combination of a surplice top, V-neckline, and elastic waistband creates a very flattering silhouette. This dress hugs the body in all the right spots while remaining comfortable. I'm not much of a dress person, but in the hot summer months to come, I know this linen dress will get lots of wear. It's the perfect piece to pull-on and go. Little effort, big impact. You can read more about this project here: blog.fabrics-store.com/2021/04/08/pattern-review-ruby-crossover-dress-in-lagoon-linen/
Morgann • April 8, 2021

What a great pattern! Zero adjustments just a straight size 8/10. The instructions from the tutorial were fantastic. I used a fabric that I had in my stash because this was my first Fabrics Store pattern and I wasn't sure how it would go, so was shooting for at least a wearable muslin and it definitely is! Next step is a version in linen! I think the one change I will make is to increase the pocket size. Thanks for a great, FREE pattern.
Dana • June 14, 2020
We're proud to share our patterns without licensing restrictions. You may use our patterns to sew for personal use or for your business. For paid digital patterns, we do not offer returns. Please make sure to ask any questions you may have before purchasing a digital pattern.
Please read: Our patterns are formatted to work reliably across all devices that run Adobe Acrobat Reader applications. Each patterns comes with detailed printing instructions on terms of use. If you have any questions, e-mail us at ask@fabrics-store.com and our pattern makers will reply to you as quickly as possible.
Beginner - Can sew simple straight & curved seams, some topstitching. Includes crafty-type projects and garments that do not require complex sewing techniques or closures.
Confident Beginner - Has sewn a few simple projects and is ready to learn more. Includes techniques such as set-in sleeves, inseam pockets, patch pockets, generous topstitching.
Advanced Beginner - Eager to continue building skills with new techniques such as zippers, buttons & buttonholes, tailored collars & cuffs.
Intermediate - Comfortable with projects that include multiple techniques such as pleating, yokes, fly zipper, slant pockets, and tailored waistband.
Advanced - Confident with complex, multi-step construction such as welt pockets and unusual details. Enjoys the challenge of new techniques and designer quality.
Ruby
*If prewashing in hot water, you may need up to extra 10% fabric due to shrinkage. ALL SEAM ALLOWANCES ARE INCLUDED AND NOTED ON THE PATTERN AND IN THE TUTORIAL.
*If prewashing in hot water, you may need up to extra 10% fabric due to shrinkage. ALL SEAM ALLOWANCES ARE INCLUDED AND NOTED ON THE PATTERN AND IN THE TUTORIAL.

E-MAIL
Please contact us by following the link below.
SUBMIT A REQUEST

PHONE
1 866 620 2008
Call us Monday through Friday 10 am - 6 pm PST
Enter the e-mail address associated with your Fabrics-store.com account:
Temporary password has been emailed
Temporary password has been emailed to ivan@ecwm.com, and should arrive shortly. If you have any questions or problems, please contact our customer care center at 1-866-620-2008.
Your account has been disabled. If you believe this to be a mistake, please call our customer service at 1-866-620-2008 and we will help you with your order. We appreciate your cooperation.
Web Accessibility Toolbar