Hana — Linen Wrap Dresses, Top, and Skirt
Hana — Linen Wrap Dresses, Top, and Skirt
Price:
Paper Pattern : $45.00

Ready to dazzle? Shop the Hana pattern collection, our favorite take on the iconic wrap dress. We reimagined it in pure woven linen with beautifully tailored details. A feminine V-neckline is complemented with a crisp, open shirt collar and stand. The contoured waistband has a playful exposed drawstring and belt loops. The flattering, wrap-front, A-line silhouette includes inseam pockets, waist pleating and cuffed dolman sleeves. Make it yours with the any of the four variations: a dress in two lengths, a top, or even a skirt.
What you get with your pattern:

- 1:1 fit and pattern consultation with our in-house pattern maker and fit expert.
- The latest in sizing. We use up-to-date technology and body shape data to get you a better fit.
- Professional clothing construction techniques. Developed by industry insiders with 100 years of shared experience.
- Illustrated instructional booklet to get you from start to finish. Written with the beginner in mind.
- Comes printed on crease-free, rolled plotting paper. Professional quality.
- Your pattern comes with only the sizes you requested printed in vibrant colors. Less clutter for easier cutting.
- Complimentary pattern storage tube and pattern hook.
- Pattern card for easy reference.
- Sew for your business? The pattern license is free with purchase.

Pattern specifications:
| | |
| --- | --- |
| Type: | Paper Pattern |
| Design Variations: | 4 |
| Sizes: | 2 to 8, 10 to 16, 18 to 24 |
| Illustrations: | Yes |
| Instructions: | Yes |
Reviewer: Eileen
This turned out VERY blousy on me. I took my bust measurements and made a size four but I am swimming in the top. It looks like a bathrobe or a gi on me. I may have to give it to my SIL, whose name incidentally is Hannah haha, who has broader shoulders. Sad! because I put so much work into it. I altered it a bit because I didn't like the draw string look, and added a wrap around sash. Luckily there was an area where two of the waistband pieces connected that I was able to use as the sash/button hole for the wrap sash. A rookie mistake if there ever was one to forget wrap dresses need somewhere for the sash to come through! Overall the pattern directions were AMAZING to follow, very clear and concise. I consider myself an advanced beginner in sewing. I hadn't looked at a pattern in a decade, since high school, but was able to follow these with a little concentration and taking it slow. The only issue I took with the directions was that the waistband was a BEAR to attach to the blouse. .5 inch seam allowance did not work because the directions had already called for a .5 inch seam allowance when the inner and outer waistband pieces were sewn together. I ended up needing to give it an inch seam allowance to be able to catch the blouse between the pieces at all, and even then a little piece didn't make it.
Reviewer: Corinne
I know a dolman sleeve does me no favors in the bust area - makes me look even wider. A fitted waist is also not the best look for me but I couldn't resist this pretty dress. I started with a top first. I found the amount of pieces & work in this top intensive & in the end it looked really bad on me despite taking it apart & altering various parts 3 times! I notice the fit on the larger model is much more fitted than the thinner model. I was shooting for the look of the former. I chose the size according to my measurements, it was pretty blousy. It was just all wrong for me & I should have known better.
Lauren
Hi there, we're sorry your pattern didn't come out as you imagined. Look out for an email from us.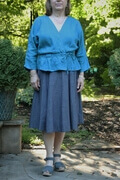 I made the blouse version. Although the top turned out fairly well, it is one of the more difficult projects I've tackled. The construction is complicated and definitely isn't for someone looking for an easy/beginner project. That being said, I love it!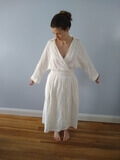 Despite following the recommended measurements, this came out huge on me. See my full review for details. Sash addition did not change sizing at all. Pretty, but much too large in the bust!

Just some thread trimming left, I made the Hannah wrap shirt and skirt for my Wall Street daughter. She is very happy with the fit and details. At first I was concerned about the crispy ness of this fabric, but the Hannah pattern designer took the weight into consideration and it came out perfectly! I am very happy with the out come. This is the third item I have made from this linen. It was wonderful to work with!
Enter the e-mail address associated with your Fabrics-store.com account:
Temporary password has been emailed
Temporary password has been emailed to ivan@ecwm.com, and should arrive shortly. If you have any questions or problems, please contact our customer care center at 1-866-620-2008.
Your account has been disabled. If you believe this to be a mistake, please call our customer service at 1-866-620-2008 and we will help you with your order. We appreciate your cooperation.
Web Accessibility Toolbar