Luana — Apron Dress Pattern, Type - PDF
Description:
Luana is a vintage-inspired apron dress that screams summer! Reminiscent of country living, picnics and sea outings. With its bare back, soft pleats and gathers, it is both relaxed and feminine, showing just the right amount of skin. For this project, we chose our bestselling medium weight linen in this gorgeous clay color. Named after the red rocks of Sedona, it is true to its name!
Luana features adjustable straps that cross at the back, lined bib bodice, two large inseam pockets and softly gathered midi skirt. This pattern falls into the intermediate level category due to its complicated pocket construction. But this should not scare beginner sewists as we really go through every step with detailed explanations and lots of pictures.
Free print-at-home format on A4 paper
Layered PDF to print just your size
Most patterns graded in size 0/2 to 28/30
Many have Step-by-step instructions on The Thread blog
No licensing restrictions. Sew as many as you like
Specifications:
| | |
| --- | --- |
| Type: | PDF Pattern |
| Skill Level: | Advanced Beginner |
| Design Variations: | 1 |
| Sizes: | 0/2 to 12/14, 16/18 to 28/30 |
| Illustrations: | Yes |
| Instructions: | Yes |
Customer Questions and Answers
I just downloaded this, and all it was was 6 pages of what appeared to be an ad? And vague information such as "this is this sort of pattern," and "check out our blog for more information," no actual pattern. Am I missing something? I am trying to download it on my iPhone, could that be the problem?
M • August 1, 2022
you'll need to open the .pdf download in the Adobe Acrobat Reader App to view the pattern pieces, they are attached to the 6 page file.
Lauren • August 1, 2022
Can this be printed in A0 format?
Jewel • July 31, 2022
Hi! Unfortunately, we have not made A0 format for the free PDF patterns. They are only available in A4 tile format for now.
Oksana • July 31, 2022
I tried this pattern to make the first thing I've made for myself, ever I think. I've been sewing for my children for a couple years so I consider myself an intermediate sewist. I found this pattern quite easy to use. Like other reviewers have said, the pockets were tricky however, after looking closely at the pictures and rereading the instructions carefully, I realized my mistake and was able to easily fix it. The construction makes total sense to me now that I have completed the pattern once. I got so many compliments on the dress and had so much fun putting it together, I plan to make more in the future in many other colors!
Mary • March 30, 2022
I absolutely loved this pattern. I did make a few modifications so that it would fit me a bit better. I found the instructions easy to follow and loved that the blog provided pictures as well/
Paulina • March 14, 2022
I'm on my ipad and I can't seem to access the attachments. It would be easier if it wasn't an attachment but a separate file or a continuation of the instructions.
Jennifer • November 28, 2021
Lauren
Hello, Thanks for your review. please look out for an email from us shortly showing you how to access the pattern on an iPad, in the Adobe reader App. Soon, our most popular patterns will be available all in one document, meaning there won't be a need for additional apps or steps. Thanks for your patience while we improve the accessibility of our catalogue of over 100 free patterns :)
A tip for people struggling with the pocket construction. I thought I had sewn the pockets in correctly but was left with a laughably small hole to get into the dress. The waistband was also funky and I didn't have much fabric to gather in the back skirt. What I didn't realize at first is that the pockets are not attached to the back waistband in the same way as the front waistband. Instead you "flip" them and the raw edge (the one that had been left open) of the back pocket bag ends up pinned to the end of its corresponding side of waistband. Once you figure it out, you can refer back to the tutorial and suddenly the photos and instructions make perfect sense.
Sara • December 14, 2020
Is there a place that shows the cutting directions? This is a lovely pattern
Andrea • October 23, 2020
Lauren
In order to offer these patterns and tutorials free of charge, we kept the styles and presentation pretty simple. Determining your yardage is pretty easy. After you print and assemble your desired size of the pattern, you can do a mock layout based on the width of the fabric you are purchasing. You can make your mock layout half the width of the fabric since you will likely be cutting the pieces with your fabric folded. If you will be using one of our basic linen fabrics, be sure and add about 10% extra for shrinkage if you plan on pre-washing in hot water. Happy Sewing!
See All >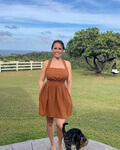 Mods: shortened dress a LOT. The regular pattern is for a midi dress but living in Hawaii I wanted something a bit more casual that would be good for the approaching summer & hot weather. Also, I'm a shorty at 5'3" . I made a size 4 based on my measurements, I widened the base of the bib by 4" and gathered the extra material to make some extra room for my large bust size. . I did not top stitch around the entire dress because I wanted more of a seamless look to the dress. .
Paulina • March 14, 2022

E-MAIL
Please contact us by following the link below.
SUBMIT A REQUEST

PHONE
1-866-620-2008
Call us Monday through Friday 10 am - 6 pm PST
Once you are happy with your order, please proceed to checkout where you are able to review your order and estimated shipping charges before you complete payment. Shipping charges are calculated by the weight and location your order is shipping to.
You will be able to choose from the following options:
Standard Shipping: 4 - 8 Business Days
Expedited Shipping: 3 - 4 Business Days
Priority Shipping: 2- 3 Business Days
International shipping charges are also calculated at the time of checkout. Please note there may be fewer shipping options available to you as the options are based on the destination of your package.
Delivery times begin one business day after the order is placed with a 24-48 hour time frame for processing.This processing period applies to all in stock items and allows for the time needed to manually cut and package your order to ensure it is checked for quality and accuracy before it leaves our facility.
Business days are Monday - Friday, 9AM - 4PM PST. Saturday, Sunday and Holdays are not considered business days.
Sample color chips are sent via regular mail and may take up to a week to arrive.
All goods are subject to prior sale and please feel free to Visit My Order to check the most up-to-date status of your order.
Making a return is quick and easy, you have 30 days from delivery to return the item or items in their original condition (unwashed, uncut and unaltered). Please include a copy of your packing list and once the return is received we will contact you to see if you would like an exchange, a credit to your Fabrics-store account or the monies returned to your original payment method.
Ship Returns to:
Fabrics-store.com
6013 Scott Way
Commerce, CA 90040
HOW DOES FREE SHIPPING WORK?
Take advantage of our Free Shipping offer on orders shipping within the contiguous US.
Every day on orders of $150 or more - we will pay for your shipping.
Your order will be shipped Standard Shipping (4-8 Business Days) with the shipper of our choice. No international orders.
Standard shipping takes 24-48 hours for processing. Delivery times begin one business day after the order is placed. This is due to your order being manually cut and packaged to ensure quality.
Enter the e-mail address associated with your Fabrics-store.com account:
Temporary password has been emailed
Temporary password has been emailed to ivan@ecwm.com, and should arrive shortly. If you have any questions or problems, please contact our customer care center at 1-866-620-2008.

SIGN UP TO GET $15 OFF YOUR FIRST ORDER!
Your account has been disabled. If you believe this to be a mistake, please call our customer service at 1-866-620-2008 and we will help you with your order. We appreciate your cooperation.
Web Accessibility Toolbar