IL098 - LOIRE NATURAL / AUTUMN GOLD FS Signature Finish
IL098 LOIRE NATURAL / AUTUMN GOLD FS Signature Finish - 100% Linen - Canvas (8.1 oz/yd2) - 0.50 Yard
Price:
$17.91 per item

Sale price:
$4.48 per item (75% off)
Only 0 in stock
Lying in a haphazard pile at a Parisian flea market was all that remained of a glorious collection of textiles that once graced the halls and environs of Loire castle.

A remnant, a pale silk cloth with burgundy velvet appliqué, hand-stitched with gold silk thread continued to shimmer even though it appeared to be on its last breath in history.
The design, an ornate Arboreal motif of velvet on delicate silk, stood out, not just the complexity of the design and texture, but also, the understanding of how many labored hours were spent creating it.
The remnant was pulled from that pile and brought to our studio where we were able to translate the complexity of design and texture to the Jacquard loom, and the Loire Collection was created exclusively for F|S.com.
To pay tribute to original craftsmanship (and test our weaving capacities), we had to use multiple Jacquard weaving techniques in one fabric to create just this one design.

The different weaving techniques utilized to create this fabric make it 3-dimensional - you have a textured cloth that communicates the motif visually and tactilely.
The engineering of this cloth allows the Jacquard to be read equally well from either side - you have a reversible fabric that changes its dominant color scheme depending on what side you pick.
The intricacy of the design also permits the cloth to be used in any direction, with the motif maintaining its representation regardless of the angle.
IL098 was constructed using long-staple wet combed linen. These quality threads were necessary to replicate the various shapes depicted in the decorative interpretation of the Arboreal motif made up of entwined foliage, flowers, acorns, and berries.
This cloth is light to the touch, but has a heavy weight to last generations.
This 100% Linen Jacquard cloth is perfect for:
Table linens
Drapery
Decorative interior items
Any apparel (historical costumes or modern styles)
and Bedding will also be divine
Our FS Signature Finish was developed exclusively for us using a special process that makes this linen super soft with a comfy, classic look you'll love at first sight.
As a bonus, this process removes almost all of the initial shrinkage, giving you more fabric to get your projects done.
This finish makes the linen as soft as butter. Yep, 100% linen that feels and drapes and sews as no linen you have ever encountered. Because the fabric has been pre-shrunk for you - it will be less than the base cloth width.

Fabric specifications:
| | |
| --- | --- |
| Article : | IL098 |
| Content : | 100% Linen |
| Type : | JACQUARD |
| Thread size warp : | 17.9 |
| Thread size weft : | 12.1 |
| Thread count warp : | 55 |
| Thread count weft : | 42 |
| Color : | NATURAL / AUTUMN GOLD |
| Weight : | 8.1 oz/yd2 |
| Width : | 61 inch |
Customer Questions and Answers
For this IL098, it states that it comes preshrunk, so does this shrink at all after washing and drying and if so what %? What is the washing and drying instructions for this fabric?
Priscilla • July 27, 2022
This linen will still need to be washed at least one more time to remove the residual shrinkage which will be approx 4% in the width and 4.8% in the length. We recommend a cool to warm water wash with a tumble dry low heat. Free and Clear products are recommended as well. For more tips on washing linen please visit our help center here : support.fabrics-store.com/hc/en-us/search?utf8=%E2%9C%93&query=washing
Maureen • July 27, 2022
What is the difference between Premier Finish and Signature Finish?
Priscilla • July 29, 2022
Our Signature finish has gone through a hot wash process with a softener added to give you a super soft linen. The process removes most of the shrinkage so you can expect a residual 3% shrinkage. Our Premier Finish is a special softening process that uses a mechanical technique with softener to achieve a very soft finish, the linen is not laundered so the expected shrinkage is 7-10%
Maureen • July 29, 2022
More Beautiful than a computer screen can depict. Rich in Autumn Gold color, mixed amongst the enduring Beauty of the Natural Linen provides a blend that is exemplary in design and juxtaposition of richness. It is fabulous! And right now, I just want to look at it! Anything made, would be gorgeous and I'm thinking a Beautiful Scarf. The compliments would be never ending! Thank you FS.com. Another Great Beauty!
A • February 7, 2022
1940's open arm rocker reupholstered. IL098 is loosely woven and very soft even without washing. Would use for drapes but not for upholstery again. Will have to be gentle with this rocker as threads can pull easily but really am happy with the look.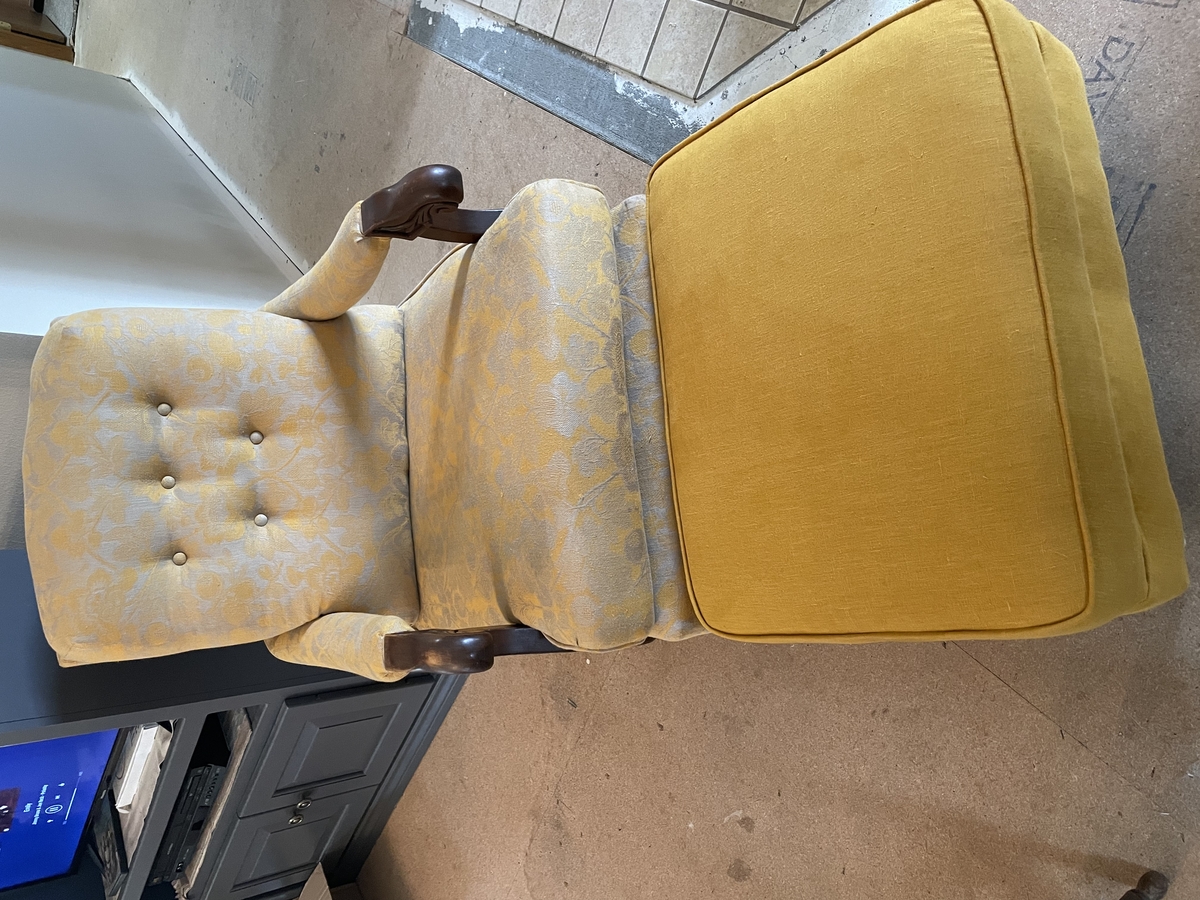 IL098 LOIRE NATURAL / AUTUMN GOLD FS Signature Finish 100% Linen Canvas (8.1 oz/yd2)
This fabric makes the most heavenly Table linens! Pictured here is one of my napkins. Easy peasy to sew up and super soft and silky.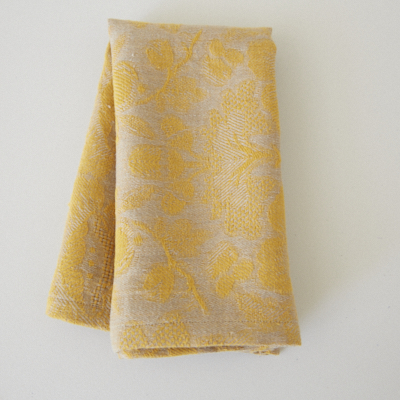 IL098 LOIRE NATURAL / AUTUMN GOLD FS Signature Finish 100% Linen Canvas (8.1 oz/yd2)


IL098 LOIRE NATURAL / AUTUMN GOLD FS Signature Finish - 100% Linen - Canvas (8.1 oz/yd2)
Sample Size: 5.5" x 7.0" (Including Swatch Card)
Free Standard Shipping
* Samples are pre-assembled and may not come from the same fabric bolt you order from. Color may vary. All fabric samples are shipped via USPS without tracking.

E-MAIL
Please contact us by following the link below.
SUBMIT A REQUEST

PHONE
1-866-620-2008
Call us Monday through Friday 10 am - 6 pm PST
Once you are happy with your order, please proceed to checkout where you are able to review your order and estimated shipping charges before you complete payment. Shipping charges are calculated by the weight and location your order is shipping to.
You will be able to choose from the following options:
Standard Shipping: 4 - 8 Business Days
Expedited Shipping: 3 - 4 Business Days
Priority Shipping: 2- 3 Business Days
International shipping charges are also calculated at the time of checkout. Please note there may be fewer shipping options available to you as the options are based on the destination of your package.
Delivery times begin one business day after the order is placed with a 24-48 hour time frame for processing.This processing period applies to all in stock items and allows for the time needed to manually cut and package your order to ensure it is checked for quality and accuracy before it leaves our facility.
Business days are Monday - Friday, 9AM - 4PM PST. Saturday, Sunday and Holdays are not considered business days.
Sample color chips are sent via regular mail and may take up to a week to arrive.
All goods are subject to prior sale and please feel free to Visit My Order to check the most up-to-date status of your order.
Making a return is quick and easy, you have 30 days from delivery to return the item or items in their original condition (unwashed, uncut and unaltered). Please include a copy of your packing list and once the return is received we will contact you to see if you would like an exchange, a credit to your Fabrics-store account or the monies returned to your original payment method.
Ship Returns to:
Fabrics-store.com
6013 Scott Way
Commerce, CA 90040
HOW DOES FREE SHIPPING WORK?
Take advantage of our Free Shipping offers on orders shipping within the contiguous US on the following days:
Every Monday and Wednesday on orders of $150 or more.
Every day on orders of $1,000 or more.
Your order will be shipped Standard Shipping (4-8 Business Days) with the shipper of our choice. No international orders. Standard shipping takes 24-48 hours for processing. Delivery times begin one business day after the order is placed. This is due to your order being manually cut and packaged to ensure quality.
Please note that some of our darker or more vibrant shades will have some residual dye run off or bleeding. It is important that you launder or treat like colors with like colors so that you do not compromise the integrity of any other colors, fabrics or garments during the launder process.
We also suggest that if you are combining one or more of these types of colors with lighter colors that you pre-wash the linens seperately and once the item is completed do not launder again, but Dry Clean.
Linen
Machine wash cold.
Gentle cycle.
Only non-chlorine. Bleach if needed.
Tumble dry low.
Medium steam iron.
Semilinen
Machine wash cold.
Gentle cycle.
Only non-chlorine. Bleach if needed.
Tumble dry low.
Medium steam iron.