IL002 - ROYAL CREST IVORY-NATURAL
IL002 Royal Crest Ivory-natural - 100% Linen - Very Heavy (9.4 oz/yd2) - 2.00 Yards
Price:
$48.72 per item

Sale price:
$41.41 per item (15% off)
Only 0 in stock
Jacquard cloths are created by weaving different color threads to create intricate patterns - or paintings that are woven with thread. These are harder to weave and are considered an "heirloom" fabric due to the craftsmanship involved in their creation.
This fabric is super fun to work with - making every project look like a work of art. The trick? Just throw it in the wash!
When you receive it - the cloth will be flat and 2-dimensional. After the wash and dry - the design will "lift up" giving the fabric a 3 dimensional appearance.
In order for the fabric to "lift up" it is woven in a way that when it is washed and dried - it will shrink more than plain weave linen giving it the volume needed to be 3 dimensional. This cloth you can expect 18% shrinkage weft (width of the fabric); and 16% warp (length of the fabric). Shrinkage is based on a warm wash and low-heat dry.
Fabric specifications:
| | |
| --- | --- |
| Article : | IL002 |
| Content : | 100% Linen |
| Type : | JACQUARD |
| Thread size warp : | 17.9 |
| Thread size weft : | 17.9+9 |
| Thread count warp : | 51 |
| Thread count weft : | 60 |
| Color : | IVORY-NATURAL |
| Weight : | 9.4 oz/yd2 |
| Width : | 65 inch |
Customer Questions and Answers
Just FYI, I tried repeatedly yesterday probably 10 times to order Royal crest 2 yards at the 25% off. It would never take my order. I get all the way to submit my order and then it would never open.
Louise • November 24, 2022
I sent an email to you directly to advise that they item is still in your cart at the sale price and if you are still unable to checkout to please call us at 1-866-620-2008 so we can assist with checkout over the phone.
Maureen • November 24, 2022
made this for my daughter. Wonderful to work with and beautiful result. Will be making another!
Theresa • September 27, 2022
This fabric is the best towel. It soaks up water better than any other towel I have. Made a few towels for gifts. Which, I am still getting thank yous from my friends.
Connie • August 18, 2022
I've bought this IL002 a couple of times. Love the way it sews and the way it turns out! Great weight for a throw or bedspread. I'm planning on buying it again! Thanks FS! Love your linen! Theresa
Theresa • August 13, 2022
My first time buying this fabric and watching the 3-D magic that happens after washing! From stiff and flat to soft and three dimensional with a lovely fluid drape. The colors are beautiful! I got 1.5 yards as a doggie bag item and it is the perfect amount for a throw to keep on the sofa. Your fabrics never disappoint!
Robin • May 19, 2022
This is NOT heavy in the least, Not lofty, Not thick, Planning on gifting towels. These aren't "towels", these are not soft, no matter how much you wash/dry them. Beware!
Eileen • September 17, 2021
Maureen
Hello Eileen, I am sorry to hear that you were disappointed with this linen, I will reach out to you directly via your email to see if we can find a way to salvage your project.
See All >
I bought a half yard from doggie bag and made 2 kitchen towels. Before washing dimension of 1 towel was 30.75" x 19". Hemmed before washing cutting off selvedge with a 3/8" double hem. Measuements after 24.5" x 16.25"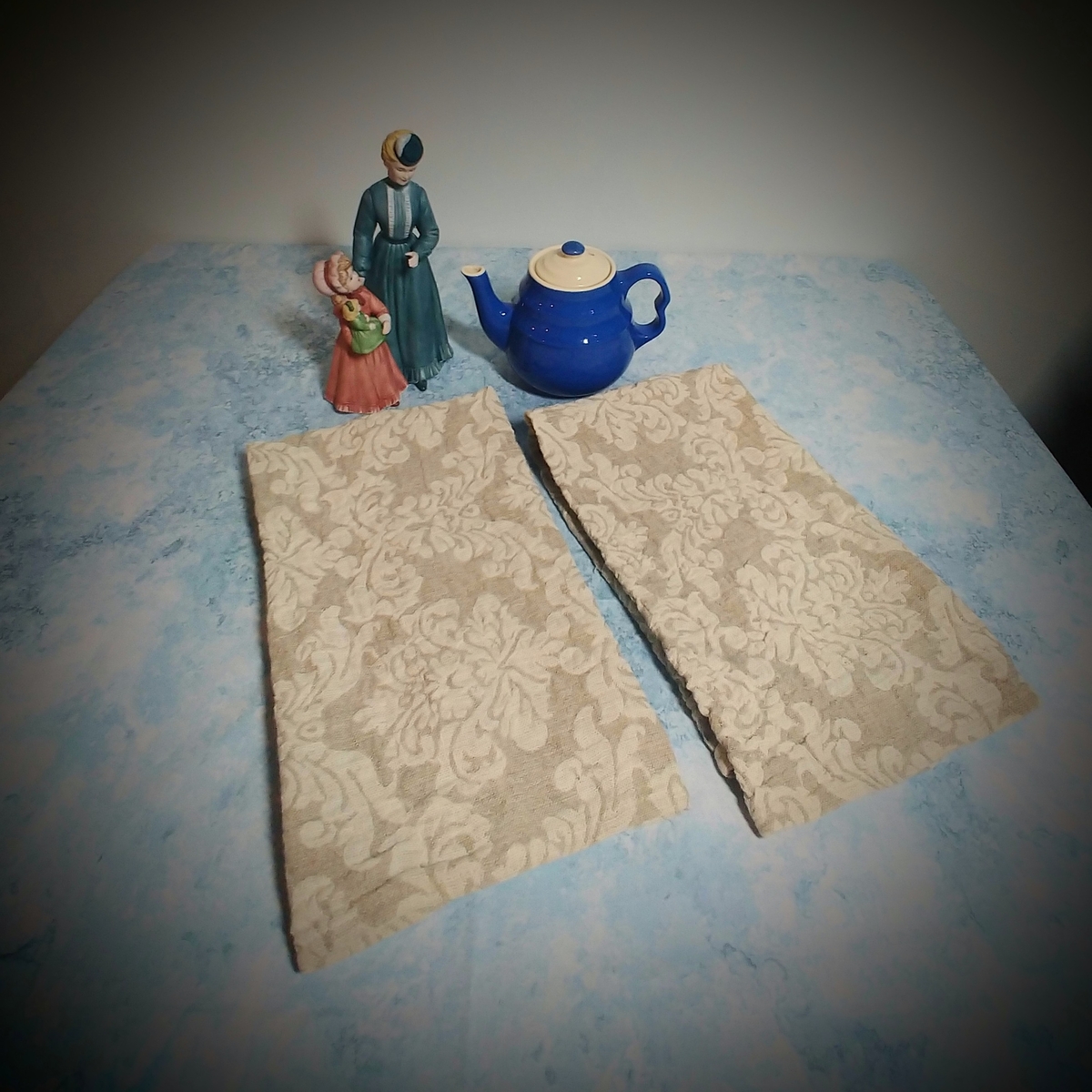 IL002 ROYAL CREST IVORY-NATURAL 100% Linen Very Heavy (9.4 oz/yd2)
I think I bought 2 yards as a doggie bag, wasn't sure what I was going to do with it. But when I washed it and it fluffed up I knew it needed to be a throw, so... Voila! I made a bias tape from another doggie bag purchase of ILO98 Loire/Graphite. I love the combinations of textures and patterns, especially the reverse double sided-ness of the Royal Crest!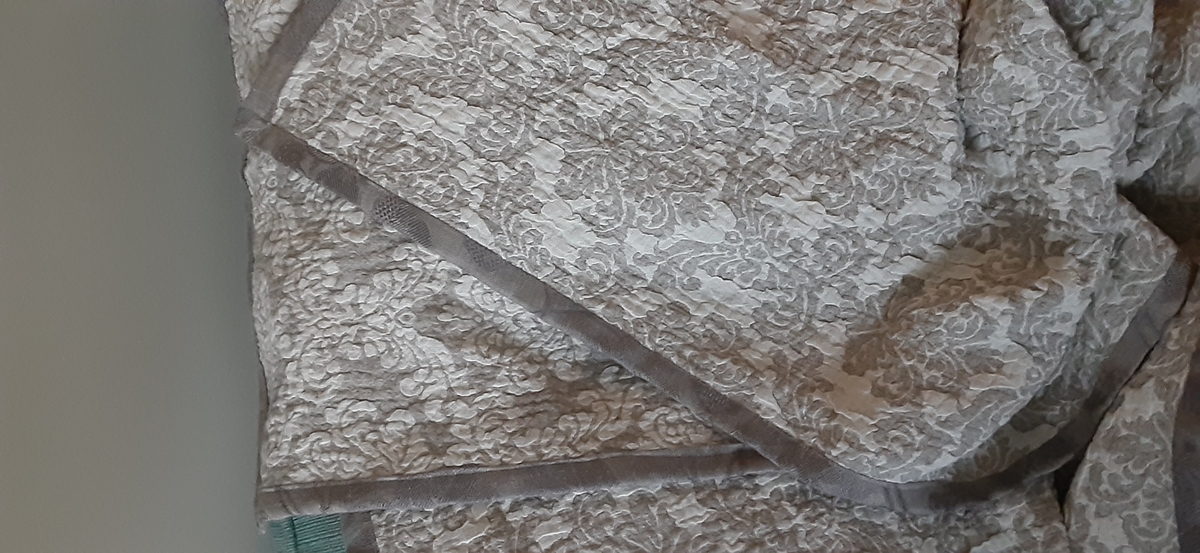 IL002 ROYAL CREST IVORY-NATURAL 100% Linen Very Heavy (9.4 oz/yd2)
Amazing, handsome dishtowels. Once yard of fabric was divided into 4 future towels. Pre-wash I finished the long edges by pressing 1/2 inch and then turning again and sewing. Using a bit longer stitch makes it more attractive along with a slightly deeper contrast thread! After doing up the 2 long edges, I finished the short edges in the same way. Then on to wash and dry! Because we live in a dryer climate, I love drying these on a rack--but they have the same magic texture when using a dryer! Great gifts.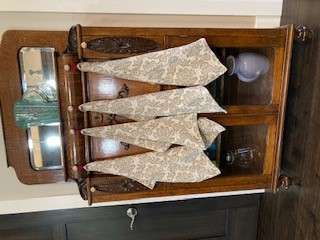 IL002 ROYAL CREST IVORY-NATURAL 100% Linen Very Heavy (9.4 oz/yd2)
I bought two yards of this on a whim, not quite sure what I would do with it. Since most others had been making towels for their bathrooms, I figured that I may do the same. After it arrived, I realized that it just wouldn't look right in my house -- so I made a blanket/beach towel with it. I just washed and dried it once, hemmed the sides and put fringe on each end. I'm very happy with it, and I do love the fabric. It's very thick and has a great hand.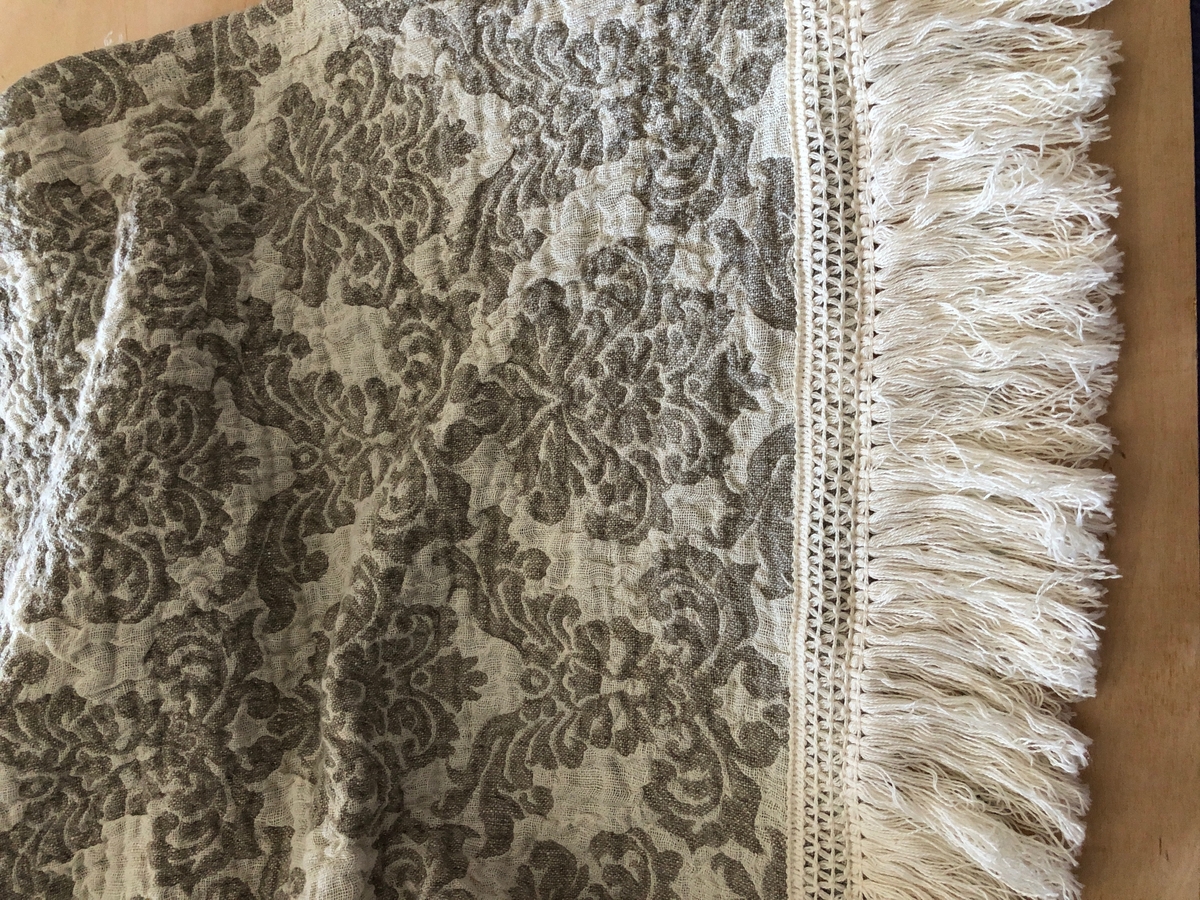 IL002 ROYAL CREST IVORY-NATURAL 100% Linen Very Heavy (9.4 oz/yd2)
I love this fabric! I've made many pieces from this lovely heavy weight linen... This is a garden apron I made... Sees like a dream!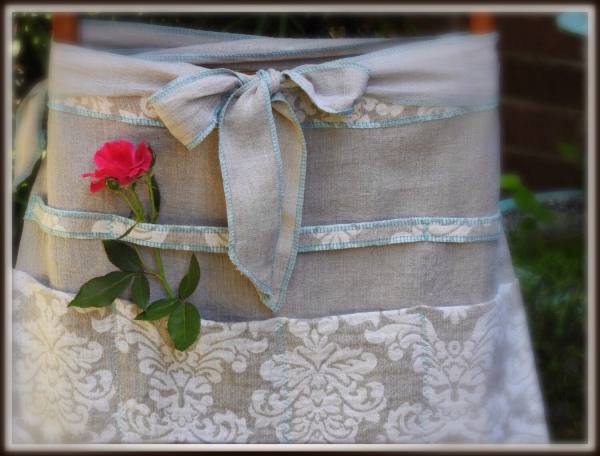 IL002 ROYAL CREST IVORY-NATURAL 100% Linen Very Heavy (9.4 oz/yd2)


IL002 Royal Crest Ivory-natural - 100% Linen - Very Heavy (9.4 oz/yd2)
Sample Size: 5.5" x 7.0" (Including Swatch Card)
Free Standard Shipping
* Samples are pre-assembled and may not come from the same fabric bolt you order from. Color may vary. All fabric samples are shipped via USPS without tracking.

E-MAIL
Please contact us by following the link below.
SUBMIT A REQUEST

PHONE
1-866-620-2008
Call us Monday through Friday 10 am - 6 pm PST
Once you are happy with your order, please proceed to checkout where you are able to review your order and estimated shipping charges before you complete payment. Shipping charges are calculated by the weight and location your order is shipping to.
You will be able to choose from the following options:
Standard Shipping: 4 - 8 Business Days
Expedited Shipping: 3 - 4 Business Days
Priority Shipping: 2- 3 Business Days
International shipping charges are also calculated at the time of checkout. Please note there may be fewer shipping options available to you as the options are based on the destination of your package.
Delivery times begin one business day after the order is placed with a 24-48 hour time frame for processing.This processing period applies to all in stock items and allows for the time needed to manually cut and package your order to ensure it is checked for quality and accuracy before it leaves our facility.
Business days are Monday - Friday, 9AM - 4PM PST. Saturday, Sunday and Holdays are not considered business days.
Sample color chips are sent via regular mail and may take up to a week to arrive.
All goods are subject to prior sale and please feel free to Visit My Order to check the most up-to-date status of your order.
Making a return is quick and easy, you have 30 days from delivery to return the item or items in their original condition (unwashed, uncut and unaltered). Please include a copy of your packing list and once the return is received we will contact you to see if you would like an exchange, a credit to your Fabrics-store account or the monies returned to your original payment method.
Ship Returns to:
Fabrics-store.com
6013 Scott Way
Commerce, CA 90040
HOW DOES FREE SHIPPING WORK?
Take advantage of our Free Shipping offers on orders shipping within the contiguous US on the following days:
Every Monday and Wednesday on orders of $150 or more.
Every day on orders of $1,000 or more.
Your order will be shipped Standard Shipping (4-8 Business Days) with the shipper of our choice. No international orders. Standard shipping takes 24-48 hours for processing. Delivery times begin one business day after the order is placed. This is due to your order being manually cut and packaged to ensure quality.
Please note that some of our darker or more vibrant shades will have some residual dye run off or bleeding. It is important that you launder or treat like colors with like colors so that you do not compromise the integrity of any other colors, fabrics or garments during the launder process.
We also suggest that if you are combining one or more of these types of colors with lighter colors that you pre-wash the linens seperately and once the item is completed do not launder again, but Dry Clean.
Fabric Care
Machine wash cold.
Gentle cycle.
Only non-chlorine. Bleach if needed.
Tumble dry low.
Medium steam iron.
Do not use Perm Press cycle in wash or dry