Sara — Sara Pleated Pants Pattern
Sara — Sara Pleated Pants Pattern
If something about pleats reads as old-fashioned or formal in your mind, let our Sara Pleated Pants sewing pattern be the proof they can be anything but. Everything about these pants is as effortlessly chic as it gets. They are relaxed and airy, the sort of pants you'd want to wear all summer long on all your adventures.
The Sara Pleated Pants is our modern take on the classic pleated pants style. Designed to sit on your natural waist, It has two small pleats at the front, back darts for shaping, useful hip pockets, a zipper front fly and belt loops. The legs are slightly tapered and hit right above the ankle bone.
Due to the number of techniques involved in this project, the pattern is labelled as intermediate. But even a beginner sewist can give it a try because we will guide you through the process step-by-step. It's amazing what sewing a pair of pants can do to your sewing confidence! Follow this easy tutorial and make your own pair of pleated pants!
What you get with your pattern:

- Free PDF download for our registered customers.
- Print-at-home format on Letter/A4 paper.
- Layered PDF to print just the sizes you want.
- Most patterns available graded in size 0/2 to 28/30.
- Step-by-step instructions on The Thread blog.
- No licensing restrictions. Sew as many as you like for yourself, your family, even your sewing business.

Pattern specifications:
| | |
| --- | --- |
| Type: | PDF Pattern |
| Design Variations: | |
| Sizes: | 0/2 to 12/14, 16/18 to 28/30 |
| Illustrations: | Yes |
| Instructions: | Yes |
Reviewer: Martina
I loved the instructions and the pattern. Everything came together so nicely in the end, I learned a bunch of new things and I love the pants! Thank you for providing all those materials for free! There's really one tiny opportunity for improvement, from a European point of view: I think it could come in handy for some people if you included the measurements also in the metric units :)
Reviewer: Sonia
I'd like to thank Fabrics Store for providing so many nice patterns for free, including very clear instructions. The tutorial for How to sew a zipper fly (used in Sara pants) is excelent!
Reviewer: Lindsay
I have only been sewing for a year and have heard horror stories about fly front zipper pants and decided to make this one my first ever pants to sew..The instructions are perfect...the links within the instructions is extremely helpful, I enjoyed making this and the sizing is spot on..will be making many more..Thank you for all the free patterns
Reviewer: Flipa
Very good and easy pattern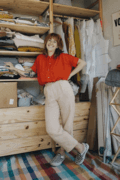 SARA Pants made with FS BLEACHED Heavyweight Avocado Dyed Linen. I found the directions and construction clear and easy to follow. I learned a new way to construct a zipper fly and wound up sewing the most flawless zipper fly of my sewing life. The belt loops were also constructed in a cleaner way than other patterns I have sewn before, so these pants taught me a number of tricks I will be using in the future. I'll be wearing my SARA's to work, the park with my kids, on weekend library trips, grocery shopping, brisk fall walks and dressed up with a heel silk tank and a pop lip. They are classic, versatile, extremely wearable, and a well constructed sew. You can read more about this project here: blog.fabrics-store.com/2021/10/14/pattern-review-avocado-dyed-sara-pleated-pants/
We're proud to share our patterns without licensing restrictions. You may use our patterns to sew for personal use or for your business. For paid digital patterns, we do not offer returns. Please make sure to ask any questions you may have before purchasing a digital pattern.
Please read: Our patterns are formatted to work reliably across all devices that run Adobe Acrobat Reader applications. Each patterns comes with detailed printing instructions on terms of use. If you have any questions, e-mail us at ask@fabrics-store.com and our pattern makers will reply to you as quickly as possible.
Sara
*If prewashing in hot water, you may need up to extra 10% fabric due to shrinkage. ALL SEAM ALLOWANCES ARE INCLUDED AND NOTED ON THE PATTERN AND IN THE TUTORIAL.
*If prewashing in hot water, you may need up to extra 10% fabric due to shrinkage. ALL SEAM ALLOWANCES ARE INCLUDED AND NOTED ON THE PATTERN AND IN THE TUTORIAL.

E-MAIL
Please contact us by following the link below.
SUBMIT A REQUEST

PHONE
1 866 620 2008
Call us Monday through Friday 10 am - 6 pm PST
Enter the e-mail address associated with your Fabrics-store.com account:
Temporary password has been emailed
Temporary password has been emailed to ivan@ecwm.com, and should arrive shortly. If you have any questions or problems, please contact our customer care center at 1-866-620-2008.
Your account has been disabled. If you believe this to be a mistake, please call our customer service at 1-866-620-2008 and we will help you with your order. We appreciate your cooperation.
Web Accessibility Toolbar