Mona — Trapeze Linen Dress Pattern
Mona — Trapeze Linen Dress Pattern
Even the simplest design can be transformed into something special. This dress is a perfect example. With its loose-fitting silhouette, it features a couple of original details like the button loop opening at the back and "faux" patch pockets at the front
What you get with your pattern:

- Free PDF download for our registered customers.
- Print-at-home format on Letter/A4 paper.
- Layered PDF to print just the sizes you want.
- Most patterns available graded in size 0/2 to 28/30.
- Step-by-step instructions on The Thread blog.
- No licensing restrictions. Sew as many as you like for yourself, your family, even your sewing business.

Pattern specifications:
| | |
| --- | --- |
| Type: | PDF Pattern |
| Design Variations: | 1 |
| Sizes: | |
| Illustrations: | No |
| Instructions: | No |
Reviewer: Lisa
I can't seem to find the yardage requirements for this dress.
Lauren
Hello, This is one of our older free patterns which didn't list yardage. We are in the process of updating these patterns to include this information. In the meantime, you can assemble your pattern pieces and lay them out on a flat surface according to the width of your fabric. Next, measure the length that the patterns take up to find your yardage requirement. We used 2.5 yards for the smallest size.
Reviewer: Tusse
I have downloaded the pattern and would like to sew this dress but I wonder if the sizes are correct? The seem very small to me. Normally I use a size 14 but in this case I would have to use a size 20/22 according to the finished garment bust measurement?
Lauren
Hello, sizing across pattern companies and all clothing brands differ since there isn't a standardized size system. We recommend choosing your size based on the body and finished garment measurements. Our patterns are also drafted for a B-cup up to a size 16, so you may like to do a full bust adjustment if your cup size differs. Please email us if you'd like assistance doing this or for choosing a size :)
Reviewer: SYBIL
I consider myself still a beginner. I've made a few things but sometimes feel I have more misses than hits. This pattern is definitely a hit! I made 2 dresses in 2 days. The first I made w/ a cotton linen blend which turned out well but the fabric was a bit stiff and the neck line felt a bit too high for me. The second I made in mid weight 100% linen in a gorgeous storm cloud blue gray and lowered the neck line by 1 inch. Perfection! The instructions are complete and easy to follow and I even learned a new technique with the bias binding on the neck and arm holes.
Reviewer: Catherine
A line drawing and idea of yardage needed would be most helpful. I prefer to look at the line drawing as a way to better visualize the item
Lauren
Thanks for your feedback, we truly appreciate it! In order to offer these patterns and tutorials free of charge, we kept the styles and presentation pretty simple. Determining your yardage is pretty easy. After you print and assemble your desired size of the pattern, you can do a mock layout based on the width of the fabric you are purchasing. You can make your mock layout half the width of the fabric since you will likely be cutting the pieces with your fabric folded.
Reviewer: Alex
Hi, just some general feedback on the photos for your patterns. Though they're lovely to look at, they often don't give us a good idea of the garment and so aren't very practical! It would be great to always have a photo of front and back with the model standing fairly straight.
Oksana
Thank you so much for reaching out with your suggestion on how to better present the finished garments for our patterns. I will reach out to our pattern team and see if we can implement this moving forward - to have a clear, straight, front, and back image of the garment once sewn. The Mona Trapeze dress is one of the first patterns we did and we do not have plans to re-shoot this particular style. But I will ask to include your idea in future pattern photoshoots. Please feel free to reach out if any other ideas come to mind. We value feedback and are a small team that is capable of making adjustments as the suggestions come in.
Reviewer: Katrina
I just downloaded, printed, and pieced/assembled the pattern. When I compared pattern measurements to similar linen (purchased)dresses I own, it looks like I should sew 16/18. This surprises me because everything in my closet is Medium (8/10) including tops, pants, dresses. I will make a muslin mock-up, but I'm curious about others sizing experience. Thanks in advance for your comments, Katrina
Reviewer: Ana
I was searching for a pattern for thit type of dress and i'm so happy that it fits me perfectly...sooo can't wait to male it on different colors. Thank you very much.
Reviewer: Virginia
With summer approaching I need to start my new wardrobe. Since last year I have lost 30 lbs so I am very excited about my new wardrobe. Of course most of it will be linen, my favorite fabric to wear and sew. So, I jumped right in and made the yellow dress. It was white light weight and too see through. I am learning to dye fabric so I gave that a shot. Then went to my stash of black,. Next I had a piece of indigo blue I had practiced on. I am not a wiz at dyeing but I certainly do I love making these dresses. I had to make a slip like garment to wear under the lighter dresses but since it's linen and so light weight that will not be a problem in our hot, humid North Carolina summers.
Reviewer: Bronwyn
I was really looking forward to trying this in a larger size- but despite what's on the listing, the pdf pattern only goes up to size 22.
Reviewer: Anonymous
haven't made this dress because when I look at the photos, I can't really tell what it looks like - please add a photo (front & back) of the model standing. The seated on the settee photo is certainly appealing but doesn't show us what the silhouette looks like. The photos are truly important. Based on reviews and on a couple of the customer photos, I'm far more inclined to make it.
Reviewer: Rosi
Very good dress! Very clear instructions. I made just 2 amendments - made the front neckline deeper, and closed the pockets a bit from the sides. It fits perfectly and I'm happy to wear it second day so far:)
Reviewer: Sue
Great little pattern that i'll be using again and again, thank you! But have to say it's not easy to find the tutorial from the actual pattern page. Can I suggest that if there are links to tutorials for particular patterns that they could be put on the pattern page too. The tutorials are brilliant and will help anyone if they get into difficulties. Brilliant site and glad I found it!
Oksana
Hi - we are glad you liked the pattern. I will pass your request to the pattern makers - the tutorial address is on the second page of the pattern, but we will see how we can have it stand out more :) Please email us if you have any questions!
Reviewer: Diana
blog.fabrics-store.com/2016/09/27/how-to-make-a-simple-linen-a-line-dress-tutorial/ :) I will be sewing this dress tomorow, wish me luck :)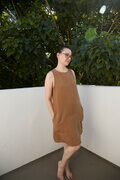 I can see myself making so many more of this dress in all of the linen colors. This one is in the heavyweight 4C22 GINGER color. I love the way the pockets are sewn into the front of the dress, a really nice touch!

Used heavyweight linen in black from Fabrics-Stores to make this dress. I like the drape achieved with the more substantial fabric on this style garment. Great pockets and good warm weather shape.

This is the first dress I've tried from this site. It is so cute, I love it. I just ordered some material to make one for my daughter. The tutorials are wonderful. Thank you ~ Joyce

These dresses as such a quick and easy sew. I made the first one with a very light weight white lined. I am learning to dye fabric and now I have a very bright yellow dress. I went into my black linen stash for the second dress and finally my practice piece indigo blue for the third dress. Now bring on the warmer weather. I am ready.

I love this pattern! Had to amend & make darts in the bodice fit my 36D bustline. I used a heavyweight linen/cotton blend and the middleweight natural linen for the bias tape. I reversed the bias edging to the front and love the results. Had fun designing the flower garden at hem. I get lots of complements and it is so comfortable- it's my go to dress of the summer. Thank you, FabricStore!!

Made this cute Trapeze dress out of the IL020 Krista Natural linen with the intention of dyeing it afterwards. It turned out beautifully and I get compliments every time I wear it! The pattern ran slightly big for the measurements. I ended up taking it in at the sides quite a bit. The linen was wonderful to work with! fiberstransformed.etsy.com

Love this pattern, but check your size first. I made this for me, but my daughter is the lucky owner since it is too big for me. She is thrilled, and wants me to make her more. I will definitely be sewing more of these simple dresses, for both of us.

Trapeze Dress in black soften linen. I LOVE this dress! It is so comfortable and flattering. I did french seams on the sides and cut my own bias tape. I am tall and added length but had only bought 2 yards of fabric, so I divided the back panel. I cut it out on the left over fabric instead of on the fold. Worked out perfectly! I recommend sewing a little mock up version out of muslin. This is the first time I did this, and was able to add a bit here and there. Now, I am able to make another one even more easily. It took about 5 hours total time. I love the fabric and can't wait to use it on something else. It washes up very nicely and folds super small for travel. (Sorry for the bad picture. I am standing in back of my daughter.)
We're proud to share our patterns without licensing restrictions. You may use our patterns to sew for personal use or for your business. For paid digital patterns, we do not offer returns. Please make sure to ask any questions you may have before purchasing a digital pattern.
Please read: Our patterns are formatted to work reliably across all devices that run Adobe Acrobat Reader applications. Each patterns comes with detailed printing instructions on terms of use. If you have any questions, e-mail us at ask@fabrics-store.com and our pattern makers will reply to you as quickly as possible.

E-MAIL
Please contact us by following the link below.
SUBMIT A REQUEST

PHONE
1 866 620 2008
Call us Monday through Friday 10 am - 6 pm PST
Enter the e-mail address associated with your Fabrics-store.com account:
Temporary password has been emailed
Temporary password has been emailed to ivan@ecwm.com, and should arrive shortly. If you have any questions or problems, please contact our customer care center at 1-866-620-2008.
Your account has been disabled. If you believe this to be a mistake, please call our customer service at 1-866-620-2008 and we will help you with your order. We appreciate your cooperation.
Web Accessibility Toolbar