Chelsea — Linen Raglan Tee Pattern
Chelsea — Linen Raglan Tee Pattern
If you are a practical woman of any age, you no doubt own countless versions of a plain white T-shirt. Here, we'd like to present you our alternative to your favorite white basic - the raglan tee! Simple design, raglan sleeves, delicate pleating at the neck and our gorgeous lightweight linen that gets softer with every wash. You'll love it so much you'll want one in every color!
What you get with your pattern:

- Free PDF download for our registered customers.
- Print-at-home format on Letter/A4 paper.
- Layered PDF to print just the sizes you want.
- Most patterns available graded in size 0/2 to 28/30.
- Step-by-step instructions on The Thread blog.
- No licensing restrictions. Sew as many as you like for yourself, your family, even your sewing business.

Pattern specifications:
| | |
| --- | --- |
| Type: | PDF Pattern |
| Design Variations: | |
| Sizes: | |
| Illustrations: | No |
| Instructions: | Yes |
Reviewer: Amy
This turned out so well, was quick, and was so easy! Would make again
Reviewer: Heidi
I've made this in four different fabrics: IL019 Bleached-Sig finish, IL019 Allure, IL019 Blush, and IL019 Asphalt. On each, I omitted the cuff because I don't like cuffs, using a 1" hem instead. I also added 3" to the length because I'm a moldy oldie and think when you get to be my age, covering the body as much as possible is the best bet unless you want to make babies cry and dogs bark. This little top looks great under a jacket or by itself with a pair of pants. It's easy to make, comfortable and uses less than 2 yards of fabric. Perfect for Doggie Bag finds! I'll probably make more!
Reviewer: Doris
Downloaded and opened in Acrobat app. Attachment opens in pop-up window, not full screen. Layer function is not available, nor can I save the attachment to open directly. If there's a way to do this on a tablet, I wish you'd provide instructions. If not, it would be nice to know that up front, before wasting the better part of an hour trying. But thank you for the free pattern. I guess I'll just have to find a laptop to borrow.
Oksana
Hi! Sorry to hear you were having a hard time accessing the attached file on an iPad. Here is an article on how to access and print the attached pattern file from your device. You should be able to without needing to look for a computer to borrow. support.fabrics-store.com/hc/en-us/articles/360058020091-Downloading-and-Opening-Free-pdf-Patterns-on-an-iPhone-or-iPad-Apple-IOS- And if still a problem - just email our customer service and we will help via email. Have a great day!
Reviewer: Kelly
I would like to make this tee without the pleat. Do I need to alter the pattern.? If yes, how? Thank you so much!
Lauren
Hello, For this design we have included the pleats to make the neckline smaller. You may like to simply gather the extra fabric rather than pleat it. We also have a blog on adjusting necklines here: blog.fabrics-store.com/2018/04/24/patternmaking-easy-neckline-alterations/
Reviewer: Robyn
I have been making bread bags and tea towels and love work with this fabric. I have several yards of various colors in my stash so thought I'd make this top. I did the download thing but I don't find an actual pattern. What am I missing here?
Lauren
Hello, We have step by step tutorials for accessing the patterns here: support.fabrics-store.com/hc/en-us/sections/360000039523-PDF-Patterns If you're still having issues, please email us and we would be happy to help.
Reviewer: Pat
Thank you for the free download. I am looking forward to purchasing my fabric & getting started!
Reviewer: Molly
Before I download a sewing pattern, I like to look at the size chart and see how much fabric I'm going to need. Unfortunately, with Fabrics Store patterns, the size charts are nearly impossible to find. It would be so, so, so helpful if you would just include the size charts on each pattern's main page, along with a link to the sewing instructions. That way everything would be in one place and easy to find instead of having to play the "where is the thing I need?" game. It's frustrating.
Lauren
Thank you for your feedback. We include the size charts inside the .pdf booklet so that you have your pattern, materials and sizing information all in one place.
Reviewer: Cindy
Size came out just right and the fit is great! I spent a little extra time using french seams instead doing a zig zag finish on the raw edges. The tee is now my staple, if only it would make a few copies of itself ;)
Reviewer: Angelika
I used this pattern to make a long sleeve tunic. It was so easy to sew and alter. I will do a short sleeve version soon.
Reviewer: Erin
I made this as it was 'beginner' level and embarrassingly I have to say I found it quite difficult - well mainly the neck part having never done that before! Luckily there are instructions for each part but I didn't find them very clear. I made the 8/10 and it came out really big and baggy but a nice shape.
Reviewer: Diana
Hi, does this pattern has a seam allowences? Could not find it. Thank you!
Lauren
Yes, all seam allowances are included. They are 3/8" unless stated differently in the Tutorial on the Blog. Happy Sewing!
Reviewer: Marie
I just made this pattern out of polka dot cotton and it turned out terrific. The sizing of these patterns fit so much better than store-bought patterns. Thank you for creating so many patterns that I actually like! I
Reviewer: Leanne
I was able to download the pattern and directions. Since I am not an experienced seamstress, I LOVE the tutorials as well and that they are noted in the directions. Thank you so much for this.
Reviewer: janet
Found the size chart, its in the instructions
Reviewer: janet
This is the first pattern I have downloaded from you and cannot wait to get started. I have been looking for something like this for a while. However I cannot see any size chart so how do I know what size to print?
Reviewer: Gilda
Hola, No puede ver el patrón para imprimir. Solo me descargo las fotos, tallas ,etc.
Reviewer: Linda
I have made a few of the Chelsea and I love how easy it is to sew. I made a muslin first and altered it a bit. I have been using your linen and it fits perfectly! Thank you so much for the free downloads!
Reviewer: Dorothy
Thanks for the free downloads. I look forward to making this tee. Would like to say - the Layered printing feature is wonderful.
Reviewer: Maryellen
You have to download this to your hard drive and then open in acrobat. Look to the left. The pattern is on the left side. Click on it to open up the pattern -- 21 pages to print. DO NOT OPEN IN THE BROWSER. You will only get the 6 pages of instructions and NOT the pattern if you open the pdf in the browser. Took me a while to figure this out.
Reviewer: Anonymous
There are no instructions with the pattern? Thanks!
Oksana
Good afternoon! This pattern is in conjunction with an online tutorial that has the step by step with photos. You can find the tutorial here - https://blog.fabrics-store.com/2018/05/08/linen-raglan-tee-tutorial/
Reviewer: Karley
I love this pattern. I had no problem printing out the right size and putting the pattern together. I found the tutorial very useful for how to do the cuffs and the neck binding. I made the pattern out of a poly crepe to test the fit first, and I love the look. Even with a shifting poly, this pattern was easy to put together and the result is gorgeous. The fit is nice and loose, but I may size down on the next one. Can't wait to make it this top again!
Reviewer: Desi
Very roomy. You learn a shortcut alternative to bias binding which I hate so yay easier methods. Quick way to get the cute cuff look too. It's a fun project that will likely fit most body types well.
Reviewer: Judith
I made this t shirt last week from some polyester fabric I was given some time ago. I just hemmed the sleeves because the fabric was too soft for the cuffs. It looks great and was very easy to make. I can see this pattern will be a favourite.
Reviewer: Chris
Have been wanting to use my linen fabrics for a summer top with sleeves! So glad to see this pattern. I'm going to make it up this coming week and will report back about how it fits etc. Giving it 4 stars until I see how it goes. There are no illustrations or instructions for this pattern, but as an experienced seamstress, I don't think I'll have any problems with construction. I will make a muslin first or at least compare the dimensions to the tee pattern (that is also available on this website). I did do a full bust adjustment to the other tee pattern, so I will be doing the same for this Ragland tee.
Oksana
Hi - excited to hear you will be making the linen tee - there is a tutorial for it just in case you need it for reference https://blog.fabrics-store.com/2018/05/08/linen-raglan-tee-tutorial/. Looking forward to pictures!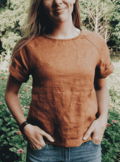 This week I made the CHELSEA Tee in IL019 TERRA linen!  I have been eyeing this simple tee for months and finally downloaded the free pattern to give it a try. The CHELSEA Tee features a boxy silhouette, raglan sleeves, and a bias binding neckline. Like so many of Fabrics-store's patterns, the Chelsea Tee is a timeless and classic piece to wear in my everyday life. You can read more about this project here: blog.fabrics-store.com/2021/08/19/pattern-review-chelsea-tee-in-terra-linen/

Love this top. It's so easy and fast to.make. I have made some alterations to the sleeve, I didn't do the folding. I used a silky cotton fabric and it worked just fine.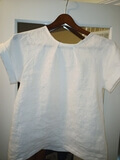 I used IL09 medium wt. This is my first linen fabric project. Very fun to make. I accidentally cut a hole at the edge of the bodice-bust area with the serger machine; but fortunately was able to sew in a curve along the sides to cut out the "hole". With the provided ease, the trimmed version actually looks very nice on the body! Thank you for the pattern, will get more linen to make other garments available on this site!

I used IL019 FROTH softened-middle linen to make the CHELSEA LINEN RAGLAN TEE. Alterations- lengthened the sleeves by 1", added center front and center back seams, and made the hem high-low curve. Second time I've made this pattern. VERY pleased with the pattern design & instructions, and the blog tutorials! Thank You!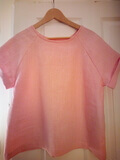 I made another one in mid weight linen. Forgot the pleats at the neck line. It is so comfortable. I even managed to get by with one meter of fabric. Thank you.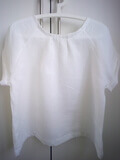 Love this top in off white linen. So versatile a top, dress up or down to suit the occasion. I love it. Thank you.

Easy to follow pattern. Though the sleeves took me a minute to figure out which side the longer edge matched to. I did up a soft cream linen, everything done but sleeves and hem, then didn't like the colour too much so started over in blue. Went much quicker the second time around even with some minor adjustments I made like using french seams (added extra at sleeve seams on cutting for this, but none on sides, took the sides from the A-line as that was plenty roomy). Added a lightweight Pellon to cuffs for a stiffer look and to hem just for easier handling. Pretty good for a day's work.
We're proud to share our patterns without licensing restrictions. You may use our patterns to sew for personal use or for your business. For paid digital patterns, we do not offer returns. Please make sure to ask any questions you may have before purchasing a digital pattern.
Please read: Our patterns are formatted to work reliably across all devices that run Adobe Acrobat Reader applications. Each patterns comes with detailed printing instructions on terms of use. If you have any questions, e-mail us at ask@fabrics-store.com and our pattern makers will reply to you as quickly as possible.

E-MAIL
Please contact us by following the link below.
SUBMIT A REQUEST

PHONE
1 866 620 2008
Call us Monday through Friday 10 am - 6 pm PST
Enter the e-mail address associated with your Fabrics-store.com account:
Temporary password has been emailed
Temporary password has been emailed to ivan@ecwm.com, and should arrive shortly. If you have any questions or problems, please contact our customer care center at 1-866-620-2008.
Your account has been disabled. If you believe this to be a mistake, please call our customer service at 1-866-620-2008 and we will help you with your order. We appreciate your cooperation.
Web Accessibility Toolbar