Anca — High Low Hem Linen Shirt Pattern
Anca — High Low Hem Linen Shirt Pattern
We've added oversized patch pockets and a unique high- low hem shape to give this minimalist collarless shirt a modern twist.
What you get with your pattern:

- Free PDF download for our registered customers.
- Print-at-home format on Letter/A4 paper.
- Layered PDF to print just the sizes you want.
- Most patterns available graded in size 0/2 to 28/30.
- Step-by-step instructions on The Thread blog.
- No licensing restrictions. Sew as many as you like for yourself, your family, even your sewing business.

Pattern specifications:
| | |
| --- | --- |
| Type: | PDF Pattern |
| Design Variations: | |
| Sizes: | |
| Illustrations: | No |
| Instructions: | No |
Reviewer: Sunila
Great shirt pattern. Perfect size, perfect fit. Loved everything about the shirt other than the large pockets. . But that could be omitted, so no issues.
Reviewer: Carole
I think the sleeves are too short on this pattern, also the placement of the pockets doesn't allow for the overlap of the band. I wish that I had used another fabric to test the pattern before making it with the optic white linen. Carole
Reviewer: Helen
It fit me with no alterations sleeves so easy to do.. learned a lot from tutorial including round them.
Reviewer: Cynthia
I put the pdf together and it was spot on. no manipulating the pages etc. This in itself get 5 stars from me as most pdf (free anyway) I end up redrafting. But this is good. Now cutting it out and sewing it up tonight so stay tuned
Reviewer: Frank
Directions for the tutorial are wrong in the pdf. blog.fabrics-store.com/2018/03/06/high-low-hem-collarless-shirt-tutorial/ That one should take you there.
Reviewer: Dee
Had fun following the links to finish the sleeves and neck binding. Think I might lengthen to make a dress.
Reviewer: Judith
I made this last week from some cotton shirting from my stash. It was much easier than I thought it would be and the fit is great. The tutorials were so helpful. You have given me back my sewing confidence.
Oksana
Awww, thank you! That is so awesome - sewing confidence!!! Will let the girls that write the Thread know :)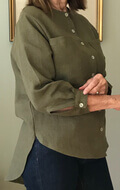 I enjoyed making the Anca shirt in FS linen. The Thread tutorials were easy to follow and I completed the shirt fairly quickly. I made another Anca shirt in a cotton print posted here.

This was my second make using this This High Low Hem shirt pattern. I shortened the back hem length and omitted the pockets. The pattern runs true to size and has easy to follow tutorials on The Thread. Thank you for these free patterns!

I love this pattern. Came out very well. I made it in a khadi cotton/silk blend bought from India. The pattern was perfect for the fabric. I did a few alterations to the pattern. 1. Front neckline depth increased. It was too high for my taste. 2. Sleeve placket omitted. I just gathered the sleeve hem and bound it. 3. Omitted the pockets. I made size 4/6 and it's perfect for me , not too loose, not tight, comfortable fit. I'm definitely going to make more. Thank you for the pattern.

I chose to make the pockets smaller than the pattern. The neckline was thick, and I was worried about trying to make the buttonhole, so I sewed the top button on the right side, and sewed a snap instead.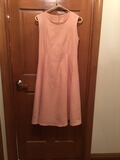 I couldn't post on the Complexion linen page; that is the linen I used with a Vogue pattern 9236. I love this linen!

Love this pattern. Thinking about lengthening it into a dress. Love the fabric. IL022 964 Softened Because it is a two toned thread, it almost has a shimmer. I bought it on sale, but went back and bought a different color (963) at regular price.
We're proud to share our patterns without licensing restrictions. You may use our patterns to sew for personal use or for your business. For paid digital patterns, we do not offer returns. Please make sure to ask any questions you may have before purchasing a digital pattern.
Please read: Our patterns are formatted to work reliably across all devices that run Adobe Acrobat Reader applications. Each patterns comes with detailed printing instructions on terms of use. If you have any questions, e-mail us at ask@fabrics-store.com and our pattern makers will reply to you as quickly as possible.

E-MAIL
Please contact us by following the link below.
SUBMIT A REQUEST

PHONE
1 866 620 2008
Call us Monday through Friday 10 am - 6 pm PST
Enter the e-mail address associated with your Fabrics-store.com account:
Temporary password has been emailed
Temporary password has been emailed to ivan@ecwm.com, and should arrive shortly. If you have any questions or problems, please contact our customer care center at 1-866-620-2008.
Your account has been disabled. If you believe this to be a mistake, please call our customer service at 1-866-620-2008 and we will help you with your order. We appreciate your cooperation.
Web Accessibility Toolbar