IL019 - BARN RED Softened
IL019 All-purpose Barn Red Softened - 100% Linen - Medium (5.3 oz/yd2)
Price: $16.58 per yard

The great American realist Edward Hopper had a remarkable gift for observation, finding strange intrigue in the most unlikely of places. Gas stations, late-night bars and quiet buildings tucked away in the wilderness all take on an enigmatic wonder through his stark, directional lighting, angular compositions and striking accents of colour.
BARN RED Linen's entrancing shade of red was a color he would explore throughout his career, considering how this bold, seductive hue could bring enticing streaks of juicy color into otherwise muted, pared back scenes and injecting them with the spirit of modernity.

At a medium weight of 5.3 ounces this 59 inch wide 100% linen is versatile enough to be referred to as an All Purpose or Do it All linen. With its smooth look and tighter weave, this linen is neither sheer or heavy, but just the right in-between weight you will need for a variety of projects.
The cloth is Softened so we have added a softener to give it a silkier hand. The fabric has not been laundered so shrinkage will still have to be taken into consideration (shrinkage depends on fabric weave and laundering method).
Fabric specifications:
| | |
| --- | --- |
| Article : | IL019 All-Purpose |
| Content : | 100% Linen |
| Type : | PLAIN WEAVE |
| Thread size warp : | 17.9 |
| Thread size weft : | 17.9 |
| Thread count warp : | 46 |
| Thread count weft : | 37 |
| Color : | BARN RED |
| Weight : | 5.3 oz/yd2 |
| Width : | 59 inch |
Customer Questions and Answers
Can I get a sample of this? I just placed an order but I wasn't able to order a sample of this color.
Deborah jo • February 3, 2023
Yes, we will send a sample via regular mail to the address on file.
Maureen • February 3, 2023
Can i order a sample of this?
Studio • February 2, 2023
Because you placed an order we will place this sample with your order
Patricia • February 2, 2023
As usual the quality was great. I used this to make a historical costume circa 1810. It was super easy to work with and the gown looks great. The only issue is that the material I received was distinctly rust colored, not what I would consider barn red. It was basically the same tone as Mecca Orange, only darker. I'm not sure if I just got a bad dye lot or what. Thankfully, it didn't make a difference for this project, but I was a little disappointed.
Teresa • October 17, 2021
I've gotten this and the Beet Red as well. They were quite different, and this one definitely matches what I think of a a barn red. Still thinking about how to use this, but wanted to find out for myself. I Love this linen! After I receive package I sort into color groups, prewash and dry. Hot wash, cold rinse, and hot drying guarantees pre shrinking. I add a dye magnet to the laundry load, and use regular detergent. Works great!
Judith • July 12, 2021
I have a continuum of reds that I love, and Barn Red is definitely the favorite. My continuum goes from Mecca Orange (PLEASE RESTOCK!!) -> Barn Red -> Kenya -> Spice; the tones move from decidedly orange quickly to darker brick. All lovely. Barn Red best marries both brick and orange undertones, nothing harsh or loud about it, and incredibly flattering.
S • May 12, 2021
My last order included these two colors. On my monitor they we're different colors. Now that I have them they are exactly the same (beet red). Thought one may lighten and redden after washing and drying but nope still exactly the same. ???
Beth • April 5, 2021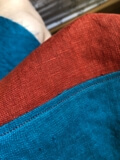 I used the red + blue fabric to create a very soft raggedy-anne type outfit in my school colors for an art-school graduation. It was so incredibly easy to work with that it's won me over to linen forever, I think! This photo is taken in natural light, so the color seems a bit more washed out than it is in person, but the "IL019 All-purpose Barn Red Softened" is a very rich, vibrant red, leaning just a little more towards rust or scarlet shades. the other fabric here is "IL019 All-purpose Cerulean Softened" which is also mid-weight, very soft, very comfortable. While I made this outfit for my graduation, I ended up wearing my graduation outfit all summer because it was so comfortable. I want to stress that it was very easy to sew all sorts of tricky seams on this fabric—I could press it down with my fingers and it would hold position when sliding it through my sewing machine, but still the fabric stayed soft! It was wonderful to work with.
Sebastian • January 17, 2023


IL019 All-purpose Barn Red Softened - 100% Linen - Medium (5.3 oz/yd2)
Sample Size: 2" x 3.5" (Including Swatch Card)
Free Standard Shipping
* Samples are pre-assembled and may not come from the same fabric bolt you order from. Color may vary. All fabric samples are shipped via USPS without tracking.

E-MAIL
Please contact us by following the link below.
SUBMIT A REQUEST

PHONE
1-866-620-2008
Call us Monday through Friday 10 am - 6 pm PST
Once you are happy with your order, please proceed to checkout where you are able to review your order and estimated shipping charges before you complete payment. Shipping charges are calculated by the weight and location your order is shipping to.
You will be able to choose from the following options:
Standard Shipping: 4 - 8 Business Days
Expedited Shipping: 3 - 4 Business Days
Priority Shipping: 2- 3 Business Days
International shipping charges are also calculated at the time of checkout. Please note there may be fewer shipping options available to you as the options are based on the destination of your package.
Delivery times begin one business day after the order is placed with a 24-48 hour time frame for processing.This processing period applies to all in stock items and allows for the time needed to manually cut and package your order to ensure it is checked for quality and accuracy before it leaves our facility.
Business days are Monday - Friday, 9AM - 4PM PST. Saturday, Sunday and Holdays are not considered business days.
Sample color chips are sent via regular mail and may take up to a week to arrive.
All goods are subject to prior sale and please feel free to Visit My Order to check the most up-to-date status of your order.
Making a return is quick and easy, you have 30 days from delivery to return the item or items in their original condition (unwashed, uncut and unaltered). Please include a copy of your packing list and once the return is received we will contact you to see if you would like an exchange, a credit to your Fabrics-store account or the monies returned to your original payment method.
Ship Returns to:
Fabrics-store.com
6013 Scott Way
Commerce, CA 90040
HOW DOES FREE SHIPPING WORK?
Take advantage of our Free Shipping offer on orders shipping within the contiguous US.
Every day on orders of $150 or more - we will pay for your shipping.
Your order will be shipped Standard Shipping (4-8 Business Days) with the shipper of our choice. No international orders.
Standard shipping takes 24-48 hours for processing. Delivery times begin one business day after the order is placed. This is due to your order being manually cut and packaged to ensure quality.
Please note that some of our darker or more vibrant shades will have some residual dye run off or bleeding. It is important that you launder or treat like colors with like colors so that you do not compromise the integrity of any other colors, fabrics or garments during the launder process.
We also suggest that if you are combining one or more of these types of colors with lighter colors that you pre-wash the linens seperately and once the item is completed do not launder again, but Dry Clean.
Fabric Care
Machine wash cold.
Gentle cycle.
Only non-chlorine. Bleach if needed.
Tumble dry low.
Medium steam iron.
Do not use Perm Press cycle in wash or dry