IL019 - OPTIC WHITE Softened
IL019 OPTIC WHITE Softened - 100% Linen - Middle (5.3 oz/yd2) - 20.00 Yards
Price:
$301.60 per item

Sale price:
$271.44 per item (10% off)
A crisp, true bright white that is clean and pure in look and feel.
At a medium weight of 5.3 ounces, this 100% linen is versatile enough to be referred to as an All Purpose or Do it All linen. With its smooth look and tighter weave, this linen is neither sheer or heavy, but just the right in-between weight you will need for a variety of projects.
The cloth is Softened so we have added a softener to give it a silkier hand. The fabric has not been laundered so shrinkage will still have to be taken into consideration (shrinkage depends on fabric weave and laundering method).
Fabric specifications:
| | |
| --- | --- |
| Article : | IL019 Multi Purpose |
| Content : | 100% Linen |
| Type : | BASIC |
| Thread size warp : | 17.9 |
| Thread size weft : | 17.9 |
| Thread count warp : | 46 |
| Thread count weft : | 37 |
| Color : | OPTIC WHITE |
| Weight : | 5.3 oz/yd2 |
| Width : | 59 inch |
Customer Questions and Answers
Hi I work for a watch company named F.P.Journe and we're opening a new Boutique in New York. The Boutique will also be a social space with a full kitchen to host dinners and aperitifs - and for that, we would need napkins (normal ones for dinners & small, squared ones for aperitifs), and tablecloths. Everything would need to be white with our logo embroidered in white. Could you please provide me with some suggestions? Then we could organize samples shipping Many thanks Best,
Elyssa • September 21, 2022
Thank you for your inquiry, I will send the information you requested directly to your email.
Maureen • September 21, 2022
I have worked with various weights of linen from various vendors from various countries. This linen is far superior especially for the price. As an added bonus the service received is always excellent and courteous.
Michele • September 6, 2022
This is my all time favorite for summer clothing. This time I'm planning a blouse... cool & comfortable, no fuss on a hot, humid day. Can't go wrong. Perfect!
Rose • July 1, 2022
I love the IL019 signature finish fabric. I use it extensively for embroidery projects sold on my Etsy shop (AdaliaSeasonalDecor). The signature finish is fantastic. So soft, wrinkle resistant and easy to work with. It's the perfect weight for most of my projects including tea towels, pillows and decorative pillows. The optic white is a slightly off-white.
Marsha • February 28, 2022
I purchased the medium weight linen. I originally intended to make shower curtains for our farmhouse guest suite. But after I washed the fabric, I really fell in love with it. Do I still make crazy amazing shower curtain? Or do I make a summer quilt? I am leaning towards summer quilt. Decisions can be so much fun. Excellent quality- gotta be honest. I really wasn't expecting this being so perfect. Optic white linen. So soft but durable. It will only get more soft with use. It reminds me of that old European Country (it was Southern Germany) Bed&Breakfast. Her linens were what I stive for now. Wish me luck
Samona • November 9, 2021
See All >
I chose FS OPTIC WHITE Midweight Linen to make the Mykonos Pants and something that hadn't occurred to me at the time was that white linen is not opaque. Maybe with a heavier weight it would be a different story, but when I look in the mirror all I see is my black underwear and the pocket linings. Something to bear in mind next time when choosing a fabric!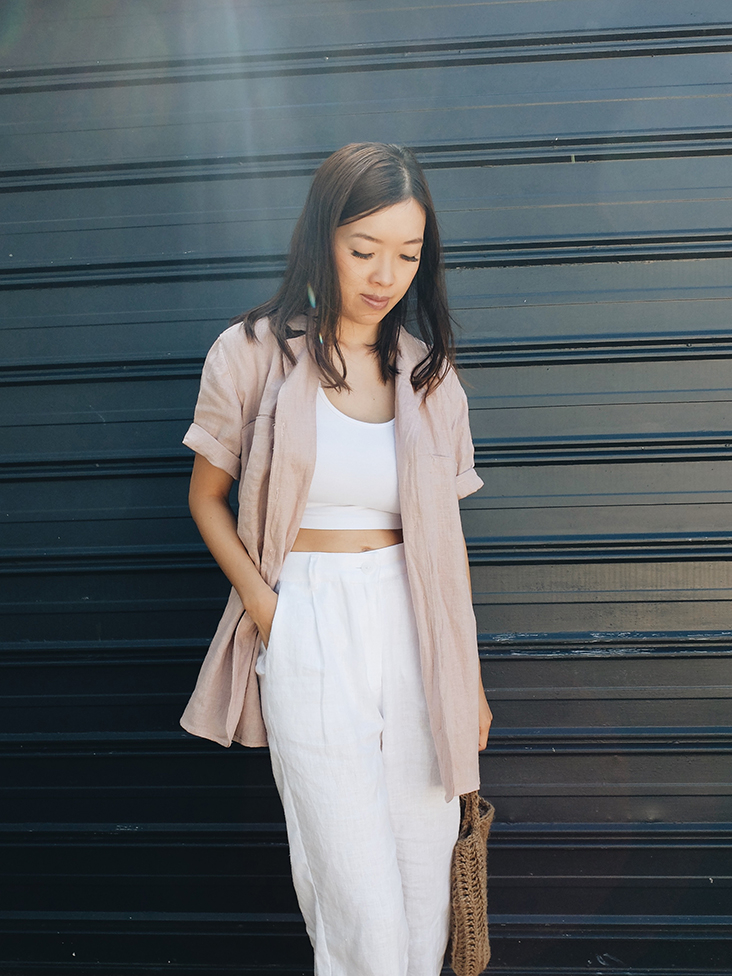 IL019 OPTIC WHITE Softened 100% Linen Middle (5.3 oz/yd2)
I've chosen to make The Assembly Line Tulip Dress because it has a fitted bodice that will be flattering on my curvy figure. It also has a zipper back, and until now, I've managed to avoid zippers! Inspired by a Dissh ready-to-wear dress similar to this pattern, I've made the dress with FS OPTIC WHITE linen. Something about white on older women is very appealing. I imagine it as embracing that crone-goddess energy. Women don't need to hide when they get older. We're at our most appealing selves when we have earned this much wisdom and power. White feels like owning that space and radiating the kind of settled satisfaction I feel in my own body and life right now.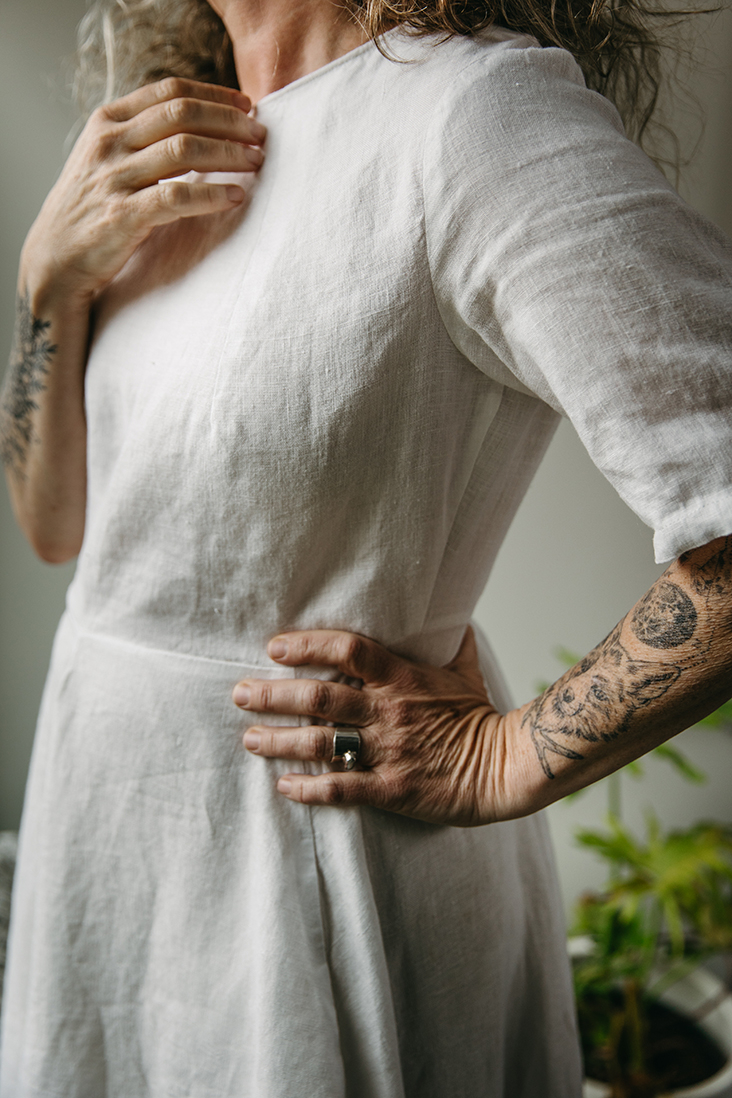 IL019 OPTIC WHITE Softened 100% Linen Middle (5.3 oz/yd2)
These towels turned out so wonderful on IL019 Optic White Signature finish. So great for use in the kitchen. These can be found in my shop at adaliaseasonaldecor.etsy.com.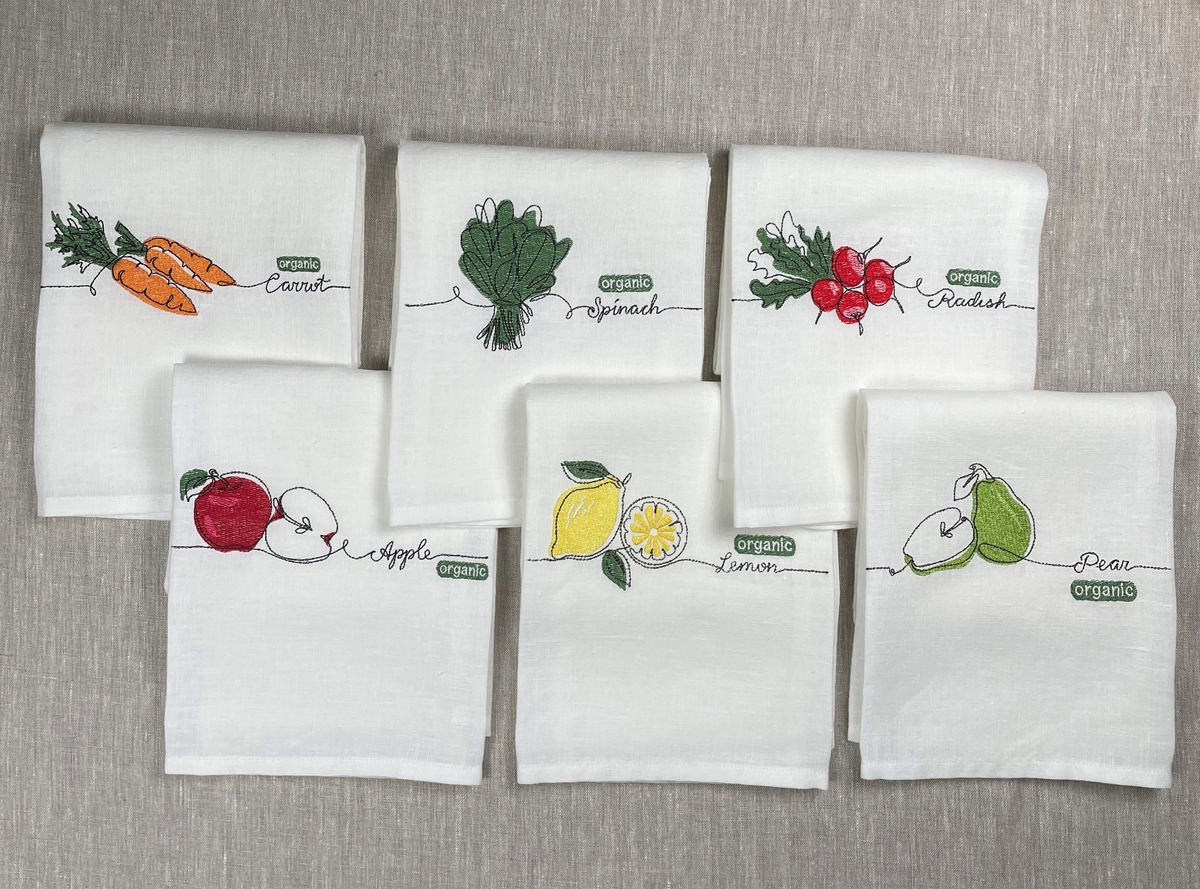 IL019 OPTIC WHITE Softened 100% Linen Middle (5.3 oz/yd2)
I created this cute easter bunny tea towel on IL019 signature finish optic white. I love to embroider on this fabric and it's the perfect weight for towels. See this and other linen tea towels on my site at AdaliaSeasonalDecor.Etsy.com.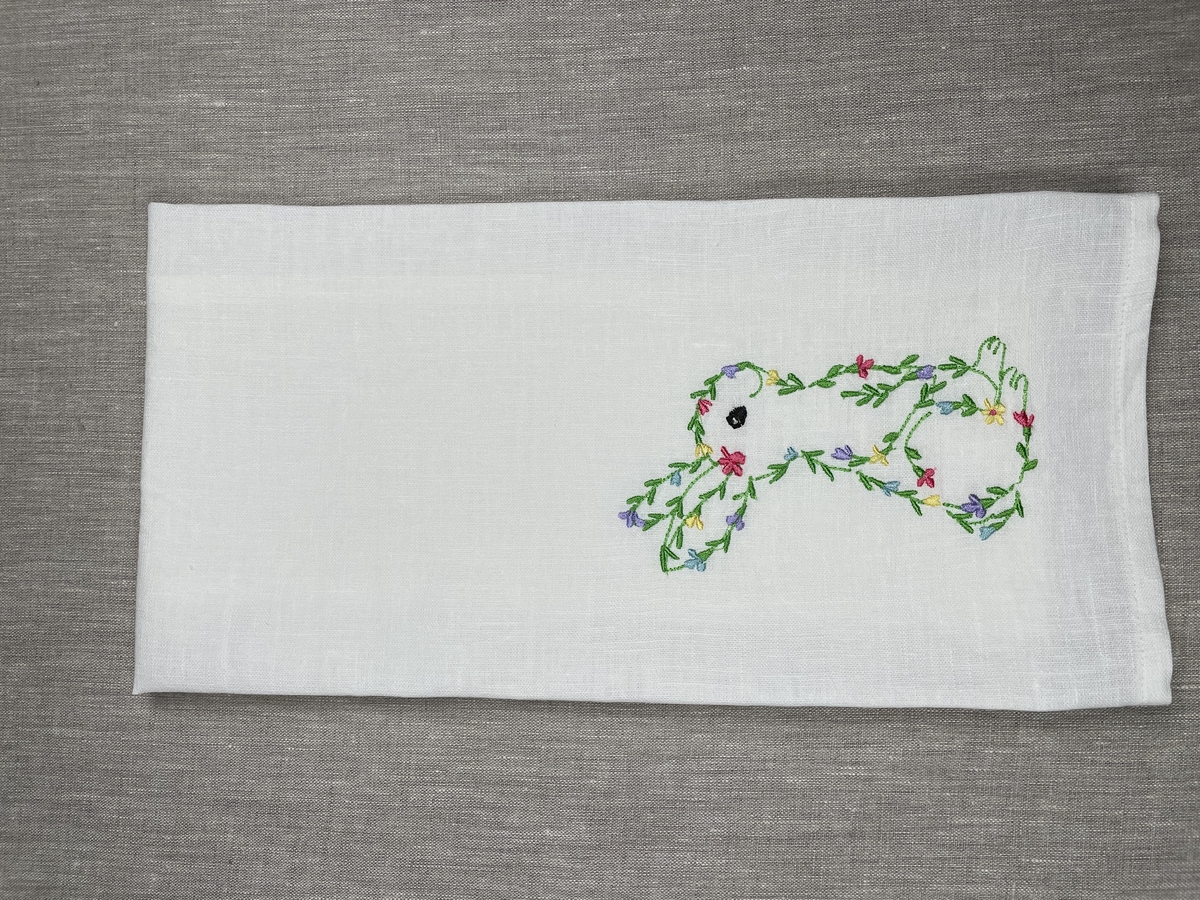 IL019 OPTIC WHITE Softened 100% Linen Middle (5.3 oz/yd2)
I bought this beautiful fabric for a simple delicate blouse and line A skirt. But in need to give a gift to a little pretty girl I decided to work with this white linen. Love to work with this fabric. It was nice and easy to smock on it.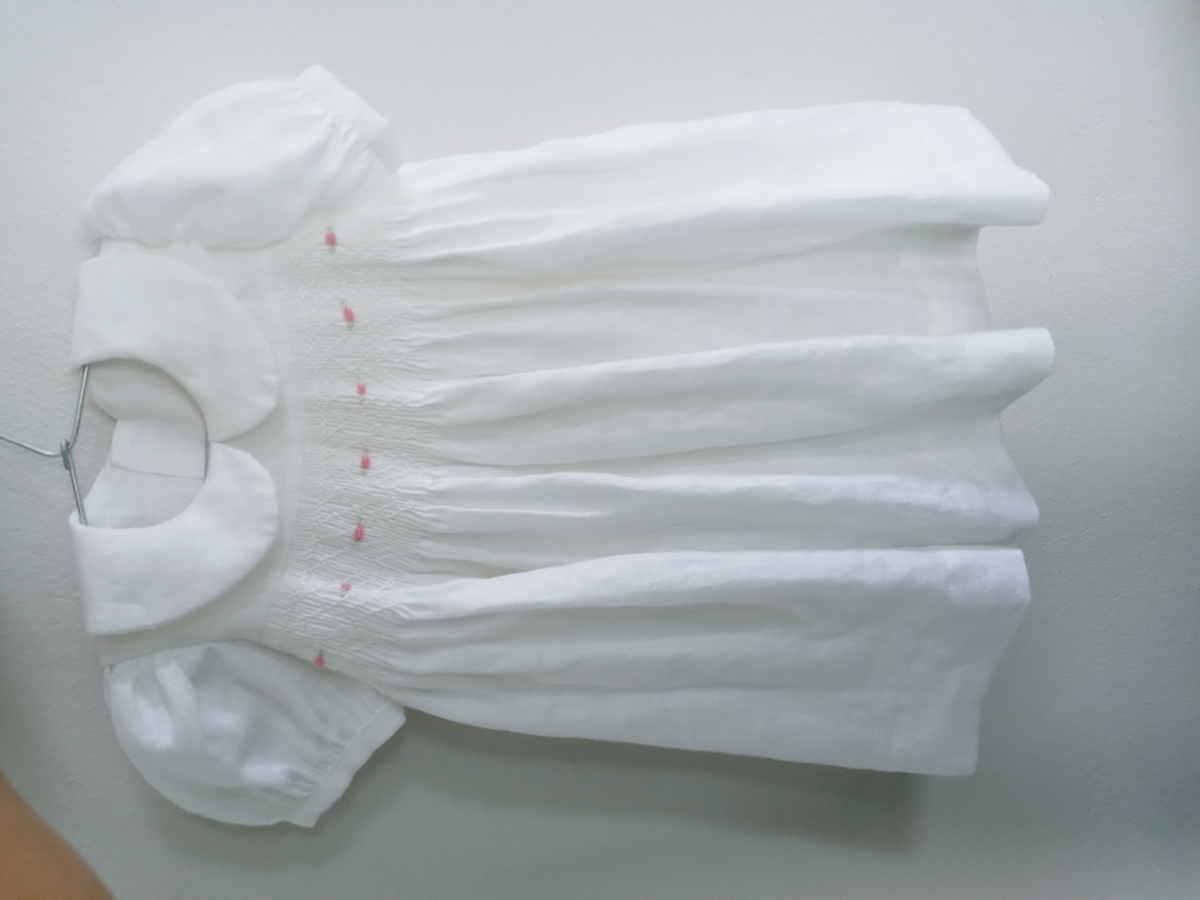 IL019 OPTIC WHITE Softened 100% Linen Middle (5.3 oz/yd2)


IL019 OPTIC WHITE Softened - 100% Linen - Middle (5.3 oz/yd2)
Sample Size: 2" x 3.5" (Including Swatch Card)
Free Standard Shipping
* Samples are pre-assembled and may not come from the same fabric bolt you order from. Color may vary. All fabric samples are shipped via USPS without tracking.

E-MAIL
Please contact us by following the link below.
SUBMIT A REQUEST

PHONE
1-866-620-2008
Call us Monday through Friday 10 am - 6 pm PST
Once you are happy with your order, please proceed to checkout where you are able to review your order and estimated shipping charges before you complete payment. Shipping charges are calculated by the weight and location your order is shipping to.
You will be able to choose from the following options:
Standard Shipping: 4 - 8 Business Days
Expedited Shipping: 3 - 4 Business Days
Priority Shipping: 2- 3 Business Days
International shipping charges are also calculated at the time of checkout. Please note there may be fewer shipping options available to you as the options are based on the destination of your package.
Delivery times begin one business day after the order is placed with a 24-48 hour time frame for processing.This processing period applies to all in stock items and allows for the time needed to manually cut and package your order to ensure it is checked for quality and accuracy before it leaves our facility.
Business days are Monday - Friday, 9AM - 4PM PST. Saturday, Sunday and Holdays are not considered business days.
Sample color chips are sent via regular mail and may take up to a week to arrive.
All goods are subject to prior sale and please feel free to Visit My Order to check the most up-to-date status of your order.
Making a return is quick and easy, you have 30 days from delivery to return the item or items in their original condition (unwashed, uncut and unaltered). Please include a copy of your packing list and once the return is received we will contact you to see if you would like an exchange, a credit to your Fabrics-store account or the monies returned to your original payment method.
Ship Returns to:
Fabrics-store.com
6013 Scott Way
Commerce, CA 90040
HOW DOES FREE SHIPPING WORK?
Take advantage of our Free Shipping offers on orders shipping within the contiguous US on the following days:
Every Monday and Wednesday on orders of $150 or more.
Every day on orders of $1,000 or more.
Your order will be shipped Standard Shipping (4-8 Business Days) with the shipper of our choice. No international orders. Standard shipping takes 24-48 hours for processing. Delivery times begin one business day after the order is placed. This is due to your order being manually cut and packaged to ensure quality.
Please note that some of our darker or more vibrant shades will have some residual dye run off or bleeding. It is important that you launder or treat like colors with like colors so that you do not compromise the integrity of any other colors, fabrics or garments during the launder process.
We also suggest that if you are combining one or more of these types of colors with lighter colors that you pre-wash the linens seperately and once the item is completed do not launder again, but Dry Clean.
Linen
Machine wash cold.
Gentle cycle.
Only non-chlorine. Bleach if needed.
Tumble dry low.
Medium steam iron.
Semilinen
Machine wash cold.
Gentle cycle.
Only non-chlorine. Bleach if needed.
Tumble dry low.
Medium steam iron.