Riva — Linen Shirts, Pant and Short
Riva — Linen Shirts, Pant and Short
Price:
Paper Pattern : $45.00

The Riva pattern collection has the perfect balance of classic tailoring and casual ease. We started with an iconic high-waist pleated trouser in a leg-lengthening silhouette and paired it with our creative take on the button-down shirt. For a lighter look, we have included options for shorts and a sleeveless shirt.

What you get with your pattern:

- 1:1 fit and pattern consultation with our in-house pattern maker and fit expert.
- The latest in sizing. We use up-to-date technology and body shape data to get you a better fit.
- Professional clothing construction techniques. Developed by industry insiders with 100 years of shared experience.
- Illustrated instructional booklet to get you from start to finish. Written with the beginner in mind.
- Comes printed on crease-free, rolled plotting paper. Professional quality.
- Your pattern comes with only the sizes you requested printed in vibrant colors. Less clutter for easier cutting.
- Complimentary pattern storage tube and pattern hook.
- Pattern card for easy reference.
- Sew for your business? The pattern license is free with purchase.

Pattern specifications:
| | |
| --- | --- |
| Type: | Paper Pattern |
| Design Variations: | 4 |
| Sizes: | 2 to 8, 10 to 16, 18 to 24 |
| Illustrations: | Yes |
| Instructions: | Yes |
Reviewer: Franki
My second pair of the pants is currently on my sewing machine. My first pair are made with IL019 Asphalt FS. Size 6 fit like a glove and they are heaven to wear. I will be making the long sleeved shirt out of IL019 Medieval Blue softened next. I LOVE THIS STORE!
Reviewer: Joyce
I loved working with Linen for the first time. It was a pleasure to make the blouse. It was the first time sewing clothing in such a very long time and it was easy with your directions. I love the professional look. I will be buying more fabric.
Reviewer: Kathy
The shirt pattern works out well. I haven't tried it in linen yet but my mock-up went together fine. I'm struggling with the shorts pattern. The zipper is backwards from the conventional orientation and so intuition is useless. It's confusing to try to reverse it all. The photos aren't big enough or detailed enough to be useful. Maybe if I already knew how to do this kind of zipper it would help a lot but I don't. Fortunately, just working on a practice garment right now, so no loss if I fail. (Sorry for the incomplete review below. Can't figure out how to erase it.)
Lauren
Thanks so much for your feedback on our patterns. We truly value it so we can make them as clear as possible! I'm going to send you an email and I'll walk you through inserting the zipper. Lauren
Reviewer: Kathleen
I have made dozens of shirts and this one goes together like a dream. The drape of the back pleat is unique and fun. I got compliments and a request from a colleague to make one for her. Love it so much, I made it in two colors. I made the shorts...my first adventure into tailoring. The hardest part was the loop for the back pockets. After two failed attempts, I decided to cut a 2-inch wide bias strip and use my zipper foot and some cord to make piping. Then I stitched across one end to anchor the cord, trimmed the seam to 1/8 inch, and turned it. Perfect! I don't understand what is up with the back waistband. I will make it much narrower in the back and eliminate the raw edge to raw edge feature. Finally, the fly is the reverse of every other pant I own. Nest time I will reverse the application. Otherwise, this is a great, flattering pattern, and I will be using it for years.
Reviewer: Sheila
when advertising your patterns online, it would be extremely helpful to make yardages for the sizes and the individual garments available so that we can plan how much fabric to buy when we are inspired by a sale and like a pattern we see. Spontaneous people would appreciate it.
Oksana
Hi! Thank you so much for reaching out - right above the add to cart button there is a "View Size Chart" link and it opens up into details of sizes/yardage for that particular pattern. I will talk to the team to see how we can make that link more prominent. Have a great day!
Reviewer: Mary
I love this pattern. The double welt back pockets and the traditional fly front on the pants and the sleeve plackets on the shirt are so traditional. I'm particularly impressed by the treatments for the pants hems and the shirt collar as a way of saving my time. However, if you're impatient or a less experienced seamstress, this may be bit too much. The Charlie pattern, which I also love, is much easier. No fly-front, no double-welt back pockets, no sleeve plackets, and only one buttonhole. The high waist and sash on the pants may not be what you want, but the sash can be dispensed wit, saving yardage.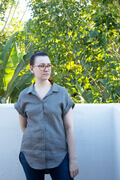 My Riva Short Sleeve Shirt! Very comfortable and a lovely fit. I adjusted the shirt by removing some of the length off the shirt front and back. I am 5'4". Fabric is Fabrics-store's IL019 Middleweight in the Asphalt color with the Signature Finish.
Enter the e-mail address associated with your Fabrics-store.com account:
Temporary password has been emailed
Temporary password has been emailed to ivan@ecwm.com, and should arrive shortly. If you have any questions or problems, please contact our customer care center at 1-866-620-2008.
Your account has been disabled. If you believe this to be a mistake, please call our customer service at 1-866-620-2008 and we will help you with your order. We appreciate your cooperation.
Web Accessibility Toolbar