Oona — Oona A-Line Dress With Oversized Patch Pocket Pattern (PDF)
Oona — Oona A-Line Dress With Oversized Patch Pocket Pattern (PDF)
The great thing about Oona pattern is that it's so simple to work with and you should be able to polish one off in an afternoon. And once you've made a basic version you can vary it according to your own personal style: you can either shorten or lengthen the hem, the sleeves (or no sleeves at all) or add some embellishments (like our cute little patch pocket). It's easily tweaked into lots of different looks.

But the real magic of an A-Line dress is that it flatters literally all body shapes. For those with fuller hips, the A-Line design with its flare towards the hem draws the eye's attention upward. For those with slimmer figures, it creates curves where they don't exist. And for those with larger busts, it provides a more balanced silhouette.
Free print-at-home format on A4 paper
Layered PDF to print just your size
Most patterns graded in size 0/2 to 28/30
Many have Step-by-step instructions on The Thread blog
No licensing restrictions. Sew as many as you like
Pattern specifications:
| | |
| --- | --- |
| Type: | PDF Pattern |
| Skill Level: | Beginner |
| Design Variations: | |
| Sizes: | 0/2 to 12/14, 16/18 to 28/30 |
| Illustrations: | Yes |
| Instructions: | Yes |
Customer Questions and Answers
It's all pieced together and I'm going to start making my working pattern from it. I did notice that it's not quite right. The side pockets are titled Chest Pocket, the sleeve says BACK Cut one on fold instead of Sleeve Cut two face to face, and pattern page 10 is all skewed. I haven't gotten around to making the dress itself, but if it's anything like the Chelsea, Phoebe, Agustina, Alexandra, or Monique patterns, I'm sure it's going to be wonderful.
Heidi • August 19, 2021
Lauren
Hello, Please lookout for an email from us. We'd like to get to the bottom of this and improve the pattern where needed. :)
Thank you for another great pattern! I am obsessed with the patterns this store has to offer. I made this in a size 12-14 and I would say that this is a slightly oversized pattern.
Rebecca • July 27, 2020
I love this dress! Thank you! Please look at the pattern page numbering - it needs a fix.
Katherine • June 8, 2020
Oksana
Hi! Thank you so much for noticing and letting us know. Fixing it and will upload corrected version shortly :)
A great pattern. As a newbie, I referred to the step by step pictures a lot, which helped. Good tutorials on in-seam pocket and neck binding too. I was between sizes so went bigger...it was too loose, so I added belt hoops and a belt to tie at the back. I will make a smaller one when I make again. Aplain dress easy to customize.
Sue • December 31, 1969
The pattern is an easy sew. I cropped the sleeves to make a short sleeved dress and should have done some adjustments on the sleeve pattern. If I had lowered the slope of the sleeve pattern, I would have more room to raise my arms. I measured between a 4/6 and 8/10 and I have broad shoulders. I usually size down in patterns, so I went with 4/6 and should've chosen 8/10 because the back is too tight for me to move my arms around much. May add a gather or dart in the back next time to give myself more room but not size up and have too much fabric. I wish that Fabrics-Store would show a diagram of the way the pages are supposed to be laid out like other PDF pattern makers. Some page numbers were duplicated and it was hard to figure out how to fit the pages together. Regardless, this free pattern sewed up nicely. Thanks Fabrics-Store!
M • September 8, 2019
See All >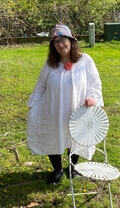 I used FS 019 Bleached and made several hacks. I wanted the dress to be very loose, so I made it about 3 sizes too big and put an inverted pleat in the center. I made these flutter bell sleeves to get a more peasant look. Finally, I added splits at the side seams and made them longer on the outer edge that the center. This is the fabric straight from a low-heat dryer without pressing. I am planning to crochet a trim around the neck when my hand heals from surgery.
Jane • April 24, 2022

I finally got around to making Oona. Another great pattern! I shortened the sleeves and used my embroidery machine to give it a floral embroidery for the pocket. Being 5'2", this dress came to my ankles, which is exactly what I wanted. The fabric is IL019 Allure. The picture doesn't do the color justice, which is a pity because Allure is such a beautiful color! I love the FS patterns! They're fun to download, cut down, match the patterns, tape them together, trace the pieces on butcher paper and finally cut to make a working pattern. It makes me use kindergarten skills! The tutorials are great, too! Sewing has changed a lot from over 40 years ago, and I am very glad to have found Fabrics-Store and their wonderful patterns to help ease me back into making my own clothes.
Heidi • August 28, 2021
We're proud to share our patterns without licensing restrictions. You may use our patterns to sew for personal use or for your business. For paid digital patterns, we do not offer returns. Please make sure to ask any questions you may have before purchasing a digital pattern.
Please read: Our patterns are formatted to work reliably across all devices that run Adobe Acrobat Reader applications. Each patterns comes with detailed printing instructions on terms of use. If you have any questions, e-mail us at ask@fabrics-store.com and our pattern makers will reply to you as quickly as possible.
Beginner - Can sew simple straight & curved seams, some topstitching. Includes crafty-type projects and garments that do not require complex sewing techniques or closures.
Confident Beginner - Has sewn a few simple projects and is ready to learn more. Includes techniques such as set-in sleeves, inseam pockets, patch pockets, generous topstitching.
Advanced Beginner - Eager to continue building skills with new techniques such as zippers, buttons & buttonholes, tailored collars & cuffs.
Intermediate - Comfortable with projects that include multiple techniques such as pleating, yokes, fly zipper, slant pockets, and tailored waistband.
Advanced - Confident with complex, multi-step construction such as welt pockets and unusual details. Enjoys the challenge of new techniques and designer quality.
Oona
*If prewashing in hot water, you may need up to extra 10% fabric due to shrinkage. ALL SEAM ALLOWANCES ARE INCLUDED AND NOTED ON THE PATTERN AND IN THE TUTORIAL.
*If prewashing in hot water, you may need up to extra 10% fabric due to shrinkage. ALL SEAM ALLOWANCES ARE INCLUDED AND NOTED ON THE PATTERN AND IN THE TUTORIAL.

E-MAIL
Please contact us by following the link below.
SUBMIT A REQUEST

PHONE
1 866 620 2008
Call us Monday through Friday 10 am - 6 pm PST
Enter the e-mail address associated with your Fabrics-store.com account:
Temporary password has been emailed
Temporary password has been emailed to ivan@ecwm.com, and should arrive shortly. If you have any questions or problems, please contact our customer care center at 1-866-620-2008.
Your account has been disabled. If you believe this to be a mistake, please call our customer service at 1-866-620-2008 and we will help you with your order. We appreciate your cooperation.
Web Accessibility Toolbar