Magda — Crisp Linen Pants Pattern
Magda — Crisp Linen Pants Pattern
Nothing says summer like a crisp pair of white linen pants! These tapered pants have pockets and a comfortable elastic waistband. Wear with sneakers or heels!
Free print-at-home format on A4 paper
Layered PDF to print just your size
Most patterns graded in size 0/2 to 28/30
Many have Step-by-step instructions on The Thread blog
No licensing restrictions. Sew as many as you like
Pattern specifications:
| | |
| --- | --- |
| Type: | PDF Pattern |
| Skill Level: | Confident Beginner |
| Design Variations: | 0 |
| Sizes: | |
| Illustrations: | No |
| Instructions: | No |
Reviewer: Heidi
The only thing wrong is the description. I have two pairs of pants just like these in Moroccan Cotton (65% cotton, 35% rayon) that I paid $125.00 per pair about 10 years ago. They're called HAREM pants. Big and baggy, tapering down to almost snug at the ankle. If you are looking for a more traditional fitting pattern, try Alexandra, adding pockets if you like pockets. But if you're looking for comfy fit that looks perfect with big, blousy tunics or want to make a tiny waist look even tinier, this is the pants pattern for you.
Reviewer: Roberta
Great pattern but too bad I being sent around the fabric world to find instructions. I get to the THE THREAD Blog and it is not there. Come on.....do a quick download of instructions and stop playing around to get more hits on pages. I have spent to much money on your fabric to be sent on this run around!
Lauren
Hello, here is the link to the tutorial: blog.fabrics-store.com/2017/07/13/magda-crisp-linen-pants-tutorial/ If you ever cannot find one for the tutorial, simply search the pattern name in the search bar :) We are in the process of updating our free patterns to simply include a link to the blog and instructions to search for the pattern name in order to get the tutorials, This way we won't have any broken links to worry about :)
Reviewer: Mariann
Having read through the reviews of this pattern (enticed by Morgann's initially), I decided to make a test version for sizing in the IL019 Signature Finish (I keep buying patterns with 3 yards included) before making "real" pairs in the heavy-weight linen 4C22 colors I have purchased. I am 5'4" and 165#, slightly long waisted. I went down 2 sizes from the suggested size for my measurement, shortened the legs by 4 inches, and, based on a few comments about the rise, decreased that by 3 inches, did not cut out pockets--this was intended to be a quick sew to understand the pattern and I intend to wear as lounging pants. My results--good call on mods EXCEPT the decrease of the rise. After constructing all but the waist, I slipped them on and they were too low. So, I added the 3 inches back by sewing a strip to the top(these are not leaving the house). I have a few modifications I plan to make for subsequent trousers. I may peg the lower leg slightly, they are almost that awkward middle ground between full and narrow, sort of meh (on me). I will keep the smaller size, normal rise and maybe google around for modifying the seat to be a little fuller. It feels as if the center is not quite there. Also, will cut waist band to fit the top pants without the need to pleat, daughter said that was not complimentary. Thank you AGAIN for another great pattern, easy to follow instructions, lovely material, and copious inspiration!
Reviewer: celina
I keep reading in the comments that these pants are a little more than roomy. I am wondering whether I could use this pattern for pajamas pants with my just laundered optic white IL019.
Reviewer: Victoria
This was the first pair of pants I ever made and couldn't be happier. After printing, putting together and tracing the pattern it should take maybe 2 hours to make these. Instructions are clear and simple to follow. The one thing I would recommend is to downsize, this pattern is OVERSIZED. According to the chart I had to make a 22 (I usually wear a 10/12) and my 6.5 tall boyfriend ended up wearing them. I am making these again but in my size very soon.
Reviewer: Kate
I know other people have said this and I took it into account when I cut them out, trimmed about an inch off on either side and adjusted the middle seam as well. But the thing that is really tricky for me is that even after cutting the waistband in half and using one round of waistband elastic, the crotch either hits me halfway to the knee or, if I pull them up so the crotch is in the right place, the waistband is up around my ribcage! I'm going to take them apart and rework them again. I was looking for relaxed fitting but this is just plain silly. If there is a new pattern for pants that is not quite so generous, what is it called? Too late for this pair but I would use it next time.
Reviewer: Patricia
I have a question about the seam allowance on these pants. The pattern calls for a 3/8" seam allowance but in the tutorial it says to sew a 5/8" seam. Also, in the pocket tutorial it states, "When sewing flat-felled seams, remember to increase the seam allowance of your pattern to 5/8?". What is the correct seam allowance?
Oksana
Good afternoon! Thank you for noticing the discrepancy. It was a typo on the pattern itself - we just fixed it. The seam allowance should be 5/8" on these pants.
Reviewer: Bridget
You mentioned that the pattern sizing was being adjusted - has this happened? Thanks!
Reviewer: Jennifer M
This pattern runs very large. This is shown in the finished garment measurements, so keep that in mind. I used two sizes smaller than suggested and took them in slightly more in the leg, they are still very generously sized with a six inch ease to my measurements. I also chose to leave off the top elastic for a paper bag look that is better scaled to my stature (shorter ruffs). I will put the third in when I tire of that look. My daughter is in her early twenties and this is the first time she has expressed a desire for me to sew her something. I used the heavy weight natural linen, and it was a dream to work with. They are already my favorite pants, so I am planning a lighter weight version for summer. I may decide to shorten the rise slightly, but I found it to be consistent for a lounge pant, but prefer a little less ease in the crotch. I did find the instructions a bit hard to follow. I changed the pocket to extend it to the waistband to make the pocket a bit more stable. If this were my first project I may have found it harder to put together properly, as instructed, and that is why I felt I must only give four stars. If you have any sewing experience, it is pretty simple. Partly I blame the low number of notches on the pattern, I drafted a couple more in to help me next time. This was a great confidence booster project for me, and my most worn handmade item so far.
Reviewer: Anonymous
First pair of trousers I have made and I'm amazed at how they came out! They look great with a pocket on the back. For those of you worried about other reviews, the sizing is accurate - people have just been taken aback by the loose cut. I'm going to make another pair!
Reviewer: Caroline
Hi There, I had the same problem that i made the 4-6, which is definitely my size, but they are enormous on me. You mentioned that you are working on the pattern? I just wondered how far off this is? Thanks so much
Oksana
Hi Caroline - this particular pair of pants is intended to be extra roomy. The more fitted design is being drafted and should be available soon - hopefully by end of this month. Have a great day!
Reviewer: Lesley
I love the pants, but the sizing was all wrong! If I had finished them as they were printed, they would have looked like clown pants. I am a 4-6, but I ended up taking an inch out of each piece around the center line, then an inch tapering to 2" on the inner leg seam to the ankle. I noticed another sewer had the same issue and am surprised everyone hasn't.
Oksana
Good morning! Thank you for your feedback and glad to hear you were able to tailor it to you. The original design was intended to be super roomy :) We are working on some more fitted styles so stay tuned for those.
Reviewer: Kathleen
Just completed this pattern using middle weight linen, It turned out fantastic! The pocket tutorial was easy to follow and understand. The finished garment looks like I shopped at a a high end store.
Reviewer: Christina
I made these up in the dark blue and they look fabulous. I am tickled to make such an expensive looking pair of pants that fit so well. I have used several patterns now and kudos to the pattern makers.
Reviewer: Anonymous
Hello, can I ask what size is wearing the model on the picture ? Because I have big troubles with the sizing .... I understand that the pattern sujest a loose fit, but it`s actually huge on me. The very first time I have cut size 8 / 10, I wear 38 EU since I was eighteen, which means my measures are always the same ...... 20 years later..... which is corresponding to size 8, I think....But this pattern and Louise Pants Pattern doesn`t work for me - even size 0/2 are extremely big on me. I can` t undrestand where the problem is - I have checked the size chart few times ...... And for the record - I don` t sew from yesterday and I have made a few of your dresses and blouses, everything with the other patterns is absolutely perfect So can you help me to resolve this problem ? Thank you.
Oksana
Hello Diana, thank you for reaching out with your question. I spoke with Masha and she confirmed that the pants are intended to be a vulumptuous fit - very loose fitting. Her recomendation was to select the smallest size pattern and she said the key is to make the elastic in the waist to your exact size. So the idea is that you take the elastic and gather the linen fabric at the waist to the elastic which is fitted to your waist. Hope this helps. Sound like you just need to tighten the elastic and your pants will be ready to wear :)
Reviewer: Anonymous
I have been waiting for this pattern to be up for download for a while! I'm excited that I can select my own size on printable patten. Please upload the pattern for "Linen Bow Blouse Tutorial" as well! Thanks :)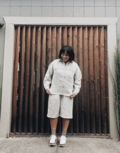 I chose to sew the Paper Theory Patterns Olya shirt. I really wanted to showcase the different scales of gingham linen that I selected. The innovative cut of the sleeve perfectly highlights the color blocking of the different fabrics and elevates the traditional details of a classic Oxford shirt. It's both something that is unique, but also a versatile wardrobe style that I will be able to wear in so many different ways. With the leftover fabric, I made the Fabrics-Store free Magda pants pattern, altering them into shorts. You can read more about this project here: blog.fabrics-store.com/2021/09/23/curated-by-you-monelle-palencia-abaya-makes-a-linen-paper-theory-olya-shirt/

To complement the top, I made the The Fabric-Stores Crisp Linen Pants in Frost Grey. The instruction stated that they were a loose-fitting pant. My measurement went along with the size 12 measurements. I did the 12 waist but went down to the size 10 pant. I have to say I am very disappointed in how huge they are! Loose-fitting and huge are two different things. Although I am disappointed in the pants, the tutorial was wonderful. I especially found the instructions for the pocket to be easy to follow and offered a very professional look! The fabric is beautiful and worked up nicely. Considering ways to make them wearable, or to try to remake them!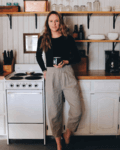 A few things to know about this sewing pattern; it features an elastic waistband, side seam pockets, a cropped and tapered leg, and an intentionally loose fit. In other words, the perfect paper-bag style pants. I chose to make them in NATURAL Linen to pair well with anything in my closet, but I think they would be so beautiful in a crisp white or black as well!
We're proud to share our patterns without licensing restrictions. You may use our patterns to sew for personal use or for your business. For paid digital patterns, we do not offer returns. Please make sure to ask any questions you may have before purchasing a digital pattern.
Please read: Our patterns are formatted to work reliably across all devices that run Adobe Acrobat Reader applications. Each patterns comes with detailed printing instructions on terms of use. If you have any questions, e-mail us at ask@fabrics-store.com and our pattern makers will reply to you as quickly as possible.
Beginner - Can sew simple straight & curved seams, some topstitching. Includes crafty-type projects and garments that do not require complex sewing techniques or closures.
Confident Beginner - Has sewn a few simple projects and is ready to learn more. Includes techniques such as set-in sleeves, inseam pockets, patch pockets, generous topstitching.
Advanced Beginner - Eager to continue building skills with new techniques such as zippers, buttons & buttonholes, tailored collars & cuffs.
Intermediate - Comfortable with projects that include multiple techniques such as pleating, yokes, fly zipper, slant pockets, and tailored waistband.
Advanced - Confident with complex, multi-step construction such as welt pockets and unusual details. Enjoys the challenge of new techniques and designer quality.

E-MAIL
Please contact us by following the link below.
SUBMIT A REQUEST

PHONE
1 866 620 2008
Call us Monday through Friday 10 am - 6 pm PST
Enter the e-mail address associated with your Fabrics-store.com account:
Temporary password has been emailed
Temporary password has been emailed to ivan@ecwm.com, and should arrive shortly. If you have any questions or problems, please contact our customer care center at 1-866-620-2008.
Your account has been disabled. If you believe this to be a mistake, please call our customer service at 1-866-620-2008 and we will help you with your order. We appreciate your cooperation.
Web Accessibility Toolbar