Lily — Linen Dress, Tunic, Blouse and Skirt
Lily — Linen Dress, Tunic, Blouse and Skirt
Price:
Paper Pattern : $45.00

The Lily sewing pattern collection, includes those easy, attractive, pulled-together pieces you've always dreamed of. With deep pockets, dropped shoulder design and 3/4 sleeves that cover your elbows, Lily is that perfect outfit for wearing at home in the kitchen or outdoors while you're gardening! Pick between a Pullover Dress, Tunic, Blouse or Skirt, wear it loose or cinched with a belt, and you're ready to be on the move!
What you get with your pattern:

- 1:1 fit and pattern consultation with our in-house pattern maker and fit expert.
- The latest in sizing. We use up-to-date technology and body shape data to get you a better fit.
- Professional clothing construction techniques. Developed by industry insiders with 100 years of shared experience.
- Illustrated instructional booklet to get you from start to finish. Written with the beginner in mind.
- Comes printed on crease-free, rolled plotting paper. Professional quality.
- Your pattern comes with only the sizes you requested printed in vibrant colors. Less clutter for easier cutting.
- Complimentary pattern storage tube and pattern hook.
- Pattern card for easy reference.
- Sew for your business? The pattern license is free with purchase.

Pattern specifications:
| | |
| --- | --- |
| Type: | Paper Pattern |
| Design Variations: | 4 |
| Sizes: | 2 to 8, 10 to 16, 18 to 24 |
| Illustrations: | Yes |
| Instructions: | Yes |
Reviewer: Patricia
Thanks, Lauren! The tutorial helps a lot!
Lauren
I'm so glad :) If you still have questions feel free to email me; askfabrics-store.com
Reviewer: Patricia
I love the design but, the pockets on the skirt/dress are a nightmare! Am I the only one struggling with those pockets?
Lauren
Hello! We have a Sew-Along on our blog, which has step by step tutorials for sewing the Lily Dress ( and pockets) Here is the link: blog.fabrics-store.com/2020/10/01/fs-lily-dress-pattern-sewalong/ I will send you an email too.
Reviewer: Jojo
I received the Lily pattern and free 3yd of beautiful soft linen. The pattern looks amazing, and thank you for shipping all of it rolled on a tube. No trying to fold and unfold all the pattern pieces and trying to insert them in a much too small envelope. The fabric arrived nice and smooth and feels so soft. Sadly I am presently washing walls so Lily will have to wait patiently rolled in a nice position, protected in her box for now. Thank you for an incredible offer.
Reviewer: Judith
I have the pattern pieces but need some sewing and yardage instructions. Can you direct me to where they are available?
Oksana
Hi! I am sending you an email now - please look for me in your inbox oksana ecwm.com
Reviewer: wynne
No more folding and stuffing into a tiny envelope
Reviewer: Barbie
After making the Lily skirt in ginger I wore it to the Kingdom Hall. To my surprise my hubby went around telling all our friends how proud he was of me for making my own clothes and doing a great job. Who knew he felt that way? Needless to say I got buckets full of compliments and people asking me where I got my linen. So easy to sew and look good in! Mission accomplished.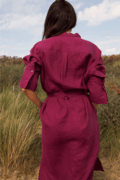 LILY dress - inspired by traditional shirtdresses, this pullover dress features a button placket, side slits and has a modest length of approximately 51" from the shoulder. It has a loose-fitting silhouette that can be tied at the waist with a belt. Made in IL019 Wildcherry 100% Linen. Tutorial with sewing steps can be found here: blog.fabrics-store.com/2020/10/01/fs-lily-dress-pattern-sewalong/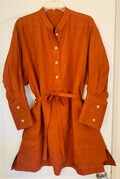 This is one of the first patterns I used from your company to make this lovely tunic (Lily pattern). Although I made many errors, I was able to recover from them and the fabric was very forgiving. I used IL019 Kenya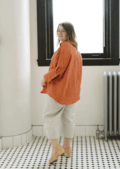 The instructions are clear and easy to understand. Everything from fabric cutting tips to the step-by-step guide was perfectly demonstrated in the detailed graphics. I didn't need to make any alterations because the design is a looser fit so sizing is a bit easier to decide on. The size I chose worked perfectly for my body and if I decide I want to have a slimmer fit, I'll choose to do one size smaller for my next version. This LILY Blouse is made with IL019 Red Ochre linen

I did make 4 adjustments to my pattern. The size of the dress, sleeve and cuff. I made mine two sizes up so it had an oversize look. The sleeve cuff (U) I did not fold in half, I left it it's entire length and added the interfacing still and lined it. So the cuff's length would be longer (after sewn 6 1/4″) I also did not do the pleat on the sleeve and gathered it instead to fit the cuff opening. This gave both the sleeve and cuff a flair. I also changed the position of my buttons, I only did one button each sleeve and added it to the end of the sleeve placket instead of on the actual cuff so that the cuff could remain open.
Enter the e-mail address associated with your Fabrics-store.com account:
Temporary password has been emailed
Temporary password has been emailed to ivan@ecwm.com, and should arrive shortly. If you have any questions or problems, please contact our customer care center at 1-866-620-2008.
Your account has been disabled. If you believe this to be a mistake, please call our customer service at 1-866-620-2008 and we will help you with your order. We appreciate your cooperation.
Web Accessibility Toolbar