Devin — Devin Linen Pajamas
Devin — Devin Linen Pajamas
This timeless two-piece set is cut from our softest linen that's been hot washed to enhance the linen's natural softness and a lived-in look, qualities that improve with every wash. The classic top has a notched collar, button front, long sleeves and a single patch pocket. The pants are elasticated at the waist for the most comfortable, flexible fit. Loungewear doesn't get more luxurious than this handmade 100% linen pajamas.
What you get with your pattern:

- Free PDF download for our registered customers.
- Print-at-home format on Letter/A4 paper.
- Layered PDF to print just the sizes you want.
- Most patterns available graded in size 0/2 to 28/30.
- Step-by-step instructions on The Thread blog.
- No licensing restrictions. Sew as many as you like for yourself, your family, even your sewing business.

Pattern specifications:
| | |
| --- | --- |
| Type: | PDF Pattern |
| Design Variations: | |
| Sizes: | |
| Illustrations: | No |
| Instructions: | No |
Reviewer: Jay
I always end up sleeping on my side. Side seams are very uncomfortable, but finding ready-made PJ pants without that seam is very difficult. I am not very experienced in sewing, so please bear with me. Is it possible to re-draw the non-crotch side of the front pant piece and back pant piece straight down from the waist and cut a front and back as on a fold instead of a seam and still have them fit well enough? Thank you for your time.
Lauren
Hello, this is possible, but you won't be able to have the nicely tapered leg shape, rather the legs will be wider and straight. I'll send you an email with a diagram of how to adjust your pattern :)
Reviewer: Alisha
When starting on the top pattern, I encourage you to take your time and read all the directions in the tutorial first. Assembling the notched collar takes some thought to see how it comes together unless you've made this type of collar before. You will need to use both the Devin Tutorial and the Sewing Glossary on Making a Notched Collar Tutorial that is linked for you in the Devin Tutorial. I would not say this pattern is for beginners but that certainly does not mean a beginner couldn't follow the directions with success. Fabric-Store really does well to give you all the tools for success. Even if this Devin top requires a little extra time and thought, it's worth it to level up your lounge wear and add this set to your collection.

Here are the shorts. I shortened the legs and then drafted a cuff with the piping detail. They're nice and simple to sew and the fabric is Feather IL019.

I made the Devin set for my husband. Adjustments for the top were to shorten the sleeves, adding a cuff with the piping detail. I widened and lengthened the pocket to fit his phone, and I placed the buttons on the 'mens' side, as he's more used to buttoning up this way. Bias piping was made using Fabrics-stores linen too, in the asphalt color and I used their handy tutorial from the thread blog.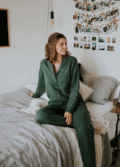 The DEVIN Linen Pajamas are the perfect lounge set to boost your winter comfort! In recent years I know many, including myself, have caught on to the ideals of Hygge (pronounced HOO-GA). This lovely mindset of extreme coziness and comfort brought into every aspect of life was apparently started in the Danish culture. You can find all kinds of inspiration for Hygge on Pinterest or even a quick internet search. The point is, if you're in for the night, a candle is lit, your warm drink is poured and you're in your softest reading chair covered in a blanket, I hope you are also wearing your Devin Linen Pajamas!
We're proud to share our patterns without licensing restrictions. You may use our patterns to sew for personal use or for your business. For paid digital patterns, we do not offer returns. Please make sure to ask any questions you may have before purchasing a digital pattern.
Please read: Our patterns are formatted to work reliably across all devices that run Adobe Acrobat Reader applications. Each patterns comes with detailed printing instructions on terms of use. If you have any questions, e-mail us at ask@fabrics-store.com and our pattern makers will reply to you as quickly as possible.

E-MAIL
Please contact us by following the link below.
SUBMIT A REQUEST

PHONE
1 866 620 2008
Call us Monday through Friday 10 am - 6 pm PST
Enter the e-mail address associated with your Fabrics-store.com account:
Temporary password has been emailed
Temporary password has been emailed to ivan@ecwm.com, and should arrive shortly. If you have any questions or problems, please contact our customer care center at 1-866-620-2008.
Your account has been disabled. If you believe this to be a mistake, please call our customer service at 1-866-620-2008 and we will help you with your order. We appreciate your cooperation.
Web Accessibility Toolbar