Dana Linen Jumpsuit, Type - Free PDF
Dana Linen Jumpsuit Sewing Pattern (Free PDF)
EXCLUSIVE - Only At Fabrics-Store
Description:
We love jumpsuits for the same reason we love dresses: they are a one item outfit, which makes getting dressed a no-brainer.
Our Dana jumpsuit is the perfect one-piece to make you look fabulous without overthinking it. With its fitted bodice, a detachable belt to cinch the waist and slightly tapered cropped legs, this sewing pattern has a flattering fit that can be easily adjusted to suit your body type.
Free print-at-home format on A4 paper
Layered PDF to print just your size
Most patterns graded in size 0/2 to 28/30
Many have Step-by-step instructions on The Thread blog
No licensing restrictions. Sew as many as you like
Specifications:
| | |
| --- | --- |
| Type: | PDF Pattern |
| Skill Level: | Beginner |
| Design Variations: | 1 |
| Sizes: | 0/2 to 12/14, 16/18 to 28/30 |
| Illustrations: | Yes |
| Instructions: | Yes |
Customer Questions and Answers
Thanks for the pattern, excited to try this! I can't figure out how much fabric/other materials I need for this project and button size- is this listed somewhere?
D • April 14, 2023
Yes, this is listed at the start of the sewing tutorial on the blog. If you haven't found it yet, head to the blog at blog.fabrics-store.com and search your pattern name in the search box to bring up the post :)
Lauren • April 14, 2023
Are prices quoted in US currency?
Brigitte • January 1, 2023
Yes, all prices are in USD.
Lauren • January 1, 2023
Really easy to sew, nice explanations, very confortable for summer. Many thanks for this free pattern.
Helene • November 19, 2020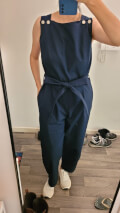 i changed the pattern quite a lot... it's a very beautiful design, but hard to get in and out, so i added a side zipper, and used a heavy-weight fabric so that i can wear it in winter with a high-collar sweater inside. the pattern doesnt fit my body enough, just a little heads up, try the lengh of the stripe first, cuz they are too short for me, i ended up cut them twice.
Yuki • June 24, 2023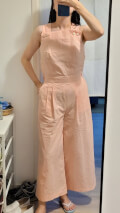 I drafted my own pattern inspired by this design, fitted with darts on top, wide-leg pants on the bottom, and elastic waistband on the back. there are still things to fix, like the top being a bit too long. in order to easily slip in and out of the jumpsuit, i had to keep the back quite large, it makes the fitted top look a bit loose, so next time i would shirr the back maybe. anyway it's just some light weight Coton mockup.
Yuki • June 24, 2023

E-MAIL
Please contact us by following the link below.
SUBMIT A REQUEST

PHONE
1-866-620-2008
Call us Monday through Friday 10 am - 6 pm PST
Once you are happy with your order, please proceed to checkout where you are able to review your order and estimated shipping charges before you complete payment. Shipping charges are calculated by the weight and location your order is shipping to.
You will be able to choose from the following options:
Standard Shipping: 4 - 8 Business Days
Expedited Shipping: 3 - 4 Business Days
Priority Shipping: 2- 3 Business Days
International shipping charges are also calculated at the time of checkout. Please note there may be fewer shipping options available to you as the options are based on the destination of your package.
Delivery times begin one business day after the order is placed with a 24-48 hour time frame for processing.This processing period applies to all in stock items and allows for the time needed to manually cut and package your order to ensure it is checked for quality and accuracy before it leaves our facility.
Business days are Monday - Friday, 9AM - 4PM PST. Saturday, Sunday and Holdays are not considered business days.
Sample color chips are sent via regular mail and may take up to a week to arrive.
All goods are subject to prior sale and please feel free to Visit My Order to check the most up-to-date status of your order.
Making a return is quick and easy, you have 30 days from delivery to return the item or items in their original condition (unwashed, uncut and unaltered). Please include a copy of your packing list and once the return is received we will contact you to see if you would like an exchange, a credit to your Fabrics-store account or the monies returned to your original payment method.
Ship Returns to:
Fabrics-store.com
6013 Scott Way
Commerce, CA 90040
HOW DOES FREE SHIPPING WORK?
Take advantage of our Free Shipping offer on orders shipping within the contiguous US.
Every day on orders of $150 or more - we will pay for your shipping.
Your order will be shipped Standard Shipping (4-8 Business Days) with the shipper of our choice. No international orders.
Standard shipping takes 24-48 hours for processing. Delivery times begin one business day after the order is placed. This is due to your order being manually cut and packaged to ensure quality.
Beginner: A beginner sewist is someone who is new to sewing and has limited experience using a sewing machine or hand sewing techniques. They are ready to follow basic patterns and sew simple projects, but may struggle with more complex designs.
Intermediate: An intermediate sewist has some experience with sewing and can tackle more challenging projects, such as making clothing with more intricate details or using more advanced techniques including sewing invisible zippers or sewing a partial placket. They likely have a good understanding of pattern making, fabric selection, and sewing machine maintenance.
Advanced: An advanced sewist is someone who has years of experience and can tackle complex projects, including custom designs or alterations. They have a good understanding of fabrics, garment construction, and tailoring. They may also have advanced skills in pattern drafting, draping, and couture sewing techniques.