Ash — Pintuck Camisole
Easy summer living calls for easy summer wear, like this cute little camisole tank. For this design, we took a classic camisole shape and added a few embellishments like pintucks and a button placket to make it more special. Plus a detachable belt that ties at the waist for a flattering look.
Free print-at-home format on A4 paper
Layered PDF to print just your size
Most patterns graded in size 0/2 to 28/30
Many have Step-by-step instructions on The Thread blog
No licensing restrictions. Sew as many as you like
Pattern specifications:
| | |
| --- | --- |
| Type: | PDF Pattern |
| Skill Level: | Confident Beginner |
| Design Variations: | |
| Sizes: | 0/2 to 12/14, 16/18 to 28/30 |
| Illustrations: | No |
| Instructions: | No |
Reviewer: Emily
I made a 12/14. I think this is just too large in the bust. I love the pintuck detail and the instructions for it are very good. I was most disappointed in the straps. it was not very clear now to size them, but even when I considered making a smaller size and much lower straps, the pinning I was doing just wasn't working.
Lauren
I'm sorry this didn't turn out the way you envisioned. Please look out for an email from Lauren, our patterns and fit consultant.
Reviewer: RP
I made a second of this one in smaller size 0/2.. the finished measurement on the bust was 34 and not 35.5 as mentioned in the size chart. So added 1/4th inch to front and back pattern pieces before cutting so I get about an inch of room. Had to do a dart as in size 4/6 and extra pintuck on both sides in front to fit. So yeah it looks nice but definitely need adjustments.
Reviewer: RP
I made a size 4/6 and cami has gaping at front neckline, back neckline and fron armhole (this one i fixed by adding a dart). The fabric does not lie flat against the body both at the front and back and I am not sure what to do about it.
Reviewer: Deanna
This pattern really helped me get more confident on my machine, I learned a lot making it. I added darts to the bust and made the straps quite short which helped with the top gaping. The partial placket I think needs some updating, it didn't come with any seam measurements and I think it should have incorporated a tower on one side. I messed it up the first time and had to come up with a hack to fix it the second time. Overall, I'm super happy with how it came out and have gotten a lot of compliments! I made it with basic quilting cotton, since I wanted something I wouldn't be too upset about possibly messing up. But when my linen comes in I will definitely be making it again! Thank you for the beautiful pattern!!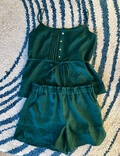 I made a size 4-6 though size chart suggested 0-2 based on the bust measurement. I paired it with purl soho city gym shorts for summer lounge set. I love the pintucks and tie belt as the design detail. I ran into a couple of issues: 1. Front arm hole was gaping (and you can see that in the model pictures too). I pinched extra fabric and sewed it into a dart and it lays better. As the other reviewer mentioned (comments on the tutorial page) - gather before putting in the binding - I think this would be a more elegant looking solution. 2. After sewing in the binding, at places the fabric came out of the binding at several places at the slightest tug while I was trying it out. Perhaps I should have used 2 step method to attach the binding or use a wider binding. I feel like its gonna happen at more places as I wash/wear this so likely I'd have to do redo the bias binding. I used 100% linen for this project. I must add I am a beginner and not that proficient at sewing.
We're proud to share our patterns without licensing restrictions. You may use our patterns to sew for personal use or for your business. For paid digital patterns, we do not offer returns. Please make sure to ask any questions you may have before purchasing a digital pattern.
Please read: Our patterns are formatted to work reliably across all devices that run Adobe Acrobat Reader applications. Each patterns comes with detailed printing instructions on terms of use. If you have any questions, e-mail us at ask@fabrics-store.com and our pattern makers will reply to you as quickly as possible.
Beginner - Can sew simple straight & curved seams, some topstitching. Includes crafty-type projects and garments that do not require complex sewing techniques or closures.
Confident Beginner - Has sewn a few simple projects and is ready to learn more. Includes techniques such as set-in sleeves, inseam pockets, patch pockets, generous topstitching.
Advanced Beginner - Eager to continue building skills with new techniques such as zippers, buttons & buttonholes, tailored collars & cuffs.
Intermediate - Comfortable with projects that include multiple techniques such as pleating, yokes, fly zipper, slant pockets, and tailored waistband.
Advanced - Confident with complex, multi-step construction such as welt pockets and unusual details. Enjoys the challenge of new techniques and designer quality.
Ash
*If prewashing in hot water, you may need up to extra 10% fabric due to shrinkage. ALL SEAM ALLOWANCES ARE INCLUDED AND NOTED ON THE PATTERN AND IN THE TUTORIAL.
*If prewashing in hot water, you may need up to extra 10% fabric due to shrinkage. ALL SEAM ALLOWANCES ARE INCLUDED AND NOTED ON THE PATTERN AND IN THE TUTORIAL.

E-MAIL
Please contact us by following the link below.
SUBMIT A REQUEST

PHONE
1 866 620 2008
Call us Monday through Friday 10 am - 6 pm PST
Enter the e-mail address associated with your Fabrics-store.com account:
Temporary password has been emailed
Temporary password has been emailed to ivan@ecwm.com, and should arrive shortly. If you have any questions or problems, please contact our customer care center at 1-866-620-2008.
Your account has been disabled. If you believe this to be a mistake, please call our customer service at 1-866-620-2008 and we will help you with your order. We appreciate your cooperation.
Web Accessibility Toolbar