IL019 - LOVE BIRD FS Signature Finish
IL019 All-purpose Love Bird Fs Signature Finish - 100% Linen - Medium (5.3 oz/yd2)
Purchased By:

305 people!
Price:
$17.54 per yard

Sale price:
$15.79 per yard (10% off)
Limited Time Offer
When looking at the paintings and prints of contemporary artist Peter Doig, it is easy to link his work with the great expressionist painters of art history, from Henri Matisse to Ernst Ludwig Kirchner, Emil Nolde, Paul Gauguin and Edvard Munch. Yet Doig cannily adds his own contemporary twist, through electrifyingly bright, iridescent colors like Love Bird, along with snippets of narrative that relate to a series of popular media outlets, like film stills, magazine pages and newspaper articles. Thus, his work becomes a fusion of old and new, looking both backward and forwards in time.

At a medium weight of 5.3 ounces this 59 inch wide 100% linen is versatile enough to be referred to as an All Purpose or Do it All linen. With its smooth look and tighter weave, this linen is neither sheer or heavy, but just the right in-between weight you will need for a variety of projects.
Our FS Signature Finish was developed exclusively for us using a special process that makes this linen super soft with a comfy, classic look you'll love at first sight.
As a bonus, this process removes almost all of the initial shrinkage, giving you more fabric to get your projects done.
This finish makes the linen as soft as butter. Yep, 100% linen that feels and drapes and sews as no linen you have ever encountered. Because the fabric has been pre-shrunk for you - it will be less than the base cloth width.
Fabric specifications:
| | |
| --- | --- |
| Article | IL019 All-Purpose |
| Content | 100% Linen |
| Type | PLAIN WEAVE |
| Thread size warp | 17.9 |
| Thread size weft | 17.9 |
| Thread count warp | 46 |
| Thread count weft | 37 |
| Color | LOVE BIRD |
| Weight | 5.3 oz/yd2 |
| Width | 59 inch |
Customer Questions and Answers
What is the pattern used for the awesome Tove inspired top in the Love Bird color? Love this!
Gail • June 27, 2023
Please refer to the blog article the customer authored for us where she gives pattern and additional information blog.fabrics-store.com/2023/05/11/dopamine-sewing-vogue-1888-pattern-blouse-in-bold-love-bird-linen/
Maureen • June 27, 2023
Does this colour come in a heavier weight? Thanks
Emma • June 18, 2023
Hello, this color is only available on this fabric.
Lauren • June 18, 2023
IL019 Is this a color close to chartreuse?
Michaela • April 21, 2023
Yes this color would be considered a version of chartreuse.
Maureen • April 21, 2023
Although it is not the color I expected, it is still the same lovely quality of linen from F-S.com. I would not describe this color as "chartreuse" - it is more of an unmistakable NEON highlighter YELLOW. If you like your colors bright, this one's gonna blind you!
jane • May 1, 2023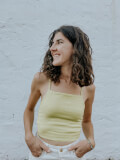 Love Bird is so lovely. It's not super yellow when you hold it next to butter yellows but it's also not totally neon green. It's like the color of a parrot that you can only find in a tropical rainforest. Technically, you could probably say it is chartreuse but I like my rainforest comparison more. What I do know even more is that this summer I have really gotten behind the bright bold color trend and my daughters and I have been very happy with that decision.
Alisha • August 10, 2023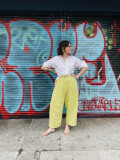 These V1688 trousers are Dopamine Sewing, served to me with no strings attached. They are tailored, but relaxed. The linen is saturated, but a neutral. I added more interest by using a decorative stitch in matching thread to the belt loops. Dopamine dressing is all about wearing clothes that make you feel good, right?! When I wear these, I feel like I stepped out of a magazine. blog.fabrics-store.com/2023/06/06/dopamine-sewing-vogue-1688-x-rachel-comey-aka-possibly-the-most-perfect-trouser/
Caitlin • June 12, 2023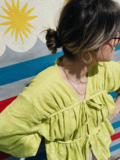 I can't continue until we chat about the color Love Bird. It is an insanely saturated neon....is it yellow? Is it green? Whatever color it leans towards, I knew I needed it. Its bold. Its bright. AND more importantly, it hits all the dopamine sensors in my brain [insert joyful alarm noises here]. Let's talk about the pattern itself. I would be remiss if I didn't mention that this pattern is "heavily" inspired (aka- ripped off) from UK-based brand, Tove. I can't buy a $700+ dress right now, but could afford a $10 sale pattern...If you're reading this....you know what choice I made.
Caitlin • May 16, 2023

E-MAIL
Please contact us by following the link below.
SUBMIT A REQUEST

PHONE
1-866-620-2008
Call us Monday through Friday 10 am - 6 pm PST
Once you are happy with your order, please proceed to checkout where you are able to review your order and estimated shipping charges before you complete payment. Shipping charges are calculated by the weight and location your order is shipping to.
You will be able to choose from the following options:
Standard Shipping: 4 - 8 Business Days
Expedited Shipping: 3 - 4 Business Days
Priority Shipping: 2- 3 Business Days
International shipping charges are also calculated at the time of checkout. Please note there may be fewer shipping options available to you as the options are based on the destination of your package.
Delivery times begin one business day after the order is placed with a 24-48 hour time frame for processing.This processing period applies to all in stock items and allows for the time needed to manually cut and package your order to ensure it is checked for quality and accuracy before it leaves our facility.
Business days are Monday - Friday, 9AM - 4PM PST. Saturday, Sunday and Holdays are not considered business days.
Sample color chips are sent via regular mail and may take up to a week to arrive.
All goods are subject to prior sale and please feel free to Visit My Order to check the most up-to-date status of your order.
Making a return is quick and easy, you have 30 days from delivery to return the item or items in their original condition (unwashed, uncut and unaltered). Please include a copy of your packing list and once the return is received we will contact you to see if you would like an exchange, a credit to your Fabrics-store account or the monies returned to your original payment method.
Ship Returns to:
Fabrics-store.com
6013 Scott Way
Commerce, CA 90040
HOW DOES FREE SHIPPING WORK?
Take advantage of our Free Shipping offer on orders shipping within the contiguous US.
Every day on orders of $150 or more - we will pay for your shipping.
Your order will be shipped Standard Shipping (4-8 Business Days) with the shipper of our choice. No international orders.
Standard shipping takes 24-48 hours for processing. Delivery times begin one business day after the order is placed. This is due to your order being manually cut and packaged to ensure quality.
Please note that some of our darker or more vibrant shades will have some residual dye run off or bleeding. It is important that you launder or treat like colors with like colors so that you do not compromise the integrity of any other colors, fabrics or garments during the launder process.
We also suggest that if you are combining one or more of these types of colors with lighter colors that you pre-wash the linens seperately and once the item is completed do not launder again, but Dry Clean.
Fabric Care
Machine wash cold.
Gentle cycle.
Only non-chlorine. Bleach if needed.
Tumble dry low.
Medium steam iron.
Do not use Perm Press cycle in wash or dry