IL097 - BREEZE BLACK / WHITE FS Signature Finish
IL097 BREEZE BLACK / WHITE FS Signature Finish - 100% Linen - Canvas (9.1 oz/yd2)
Price: $34.26 per yard

IL097 Breeze is a 59" Wide Heavy Double-Sided Pure 100% linen fabric. This cloth has a generous weight of 9.1 ounces a square yard.


The volume of the fabric is achieved with a unique weaving technique - the cloth is double-sided with two fabrics joined into one cloth throughout the surface area.


Subtle stripes appear wherever the opposite sides of the fabric are interwoven into one. This weaving technique makes the fabric reversible, and you can decide on the dominant color based on your mood and design.


Because the cloth is intertwined in small intervals, the puckering of the fabric after the wash and dry is very mild - gently highlighting the exiting stitching with a mild texture.

You will feel like a magician pulling items made from this fabric out after every wash. They will come out of the drier deliciously textured, silky, and elegant.


This 100% linen has received rigorous Oeko-Tex certification, ensuring that this fabric is free of harmful toxins and irritants, is biodegradable and recyclable (good for your family and good for the planet).


This Linen cloth is perfect for:


Throws for adults and kids

Decorative Pillows

Robes

Curtains

Apparel

Towels

Pet Beds should you spoil your four-legged children as we do

And Bedding if you like to sleep under a heavier duvet
Plus, we finished this fabric with our Proprietary Signature Finish and the fabric is incredibly plush right out the box!
Our FS Signature Finish was developed exclusively for us using a special process that makes this linen super soft with a comfy, classic look you'll love at first sight.
As a bonus, this process removes almost all of the initial shrinkage, giving you more fabric to get your projects done.
This finish makes the linen as soft as butter. Yep, 100% linen that feels and drapes and sews as no linen you have ever encountered. Because the fabric has been pre-shrunk for you - it will be less than the base cloth width.

Fabric specifications:
| | |
| --- | --- |
| Article : | IL097 |
| Content : | 100% Linen |
| Type : | JACQUARD |
| Thread size warp : | 17.9 |
| Thread size weft : | 17.9 |
| Thread count warp : | 56 |
| Thread count weft : | 81 |
| Color : | BLACK / WHITE |
| Weight : | 9.1 oz/yd2 |
| Width : | 59 inch |
Customer Questions and Answers
What kind of shrinkage should I expect from this fabric?
Melva • August 3, 2022
Based on our recommended wash instructions it will be less than 3% as this has already gone through our Signature finish process that removes most of the shrinkage.
Maureen • August 3, 2022
Will this fabric work for a table cloth?
Victoria • July 27, 2022
This linen is really suited for bedding, throws and such. It is a heavier linen that has a lot of movement, which if used for a tablecloth, it may not lay still/flat when in use.
Maureen • July 27, 2022
It is indeed close to upholstery weight, but feels soft enough for a garment bottom-weight. A couple of things were not apparent to me from the description on the site: first, the stripes run perpendicular to the selvedge (and grainline). If you make a pair of pants out of this fabric, for example, the stripes are going to be horizontal. Second, the fabric is black-and-white on the right side, and mostly white on the wrong side. If you're looking for a contrast, great, but if you want the sides to be the same, this is not that fabric. FYI.
Maria • June 14, 2022
A a beginner sewist, this fabric is a nightmare for making a blanket with a checkered pattern. Both fabric layers have crazy bias stretch, and heaven help you if you try to do this after prewashing. All the pins, all the clips. I prewashed, pressed, cut into rectangles, pressed again, then tried to match the stripes and grain lines up. Don't do that to yourself. The fabric has a fantastic hand but for heaven's sake, keep the sizing on, account for shrinkage, and just fold the hems and selvedges over. Your blood pressure will thank you.
Jeanna • March 4, 2022
Made 2 throws with the easy instructions provided. They turned out great and only took about 3 1/2 hours to make. I'm still a beginner at sewing and can't help being tickled with this accomplishment. They're the perfect weight and fabric for us as we don't have air conditioning. Looking forward to my next sewing adventure!
Donna • July 25, 2021
I bought this to make the coverlet pattern you posted. I live in a hot climate where it's too cool to sleep with just a sheet (because of air conditioning) but too hot for a regular blanket or quilt. I have linen sheets so a linen coverlet sounded good. It is! Just enough cover to be comfortable and sleep well. It was incredibly easy to sew with your instructions. It was finished and in the washer in a couple of hours.
Linda • July 24, 2021
The weight and the softness is this fabric is absolutely lovely. I made a throw and I've been using it even on 90 degree days because I can't get enough of it. It was soft before washing and even softer now, although the lighter side seems softer than the darker side.
Maureen • July 24, 2021
See All >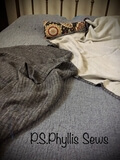 This is a photo of the bedspreads and throw using the fabric purchased from your store! I sent it all to my sister – as she has the talent and experience to work with this material. She has an ETSY shop on-line for other things that she creates and sells. I am looking forward to enjoying the bedspreads and the throw. Thank you for your fantastic products!!
Eric • August 27, 2021


IL097 BREEZE BLACK / WHITE FS Signature Finish - 100% Linen - Canvas (9.1 oz/yd2)
Sample Size: 5.5" x 7.0" (Including Swatch Card)
Free Standard Shipping
* Samples are pre-assembled and may not come from the same fabric bolt you order from. Color may vary. All fabric samples are shipped via USPS without tracking.

E-MAIL
Please contact us by following the link below.
SUBMIT A REQUEST

PHONE
1-866-620-2008
Call us Monday through Friday 10 am - 6 pm PST
Once you are happy with your order, please proceed to checkout where you are able to review your order and estimated shipping charges before you complete payment. Shipping charges are calculated by the weight and location your order is shipping to.
You will be able to choose from the following options:
Standard Shipping: 4 - 8 Business Days
Expedited Shipping: 3 - 4 Business Days
Priority Shipping: 2- 3 Business Days
International shipping charges are also calculated at the time of checkout. Please note there may be fewer shipping options available to you as the options are based on the destination of your package.
Delivery times begin one business day after the order is placed with a 24-48 hour time frame for processing.This processing period applies to all in stock items and allows for the time needed to manually cut and package your order to ensure it is checked for quality and accuracy before it leaves our facility.
Business days are Monday - Friday, 9AM - 4PM PST. Saturday, Sunday and Holdays are not considered business days.
Sample color chips are sent via regular mail and may take up to a week to arrive.
All goods are subject to prior sale and please feel free to Visit My Order to check the most up-to-date status of your order.
Making a return is quick and easy, you have 30 days from delivery to return the item or items in their original condition (unwashed, uncut and unaltered). Please include a copy of your packing list and once the return is received we will contact you to see if you would like an exchange, a credit to your Fabrics-store account or the monies returned to your original payment method.
Ship Returns to:
Fabrics-store.com
6013 Scott Way
Commerce, CA 90040
HOW DOES FREE SHIPPING WORK?
Take advantage of our Free Shipping offers on orders shipping within the contiguous US on the following days:
Every Monday and Wednesday on orders of $150 or more.
Every day on orders of $1,000 or more.
Your order will be shipped Standard Shipping (4-8 Business Days) with the shipper of our choice. No international orders. Standard shipping takes 24-48 hours for processing. Delivery times begin one business day after the order is placed. This is due to your order being manually cut and packaged to ensure quality.
Please note that some of our darker or more vibrant shades will have some residual dye run off or bleeding. It is important that you launder or treat like colors with like colors so that you do not compromise the integrity of any other colors, fabrics or garments during the launder process.
We also suggest that if you are combining one or more of these types of colors with lighter colors that you pre-wash the linens seperately and once the item is completed do not launder again, but Dry Clean.
Linen
Machine wash cold.
Gentle cycle.
Only non-chlorine. Bleach if needed.
Tumble dry low.
Medium steam iron.
Semilinen
Machine wash cold.
Gentle cycle.
Only non-chlorine. Bleach if needed.
Tumble dry low.
Medium steam iron.