IL084 Narrow Width 975 Softened - 100% Linen - Heavy (7.1 oz/yd2)
Price: $7.79 per yard

This is a 19" wide twin to the 4C22 Rustic linen line.
Woven out of the same size thread and with the same thread density this IL084 is just woven to be narrow. That means less cutting time for you and you can get to the fun part of using your linen items sooner.
At a heavier weight of 7.1 ounces a square yard this 100% linen is referred to as Rustic due to its more textured look and feel. Durable and perfect for projects that require just a bit more substance.
Yarn Dyed fabrics are made using threads that are dyed separately before being woven. This allows for a larger variety of patterns and designs that stand out from the base fabric color. Design created exclusively for F|S.

Narrow width cloth is great for:

Shopping bags
Purses
Placemats
Runners
Decorative pillows
Kitchen towels
Appliance covers
Potholders
Cushions
The cloth is Softened so we have added a softener to give it a silkier hand. The fabric has not been laundered so shrinkage will still have to be taken into consideration (shrinkage depends on fabric weave and laundering method).
Fabric specifications:
| | |
| --- | --- |
| Article : | IL084 Narrow Width |
| Content : | 100% Linen |
| Type : | YARN DYE |
| Thread size warp : | 11.6 |
| Thread size weft : | 11.6 |
| Thread count warp : | 38 |
| Thread count weft : | 32 |
| Color : | |
| Weight : | 7.1 oz/yd2 |
| Width : | 19 inch |
Customer Questions and Answers
How much yardage is needed for three kitchen towels?
Carolyn • January 25, 2023
3 yards will be needed for 3 towels as you need to take into consideration shrinkage - we will email you the tutorial to use as a guideline.
Maureen • January 25, 2023
Can this be used for a slip cover over a velvet chair?
Lauren • October 12, 2022
This is a narrow linen 19 inches wide that may work for coverage but not sure if the width would be sufficient. Ordering a sample will help to make sure it works.
Maureen • October 12, 2022
what is the distance between stripes?
Betsy • September 28, 2022
1 cm from thick to thin stripes, 1 and 3/4s for thin line to selvage Thin stripe to thin stripe 12.5" thick stripe to thick stripe. Less than 12" .
Maureen • September 28, 2022
I have purchased this fabric multiple times. It makes great napkins and kitchen towels.
Mary • August 24, 2022
I have collected tea towels for years; they are so fun. But literally none of them works as well as a scrap offcut of this linen! I am making towels for Christmas gifts and had a piece of 16" left, so I thought I'd see how it works. Boom! Dries like a champ. I hate spots on glasses, and it dries flawlessly! My new favorite and my new favorite gift!
Suzanne • October 7, 2021
Lovely fabric made placemats, napkins and an apron, love it!!
Deborah • August 2, 2021
My husband is the family cook since we retired and his favorite kitchen towel was a very large white towel of unknown origin that over the years was stained and ragged with daily use. I decided he needed ...badly...a replacement and chose the wonderful heavy weight linen pictured above. Fifteen minutes after washing the towels were ready for use! They are attractive and extremely functional and best of all they will hide all the stains he seems to find as he feeds our family!
Diana • July 18, 2021
I just finished sewing 12 kitchen towels out of 10 yards of this fabric. It's easy to sew when you're a beginner and it has the perfect weight. I love using linen towels and I think everyone should try them, so I made these to gift to my friends here and there. This particular fabric looks somewhat rustic, with tiny slivers of flax stuck in it and the selvages may have pin holes, but fortunately these pin holes close up in the washing machine and the flax just adds more charm to the rustic nature of the fabric and ofcourse the price is right.
Cecilia • July 12, 2021
See All >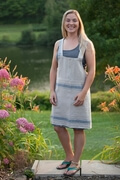 I have added a beautiful cross back apron in XS to XXL to my website: lelinquotidien.com and it is a bilingual site. The English home page is: lelinquotidien.com/en/ (it is my daughter wearing this blue one, she lives in Florida and she is an occupationnal therapist there...so far from her beloved mom snif snif)...
France • August 27, 2021


IL084 Narrow Width 975 Softened - 100% Linen - Heavy (7.1 oz/yd2)
Sample Size: 5.5" x 7.0" (Including Swatch Card)
Free Standard Shipping
* Samples are pre-assembled and may not come from the same fabric bolt you order from. Color may vary. All fabric samples are shipped via USPS without tracking.

E-MAIL
Please contact us by following the link below.
SUBMIT A REQUEST

PHONE
1-866-620-2008
Call us Monday through Friday 10 am - 6 pm PST
Once you are happy with your order, please proceed to checkout where you are able to review your order and estimated shipping charges before you complete payment. Shipping charges are calculated by the weight and location your order is shipping to.
You will be able to choose from the following options:
Standard Shipping: 4 - 8 Business Days
Expedited Shipping: 3 - 4 Business Days
Priority Shipping: 2- 3 Business Days
International shipping charges are also calculated at the time of checkout. Please note there may be fewer shipping options available to you as the options are based on the destination of your package.
Delivery times begin one business day after the order is placed with a 24-48 hour time frame for processing.This processing period applies to all in stock items and allows for the time needed to manually cut and package your order to ensure it is checked for quality and accuracy before it leaves our facility.
Business days are Monday - Friday, 9AM - 4PM PST. Saturday, Sunday and Holdays are not considered business days.
Sample color chips are sent via regular mail and may take up to a week to arrive.
All goods are subject to prior sale and please feel free to Visit My Order to check the most up-to-date status of your order.
Making a return is quick and easy, you have 30 days from delivery to return the item or items in their original condition (unwashed, uncut and unaltered). Please include a copy of your packing list and once the return is received we will contact you to see if you would like an exchange, a credit to your Fabrics-store account or the monies returned to your original payment method.
Ship Returns to:
Fabrics-store.com
6013 Scott Way
Commerce, CA 90040
HOW DOES FREE SHIPPING WORK?
Take advantage of our Free Shipping offer on orders shipping within the contiguous US.
Every day on orders of $150 or more - we will pay for your shipping.
Your order will be shipped Standard Shipping (4-8 Business Days) with the shipper of our choice. No international orders.
Standard shipping takes 24-48 hours for processing. Delivery times begin one business day after the order is placed. This is due to your order being manually cut and packaged to ensure quality.
Please note that some of our darker or more vibrant shades will have some residual dye run off or bleeding. It is important that you launder or treat like colors with like colors so that you do not compromise the integrity of any other colors, fabrics or garments during the launder process.
We also suggest that if you are combining one or more of these types of colors with lighter colors that you pre-wash the linens seperately and once the item is completed do not launder again, but Dry Clean.
Fabric Care
Machine wash cold.
Gentle cycle.
Only non-chlorine. Bleach if needed.
Tumble dry low.
Medium steam iron.
Do not use Perm Press cycle in wash or dry