IL042 - 904 FS Premier Finish
IL042 904 Fs Premier Finish - 100% Linen - Medium (5.1 oz/yd2)
Purchased By:

187 people!
Price: $21.72 per yard

Yarn Dyed 100% linens are made using linen threads that are dyed separately before being woven, allowing for a large variety of patterns and designs that stand out from the base fabric color.
Part of our Luxury Linen Collection this group is a finer middle weight linen that showcases a variety of chambray, stripes and plaids that can coordinate with each other.
Completing the luxurious look and feel is our exclusive "Premier Finish" which is smooth, agreeable to the senses and that perfect final touch that enhances the beauty of these exceptional linen yarn dyes.
The Premier Finish undergoes a two-step process to give the cloth a luxurious, supple feel right out of the box.
First, we apply a softener to give the fabric a silkier surface. Then, strong blasts of air are blown into the woven cloth. This beats up the fibers to make them softer and mimics the fiber bending process that the fabric undergoes when you've used it a lot.
This finishing process gives the fabric a much softer and more luxurious hand. It will be less prone to deep creases and have less linting. Shrinkage will still have to be taken into consideration based on the fabric type ( thread size, count, weave type).
Fabric specifications:
| | |
| --- | --- |
| Article | IL042 |
| Content | 100% Linen |
| Type | YARN DYE |
| Thread size warp | 20 |
| Thread size weft | 20 |
| Thread count warp | 43 |
| Thread count weft | 42 |
| Color | |
| Weight | 5.1 oz/yd2 |
| Width | 59 inch |
Customer Questions and Answers
I make most of my husband's shirts with premier finish linens from this website. It is the best fabric that I can find for shirts. For a casual appearance, I wash his shirts in cold water and partially dry, then shake them out and hang for final drying. For a more formal look a touch up with my iron does the trick. This color has the fun quality of appearing either green or blue, depending on the light and surroundings.
Judy • May 22, 2019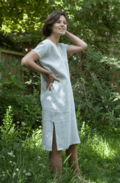 Linen is the perfect summer fabric: it's comfortable, breathable and with some texture to make even the simplest garment a little bit special. A good example of an easy summer wear that is comfy and feminine is our V-neck kaftan dress. It has a beautiful straight-bodied style that flatters any body type, two side slits and a deep V-neck collar. Sewing tutorial available here : blog.fabrics-store.com/2016/07/23/linen-kaftan-dress-tutorial/
Masha • May 12, 2020

A cuff can add a lot of character to a simple short sleeve and spice up the whole look of a finished garment. However, sewing a cuff doesn't necessarily mean attaching a folded cuff band. This tutorial will show you how to create a cuff-looking sleeve in a just a few easy folds : blog.fabrics-store.com/2016/08/30/how-to-add-a-cuff-to-a-short-sleeve-tutorial/
Masha • May 12, 2020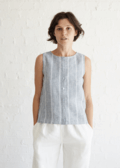 Using our Essential Linen Tank pattern as a base, we'll add tailored button bands to the front for a custom spin. All you need is paper, a ruler and a pencil! Today we'll share with you a technique for transforming a simple tank into a button down top - sewing tutorial and pattern available here: blog.fabrics-store.com/2018/03/13/pattern-hack-turn-a-simple-tank-into-a-button-down-top-tutorial/
Masha • May 12, 2020

E-MAIL
Please contact us by following the link below.
SUBMIT A REQUEST

PHONE
1-866-620-2008
Call us Monday through Friday 10 am - 6 pm PST
Once you are happy with your order, please proceed to checkout where you are able to review your order and estimated shipping charges before you complete payment. Shipping charges are calculated by the weight and location your order is shipping to.
You will be able to choose from the following options:
Standard Shipping: 4 - 8 Business Days
Expedited Shipping: 3 - 4 Business Days
Priority Shipping: 2- 3 Business Days
International shipping charges are also calculated at the time of checkout. Please note there may be fewer shipping options available to you as the options are based on the destination of your package.
Delivery times begin one business day after the order is placed with a 24-48 hour time frame for processing.This processing period applies to all in stock items and allows for the time needed to manually cut and package your order to ensure it is checked for quality and accuracy before it leaves our facility.
Business days are Monday - Friday, 9AM - 4PM PST. Saturday, Sunday and Holdays are not considered business days.
Sample color chips are sent via regular mail and may take up to a week to arrive.
All goods are subject to prior sale and please feel free to Visit My Order to check the most up-to-date status of your order.
Making a return is quick and easy, you have 30 days from delivery to return the item or items in their original condition (unwashed, uncut and unaltered). Please include a copy of your packing list and once the return is received we will contact you to see if you would like an exchange, a credit to your Fabrics-store account or the monies returned to your original payment method.
Ship Returns to:
Fabrics-store.com
6013 Scott Way
Commerce, CA 90040
HOW DOES FREE SHIPPING WORK?
Take advantage of our Free Shipping offer on orders shipping within the contiguous US.
Every day on orders of $150 or more - we will pay for your shipping.
Your order will be shipped Standard Shipping (4-8 Business Days) with the shipper of our choice. No international orders.
Standard shipping takes 24-48 hours for processing. Delivery times begin one business day after the order is placed. This is due to your order being manually cut and packaged to ensure quality.
Please note that some of our darker or more vibrant shades will have some residual dye run off or bleeding. It is important that you launder or treat like colors with like colors so that you do not compromise the integrity of any other colors, fabrics or garments during the launder process.
We also suggest that if you are combining one or more of these types of colors with lighter colors that you pre-wash the linens seperately and once the item is completed do not launder again, but Dry Clean.
Fabric Care
Machine wash cold.
Gentle cycle.
Only non-chlorine. Bleach if needed.
Tumble dry low.
Medium steam iron.
Do not use Perm Press cycle in wash or dry