IL020 - TADELAKT Softened
IL020 TADELAKT Softened - 100% Linen - Light (3.7 oz/yd2)
Price: $15.87 per yard

The milk-white hue of TADELAKT linen evokes the smooth, polished surfaces of Barbara Hepworth's ground-breaking and sensuous marble sculptures.

At a lighter weight of 3.5 ounces this 100% linen is woven with finer threads to give it a smoother appearance. Referred to as lightweight or handkerchief linen, this fine, but surprisingly sturdy linen brings new meaning to the term "sheer elegance".
The cloth is Softened so we have added a softener to give it a silkier hand. The fabric has not been laundered so shrinkage will still have to be taken into consideration (shrinkage depends on fabric weave and laundering method).
Fabric specifications:
| | |
| --- | --- |
| Article : | IL020 Handkerchief |
| Content : | 100% Linen |
| Type : | BASIC |
| Thread size warp : | 33.3 |
| Thread size weft : | 33.3 |
| Thread count warp : | 57 |
| Thread count weft : | 44 |
| Color : | TADELAKT |
| Weight : | 3.7 oz/yd2 |
| Width : | 58 inch |
Reviewer: Lyn
An ideal fabric that is easy to work with and ideal for kid's clothing.
Reviewer: Barbara
I ordered the IL020 Tadelakt from the doggie bag sale hoping it would work for a summer sleeveless top.....unfortunately its way too sheer for that. It did make very nice double layer napkins with an embroidered edge though, so all is well. As other reviewers have mentioned, it does have a slight greenish tinge. The quality is great as with all the linens I've purchased here!
Reviewer: Kelley
My first review noted green undertones in the fabric. I have since sewn it up and am very pleased. I don't notice them at all. I made a puff sleeve top and love it.
Reviewer: Sandra
The color of linen I received does not look anything like the picture. It's more green. Not anything like I want.
Maureen
We are sorry to hear that the color of the linen you received is not what you expected. If you want to return the linen email us so that we can provide you with the return instructions .
Reviewer: Kate
Tadelakt came in with that vaguely off-green color, which I liked and planned to work with. After a pre-wash to shrink the fabric further, the weave tightened into a lovely, strong yet supple hand and that green tinge diminished into an almost-cream color. It will blend with creams and browns beautifully, and make a lovely, sturdy embroidered blouse. Now that I tried the doggie bag sample, I'm getting more!
Reviewer: Sarah
First of all, the IL020 weight is my new favourite for tops. For years I have eschewed collars, buttons and woven blouses in general, but lately I find that a woven linen blouse under a sweater can extend the wool season as it's less clammy than a knit top would be. A bonus is that when the sweater comes off midday, the shirt doesn't smell. Like other reviewers, I see a slight greenish tint to Tadelakt, especially when I hold it next to Krista, which is has strong yellow tones, although both fabrics would definitely qualify as off-white. I wonder if Tadelakt is made with less bleached linen. In any case, it looks great with everything I've set it next to, including olive drab made with natural green cotton, and undyed handspun wool in some tricky cardboard-like tones.
Reviewer: Kelley
I thought this would be a lovely fabric for summer tops, but I find that the color has slightly green undertones and is somewhat stiff and rough even after washing. For clothing, I much prefer the 019 in signature finish, which runs about the same price and is softer and, in my opinion, richer in color. That said, this would work for home goods that require some stiffness or sheerness. I may try washing a second or third time to gain softness.
Reviewer: Syd
This is a lovely light linen perfect for my 18th century chemise. It took to hand sewing beautifully and is almost a very very pale greenish off-white.

I made some lounge dresses, left is Tadelakt, right is unbleached, 3.5 box. Replacing my current ones because I cannot wear man made fibers including the most recent cottons. Love this linen, wish the lightweight came in more of the medium toned colors for summer dresses. The light is too see through. Haven't tried dyeing yet, soon.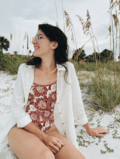 This is FS TADELAKT 3.5oz for a lightweight neutral linen shirt. The FS Zina shirt pattern is marked so you can have two pockets, one pocket or no pockets but we voted for the one pocket option. You can read more about this project here: blog.fabrics-store.com/2021/08/31/pattern-review-zina-shirt-in-lightweight-linen/


IL020 TADELAKT Softened - 100% Linen - Light (3.7 oz/yd2)
Sample Size: 2" x 3.5" (Including Swatch Card)
Free Standard Shipping
* Samples are pre-assembled and may not come from the same fabric bolt you order from. Color may vary. All fabric samples are shipped via USPS without tracking.

E-MAIL
Please contact us by following the link below.
SUBMIT A REQUEST

PHONE
1-866-620-2008
Call us Monday through Friday 10 am - 6 pm PST
Once you are happy with your order, please proceed to checkout where you are able to review your order and estimated shipping charges before you complete payment. Shipping charges are calculated by the weight and location your order is shipping to.
You will be able to choose from the following options:
Standard Shipping: 4 - 8 Business Days
Expedited Shipping: 3 - 4 Business Days
Priority Shipping: 2- 3 Business Days
International shipping charges are also calculated at the time of checkout. Please note there may be fewer shipping options available to you as the options are based on the destination of your package.
Delivery times begin one business day after the order is placed with a 24-48 hour time frame for processing.This processing period applies to all in stock items and allows for the time needed to manually cut and package your order to ensure it is checked for quality and accuracy before it leaves our facility.
Business days are Monday - Friday, 9AM - 4PM PST. Saturday, Sunday and Holdays are not considered business days.
Sample color chips are sent via regular mail and may take up to a week to arrive.
All goods are subject to prior sale and please feel free to Visit My Order to check the most up-to-date status of your order.
Making a return is quick and easy, you have 30 days from delivery to return the item or items in their original condition (unwashed, uncut and unaltered). Please include a copy of your packing list and once the return is received we will contact you to see if you would like an exchange, a credit to your Fabrics-store account or the monies returned to your original payment method.
Ship Returns to:
Fabrics-store.com
6013 Scott Way
Commerce, CA 90040
HOW DOES FREE SHIPPING WORK?
Take advantage of our Free Shipping offers on orders shipping within the contiguous US on the following days:
Every Monday and Wednesday on orders of $150 or more.
Every day on orders of $1,000 or more.
Your order will be shipped Standard Shipping (4-8 Business Days) with the shipper of our choice. No international orders. Standard shipping takes 24-48 hours for processing. Delivery times begin one business day after the order is placed. This is due to your order being manually cut and packaged to ensure quality.
Please note that some of our darker or more vibrant shades will have some residual dye run off or bleeding. It is important that you launder or treat like colors with like colors so that you do not compromise the integrity of any other colors, fabrics or garments during the launder process.
We also suggest that if you are combining one or more of these types of colors with lighter colors that you pre-wash the linens seperately and once the item is completed do not launder again, but Dry Clean.
Linen
Machine wash cold.
Gentle cycle.
Only non-chlorine. Bleach if needed.
Tumble dry low.
Medium steam iron.
Semilinen
Machine wash cold.
Gentle cycle.
Only non-chlorine. Bleach if needed.
Tumble dry low.
Medium steam iron.