IL019 - AGAVE FS Signature Finish
IL019 All-purpose Agave Fs Signature Finish - 100% Linen - Medium (5.3 oz/yd2)
Price: $17.54 per yard

AGAVE Linen's cold, watery green flowed through Edgar Degas' paintings, illuminating grassy banks, cafe scenes and private interiors with the fresh sheen of Parisian light. Though his subjects were hugely varied, Degas' paintings pivoted around moments of suspended tension, from racehorses to jittery dancers and precariously balanced nudes. Silvery green tones helped him invest this mysterious, magical spark of vitality into his artworks, allowing them to bristle with nervous excitement.

At a medium weight of 5.3 ounces this 59 inch wide 100% linen is versatile enough to be referred to as an All Purpose or Do it All linen. With its smooth look and tighter weave, this linen is neither sheer or heavy, but just the right in-between weight you will need for a variety of projects.
Our FS Signature Finish was developed exclusively for us using a special process that makes this linen super soft with a comfy, classic look you'll love at first sight.
As a bonus, this process removes almost all of the initial shrinkage, giving you more fabric to get your projects done.
This finish makes the linen as soft as butter. Yep, 100% linen that feels and drapes and sews as no linen you have ever encountered. Because the fabric has been pre-shrunk for you - it will be less than the base cloth width.

Fabric specifications:
| | |
| --- | --- |
| Article | IL019 All-Purpose |
| Content | 100% Linen |
| Type | PLAIN WEAVE |
| Thread size warp | 17.9 |
| Thread size weft | 17.9 |
| Thread count warp | 46 |
| Thread count weft | 37 |
| Color | AGAVE |
| Weight | 5.3 oz/yd2 |
| Width | 59 inch |
Customer Questions and Answers
What color Gutermann thread would match this fabric? Thanks!
Erica • December 23, 2022
Please refer to this article in our help center support.fabrics-store.com/hc/en-us/articles/360058715271-Sewing-with-Linen-Needle-and-Thread-Suggestions
Maureen • December 23, 2022
When I received my linen, there was a hole through the FedEx package and the plastic that you put it in. There were also 2 holes in my fabric but I have been able to put my pattern pieces around the holes. I thought you might want to know.
Mary • November 26, 2022
Maureen
Thank you for letting us know and we will notify our account representative of the issue. If you had any loss due to this damage, please let us know so we can reimburse you. Please email our customer service team directly
This is such an accommodating color--different enough to always be noticed, but subtle, not loud. I have used it in many places in my house (appliance covers, kitchen curtains, napkins) and I am about to start a bias-cut dress for myself. My only caveat: like many greens, there is noticeable variation from lot to lot, so plan ahead.
Terri • October 24, 2022

One hot wash and dry on the right, left I think I did more than that. Just wanted to share a color comparison between LEFT: DB IL019 All-purpose Agave Fs Signature Finish - 100% Linen - Medium (5.3 oz/yd2) MIDDLE: DB 4C22 Rustic Dried Herb Softened - 100% Linen - Heavy (7.1 oz/yd2) RIGHT: 4C22 Rustic Dusty Lotus Softened - 100% Linen - Heavy (7.1 oz/yd2 Personal opinion: when they're next to each other, dried herb takes on more of a brown/yellow cast, and agave takes more of a aqua cast. Even the lotus is a bit of a blue cast in indoor light. Honestly, the comparison makes dried herb and agave look a lot "worse" but I do love all three. The dried herb is quite similar in color to a Son de Flor dress I bought. I do REALLY love the dusty lotus though, it's very nice. It's definitely not an in-your-face green like I would define the color "emerald" but it's really lovely. The other two are a lot more green when not next to other greens. For example, agave is a really lovely green when paired with natural linen.
Katie • January 29, 2023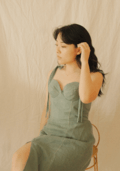 I wanted a new challenge so I chose the Rose Cafe Bustier Dress pattern by Daria Patternmaking. It was my first time attempting something more fitted, but I also incorporated other techniques I've picked up like a split hem, topstitching, and hacking some panelling into the skirt. I definitely made mistakes, but am excited to use my newly acquired experience towards my future makes.
netty • April 4, 2022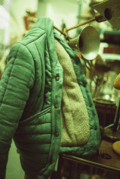 Ayora Jacket by Pauline Alice in Agave Linen. I made this jacket with teddy cloth interfacing, the layers were very (!) thick and I broke a tonne of needles. You can read more about this project here: blog.fabrics-store.com/2022/01/13/diary-of-a-novice-sewist-linen-quilted-jacket/
Sophie • February 24, 2022


IL019 All-purpose Agave Fs Signature Finish - 100% Linen - Medium (5.3 oz/yd2)
Sample Size: 2" x 3.5" (Including Swatch Card)
Free Standard Shipping
* Samples are pre-assembled and may not come from the same fabric bolt you order from. Color may vary. All fabric samples are shipped via USPS without tracking.

E-MAIL
Please contact us by following the link below.
SUBMIT A REQUEST

PHONE
1-866-620-2008
Call us Monday through Friday 10 am - 6 pm PST
Once you are happy with your order, please proceed to checkout where you are able to review your order and estimated shipping charges before you complete payment. Shipping charges are calculated by the weight and location your order is shipping to.
You will be able to choose from the following options:
Standard Shipping: 4 - 8 Business Days
Expedited Shipping: 3 - 4 Business Days
Priority Shipping: 2- 3 Business Days
International shipping charges are also calculated at the time of checkout. Please note there may be fewer shipping options available to you as the options are based on the destination of your package.
Delivery times begin one business day after the order is placed with a 24-48 hour time frame for processing.This processing period applies to all in stock items and allows for the time needed to manually cut and package your order to ensure it is checked for quality and accuracy before it leaves our facility.
Business days are Monday - Friday, 9AM - 4PM PST. Saturday, Sunday and Holdays are not considered business days.
Sample color chips are sent via regular mail and may take up to a week to arrive.
All goods are subject to prior sale and please feel free to Visit My Order to check the most up-to-date status of your order.
Making a return is quick and easy, you have 30 days from delivery to return the item or items in their original condition (unwashed, uncut and unaltered). Please include a copy of your packing list and once the return is received we will contact you to see if you would like an exchange, a credit to your Fabrics-store account or the monies returned to your original payment method.
Ship Returns to:
Fabrics-store.com
6013 Scott Way
Commerce, CA 90040
HOW DOES FREE SHIPPING WORK?
Take advantage of our Free Shipping offer on orders shipping within the contiguous US.
Every day on orders of $150 or more - we will pay for your shipping.
Your order will be shipped Standard Shipping (4-8 Business Days) with the shipper of our choice. No international orders.
Standard shipping takes 24-48 hours for processing. Delivery times begin one business day after the order is placed. This is due to your order being manually cut and packaged to ensure quality.
Please note that some of our darker or more vibrant shades will have some residual dye run off or bleeding. It is important that you launder or treat like colors with like colors so that you do not compromise the integrity of any other colors, fabrics or garments during the launder process.
We also suggest that if you are combining one or more of these types of colors with lighter colors that you pre-wash the linens seperately and once the item is completed do not launder again, but Dry Clean.
Fabric Care
Machine wash cold.
Gentle cycle.
Only non-chlorine. Bleach if needed.
Tumble dry low.
Medium steam iron.
Do not use Perm Press cycle in wash or dry