4C22 Rustic Moss Softened - 100% Linen - Heavy (7.1 oz/yd2)
Price: $17.91 per yard

Earthy, intense shades of green like that of MOSS Linen fill Maurice Denis's intimate art, investing it with a quietly hypnotizing magic. Denis was a leader in the avant-garde artist circle Les Nabis alongside Edouard Vuillard, Paul Serusier, and Pierre Bonnard; together they pioneered an avant-garde approach to painting that moved away from naturalism towards the expression of deeply felt inner emotions.
Even when he adopted a neoclassical style in his later career, moody, intense color was still vital in Denis's oeuvre, allowing him to explore the dark, shadowy recesses of his mind with an entrancing theatricality. "Art is no longer a purely visual experience," he observed, "it is a work of our intellect triggered by nature."
At a heavier weight of 7.1 ounces this 57 inch wide 100% linen is referred to as Rustic due to its more textured look and feel. Durable and perfect for projects that require just a bit more substance.
The cloth is Softened so we have added a softener to give it a silkier hand. The fabric has not been laundered so shrinkage will still have to be taken into consideration (shrinkage depends on fabric weave and laundering method).
Fabric specifications:
| | |
| --- | --- |
| Article : | 4C22 Rustic |
| Content : | 100% Linen |
| Type : | PLAIN WEAVE |
| Thread size warp : | 11.6 |
| Thread size weft : | 11.6 |
| Thread count warp : | 38 |
| Thread count weft : | 32 |
| Color : | MOSS |
| Weight : | 7.1 oz/yd2 |
| Width : | 57 inch |
Customer Questions and Answers
What is the selvedge/width of fabric?
sirima • January 28, 2023
In most cases 1/2 and inch to an inch.
Maureen • January 28, 2023
what is the best 100 percent linen fabric for baby needs?
Brandi • September 23, 2022
Our customers will use our lightweight IL020 and both of our middleweight linens IL019 and 1C64
Maureen • September 23, 2022
What kind of linen makes good table napkins that don't need to be ironed after every wash?
Sylvia • August 21, 2022
If you like a crisp linen napkin, most fabrics will need to be ironed after every wash. This said, our IL019 with the FS Signature Finish and the 1C64 Softened fabrics will require the least amount of ironing after washing. These fabric will continue to soften after every wash and wear, so the need for ironing will decrease.
Lauren • August 21, 2022
Beautiful color, more blue/less brassy than olive branch and more yellow than dusty lotus, with a soothing gray cast. Please bring back in ILO19.
Mariah • August 22, 2022
This fabric looks great except the color is incredibly disappointing. From my color-calibrated screen and the description, I was expecting a much more green fabric. This is not, as the description says an "earthy, intense green." It's very much a sad grey-green dusty sage color, not at all suitable for what I was planning to make. Such a bummer, I wanted to love this!
anna • December 15, 2021
Maureen
I am sorry to hear that this color was not as expected. I will email you to see if you would like to make arrangements to return it to exchange for another color that may work for your project or work out another acceptable resolution.
My favorite part of linen actually is that because it's a natural fiber, it's wonderful for natural dyes. In the past, I've dyed linen with black beans to make periwinkle blue, and with onion skins to create marigold yellow. My other favorite things about working with linens are how breathable they are, and how stable and easy they are to sew up. Fabrics Store linens always come in lovely colors and tones- my favorites are the things I've made from Shadow Grey and Agave.
ella • December 14, 2021
Gorgeous color ... just a little on the blue end of Spruce Green.
Maura • October 5, 2021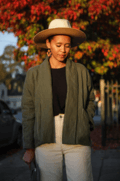 I selected a heavyweight MOSS Green linen to make a quilted, oversized Japanese-style jacket. It has a large foldover collar, slant patch pockets, and is a shorter jacket length. The pattern is called the Unfolding Jacket from Wiksten Patterns, although it's now been discontinued. I've been curious about quilting lately and decided to stitch on mild waving lines throughout in an accent thread. Someone told me the effect is kind of like flowing seaweed on the ocean floor, and as a coastal human, I kind of love that. I'm really into the lining – it is a cotton blend that I ice dyed over the summer. It was my first time ice dyeing and I love the watercolor effect and tones of pink, teals, blues as they melt together. From the linen scraps I also made a quick little envelope clutch to go alongside the jacket. You can read more about this project here: blog.fabrics-store.com/2021/12/12/curated-by-you-ella-claussen-makes-a-linen-unfolding-jacket-from-wiksten-patterns/
ella • December 14, 2021


4C22 Rustic Moss Softened - 100% Linen - Heavy (7.1 oz/yd2)
Sample Size: 2" x 3.5" (Including Swatch Card)
Free Standard Shipping
* Samples are pre-assembled and may not come from the same fabric bolt you order from. Color may vary. All fabric samples are shipped via USPS without tracking.

E-MAIL
Please contact us by following the link below.
SUBMIT A REQUEST

PHONE
1-866-620-2008
Call us Monday through Friday 10 am - 6 pm PST
Once you are happy with your order, please proceed to checkout where you are able to review your order and estimated shipping charges before you complete payment. Shipping charges are calculated by the weight and location your order is shipping to.
You will be able to choose from the following options:
Standard Shipping: 4 - 8 Business Days
Expedited Shipping: 3 - 4 Business Days
Priority Shipping: 2- 3 Business Days
International shipping charges are also calculated at the time of checkout. Please note there may be fewer shipping options available to you as the options are based on the destination of your package.
Delivery times begin one business day after the order is placed with a 24-48 hour time frame for processing.This processing period applies to all in stock items and allows for the time needed to manually cut and package your order to ensure it is checked for quality and accuracy before it leaves our facility.
Business days are Monday - Friday, 9AM - 4PM PST. Saturday, Sunday and Holdays are not considered business days.
Sample color chips are sent via regular mail and may take up to a week to arrive.
All goods are subject to prior sale and please feel free to Visit My Order to check the most up-to-date status of your order.
Making a return is quick and easy, you have 30 days from delivery to return the item or items in their original condition (unwashed, uncut and unaltered). Please include a copy of your packing list and once the return is received we will contact you to see if you would like an exchange, a credit to your Fabrics-store account or the monies returned to your original payment method.
Ship Returns to:
Fabrics-store.com
6013 Scott Way
Commerce, CA 90040
HOW DOES FREE SHIPPING WORK?
Take advantage of our Free Shipping offer on orders shipping within the contiguous US.
Every day on orders of $150 or more - we will pay for your shipping.
Your order will be shipped Standard Shipping (4-8 Business Days) with the shipper of our choice. No international orders.
Standard shipping takes 24-48 hours for processing. Delivery times begin one business day after the order is placed. This is due to your order being manually cut and packaged to ensure quality.
Please note that some of our darker or more vibrant shades will have some residual dye run off or bleeding. It is important that you launder or treat like colors with like colors so that you do not compromise the integrity of any other colors, fabrics or garments during the launder process.
We also suggest that if you are combining one or more of these types of colors with lighter colors that you pre-wash the linens seperately and once the item is completed do not launder again, but Dry Clean.
Fabric Care
Machine wash cold.
Gentle cycle.
Only non-chlorine. Bleach if needed.
Tumble dry low.
Medium steam iron.
Do not use Perm Press cycle in wash or dry