4C22 - MIX NATURAL FS Premier Finish
4C22 Rustic Mix Natural Fs Premier Finish - 100% Linen - Heavy (7.1 oz/yd2)
Price: $18.41 per yard

The Natural color thread in this fabric is the earth made color of flax when it has been retted and woven into thread. No dyes, no bleach. The only thing that impacts the color of the cloth from one production to the next ( if it is more beige or grey) is the amount of sunshine and rain that particular flax harvest had.
Bleached linen color thread is made by "stripping" the natural color out of flax ( just like you would with bleaching hair). What you are left with is a very soft shade that is just ever so slightly an off-white color.
Mix Natural color is achieved with one bleached thread and one natural color thread interwoven together. As a result - you have a grey toned natural color that is a great compliment to all other colors.
At a heavier weight of 7.1 ounces this 100% linen is referred to as Rustic due to its more textured look and feel. Durable and perfect for projects that require just a bit more substance.
The Premier Finish undergoes a two-step process to give the cloth a luxurious, supple feel right out of the box.
First, we apply a softener to give the fabric a silkier surface. Then, strong blasts of air are blown into the woven cloth. This beats up the fibers to make them softer and mimics the fiber bending process that the fabric undergoes when you've used it a lot.
This finishing process gives the fabric a much softer and more luxurious hand. It will be less prone to deep creases and have less linting. Shrinkage will still have to be taken into consideration based on the fabric type ( thread size, count, weave type).
Fabric specifications:
| | |
| --- | --- |
| Article | 4C22 Rustic |
| Content | 100% Linen |
| Type | PLAIN WEAVE |
| Thread size warp | 11.6 |
| Thread size weft | 11.6 |
| Thread count warp | 38 |
| Thread count weft | 32 |
| Color | MIX NATURAL |
| Weight | 7.1 oz/yd2 |
| Width | 57 inch |
Customer Questions and Answers
Please explain what the Premier Finish is? Is it a chemical used to get that finish? Thank You
Sandy • February 23, 2023
Please refer to this article in our help center for an explanation of all of our finishes support.fabrics-store.com/hc/en-us/articles/4403575338253-Fabric-Finishes-Explained
Patricia • February 23, 2023
Will you get this fabric back in stock? I absolutely loved working with it.
Mary • January 9, 2023
I am showing that we have 700 yards of this in stock - please follow this link fabrics-store.com/fabrics/linen-fabric-4C22-mix-natural-fs-premier-finish-heavy#answers_all
Maureen • January 9, 2023
Can this be used for curtains? Wanting a heavier fabric that I will line for an east facing master bedroom. Thank You
Sandy • September 8, 2022
Yes this is a very popular choice for drapery when a heavier linen is needed.
Maureen • September 8, 2022
I loved how the rustic feel of the fabric juxtaposed with the tailored silhouette of the suit. It was just the right thickness and opacity while having a beautiful drape and softness to it. I've been looking for this exact fabric for a long time, so it's great to have finally found it!
Nisan • February 24, 2022
I made a pair of all-season pants with this linen and am so pleased with the results. Washed and dried the fabric 3x before sewing. Lots of lint so be sure to check the dryer every 10 - 20 minutes. Shrinkage is about 10% in length, negligible in width. Will post a pic of the pants soon.
Barbara • April 9, 2018
As close to "colonial" as possible, this fabric will be on display as "straw" filled mattresses in the room interpreted as an 18th century slave quarters in the museum where I work. It was easy to sew and looks authentic. The same fabric was used to make a small window curtain for the room. The weight, color and texture make it suitable for recreation of authentic looking historic objects. Future use will include making haversacks for reenactors.
Michael • January 1, 2018
I DO love this fabric. A few years ago I made a slipcover for another sofa using the mid-weight mix natural linen. This time I wanted to try the heaver weight on a more contemporary style piece. My only complaint is that I have experienced progressive shrinkage on everything I've made. I try to allow for this by prewashing on hot and drying on the hottest setting in a commercial dryer in addition to adding some extra length to the items I make. When I launder finished items/ slipcovers I use cold wash and low dryer temp and remove the items before they are completely dry. Even with these precautions I see progressive shrinkage.
Alice • January 1, 2018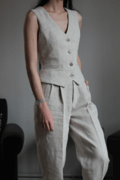 I decided to make a two-piece suit: some pleated trousers and a waistcoat. The trousers feature a Hollywood waist, a super high rise and double pleats on the front. Ever since I drafted this pattern I have been dying to make it out of undyed linen but I've never been able to find the perfect fabric for it – until now! For the waistcoat, I used the Liliana Vest pattern from Viki Sews. Together they form the perfect summer suit, and I cannot wait to wear these pieces both together and separately!
Nisan • February 24, 2022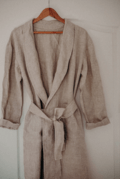 CAPUCINE Bathrobe made with MIX NATURAL Heavyweight FS Premier Finish. I chose a color for a long time and decided to stay on a neutral one, one of my favorite colors is MIX NATURAL FS Premier Finish. I chose heavyweight linen to make the robe feel weightier on the body. I love the wrinkles of linen, so after washing, I very rarely use linen ironing, as you can see in the picture.
Karina • September 28, 2021

I made a tablecloth for my daughter in law. Used Natural and trimmed with white. Fabric was beautiful to work with and has a nice weight and drape. Hand sewing was a treat. I washed both main fabric and trim x2 so hope that is sufficient for shrinking. Made luncheon napkins to match (14x14) and will make 20x20 dinner napkins in plain off white.
Margaret • January 16, 2017

E-MAIL
Please contact us by following the link below.
SUBMIT A REQUEST

PHONE
1-866-620-2008
Call us Monday through Friday 10 am - 6 pm PST
Once you are happy with your order, please proceed to checkout where you are able to review your order and estimated shipping charges before you complete payment. Shipping charges are calculated by the weight and location your order is shipping to.
You will be able to choose from the following options:
Standard Shipping: 4 - 8 Business Days
Expedited Shipping: 3 - 4 Business Days
Priority Shipping: 2- 3 Business Days
International shipping charges are also calculated at the time of checkout. Please note there may be fewer shipping options available to you as the options are based on the destination of your package.
Delivery times begin one business day after the order is placed with a 24-48 hour time frame for processing.This processing period applies to all in stock items and allows for the time needed to manually cut and package your order to ensure it is checked for quality and accuracy before it leaves our facility.
Business days are Monday - Friday, 9AM - 4PM PST. Saturday, Sunday and Holdays are not considered business days.
Sample color chips are sent via regular mail and may take up to a week to arrive.
All goods are subject to prior sale and please feel free to Visit My Order to check the most up-to-date status of your order.
Making a return is quick and easy, you have 30 days from delivery to return the item or items in their original condition (unwashed, uncut and unaltered). Please include a copy of your packing list and once the return is received we will contact you to see if you would like an exchange, a credit to your Fabrics-store account or the monies returned to your original payment method.
Ship Returns to:
Fabrics-store.com
6013 Scott Way
Commerce, CA 90040
HOW DOES FREE SHIPPING WORK?
Take advantage of our Free Shipping offer on orders shipping within the contiguous US.
Every day on orders of $150 or more - we will pay for your shipping.
Your order will be shipped Standard Shipping (4-8 Business Days) with the shipper of our choice. No international orders.
Standard shipping takes 24-48 hours for processing. Delivery times begin one business day after the order is placed. This is due to your order being manually cut and packaged to ensure quality.
Please note that some of our darker or more vibrant shades will have some residual dye run off or bleeding. It is important that you launder or treat like colors with like colors so that you do not compromise the integrity of any other colors, fabrics or garments during the launder process.
We also suggest that if you are combining one or more of these types of colors with lighter colors that you pre-wash the linens seperately and once the item is completed do not launder again, but Dry Clean.
Fabric Care
Machine wash cold.
Gentle cycle.
Only non-chlorine. Bleach if needed.
Tumble dry low.
Medium steam iron.
Do not use Perm Press cycle in wash or dry