IL020 BLEACHED - 100% Linen - Light (3.7 oz/yd2) - 20.00 Yards
Favored By:

30760 people!
Price:
$291.80 per item

Sale price:
$262.62 per item (10% off)
Bleached color is achieved by "stripping" the natural pigment out of the fibers( just like you would with bleaching hair). What you are left with is a very soft shade that is just ever so slightly an off-white color.
Bleached is the basics of any project and loves being dyed. It is actually what we use to dye the colors. A truly versatile base and a must-have addition to your fabric repertoire.
At a lighter weight of 3.5 ounces this 100% linen is woven with finer threads to give it a smoother appearance. Referred to as lightweight or handkerchief linen, this fine, but surprisingly sturdy linen brings new meaning to the term "sheer elegance".
Fabric specifications:
| | |
| --- | --- |
| Article : | IL020 Handkerchief |
| Content : | 100% Linen |
| Type : | BASIC |
| Thread size warp : | 33.3 |
| Thread size weft : | 33.3 |
| Thread count warp : | 57 |
| Thread count weft : | 44 |
| Color : | BLEACHED |
| Weight : | 3.7 oz/yd2 |
| Width : | 58 inch |
Reviewer: Linda
Beautiful to work with. I used heirloom stitching and lace plus hand embroidery to make special handkerchief for a bride to carry on her wedding day. This was the perfect weight fabric for my project!
Reviewer: Dixie
This company is extremely efficient and orders are in your hands in no time. I love the hand of this fabric and cannot wait to make something with it
Reviewer: Darlene
I washed in hot water & ironed flat before cutting out the NOA pattern. It is really too see-thru being a lite weight linen but so beautiful in the drape & it is very soft. I will be wearing it as a "floater" over a t shirt or whatever. I omitted the pockets, but if placed strategically & worn over a camisole or tank top it would be beautiful, & a little sexy. At 78 I just want a comfortable feel (I am so tired of static clingy polyester). I have never made a tailored shirt before but this fabric is surprisingly wonderful, the collar came out good with the interfacing giving it just the amount of stiffness needed. I am very happy with this handkerchief linen.
Reviewer: Leigh-ann
I bought this to dye, based on an email sale I got. It described the fabric as "it's light, but opaque hand, silky smooth surface" but it is totally see-through and pretty scratchy feeling. I'm still going to use it but have to figure out a different project for it. I haven't actually used it yet (I did wash it) so I will see how it does with the dye.
Reviewer: Ciara
I love this fabric. It is so soft and not too sheer for being such a light weight fabric. I made a slip and a shirt from it and it is perfect! Can't wait to get some more weights and colors to continue adding to my wardrobe.
Reviewer: Deborah jo
I made a 3 piece nightwear outfit from a pattern by SewTinaGivens.com. using IL020 Handkerchief linen Bleached, light weight and added various vintage laces, trims, tatting and other embroidered pieces to get the vintage feel. I really love this fabric. It's light and airy. It's something I always keep on hand in my stash.
Reviewer: Heike
I love working with linen because it's so predictable, easy to handle, endurable to launder, and great looking. This weight of linen is what I think of for a light weight summer blouse that's worn over a camisole. It's also suitable for handkerchiefs or any other item that benefits from a high moisture absorption. It embroiders beautifully provided it is adequately stabilized.
Reviewer: C.J.
Beautiful fabric nice feel, I wasn't expecting it to be sheer as that was not in the description when I purchased it just means I have to change my original plan for this.
Reviewer: Jean
The description stated it was NOT transparent. Unfortunate, it is completely see through. Disappointed .
Maureen
I am sorry to hear that the linen was not as expected and I will reach out to you via email to see what we can work out to turn this purchase around for you.
Reviewer: Lynne
This linen is very well-made. It is true to grain, so much so that I was able to pull threads in order to get straight edges and true rectangles when I used it to make curtains for my living room recently. I have also made blouses from it, and have handkerchiefs on my list of furure projects. The leftover strips from making curtains will work well as interfacing, given its stable charachter. I highly recommend this product!
Reviewer: Michelle
An easy fabric to see. The finish is beautiful and does just what I need it for, to create clothing with ruffles.
Reviewer: Lisa
I'm making handkerchiefs out of this fabric. I did one as a sample and it is great - nice and soft. This would also work for a shirt or bedding.
Reviewer: Cheryl
Never received this item. I ordered it with my name (Cheryl Masters) and my sister's address.It was never received by either of us. Her name is Phyllis Bradley and her address was on the order. We're still trying to figure out where it went. Neither of us received it.
Maureen
We are showing that both orders were returned to us , marked by the carrier as unable to deliver and refunded to your original payment method. i will email you directly to discuss reordering the items.
Reviewer: Wendy
I am thrilled with the fabric. I live in Canada so I understood that I would pay for shipping and in US dollars. However, on top of that, I had to pay over $20 for duties before the item was delivered. This certainly adds to the cost. Thanks!
Reviewer: Melinda
I'm making some Elizabethan style shirts out of this and it is a DREAM to work with and to wear. Highly recommend!
Reviewer: Marion
So I purchased a lot of this linen when F-S had an awesome sale, never ever had I sewn with linen before. I searched for some pattern and came across this beautiful top from Love Notions. I've made 3 tops out of the linen with this pattern and LOVE LOVE LOVE the look and feel of this fabric. Great product!!
Reviewer: Rita
I have never worked with such ease of sewing and feel! I made pants and they are wonderful to wear.
Reviewer: Pamela
This linen is exquisite. I ordered 3 yards to make baby clothes, the week after our son, daughter-in-law, and little stepson broke the news to us. Very speedy shipment and arrival- I got my order within five days. It was neatly folded and wrapped in plastic. The price is amazing for this fine quality fabric. I did a zigzag stitch around the fabric edge to prevent raveling and washed to accommodate any shrinkage. It actually shrank very little and came out of the dryer very soft, perfect for baby clothing. It was a pleasure to sew the little vest from this linen, and I am so pleased with the final project. I will probably add some embroidery, and I can imagine from the feel of the fabric how well it will lend itself to machine embroidery (or even hand embroidery, for that matter). Very pleased with my purchase
Reviewer: A
I love the crispness! Light seems to emanate from this Linen! It is Pure Beauty! A Nightgown is planned and Slips as Underskirts. Slight ruffle at bottom edge to "peek through" varying hem lengths. Thank You FS!!! Always!!!
Reviewer: Kim
I've made dyed scarves out of this linen. The fabric took the reactive dye beautifully and made gorgeous scarves!
Reviewer: Cheryl
There's no other word for this fabric....just luscious!
Reviewer: Cheryl
I sew medieval clothing for myself and my family. This fabric is lovely and light for the under clothing. Perfect next to the skin.
Reviewer: Martine
Love it so much had to order more! After initial washing it was so soft. I had this great idea to make boxer shorts as I'm part of a linen group on fb and have gotten several orders already. I also made your basic tank and am using it as a sleep top. So comfortable and cool in this hot weather.
Reviewer: Amy
This was very nice, crisp linen. I made a dirndl blouse with large puffed sleeves, and it was the perfect fabric for this project!
Reviewer: C
This is a lovely, soft fabric that can be used for a variety of items. I have purchased many yards of the linen on this site and have not been disappointed with any of it. I have shared this site with others who had not found it themselves. I enjoy working with this particular fabric and making and wearing clothing with it.
Reviewer: Janet
I've in the garden since it's arrived but intend to get to it today. If it is anything like the other linen I have purchased, it will be a dream to work with. I am hoping to make some linen pillowcases and maybe embroider on them. Love your fabrics and your quick turnaround.. Janet
Reviewer: Shari
This is by far the nicest handkerchief linen I have ever purchased. It washes beautifully, sews up great, hangs great and dyes beautifully. Linen is my go to fabric, and I have bought from many sources, but fabric-store linen is the best.
Reviewer: Marilyn
The fabric is great. I'm learning needle work; as a child I my grandmother and great-aunt created so many lovely things in this way. They sat me done with both demonstrated and being my teachers. Anyway, I will get better and learn the nuance of the art. Thank you
Reviewer: Elizabeth
This linen was perfect for my Lillian tops - I made 2! It is see through so I will need to wear someone underneath but no problem. I hVe received many complaints! It washes well too! 5 plus stars!
Reviewer: Wendy
Just lovely! can't wait to put it to good use. The selection and prices of the linen here is the best. I will continue to shop and create.
Reviewer: Barbara
This was beautiful stuff and a delight to hold and 'finger.' The weight is light and the drape will be wonderful. I have no particular plans for this fabric yet but I do garment sewing and quilting. It is eligible for both categories. I am excited about maybe making a breezy top or tunic with it, as many customers have talked about how cool it is to wear and I live in a hot climate. And I may try dying it, as I bought it in white. Haven't washed it yet but I haven't ever known a linen that didn't come out of the dryer wrinkled so we shall see. My local fabric store sells an almost identical weave of lightweight linen for about $18 a yard, so this is a screaming bargain by comparison.
Reviewer: Barb
I love linen and couldn't resist ordering this fabric. I was not disappointed when I received it. It's beautiful to see and such a soft hand....I have no idea what this will turn into, but I was so impressed that I ordered the stonewashed slightly heavier linen....which should come today! I'm thrilled to find a source for beautiful linen.....Great product and service.....
Reviewer: Victoria
I have not sewn any of the linen yet, however, I was happy with the quality. I found customer service to be helpful and pleasant and that is what determines whether or not I make a second purchase of anything. I will be ordering again.
Reviewer: Kathy
After buying my first batch, I had to buy another one. This is a lovely, soft and elegant fabric, with multiple uses. I bought some Rit dye, and tried a couple of samples, one a golden yellow, and an indigo. Both tests took the dye really well, with no blotches. Due to the lightweight nature of the fabric, the colours tended to be "romantic" rather than bright, but very beautiful. I may need more fabric and dye! I also have some other weights, including IL 019, also a stunner.
Reviewer: Vlinder
I'm a hobby seamstress, having made about half a dozen garments in the past year -- just enough skill & experience to make my own wedding dress in Spring 2021. It was a wrap dress with flutter sleeves, looked like a garden party style, not a heavily fitted or decorated dress as is currently trending (not my style or skill). FS was very helpful with fabric recommendations while I was still figuring out design details. IL020 Bleached worked very well, a good weight for a (slightly unorthodox) nuptial dress, and very pleasant to work with. Seams were mostly finished on overlocker, a handful were folded under and top-stitched. In the bright Southern sun, Bleached was a very slight off-white (my mother described it as "fresh farm milk"). My cotton batiste lining was too lightweight & sheer by itself (I bought it online, too last-minute), so I also wore a nude half-slip. Pre-washed the fabric on eco-warm (without detergent), followed by low tumble-dry; probably twice over. This was following FS advice after I forgot to purchase the Softened version of the fabric. It worked very well. Dress pattern is modified from Simplicity, and sleeve pattern from Seamwork. I plan to dye the dress indigo within the next year & decorate it with Sashiko embroidery.
Reviewer: Jane
I bought this to make a slip for summer wear. It is such lovely fabric that I decided to wear it as a tunic instead! Or maybe also. Really, it was just wonderful when it arrived, and I did wash it to preshrink. It came from the dryer just as soft as one could hope. Easy to sew and a completely positive experience! What a value!
Reviewer: Cathy
I purchased 10 yards of this scrumptious light fabric with nothing particular in mind to make. I ended up using it for curtains in my daughters new home main bedroom. She absolutely loves the way they allow diffused light to come through but retain privacy. They are very light and breezy, just lovely. She has now requested curtains for her guest room. Guess I'll be ordering more soon!
Reviewer: MaryEllen
This is beautifully made with lovely drape and hand. I just made the duster "robe" from the free patterns section and I love it! I also use it as a pool cover up. I just bought it in black to make another!
Reviewer: Beth
Haven't washed it yet. Plan to make pillowcase sets for gifts.
Reviewer: Paula
Total honesty, I expected garbage at the price point. I got 10 yards of beautifully spun and woven linen fabric! I'm so happy!!!! I live in SC in the US. Summer, pre-Summer, and post- Summer are hot with high humidity. Nothing is better than linen! Usually, I pay about $20 per yard for this quality. I'm so happy!!
Reviewer: Lena
Less than a week, door to door, to Sweden! Nice quality, very well packed, Very pleased with this!
Reviewer: Yvonne
I love your fabric store! Your linen is the absolute best! I'm working on a project now and it is a dream to sew. I too have bought many samples from the doggie bin. I'm in love, the colors, the quality... There's just not enough hours in the day. I'm so inspired by your look books, I don't want to sleep!
Reviewer: Tammy
I wasn't pleased with this fabric. It was dirty and looked like the ended of the roll. Maybe that's why it was discounted? IDK but after being excited to try it and spending over $100 on it I had expected better. I know I could try and ship it back and go through the harassment of attempting to wrangle a refund, but I think I'll just donate it instead. The whole experience has been very disappointing. I'm glad not everyone has had my experience.
Maureen
We have a very lenient return policy that allows for a return for refund or exchange within 30 days of purchase. Once we are notified that your linen was received damaged, we would ask for a photo to determine if this happened in transit so we can notify the carrier and file a claim. At the same time we will make arrangements to send a prepaid label to return the linen so you do not have to pay to return the damaged linen, this is part of our posted policy regarding returns. I will email you this information so that we can resolve this issue immediately so that you do not have any further upset regarding your purchase with us.
Reviewer: Nina
I purchased several yards of this for multiple projects. It takes dye beautifully and vibrantly!! Don't be fooled by how sheer it looks in hand, this is a really sturdy weight and makes excellent high quality shirts and dresses. Will definitely purchase more when I run out!
Reviewer: George Ann
I bought 8 yards at a "too good to believe" sale price! I do a lot of historical clothing, but I had no project in mind, just thought it would be handy to have. I didn't realize it was 58" width! And it is absolutely gorgeous fabric!!! I have been a professional seamstress for over 40 years. I will definitely be a regular customer from now on!
Reviewer: Brigitta
I washed and dried the linen leaving it a bit damp and gave it a quick ironing. Folded the linen in half matching the selvage edges. I put a pillowcase on top of that and added one inch for the seam allowance. I cut the fabric with pinking shears. To keep the fabric from fraying I also finished the outside edge of the seam with a zig zag stitch. I folded the selvage edge over twice and sewed a straight seam. I love the pillowcases. I wash them, fluff them in the dryer for a few minutes. Give them a shake and hang to dry the rest of the way. For some reason they don't wrinkle. I live in Las Vegas and it is so nice to have a linen pillowcase in the heat.
Reviewer: Joedda
I have looked for this lightweight linen for years . Every time I thought I found it , I was disappointed. I wasn't sure about this product either when it arrived. But I washed it 3 times and it's PERFECT!! Will definitely order more!!
Reviewer: Wanda
This linen is absolutely beautiful! This was my second order from Fabric store and they are great! Fast shipping as well.
Reviewer: Raewyn
The light linen has a nice soft handle, a delicaye slub, and just sheer enough for the slip I plan to make with it. I have yet to wash the linen but believe it will sew well and wear nicely into a forever garment. I was extremely impressed by how swiftly the order arrived, how well packed, and the friendly correspondence throughout the purchasing. Highly recommend Fabric Store.
Reviewer: A
A rich, dreamy, creamy, shade of slightly off white. Simply Beautiful! A Wonderful hand! Not sure what I'll make just yet, but want to have these Gorgeous Linens in my repertoire, to be "Sew Ready" when the time comes!
Reviewer: Debi
I have not yet produced anything from the linen, my plan is a jacket. Having been called in to substitute I find myself with backed-up projects any retired person should have finish by now! My My brain keeps creating but... hopefully after this week I can catch up and send a jacket photo soon.
Reviewer: Lelia
IL020 is my favorite go to linen as it is perfect for all the wearable art I create. I am a fabric dyer. This winter I worked on "snow dyeing" because we had plenty of snow, I love the mystery of how the colors are going to move and blend. I have not yet made any of my dyed pieces into garments but they will be used for scarves, tops, dresses, vests, and jackets.
Reviewer: Eva
This linen is wonderful for all kinds of projects from clothing to curtains! I just finished curtains for my sewing room which turned out beautifully. I will be making dresses for my granddaughters next. Great buy!
Reviewer: Amy
This linen is perfect for so many projects. It's high quality, soft, and easy to cut and sew. It presses well. The linen is lightweight but not flimsy, and being white, it's transparent. Following the advice of another reviewer, I zigzagged the cut edges, washed it twice in hot water and dried it in the dryer. Came out perfect. So far I've made two pillowcases and plan to dye the remaining yardage to make curtains and a blouse. I highly recommend this linen.
Reviewer: Elizabeth
My fair skinned red headed daughter loves her big scarves in the winter. She is planning on going to the beach, so I got this to make her some over sized scarves for her trip. Easy to work with and she loves them. Took me just over an hour to make two.
Reviewer: Linda
I came across this website by happenstance. Boy am I glad! I live in Corpus Christ TX and it gets HOT! I decided to change out my wardrobe for linen. Best idea ever! It sews like a dream and looks just beautiful. This weekend I am working on tank tops and night gowns with the IL020. Did I mention that I bought a lot of differant weights of linen because the sales were just too good to pass up? My orders come to be quickly and in good condition. Always excited when I see the package at my doorstep. Yeah, last week I made a bedspred with the medium weight for the Summer months. Okay that's enough, I have to get back to sewing!
Reviewer: Catherine
This linen does not disappoint. It makes wonderful garments, is easy to work with and washes beautifully. I keep ordering more! I have dyed it with natural dyes and it looks lovely! Worth every penny for excellent-quality linen.
Reviewer: Bonnie
I love this fabric. It washes beautifully and is perfect for so many uses.
Reviewer: Eli
Nice cloth but not what I needed and too expensive to send back. Buying online can be dangerous. Nice people though! Willing to try to help me find what I want by sending samples. Love to deal with this kind of business.
Reviewer: Lourdes
I love the fabric is beautiful thank you
Reviewer: Patti
I made a Wiksten short dress and an Augustina top out of this lovely linen for sleepwear. It wrinkles with wear, but is oh-so light and breathable.
Reviewer: Cynthia
This fabric far exceeded my expectations. I was hesitant in ordering from a Facebook ad. Though, the reviews were excellent and I really needed a quality linen. I couldn't find this locally or even online, particularly at this price point. Fabric-Store.com is now my first stop for quality linen. The price, customer service and fast reliable shipping cannot be beat!
Reviewer: Terri
This is a lovely fabric to work with... and even to hold! It is so very very soft and light. At the same time, it's also substantial enough to be embroidered. I made a simple dress with it and it's nice enough I will be wearing it to my son's wedding!
Reviewer: Joyce
Love the weight of this linen. Love the feel of it.
Reviewer: Ellen
When I received my order for IL020 bleached linen,I was so pleased with the quality of the fabric,I immediately ordered a heavier linen to try out! Thank you!
Reviewer: Mary Lou
I ordered 2 different fabric pieces (4 yds. ea.) the same day. One order came quickly in a few days, but I hadn't received the other order. I contacted the company & reported this. Apparently my pkg was "lost" or being held somewhere in the system. They checked it out and did whatever they had to do to get the pkg sent to me. I now have it. I'm just beginning to collect some of your linen fabric and haven't used it yet. But I have a question: what kind of thread should I use?? I have purchased different weights of linen. Do I use the thread you recommend for all of them?? Thanks in advance for your response.
Lauren
Hello, We recommend polyester threads such as the All-Purpose threads by Guterman. They are strong and glide smoothly in your machine without causing any extra fuzz which can clog it. If you are purchasing from a supplier, they may give you the option to choose your thread size too. Our sample maker prefers the 40 Tex.
Reviewer: Trisha
First, I have to compliment you folks for your great customer service! I didn't remember the number of the linen I'd ordered before but you looked it up for me so I could order enough to complete two full sets of napkins, napkin rings, placemats, and tablecloths. I used wing needles to machine embroider the work and they turned out beautifully.
Reviewer: Eva
Pale peach Machine embroidery on collar and cuff gave me the heirloom look For which I was aiming. Ordered on a super special and have enough for another short sleeve top
Reviewer: Donna
After prewashing the fabric in hot water, I made 2 beautiful floor length curtain panels with this semi sheer fabric for our bedroom. I made each panel double wide making flat French seams, a narrow hem at the bottom and putting a light interfacing at the top. I them attached them to clip on rings. On a metal rod. These are light and airy and durable for machine washing. I plan to make another set for my slider for summer curtains. Thank you for the quality of your fabric.
Reviewer: Christine
I ordered enough yardage for night shifts but i am definitely going to try pillow cases. It has a lovely hand and was a great buy. My order arrived quickly. Great service! Thank you!
Reviewer: Stephanie
I was so glad to find a source for this lovely linen. It has such a beautiful hand. I haven't decided exactly what I will make first because of the myriad possibilities. I look forward to making many items with this fabric.
Reviewer: Alana
I am relatively new to this and thought I was ordering the same fantastic linen I had ordered before. It came in lighter in color, which is fine, however much sheerer with a distinctly different stiffer texture. I will use it in some way, but from now on I will be ordering the Signature Finish only.
Reviewer: Janice
I was not sure about using this fabric for a pair of pajamas, but my doubts were qiuckly dashed after washng this prior to sewing. It is so soft and so breathable. I now am sewing nightgowns withit for family members who need spoiling too
Reviewer: Deon
Purchased this semi-opaque linen to make scarves/shawls. It's the perfect weight for our Florida winters and to keep away the air conditioner chill in the summer! Hand-dyed and then hand-stamped a simple repeated design and accented with fabric crayons. Will finish this design with self fringe.
Reviewer: M
This IL020 bleached fabric is opaque but just barely so that it will make a beautiful night shift. I hope to make good use of the antique laces I just received . My hope is to have it look similar to the 1900's blouses with all the lace &tuck work. The drape is so soft I think this project will be worth the time put into it because of this linen fabric.
Reviewer: Libby
I haven't sewn anything yet with my bleached lightweight linen, it is my first purchase. But I can say, the fabric is beautiful and it was shipped out the same day I bought it! I am looking forward to buying hundreds of yards of fabric from this company!
Reviewer: Sylvia
I absolutely love sewing with all these linen fabrics. I have not actually used this weight yet, but it is soft to the touch and I look forward to creating something beautiful!
Reviewer: Robin
I've made two tops from this fabric. I love the ease of working with this fabric. However, both tops have become unwearable within less than a year because the fabric became thread bare at the apex of both breasts. I wear these tops as a relatively sedentary person because of back issues so these extreme wear patterns are very disappointing. I don't wear the tops more than 3 or 4 times a month! I won't buy this fabric again.
Reviewer: Carol
I am so pleased with your lovely linen. And, I love the bleached handkerchief linen I recently purchased. I spent my COVID isolation time with a thick book and videos learning to do hemstitching. The 1L020 proved perfect as a test for my improving skills. I've made everyone in the family beautiful embroidered hankies to go in their Christmas bags. Thanks too for offering it so reasonably and the prompt delivery. I'll order again and again.
Reviewer: Monette
I haven't gotten fabric from Fabrics-Store that I didn't like and this one was great too. It gets really soft after washing and luckily, I had just ordered the Julia pattern so I made the blouse. I'm glad I got several yards so I can try it out with other items I have in mind.
Reviewer: Eva
I love this fabric! It is very light weight and ideal for infant and children's clothing. This is the best price I've seen. I'm very pleased!
Reviewer: R
I got some of this linen on sale. So far I've only washed it - but it has such a wonderful texture and hand! I'm excited to use it
Reviewer: Tamara
It was easy to sew, and the fairly even weave made embroidery it easy.
Reviewer: Karen
Lightweight and cool for the Florida heat and humidity.
Reviewer: Anna
I've been using this handkerchief weight linen for years and I absolutely love it. I recently made a dress using my pattern, the Demeter Dress, and it makes me feel like I stepped out of a Jane Austen novel when I wear it!
Reviewer: Amy
I've been using linen from Fabrics-store.com for more than 10 years. The quality is hard to beat. Most recently I've started making caps and bonnets that are inspired by the Handmaid's Tale tv show. This tissue weight is perfect in the optic white. It gives the bonnets a translucency that you see in the tv show. I love it. And will keep ordering. Also, they are super helpful. Last night i placed an order with the wrong shipping address. Within minutes Maureen had it fixed! Thank you so much! Love this place!!
Reviewer: Jamie
Pretty fabric. Was received just as described. Held up well after washing in hot water, then drying. Will make great cocktail napkins.
Reviewer: Julie
While the fabric was the exact weight I needed, the color was not. I though I would be safe ordering a full bolt with a description that indicated it is a bleached white, but NOOOOO. It is pale ivory, not true white, and I cannot return it. Very costly assumption that I did not need to order a swatch of a white fabric to check the color.
Reviewer: Valarie
This linen was recommended to me by other costume reenactors as an excellent one to use for making my 1700s chemise. It was stiff on arrival but after only washing one time, it was soft enough to wear under my clothes. I will be buying more when needed, and I'm recommending it to others.
Reviewer: Karen
We ordered a bolt, and in going over the "to-do" list, I realized we could use another 10 yards or so. We are members of the SCA, and are always pleased with your quality. The hanky linen works for my cotehardies and my husband's Japanese garments, and we often order in tandem. Keep up the good work!
Reviewer: Anonymous
I am disappointed in the coloring of this fabric. I am fine with the weight and have ordered before and will again as the quality is excellent. I expected a "White" fabric but it is an off white or yellow white
Reviewer: BERYL
The linen I received was not the handkerchief linen but a heavier weight that I just gave away because it would not fit the projects that I had wanted it for,. Mine was this number but It was not a thinner linen but a heavier and much stiffer one, even after I washed it.
Reviewer: Lina
I've had my linen now over a year. It gets softer and softer with every wash. It took me a while to settle on this product, as I was torn between 1C64's amazing quality and the softness that this sheer linen had to offer. I'm so glad I chose this! It's super smooth. I'm also getting ready to make this into sheer curtains for my bedroom and it's just truly elegant to look at when the sun is bright shinning into the room (I used my sheets on the curtain rod as a sample). This linen is an off white and has a softer effect than your optic; it's easy on your eyes when your turning in for the night. It's one of many of my favorites and even though I ordered a bolt, 20 yards worth, I'll be ordering again and again I'm sure.
Reviewer: Gayle
I wanted to recreate a linen dress that I purchased but could not find any more like it.The fabric in all of the stores in my area in Florida was a joke. One fabric store recommended I go online. I purchased one time and I was so happy I purchased three more times. I am very, very thrilled with the quality, colors and pricing of the fabric.
Reviewer: Karen
I order the bleached linen for smocks and medieval accessories, such as coifs and hoods. When you are camping for two weeks in the summer, in a medieval style camp, there is NOTHING like putting on a clean, fresh under dress! Many people eschew long sleeves in the heat of summer. I actually prefer linen sleeves to wearing nothing, as the linen works well to wick heat and moisture from the skin, while giving some protection from the glare of the sun. I find this linen to be nice and soft, and it is always a pleasure to work with!
Reviewer: Kim
Love this fabric and use it all the time, but the "bleached white" color name is a little misleading. It is much closer to ivory than white, which when I complained was explained to me by the company as "like natural bleached muslin". Though this is beautiful for period clothing, if you want a true white you need to order the optic white.
Reviewer: Sue
I have been looking for this fabric for a long time and just can't find it locally. I LOVE it! It was very easy to work with and just gets softer every time I wash it. At 57 inches wide I think it is a great value and I know I will be ordering more.I am using it for a chemise under a costume You just can't go wrong with this.
Reviewer: Susi
As a professional seamstress, I regularly make costumes for Renaissance Festival performers and other sorts of historical reinactment. This is the linen that I recommend for shirts, chemises and bloomers for comfort and authentic-looking style. This washes up so beautifully, especially using the trick of washing it in just a teaspoon of Dawn dishwashing liquid, which removes the oils and allows the fabric to wrinkle less. The weave is even and is a dream to cut and stitch. Fabrics-store.com is my go-to for linen.
Reviewer: Yolanda
This is the first time I have ordered fabric from Fabrics - Store.com, and will definitely NOT be the last! I used my IL020 linen to make a simple half- slip, and it is a pleasure to wear. The linen is soft, breathable and just perfect in every way. Super - easy to work with, too. Thank you!
Reviewer: Sally
In early 2012 I bought this fabric to make a one of a kind special order christening dress, slip and bonnet that was embellished with drawn thread work, hemstitching, Ayrshire embroidery, hand sewn tucks and antique bobbin lace. It was a bit stiff when it arrived but after several washings, it was very soft. It was a dream fabric on which to do the various kinds of handwork which I did with preshrunk linen threads. I was surprised at how little it shrunk as compared with linen I bought in Sweden the year before for some handwork. I would recommend it to anyone doing fine handwork for heirloom clothing or decorative items.
Reviewer: Laura
I made queen sized top and bottom sheets (both flat to rotate and distribute the wear) and three pillowcases. I purchased 13 yards to allow for shrinkage and straightening the ends. I used full width lengths down the center of the bed, allowing the flat felled seams to lie on or close to the edges of the mattress. I cut the side pieces so the selvages would form the outer edges and used the remaining linen from the center to make the pillowcases. They turned out better than I expected and are just perfect for summer in our older house without air conditioning.
Reviewer: Idalia
Love, love this linen! I have purchased three different weights from this company and while I loved them all, this one is the absolute favorite of mine. Light, breathable, and perfect for so many things! I will be making some pantaloons with lace with this latest purchase, but will be needing more for lightweight blouses or tunics for the hot Summer days ahead. I am quite pleased with the quality.
Reviewer: Eileen
I've used this linen to make several 18th century men's shirts and the results have been awesome! A high quality fabric and a great price.
Reviewer: L.
This fabric was a real hit at my bobbin lace class. It is not easy to find handkerchief weight linen and we were all pleased with the quality of the two white fabrics I brought in. I believe a couple classmates went on to take advantage of the nice range of colors offered. The price is beyond amazing as well.
Reviewer: Robyn
I am a repeat customer from Australia and Very Happy with the IL020. It sews beautifully and I love the natural colour. I will be ordering in 20 yd lot next when it is available. Love your Linen.
Reviewer: Gina
The prices are great, I don't mind ordering in whole yards. If I have linen laying around I end up using in another project.
Reviewer: Anonymous
I am giving up on this company because they won't cut any half yards. One has to order fabric in whole yards.
Reviewer: Valerie
When you combine top quality linen, great prices and excellent customer service, you have got a winner. I have been purchasing linen in the 3 oz and 5 oz weights from fabrics-store for 6 years and it's consistently been a pleasure both in order process and after receipt.
Reviewer: Carla d.
This linen is fairly slubby, but its bright white and light to medium in hand at a great price! It's pretty soft on the skin once washed, it continues to get softer. It appears to be a chinese linen as it has a short fiber length, but the price is right!! I have used this for many an italian chemise, hats, linings, sleeves and more. At this price, its not too heavy but not heavy enough for breeches, but it would be ok, for braies (underwear) and any long wearing linen garment. I haven't tried dying it just yet, be sure to get a \"reactive\" dye for plant fibers if you do.
Reviewer: Lisa
I had never ordered from this company before so didn't know what to expect. I trusted the reviews of my fellow reenactors and am glad I did. This linen is fabulous. Way better than any I have bought from my local fabric store. Plus, I can trust that it is 100% linen, unlike my local fabric store who is known for mislabeling linen blends as 100%. I am now an enthusiastic customer who plans to buy from this company again and again!! I've also recommended this store to some others I know who sew reenactment clothing.
Reviewer: Katharine
I bought this linen to make an under-kamiz. It is really transparent, so this is definitely for under-garments. It came pretty stiff and a loose weave, but it softened a bit through the laundering process. I'm almost done hand-sewing the garment and it is a marvelous material to hand-sew. I am hooked on this type of linen and will be purchasing the thicker weight for other garments. The shipping of this fabric was incredibly quick and the price is great. I've been referring friends!
Reviewer: Michelle
I am unable to get this type of linen in Australia, so I have to buy via the internet. I have bought two lots of this linen so far and I am about to buy the 20 yard special. Even though it costs alot for postage, this fabric is worth it, it makes the most comfortable chemises. It just gets better with each wearing and washing. Very happy repeat customer.
Reviewer: Christine
I could cuddle up to this all day! I'm using this for my latest Elizabethan smock (chemise)- the old one was cotton batiste, and this linen is so much better! I've never seen a better price for linen of this weight (when not purchased in bulk, at least), especially not locally.
Reviewer: Teena
This is just excellent linen at the price. Perfect for making reenactment shirts. I was a little scared when it first arrived because it was so stiff and the weave was loose. But don't worry, the weave tightened with one washing and this linen just gets softer and softer every time you wash it.
Reviewer: Amber
I made nightgowns for myself and my daughter and I just wnat to live in them all day long. I adore this fabri. I wish they sold 20 yard discount bolts of this weight! It is a bit see through, but for underclothing and nightgowns, this is just perfect.
Reviewer: Mary
This was great for an 18th century man's shirt. I will order more for more shirts and chemises.
Reviewer: Barbara ann
I really like this for my summer 18thC shift, and plan to make my early 19thC shifts from it as well, as the linen breathes better than cotton. Great price on a lovely sheer linen. Excellent smooth selvedge, makes great caps too!
Reviewer: Laura
A beautiful linen for Renaissance Faire chemises, though I think next time I would go one weight higher. This weight is *just* this side of see-through. :)
Reviewer: Barbara
IL020 is lightweight 100% linen. It is ideal for all of your sheer applications and is a see-through marvel. Regardless of its use, we are sure that this is by far the best priced lightweight 100% linen you will ever come across.
This is the first Men's shirt I have ever made and it came out great. Simplicity S5581 View A

IL020 BLEACHED 100% Linen Light (3.7 oz/yd2)
This was my first time working with linen, and I now understand the hype. I sew for a living doing marine upholstery, but I'm fairly new to garment sewing. This linen was a dream to stitch, handle and press. As this particular linen is quite light/sheer, I used French seams except when attaching the cuffs - as I didn't know how that would work out. I wish I didn't panic buy so much of this linen (I was new to fabric store and didn't realize they have sales every day) only because it is so lightweight and the uses for garments are therefore quite limited. All in all I've enjoyed the sewing process and look forward to making more shirts! Boxy top T-shirt pattern is by Elizabeth Suzann.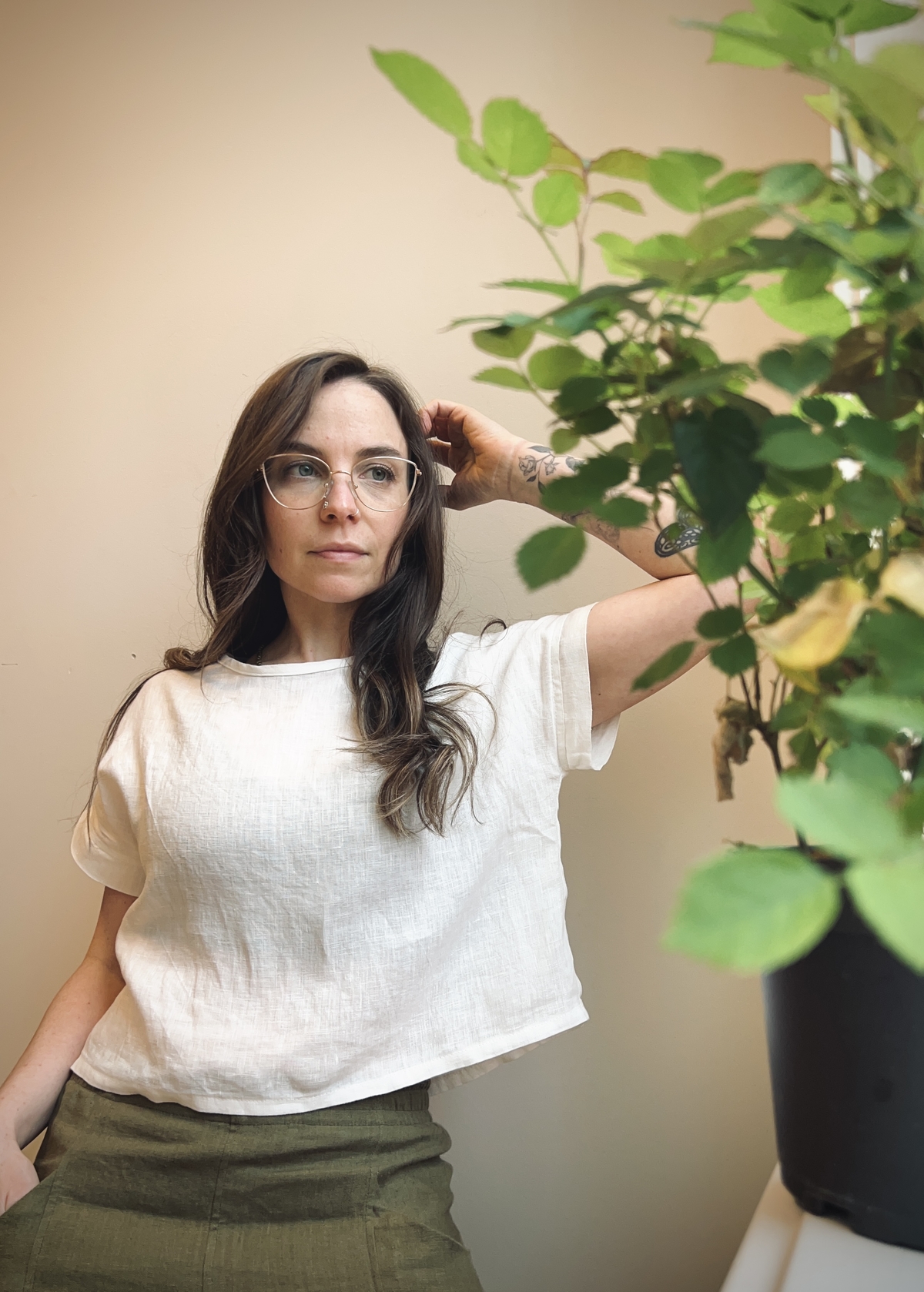 IL020 BLEACHED 100% Linen Light (3.7 oz/yd2)
I love this fabric. I'm making shirts to give as door prizes for a family reunion this summer. This is one of many.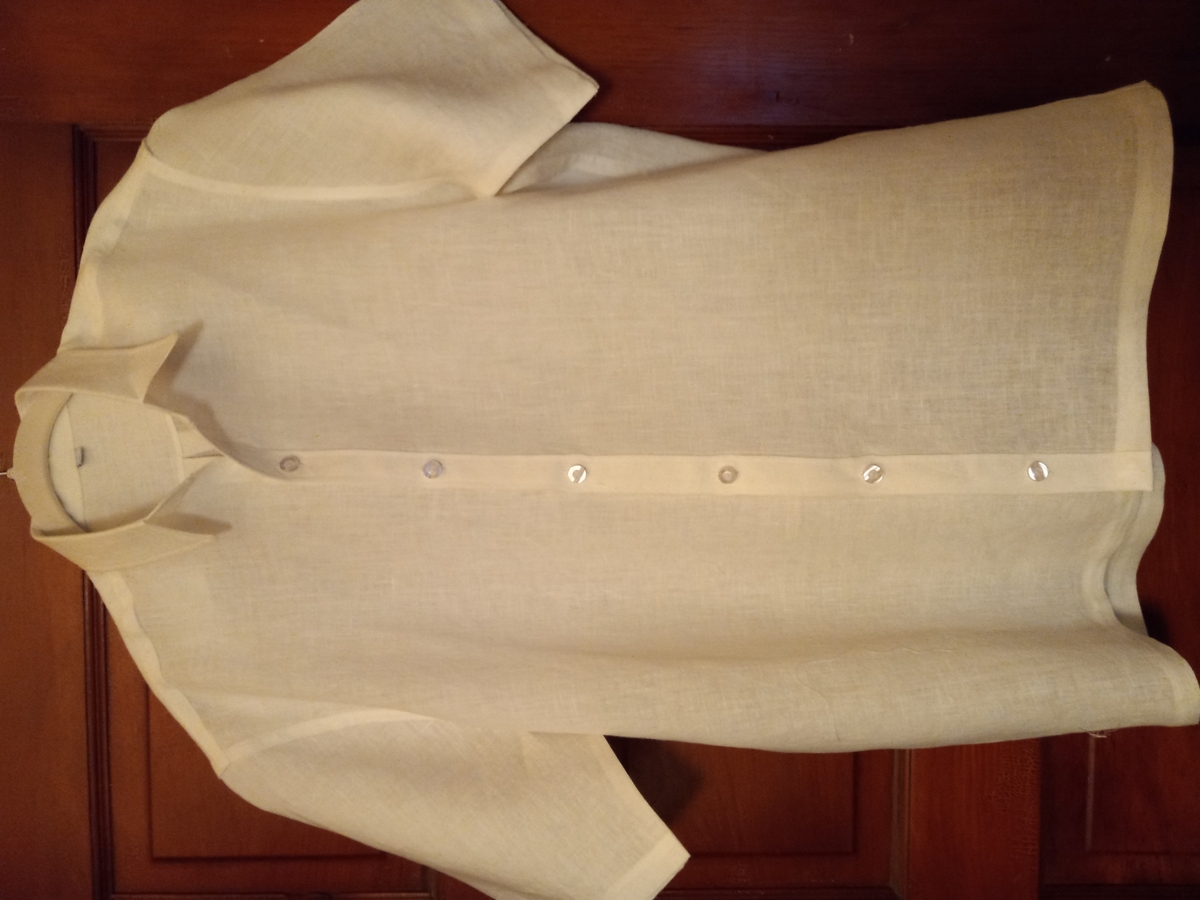 IL020 BLEACHED 100% Linen Light (3.7 oz/yd2)
Sleeveless white nightgown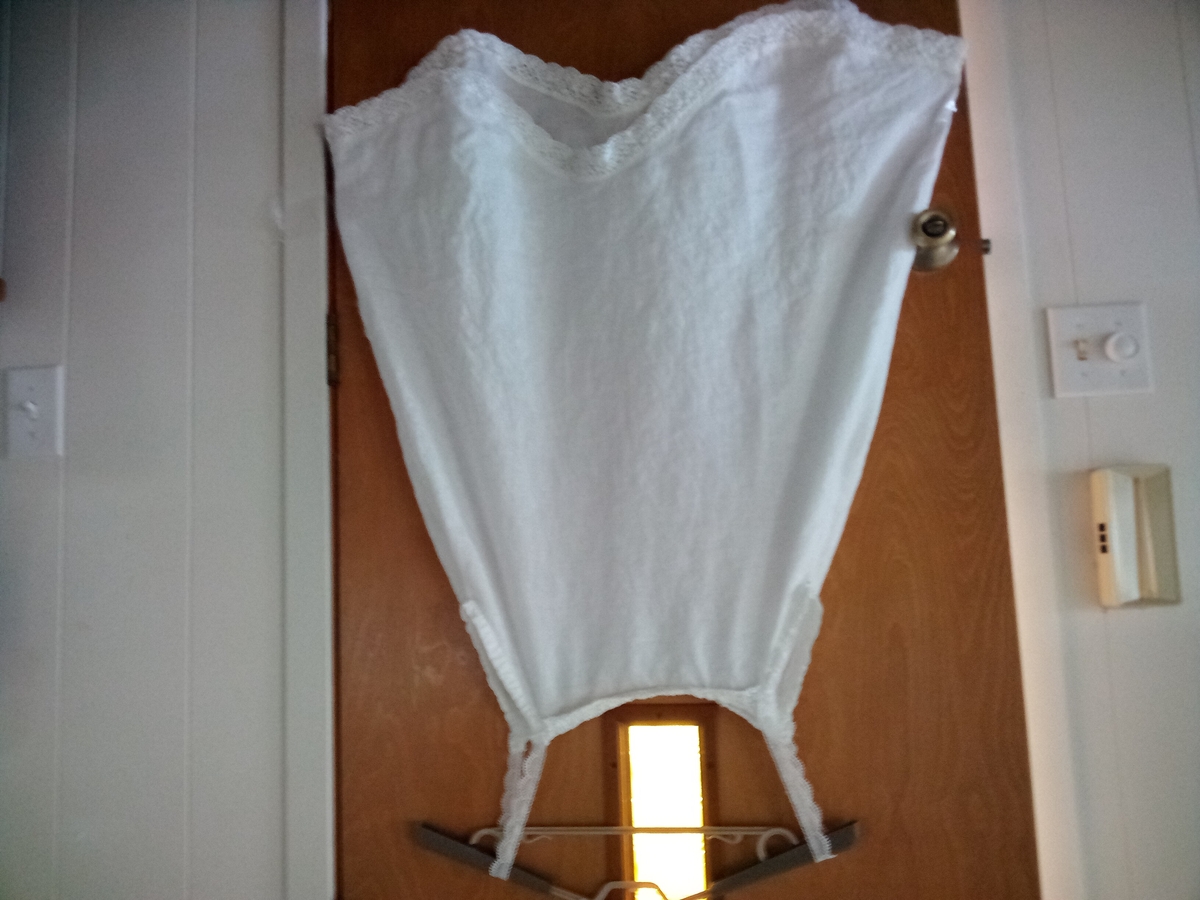 IL020 BLEACHED 100% Linen Light (3.7 oz/yd2)
Nightgown I designed and still formatting.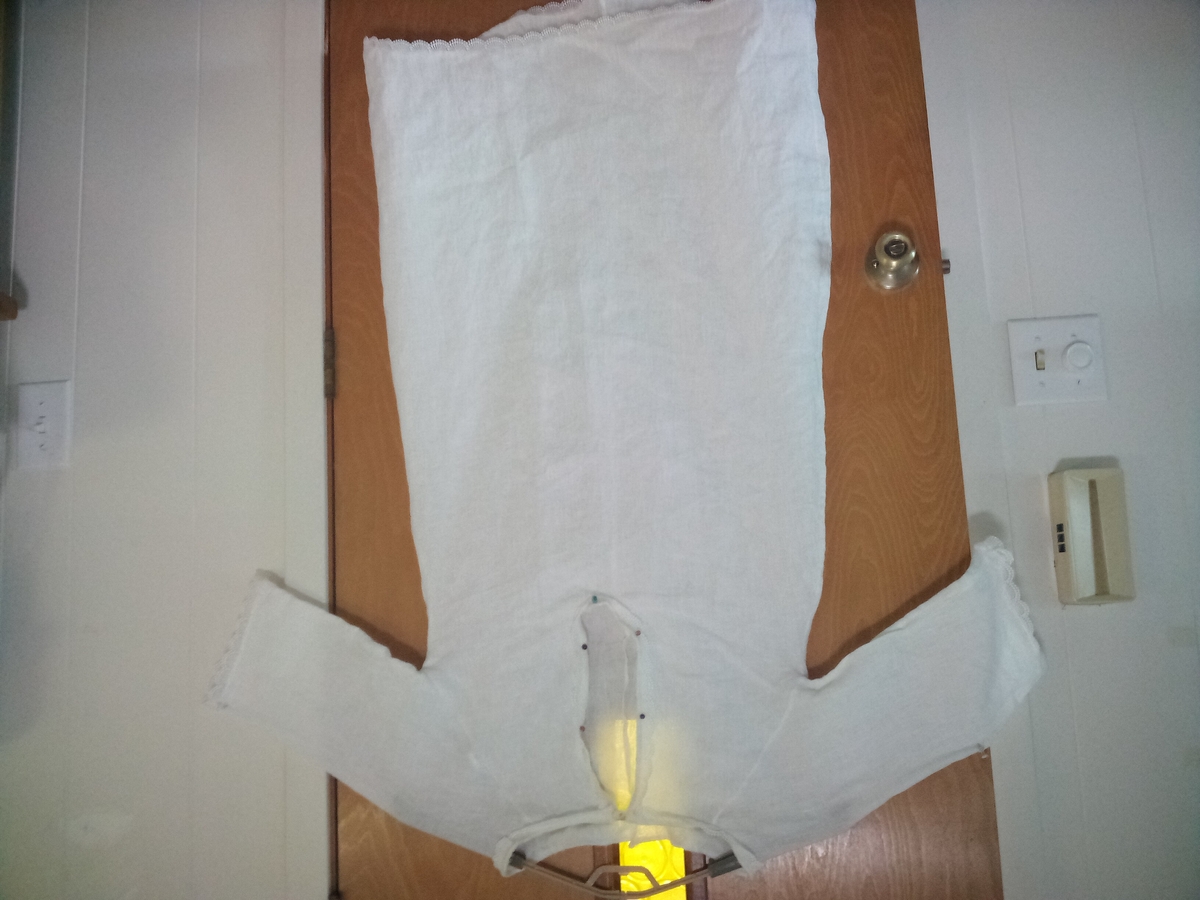 IL020 BLEACHED 100% Linen Light (3.7 oz/yd2)
This fabric is a wonder. Don't be fooled by its delicate appearance and weight. It took every type of weather and setting I could throw at it - tropical rainstorm, wind, humidity, heat, saltwater, abrasion from a leather fanny pack - and still it looked casual and comfortable but polished and ladylike. I made Butterick B5861 women's tunic in IL020 bleached and it moved effortlessly from beach cover-up to dinner on the patio to exploring tropical marketplaces. Loved it so much I made another one in IL020 Black. I am one happy seamstress and traveler!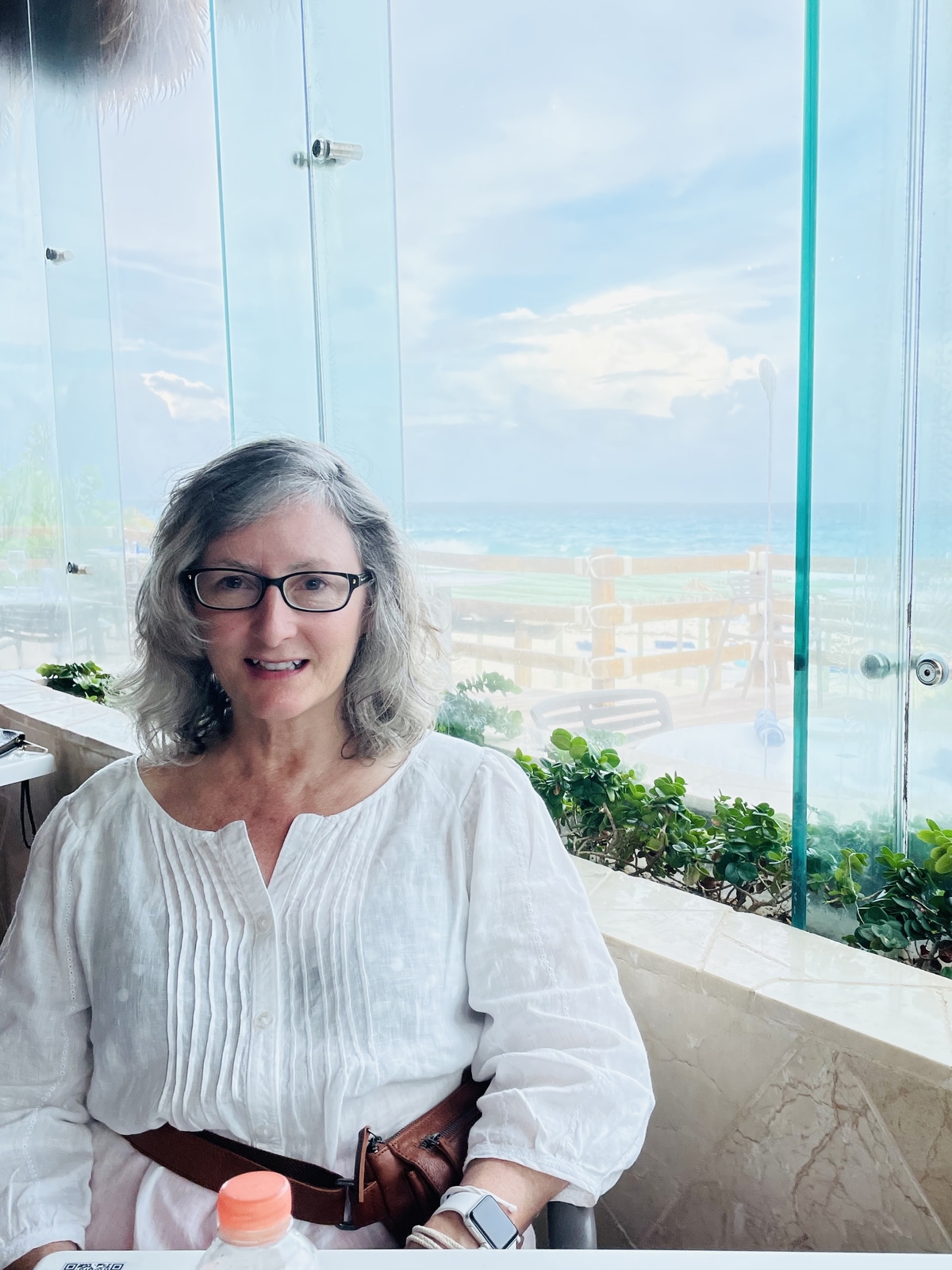 IL020 BLEACHED 100% Linen Light (3.7 oz/yd2)
Rainy Day linen dress with hand stencil. I designed the dress with elastic neck and sleeves. The dress has a bit of elastic at the sides that gather gently above the waist without being uncomfortable. Lovely for indoor play, swimsuit cover-up, or nightgown! Wash and hang to dry. StitchingSweetbyK on Etsy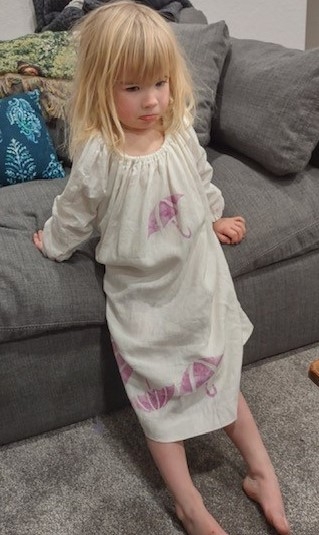 IL020 BLEACHED 100% Linen Light (3.7 oz/yd2)
Here is the other picture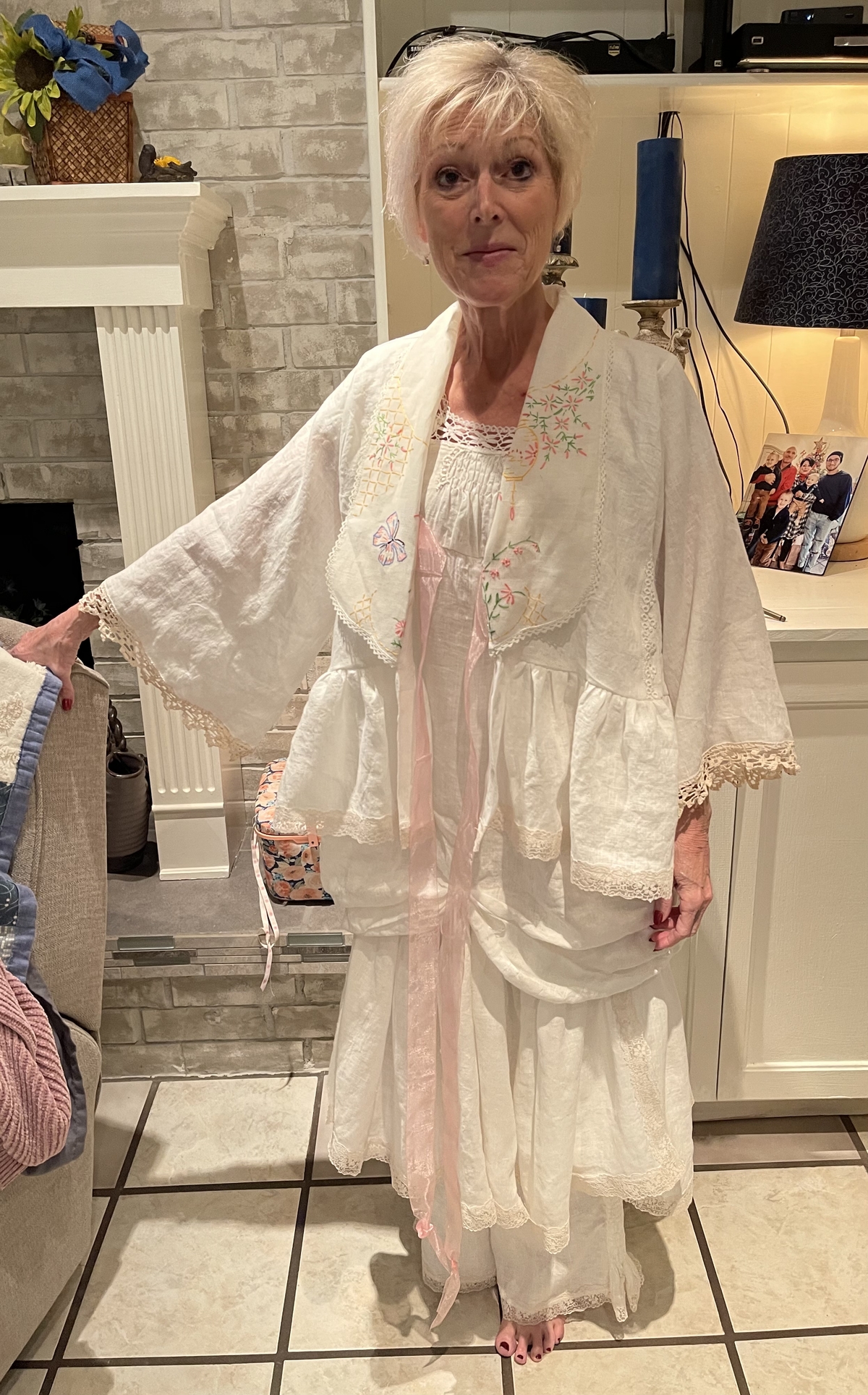 IL020 BLEACHED 100% Linen Light (3.7 oz/yd2)
I made this 3 piece nightwear outfit from patterns by SewTinaGivens.com. I used IL020 Handkerchief linen Bleached, light weight and added various vintage laces, trims, tatting and other embroidered pieces to get the vintage feel. I really love this fabric. It's light and airy. It's something I always keep on hand in my stash.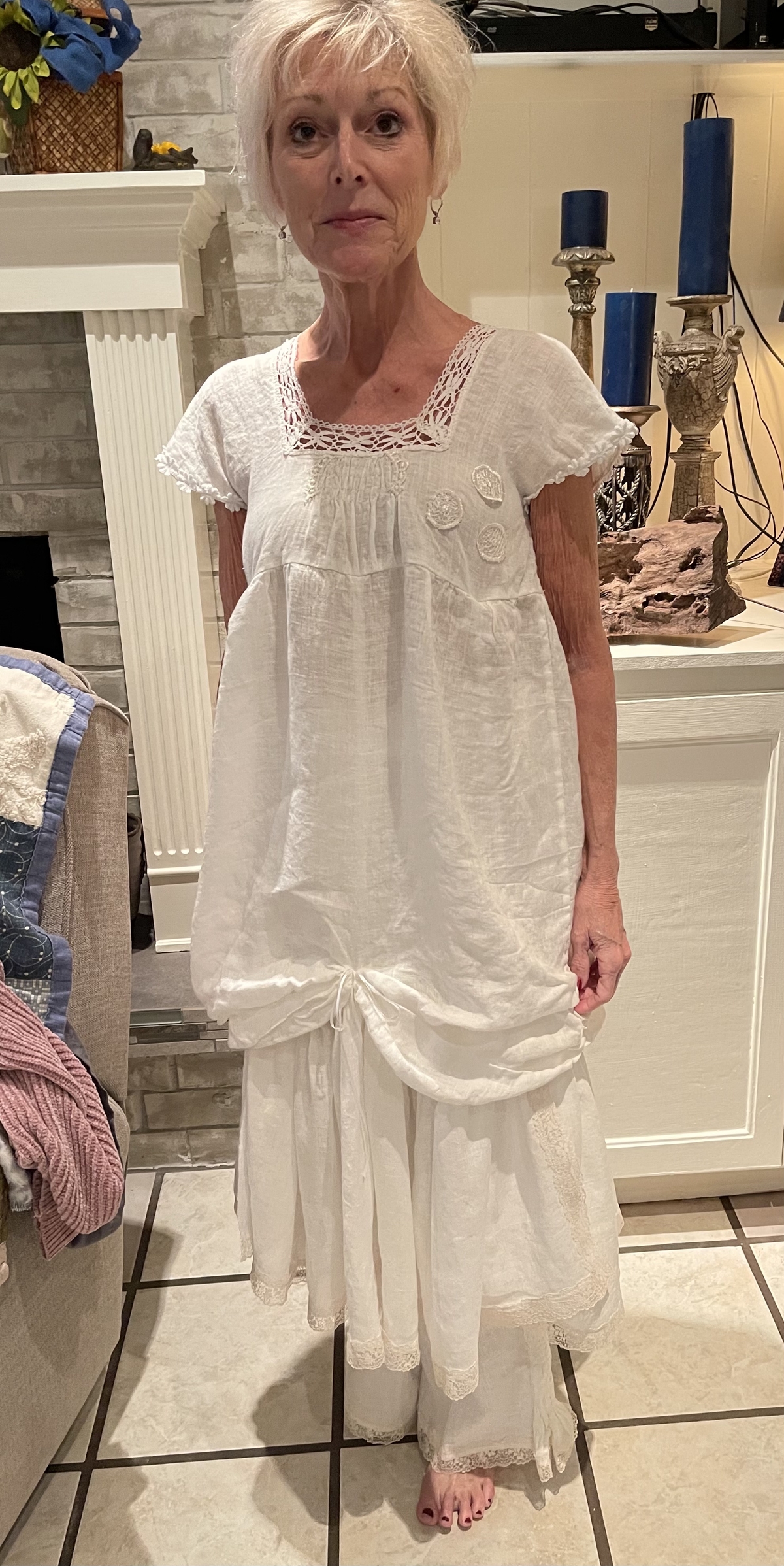 IL020 BLEACHED 100% Linen Light (3.7 oz/yd2)
Linen Tea Towels, embroidered on my Pfaff Icon.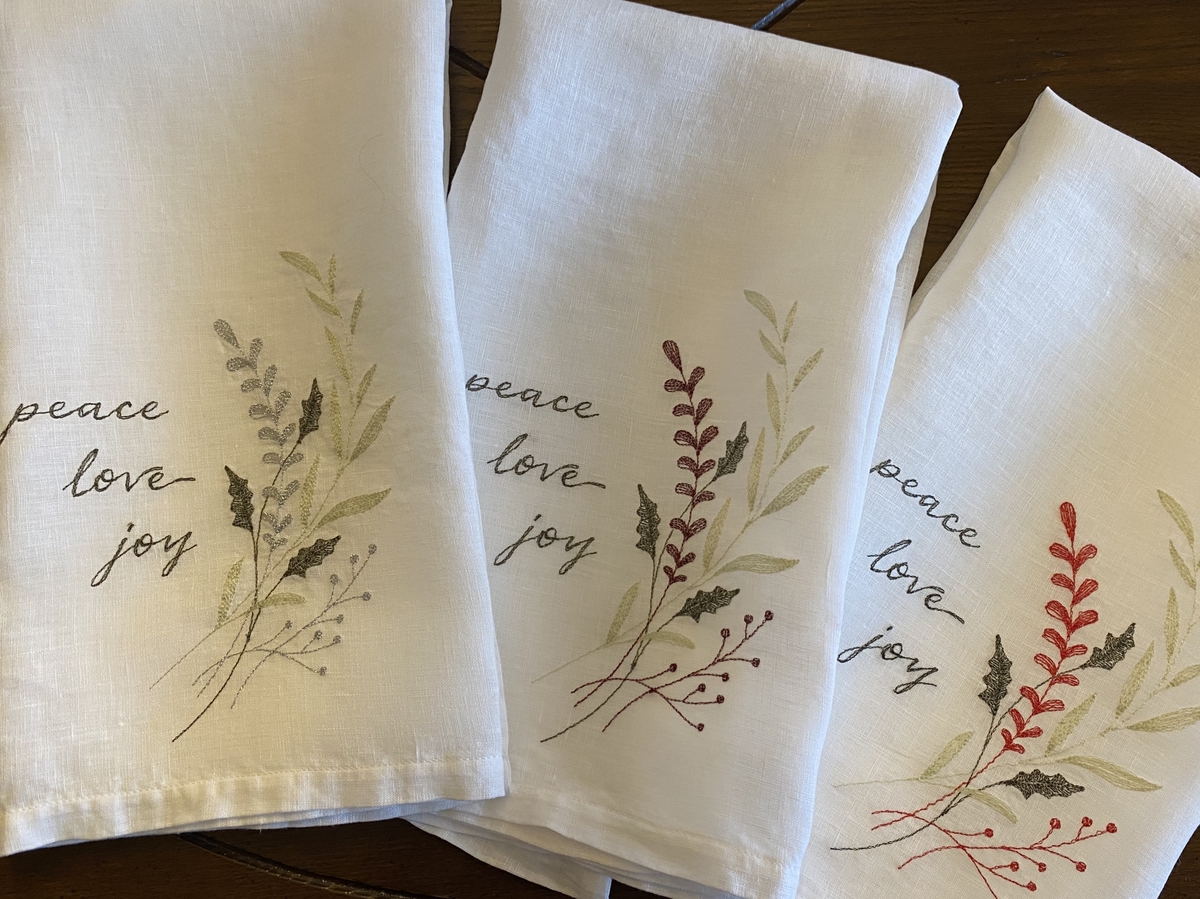 IL020 BLEACHED 100% Linen Light (3.7 oz/yd2)
Just love this fabric for lacy, ruffled nightgown!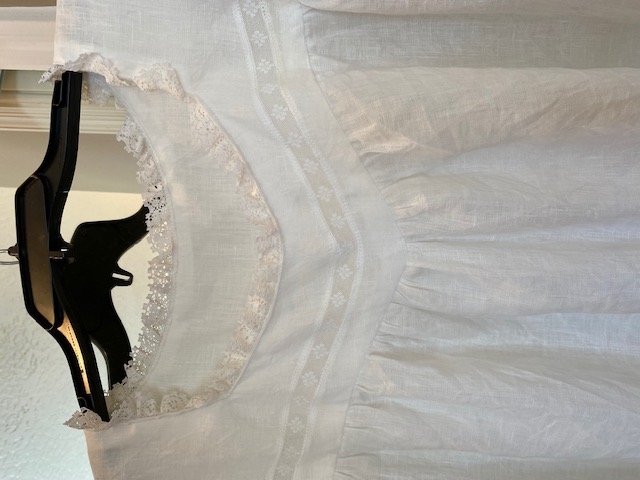 IL020 BLEACHED 100% Linen Light (3.7 oz/yd2)
Love this fabric for a beautiful nightgown with lace and ruffle.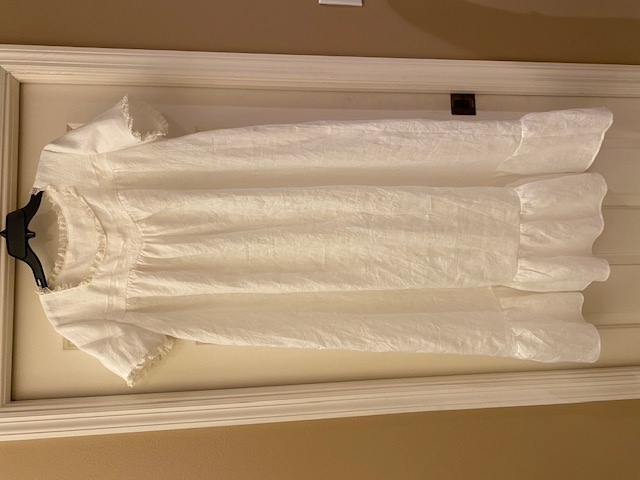 IL020 BLEACHED 100% Linen Light (3.7 oz/yd2)
Hand dyed and hemmed napkins, machine embroidered. Lovely fabric to work with.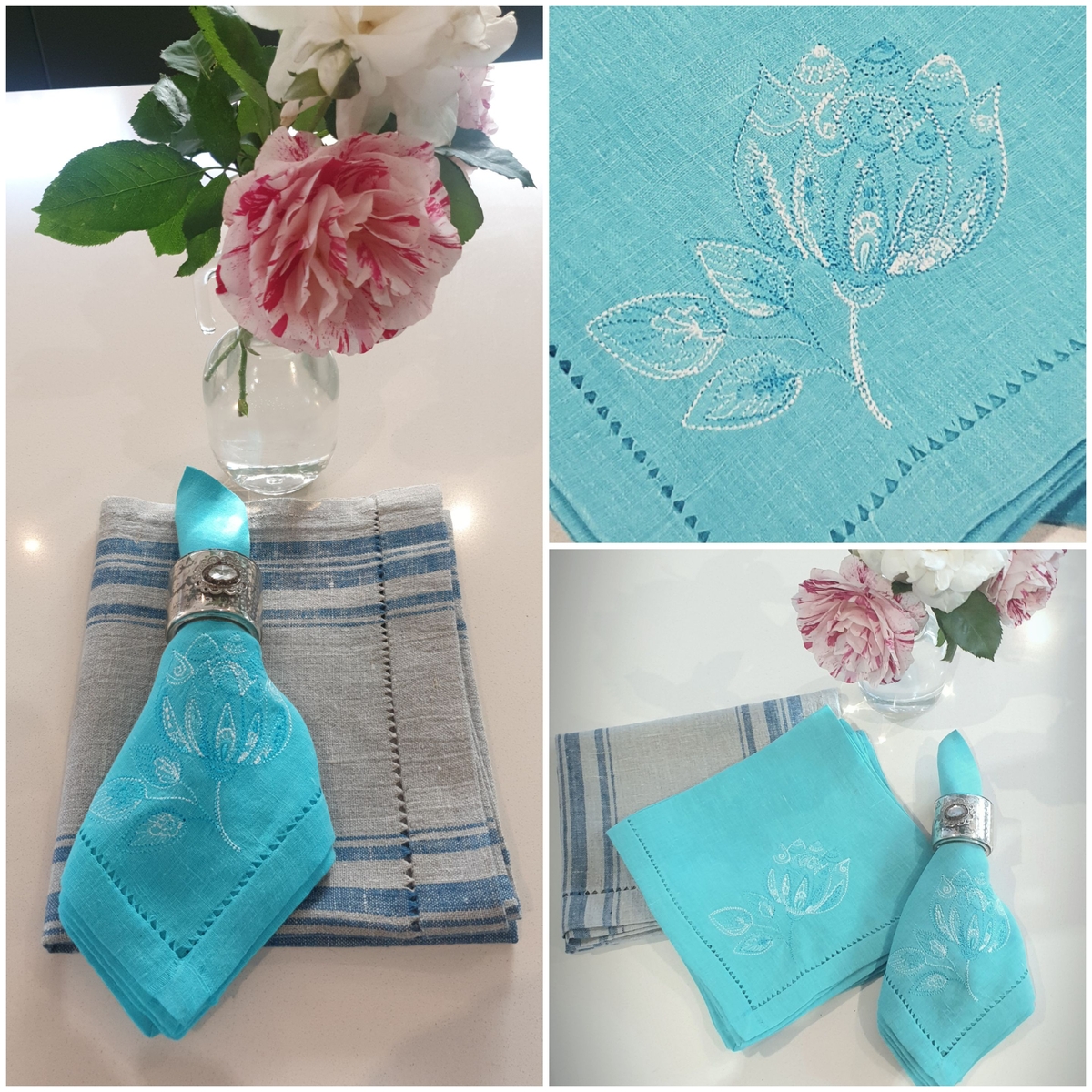 IL020 BLEACHED 100% Linen Light (3.7 oz/yd2)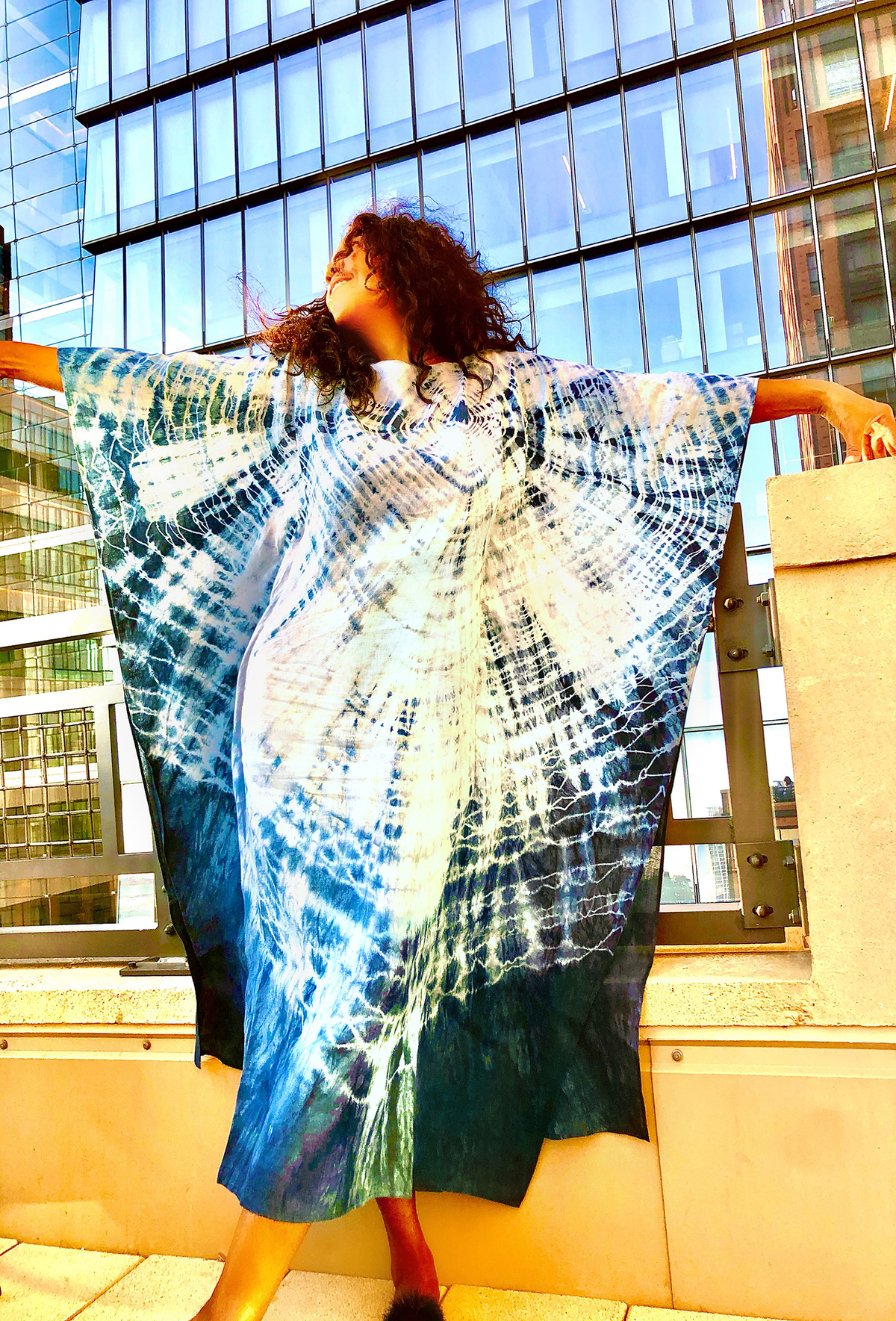 IL020 BLEACHED 100% Linen Light (3.7 oz/yd2)
A hand dyed scarf made from this wonderful lightweight linen! Such a joy to work with this fabric!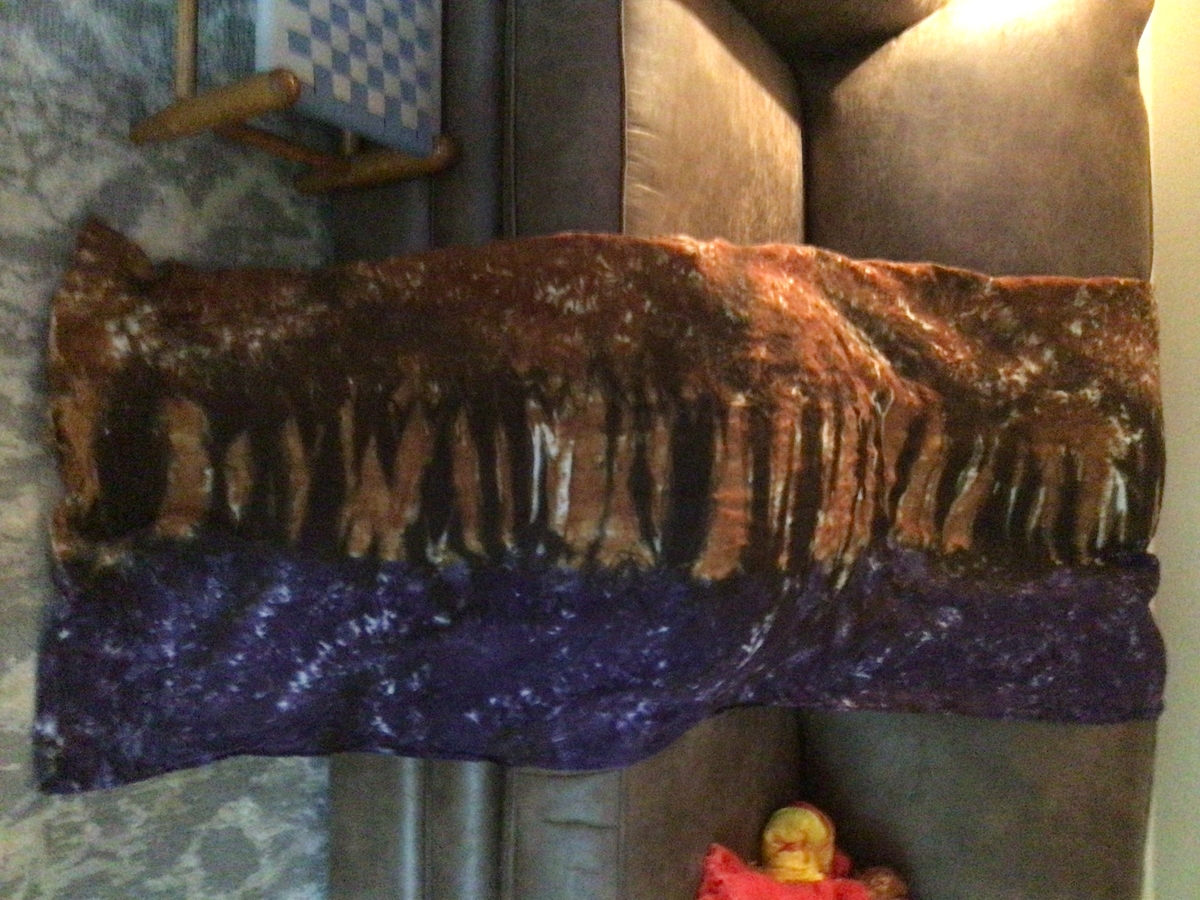 IL020 BLEACHED 100% Linen Light (3.7 oz/yd2)
Finished Paper Theory Olya shirt with this lightweight linen. Fascinating pattern construction! Fabric handled beautifully.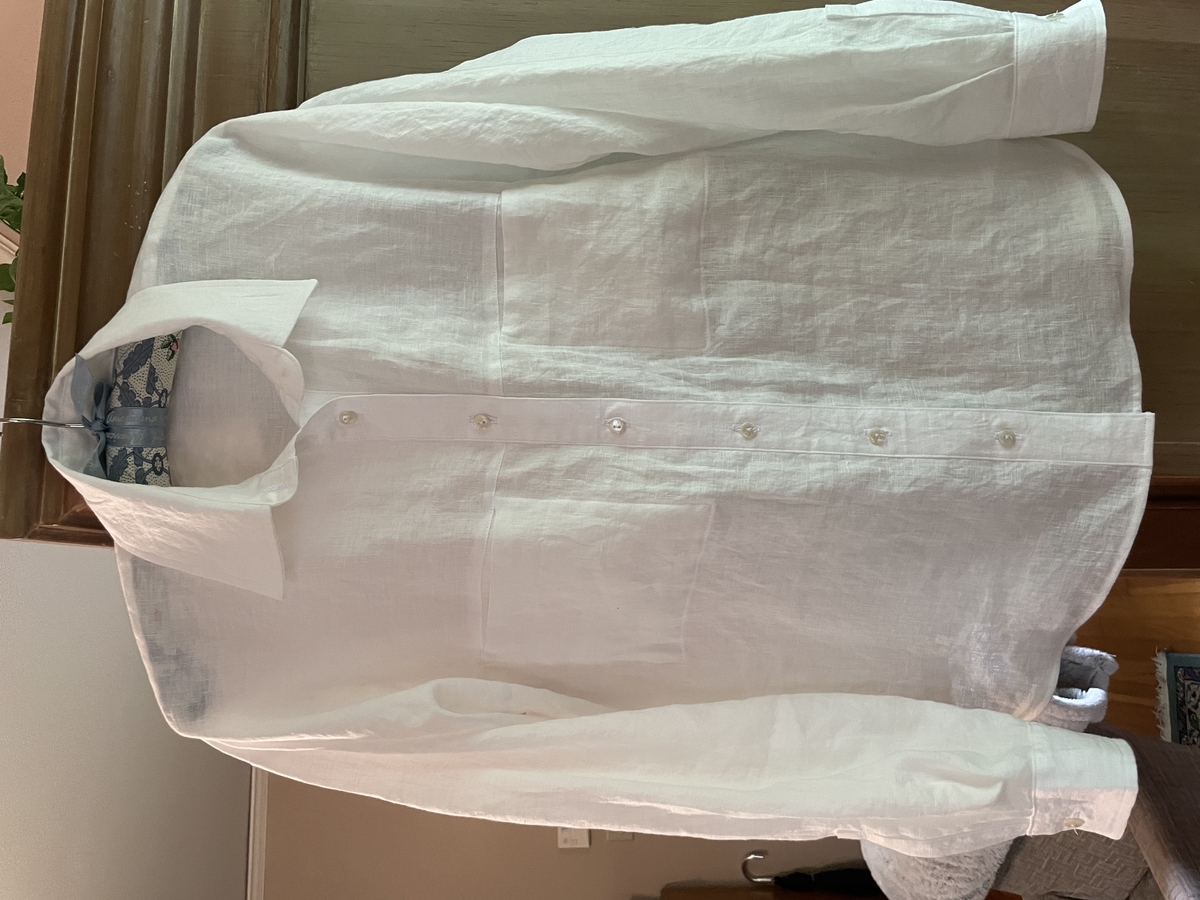 IL020 BLEACHED 100% Linen Light (3.7 oz/yd2)
I had purchased 3 yards of this unbleached linen because I've found it makes excellent lining for dress bodices, but I was so pleased to find it intact in my stash when I finally decided to toss my broken, unattractive window blinds. I whipped up these curtains in a flash and LOVE the way the room feels now. The morning light is diffused by the lovely linen, which is the perfect weight for the look I was going for. I did not hem the edges, but ran a line of small stitches close to the edge to stop the fray when they are washed. The selvedges are at top and bottom. I guess now I'll have to order more to replace my bodice lining go-to.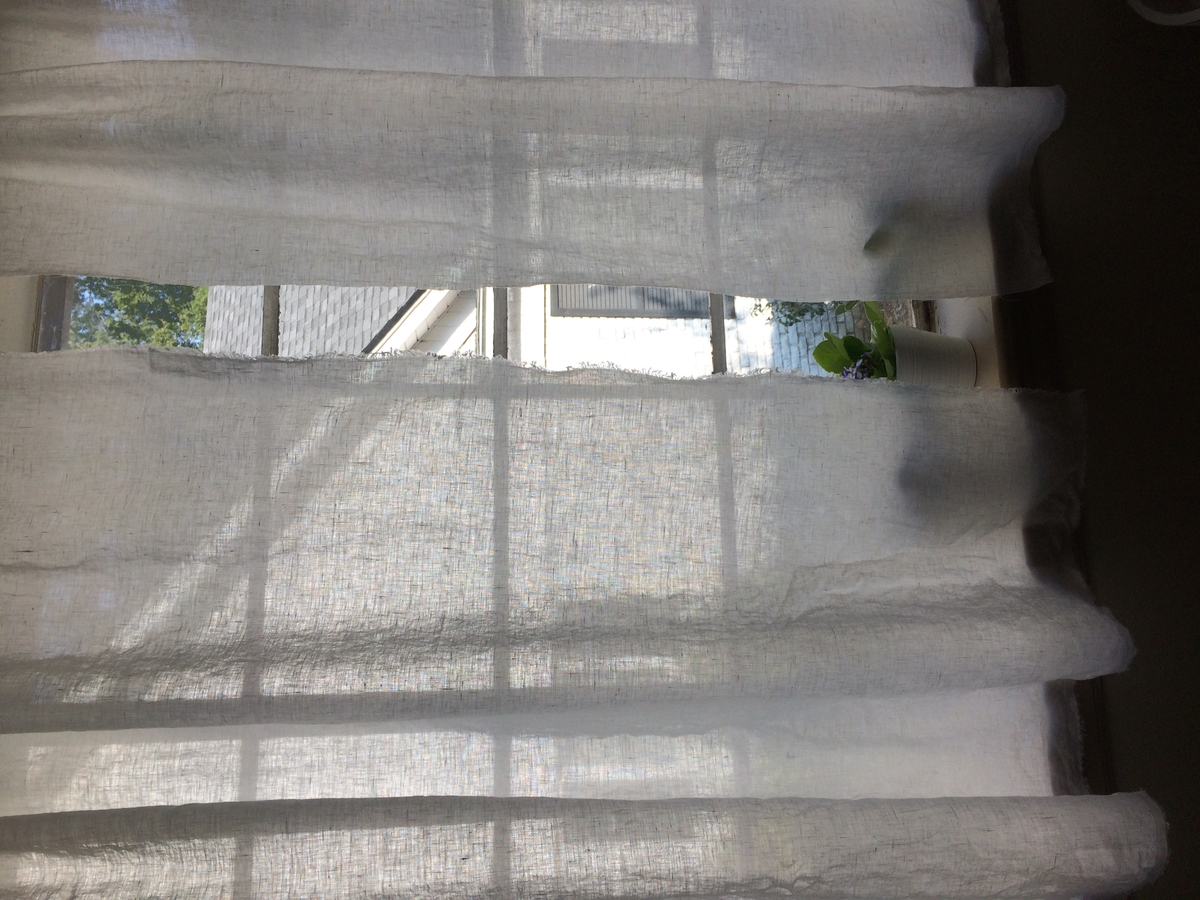 IL020 BLEACHED 100% Linen Light (3.7 oz/yd2)
Here is my sunset ombré dyed double panel caftan I made last week and wore on the beach and Fire Island Pines, NY.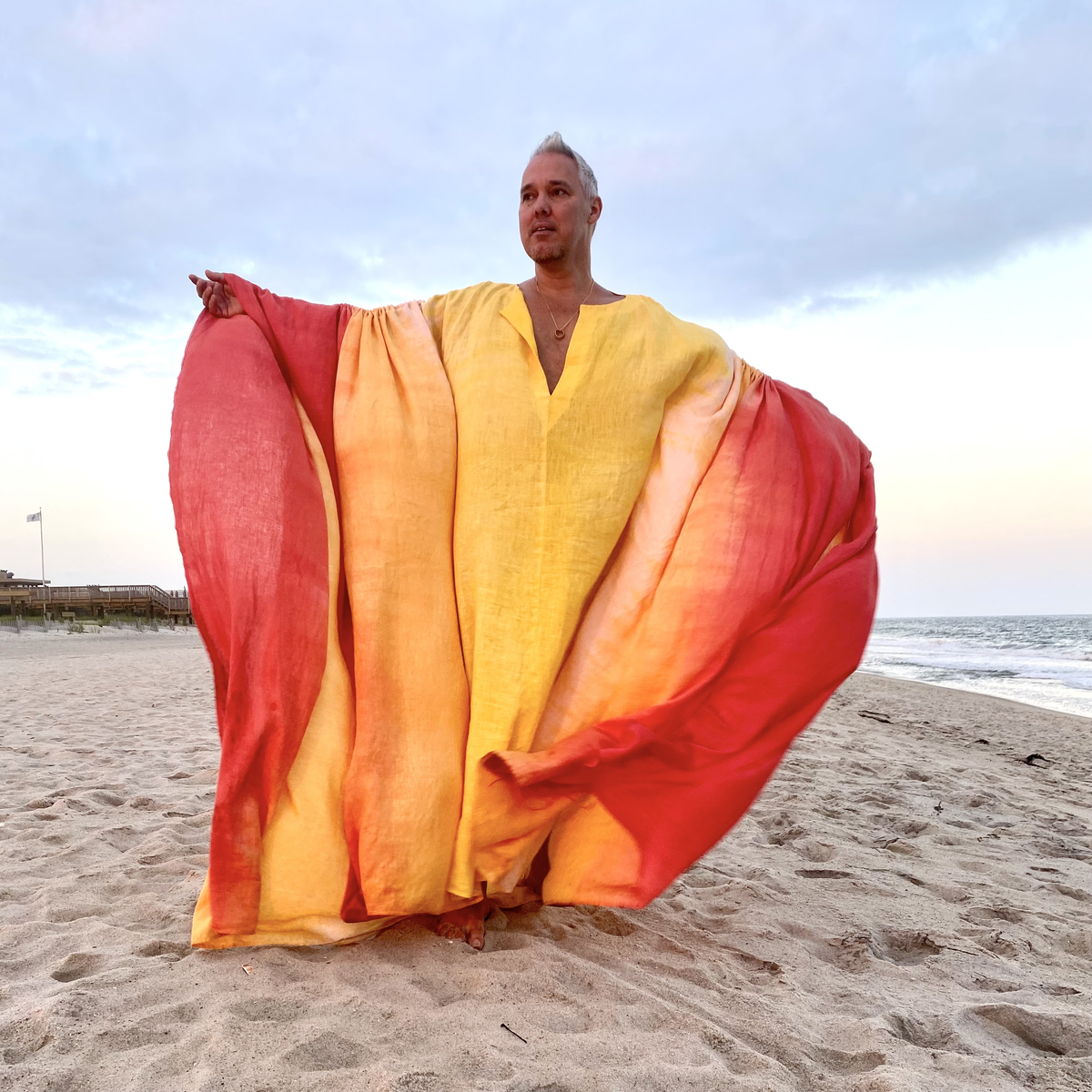 IL020 BLEACHED 100% Linen Light (3.7 oz/yd2)
The photos of the garment are not great, I was more excited about the ribbon. I made this little sunsuit for my grandson's baptism which will take place next Sunday. He is a tall 2 year old so I made it a size 3. It has pintucks down the front, bound buttonholes, antique shell buttons, and is fully lined to make a little boy feel comfortable and non-itchy while wearing it. It won Reserve Champion at the county fair, meaning second place of all the sewing exhibits.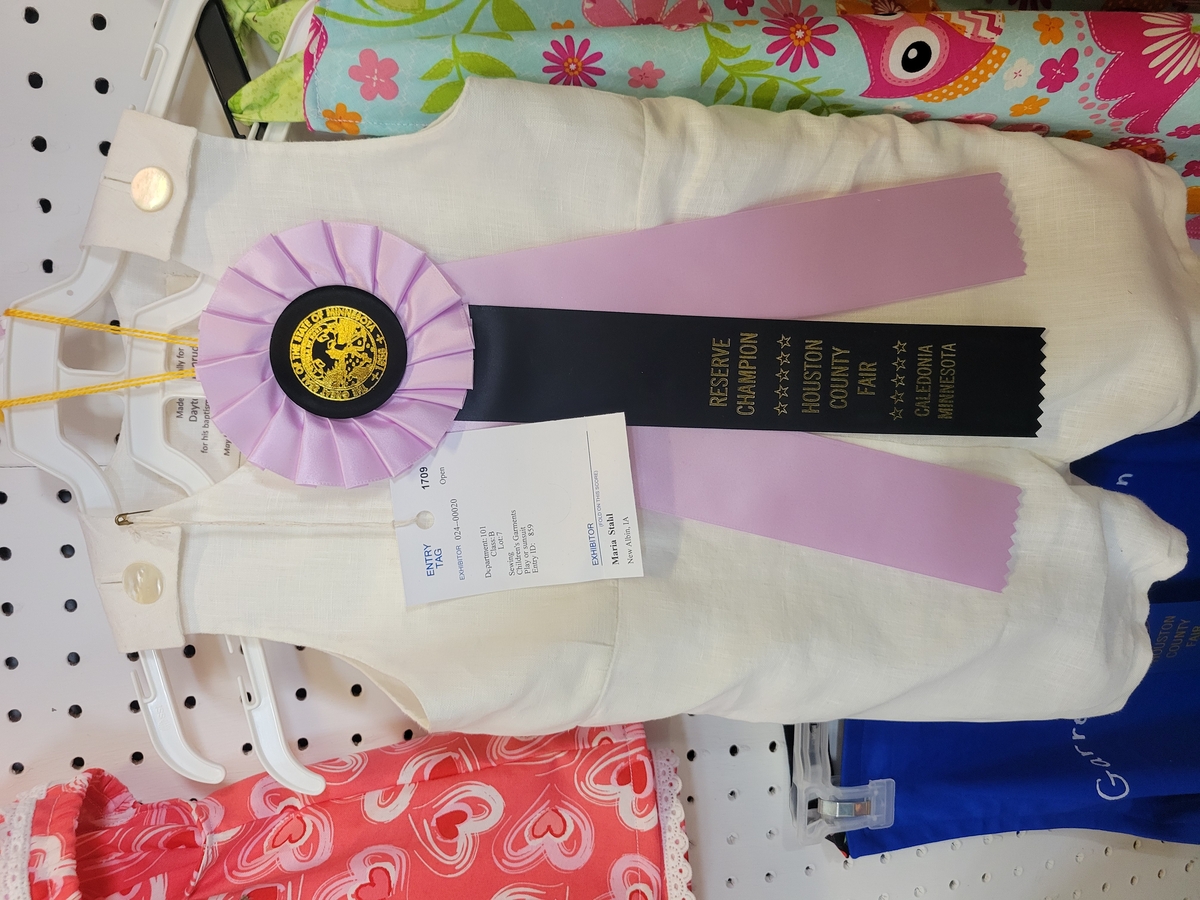 IL020 BLEACHED 100% Linen Light (3.7 oz/yd2)
After embroidery. It's for my coming grand-baby.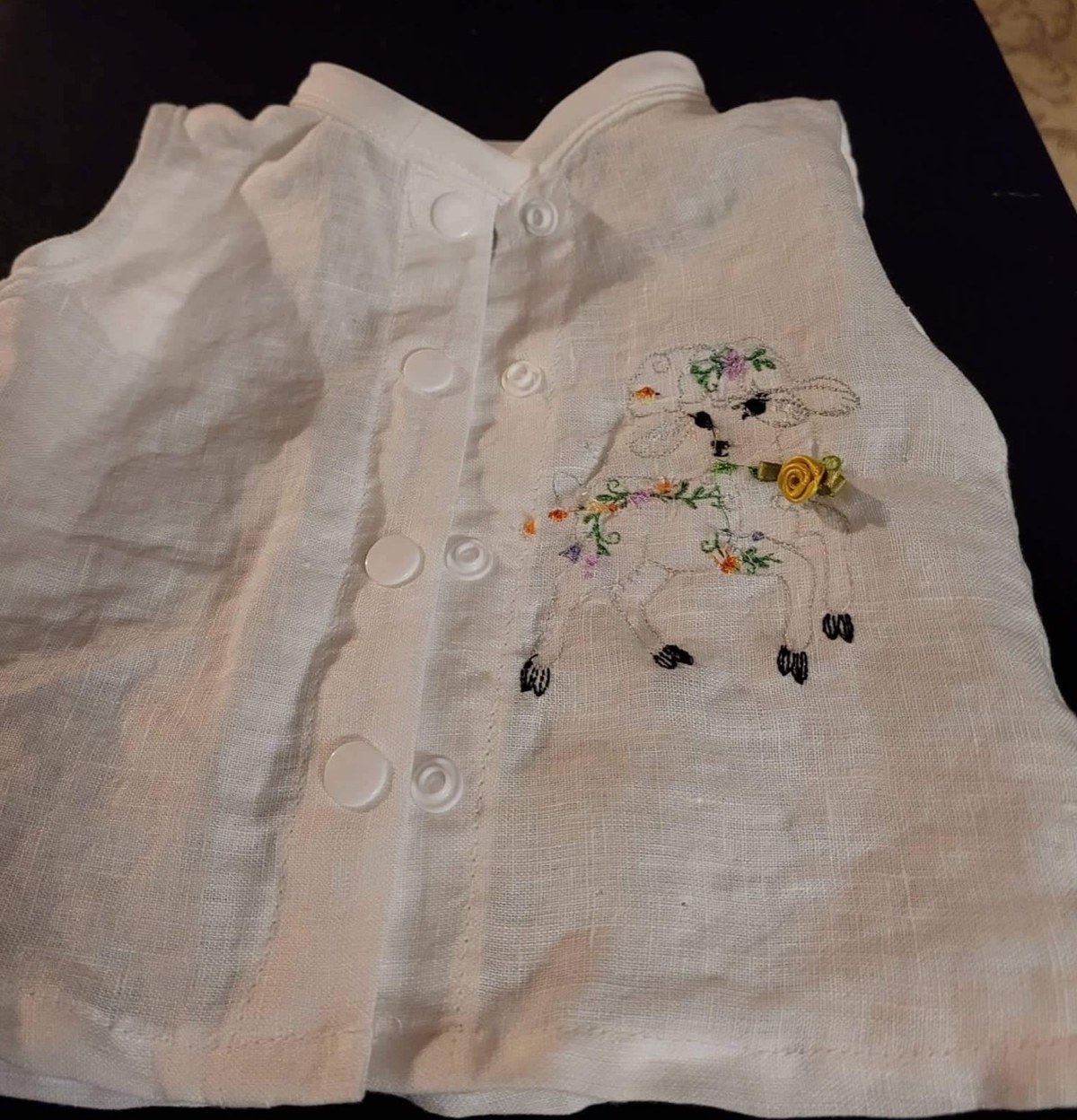 IL020 BLEACHED 100% Linen Light (3.7 oz/yd2)
I made a baby vest from this linen for my grandbaby-in-waiting. I prewashed it to accommodate any shrinkage before cutting out the pattern and sewing it. It sewed up beautifully; it was a pleasure to stitch. The weave looks and feels perfect for embroidery- I can't wait to try that.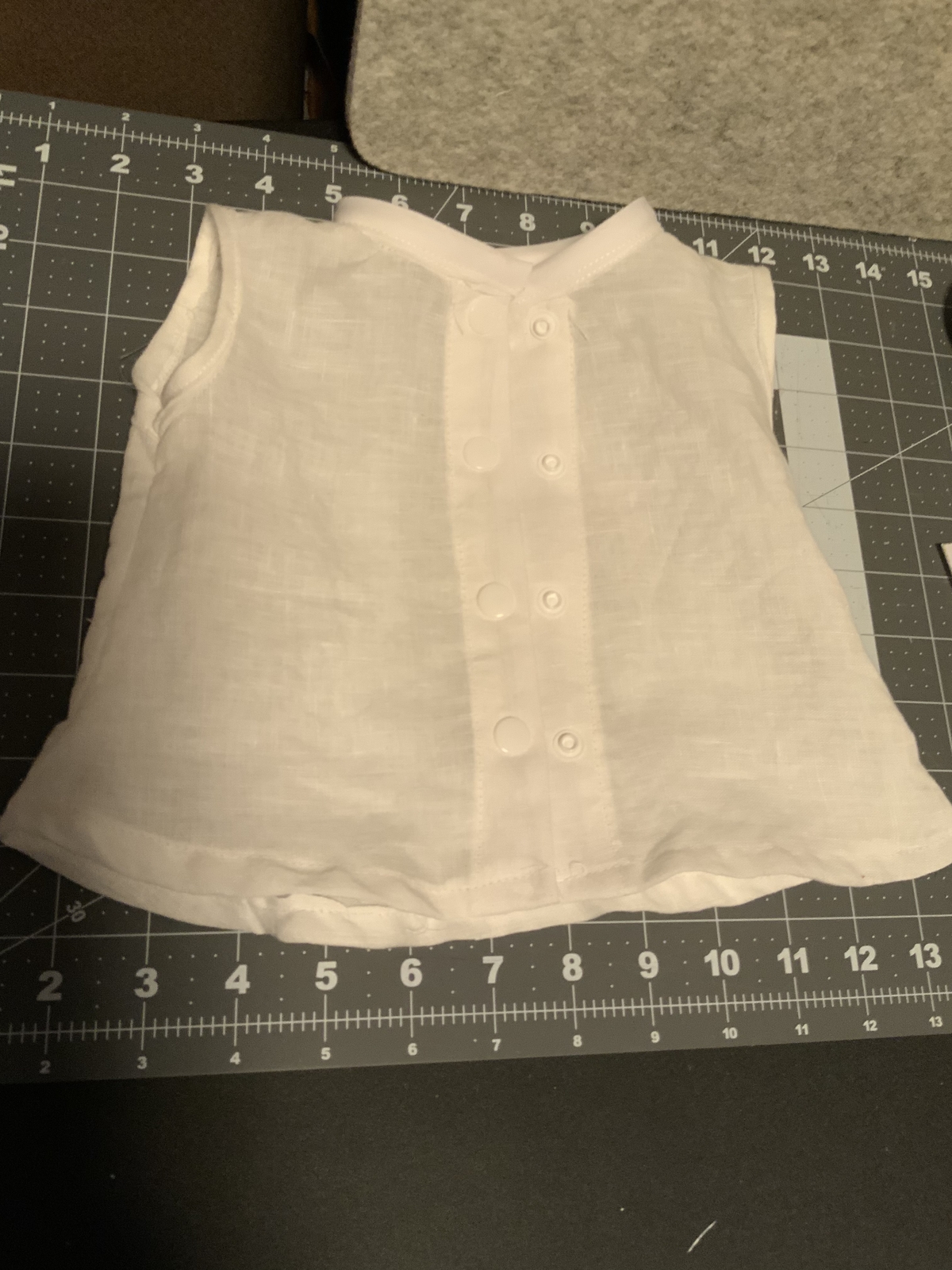 IL020 BLEACHED 100% Linen Light (3.7 oz/yd2)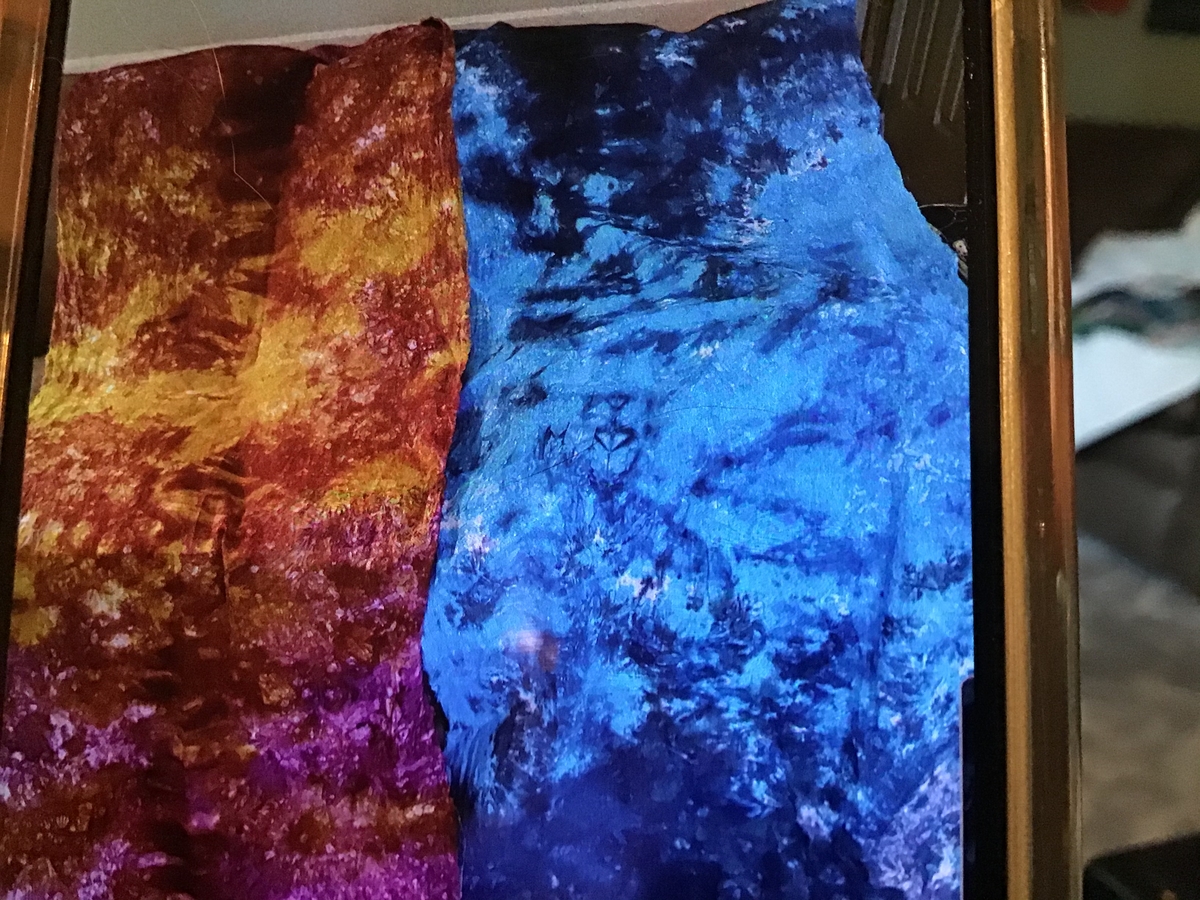 IL020 BLEACHED 100% Linen Light (3.7 oz/yd2)
This is a night dress in full length and with as wide hem as possible (I used all the width of the fabric). I decorated it with my mom's old Crochet Lace. The fabric is ideal for this kind of work. The dress does not become too much wrinkled in the night, so I feel myself very fresh right in the morning. Very happy! Warmly recommended, Liisa. - I will soon post this in my Blog kotikutoisesti.com.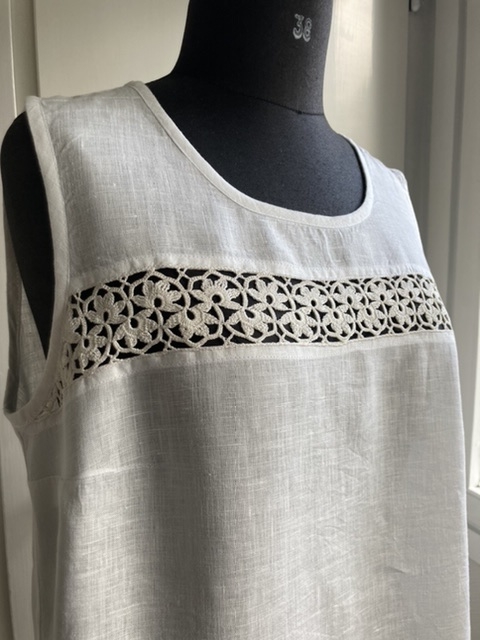 IL020 BLEACHED 100% Linen Light (3.7 oz/yd2)
Spring wedding: Garden Party-style wrap dress in IL020 Bleached.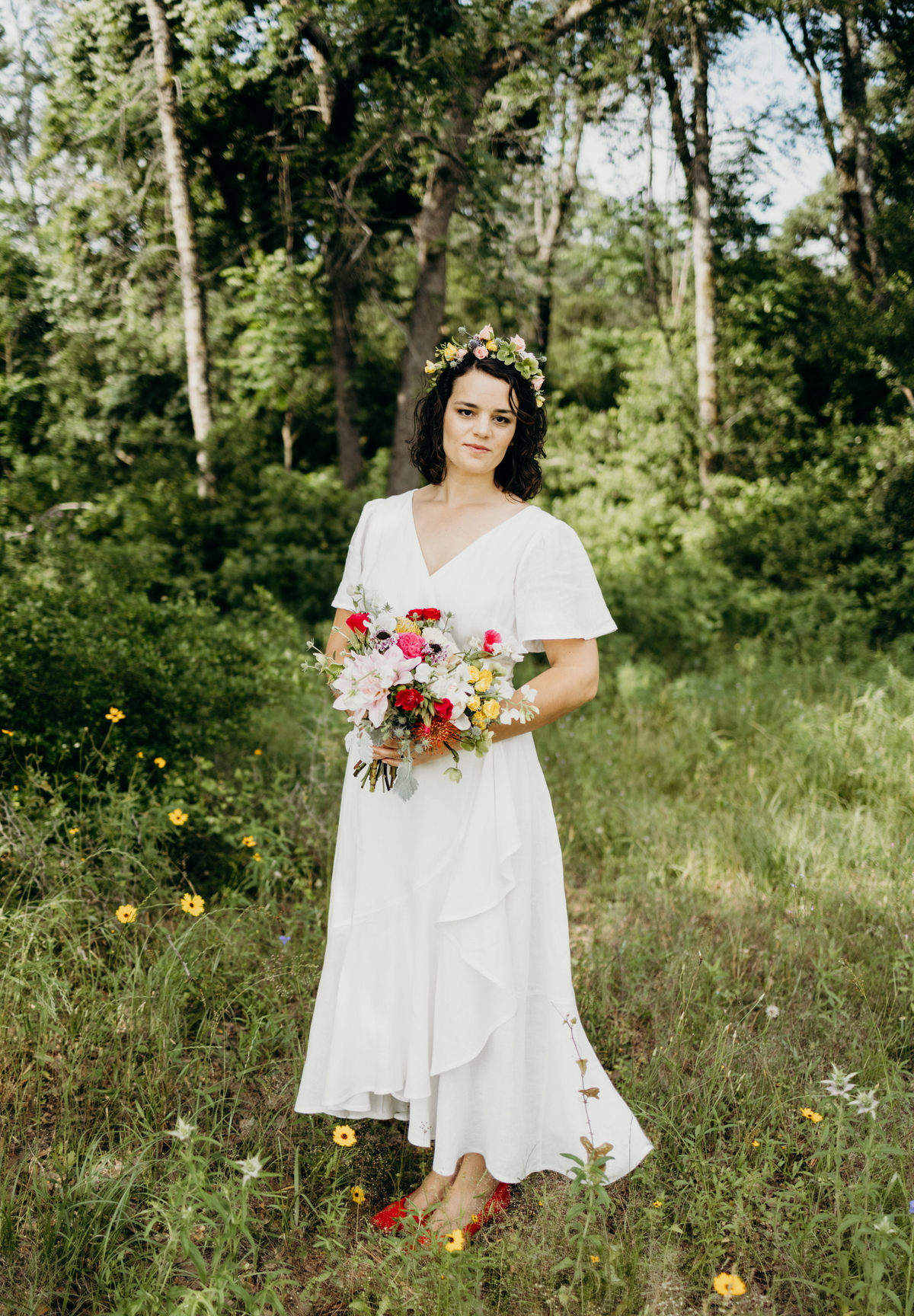 IL020 BLEACHED 100% Linen Light (3.7 oz/yd2)
I'm making boxer shorts to order. Sizes xs to xxl. Find me on fb if interested! Can also convert to womens.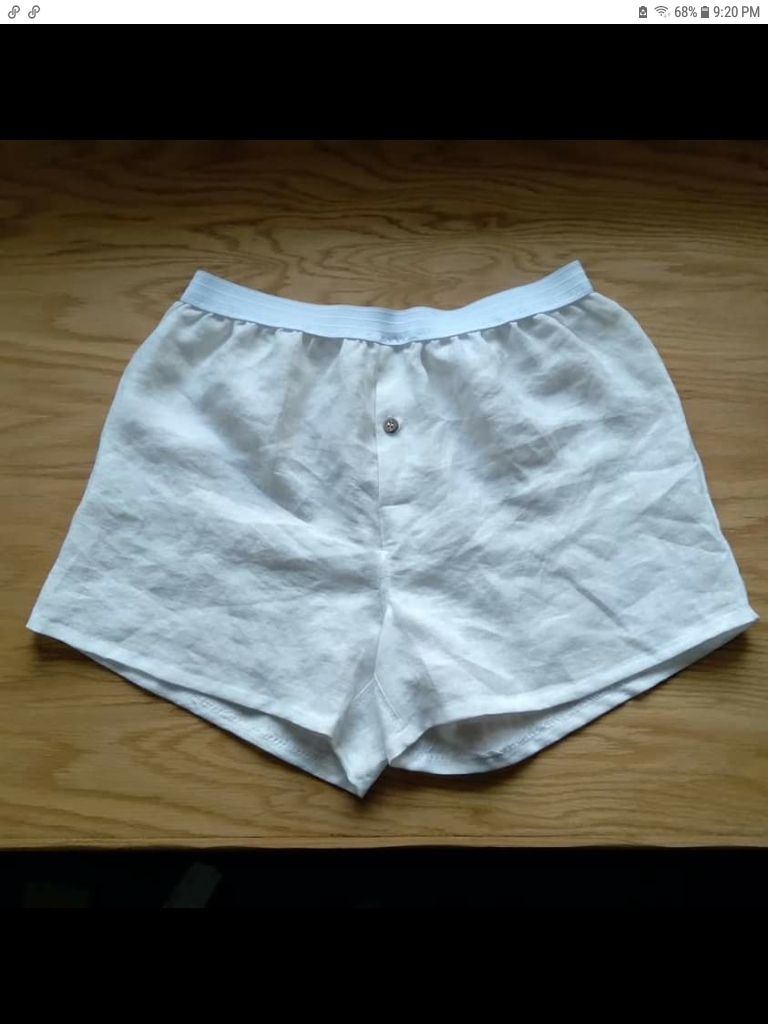 IL020 BLEACHED 100% Linen Light (3.7 oz/yd2)
Have you wondered what to do with little scraps of leftover linen? Make a bookmark! I fringed the ends and used machine embroidery to embellish the bookmark and "hem" the edges. I first ironed the fabric with fabric finish spray and did not need to use stabilizer, but for some fabrics stabilizer might be necessary. If you give a book as a present, this makes a great addition.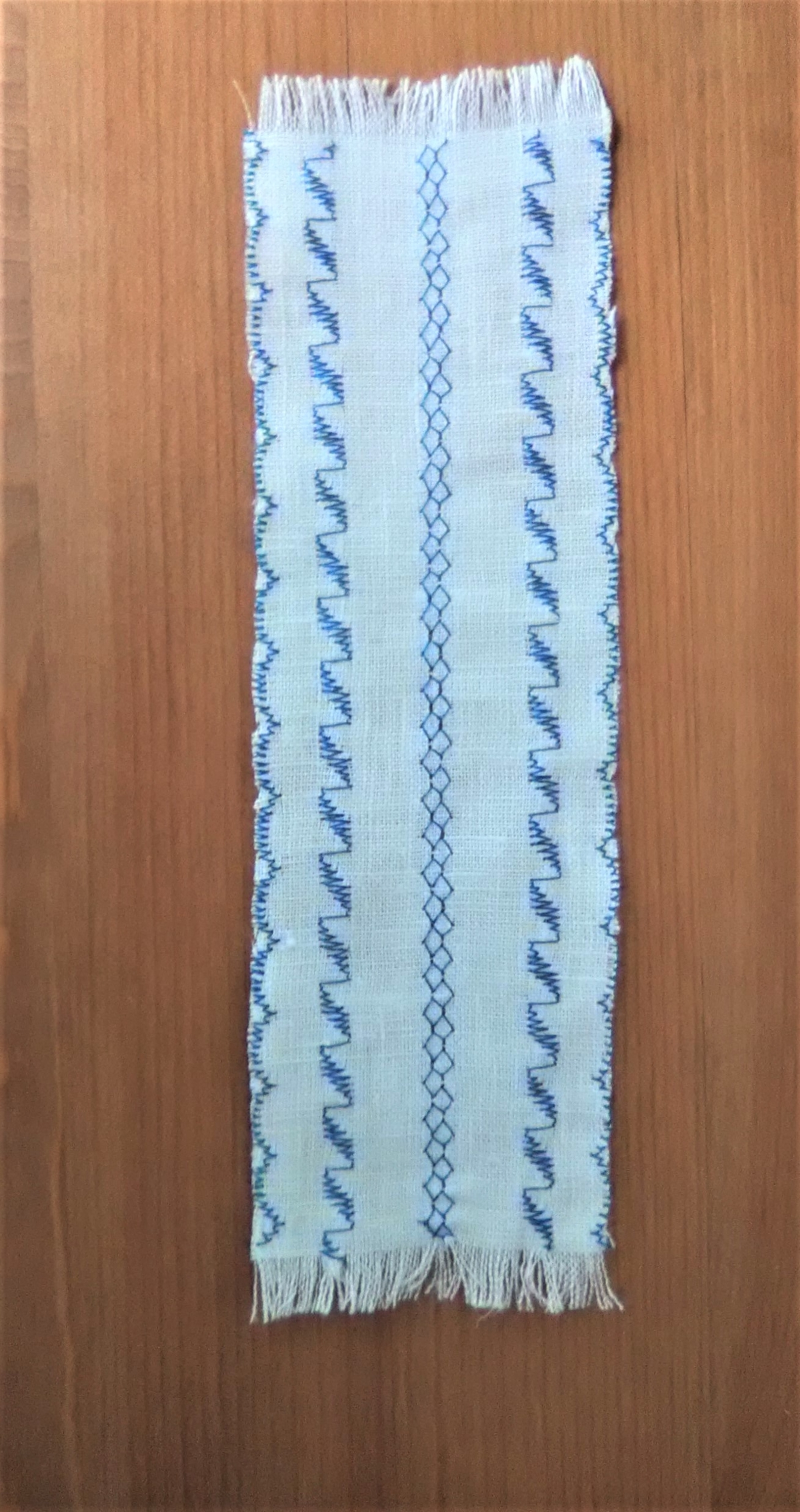 IL020 BLEACHED 100% Linen Light (3.7 oz/yd2)
This is what it looks like on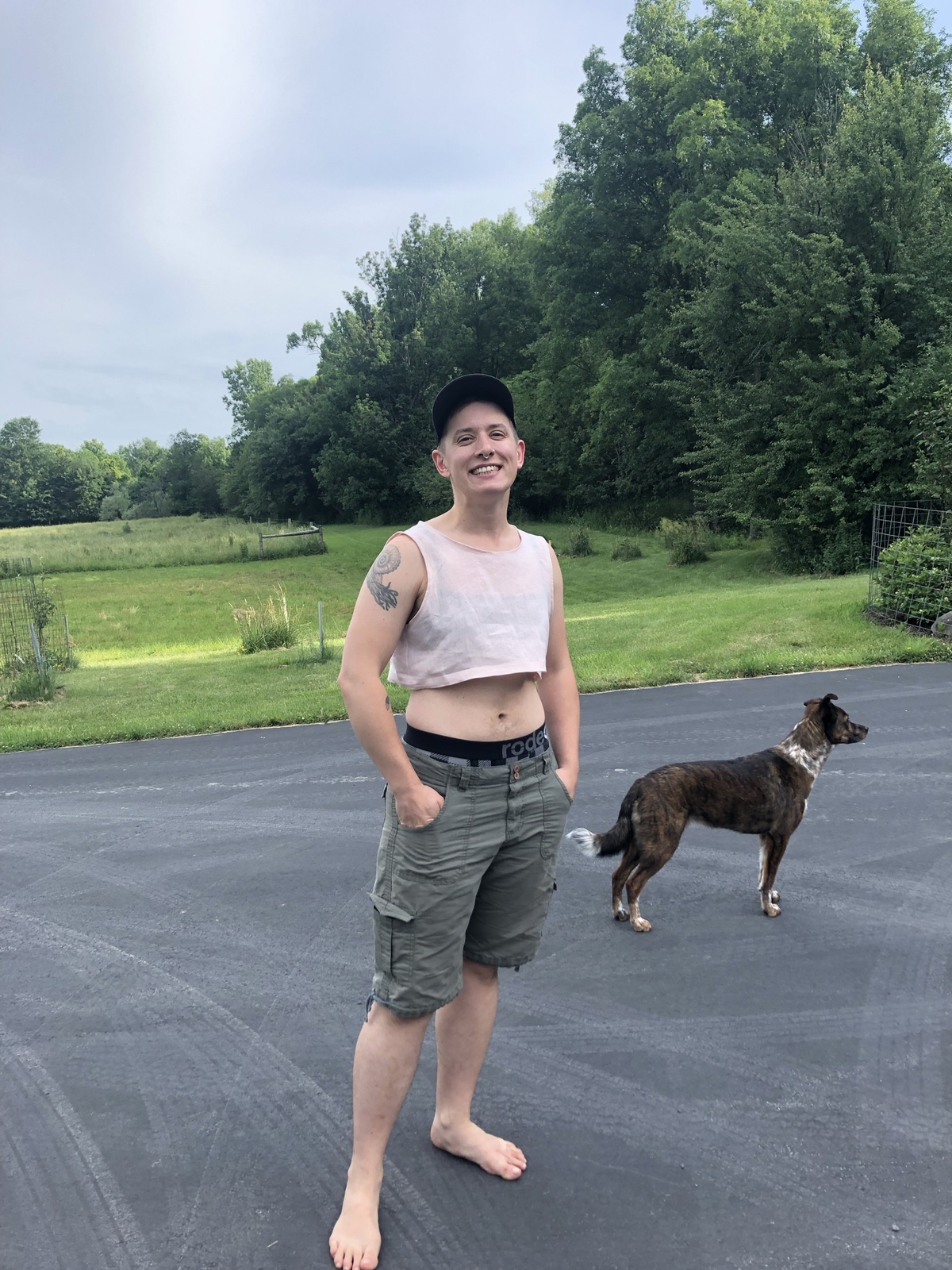 IL020 BLEACHED 100% Linen Light (3.7 oz/yd2)
Dyed 1 yard using avocado pits and skins then sewed up in a modified Demeter top from Anna Allen Clothing for oldest child. Hand of the fabric is delightful and color the most delicate warm pink. Could not be more thrilled. Image is horizontally stretched.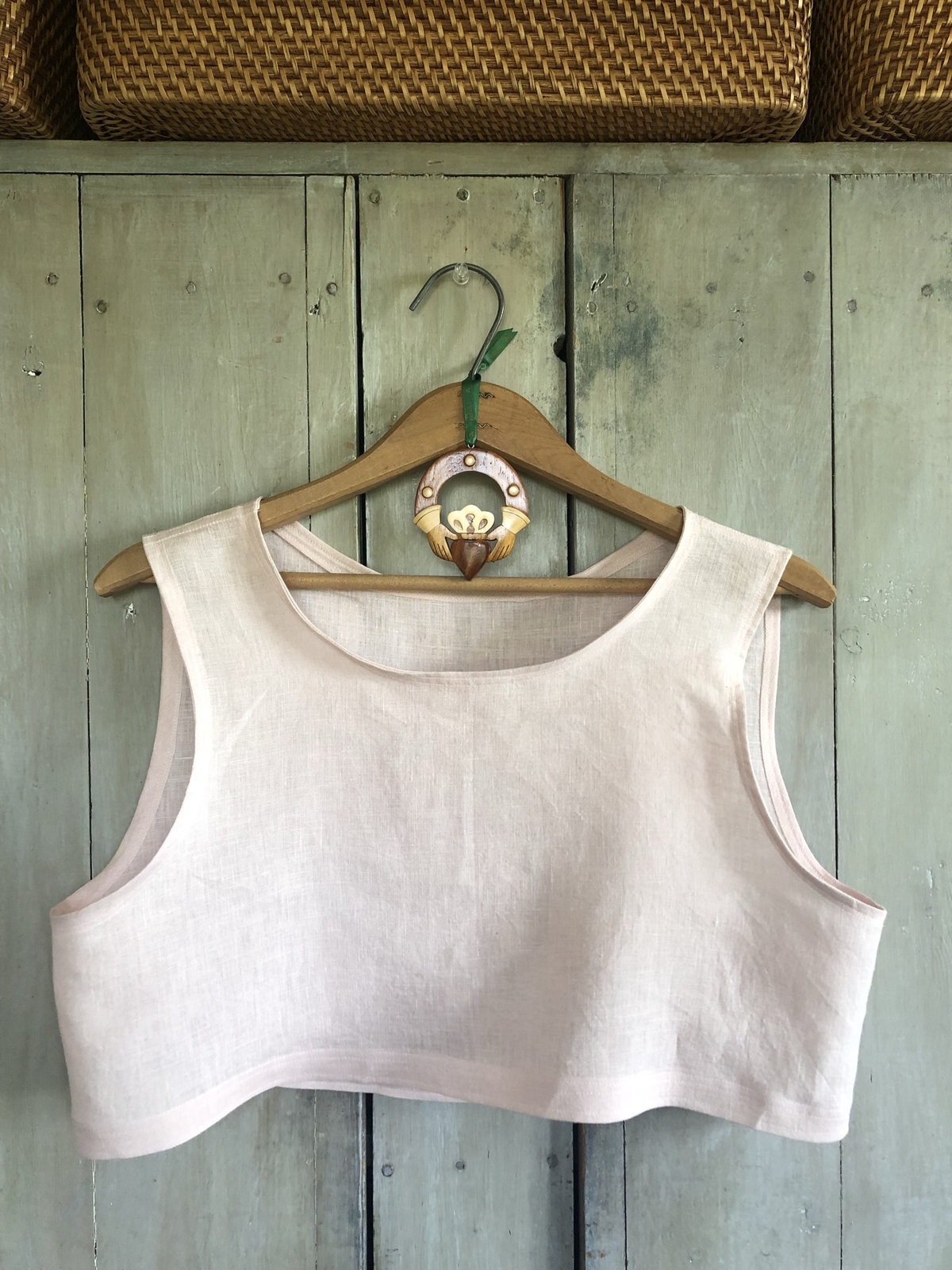 IL020 BLEACHED 100% Linen Light (3.7 oz/yd2)
Used it for botanical printing, light enough for scarves, lovely!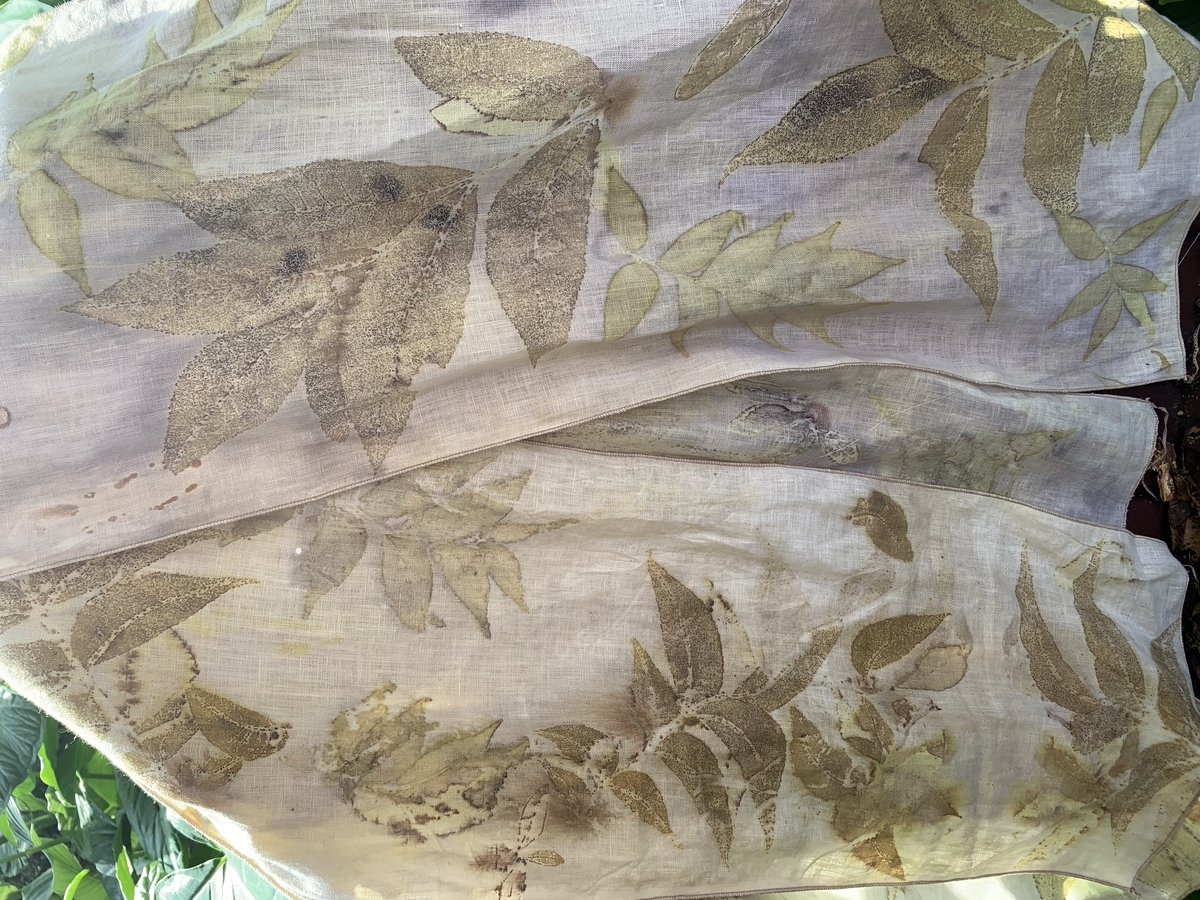 IL020 BLEACHED 100% Linen Light (3.7 oz/yd2)
I was incredibly nervous when cutting this linen as I feared it's delicacy I would ruin. Finally got up enough courage to try. I must say this is absolutely a breeze to sew. I am a lifetime customer love this fabric.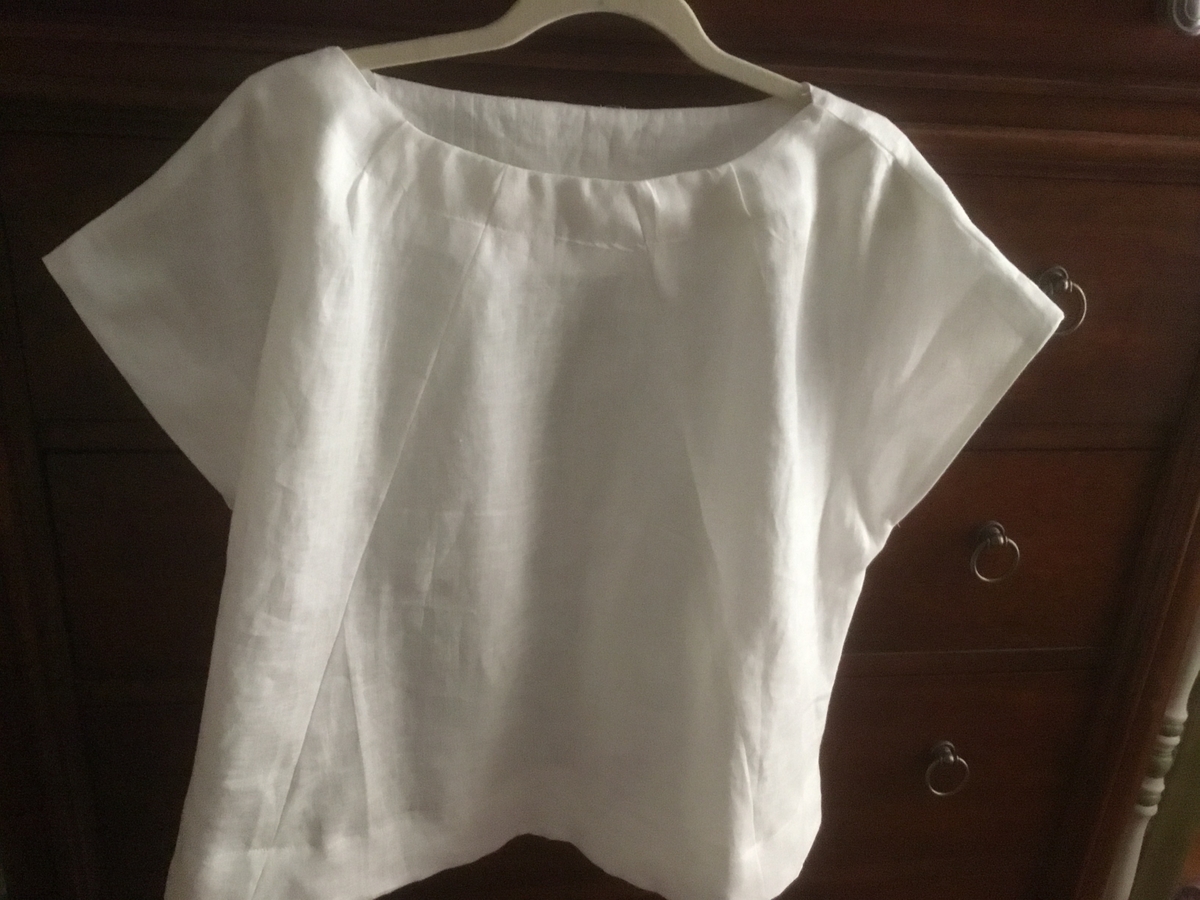 IL020 BLEACHED 100% Linen Light (3.7 oz/yd2)
I made a night gown with the IL020 linen. Lovely to work with and perfect for hand stitching.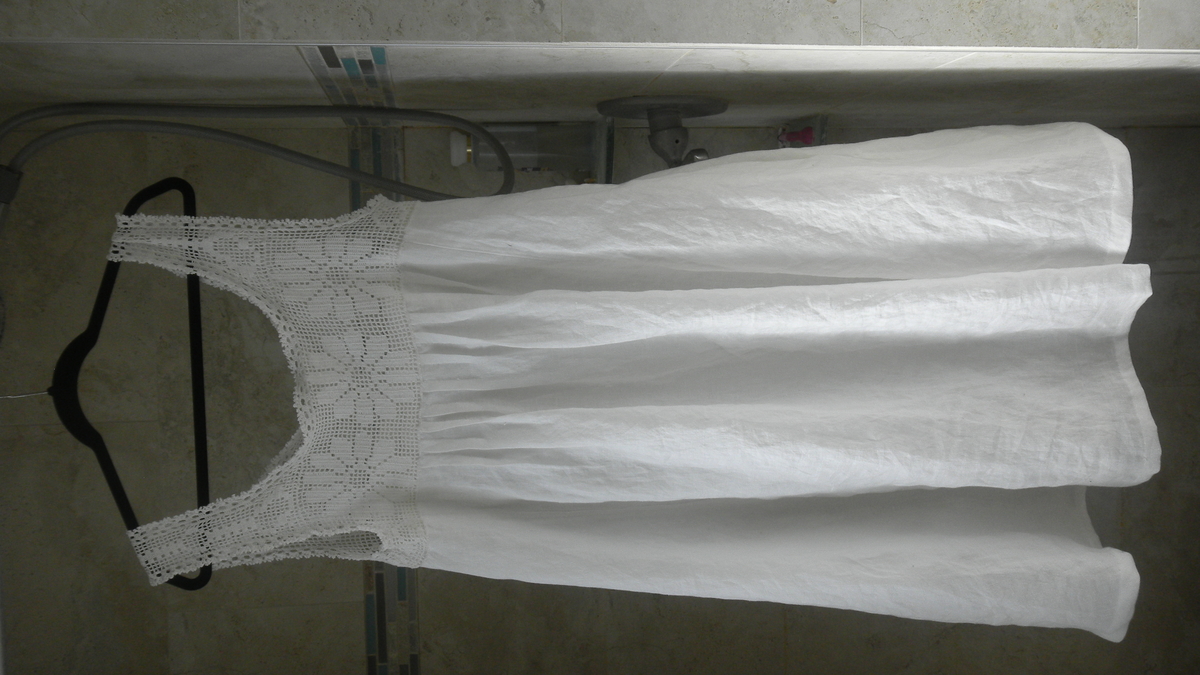 IL020 BLEACHED 100% Linen Light (3.7 oz/yd2)
Quick and easy pillowcases. A dream to sleep on in hot weather.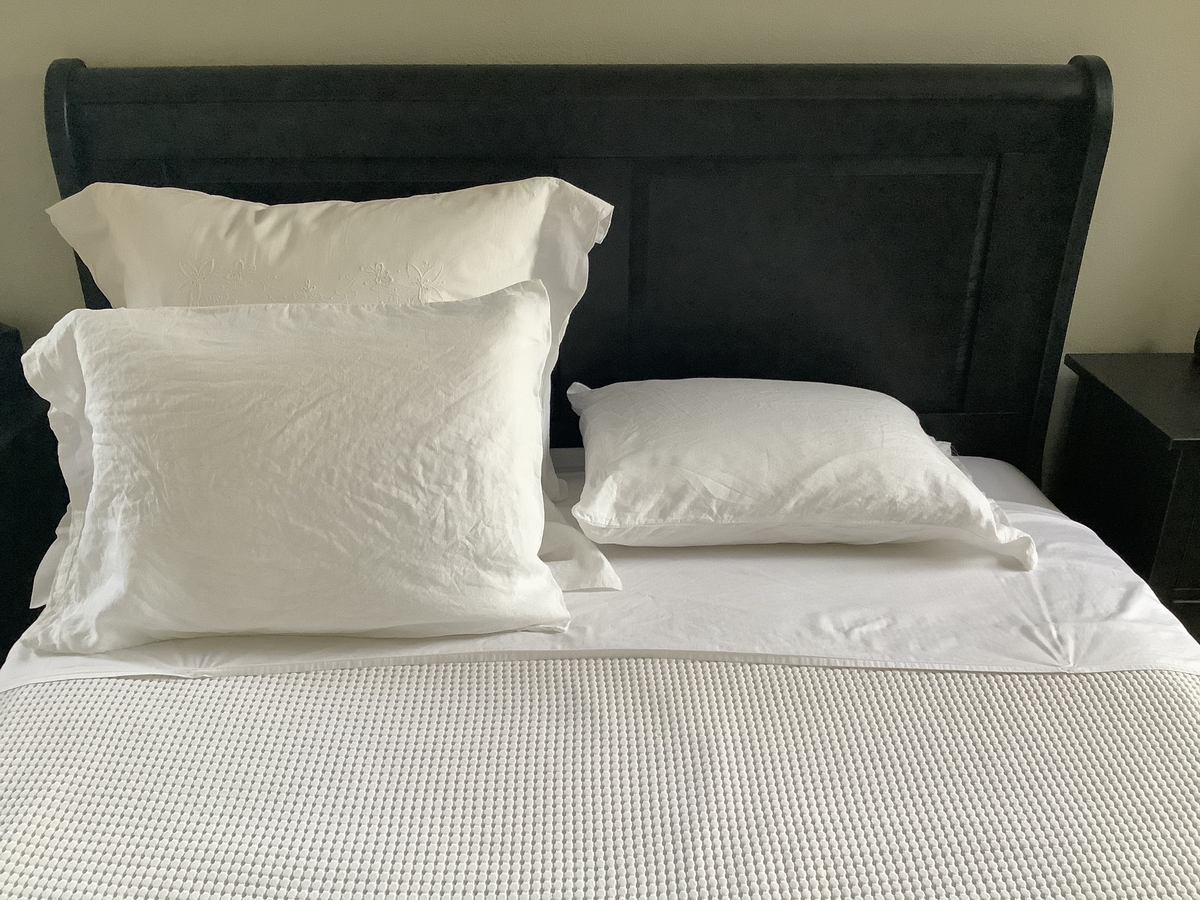 IL020 BLEACHED 100% Linen Light (3.7 oz/yd2)
Linen towels - made with light and medium weight linen. The top gathered and they are finished with bias tape, top and bottom and the sides are hemmed. The lightweight linen works very well for making bias tape for any of the hardcore crafters out there who do not want to use cotton-poly bias tape on their linen. 100% Cotton bias tape is availble on Etsy.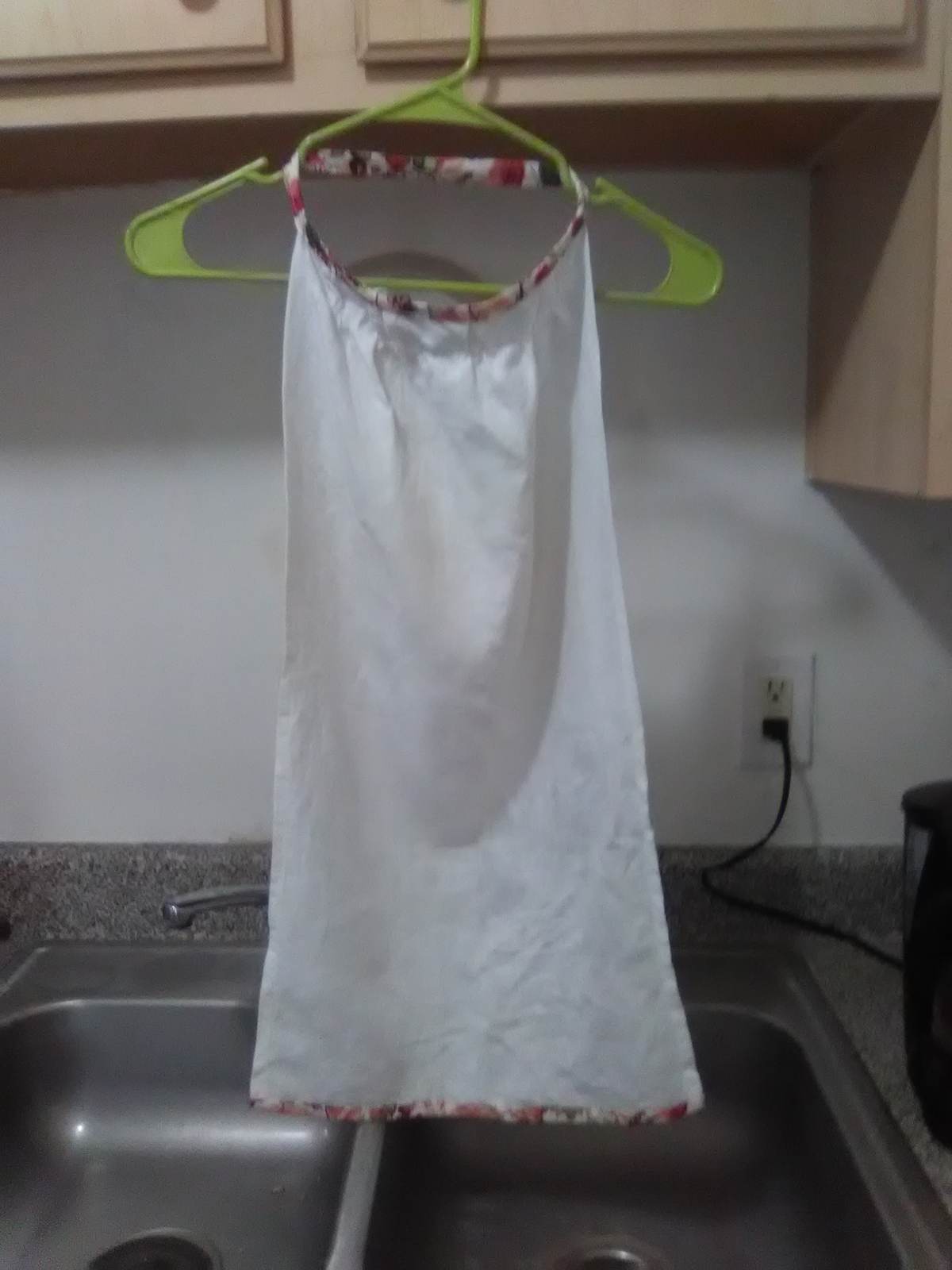 IL020 BLEACHED 100% Linen Light (3.7 oz/yd2)
Linen towels - made with lightweight linen. This one has machine embroidery. They are finished with bias tape, top and bottom and the sides are hemmed. Incidentally the white bias tape, I made myself from lightweight linen.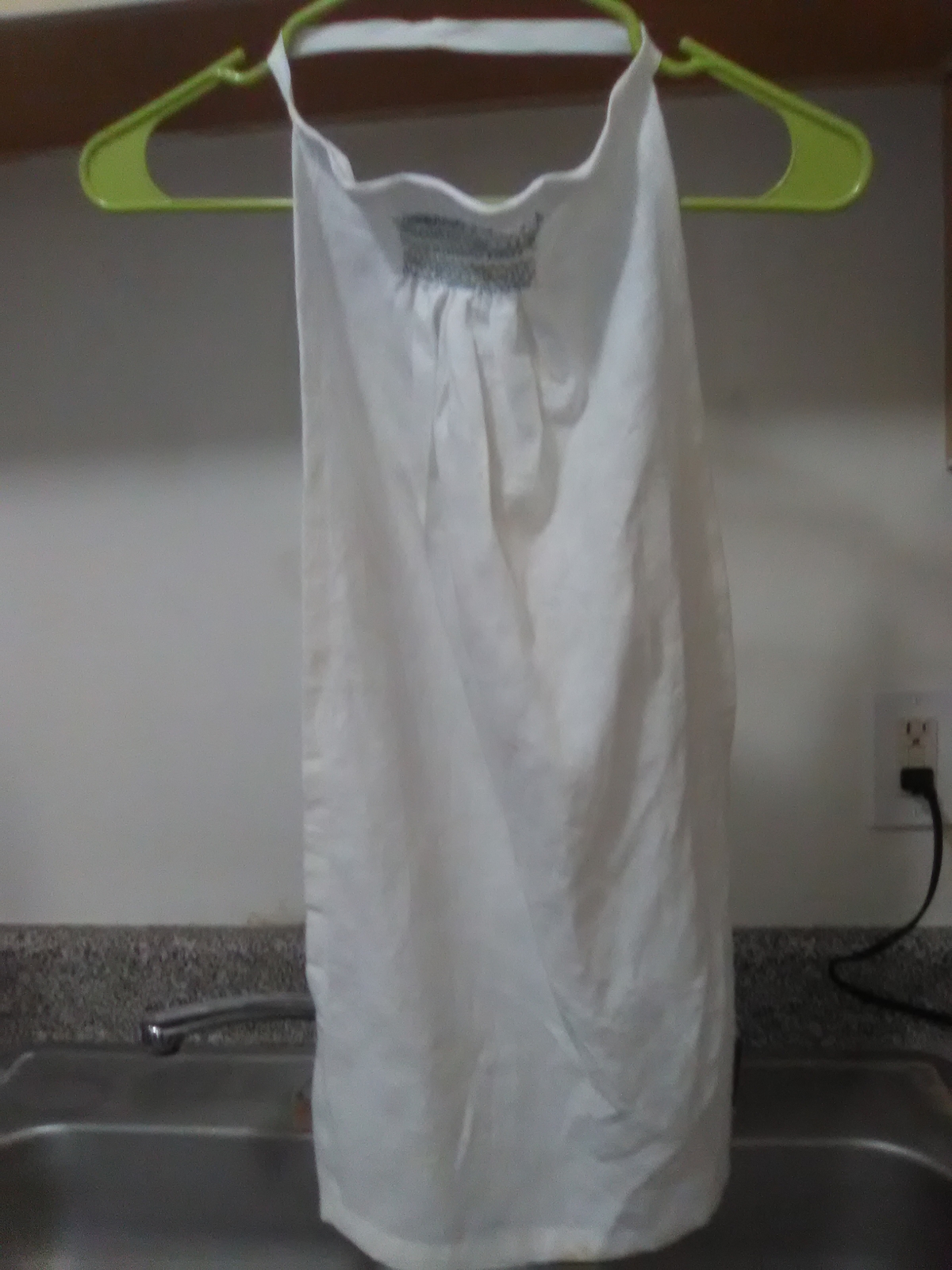 IL020 BLEACHED 100% Linen Light (3.7 oz/yd2)
This is a piece of my snow dyed linen. I will make it into a jacket using the mandala motif at the center back, wrapping it to the front, and using other parts as sleeves and collar. I have coordinating dyed fabric to use as trim.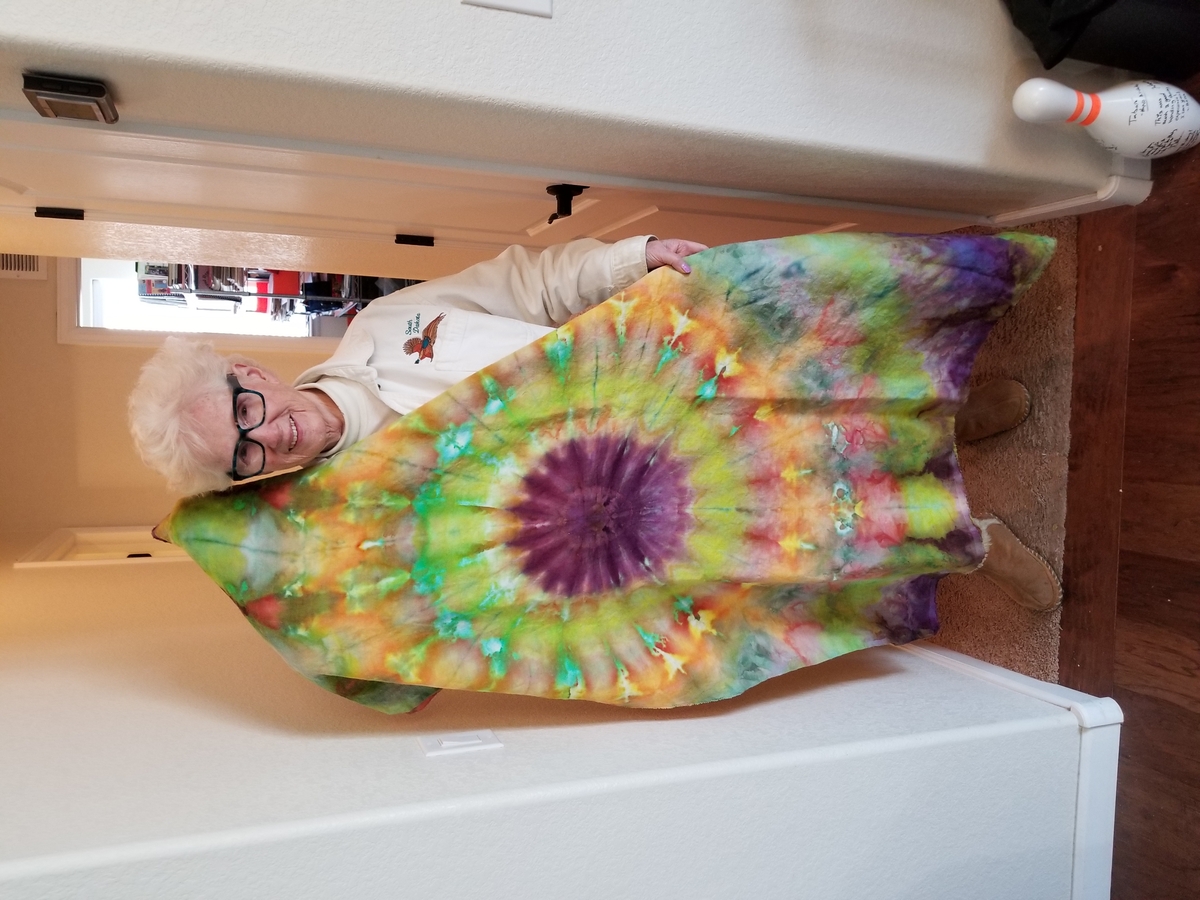 IL020 BLEACHED 100% Linen Light (3.7 oz/yd2)
This light weight fabric makes the perfect night gown or under layer. I will be using this fabric come spring to make and dye scarves.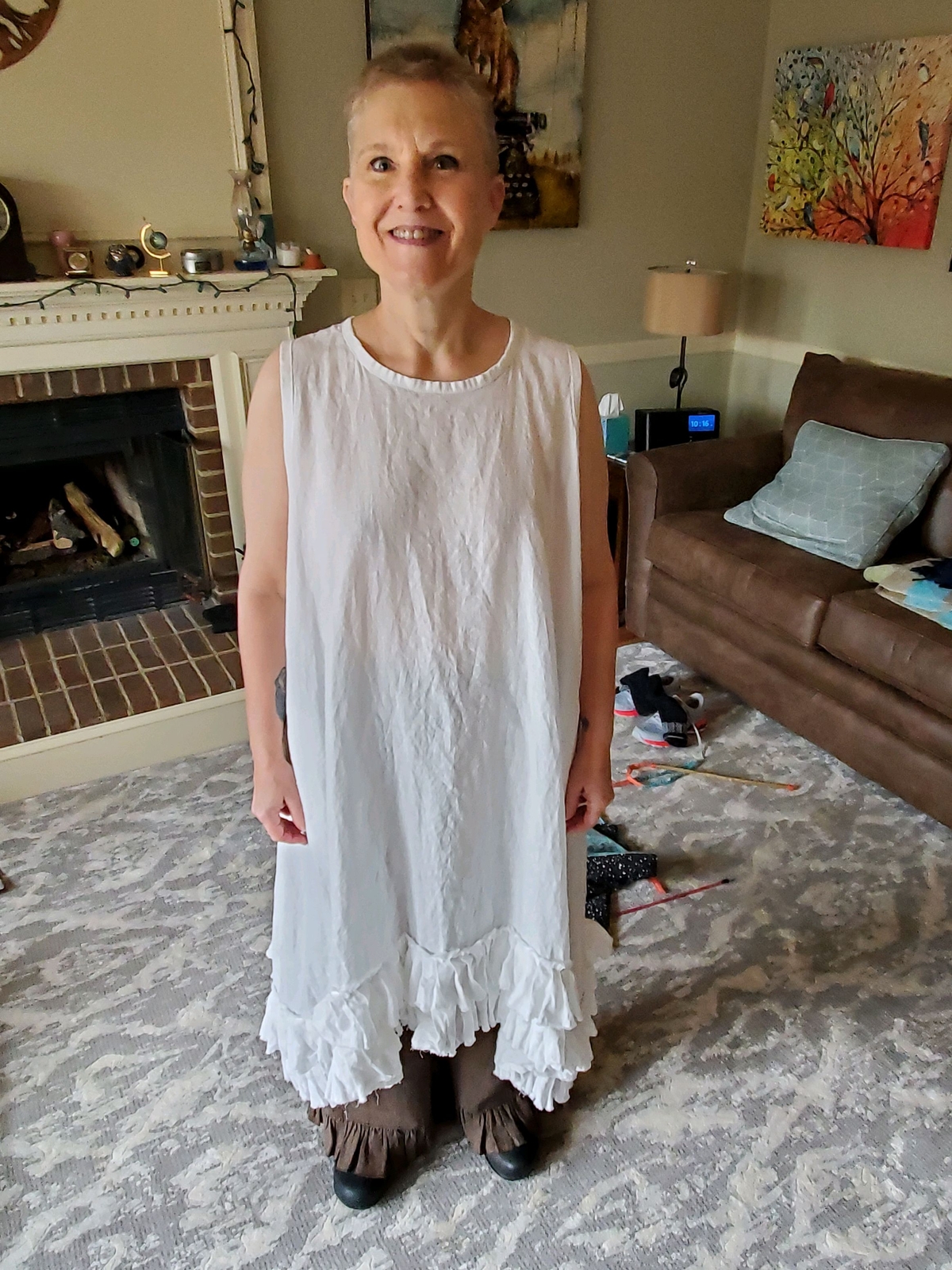 IL020 BLEACHED 100% Linen Light (3.7 oz/yd2)
My vintage China cabinet used as a cabinet for groceries and other serving pieces. This was placed after a post-tornado renovation in my mud room area. I used your bleached handkerchief linen. I am more than pleased with the result. As an aside I do not store liquor. The Crown Royal bottle is repurposed as a sauce container, and was a Christmas gift. I used Velcro to attach the curtains.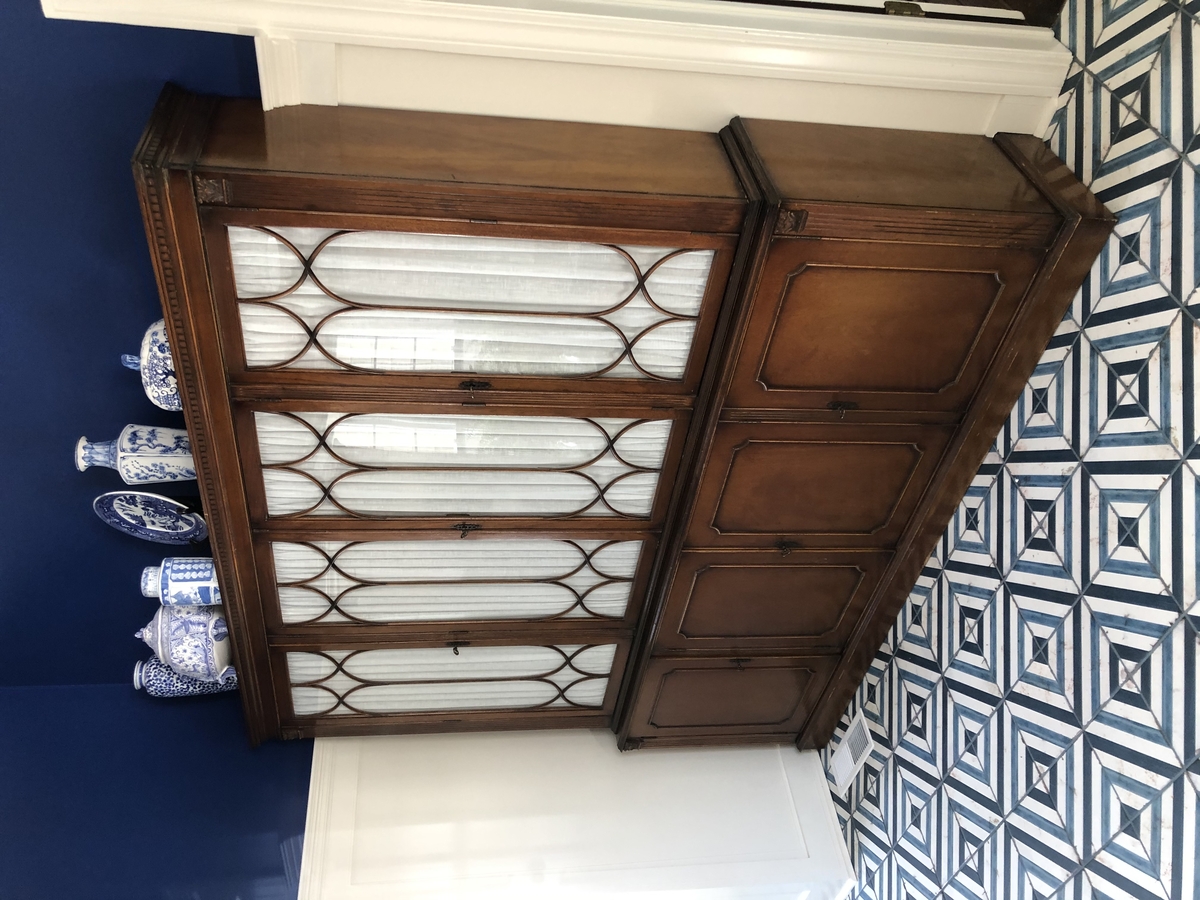 IL020 BLEACHED 100% Linen Light (3.7 oz/yd2)
Here is the finished blouse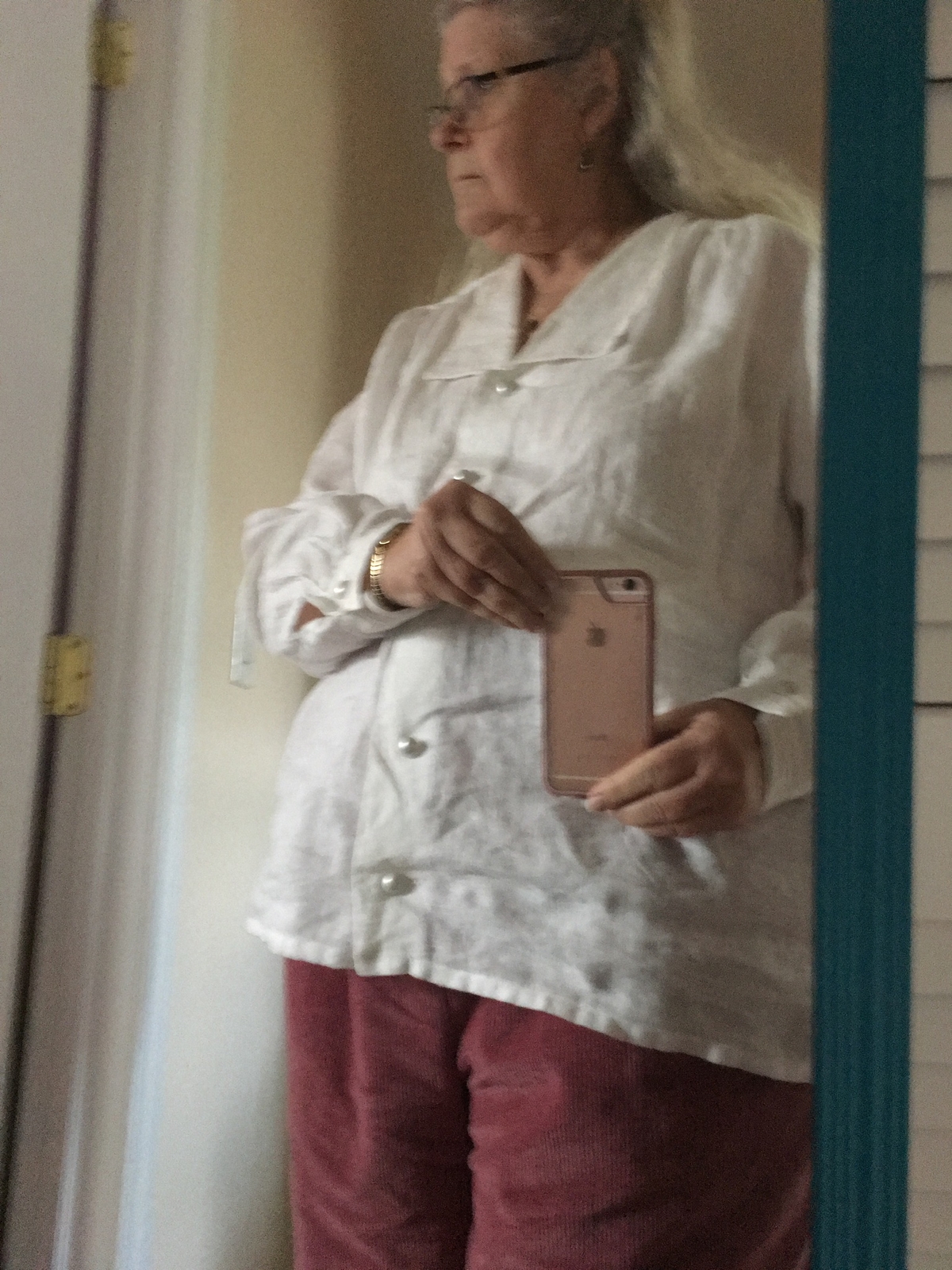 IL020 BLEACHED 100% Linen Light (3.7 oz/yd2)
Machine embroidery for heirloom look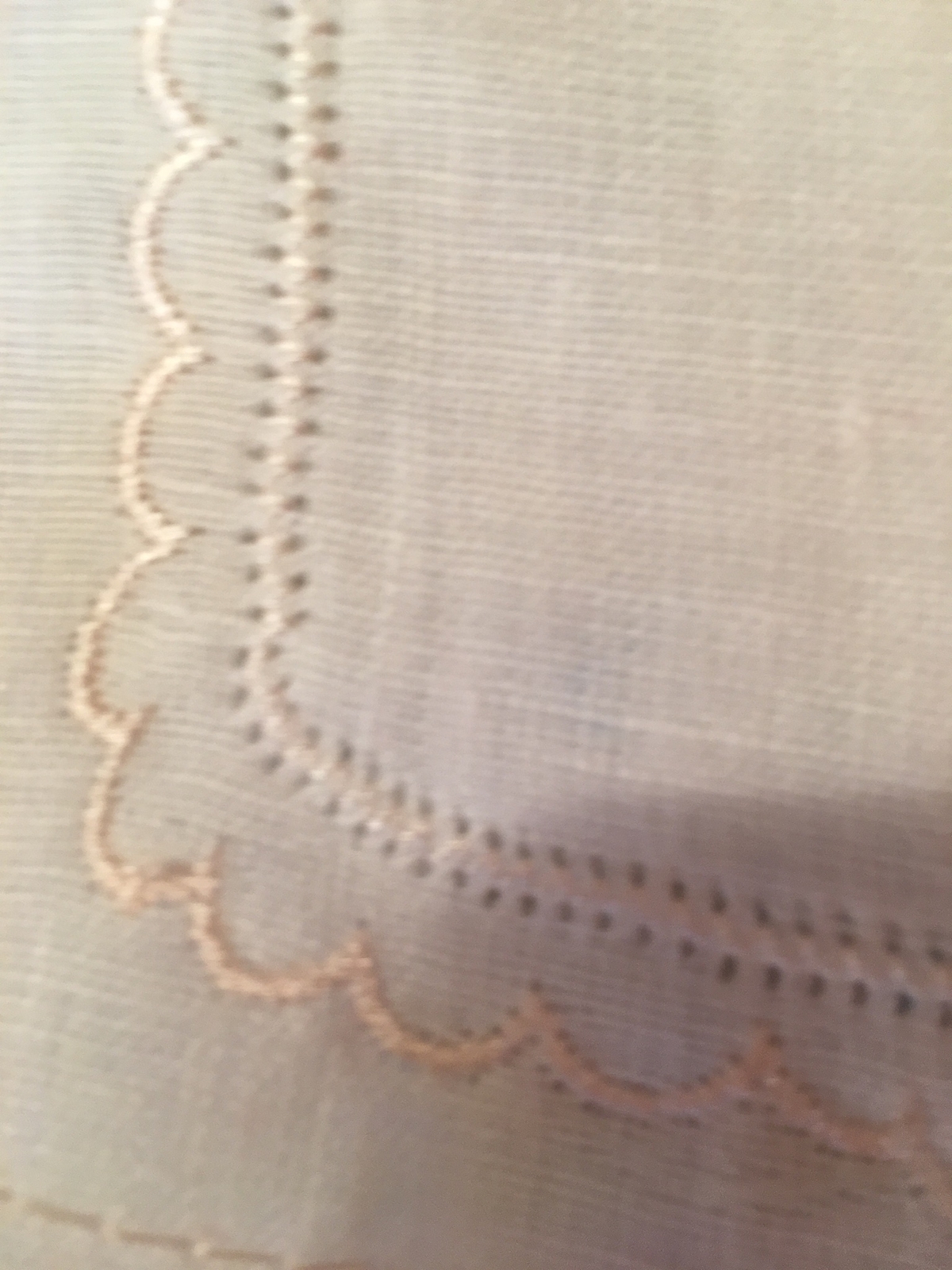 IL020 BLEACHED 100% Linen Light (3.7 oz/yd2)
Semi-opaque linen hand-dyed and hand-stamped.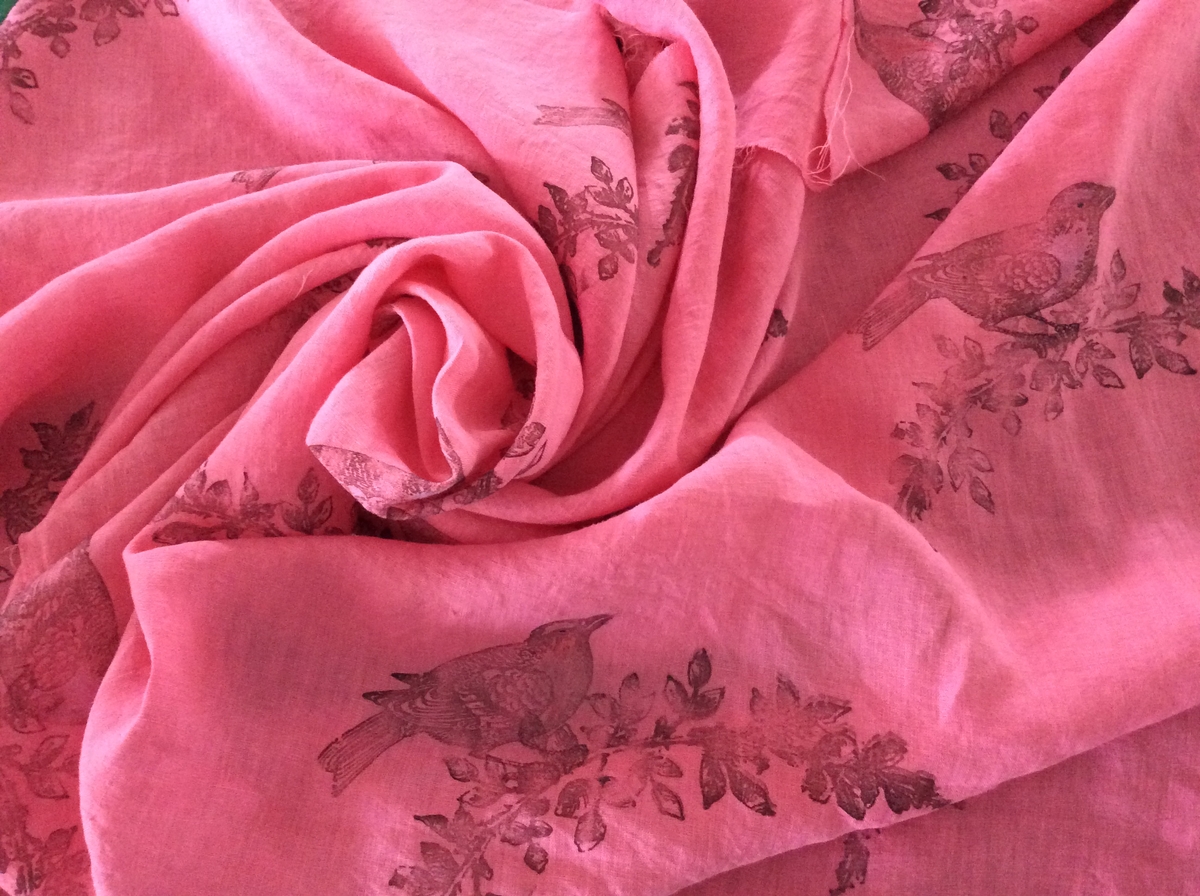 IL020 BLEACHED 100% Linen Light (3.7 oz/yd2)
Beautiful linen undies! I LOVE working with this material! etsy.com/shop/WillendorfDesigns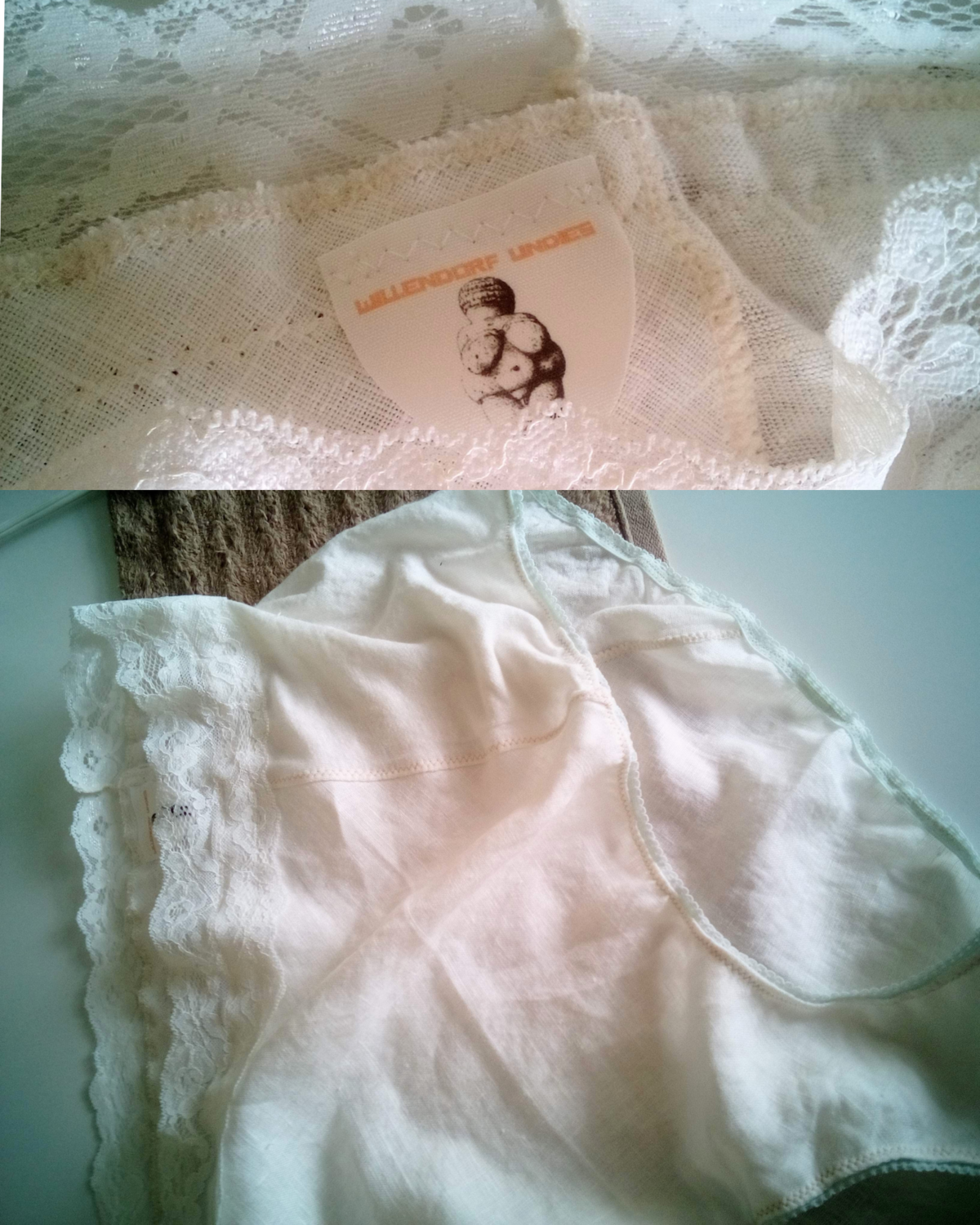 IL020 BLEACHED 100% Linen Light (3.7 oz/yd2)
What can 6 yards make? I bought 6 yards of this 3.5 bleached on sale and made: 1 pair of pants from the Akira pants pattern without the box gathering 1 blouse from the Zina pattern without the collar, just the back of collar which make it like a Nero shirt, took off the cuff and put a drawstring and at the waist. 1 camisole from the Nico pattern 1 Eva free pattern top. I LOVE this and wear it all the time 1 hacked Kurta dress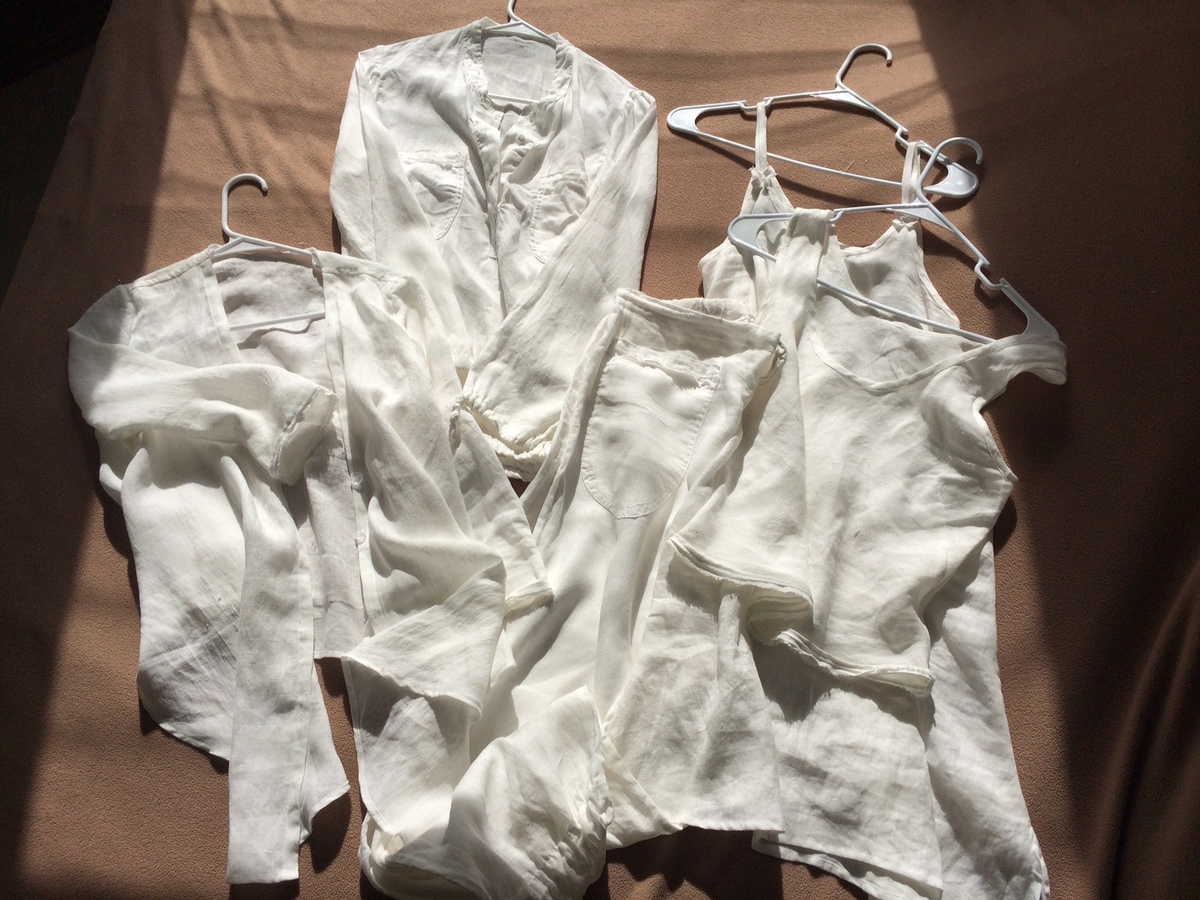 IL020 BLEACHED 100% Linen Light (3.7 oz/yd2)
I used this handkerchief weight linen to make the Demeter Dress.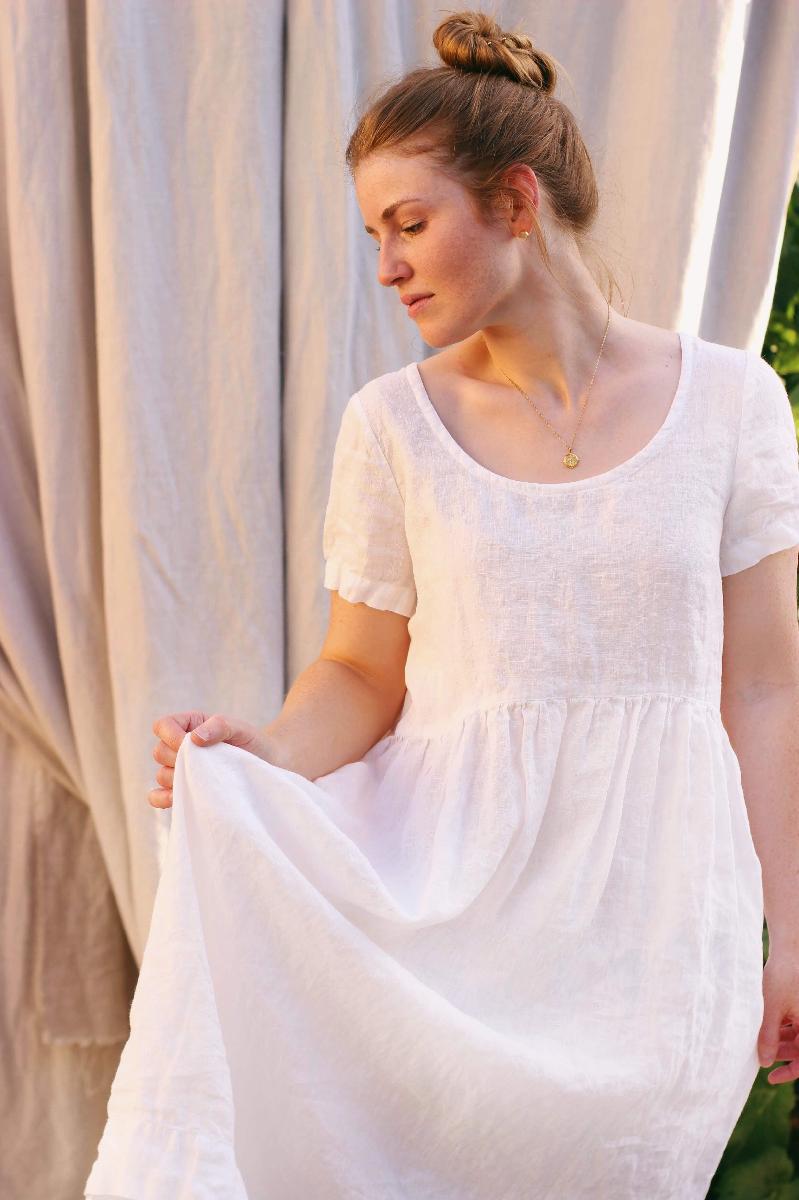 IL020 BLEACHED 100% Linen Light (3.7 oz/yd2)
Bonnet and cap inspired by the Handmaid's Tale Wings. Both made of the Optic White.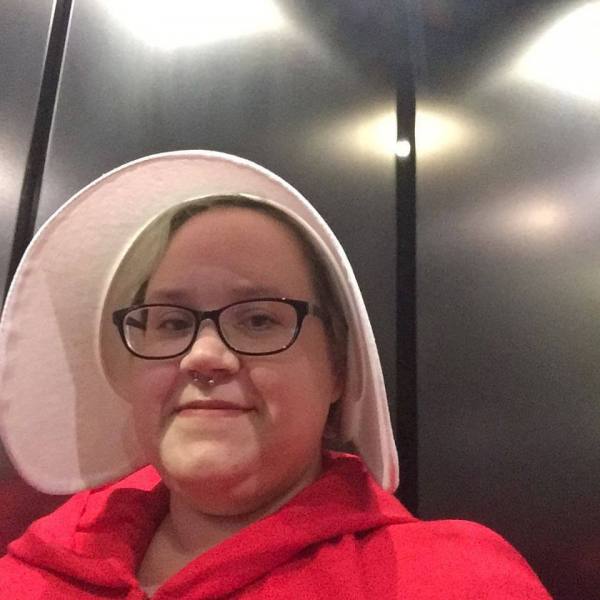 IL020 BLEACHED 100% Linen Light (3.7 oz/yd2)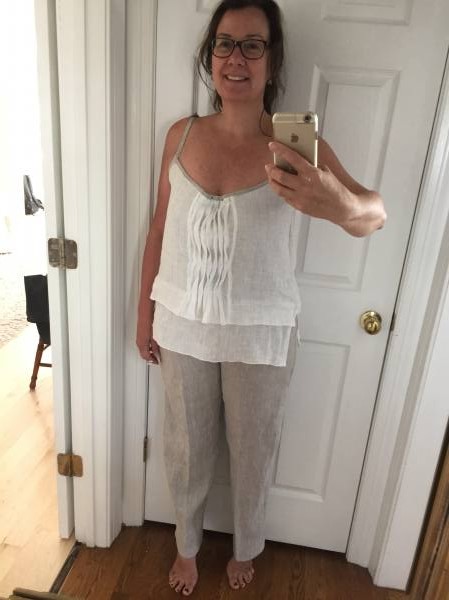 IL020 BLEACHED 100% Linen Light (3.7 oz/yd2)
I made that shirt for our Lithuanian folk dance group. I used optic white handkerchief linen. Wonderful fabric to work with!!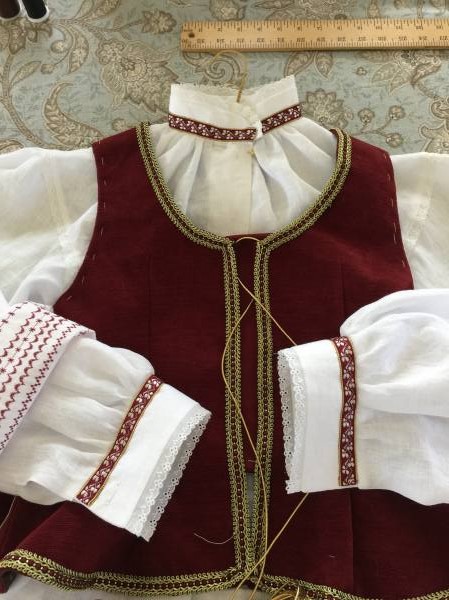 IL020 BLEACHED 100% Linen Light (3.7 oz/yd2)
Light weight linen Table Runner. Madeira Applique with pinstitching. Hand cut bias accent also pinstitched by machine.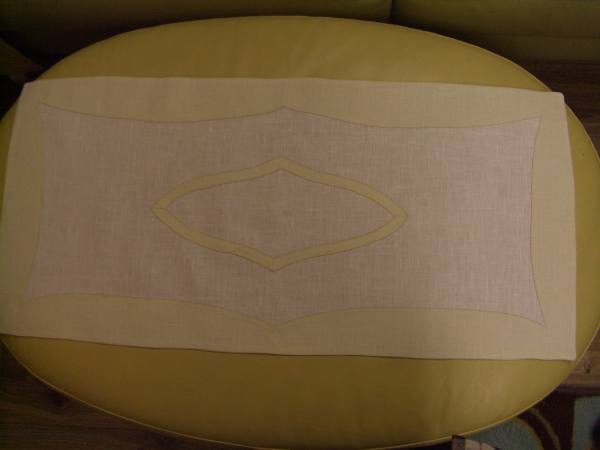 IL020 BLEACHED 100% Linen Light (3.7 oz/yd2)
Thought I would share an item that I recently completed. This a Tudor Smock constructed out of your light weight linen and I just loved the hand of the linen. Your product is superb.--Toby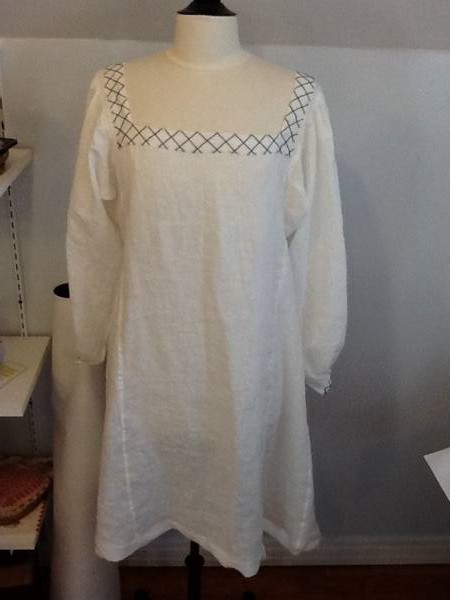 IL020 BLEACHED 100% Linen Light (3.7 oz/yd2)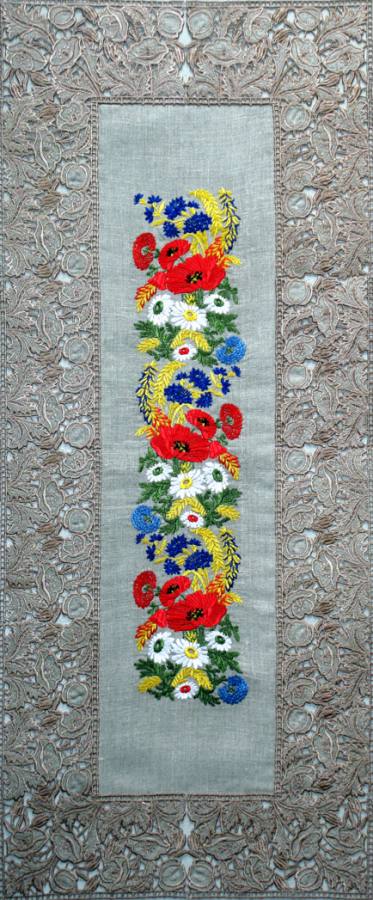 IL020 BLEACHED 100% Linen Light (3.7 oz/yd2)
Same linen and a daintier look when sewn up as a Ladies handkerchief... 12" x 12" with a much narrower hem.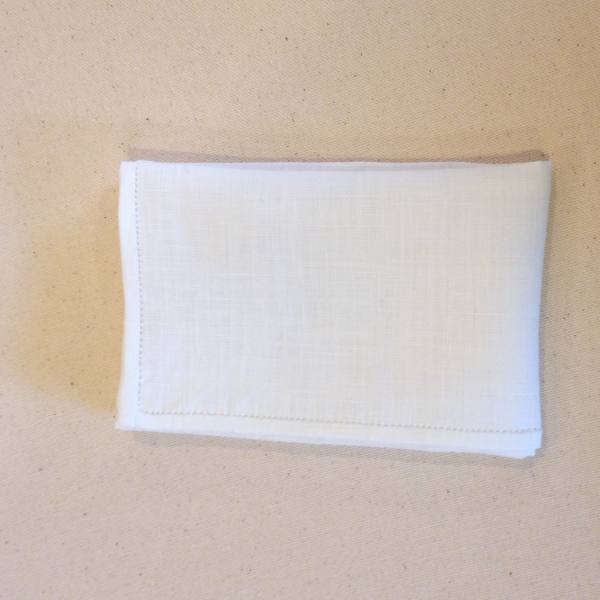 IL020 BLEACHED 100% Linen Light (3.7 oz/yd2)
A Dedication Gown made from Light Weight Linen, IL020 a delight to sew and embroider. Next, on to a dress for me!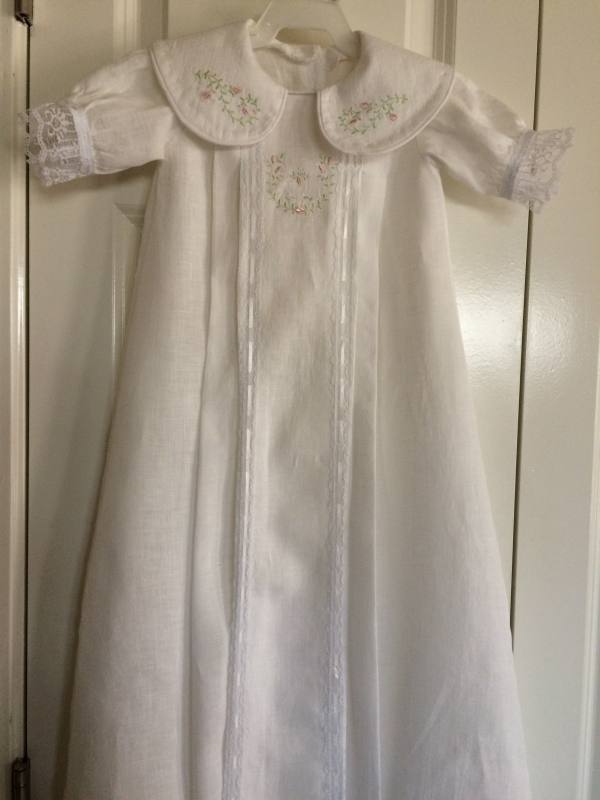 IL020 BLEACHED 100% Linen Light (3.7 oz/yd2)
Hemstitched handkerchief for a gentleman; hand sewn, using handkerchief weight bleached linen! Not quite a breeze to draw the threads after laundering but not terrible either. Do launder first though as there's a bit of shrinkage. Fabric has a fairly firm hand, not rough per se but sturdy... it will soften over time no doubt. I like it, definitely a 'bloke' fabric - I use the softened version in optic white for ladies handkerchiefs...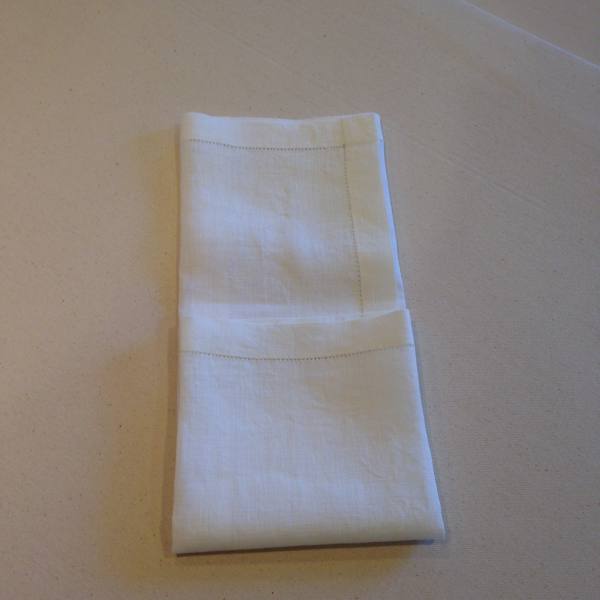 IL020 BLEACHED 100% Linen Light (3.7 oz/yd2)
Yellow medieval outer dress made by myself.

IL020 BLEACHED 100% Linen Light (3.7 oz/yd2)
A reproduction 1883 chemise made from instructions found in Fashions of the Gilded Age, Volume 1 by Francis Grimble. After using the handkerchief linen for this, I won't ever go back t using cotton for my historical undergarments.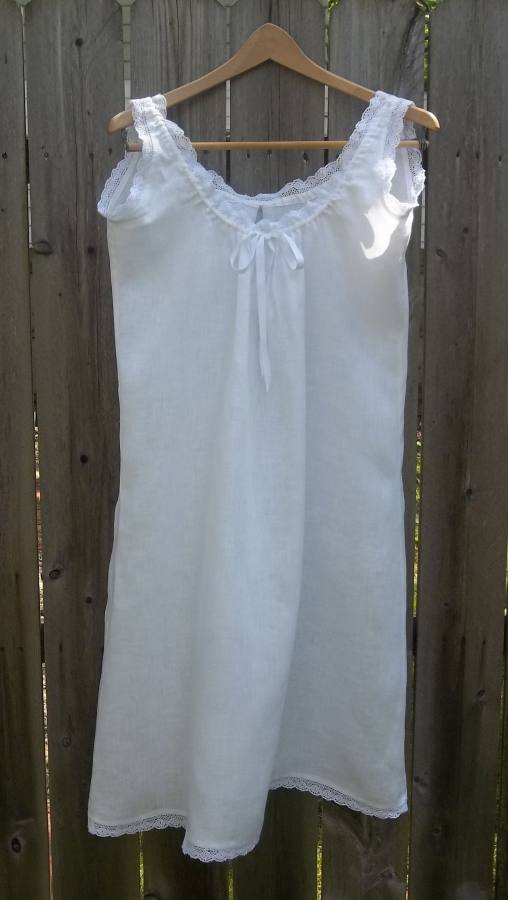 IL020 BLEACHED 100% Linen Light (3.7 oz/yd2)
Hand-dyed and silk-screened Challah cover. Uses the bleached lightweight linen IL020. Designs by Kevin Cain were inspired by the illuminated border designs found in the Kennicott Bible. Made in Spain, this Bible, dating from 1476, is considered the finest Hebrew manuscript in the collection of the Bodleian Library at the University of Oxford. etsy.com/listing/158450671/challah-cover-hand-dyed-silkscreened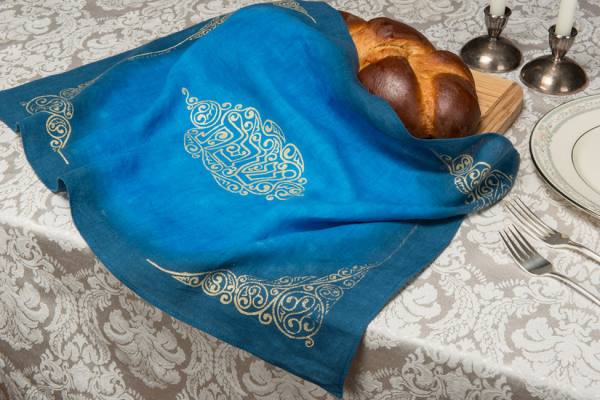 IL020 BLEACHED 100% Linen Light (3.7 oz/yd2)
I sewed this simple half-slip for myself using an A-line skirt pattern with elastic in the waist casing. The linen is amazingly easy to work with, being crisp, and yet so soft to the touch. I love it!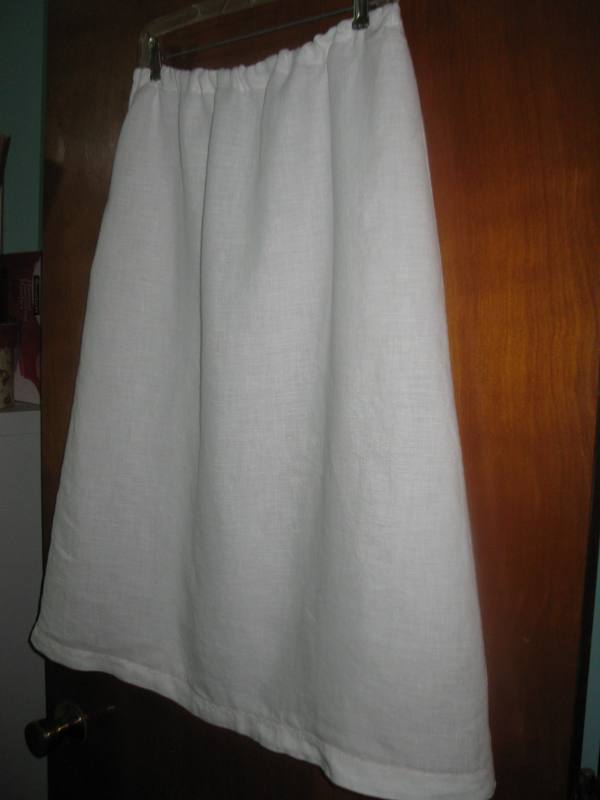 IL020 BLEACHED 100% Linen Light (3.7 oz/yd2)
1790-1815 linen shirt, hand rolled hems on the ruffles at the cuff and front. Great linen to work with!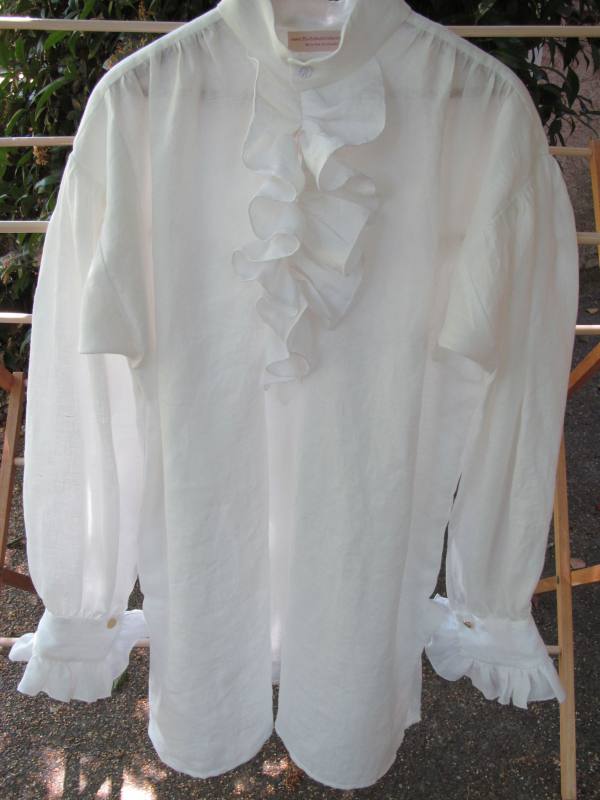 IL020 BLEACHED 100% Linen Light (3.7 oz/yd2)
Could not possibly be more pleased with this linen- Excellent quality, and, since this shirt was made, durability- even though it's lightweight, it's considerably strong. Good for shirts, camises, blouses, and wraps.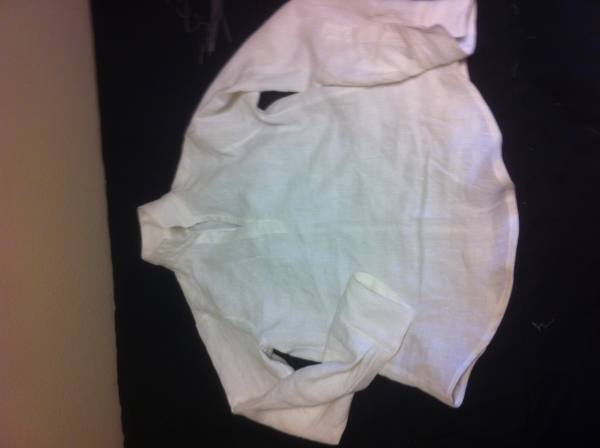 IL020 BLEACHED 100% Linen Light (3.7 oz/yd2)
Lovely fabrics. Thank you! Beth BREATHE Clothing: etsy.com/shop/Breathe1960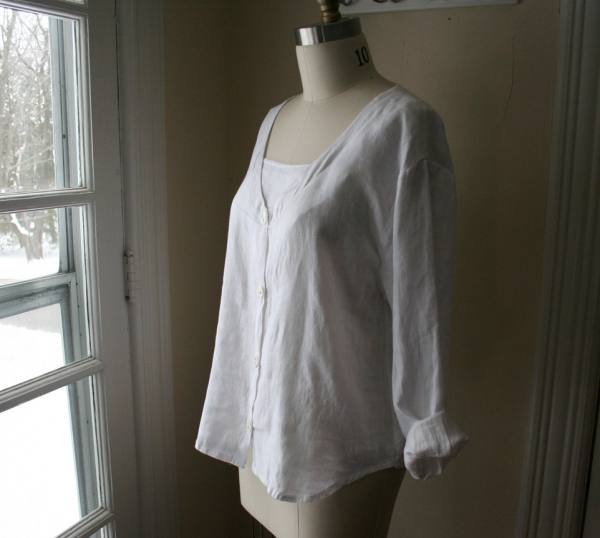 IL020 BLEACHED 100% Linen Light (3.7 oz/yd2)
Here are pictures of a period gown I made using your linen for the under sleeve. Please notice that I used vintage lace for the trim on the sleeve cuffs. This customer was tickeled and recieved many compliments of the authenticity of her costume. The occassion was the laying of the wreath at the grave of President Jefferson Davis, Hollywood Cemetary, Richmond,Va Patricia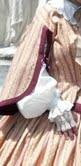 IL020 BLEACHED 100% Linen Light (3.7 oz/yd2)
This fabric works up so nicely for period shirts. I've used it for 16th century & 18th century styles. This piece show is a Tudor smock with neck and wrist box pleats. Washing does indeed increase softness. See more photos at: dazeoflaur.com/blog/?p=1855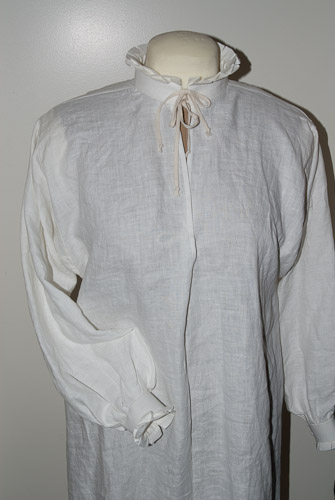 IL020 BLEACHED 100% Linen Light (3.7 oz/yd2)
I made these linen pantalets for my etsy store after many friends noticed mine and wanted copies.I used a personal pattern modeled after vintage bloomers.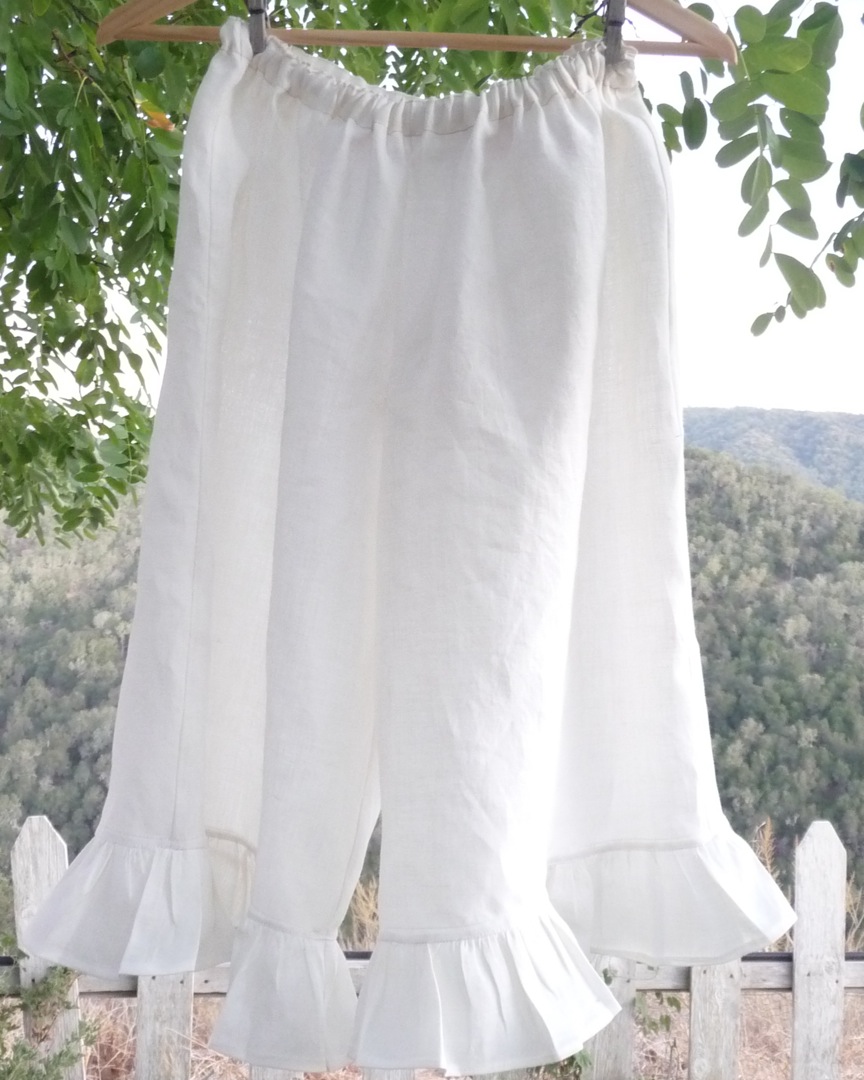 IL020 BLEACHED 100% Linen Light (3.7 oz/yd2)
This lightweight linen is just the thing for an 18th century man's shirt. Even though the pattern is really big compared with modern shirts, the beautiful drape of the fabric made it hang just right. See more of my work at houseofninesdesign.com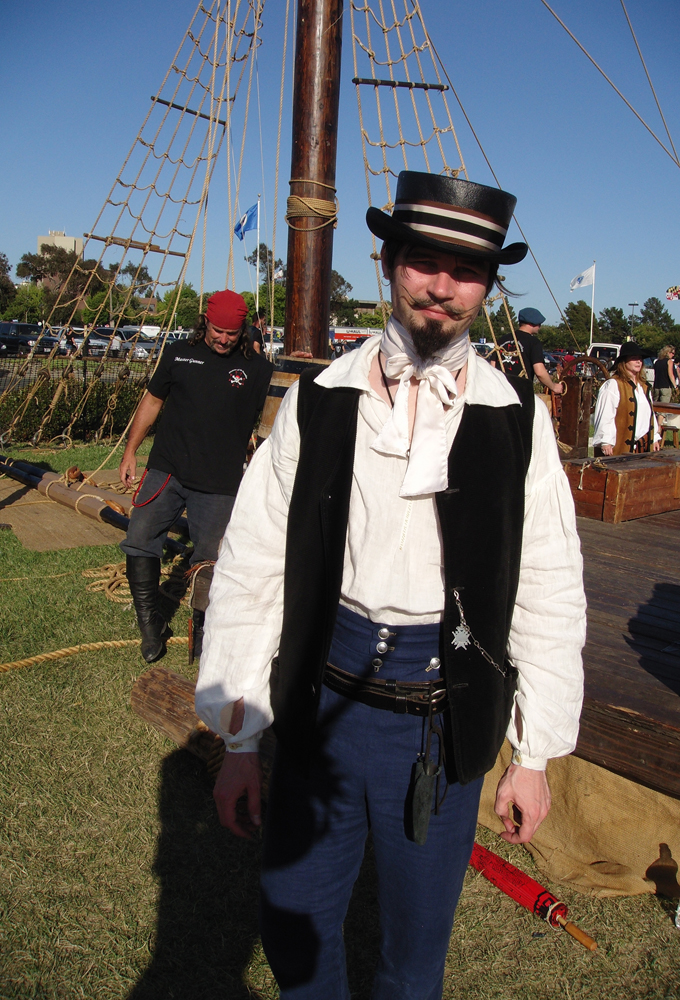 IL020 BLEACHED 100% Linen Light (3.7 oz/yd2)
This linen is perfect for 18th century shifts! It's barely transparent and drapes beautifully. See more of my work at houseofninesdesign.com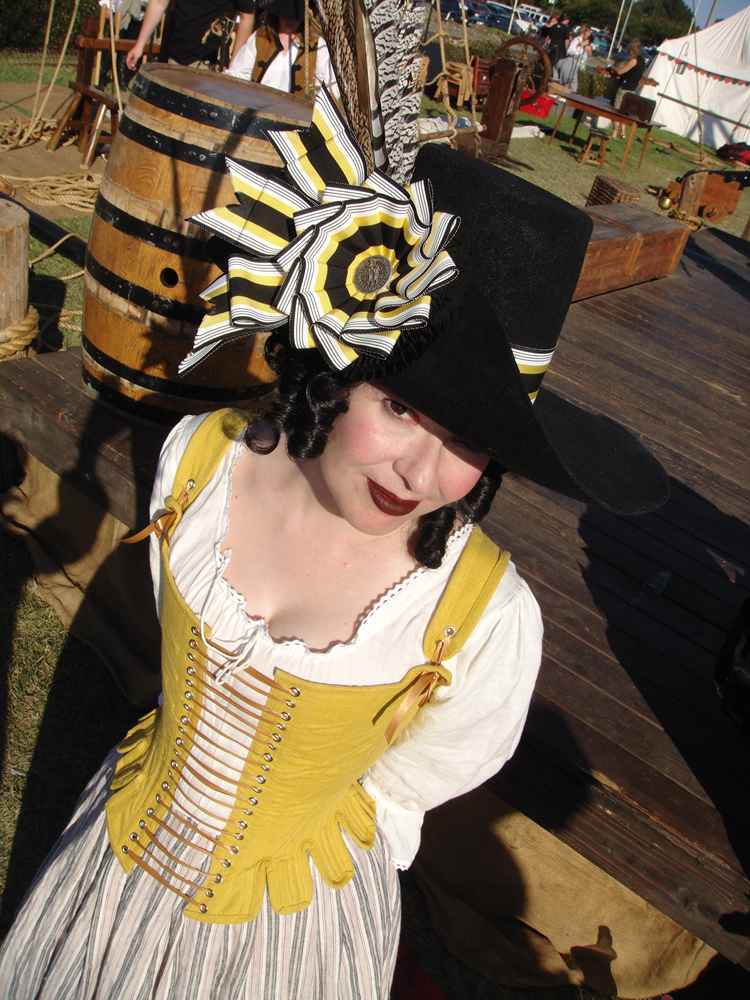 IL020 BLEACHED 100% Linen Light (3.7 oz/yd2)
I made my ruff from this lovely fabric and there are 18 yards gathered up into my neckband. It handled like a dream, was perfect for rolled hems and stacked pleats. I would definitely recommend this fabric to the serious reenactor or seamstress who wants to make beautiful ruffs.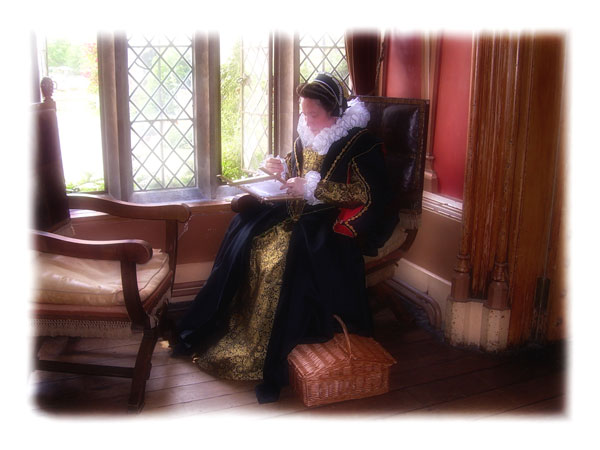 IL020 BLEACHED 100% Linen Light (3.7 oz/yd2)
I embroidered my daughter's coif with this lovely fabric, and also used it for the ruffs that I made for our participation in Kentwell's 1588 reenactment during the summer of 2008. I was very happy with how the ruffs held up and received many compliments on the linen garments that we wore. Our smocks were also of the same fabric, but of course you cannot see much of them.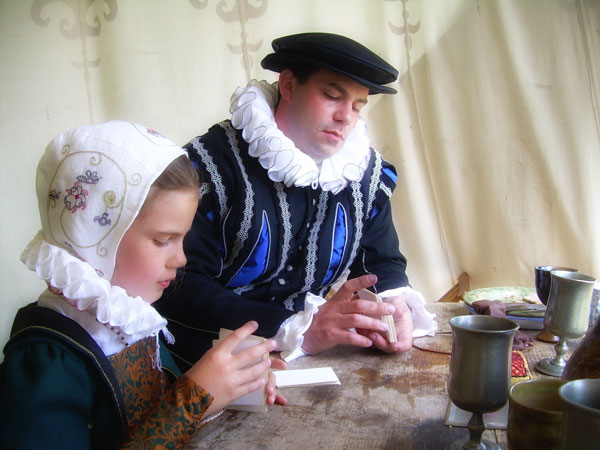 IL020 BLEACHED 100% Linen Light (3.7 oz/yd2)
The close up detail is free motion machine stitching on the front band of the jacket. I lower the feed dogs on my sewing machine and use a darning foot and just move the fabric with my hands. It's like drawing with thread. This is what many quilters do on their quilts. Since I don't have batting like quilts have in the front band, (which prevents puckering), I put the part that I am sewing in an embroidery hoop to hold the fabric taught while I draw with thread.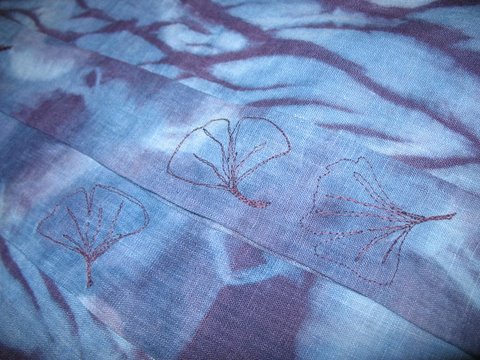 IL020 BLEACHED 100% Linen Light (3.7 oz/yd2)
Elizabethan Chemise I used the 5.3 oz. white linen to make the chemise for this field Elizabethan. It's a great weight for spring & fall. I buy it by the bolt for myself and my students, and I go through yards and yards of it for all sorts of things. Mistress Jeanmaire du Domremy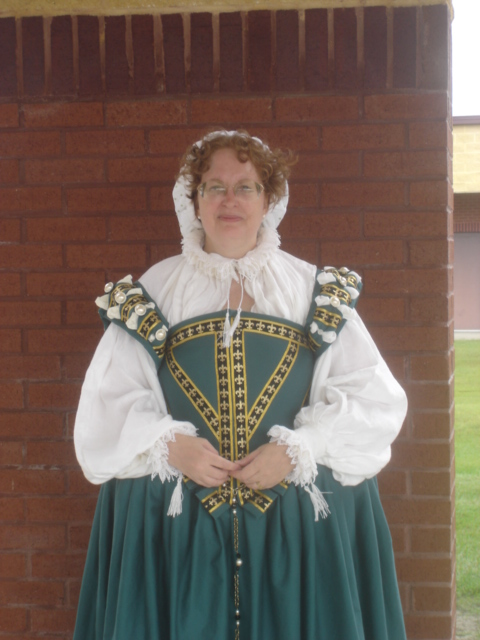 IL020 BLEACHED 100% Linen Light (3.7 oz/yd2)
This two tone dress is handmade exclusively by Kositas By Ixa using 100% white and yellow linen. It has embroidered accents and it can be made with a hairband and sandals. Visit our website kositasbyixa.com for inquiries and to see more pictures of it. Also you write me an email at: igrafals@kositasbyixa.com for more information.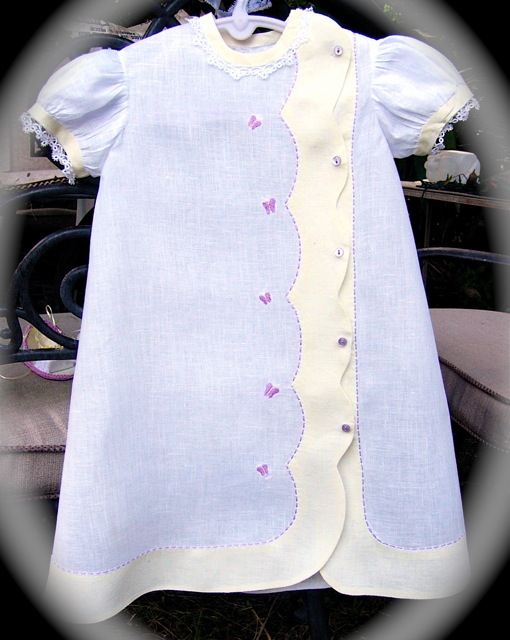 IL020 BLEACHED 100% Linen Light (3.7 oz/yd2)
Jenn recommended you all when I started getting into costuming and was a bit frightened of purchasing let alone cutting linen. Well your prices were so reasonable I didn't have a (complete) heartattack ordering or cutting into it once I got it. I have since ordered many times and LOVE everything I get. For me I used the 3.5 oz linen used for the gomlek (chemise) with the 5.3oz used for the blue chirka (coat)as well as the rust colored one underneath it. Great stuff and service! Thanks!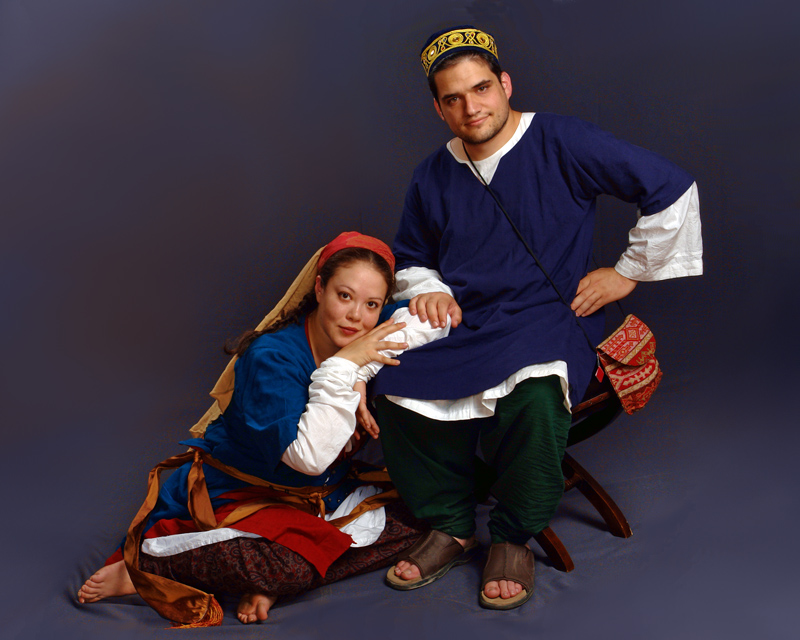 IL020 BLEACHED 100% Linen Light (3.7 oz/yd2)
Italian Renaissance - Chemise, Sleeves, Hat all made with white IL020 3.5 oz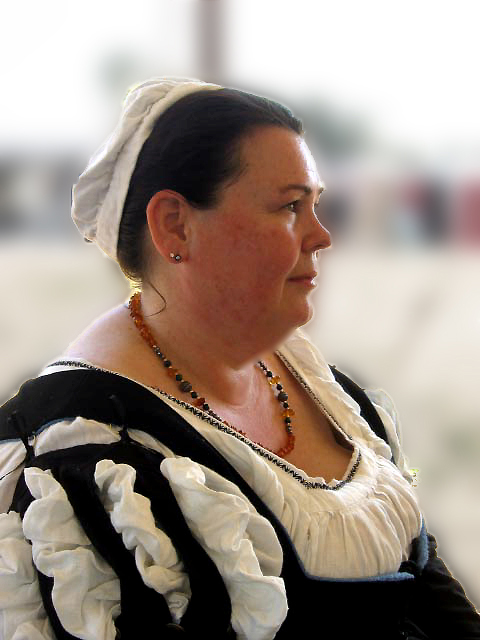 IL020 BLEACHED 100% Linen Light (3.7 oz/yd2)
3.5 oz linen used for the gomlek (chemise) and salwar (pants), with the 5.3oz used for the chirka (coat). I LOVE this fabric :-) It washes beautifully and has an amazing drape.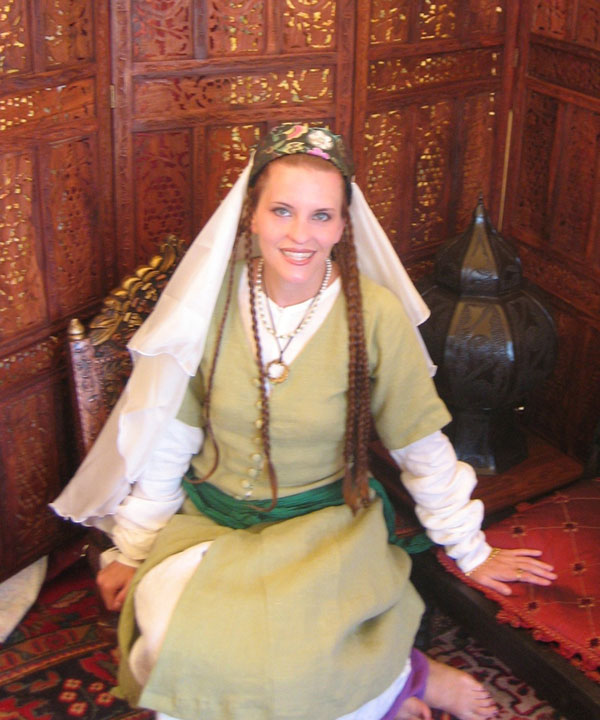 IL020 BLEACHED 100% Linen Light (3.7 oz/yd2)
I've opted for fitted low-necked white 100% linen smock and the slashes in the under sleeves are stitched in place so it's not necessary to constantly be pulling them through. I believe they did this in period- if you look at her wrist closely in the portrait you can see the smock sleeve is narrow and fitted and the ruffle/cuff is wider and lightly gathered to fit the wrist, but the under sleeves are wider than the smock sleeve even at the wrist, suggesting that the under sleeve did have faux slashes. The neckline is accented with hand-done blanket stitching (Although hard to see in this size picture of the portrait, her chemise neckline is the same as Jane Seymour's below. The cuff was gathered to the smock and the cuff hem was finished by hand so as no machine stitching was visible. The smock itself was made based on instructions on Drea Leed's site, with dropped shoulders and underarm and hip gores.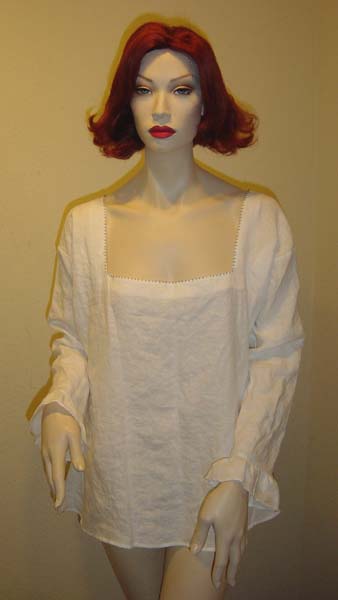 IL020 BLEACHED 100% Linen Light (3.7 oz/yd2)


IL020 BLEACHED - 100% Linen - Light (3.7 oz/yd2)
Sample Size: 2" x 3.5" (Including Swatch Card)
Free Standard Shipping
* Samples are pre-assembled and may not come from the same fabric bolt you order from. Color may vary. All fabric samples are shipped via USPS without tracking.

E-MAIL
Please contact us by following the link below.
SUBMIT A REQUEST

PHONE
1-866-620-2008
Call us Monday through Friday 10 am - 6 pm PST
Once you are happy with your order, please proceed to checkout where you are able to review your order and estimated shipping charges before you complete payment. Shipping charges are calculated by the weight and location your order is shipping to.
You will be able to choose from the following options:
Standard Shipping: 4 - 8 Business Days
Expedited Shipping: 3 - 4 Business Days
Priority Shipping: 2- 3 Business Days
International shipping charges are also calculated at the time of checkout. Please note there may be fewer shipping options available to you as the options are based on the destination of your package.
Delivery times begin one business day after the order is placed with a 24-48 hour time frame for processing.This processing period applies to all in stock items and allows for the time needed to manually cut and package your order to ensure it is checked for quality and accuracy before it leaves our facility.
Business days are Monday - Friday, 9AM - 4PM PST. Saturday, Sunday and Holdays are not considered business days.
Sample color chips are sent via regular mail and may take up to a week to arrive.
All goods are subject to prior sale and please feel free to Visit My Order to check the most up-to-date status of your order.
Making a return is quick and easy, you have 30 days from delivery to return the item or items in their original condition (unwashed, uncut and unaltered). Please include a copy of your packing list and once the return is received we will contact you to see if you would like an exchange, a credit to your Fabrics-store account or the monies returned to your original payment method.
Ship Returns to:
Fabrics-store.com
6013 Scott Way
Commerce, CA 90040
HOW DOES FREE SHIPPING WORK?
Take advantage of our Free Shipping offers on orders shipping within the contiguous US on the following days:
Every Monday and Wednesday on orders of $150 or more.
Every day on orders of $1,000 or more.
Your order will be shipped Standard Shipping (4-8 Business Days) with the shipper of our choice. No international orders. Standard shipping takes 24-48 hours for processing. Delivery times begin one business day after the order is placed. This is due to your order being manually cut and packaged to ensure quality.
Please note that some of our darker or more vibrant shades will have some residual dye run off or bleeding. It is important that you launder or treat like colors with like colors so that you do not compromise the integrity of any other colors, fabrics or garments during the launder process.
We also suggest that if you are combining one or more of these types of colors with lighter colors that you pre-wash the linens seperately and once the item is completed do not launder again, but Dry Clean.
Linen
Machine wash cold.
Gentle cycle.
Only non-chlorine. Bleach if needed.
Tumble dry low.
Medium steam iron.
Semilinen
Machine wash cold.
Gentle cycle.
Only non-chlorine. Bleach if needed.
Tumble dry low.
Medium steam iron.