4C22 Rustic Ginger Softened - 100% Linen - Heavy (7.1 oz/yd2) - 20.00 Yards
Price:
$358.20 per item

Sale price:
$322.38 per item (10% off)
GINGER Linen's rich caramel shade filled Kurt Schwitters's art. Made from the ephemera of his daily life in 1920s Germany, almost anything could be thrown into the mix in torn scraps of color and texture.
Through his endlessly complex designs, pushing back and forth in a bid for our attention, the prismatic arrangements of natural, near flesh tones seemed somehow inherently linked to the human experience. Uniting them was the golden-brown of Ginger which created an overriding mood of warmth and familiarity.

At a heavier weight of 7.1 ounces this 57 inch wide 100% linen is referred to as Rustic due to its more textured look and feel. Durable and perfect for projects that require just a bit more substance.
The cloth is Softened so we have added a softener to give it a silkier hand. The fabric has not been laundered so shrinkage will still have to be taken into consideration (shrinkage depends on fabric weave and laundering method).
Fabric specifications:
| | |
| --- | --- |
| Article | 4C22 Rustic |
| Content | 100% Linen |
| Type | PLAIN WEAVE |
| Thread size warp | 11.6 |
| Thread size weft | 11.6 |
| Thread count warp | 38 |
| Thread count weft | 32 |
| Color | GINGER |
| Weight | 7.1 oz/yd2 |
| Width | 57 inch |
Customer Questions and Answers
Best weight for slipcovers
Kathleen • February 8, 2023
We recommend the heavier weight linens our 4C22, IL090 and IL095
Patricia • February 8, 2023
I'm not trying to match the linen I bought with anything soI suppose I'll use what I got, but I was really looking forward to a fabric that was ginger colored. This is brown. It's just brown. It doesn't even pretend to be close to "ginger". I guess I should have read more reviews. It appears I am not alone in my disappointment.
Mary • September 6, 2022
When I ordered this fabric, I was hoping for more of a mustard color. It's not mustard, but has more brown in it. But still, it's a wonderful color! It made into a beautiful apron. (but still hoping for a true mustard:)
Gail • May 25, 2022
This color coordinated with a paisley linen to make a linen quilt! Love the softened quality.
Kathleen • October 9, 2020
I did ask for a sample before I ordered this fabric, With that tiny piece of fabric, I knew it was perfect for my project. I'm excited to get started and know i will be purchasing more in other colors for all the projects that came to mind after receiving and handling this fabric.
Connie • October 10, 2019
Let me preface this by saying I love the look and feel of this linen. However, the color is NOT ginger; it's more akin to cocoa powder, with the barest, often unnoticeable hint of gold, and only in some light. This is not the first shipment I've gotten that is very, very different than the swatch online. A couple of months ago I got a beautiful turquoise...that ended up being a light medium blue. As much as I hate the wait of getting a fabric swatch, I highly recommend it, if color matters. My vision of a ginger colored light overcoat are currently undergoing a massive adjustment in my psyche. (BTW, the three stars are solely because of the color variance from both the swatch and description.)
JoAnn • October 2, 2019
See All >
This was my first order, surely not my last :-) We are homesteaders with a small farm and we do medieval reenactment, viking period. This linen is perfect for any medieval use, beautiful color and a very nice weave. I turned it into a simple, but very elegant viking tunic, here pictured with a wool over tunic. Can´t wait to get more of these fantastic colors that work so perfect for my purpose :-)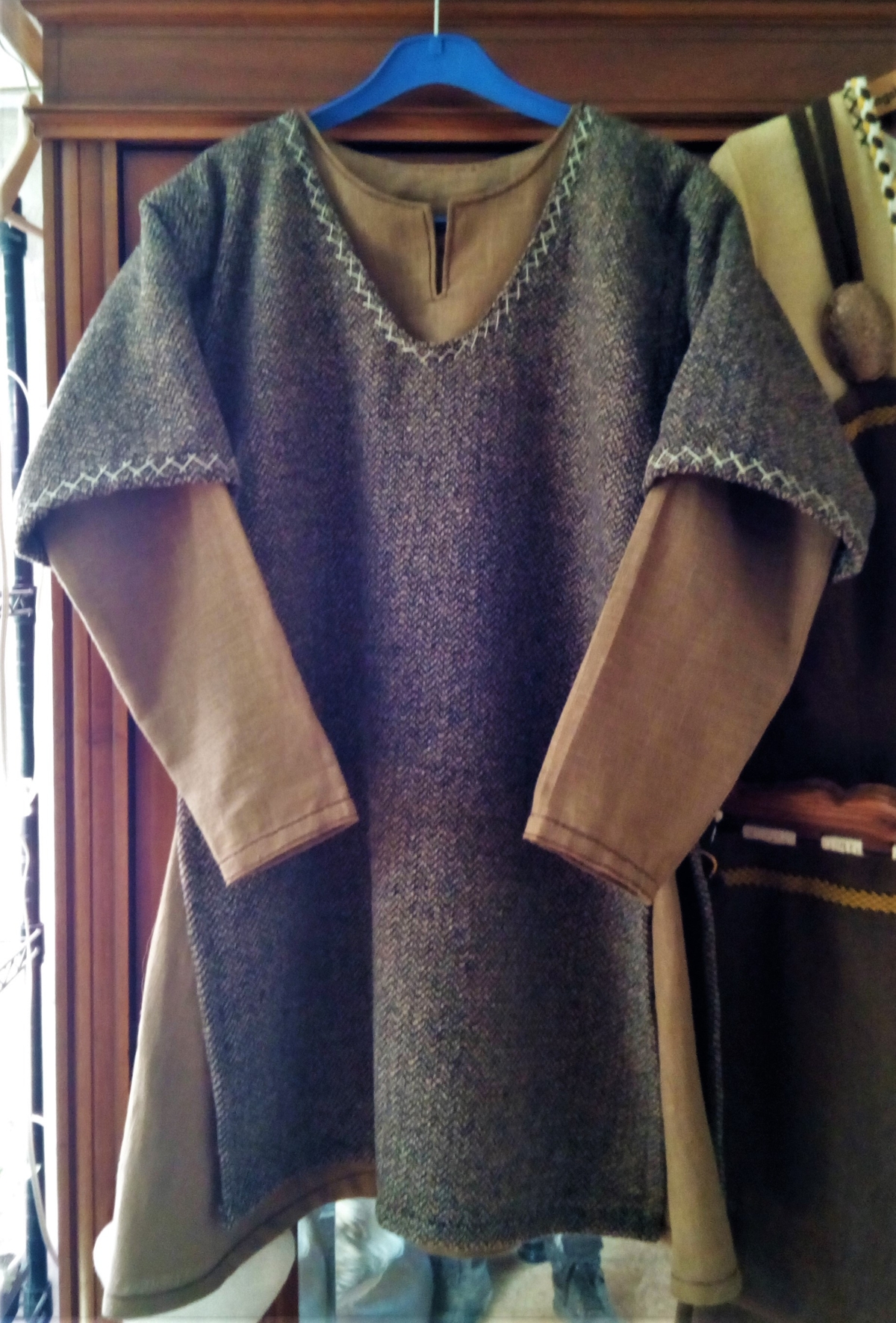 4C22 GINGER Softened 100% Linen Heavy (7.1 oz/yd2)
I wanted a throw for my sofa that would match in color as closely as possible. Ginger turned out to be perfect! I see others have remarked on their perception of the color but for me it can look more ginger-y in some lights and sometimes more of a muted cocoa... but it is definitely a ginger. I thought creating all the fringe would be tedious but it was actually enjoyable and meditative. Now I need to make more fringed items! PS my pillow covers are also made from 4C22 in Rustic Navy ... over 10 years ago! The color and fabric has held up great.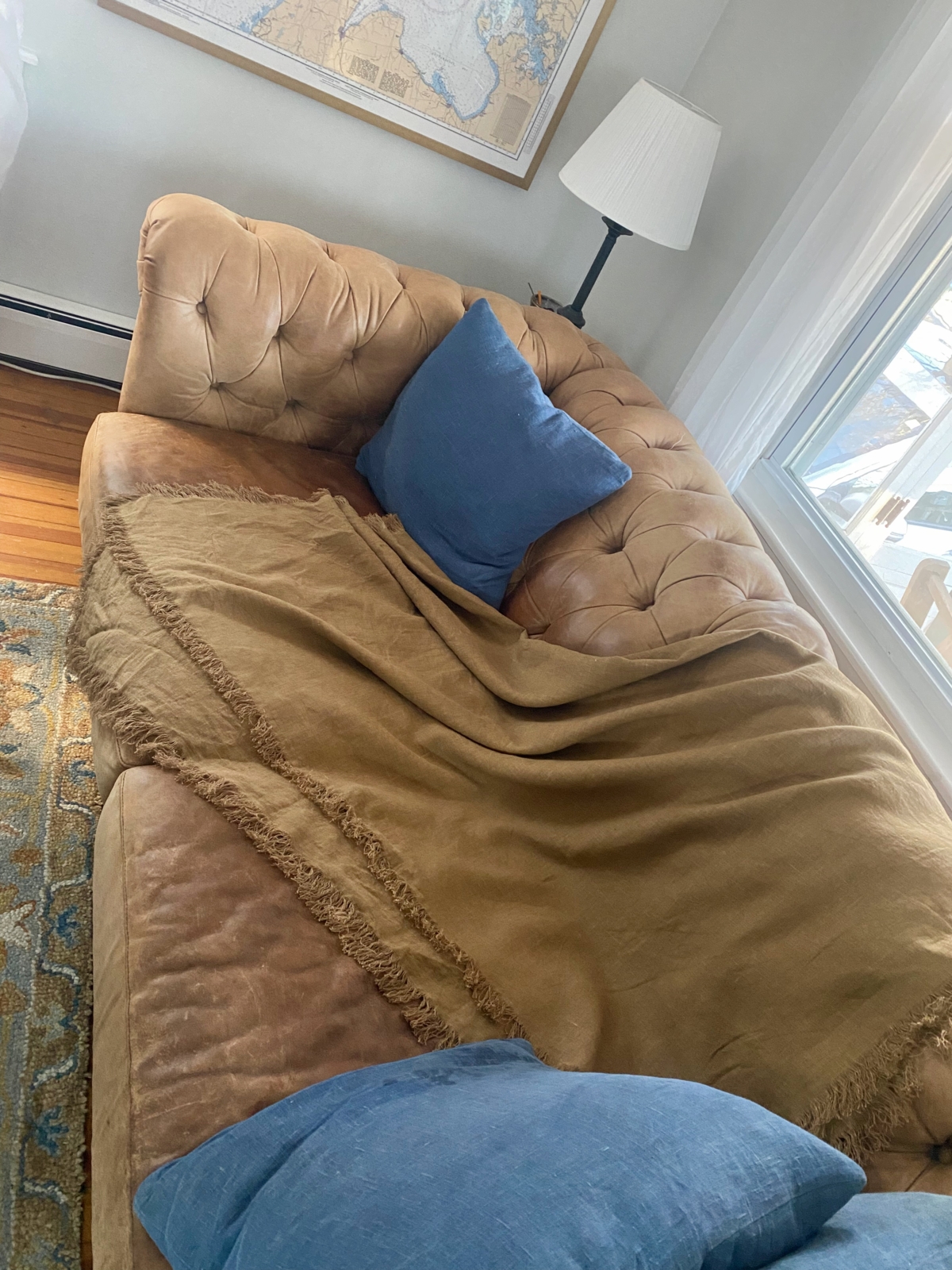 4C22 GINGER Softened 100% Linen Heavy (7.1 oz/yd2)
Whenever I pick a pattern, I always look for a unique, defining feature in its construction. Whether it's beautifully sloping princess seams, a gentle v-shaped yoke, or one shoulder and arm piece for a button-down shirt, I love recreating little details for a high quality garment. The Capucine shirt is no exception.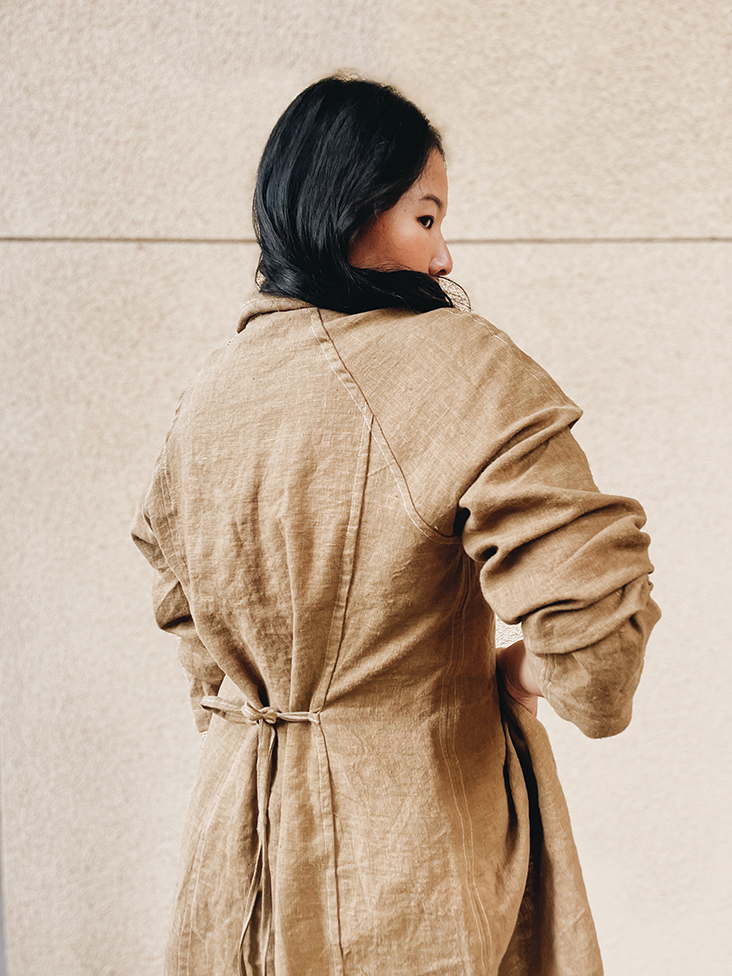 4C22 GINGER Softened 100% Linen Heavy (7.1 oz/yd2)
I used your gorgeous 4C22 ginger linen and the stylearc loungewear kimono pattern. It is divine.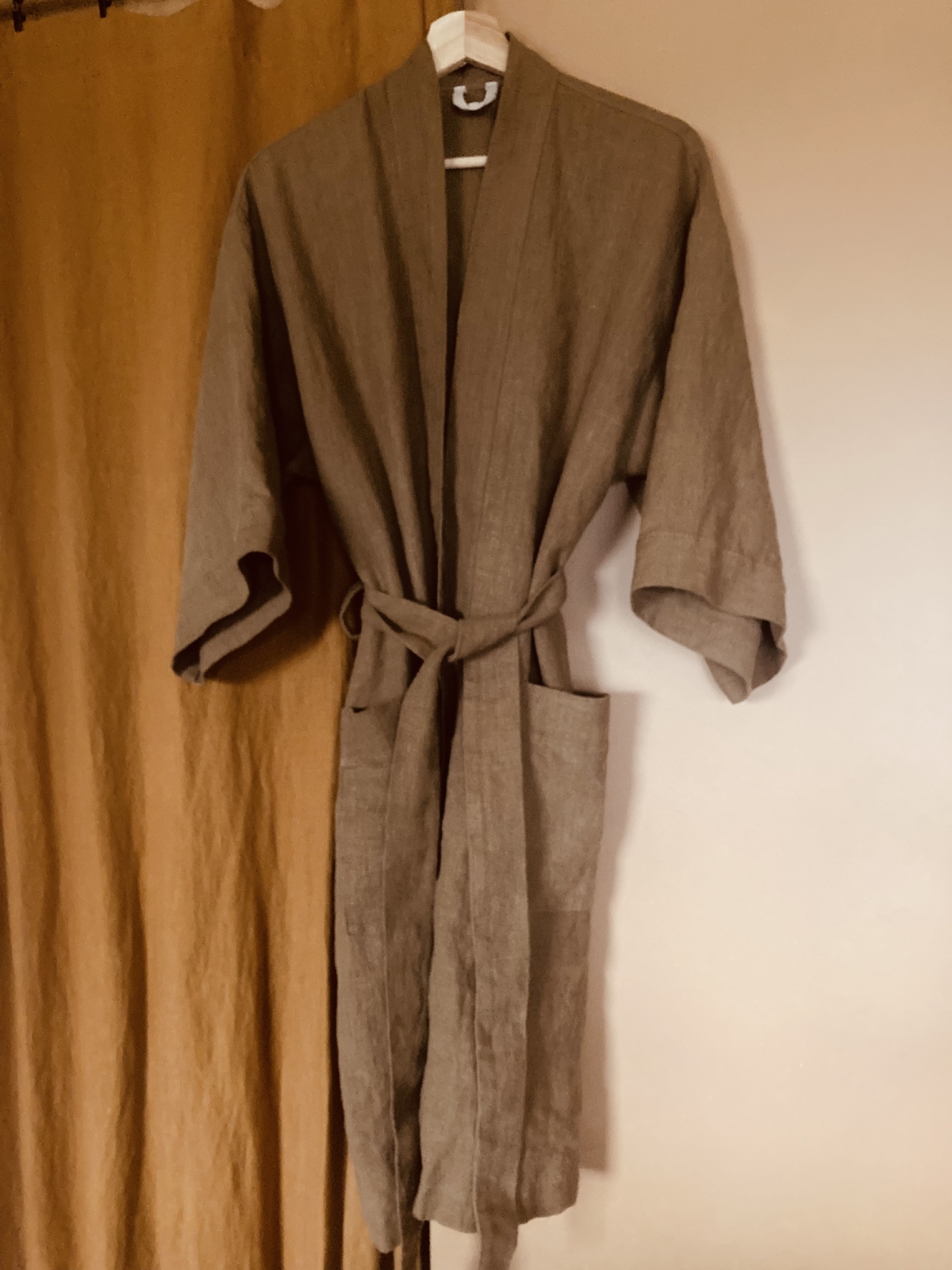 4C22 GINGER Softened 100% Linen Heavy (7.1 oz/yd2)
I used a lot of that heavy weight fabric for my bags that I sell on my Etsy shop ChooseLinen (please check for more of my bags and garments).. I particularly like this color which is definitely not ginger (as many other reviewers mentioned) - I named it "camel". Besides the incorrect color description, the fabric quality is excellent!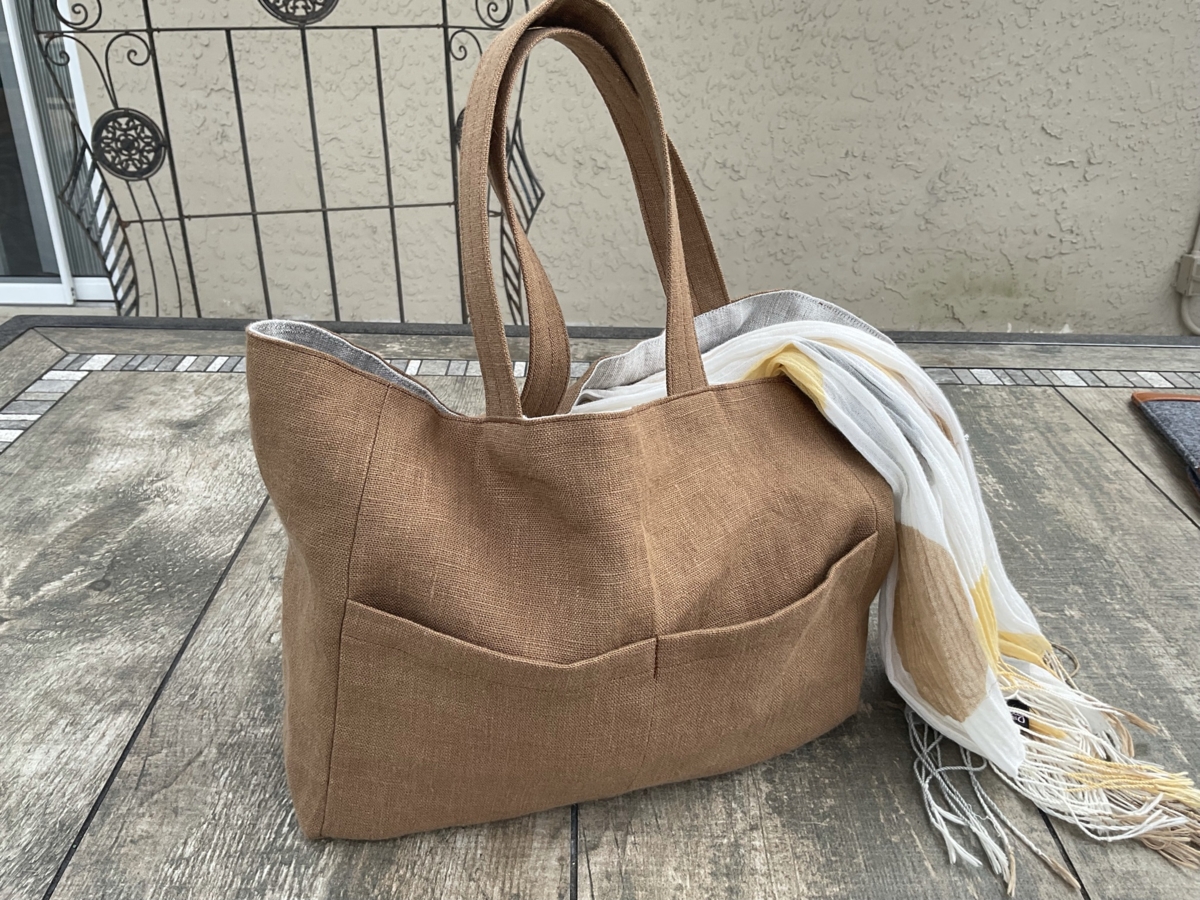 4C22 GINGER Softened 100% Linen Heavy (7.1 oz/yd2)


4C22 Rustic Ginger Softened - 100% Linen - Heavy (7.1 oz/yd2)
Sample Size: 2" x 3.5" (Including Swatch Card)
Free Standard Shipping
* Samples are pre-assembled and may not come from the same fabric bolt you order from. Color may vary. All fabric samples are shipped via USPS without tracking.

E-MAIL
Please contact us by following the link below.
SUBMIT A REQUEST

PHONE
1-866-620-2008
Call us Monday through Friday 10 am - 6 pm PST
Once you are happy with your order, please proceed to checkout where you are able to review your order and estimated shipping charges before you complete payment. Shipping charges are calculated by the weight and location your order is shipping to.
You will be able to choose from the following options:
Standard Shipping: 4 - 8 Business Days
Expedited Shipping: 3 - 4 Business Days
Priority Shipping: 2- 3 Business Days
International shipping charges are also calculated at the time of checkout. Please note there may be fewer shipping options available to you as the options are based on the destination of your package.
Delivery times begin one business day after the order is placed with a 24-48 hour time frame for processing.This processing period applies to all in stock items and allows for the time needed to manually cut and package your order to ensure it is checked for quality and accuracy before it leaves our facility.
Business days are Monday - Friday, 9AM - 4PM PST. Saturday, Sunday and Holdays are not considered business days.
Sample color chips are sent via regular mail and may take up to a week to arrive.
All goods are subject to prior sale and please feel free to Visit My Order to check the most up-to-date status of your order.
Making a return is quick and easy, you have 30 days from delivery to return the item or items in their original condition (unwashed, uncut and unaltered). Please include a copy of your packing list and once the return is received we will contact you to see if you would like an exchange, a credit to your Fabrics-store account or the monies returned to your original payment method.
Ship Returns to:
Fabrics-store.com
6013 Scott Way
Commerce, CA 90040
HOW DOES FREE SHIPPING WORK?
Take advantage of our Free Shipping offer on orders shipping within the contiguous US.
Every day on orders of $150 or more - we will pay for your shipping.
Your order will be shipped Standard Shipping (4-8 Business Days) with the shipper of our choice. No international orders.
Standard shipping takes 24-48 hours for processing. Delivery times begin one business day after the order is placed. This is due to your order being manually cut and packaged to ensure quality.
Please note that some of our darker or more vibrant shades will have some residual dye run off or bleeding. It is important that you launder or treat like colors with like colors so that you do not compromise the integrity of any other colors, fabrics or garments during the launder process.
We also suggest that if you are combining one or more of these types of colors with lighter colors that you pre-wash the linens seperately and once the item is completed do not launder again, but Dry Clean.
Fabric Care
Machine wash cold.
Gentle cycle.
Only non-chlorine. Bleach if needed.
Tumble dry low.
Medium steam iron.
Do not use Perm Press cycle in wash or dry