IC023 Faille Sophie Black / Mlt Softened - 100% Cotton Fabric - Light (4.4 oz/yd2) - 20.00 Yards, Width 59"
EXCLUSIVE -Only At Fabrics-Store
Purchased By:

117 people!
Price:
$359.80 per item

Sale price:
$323.82 per item (10% off)
IC023 is a 59" wide Plain Weave Faille in 100% Cotton.
Faille has the flattened ribbed pattern of grosgrain and the uninterrupted crispy sheen of the silky-smooth surface of Satin. This combination gives Faille the distinctive hand and appearance it is known for - textured, lustrous, luxurious, and crisp.
This cloth has become the fabric of choice for top interior and fashion designers. You have seen it used for formal dresses and gowns; it is also a popular pick for making skirts, blouses, and summer dresses for ladies and girls. Faille has made its name in home textiles and is used for bedding, decorative pillows, and drapes as well.
This fabric is at the higher end of the lightweight categories and weighs a lavish 4.4 ounces a square yard with its remarkable texture and unforgettable feel.
This Faille fabric can be woven from various fibers, but nature-made fibers are far more pleasant to wear and much easier to work with. That's why we made this out of 100% cotton.
FS exclusive hand-painted artwork is printed with the best available machinery, using reactive dye ink that gives long-lasting colors and is not harmful to the body, to transfer these paintings onto 100% Cotton fabric.

We also brought three solid colors: white, beige, and black, to accompany your printed cloth.
Our collection received rigorous Oeko-Tex certification and is a part of the BCI (Better Cotton Initiative) - ensuring that these items are biodegradable, recyclable, and free of harmful toxins or irritants (good for your family and good for the planet).

All designs are created and available exclusively at F|S.com.
The cloth is Softened so we have added a softener to give it a silkier hand. The fabric has not been laundered so shrinkage will still have to be taken into consideration (shrinkage depends on fabric weave and laundering method).
Fabric specifications:
| | |
| --- | --- |
| Article | IC023 Faille |
| Content | 100% Cotton |
| Type | PLAIN WEAVE |
| Color | BLACK / MLT |
| Width | 59 inch |
| Weight | 4.4 oz/yd2 |
| Thread size warp | 68 |
| Thread size weft | 68 |
| Thread count warp | 91 |
| Thread count weft | 76 |
| V Repeat | 24.1 inch |
| H Repeat | 17.3 inch |
Customer Questions and Answers
I have just become aware of these gorgeous floral prints. They are meant to be in my stash. Two share names with two of my sisters, Margaret and Elizabeth. My only question is when will they be on sale? Perhaps that isn't fair. They are all beautiful.
Linda • March 29, 2023
Happy to hear you found them already. We are planning our April sales now and these beauties will be featured in more than one of our daily sales.
Maureen • March 29, 2023
What is the width of the fabric?
Vanessa • April 1, 2023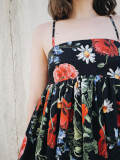 The moment I saw the Sophie floral print fabric which is part of The Fabric Store's new line of Faille cottons, my jaw dropped. The stunningly rich colours of the blooms against the black background reminded me of still-life floral paintings from the Dutch Golden Age. I completely swooned over this new line and all of the FS exclusive hand painted artworks on each textile. These new floral Faille cottons have the flattened ribbed pattern of grosgrain and a smooth surface of Satin. I've never worked with Faille cotton before. My oh my, is it lush! This fabric weighs 4.4 oz per square yard. I could tell it was going to provide the desired volume and structured effect I was after, while still being a lightweight material. I machine washed the fabric in cold water and allowed it to air dry, as I don't plan on ever machine drying this garment. There was very little to no shrinkage after washing and the colours stayed beautifully vibrant. full review here: blog.fabrics-store.com/2023/07/21/big-bold-and-beautiful-a-voluptuous-bubble-frock-in-faille-cotton/
Annie • August 4, 2023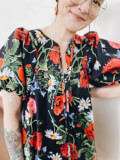 Admittedly, I do not know much about fabric content and the differences between- what is Chiffon vs Silk? Cotton Voile vs Cotton Faille? I tend to stay in the "natural fibers" lane, relying on blanket names like Linen and Cotton to fill my stash and ultimately my closet. Before we get too carried away with what's in my closet, let's address the most pressing question....What is cotton faille? Well, my friends, it's a delightful fabric that combines the softness of cotton with the structured beauty of faille- a distant cousin of twill. The fabric has slight ribbed texture, something I did not expect when I opened my yardage up. At first I thought there was a mistake...luckily, no mistakes were made and I got to experiment with the newest addition to Fabrics Store's printed cotton line.
Caitlin • August 1, 2023


IC023 Faille Sophie Black / Mlt Softened - 100% Cotton - Light (4.4 oz/yd2)
Sample Size: 5.5" x 7.0" (Including Swatch Card)
Free Standard Shipping
* Samples are pre-assembled and may not come from the same fabric bolt you order from. Color may vary. All fabric samples are shipped via USPS without tracking.

E-MAIL
Please contact us by following the link below.
SUBMIT A REQUEST

PHONE
1-866-620-2008
Call us Monday through Friday 10 am - 6 pm PST
Once you are happy with your order, please proceed to checkout where you are able to review your order and estimated shipping charges before you complete payment. Shipping charges are calculated by the weight and location your order is shipping to.
You will be able to choose from the following options:
Standard Shipping: 4 - 8 Business Days
Expedited Shipping: 3 - 4 Business Days
Priority Shipping: 2- 3 Business Days
International shipping charges are also calculated at the time of checkout. Please note there may be fewer shipping options available to you as the options are based on the destination of your package.
Delivery times begin one business day after the order is placed with a 24-48 hour time frame for processing.This processing period applies to all in stock items and allows for the time needed to manually cut and package your order to ensure it is checked for quality and accuracy before it leaves our facility.
Business days are Monday - Friday, 9AM - 4PM PST. Saturday, Sunday and Holdays are not considered business days.
Sample color chips are sent via regular mail and may take up to a week to arrive.
All goods are subject to prior sale and please feel free to Visit My Order to check the most up-to-date status of your order.
Making a return is quick and easy, you have 30 days from delivery to return the item or items in their original condition (unwashed, uncut and unaltered). Please include a copy of your packing list and once the return is received we will contact you to see if you would like an exchange, a credit to your Fabrics-store account or the monies returned to your original payment method.
Ship Returns to:
Fabrics-store.com
6013 Scott Way
Commerce, CA 90040
HOW DOES FREE SHIPPING WORK?
Take advantage of our Free Shipping offer on orders shipping within the contiguous US.
Every day on orders of $150 or more - we will pay for your shipping.
Your order will be shipped Standard Shipping (4-8 Business Days) with the shipper of our choice. No international orders.
Standard shipping takes 24-48 hours for processing. Delivery times begin one business day after the order is placed. This is due to your order being manually cut and packaged to ensure quality.
Please note that some of our darker or more vibrant shades will have some residual dye run off or bleeding. It is important that you launder or treat like colors with like colors so that you do not compromise the integrity of any other colors, fabrics or garments during the launder process.
We also suggest that if you are combining one or more of these types of colors with lighter colors that you pre-wash the linens seperately and once the item is completed do not launder again, but Dry Clean.
Fabric Care
Machine wash cold.
Gentle cycle.
Only non-chlorine. Bleach if needed.
Tumble dry low.
Medium steam iron.
Do not use Perm Press cycle in wash or dry