IL087 - NORMANDY NATURAL/WHITE/COBALT MLT-2 FS Premier Finish
IL087 French Ticking Normandy Natural/white/cobalt Mlt-2 Fs Premier Finish - 100% Linen - Medium (6.8 oz/yd2) - 2.00 Yards
Price:
$65.00 per item

Sale price:
$52.00 per item (20% off)
Only 1 in stock
A visual reproduction of French Ticking that combines classic design elements with a modern color palette and pays homage to the exquisite example of textile manufacturing.
Using a more modern color palette allowed us to coordinate them with several of our most popular solid colors already available in our linen collection. This cloth is woven in the Natural, White, Dark Blue color way. Just look for the matching color names in solid colors, and you will have a shade match to the Ticking.
IL087 Normandy is a 100% linen fabric constructed using long-staple wet combed linen with 32% higher density than our All-Purpose medium weight linen. This fabric has the thickness needed in interior design and to last for ages.
Our design team replicated the unique elements of the French Ticking fabric, a tight herringbone weave and yarn-dyed threads, to bring you an authentic but updated version of the time-honored original.
The dyes we used for the threads make the fabric colorfast and the bold stripe patterns will not bleed onto your main cloth allowing for at-home laundering without issue.
The dyeing of the yarns before weaving the design allowed us to create a vivid contrast of the stripes to the background color and the patterns will retain their true shade, unlike the imitation ticking that uses print to apply the designs.
Normandy collection is a must-have fabric to create French Interiors allowing you to replicate not just the structural architecture but to carry the style throughout the soft interior touches. This fabric design adds soft visual breaks to cottage-style interiors and softens ascetic designs. Design created and available exclusively at F|S.
The Premier Finish undergoes a two-step process to give the cloth a luxurious, supple feel right out of the box.
First, we apply a softener to give the fabric a silkier surface. Then, strong blasts of air are blown into the woven cloth. This beats up the fibers to make them softer and mimics the fiber bending process that the fabric undergoes when you've used it a lot.
This finishing process gives the fabric a much softer and more luxurious hand. It will be less prone to deep creases and have less linting. Shrinkage will still have to be taken into consideration based on the fabric type ( thread size, count, weave type).
Fabric specifications:
| | |
| --- | --- |
| Article : | IL087 French Ticking |
| Content : | 100% Linen |
| Type : | FRENCH TICKING |
| Thread size warp : | 20 |
| Thread size weft : | 20 |
| Thread count warp : | 61 |
| Thread count weft : | 48 |
| Color : | MLT-2 |
| Weight : | 6.8 oz/yd2 |
| Width : | 59 inch |
Customer Questions and Answers
How much shrinkage should I expect after prewashing IL087 in cold water and drying on low (until almost dry) and then pressing? Thank you for any help! --Teresa Moore
Teresa • November 1, 2022
Based on our recommended washing instructions, the shrinkage is 6% in the length and 4% in the width. You will find out washing instructions in our help center located at the footer of our website.
Maureen • November 1, 2022
Hi!When I am calculating my yardage needed to make a table runner, should I multiply that total yardage by the estimated shrinkage? (I plan to buy a little extra beyond that to try to ensure I'll have enough.) Thank you!
Teresa • November 14, 2022
Yes, you would multiple yardage times 7-10% which is the estimated shrinkage based on our recommended wash instructions which you will find at our help center.
Maureen • November 14, 2022
In the past I have ordered many yards of linen fabric from this company. It has always been perfect until my most recent order. The fabric had a one inch area of fringe like damage, near the center line of the piece. Such a huge disappointment! I have sent photos and asked for a reshipment of the same fabric, but have not yet received a response.
Cheryl • December 4, 2022
Maureen
Please note we received the pictures and the email on Friday and we are working on the replacement order. We will email once we have this ready to ship.
I do like this fabric - it's DB IL087 Normandy White/Dolphin Grey - but I already have a bunch, so it isn't what I ordered! I ordered DB IL087 White COBALT. In my last order, I bought a lot of the dolphin grey one, thinking I liked that better and only one yard of the white/cobalt. But I loved it when I saw it so I order the doggie bag of two yards. So I am a bit confused: Looking at my "Orders" it shows that the white/colbalt is "sold out". Yet, you sent me the Dolphin grey? What happened? Thanks.
Jane • August 7, 2022
Beautiful in every way! The exceptional quality shines through making this a gorgeous piece of goods! Really really nice!
A • February 28, 2022
Cobalt table cloth with Rio Red chair cushions and napkins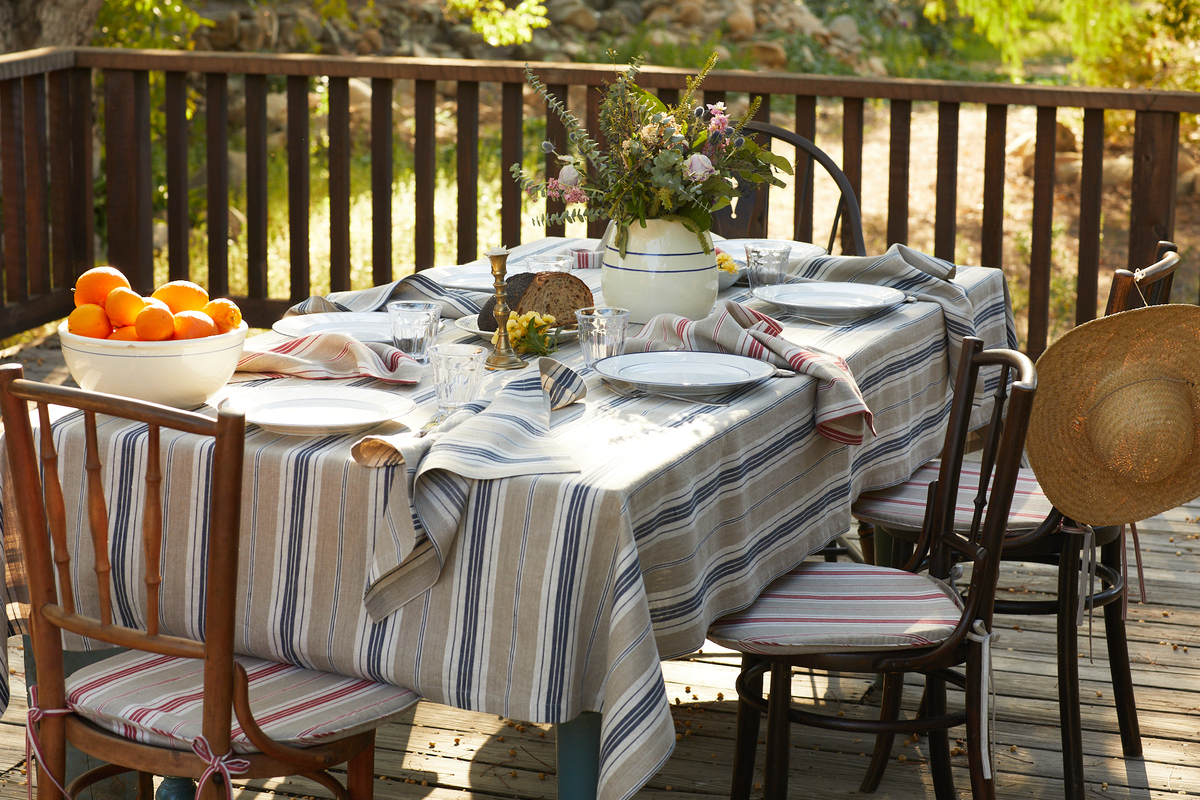 IL087 NORMANDY NATURAL/WHITE/COBALT MLT-2 FS Premier Finish 100% Linen Medium (6.8 oz/yd2)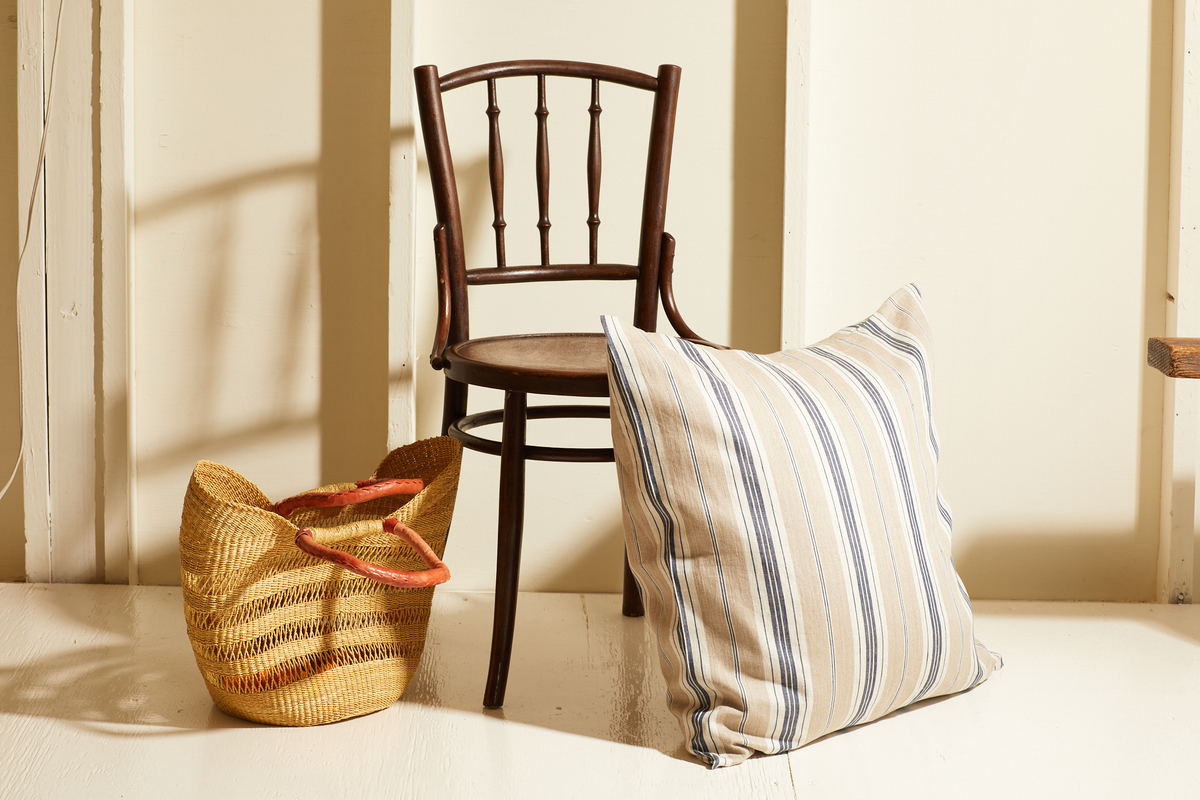 IL087 NORMANDY NATURAL/WHITE/COBALT MLT-2 FS Premier Finish 100% Linen Medium (6.8 oz/yd2)


IL087 French Ticking Normandy Natural/white/cobalt Mlt-2 Fs Premier Finish - 100% Linen - Medium (6.8 oz/yd2)
Sample Size: 5.5" x 7.0" (Including Swatch Card)
Free Standard Shipping
* Samples are pre-assembled and may not come from the same fabric bolt you order from. Color may vary. All fabric samples are shipped via USPS without tracking.

E-MAIL
Please contact us by following the link below.
SUBMIT A REQUEST

PHONE
1-866-620-2008
Call us Monday through Friday 10 am - 6 pm PST
Once you are happy with your order, please proceed to checkout where you are able to review your order and estimated shipping charges before you complete payment. Shipping charges are calculated by the weight and location your order is shipping to.
You will be able to choose from the following options:
Standard Shipping: 4 - 8 Business Days
Expedited Shipping: 3 - 4 Business Days
Priority Shipping: 2- 3 Business Days
International shipping charges are also calculated at the time of checkout. Please note there may be fewer shipping options available to you as the options are based on the destination of your package.
Delivery times begin one business day after the order is placed with a 24-48 hour time frame for processing.This processing period applies to all in stock items and allows for the time needed to manually cut and package your order to ensure it is checked for quality and accuracy before it leaves our facility.
Business days are Monday - Friday, 9AM - 4PM PST. Saturday, Sunday and Holdays are not considered business days.
Sample color chips are sent via regular mail and may take up to a week to arrive.
All goods are subject to prior sale and please feel free to Visit My Order to check the most up-to-date status of your order.
Making a return is quick and easy, you have 30 days from delivery to return the item or items in their original condition (unwashed, uncut and unaltered). Please include a copy of your packing list and once the return is received we will contact you to see if you would like an exchange, a credit to your Fabrics-store account or the monies returned to your original payment method.
Ship Returns to:
Fabrics-store.com
6013 Scott Way
Commerce, CA 90040
HOW DOES FREE SHIPPING WORK?
Take advantage of our Free Shipping offer on orders shipping within the contiguous US.
Every day on orders of $150 or more - we will pay for your shipping.
Your order will be shipped Standard Shipping (4-8 Business Days) with the shipper of our choice. No international orders.
Standard shipping takes 24-48 hours for processing. Delivery times begin one business day after the order is placed. This is due to your order being manually cut and packaged to ensure quality.
Please note that some of our darker or more vibrant shades will have some residual dye run off or bleeding. It is important that you launder or treat like colors with like colors so that you do not compromise the integrity of any other colors, fabrics or garments during the launder process.
We also suggest that if you are combining one or more of these types of colors with lighter colors that you pre-wash the linens seperately and once the item is completed do not launder again, but Dry Clean.
Fabric Care
Machine wash cold.
Gentle cycle.
Only non-chlorine. Bleach if needed.
Tumble dry low.
Medium steam iron.
Do not use Perm Press cycle in wash or dry