IL020 - KRISTA NATURAL Softened
IL020 Handkerchief Krista Natural Softened - 100% Linen - Light (3.7 oz/yd2) - 2.00 Yards
Price:
$34.18 per item

Sale price:
$27.34 per item (20% off)
Only 0 in stock
KRISTA NATURAL linen has the creamy freshness of homemade custard or Cornish cream. British painter Ben Nicholson brought this colour's glowing light into his carefully structured, minimal canvases and relief sculptures, investing them with an intimate warmth that seems somehow instantly familiar.

At a lighter weight of 3.5 ounces this 58 inch wide 100% linen is woven with finer threads to give it a smoother appearance. Referred to as lightweight or handkerchief linen, this fine, but surprisingly sturdy linen brings new meaning to the term "sheer elegance".
The cloth is Softened so we have added a softener to give it a silkier hand. The fabric has not been laundered so shrinkage will still have to be taken into consideration (shrinkage depends on fabric weave and laundering method).
Fabric specifications:
| | |
| --- | --- |
| Article | IL020 Handkerchief |
| Content | 100% Linen |
| Type | PLAIN WEAVE |
| Thread size warp | 33.3 |
| Thread size weft | 33.3 |
| Thread count warp | 57 |
| Thread count weft | 44 |
| Color | KRISTA NATURAL |
| Weight | 3.7 oz/yd2 |
| Width | 58 inch |
Customer Questions and Answers
This fabric is a dream to work with, and perfect for the half curtains I made for a spot where we wanted a little more privacy. Photo snd technical details below.
Sylvia • October 13, 2021
This was the exact color that I was looking for. I'm not a yellow person, so I was looking for a soft buttercream. Perfect.
Susan • June 27, 2021
Perfect sheen snd light hand. Bought to add to stash and have several possible projects in mind. Cocktail napkins, summer pj's with heirloom hem stitching, shirts and cover ups. Also love the service and quick shipping, thanks!
Maria Elena • November 29, 2020
My 81 year old mother wanted a peasant blouse, with long sleeves, to wear to her first trip to a Renaissance festival. The free pattern was easily adapted to make wrist length sleeves and the Palest yellow color complemented her green brocade skirt (purchased at a thrift shop) nicely. As the weather warms up, the peasant blouse may get worn to more mundane events, she found it comfortable in warm humid weather.
Renee • May 19, 2018
for years I had been looking for a blouse to go with a yellow print batiste skirt. This is it! I've made what has become my favorite summer blouse. It also looks lovely with my brown, green and natural linen skirts.
Janet • January 1, 2018
See All >
I used this fabric to make half-curtains for a spot where we wanted a little more privacy. It has just the right level of opacity for this project, snd it was a dream to work with! Using a full width of the fabric for each panel provided just the right amount of fulness (going into a 34" frame for the single window and using two panels for the doubler window). Technical details: the bottom hem is 2 1/2" folded over twice. Side gems are 1" folded over twice, plus the selvage that I was *ahem* too lazy to trim off. The rod pocket is 1 1/2" folded over once, plus 1/4"hem.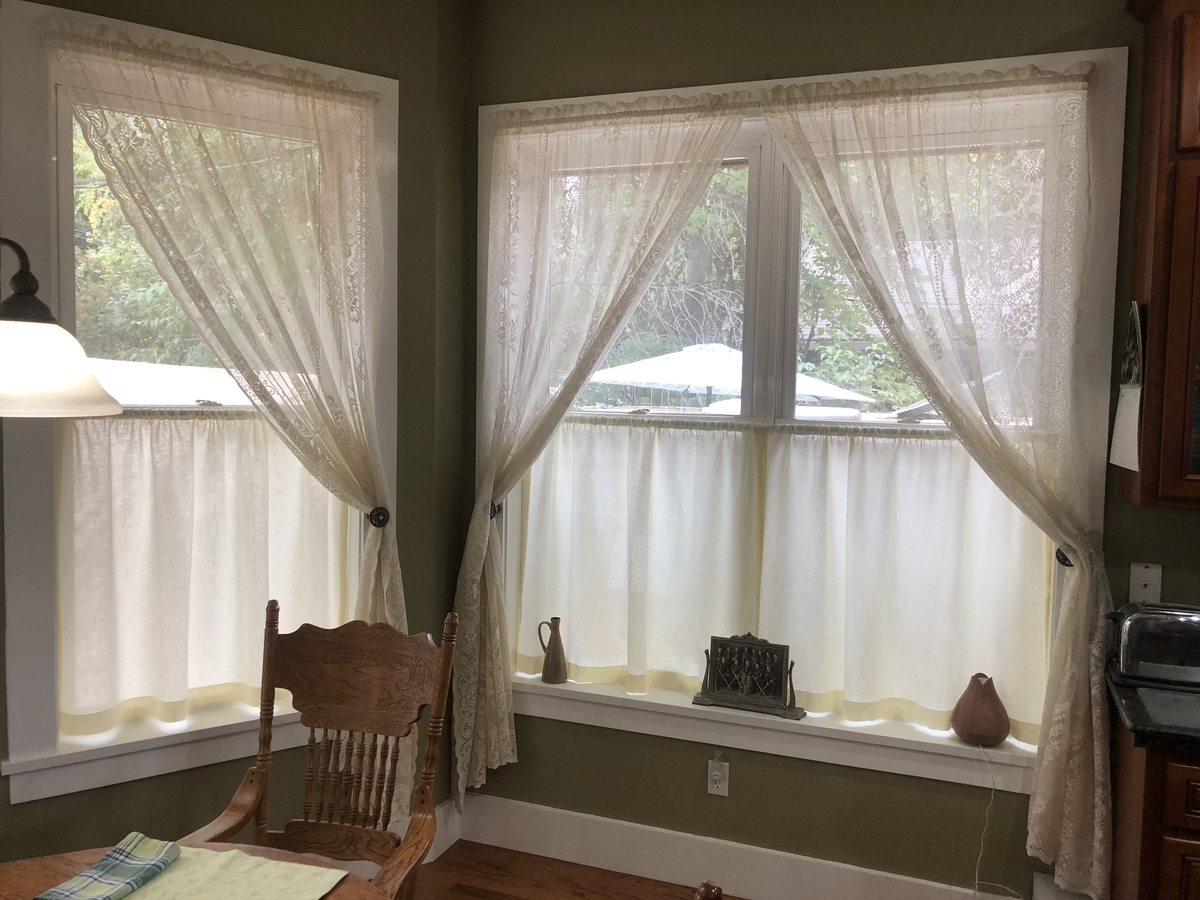 IL020 KRISTA NATURAL Softened 100% Linen Light (3.7 oz/yd2)
Krista Natural handkerchief linen peasant blouse for Renaissance Festival sleeves made longer because Mom wanted them that way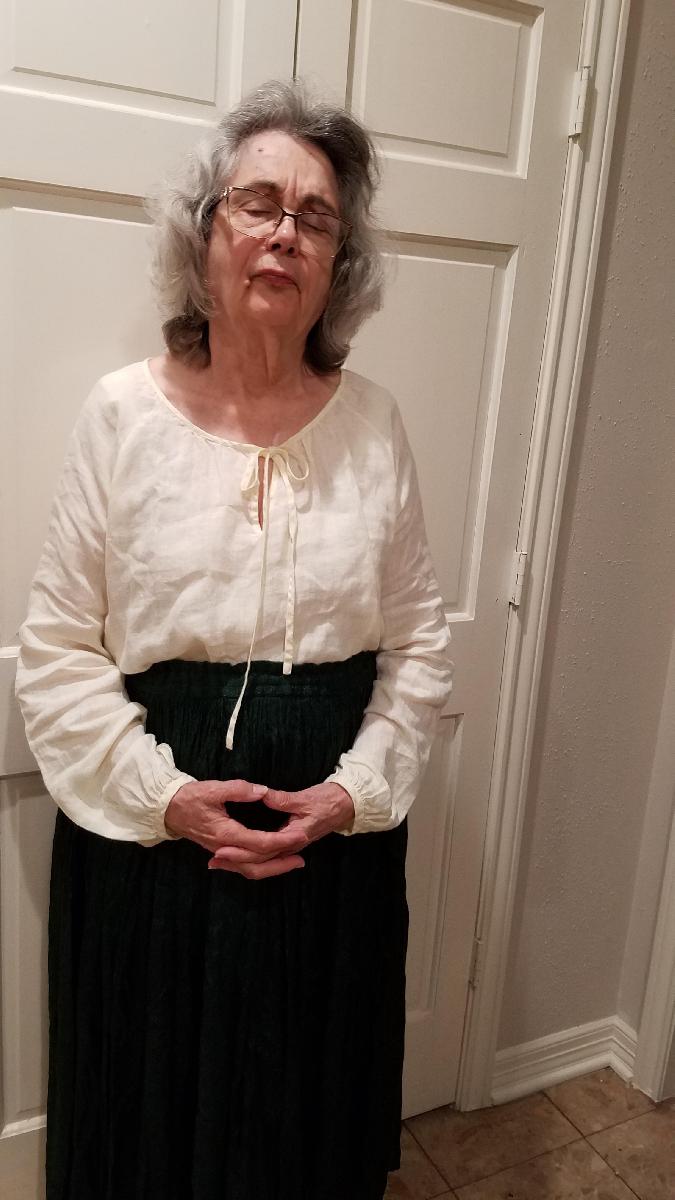 IL020 KRISTA NATURAL Softened 100% Linen Light (3.7 oz/yd2)
Fit & flair princess cut dress. Just love how easy this fabric is to work with and how elegant it looks worked up in finished dress.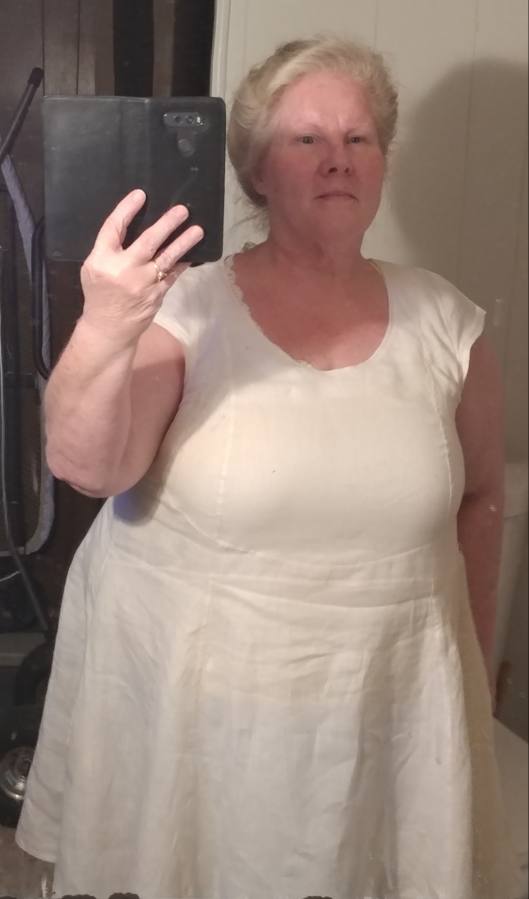 IL020 KRISTA NATURAL Softened 100% Linen Light (3.7 oz/yd2)
I made a pattern from an old pair of pants to make these bloomers out of IL020, Krista. The color is wonderful and the fabric is so smooth and comfortable.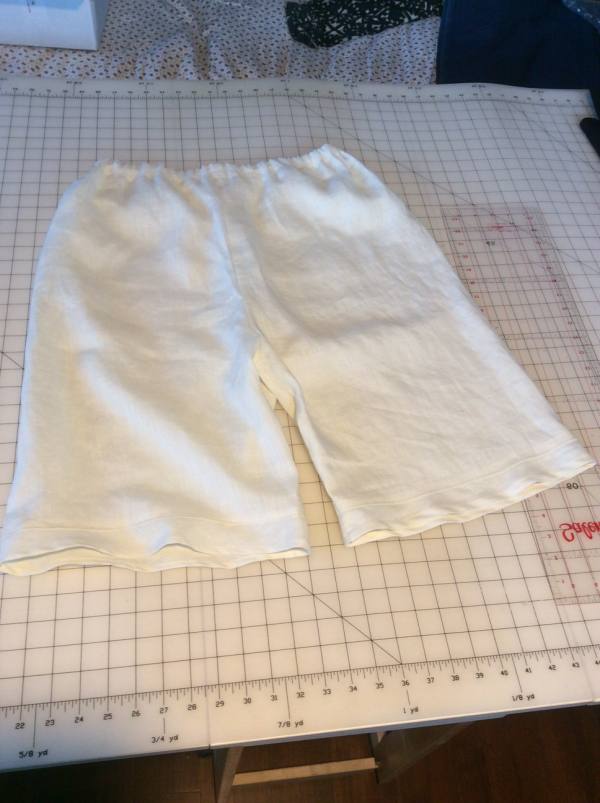 IL020 KRISTA NATURAL Softened 100% Linen Light (3.7 oz/yd2)
I bought a number of the Krysta Natural from the Doggie Bag to make napkins for my daughter. This linen was a pleasure to work with, and this will not be my last project using this linen. I would suggest that you wash it more than once before sewing, as I had to clean lint out of my machine numerous times during sewing. I'll be back for more from Fabrics-Store!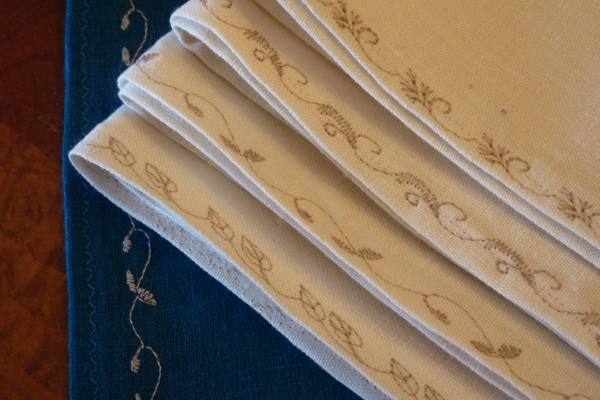 IL020 KRISTA NATURAL Softened 100% Linen Light (3.7 oz/yd2)


IL020 Handkerchief Krista Natural Softened - 100% Linen - Light (3.7 oz/yd2)
Sample Size: 2" x 3.5" (Including Swatch Card)
Free Standard Shipping
* Samples are pre-assembled and may not come from the same fabric bolt you order from. Color may vary. All fabric samples are shipped via USPS without tracking.

E-MAIL
Please contact us by following the link below.
SUBMIT A REQUEST

PHONE
1-866-620-2008
Call us Monday through Friday 10 am - 6 pm PST
Once you are happy with your order, please proceed to checkout where you are able to review your order and estimated shipping charges before you complete payment. Shipping charges are calculated by the weight and location your order is shipping to.
You will be able to choose from the following options:
Standard Shipping: 4 - 8 Business Days
Expedited Shipping: 3 - 4 Business Days
Priority Shipping: 2- 3 Business Days
International shipping charges are also calculated at the time of checkout. Please note there may be fewer shipping options available to you as the options are based on the destination of your package.
Delivery times begin one business day after the order is placed with a 24-48 hour time frame for processing.This processing period applies to all in stock items and allows for the time needed to manually cut and package your order to ensure it is checked for quality and accuracy before it leaves our facility.
Business days are Monday - Friday, 9AM - 4PM PST. Saturday, Sunday and Holdays are not considered business days.
Sample color chips are sent via regular mail and may take up to a week to arrive.
All goods are subject to prior sale and please feel free to Visit My Order to check the most up-to-date status of your order.
Making a return is quick and easy, you have 30 days from delivery to return the item or items in their original condition (unwashed, uncut and unaltered). Please include a copy of your packing list and once the return is received we will contact you to see if you would like an exchange, a credit to your Fabrics-store account or the monies returned to your original payment method.
Ship Returns to:
Fabrics-store.com
6013 Scott Way
Commerce, CA 90040
HOW DOES FREE SHIPPING WORK?
Take advantage of our Free Shipping offer on orders shipping within the contiguous US.
Every day on orders of $150 or more - we will pay for your shipping.
Your order will be shipped Standard Shipping (4-8 Business Days) with the shipper of our choice. No international orders.
Standard shipping takes 24-48 hours for processing. Delivery times begin one business day after the order is placed. This is due to your order being manually cut and packaged to ensure quality.
Please note that some of our darker or more vibrant shades will have some residual dye run off or bleeding. It is important that you launder or treat like colors with like colors so that you do not compromise the integrity of any other colors, fabrics or garments during the launder process.
We also suggest that if you are combining one or more of these types of colors with lighter colors that you pre-wash the linens seperately and once the item is completed do not launder again, but Dry Clean.
Fabric Care
Machine wash cold.
Gentle cycle.
Only non-chlorine. Bleach if needed.
Tumble dry low.
Medium steam iron.
Do not use Perm Press cycle in wash or dry