IL019 - MONUMENT Softened
IL019 MONUMENT Softened - 100% Linen - Middle (5.3 oz/yd2) - 2.00 Yards
Price:
$30.80 per item

Sale price:
$26.18 per item (15% off)
Only 1 in stock
The cold, silvery hue of MONUMENT Linen flooded across French Impressionist Gustave Caillebotte's Parisian scenes, capturing the shimmering, majestic grandeur of the newly built city.
Fascinated by photography, Caillebotte invested the same dazzling qualities of light into his canvases, letting surfaces glisten and reflect with a mirror-like sheen. Refined, sophisticated grey and silver tones were his preferred palette, reflecting the glossy stone, polished surfaces and heavy metals of the refurbished Parisian cityscape that was rising all around him.

At a medium weight of 5.3 ounces, this 100% linen is versatile enough to be referred to as an All Purpose or Do it All linen. With its smooth look and tighter weave, this linen is neither sheer or heavy, but just the right in-between weight you will need for a variety of projects.
The cloth is Softened so we have added a softener to give it a silkier hand. The fabric has not been laundered so shrinkage will still have to be taken into consideration (shrinkage depends on fabric weave and laundering method).
Fabric specifications:
| | |
| --- | --- |
| Article : | IL019 Multi Purpose |
| Content : | 100% Linen |
| Type : | BASIC |
| Thread size warp : | 17.9 |
| Thread size weft : | 17.9 |
| Thread count warp : | 46 |
| Thread count weft : | 37 |
| Color : | MONUMENT |
| Weight : | 5.3 oz/yd2 |
| Width : | 59 inch |
Customer Questions and Answers
What is the best fabric for casual, simple dinner napkins? I don't want to iron them.
Paddy • yesterday
As usual, the fabric is a dream for making costumes and garments.
Maura • July 17, 2022
I decided to make an Assembly Line caftan out of this linen. It feels a little heavier than the other medium weight linens I have purchased but I really love it. I do feel kind of like Gandalf the grey in this and am considering making a wizard hat to go with it. I can not figure out how to add a photo to any of my reviews.
Jessica • July 3, 2021
Add my name to all the fans. Wonderful to work with and feels so good on. Plus the speed with which you filled my order was amazing so I am a fan of F/S as well. Cannot wait to think up a new project
Pat • March 5, 2021
I have to say that I am obsessed with linen right now. It's a good thing that fabric-store.com exists! Monument is a gorgeous color. It does have a blue undertone. What I would call Confederate blue. I made a set of sheets for someone else out of it, and almost kept them for myself! I guess I'm just going to have to wait for the next sale, and make that happen.
Mary • February 1, 2021
I just wanted to tell Rosemarie how cute those pillows are that she did the machine applique and embroidery on.....adorable!! I want to do something like this when I can find the time...thank you for sharing!
Janet • May 30, 2019
See All >
I made the Akira pants and added back pockets. It was so easy to work with! I've now made 4 pairs of these pants with different variations. Since I don't have any hips I like having the drawstring to help keep my pants up! I love the weight of this fabric. Very comfortable and soft!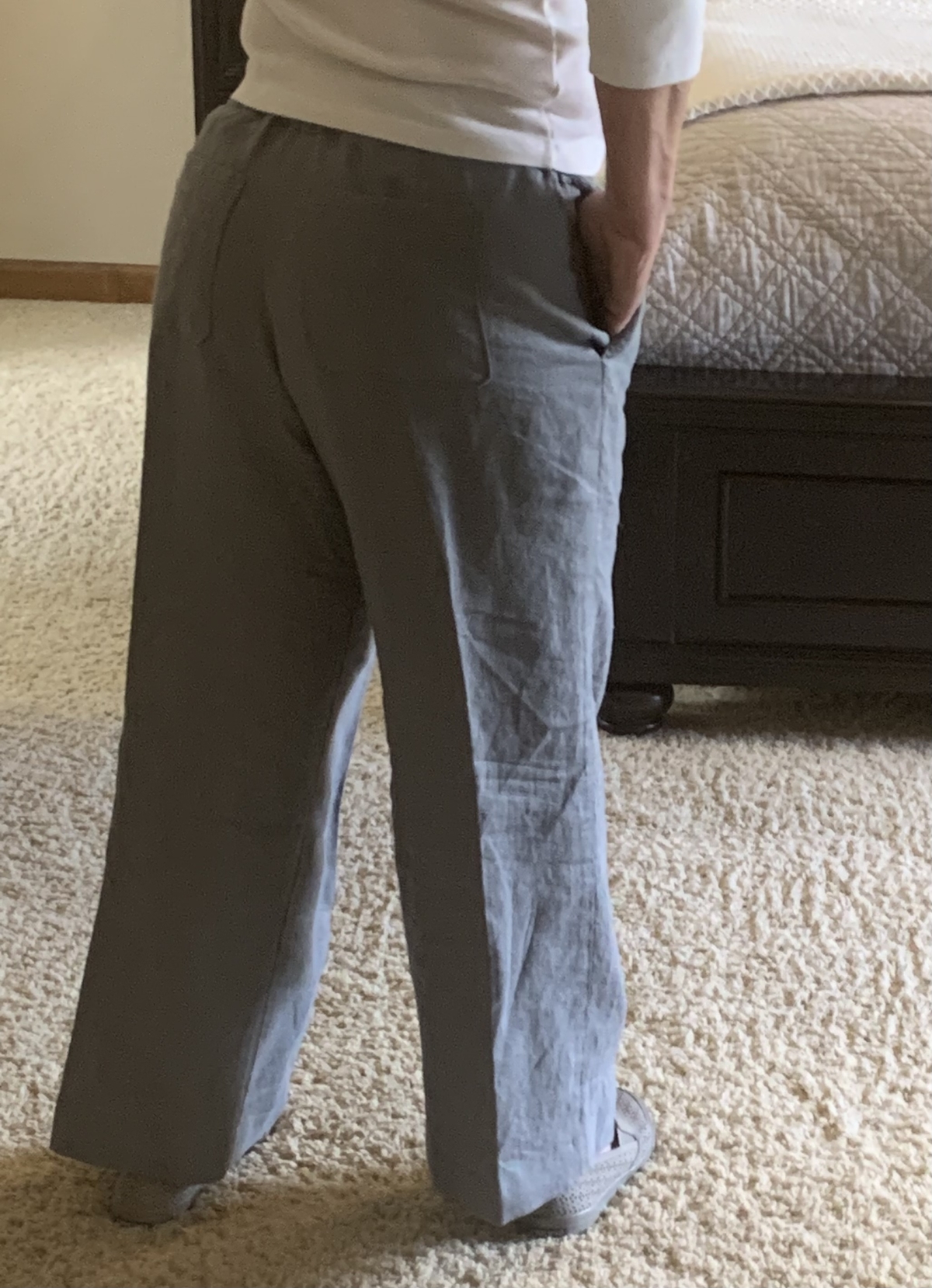 IL019 MONUMENT Softened 100% Linen Middle (5.3 oz/yd2)
This was so easy to sew and feels great on. Cannot wait for the warmer weather or might try it with something underneath.Thinking of making a slightly longer version.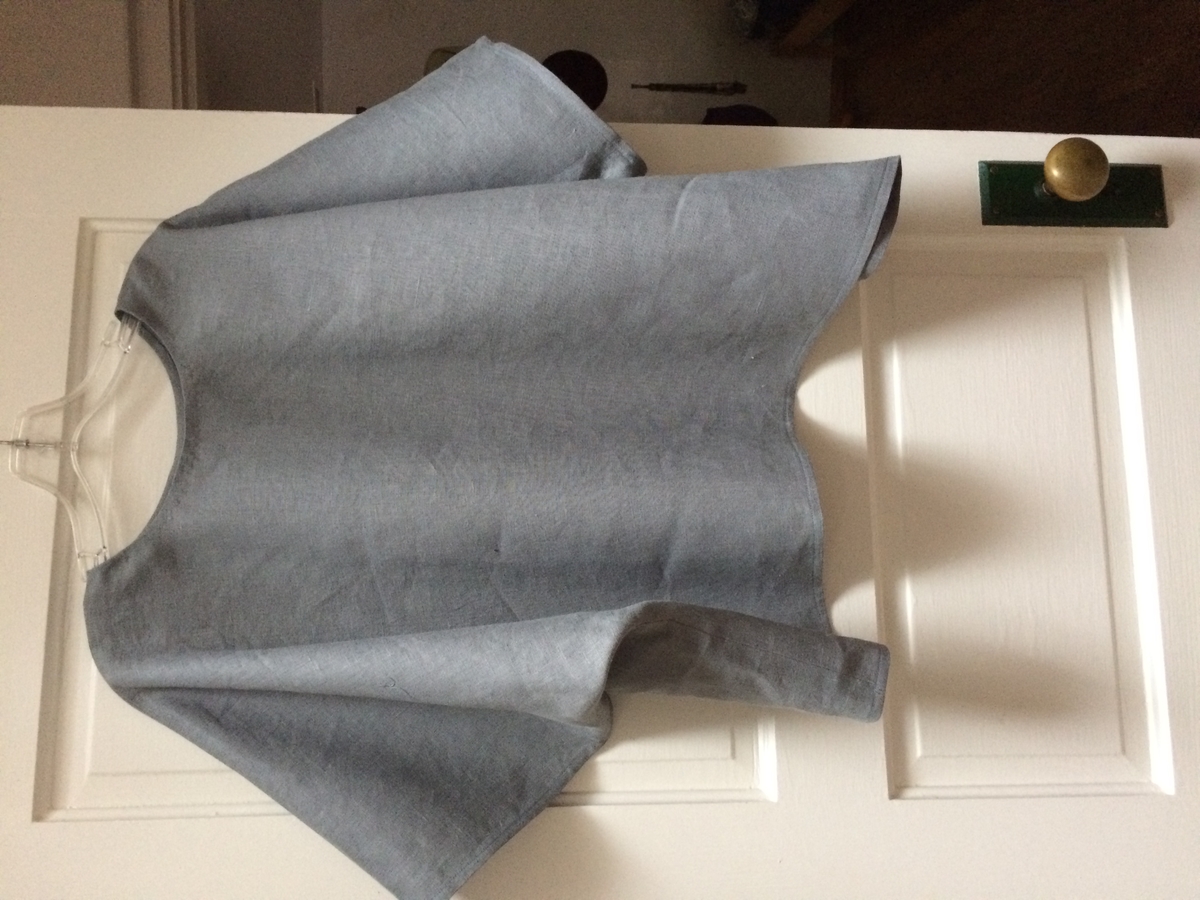 IL019 MONUMENT Softened 100% Linen Middle (5.3 oz/yd2)
Loved using this weight to make this bow tie as a gift for a cousin. This linen was a cinch to sew through!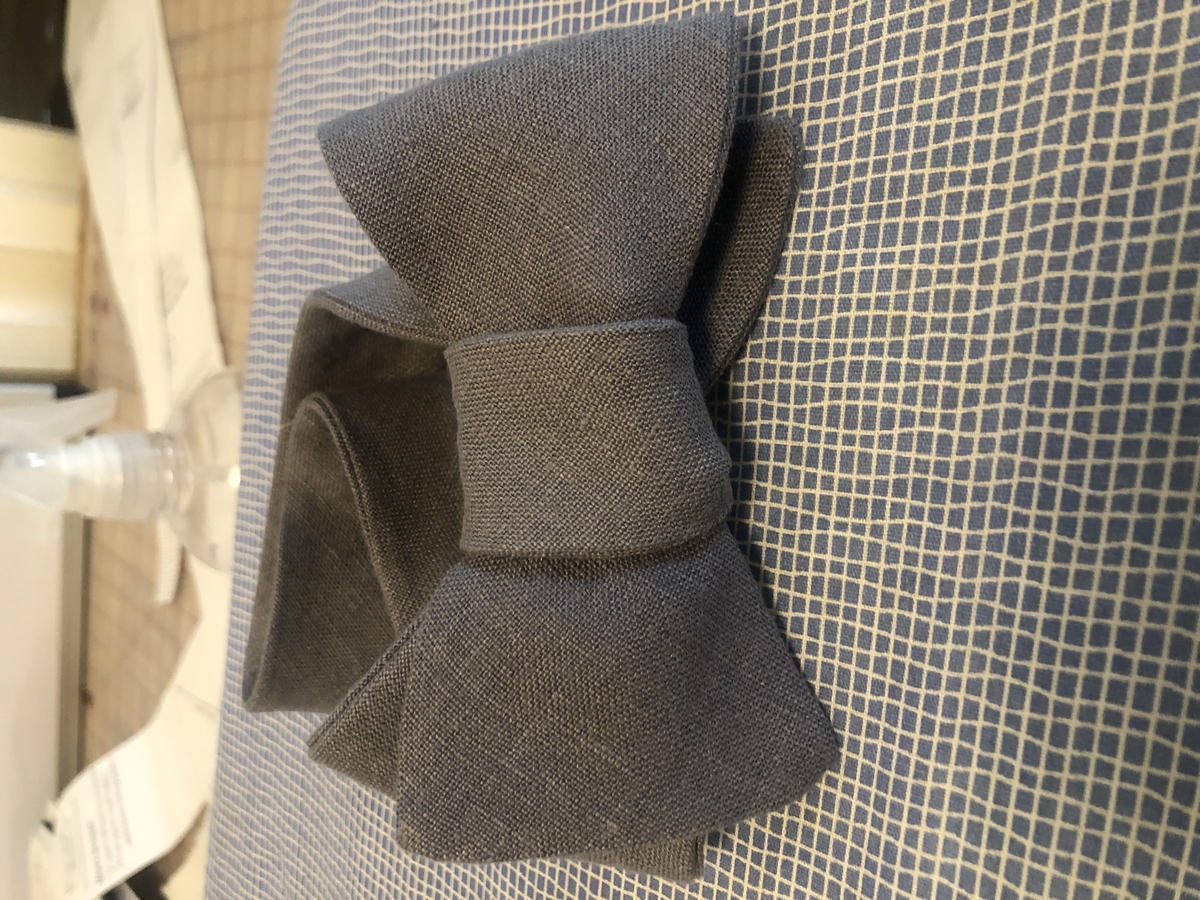 IL019 MONUMENT Softened 100% Linen Middle (5.3 oz/yd2)
Love this fabric but it is definitely a blue-grey and the colour in the photo shows the exact colour once washed. This fabric is fabulous to work with and as it was my first project, I should have heeded the warnings that it would become addictive. My intent is to have my entire wardrobe in linen - I can't get enough. I've got some other projects on the go and will post when done. I "thank you" for feeding my addiction - it's keeping me out of trouble!, although my husband probably wouldn't thank you as much because I just keep buying more! Planning some home decor projects with the jacquards over the fall and winter!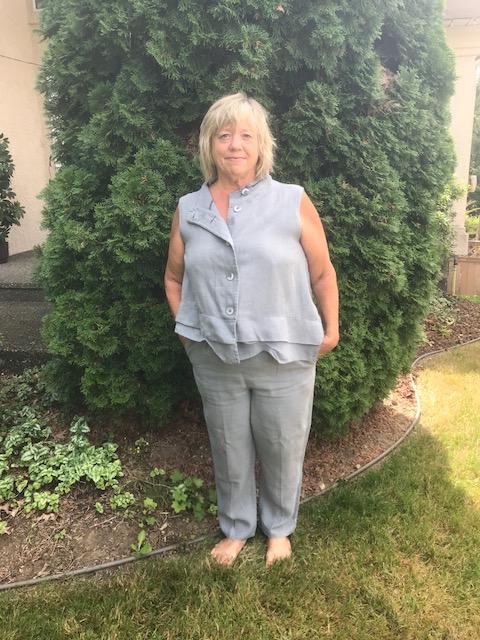 IL019 MONUMENT Softened 100% Linen Middle (5.3 oz/yd2)
Resume Cloak based on Period Armorial of Anton Tirol. Used IL019 Monument for the cloak and IL020 Whisper for the lining.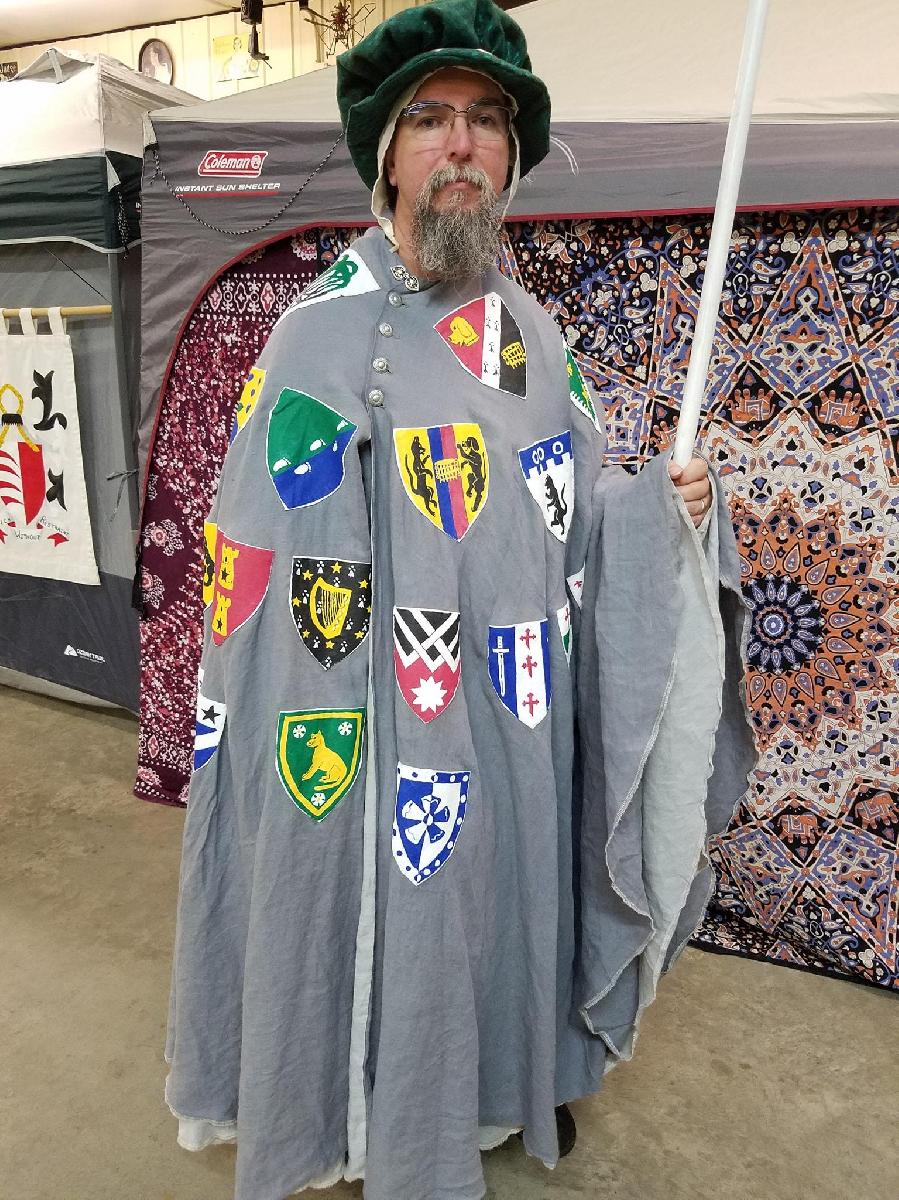 IL019 MONUMENT Softened 100% Linen Middle (5.3 oz/yd2)


IL019 MONUMENT Softened - 100% Linen - Middle (5.3 oz/yd2)
Sample Size: 2" x 3.5" (Including Swatch Card)
Free Standard Shipping
* Samples are pre-assembled and may not come from the same fabric bolt you order from. Color may vary. All fabric samples are shipped via USPS without tracking.

E-MAIL
Please contact us by following the link below.
SUBMIT A REQUEST

PHONE
1-866-620-2008
Call us Monday through Friday 10 am - 6 pm PST
Once you are happy with your order, please proceed to checkout where you are able to review your order and estimated shipping charges before you complete payment. Shipping charges are calculated by the weight and location your order is shipping to.
You will be able to choose from the following options:
Standard Shipping: 4 - 8 Business Days
Expedited Shipping: 3 - 4 Business Days
Priority Shipping: 2- 3 Business Days
International shipping charges are also calculated at the time of checkout. Please note there may be fewer shipping options available to you as the options are based on the destination of your package.
Delivery times begin one business day after the order is placed with a 24-48 hour time frame for processing.This processing period applies to all in stock items and allows for the time needed to manually cut and package your order to ensure it is checked for quality and accuracy before it leaves our facility.
Business days are Monday - Friday, 9AM - 4PM PST. Saturday, Sunday and Holdays are not considered business days.
Sample color chips are sent via regular mail and may take up to a week to arrive.
All goods are subject to prior sale and please feel free to Visit My Order to check the most up-to-date status of your order.
Making a return is quick and easy, you have 30 days from delivery to return the item or items in their original condition (unwashed, uncut and unaltered). Please include a copy of your packing list and once the return is received we will contact you to see if you would like an exchange, a credit to your Fabrics-store account or the monies returned to your original payment method.
Ship Returns to:
Fabrics-store.com
6013 Scott Way
Commerce, CA 90040
HOW DOES FREE SHIPPING WORK?
Take advantage of our Free Shipping offers on orders shipping within the contiguous US on the following days:
Every Monday and Wednesday on orders of $150 or more.
Every day on orders of $1,000 or more.
Your order will be shipped Standard Shipping (4-8 Business Days) with the shipper of our choice. No international orders. Standard shipping takes 24-48 hours for processing. Delivery times begin one business day after the order is placed. This is due to your order being manually cut and packaged to ensure quality.
Please note that some of our darker or more vibrant shades will have some residual dye run off or bleeding. It is important that you launder or treat like colors with like colors so that you do not compromise the integrity of any other colors, fabrics or garments during the launder process.
We also suggest that if you are combining one or more of these types of colors with lighter colors that you pre-wash the linens seperately and once the item is completed do not launder again, but Dry Clean.
Linen
Machine wash cold.
Gentle cycle.
Only non-chlorine. Bleach if needed.
Tumble dry low.
Medium steam iron.
Semilinen
Machine wash cold.
Gentle cycle.
Only non-chlorine. Bleach if needed.
Tumble dry low.
Medium steam iron.