4C22 NATURAL - 100% Linen - Heavy (7.1 oz/yd2) - 0.40 Yard
Price:
$4.36 per item

Sale price:
$1.74 per item (60% off)
Only 0 in stock
Favored By:

17380 people!
At a heavier weight of 7.1 ounces this 100% linen is referred to as Rustic due to its more textured look and feel. Durable and perfect for projects that require just a bit more substance.
Fabric specifications:
| | |
| --- | --- |
| Article : | 4C22 Rustic - Bortovka |
| Content : | 100% Linen |
| Type : | BASIC |
| Thread size warp : | 11.6 |
| Thread size weft : | 11.6 |
| Thread count warp : | 38 |
| Thread count weft : | 32 |
| Color : | NATURAL |
| Weight : | 7.1 oz/yd2 |
| Width : | 57 inch |
Reviewer: Roberta
When I opened the package, the fabric smelled heavenly. I turned under the cut edges and machine-sewed a straight-stitch hem, then washed on hot and dried on the highest heat setting to shrink as much as possible. The linen exited the drier with the most wonderful crunchy texture. I am planning a half-circle skirt, and hopefully will have enough left over for a Christmas stocking. This is the nicest linen I have bought in maybe forever, and I am very glad I did.
Reviewer: Roxy
I have not had a chance to sew this up yet, but, I am glad I bought. It did great in the machine wash and dry, and will make a great light coat. Or, something else!
Reviewer: Wendy
The fabric is lovely, a bit crunchy but I am excited to put it to good use. I have been purchasing washed linen and this wasn't so I am washing and drying with a tennis ball. I love linen!
Reviewer: Lynette
Purchased to make table runners for a post-wedding celebration. Fabric is perfect. I've also used this fabric to make a sturdy harvest/gardening apron. Love the rustic feel and color.
Reviewer: A
Bought quite a bit of this! So far, I've made a Bed Topper. Simply leave the selveges. Cut your beds Length, plus the Mattress Depth on both ends, adding about 20" to amply tuck each end under the Mattress at head and foot. I zig zagged each end to prevent fraying. Washed in cold. Dry partially on low. Hang to finish drying. Or, continue in dryer. This fabric can handle anything! It Is Marvelous!!! I look forward at night, to the Restful Aesthetic of the Soothing Natural Linen as it comes from the field!!! The Taupish Greyish Tanish Colr, Natural, Cool, and No Musty Dampness EVER!!! Just LOVE this Fabric!!! Thank You Fabrics-Store!!!!!
Reviewer: Alice
Beautiful weight and color. I have a couple projects in mind but it is so gorgeous I'm afraid to cut it! I'll get there. I plan on making some shorts, pants and or a skirt.
Reviewer: Cheryl
I plan to make curtains for a bedroom.. The fabric is heavy enough, to get by without a lining but I think the lining would protect the fabric from fading over time. Can't wait to start this project
Reviewer: Christin
I use this fabric to make a tunic for my friend's cosplay, turned out great!
Reviewer: Levia
This fabric was so easy to work with and makes great privacy drapes for the large openings on the patio of my apartment.
Reviewer: Lauren
I bought this to make tab-top curtains for my living room. The weight and feel of the fabric were perfect -- a little rustic-looking and with a nice opacity when the sun shines in. I used the email deal to order 5 yards at a pretty steep discount -- made curtains for ~$60 -- a price that would be unheard of were I to order custom 100% linen curtains. I did not wash the fabric beforehand, since this is not a garment. It sewed up very nicely right out of the box.
Reviewer: Therese
I just posted photos and comments on this heavy natural linen I used on my couch cushions. Wanted to give it 5 stars; both for quality & value. Have ordered other linens from fabrics-store as well and have liked each weight, quality & color.
Reviewer: Alice
I have ordered lots of fabric from this sight! I'm officially infatuated with linen!! A few years ago I had ordered 10 yards of this fabric and loved it! Used it for so many different items. Clothes, towels, masks! When I received my second order I threw it in the wash without even looking at it. When I pulled it out was very disappointed. The fabrics was so nubby. It wasn't the first time I ordered it. When I called to question if it was the same, they said yes. They suggested ordering samples before buying. I don't think I would have been able to tell by a 5" x 7" piece of sample and $5 a sample is a very steep. Now, I'm a little gun shy to order again.
Maureen
I am sorry you were disappointed with the new shipment of our rustic linen. At times this linen can be more rustic or nubbier than previous shipments. If you would like to return it so that you can purchase another item, please send us an email so we can get the return information over to you or if you need us to send you a sample of another item you think would work for you, let us know, happy to send it your way. ,
Reviewer: Barbara
Once washed, dried and ironed, feels beautiful! Can't wait to make an apron and pair of pants! Fast delivery too!!
Reviewer: Judi
The color is so much better than my computer screen shows. OMG! I adore all of these fabrics. I am so in love with them I will keep buying. Just gorgeous to touch, gorgeous to work with, I cannot say enough good things about this fabric and the people who run FS, the shipping is faster than the speed of light. Well packaged, amazing in this time in history to get such quality and wonderful customer service.
Reviewer: Becky
I was quite surprised with the heavy nature of the fabric. I love the ease of cutting and the feeling of the linen on my skin....I really would love some suggestions on how to make it soften up faster.
Reviewer: Jeri
This is quite a heavy, stiff linen when I received it. I washed and dried it twice, and ironed and it softened quite a bit. Looking forward to making some capris and possibly a light jacket. Should be wonderful for the throws I want to sew up too. I received my order in a timely manner. Thanks FS!
Reviewer: Linda
I started with the heavy natural from the Doggie Bags I had so much fun making tea towels that I decided to order larger pieces for aprons. I love everything that I have ordered. I'm so busy sewing that I have not had time to take pictures. I will post some when I do. I'm planning linen shorts for my grandchildren. Again, the Doggie Bags will be used. Thank you for those!
Reviewer: Sharon
I am currently making a pair of culottes from this fabric. I pre-washed, and plan to bind or finish all seams. Make sure you pin your pattern well to avoid issues with the "trembling" of linen. Looking forward to wearing!
Reviewer: Dianne
Just as described. Weight is perfect. Ordering more.
Reviewer: Becky
Was described very well. Nice, heavyweight linen with a rustic look. Exactly what i was looking for. Happy with the quality and feel. Excellent value for the price.
Reviewer: Kimberly
Really nice and soft. Looking forward to using it. Arrived very quickly.
Reviewer: Egle
Very versatile fabric, perfect for so many projects! I just ordered few more yards of it, and made large market bags. They are fully lined, therefore strong and durable. For the lining I used Autumn Gold and Crimson medium weight linen fabric. I sell these bags (and other, also linen ones) on my Etsy shop ChooseLinen.
Reviewer: Mandy
I'm not an experienced sewer, and this was great! I recovered old dark brown sofa pillows with this fabric, and it was perfect. It was easy to work with, and is present to touch, yet sturdy enough for this project.
Reviewer: E
I wanted something chemical free for interior shades and mattress cover in our mini camper. This has more than filled the bill. I took my 11 yards to the local laundromat and their large front loader handled it easily; ran the double wash/ rinse on warm and dried 16 minutes, the minimum, on warm. It was almost completely dry, so I had to dampen as I ironed. I was surprised not to find any lint on the fabric, and it softened beautifully; shrank about an inch in width, don't know about the length. I am layering it with an old wool felt blanket for window insulation and will only need one layer of linen to block the light. Love it. It will be great for hard wearing pants and all kinds of projects. Thanks so much.
Reviewer: Lauren
I purchased this linen to make slip covers for my sofa it is so thick and heavy and lovely. I washed 3 yards of it and ironed them and ironed beautifully. I haven't cut the cushions out yet but this weekend look out! It was such a bargain it was exactly what I was looking for and a price I could actually afford and is going to give me the look that I have been longing for thank you for putting your lovely fabric on sale!
Reviewer: Carolyn
Washing and drying transforms this fabric to the perfect fabric for projects including aprons, bread bags, dry towels, napkins, pillow backs, curtains and smocks. I love this linen and the color is so exactly "French Linen" (think Annie Sloan chalk paint.) Sews up beautifully.
Reviewer: Lisa
I washed this in very hot water and very hot dryer and had exactly 10% shrinkage in length and 1.5 in in width. I just wanted to put this info out there in case anyone was wondering.
Reviewer: Cathy
I softened this linen first and then made towels for us, embroidered with the French themes we love. I know if we'd bought these in France, they would have been pricey!
Reviewer: Barbara
Love the weight and natural color. I made 2 chair cushions, upholstered a foot stool and made a new pin tuck pillow cover. Next: a slip cover for a bergere chair.
Reviewer: Joanna
I made a double weight throw for my bed. I sewed the edges together, turned it inside out, topstitched around the edge, stitched 12" squares over it to hold the two layers together then washed in hot water and dried in a hot dryer. I had expected the fabric to shrink and pucker making the "quilting" stand out, but it did not do that - it is a completely smooth double sheet, and the two sides do not separate even in the large unquilted areas. For future such projects I won't spend time measuring out quilting lines - a few stitches here and there are all it really needs. The thread I used is a perfect match so the quilting and top stitching are invisible. This was a prototype. I am going to make these throws as Christmas presents - perhaps embellished with a little embroidery or some colorful Kantha-style running stitches. The heavyweight natural fabric makes a gorgeous, heavy, rustic throw, and at the sale price, it is a great deal and an excellent opportunity to experiment.
Reviewer: Alison
I purchased this linen to make slipcovers for armchairs in my family room. It is beautiful fabric! I hemmed the raw edges and washed the fabric before use. The fabric became much softer. I had no vegetable matter that others have commented on and the fabric was very easy to work with. The slipcovers came out beautifully and will extend the life of these chairs for a few more years.
Reviewer: Megan
After washing, the Natural version of this fabric (unlike the White which I also purchased,) was filled with raised white stubs, balls and lots of light brown veggie matter. Will try washing a few more times to see if it reduces these flaws, but that will add triple my labor time for a client's job, and if it doesn't work I'll be even more frustrated...
Reviewer: Jodie
I loved working with this fabric. I used it for several projects but my favorite is a handbag. I just finished I used hardware from an old purse and lined it with silk from vintage clothing. This Linen is why my purse looks so crazy expensive!
Reviewer: Theresa
Not very pleased with the quality of this linen, it is not what I am accustomed to from fabrics-store.com. I accidentally bought this natural linen, instead of the softened in the same color and weight, but I figured after some hot washing and drying, over time, it would naturally soften some and work out ok. Unfortunately this linen has a fair amount of vegetable matter woven into it, and the spiky bits will make it uncomfortable to use as the bath towels that I purchased it to make. Those pieces will not soften out. For a 50 cent difference in price, splurge for the softened. Not only is it softer, the quality of the fiber is better as well.
Reviewer: Abby
I washed this 3 times (hot) with Unicorn Clean fibre soft (used for wool) and then made rustic, long, skinny Christmas stockings. They are *perfect*! I want to make a table cloth next. I need something heavy for all our littles to eat on. I may use 4c22 for everything now!
Catina
What a great tip, thank you!
Reviewer: Christie
I made a pattern from my Momma's old jacket. I used this fabric and it turned out amazing.
Reviewer: Jo
Simply WOW! This is the real deal; such a delight for the senses with a soft, slightly earthy aroma, a nice texture and drape, and a sturdiness that you know the made product will last a long long time. And did I tell you how nice it looks? I am making aprons and wine bags, etc for fam and friends.
Reviewer: Jennifer
I loved the fabric for this cardigan jacket, that I made in 4C22 in Natural.
Reviewer: Chris
Too many lint slubs for most artist's use unless you are into REALLY textural effects. For a smoother linen try: IL037 which is even but still rough enough for landscape painting. Or for a smooth linen try IL019 which could be used for either landscape or portrait painting.
Reviewer: Jean
This 4C22 Natural linen is probably going to be my go-to linen for a lot of projects. The neutral color will work with any color. The heavier weight is great for pants, skirts, jackets, crafts, home sewing and practicing sewing techniques. This weight of linen is cool but can also be worn when its much cooler. I just finished making the crisp linen pants from your free PDF with this fabric.
Reviewer: Elizabeth
The sale price hooked me, and the coda is true: you get what you pay for. Sold as heavyweight linen, I would call it medium-weight. There is a lot of debris woven into the cloth. Oddest characteristic: it is very difficult to cut through. I will use it for something, but it isn't up to Fabrics Store's usual quality.
Reviewer: Anne
After researching and reading many of the review comments, I finally took the plunge and purchased 3 yards for towels. OMG!!! They are super absorbent, dry quickly and have a faint smell of freshly mowed grass. (they've been washed 3 times now, and I'm hoping they never lose that smell.) I prepped by washing in hot water , then drying and really didn't see too much shrinkage. I cheated and used the selvages as finished edges and then a rolled hem on each side so the total time to construct was less than 1 hour. They still look really classy! :) Bonus: 2 linen bath sheets take up way less room than a single terry bath towel. Great for reducing laundry loads too!
Reviewer: Sharon
This linen is absolutely lovely. It's EXACTLY as detailed in the description. I was looking for a heavy, rustic linen with which to make bath towels and this material is PERFECT in every way. It does make a lot of lint but linen, by its very nature, is a lint making machine for the first several washings. I can wholeheartedly recommend this fabric and the Fabric Store. I have ordered from them several times and each time they exceed my expectations. Thank you Fabric Store!!!
Reviewer: Judith
I am most disappointed in this linen. It is indeed very rustic looking with lots of slubs and has a Crinkle Cloth look after washing which precludes using the fabric with the warp running sideways as the crinkles run with the warp. But most of all, the LINT. Both washes produced over an inch of lint on the filter of my dryer. I am hoping that decreases as I had wanted to use some of the fabric for dishtowels.
Reviewer: Cynthia
I bought this fabric on special to try. It came neatly folded and smelled of fresh grass. After washing and ironing, it was heavy but soft. I made an egg gatherer apron and plan to make lots more items with my 5 yards. This fabric has a gorgeous hand feel and was a dream to work with. Napkins, towels, are just some Christmas present thoughts.
Reviewer: Robyn
I wasn't sure if this fabric would be soft enough for apparel but to my surprise after a couple washes it is just right for the kimono jacket I made. I really like the weight and feel of this fabric. I make mixed media dolls and this fabric will be great for little bodies and heads. It is also a perfect weight for an apron. It really is a good multi purpose fabric, rustic and lux is how I would describe it.
Reviewer: Janet
I have used this fabric for sashiko embroidery and other types, and it works wonderfully. You can't ever go wrong with any purchase from this company, their fabrics are high quality and incredible. This is a wonderful basic, the natural shade and has so many applications from clothing to bedding. I don't know how I ever lived without my linen sheets and towels!
Reviewer: Amelia
I have had so much fun with this fabric and ended up ordering more after my first purchase. I made bath towels for myself. Absolutely love them, it wicks up the water so fast and doesn't leave me feeling all damp. Also made dish towels and embroidered them..so cute and again, really good at picking up the water. So today I've been asked to make Easter basket liners for my grandsons. I thought the natural heavy linen would be perfect for little boys. I'll try to post a picture of the first one I made. This yardage has been so fun to work with. Truly, so many options!
Reviewer: Tanya
I was excited to get this fabric but once I opened it was very disappointed as it was more open weave and stiff. I cut a piece to try my embroidered picture and it turned out awful. Next time I will ask for samples of linen before I buy even though the price was right!
Reviewer: Barbara
Another great purchase! Used this for slipcovers and a valance. I have never been disappointed with any of my purchases over the years!
Reviewer: Kathy
Love this fabric. Good quality and great color. I will buy it again!
Reviewer: Caroline
Right off the bat I was disappointed. I expected the color to be warm and pleasant; something similar to raffia, burlap ribbon, or even a brown paper bag. Instead, the color is greenish. Very drab. Not a color I want for a tablecloth. Not sure what to do with it now.
Reviewer: Karyl
I used this lovely linen to make a beautiful tablecloth for my dining room table. It has become my favorite. The look is casual and warm, however with the beauty and versatility of this linen, it becomes formal with the addition of runners and table toppers. I am currently using it with a centerpiece of Autumn/Thanksgiving table linens and vintage decorations and I love it.
Reviewer: Sarah
I LOVE this rustic fabric. I cannot wait to dive in and make an apron, to start... my friend who grew up in E Germany said it reminded her of home... and another reviewer said it reminded her of her home in Lithuania. Where is this made? I design and make sustainable garments for women, so details help me and my customers to be informed about their shopping world. TX
Reviewer: Claudi
I have ordered at least 20 yards of this fabric (I think) and have used it for 2 lovely blankets, bread bags and a purse for my shop. I have SO many ideas for this color. The weight is heavier and allows for making items that are more substantial. The fabric washes beautifully and comes out of the dryer or off the line with that delightful texture that is not "perfect" but soft and wrinkled and that feels natural and rustic but relaxed and comfortable.
Reviewer: Lisa
F|S has spoiled me for quality linen! This was my first order and it was everything I expected from linen -- but better. It arrived promptly. It washed beautifully. It even ironed well now that I have purchased a decent board cover and iron. I embroidered a monogram on it with my home embroidery machine, then made it into a carry case for camping hammock, which will be a gift. I have enough left to make a summer wrap skirt and light jacket. Or a lined dress -- although perhaps it's too heavy for a dress(?). I will definitely be ordering more linen from F|S -- I already have a pattern picked out for my next dress. I started sewing again, incidentally, because I couldn't find well-made, simple summer dresses in the stores that were good quality cotton or linen. I stumbled on F|S while searching for good patterns (love the Noir dress!) and I'm going to be a steady customer from now on.
Reviewer: Marina
I made wide leg elastic waist pants, in about an hour, lovely, draping fabric, a pleasure to work with, gorgeous color. The feel is natural, cool, yet, substantial, will buy another portion, this is the perfect weight for 3 seasons in upstate, ny.
Reviewer: Dave
Beautiful. True, classic linen. Does shrink some, edge first to reduce snarling. Heavy duty. Sheets, pillowcases, even ruffles can be made with this.
Reviewer: Anna Marie
I used this linen to upholster a vintage demi corbeille bed. It has a stiff hand out of the box but I'm sure it would soften with washing. For my project the stiffness worked to my advantage so I didn't pre-wash. It's heavy enough to upholster furniture surfaces that are purely decorative - headboard/footboard, cornice, etc. I wouldn't use it to upholster or slipcover a chair/couch or ottoman. Fingers crossed I can figure out how to add a photo. I'd love to share how beautiful the bed turned out!
Oksana
Oh wow that's a beautiful headboard! Great job! Love the decorative border :)
Reviewer: Kim
Sturdy and easy to work with. I would not wear this as a top next to my skin but would as a pair of pants. Great for all kinds of projects where durability is necessary. Tighter weave, more primitive hand, stiffer drape. Would make a nice jacket, over dress, bags, curtains etc. This would certainly softened as flax always does with wear and washings.
Reviewer: Kim
Love this linen. Cannot wait to use it to make tops, pants, dress and whatever else. It drapes nicely, has a sturdy hand, not too much shrinkage, irons out well, perfect thickness for tons of project including bags and embroidery fabric. Fun stuff!
Reviewer: Niki
This is a smooth finish without the nubby feeling on so many linens. Nice, heavy, will work perfectly for some beachbags I'm planning.
Reviewer: Patricia M
I purchased this intending to make a pair of pants, but feared it would be too loosely woven and lacking in body for tailored pants, but I needn't have worried! After washing, it had wonderful body and a better hand, and the weave is not at all transparent. My coloring is sallow, and this is a good neutral.
Reviewer: Jason
As a medieval reenactor, it is vital to use period (or equivalent) fabrics, whenever possible, to ensure the garment you're making will have the right look and feel. This linen is where it is at. Get some, you won't regret it. Heck, buy a lot of it! You still won't regret it!
Reviewer: Anonymous
I've been using heavywight linen with the kaftan dress pattern to make it more versatile for use as a tunic for cooler weather. The natural linen worked well with some of the striped canvas as trim. I applied the canvas in a downward V from the neckline ending at the hips, left open for several inches at the upper edge for pockets. It has become my favorite dress/tunic. After several washings, the linen has softened nicely. The heavily textured canvas makes a nice contrast to the somewhat smoother heavyweight linen. I get a ton of compliments on it.
Reviewer: Martha
This fabric far exceeded my expectations. For some time I longed to buy a piece of linen. Finally, a sale and enough money to buy 2 yards. I will be making a tailored skirt and a pair of summer slacks. I love the softnnes and clarity of the color and the feel of the fabric is just wonderful. Any scraps too small for a garment or a towel will not be wasted. I am a quilt maker and this fabric will have an honored place in my quilting fabric! I am already deciding which one I will buy next!
Reviewer: Linda
I first bought this to make bath and tea towels. They are wonderful. I had some left over and I used it as lining in a handbag, it was awsome. Now I use it for lining in all of the handbags I make I make. The color goes with everything, the color is light enough that you don't feel like you are looking into a black hole when you open your handbag to look for something, but the color is dark enough that it doesn't show any dirt that might get on the lining. Best of all, this weight means I don't have to interface it, and that means I save on my costs. Perfect!
Reviewer: Vickie
Made a simple dress with vintage crochet pockets, laces and one of your plaid linens. Love this, after a few washes it is soft and comfortable.
Reviewer: Judy
I was uncertain after receiving and washing this several times, however, I used it to make new bath towels and I absolutely love them. Texture and roughness is really perfect. It washes and straight from the dryer, slightly damp and it is wonderful.
Reviewer: Anonymous
I used this fabric to make bath towels with mitered corners and 1.5 inch hems. They are beautiful and dry very quickly. Also made a set of hand towels. Lovely material to work with and washed up great - no lint.
Reviewer: Janet
I purchased this fabric to make a tablecloth. I loved it as soon as I opened the box and saw it, but I loved it even more after laundering. For shrinkage purposes, I washed and dried it before sewing. It handled beautifully and made lovely mitered corners. I plan to purchase more to make shower curtains and window treatments.
Reviewer: Denise
Just used this to make a 2-sided medium weight blanket for queen bed...I used IL019 Antique white for the "inside" as it's smoother and softer. Came out beautifully. Now for some cooler weather to try it out.
Reviewer: Linda
I purchased the fabric for home dec. reasons. After reading the reviews I will wash the fabric for the expected shrinkage of a natural product. Plan to do many embroidered designs for decorator pillows for my shop. Fabric-Store my wish would be for a discount sale on the 4Cxx products as with the light weight products.
Reviewer: Anonymous
..but it could be used for so much more. I really love this fabric. I originally bought it for proofing bread, but I had enough I made a couple tea towels for the kitchen. Great fabric, and it could have so many uses. If you are eyeing this linen, go for it. It is a bit stiff/scratchy at 1st, but one or two runs through the wash (it does shrink a bit) and it is very soft.
Reviewer: Janice
I made 24 bread storage bags to donate to a local young business woman / veteran that just opened a Bread and Breakfast. She was THRILLED. The fabric was far superior to what a bought locally. I will be buying tons more. I love the natural linen which fits in nicely with her "farm to table" theme.
Reviewer: Kim
I m planning to make slipcovers out of this linen and wanted to see the color in person and also see how much it shrinks. Love the color. It shrinks ALOT which I expected. Washed it 3 times and it shrunk each time. Think I'll do a couple more washes. I like the wrinkles after washing. I would like it to have been a little heavier weight, but feel it will hold up well anyway
Reviewer: Anonymous
Love this fabric. I've used it before for drapes. This time I made table cloths, napkins and smaller cocktail napkins. It holds its shape well.
Reviewer: Diana
Have made 3 garments it is absolutely fabulous. Two jackets for my teenage grandaughters and a pair of pants for myself.............definately addicted !
Reviewer: Alexandra
Beautiful linen fabric, perfect color and texture for my curtains. Easy to sew. Great price. I love linen, and this is heavy and perfect for curtains.
Reviewer: Anonymous
I found this fabric to be very dirty and very linty. I washed and dried it 4 times before cutting it out. I also gave it a good shake between washings to eliminate some of the fuzz. I used it to cover papasan chair cushions and they look fine. I was afraid of the fabric "shedding" lint onto clothing, but that is not a problem.
Reviewer: Anita
I designed a line of linen home decorative accessories with this linen. We have place mats, table runners, dinner napkins and cocktail napkins, kitchen towels, fingertip towels and tissue box covers. All are made from this rustic natural linen with a hand stamped design on them. I have a long heritage of family grown and manufactured textiles. My mother's family comes from Lithuania and they grew flax and processed it to create fibers to weave into heirloom textiles. This linen reminded me of her homeland, so organic, that I had to use it for my line to carry on my family's heritage. We sew the piece with the fabric off the bolt which helps, with the sizing, to crease the fabric for the sewers. We then wash it to soften the fibers and prepare them for the fabric paint. The designs are then hand stamped with rubber stamps onto the fabric and allowed to dry. After they dry we heat set them with a hot iron. The linen has a very relaxed look after washing and the stamps add a very "farmhouse chic" look to the products. It is a very usable linen for everyday use because of the relaxed nature of the weave. I've use this linen for drapes, bed linen, upholstery. The perfect look for a natural and sustainable lifestyle. I endorse all the environmentally friendly aspects of this fabric when I sell it. It is a truly "green" fabric and a 100% sustainable textile to use in your eco friendly way of life. And it is just a beautiful fabric. Enjoy!
Reviewer: Krislyn
Worked pretty well for stretching canvas. This linen stretched pretty well with a pair of canvas pliers. I paint in oils and this linen creates an interesting slubby surface. If you like a smoother texture check out: DB IL019 which is a lighter oz mix.
Reviewer: Kimiko
I used this fabric to interline my husband's renaissance doublet. It's weight worked very well for the job, and it wasn't stiff. I used a nicer white linen (IL019) for the lining. Because both were linen, his doublet is comfortable to wear, even with the outer layer being black cotton velveteen. The fabric is a bit slubby, but it is a good weight and works well for what I used it for. If you need a stiffer linen, I would look for a different heavy linen.
Made FS Charli pillow covers using the envelope style closure in 4C22 NATURAL and OLIVE Heavyweight Linen. I prefer this method since it does not require any hardware, special sewing machine foot, etc. I can usually sew up some pillow covers in a few hours with materials I already have on hand. You can find the pattern here: fabrics-store.com/sewing-patterns/charli-linen-pillow-cover-patterns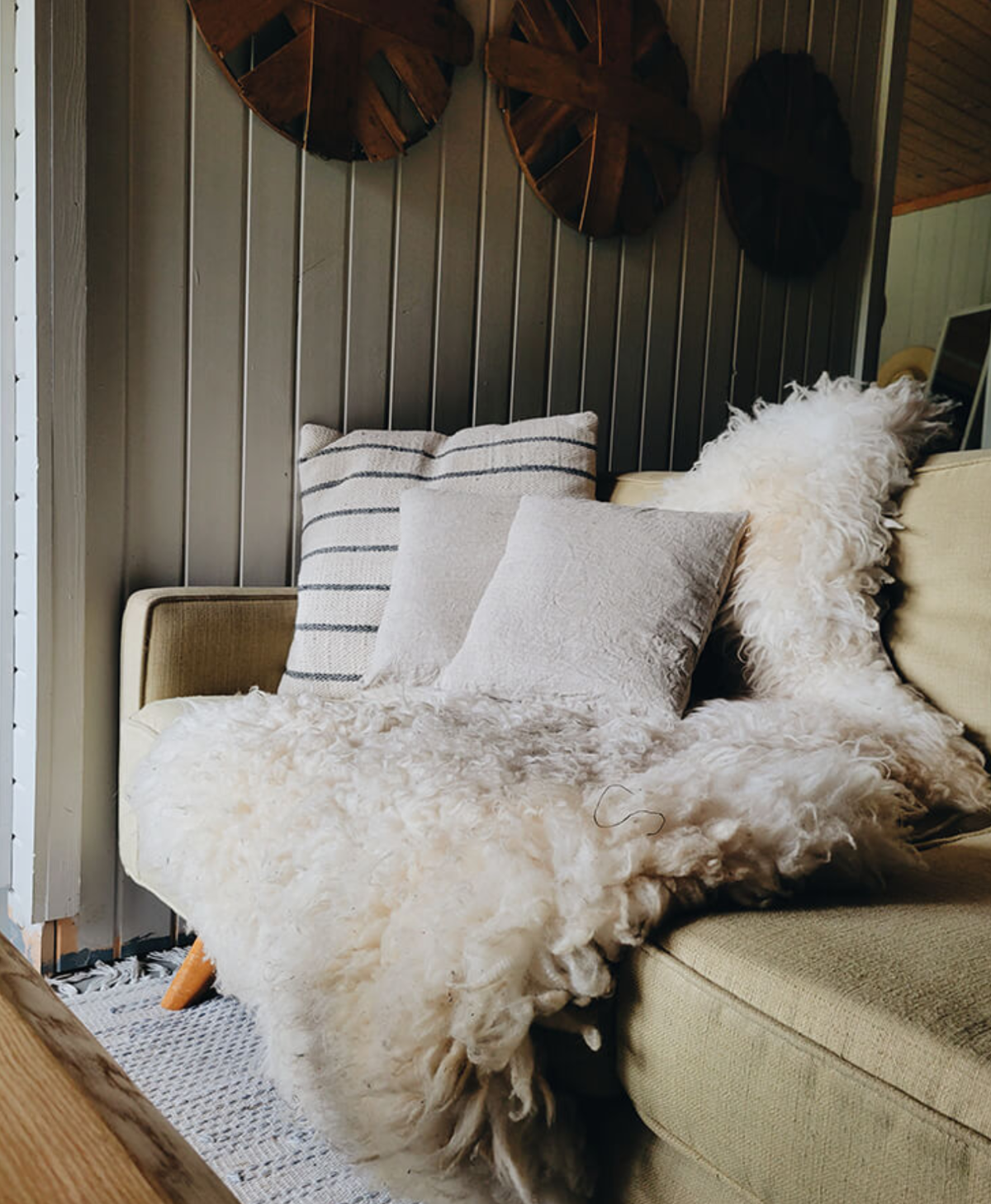 4C22 NATURAL 100% Linen Heavy (7.1 oz/yd2)
I finally completed my project using yards of 4C22 Natural. I was refurbishing our log cabin for rental use and needed drapes that would let in more light than the existing ones . The fabric was nice to work with and exactly what I needed for the drapes. I finished them off with a cornice I made using a very old worn Persian carpet . It added just enough color and interest to the linen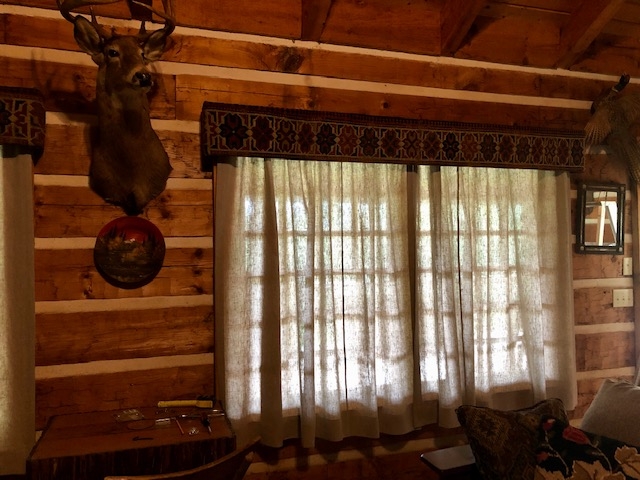 4C22 NATURAL 100% Linen Heavy (7.1 oz/yd2)
Rustic linen tab-top curtains. Pic looks a little distorted, but you get the idea!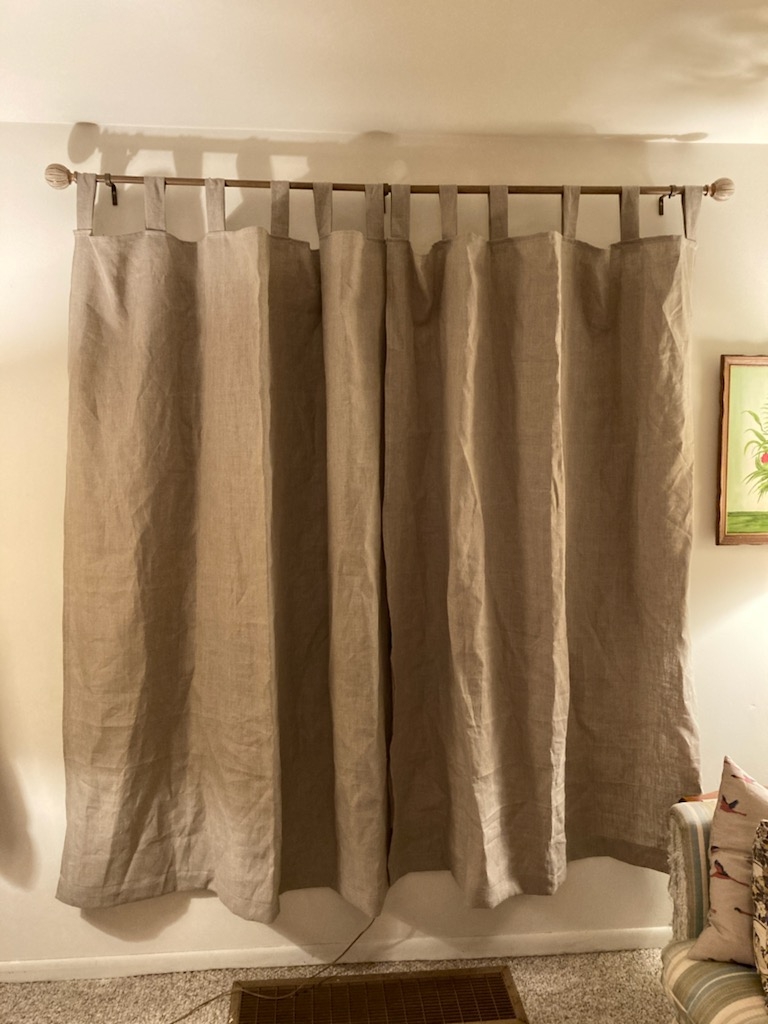 4C22 NATURAL 100% Linen Heavy (7.1 oz/yd2)
I made these pillow covers, envelope style, for my outside porch. Perfect use, exactly what I had envisioned.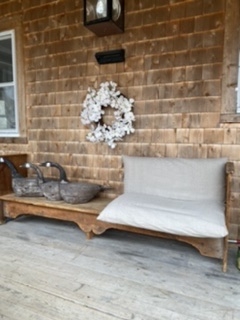 4C22 NATURAL 100% Linen Heavy (7.1 oz/yd2)
This is a close up of the fabric that I just posted for my wicker couch cushions. Closeup view.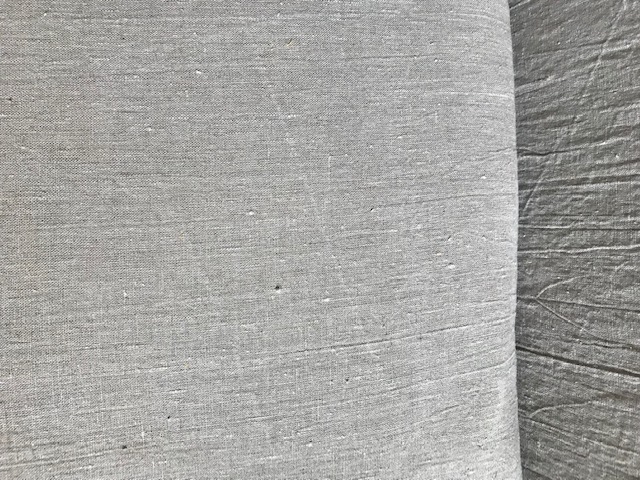 4C22 NATURAL 100% Linen Heavy (7.1 oz/yd2)
I used this 100% heavy linen to recover my wicker couch. I washed it in warm water and dried it. It was easy to work with. It definitely had a up & down crinkle to it so needed to cut and sew in up & down direction. After washing it has other directional lines in it as well as "imperfections". This fabric is rugged looking and very natural in weave, texture and color. Suited my project wonderfully and such a great value! I ordered 10 yards and it was just enough to cover these 6 cushions. I love that it is a eco friendly fabric too. Very pleased.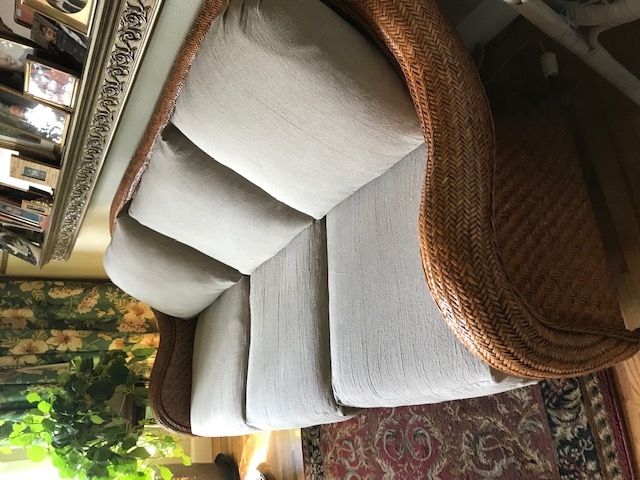 4C22 NATURAL 100% Linen Heavy (7.1 oz/yd2)
I make art dolls, custom linen clothing and festival gear. My Frida Kahlo dolls are made from 4C22 in natural. from kdrivera.com.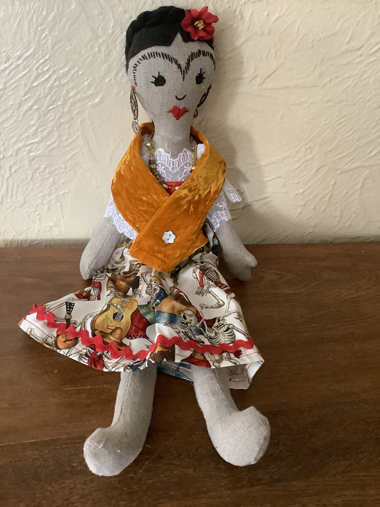 4C22 NATURAL 100% Linen Heavy (7.1 oz/yd2)
We make custom, personalized baby and wedding books with journaling inside pages from; waycooldesigns.com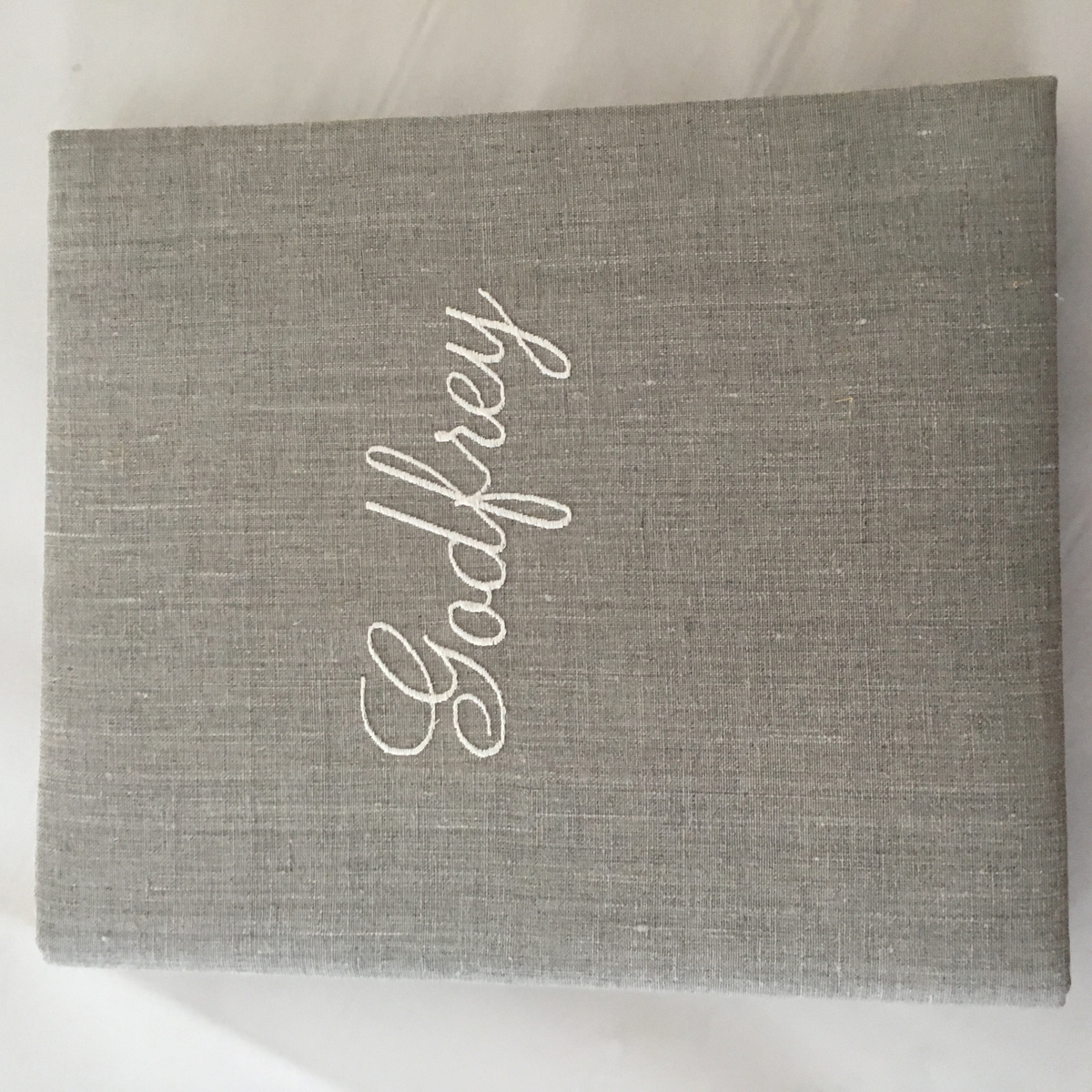 4C22 NATURAL 100% Linen Heavy (7.1 oz/yd2)
I wanted to update from dark brown pillows to lighten my room, and I'm not an experienced sewer, and this fabric was perfect for my project. I will definitely be buying more. It was delivered within 3 days. I couldn't be more pleased.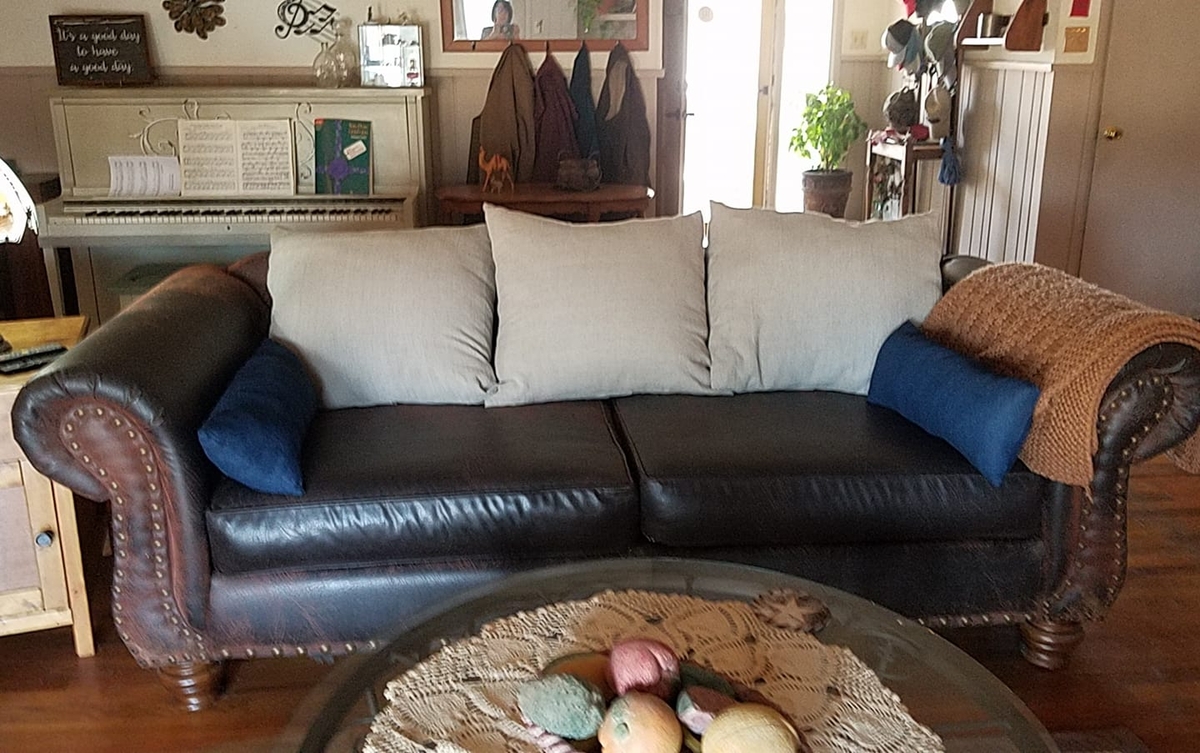 4C22 NATURAL 100% Linen Heavy (7.1 oz/yd2)
I knew I wanted to make custom linen curtains that were neutral in color, a beautiful drape, and transparent enough to let in some light. To create the desired look, I used Heavyweight NATURAL Linen from Fabrics-Store and natural vegetable tanned leather from my own scrap bin. Since the window is very large, I used the full width of the fabric, only trimming the selvage, and simply measured the length from the curtain rod to the floor.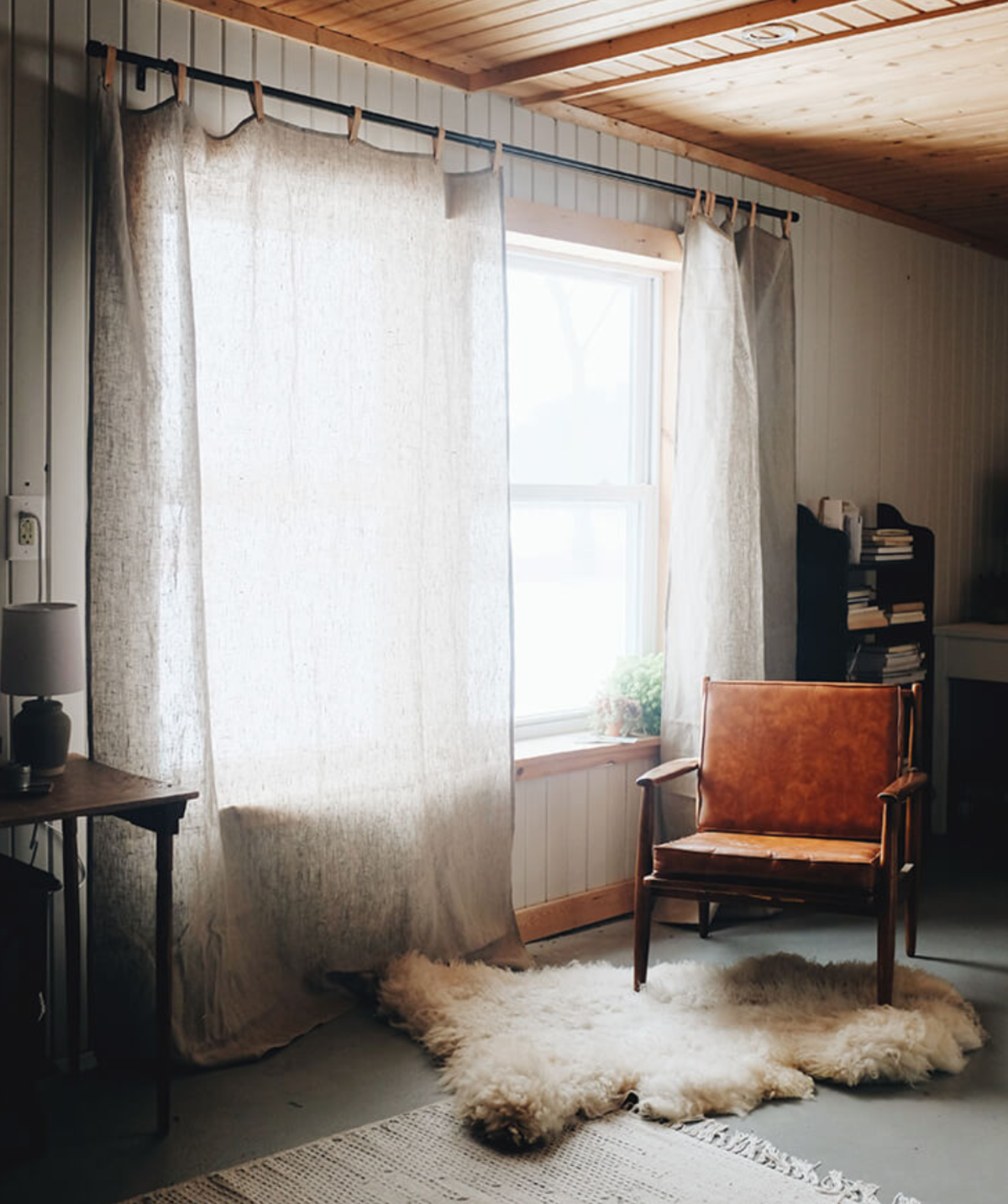 4C22 NATURAL 100% Linen Heavy (7.1 oz/yd2)
Slipcover for armchair (cat approved).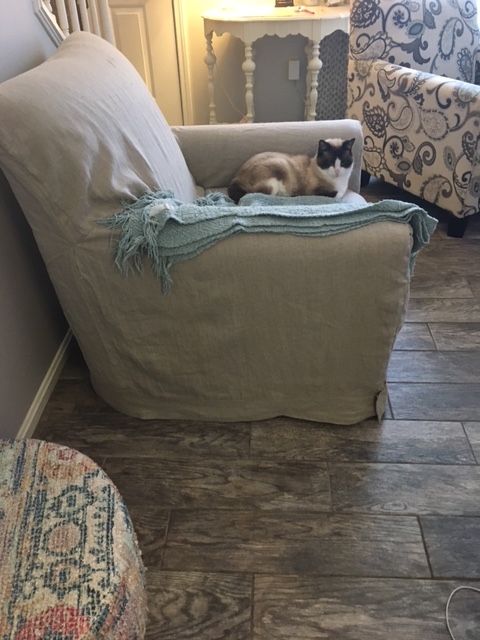 4C22 NATURAL 100% Linen Heavy (7.1 oz/yd2)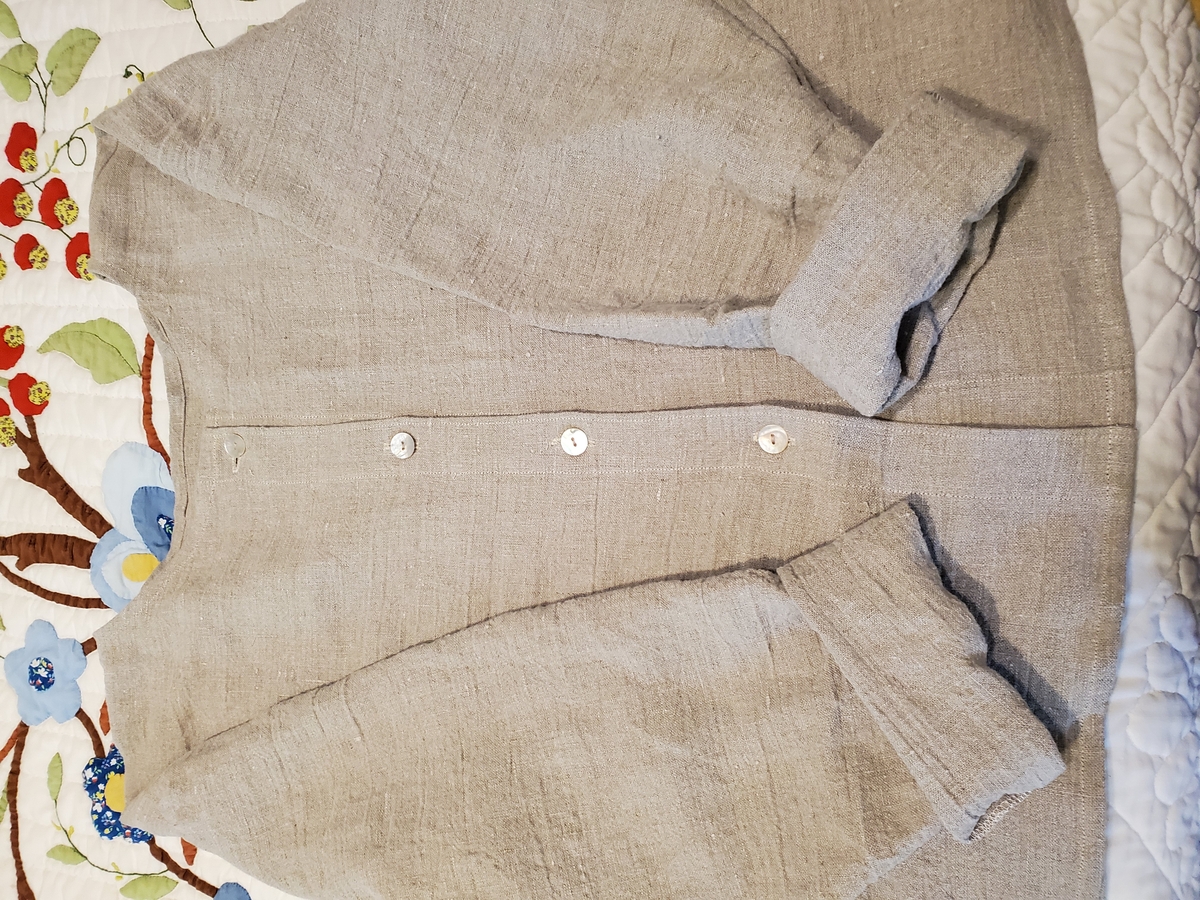 4C22 NATURAL 100% Linen Heavy (7.1 oz/yd2)
This is our natural linen fabric that we monogram with the customer`s choice of monogram style and color of thread and ribbon and fill it with 'The Story of Me baby pages' that tell a full account of your baby`s first achievements going all the way up to the 5th birthday party. Check us out at; waycooldesigs.com We have been making shoppers happy for 30 years (: Susie and Bob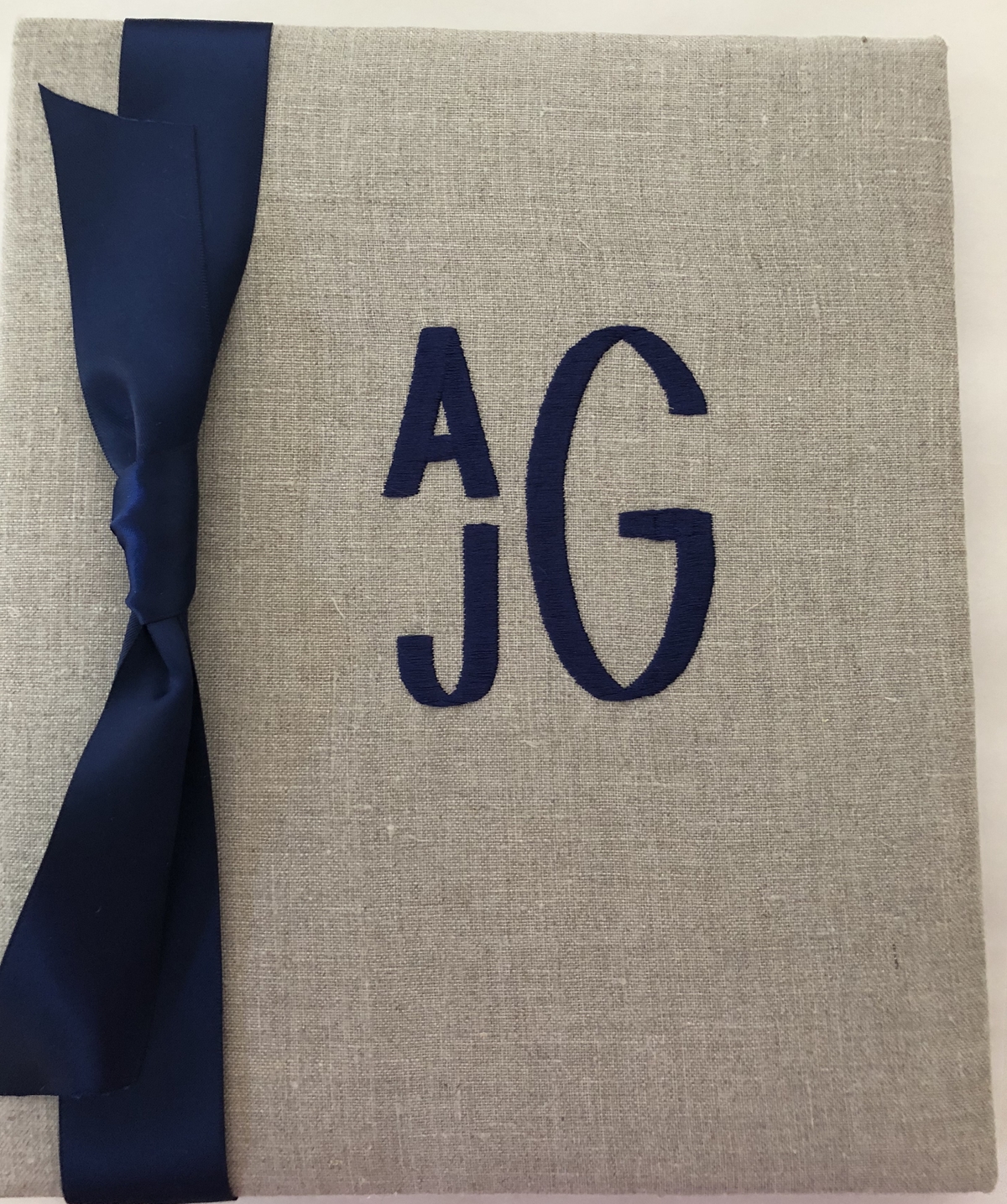 4C22 NATURAL 100% Linen Heavy (7.1 oz/yd2)
Linen cardigan using 4C22 in Natural. This is a Seamwork pattern called Quince.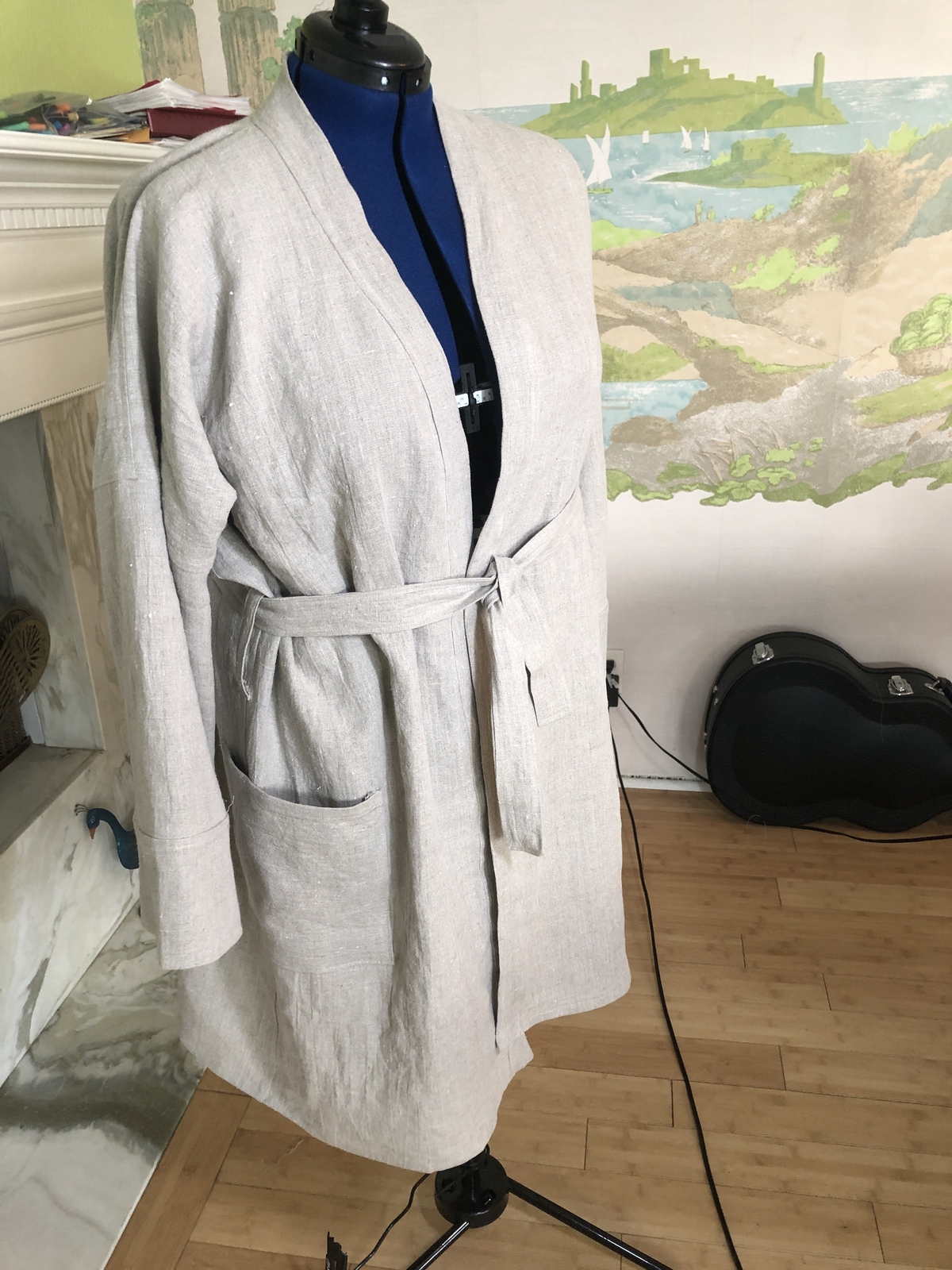 4C22 NATURAL 100% Linen Heavy (7.1 oz/yd2)
I took these Pomona Pants (shorts version) hiking this morning. They were perfect for the heat. While I never had to slide down any rocky slopes on my butt, I think they would have survived it.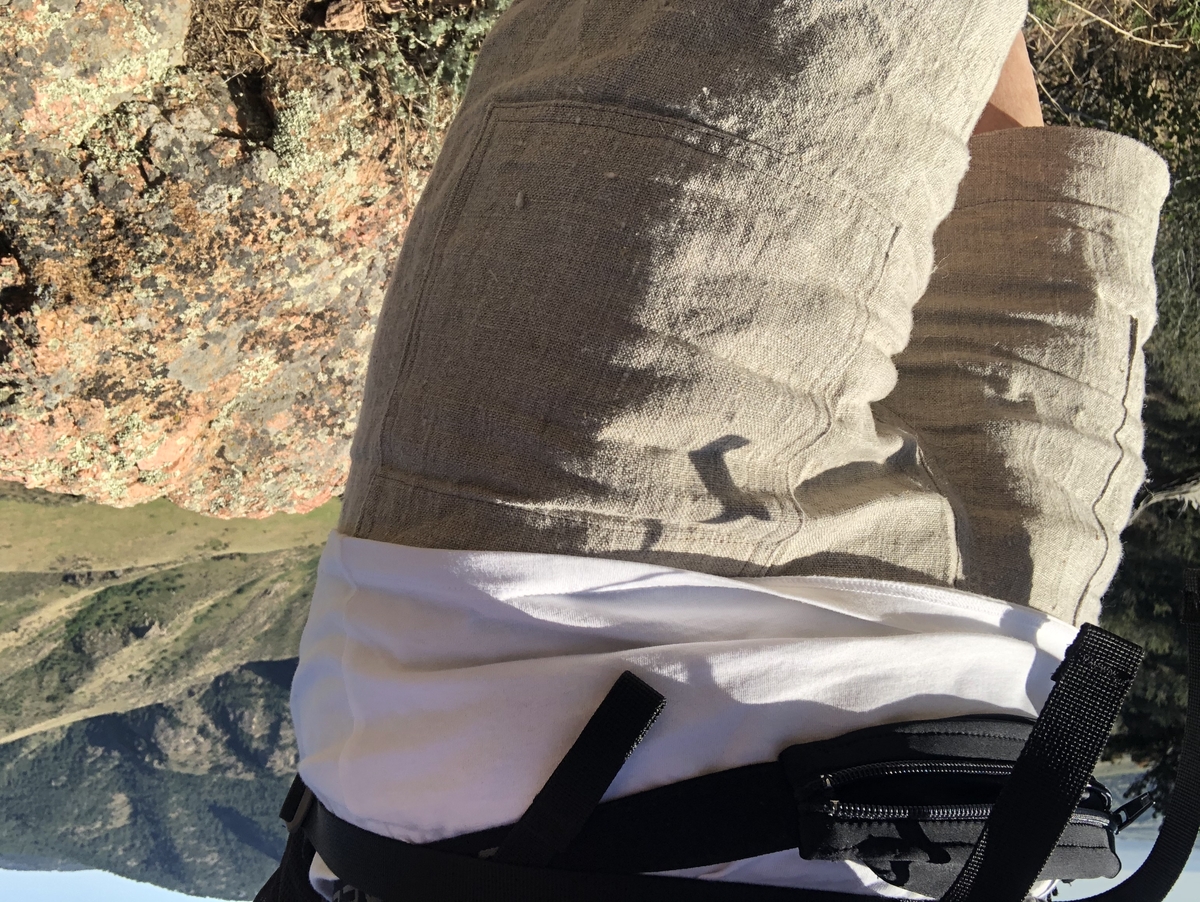 4C22 NATURAL 100% Linen Heavy (7.1 oz/yd2)
I used this linen to make french pleat lined drapes for three windows by hand with needle and thread so no stitches would show at all. Took a while but so worth it. The rough character of this linen balances the formal pleats beautifully.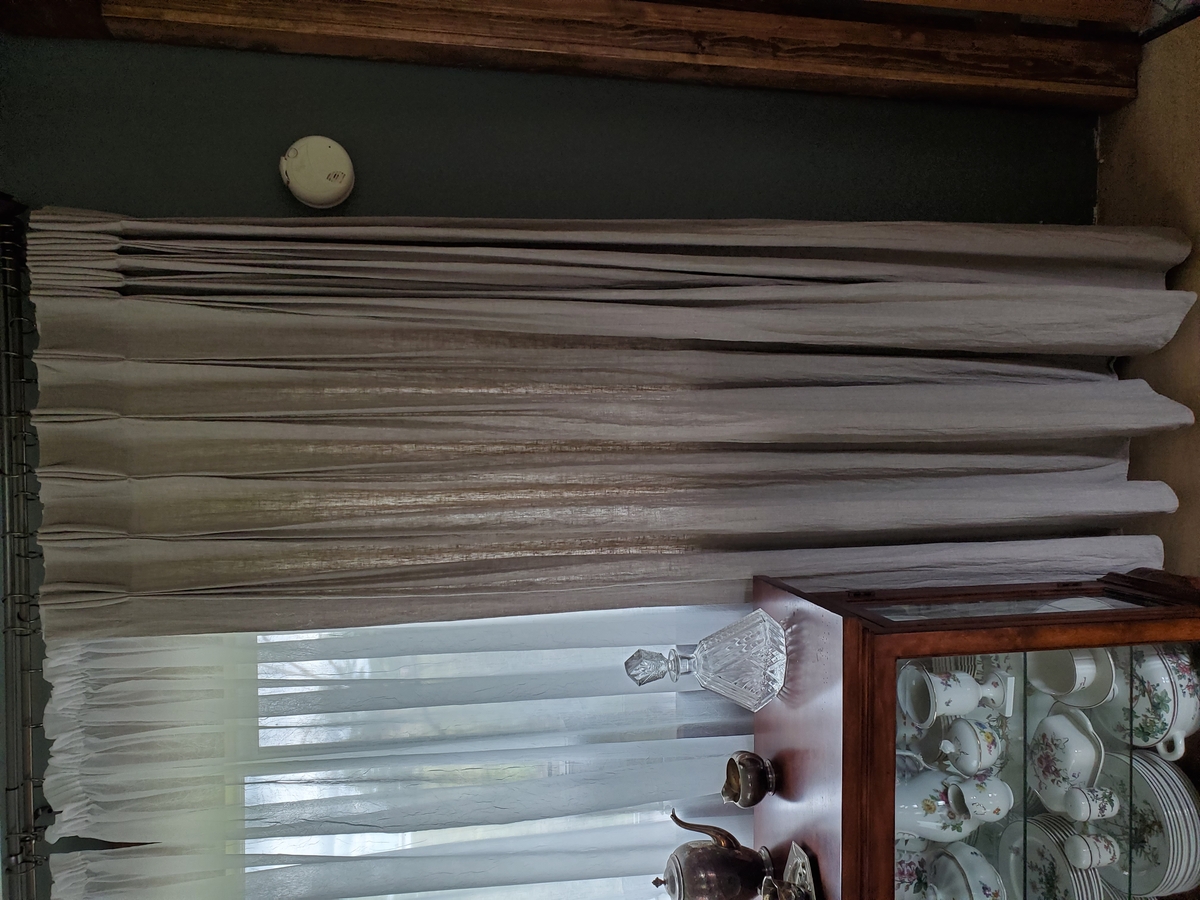 4C22 NATURAL 100% Linen Heavy (7.1 oz/yd2)
These chairs will be used in my sewing studio as extra seating for guests and a meeting space with clients. I decided to purchase old chairs and recover, which fit my goal of low-budget and minimal effort with big impact. You can easily do this in an afternoon! The steps to complete the project can be found here : blog.fabrics-store.com/2020/06/04/diy-reupholstered-linen-chair-tutorial/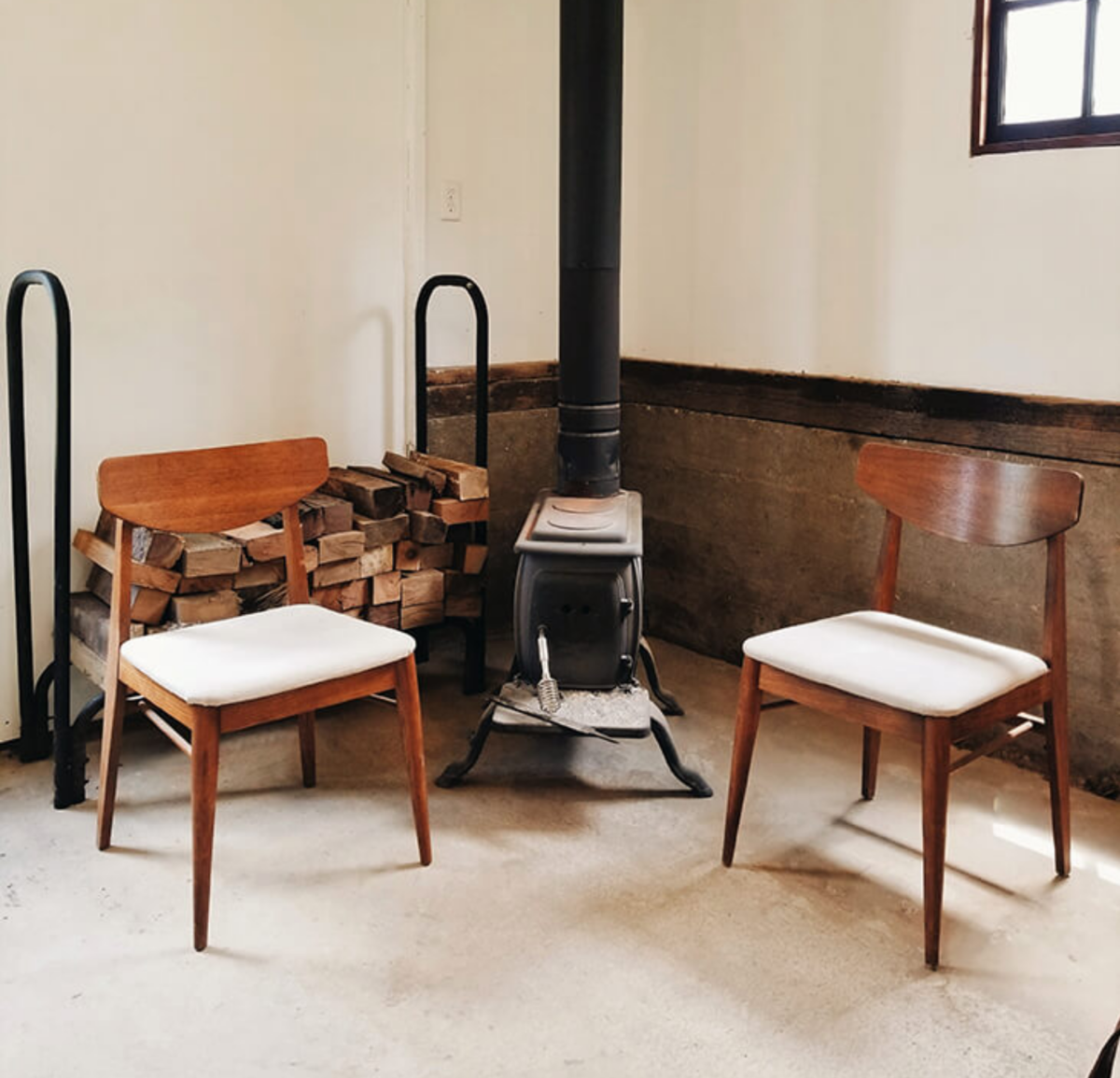 4C22 NATURAL 100% Linen Heavy (7.1 oz/yd2)
Stretched onto scrap wood, this heavy linen gives a rustic finish to my painting. I used acrylic paint, primed it and painted it on linen stapled to the wood. I want to try the tighter weaves, but I am really happy with the texture!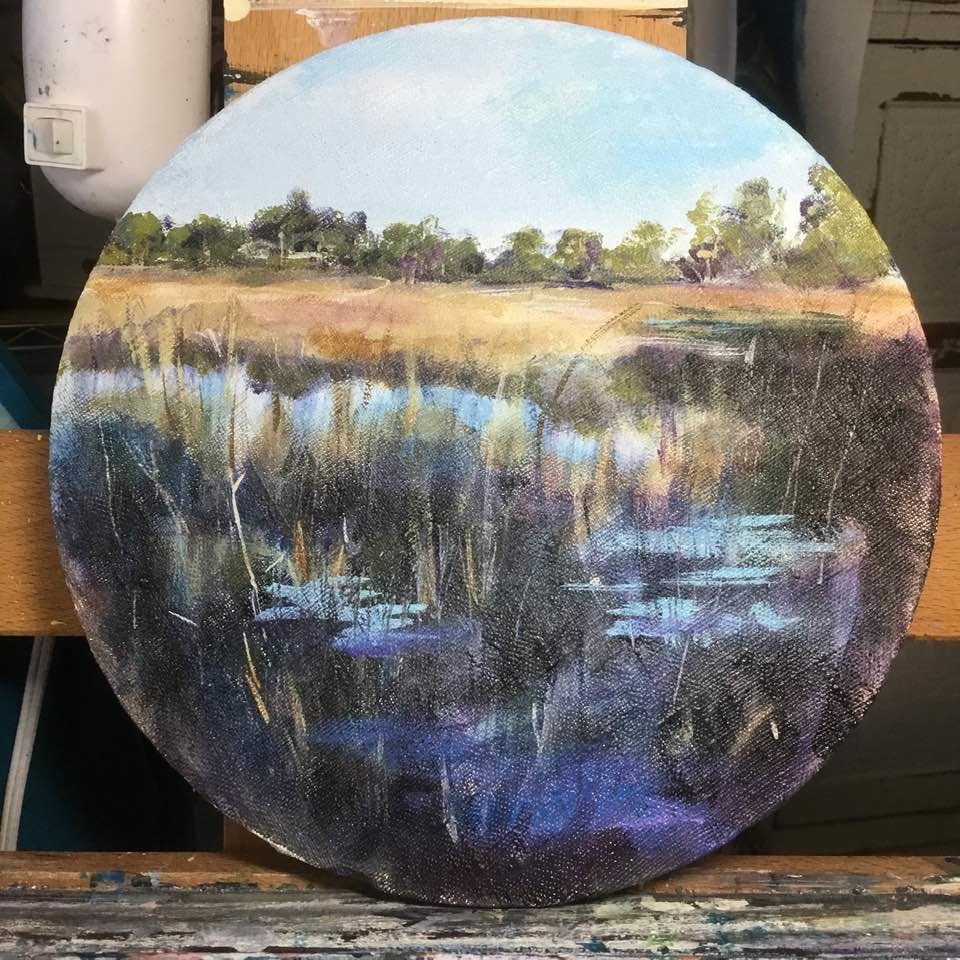 4C22 NATURAL 100% Linen Heavy (7.1 oz/yd2)
Natural Heavy Linen. A dream to machine embroidery. So cute for boys Easter basket lining.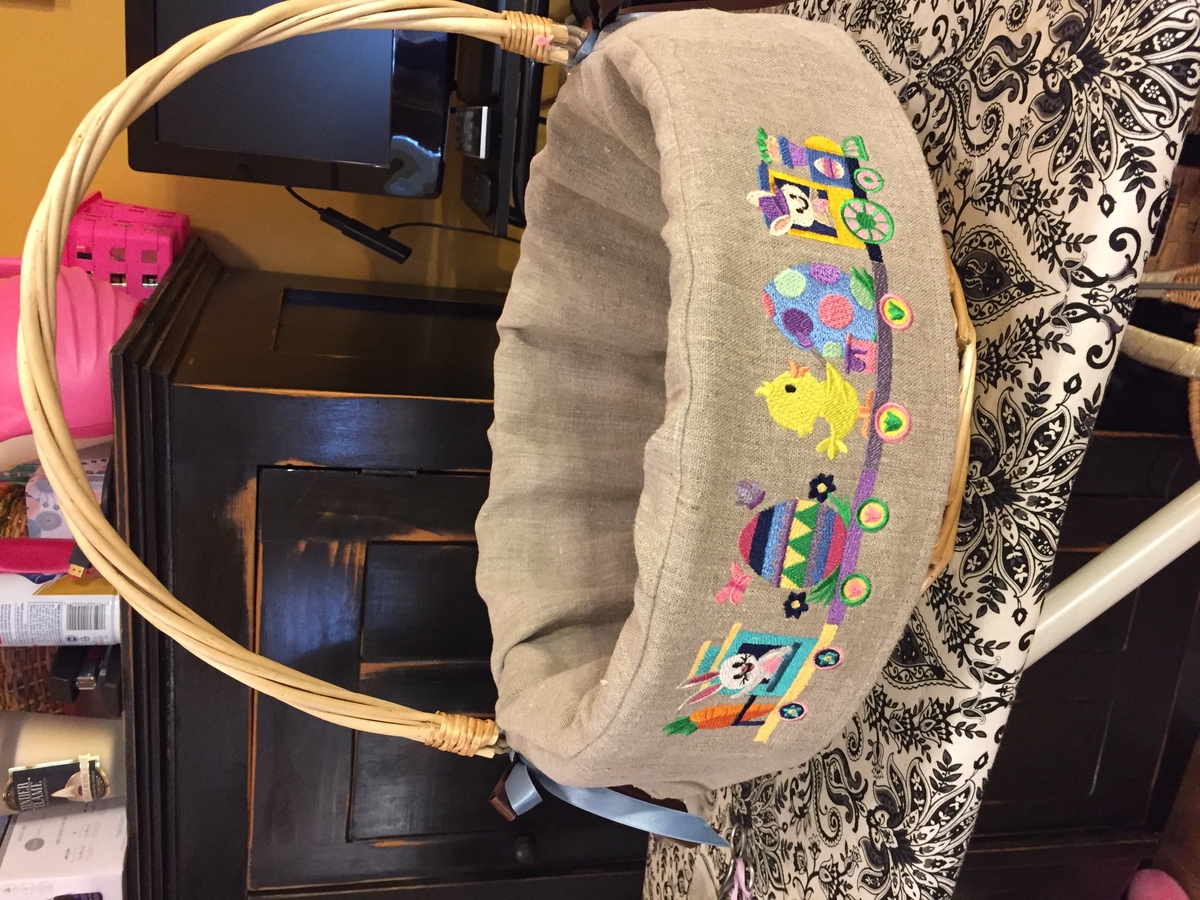 4C22 NATURAL 100% Linen Heavy (7.1 oz/yd2)
One yard was enough for a simple cross back apron. Color and texture are wonderful! Dramatic pose optional.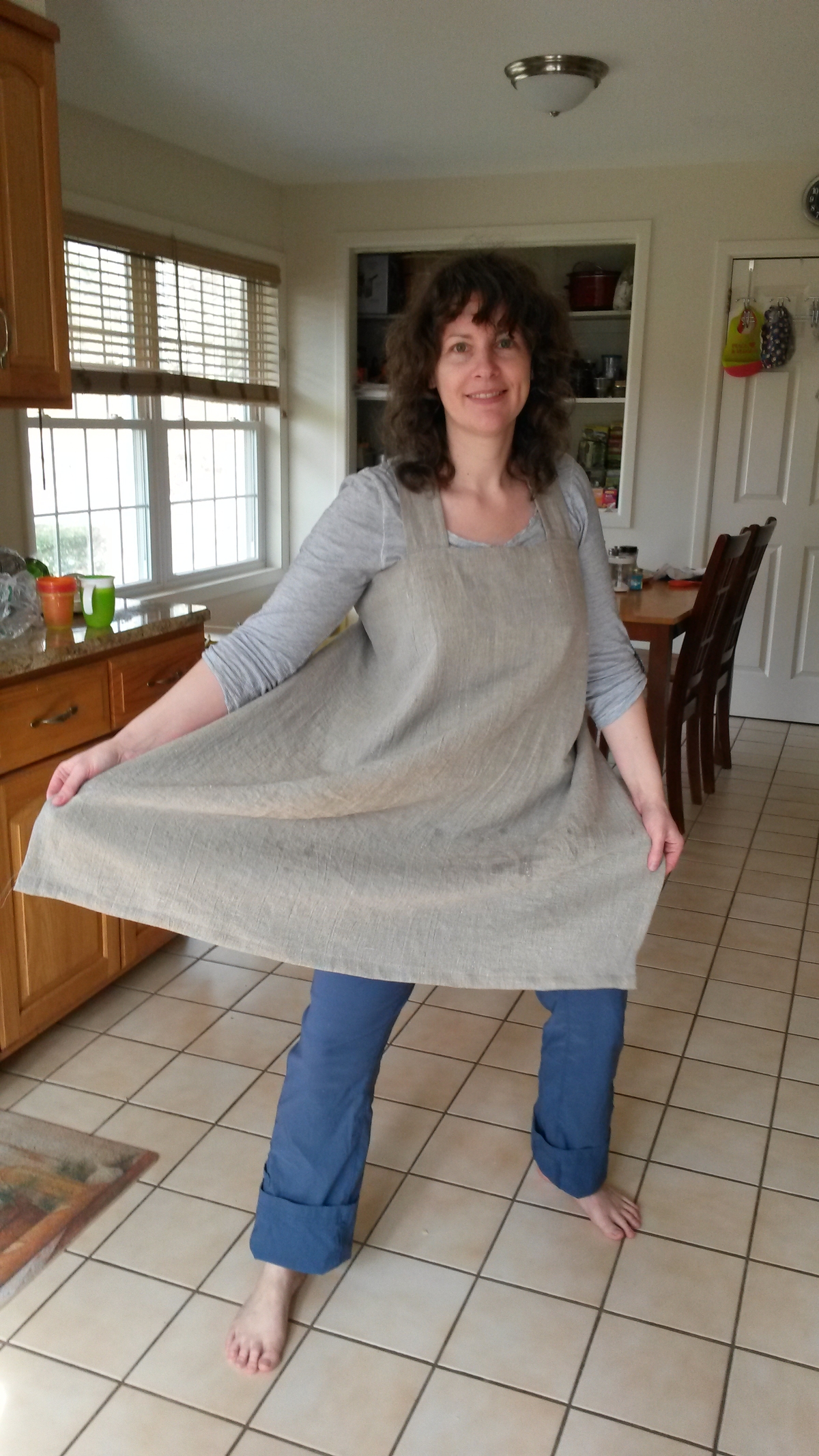 4C22 NATURAL 100% Linen Heavy (7.1 oz/yd2)
Slipcovers for extra wide chair and ottoman, and valance with grommets using this rustic natural linen. (Did not use a pattern.) So pleased!!! Thank you Fabrics-Store!

4C22 NATURAL 100% Linen Heavy (7.1 oz/yd2)
I ordered 5 yards of the rustic linen and had no idea what I was going to do with it other than admire its rustic beauty and quality. But after some deliberation ... here is a picture (sorry, the color is not good in the pic) of a project that turned out to be delightful Valentine's gifts for family and friends. I stamped and heat-set the designs. Then I made 4 dish towels and 4 sets of hot pads ... with just enough fabric left to make a quilted pad to soak up excess water under my counter top dish rack. Thanks for the patterns. Next I'm going to tackle making a bed sheet. So happy I discovered your linen!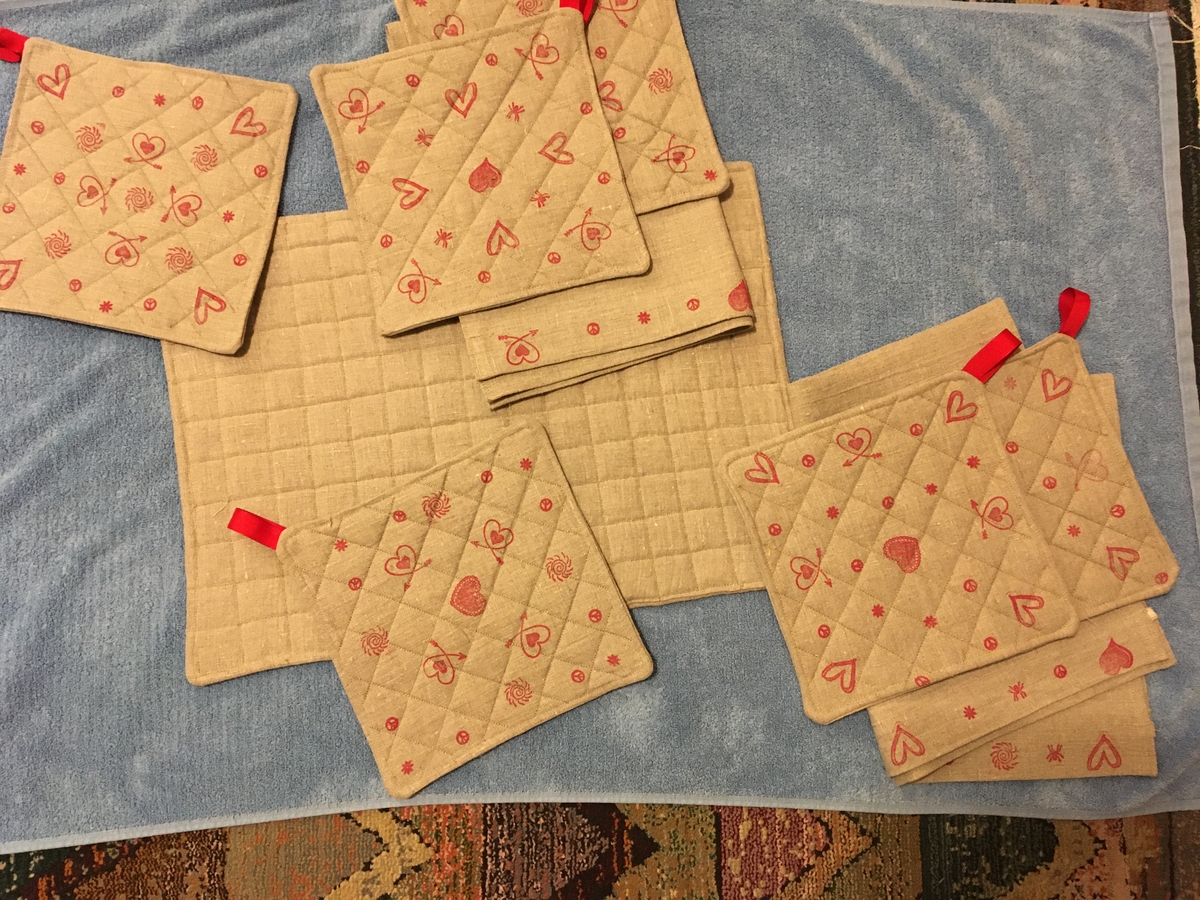 4C22 NATURAL 100% Linen Heavy (7.1 oz/yd2)
Anthropologie inspired Christmas stockings. Farmhouse chic look that's so popular right now...selling like hot cakes:)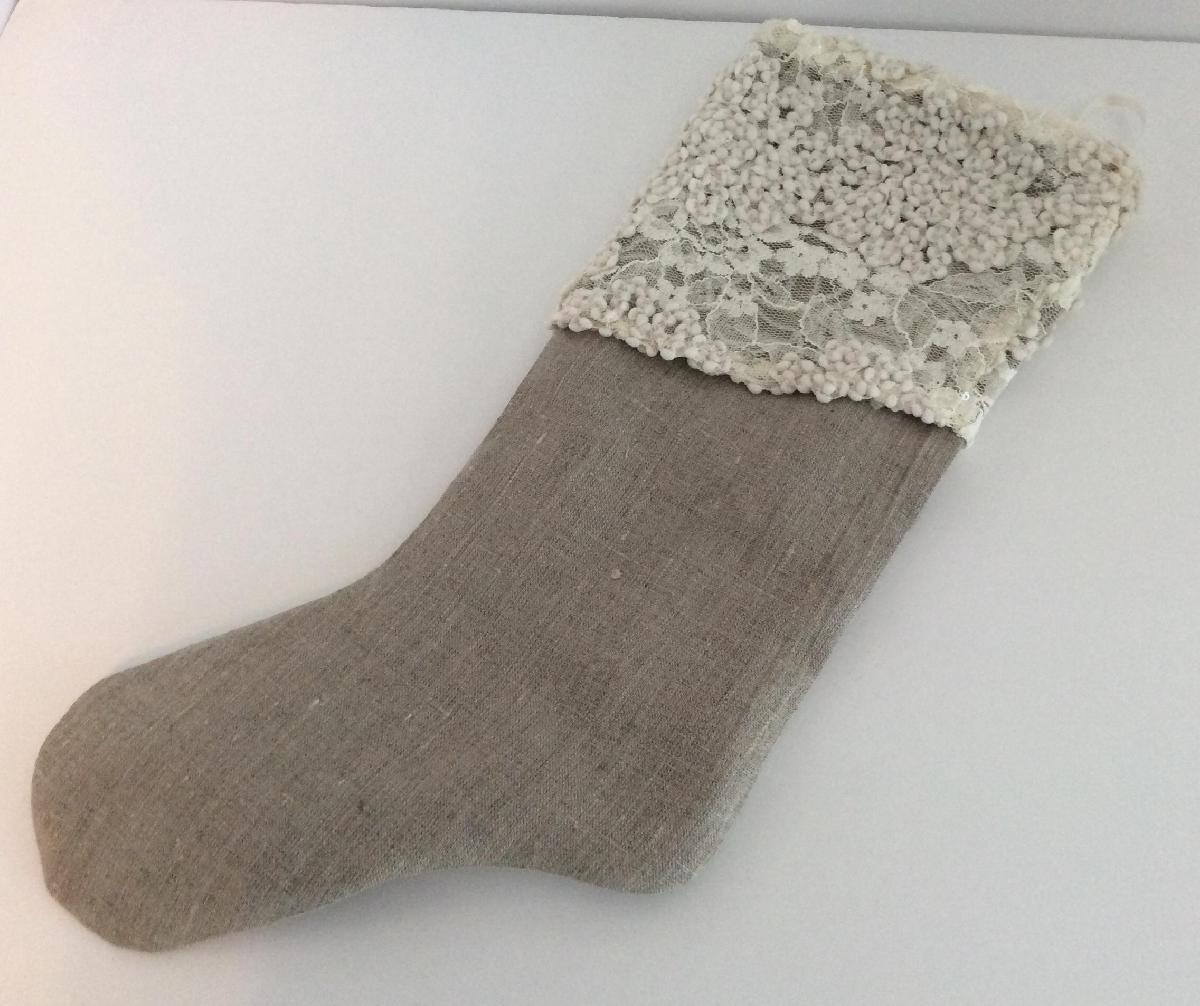 4C22 NATURAL 100% Linen Heavy (7.1 oz/yd2)
Love this linen. The more it's washed and handled, the softer it gets. Another piece inspired by Japanese boro with hand stitched linen patches.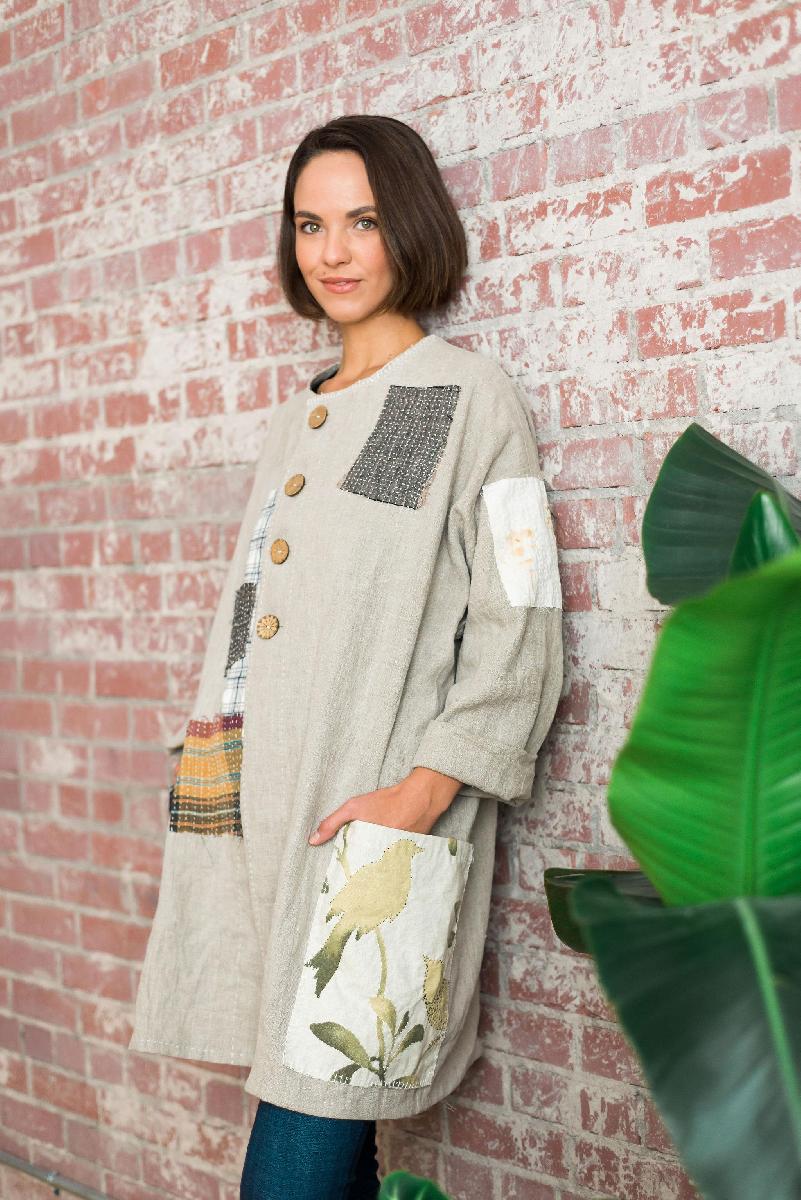 4C22 NATURAL 100% Linen Heavy (7.1 oz/yd2)
This linen tunic/jacket is inspired by Japanese boro stitching with the jacket made from rustic linen the I layered it with linen patches hand stitched using quilting techniques.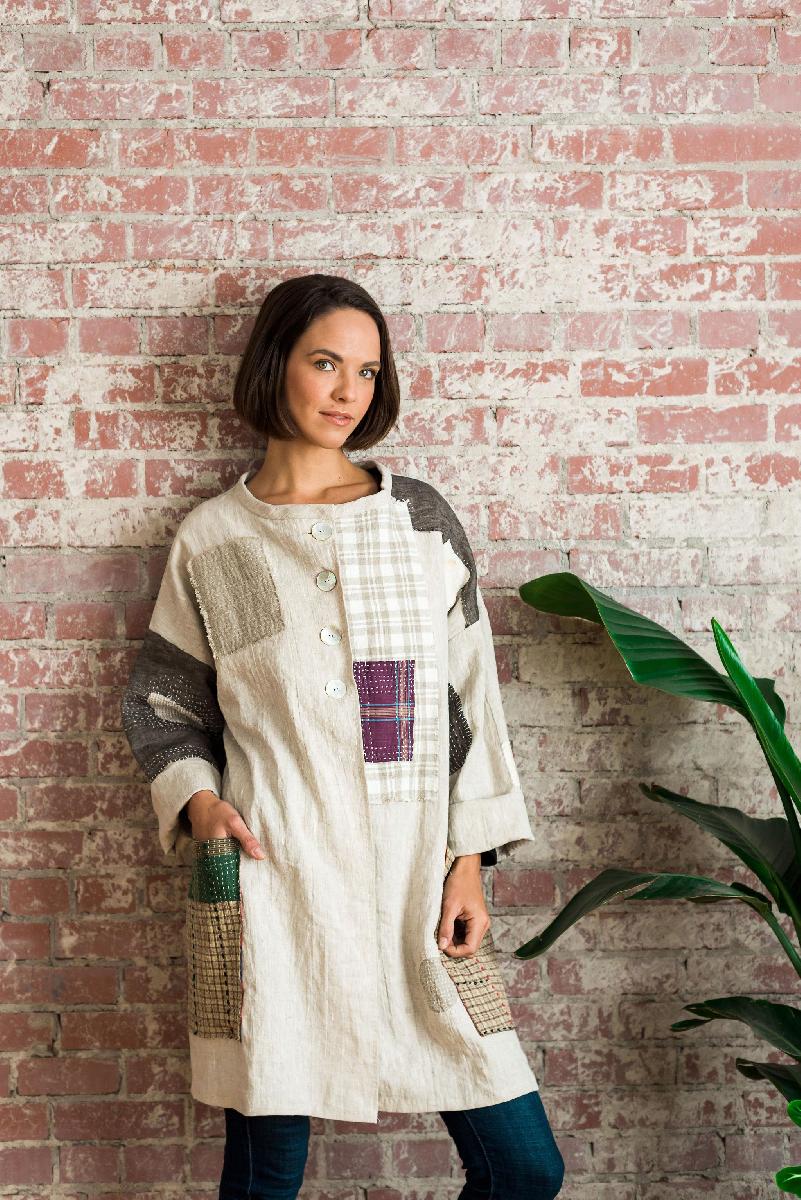 4C22 NATURAL 100% Linen Heavy (7.1 oz/yd2)
I made a sketch book carrier as well as several napkins and placemats. Sad to say that I have run out of fabric because it was cool seeing how I could use it!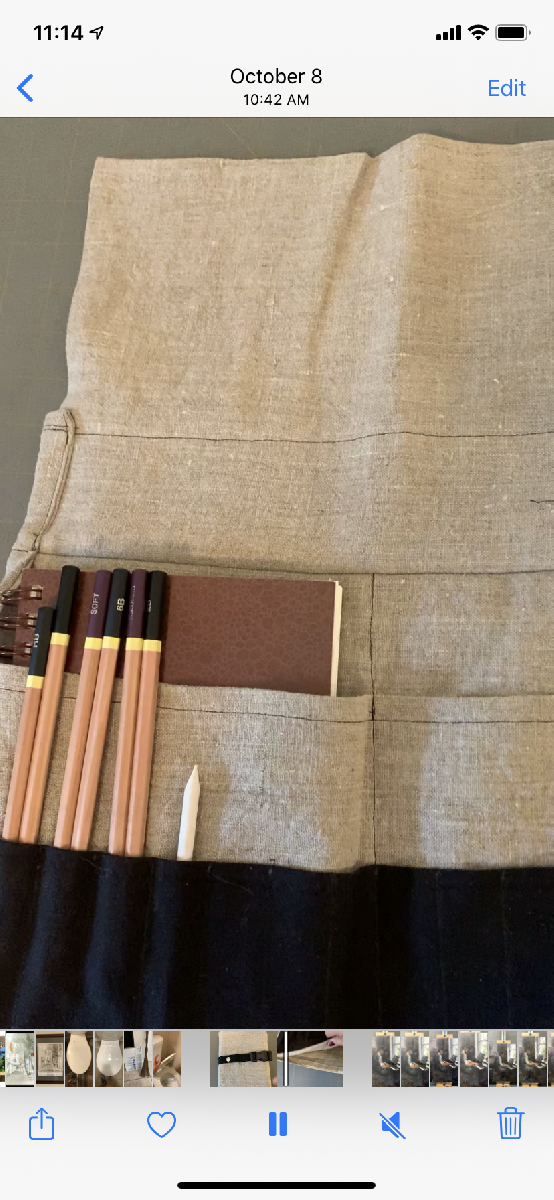 4C22 NATURAL 100% Linen Heavy (7.1 oz/yd2)
Personalized tea towels. My images and thread colors look beautiful against the natural linen color.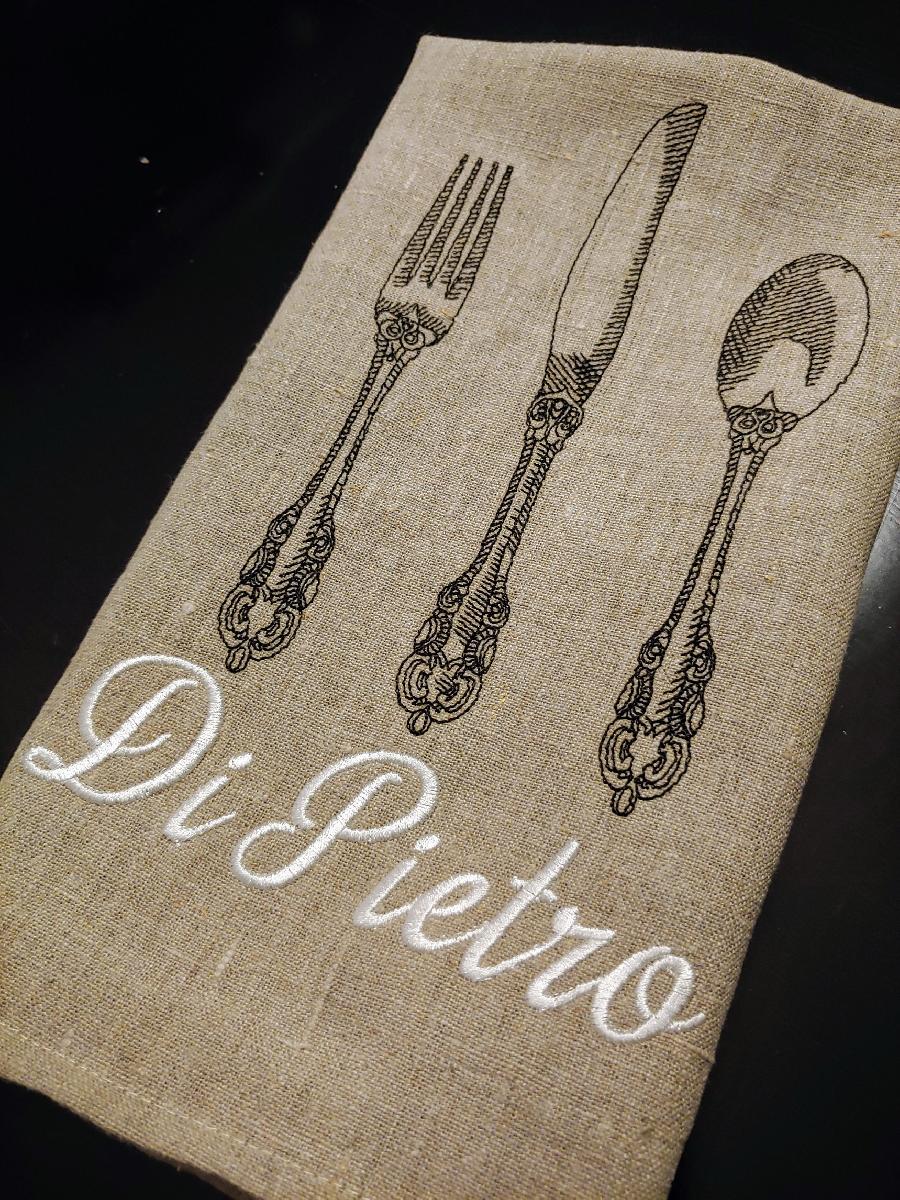 4C22 NATURAL 100% Linen Heavy (7.1 oz/yd2)
4C22 Natural - upholstered vintage demi corbeille bed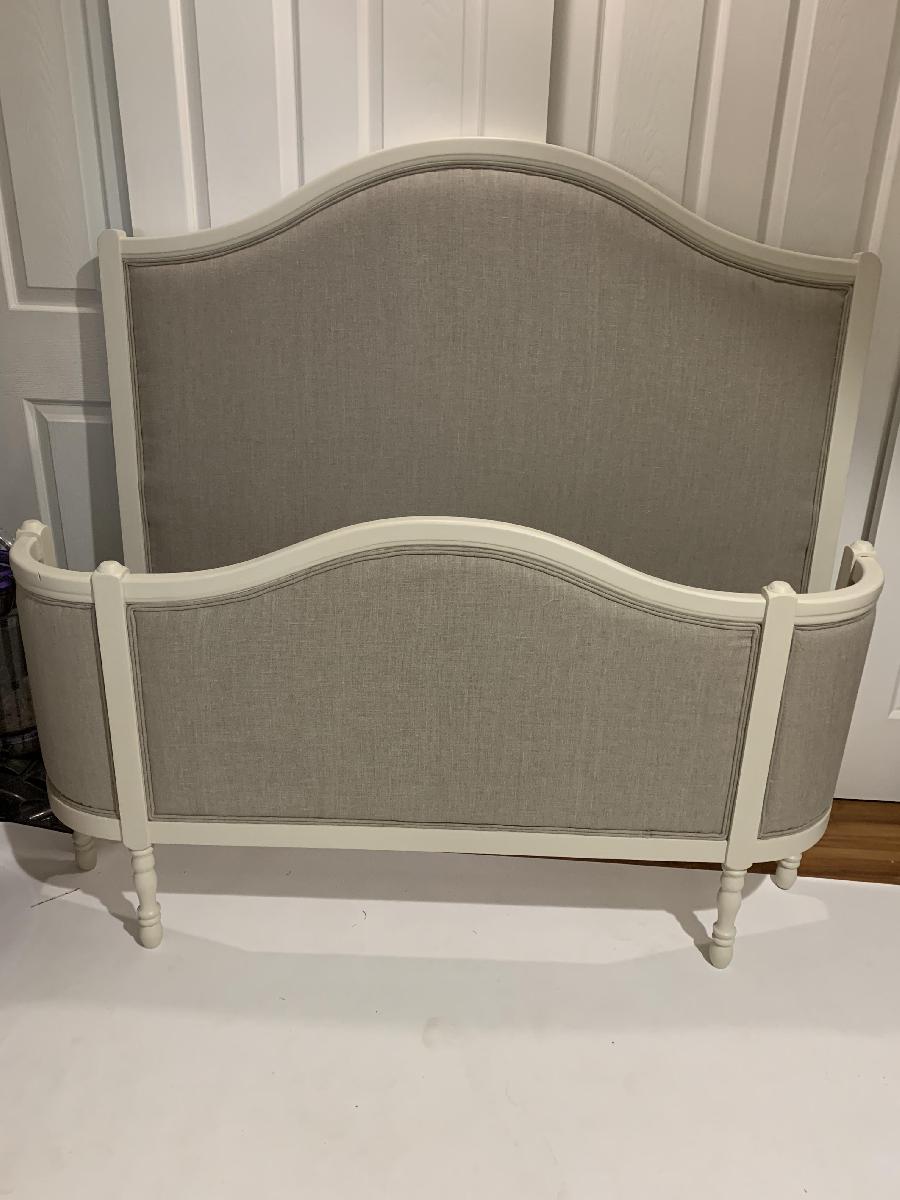 4C22 NATURAL 100% Linen Heavy (7.1 oz/yd2)
My lightweight summer pants.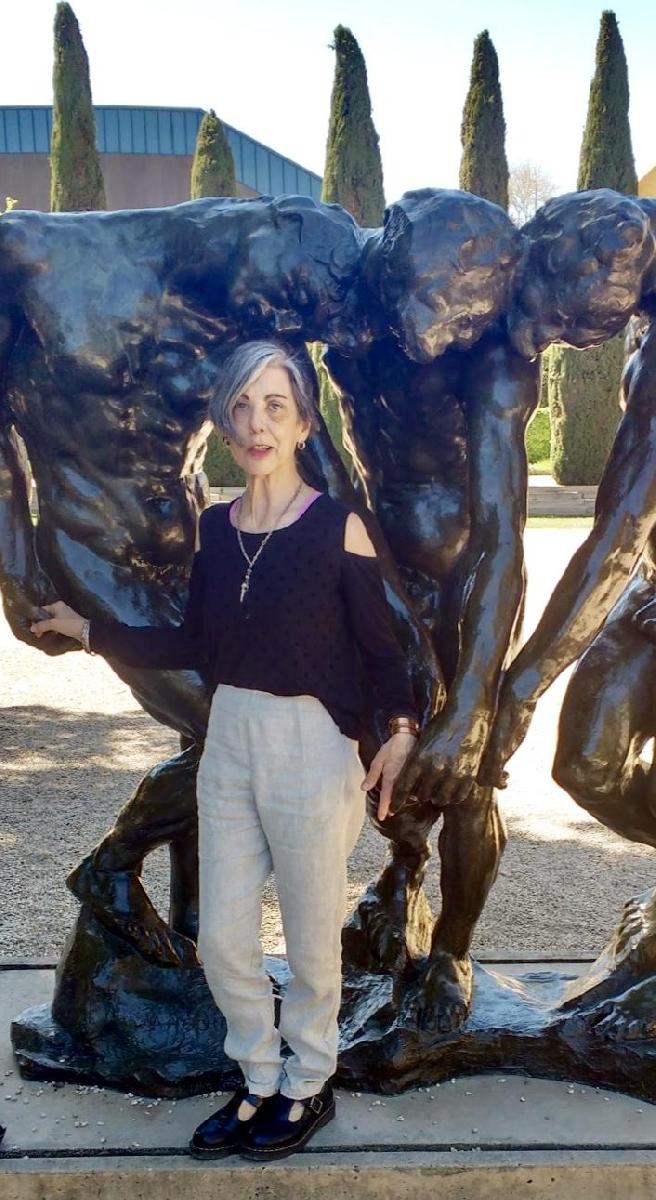 4C22 NATURAL 100% Linen Heavy (7.1 oz/yd2)
Rustic natural linen with striped canvas trim, using the kafftan dress pattern as a base.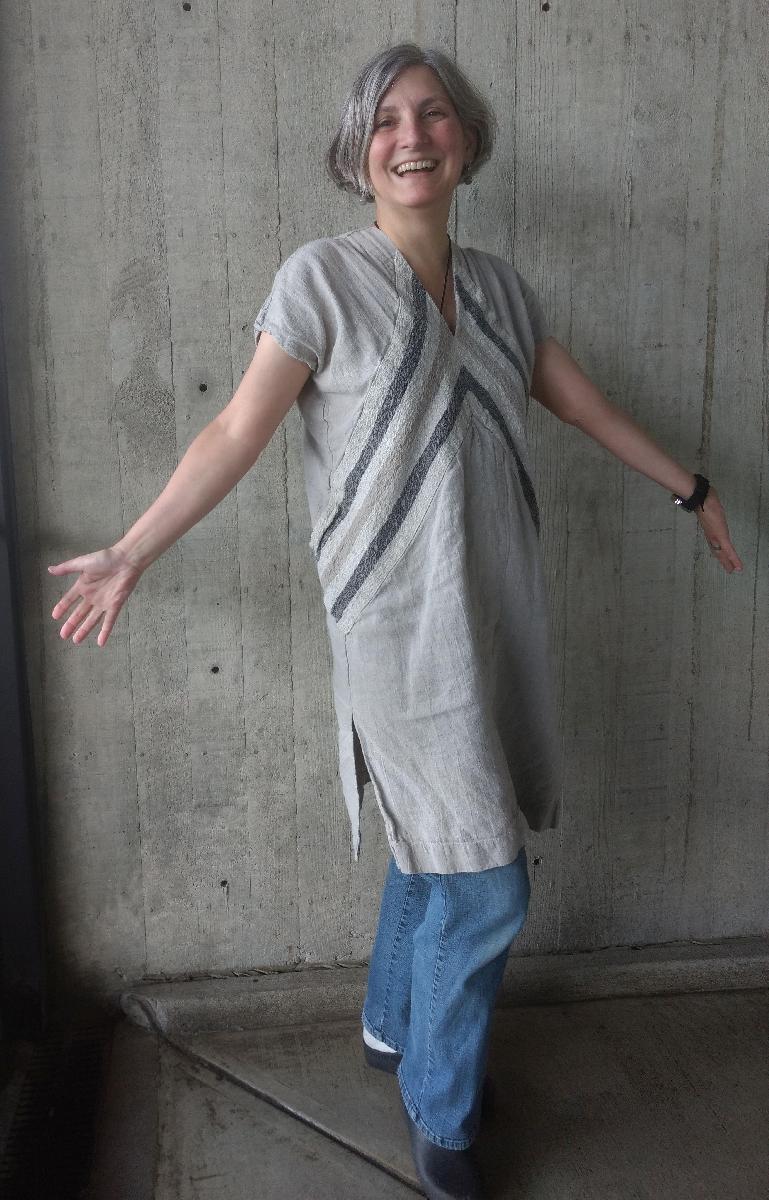 4C22 NATURAL 100% Linen Heavy (7.1 oz/yd2)
I've been making these aprons/smocks for theneatkitchen.com and have used both the medium weight IL019 and heavier 4C22 linen in a variety of colors. I love the 4C22 Natural for men--it's a bit more rugged and makes a great gift for the BBQ master, home chef, budding artist, gardener and woodworker.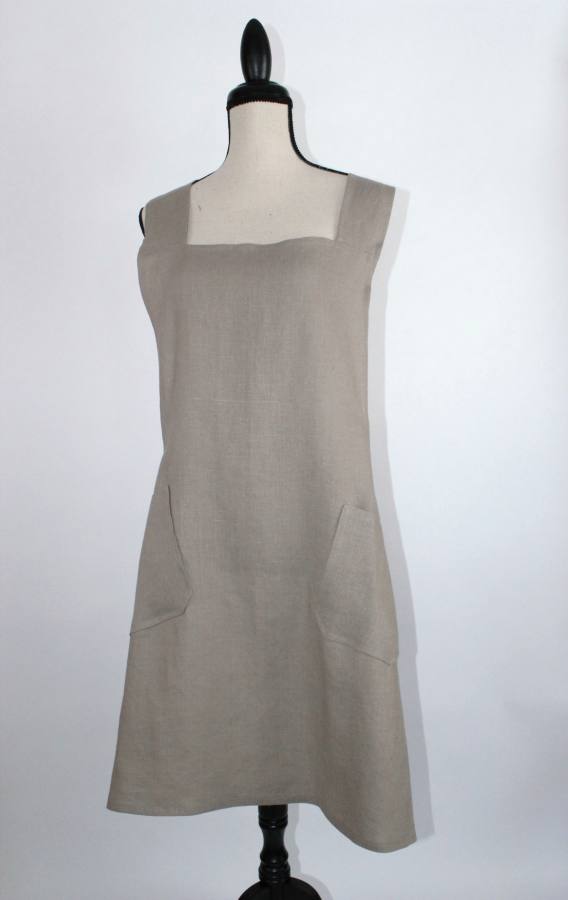 4C22 NATURAL 100% Linen Heavy (7.1 oz/yd2)
This is an artist tote bag I made from this natural heavy weight linen... Very durable!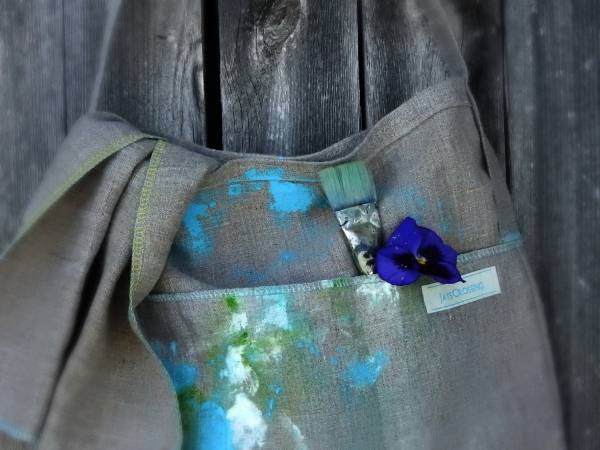 4C22 NATURAL 100% Linen Heavy (7.1 oz/yd2)
This was my first purchase from Fabrics-Store. And my first ever upholstery project. Love the linen. Love the service. I asked questions about what would stand up to upholstering a chair. The 4C22 was recommended and I love it. It is rustic. I used Natural and am very surprise how light is appears on the finished chair. I have another chair to do and then I would like to do a tablecloth (more helpful tips given by staff!)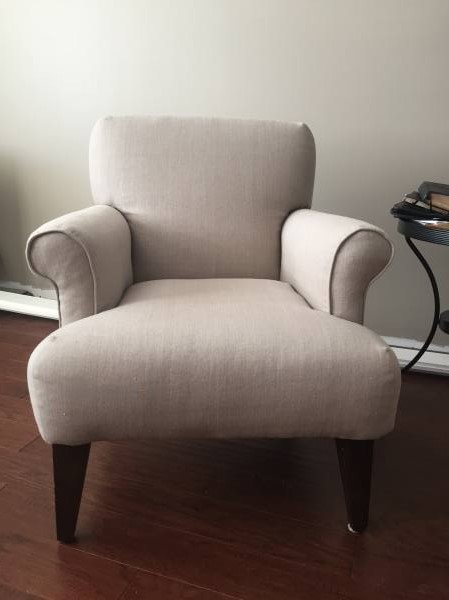 4C22 NATURAL 100% Linen Heavy (7.1 oz/yd2)
Shirtmaster ironing board covers are not made any more so I had to make a new one myself. This linen works perfectly.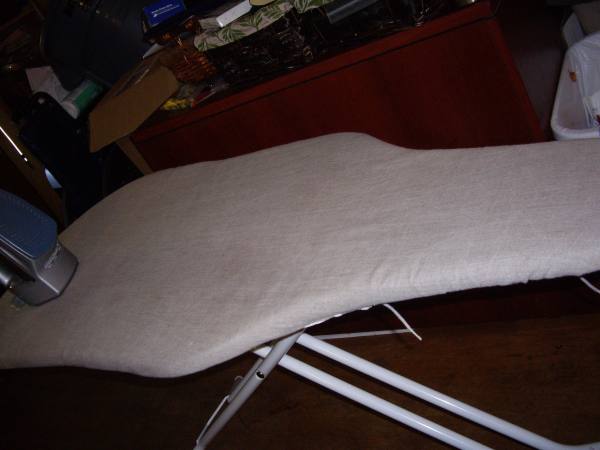 4C22 NATURAL 100% Linen Heavy (7.1 oz/yd2)
Made a ironing board cover for my Shirtmaster ironing board. It works BEAUTIFULLY.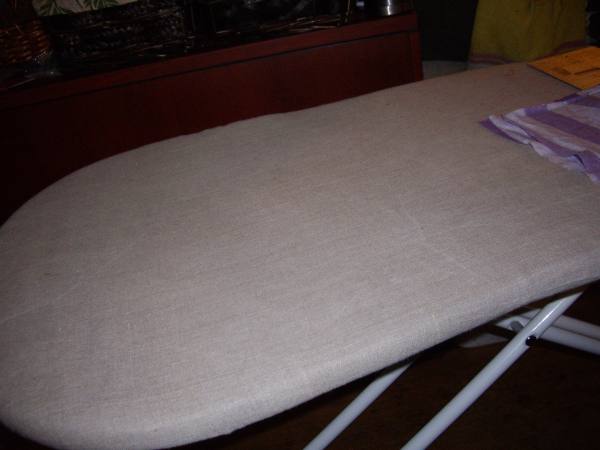 4C22 NATURAL 100% Linen Heavy (7.1 oz/yd2)
This sofa came out beautiful! Loved the fabric!! Sold within three weeks of having in the store!! Thank you for a great product at reasonable prices!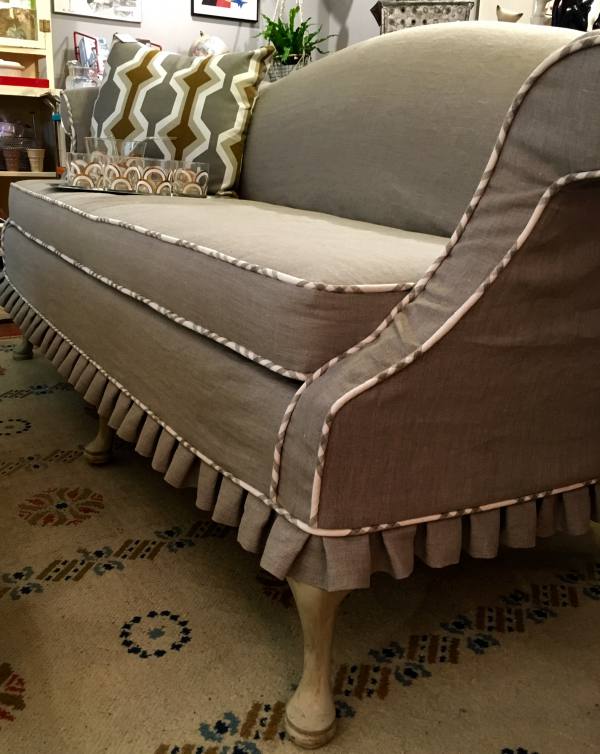 4C22 NATURAL 100% Linen Heavy (7.1 oz/yd2)
Simple dress designed by me from this natural linen, vintage crochet pockets, lace and a ruffle from one of the plaids. So comfortable!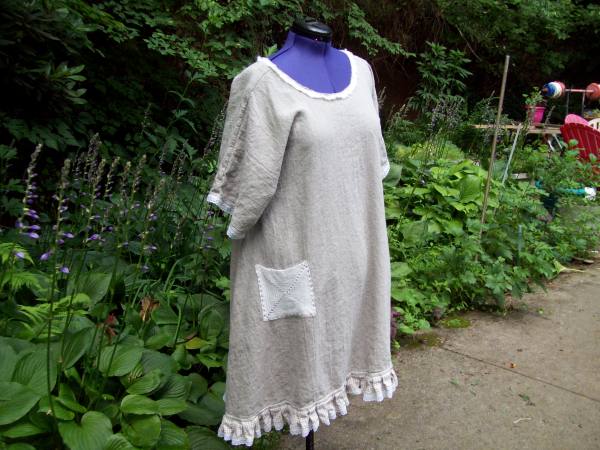 4C22 NATURAL 100% Linen Heavy (7.1 oz/yd2)
I used thirteen yards of Natural for this duvet cover. I could not love this fabric more. The dust ruffle is made from nine yards of Bleached.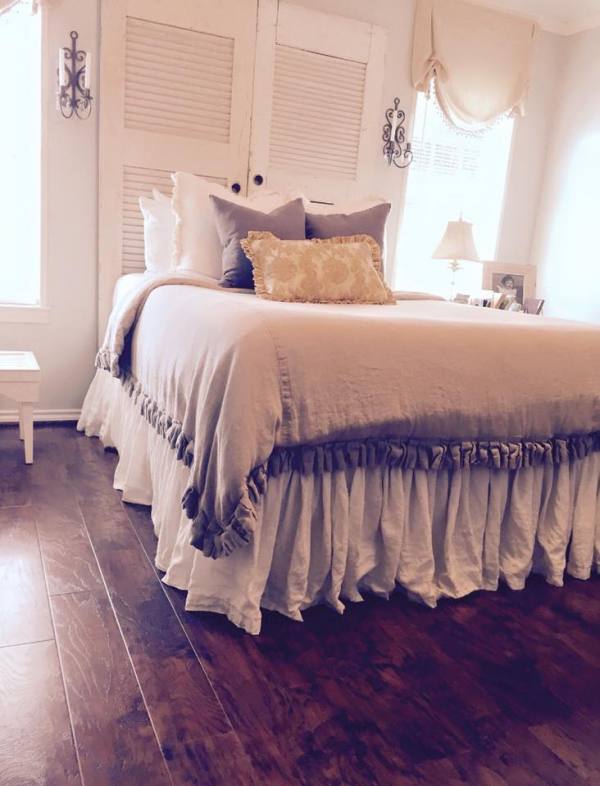 4C22 NATURAL 100% Linen Heavy (7.1 oz/yd2)
Roomy hoodie......I love this heavy linen.....easy to wear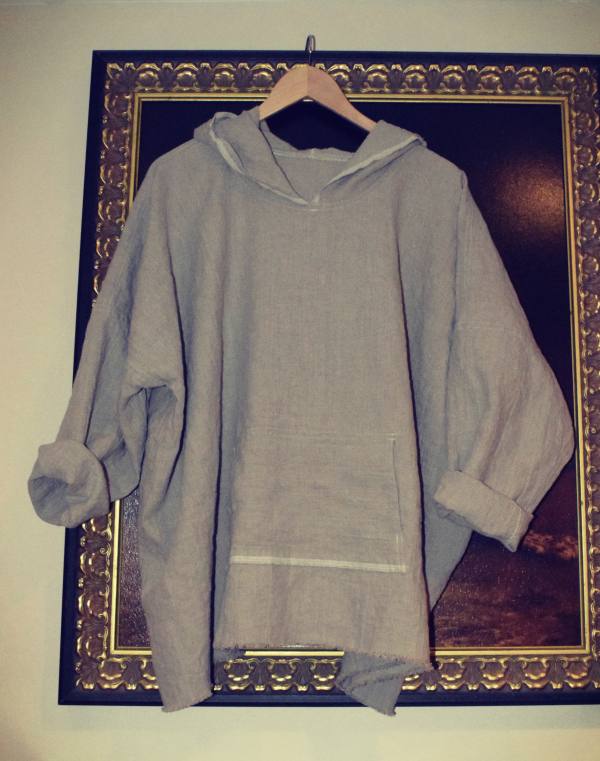 4C22 NATURAL 100% Linen Heavy (7.1 oz/yd2)
This lovely linen made a perfect cape for my daughter's Princess Susan of Narnia costume last year!


4C22 NATURAL 100% Linen Heavy (7.1 oz/yd2)
I make these embroidered, personalized stockings for friends and family every Christmas out of this linen. It's beautiful for the project!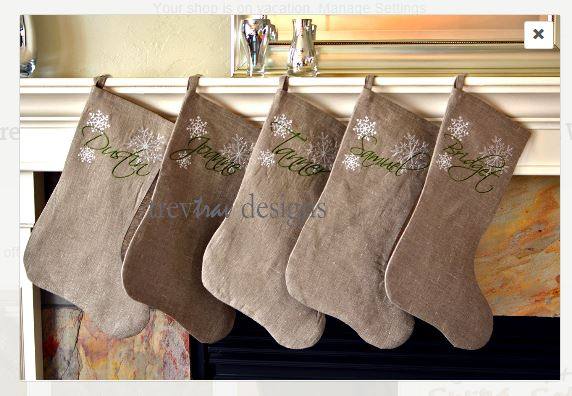 4C22 NATURAL 100% Linen Heavy (7.1 oz/yd2)
Tablecloth from 4C22 Natural; napkins from IL019 Rust Softened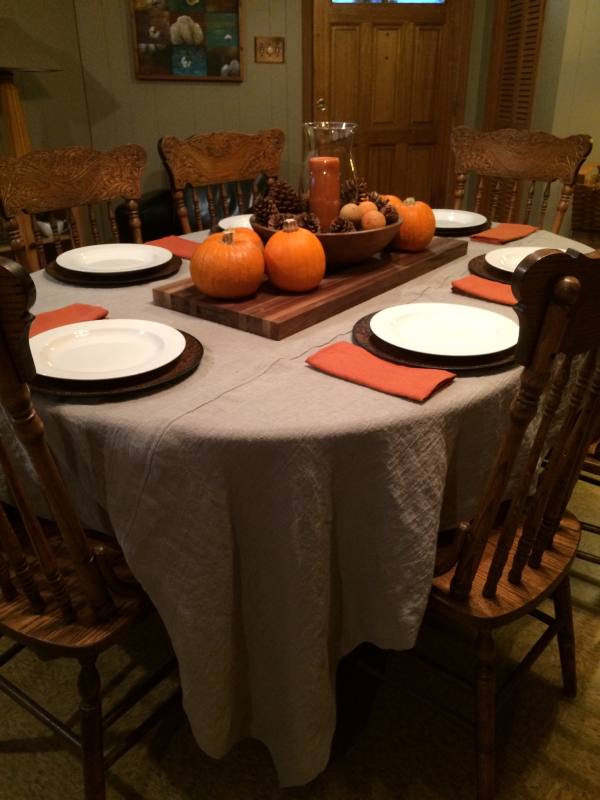 4C22 NATURAL 100% Linen Heavy (7.1 oz/yd2)
Bottom flat sheet is 4C22 bleached, the duvet cover is 4C22 natural. And as you can tell, the dog really likes linen bedding too.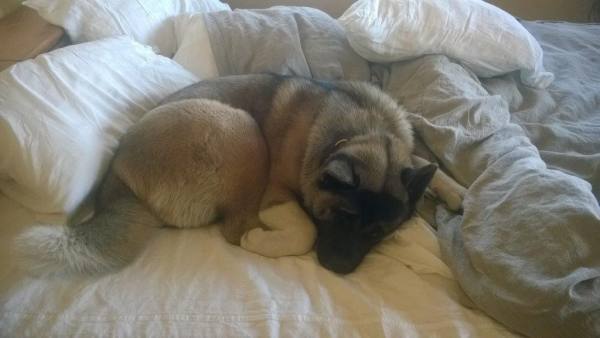 4C22 NATURAL 100% Linen Heavy (7.1 oz/yd2)
A simple apron with just one yard of this linen. I love how nicely it drapes while retaining it's rustic look. I share how anyone can make this apron here: thedailysew.com/2014/12/easy-to-make-linen-apron/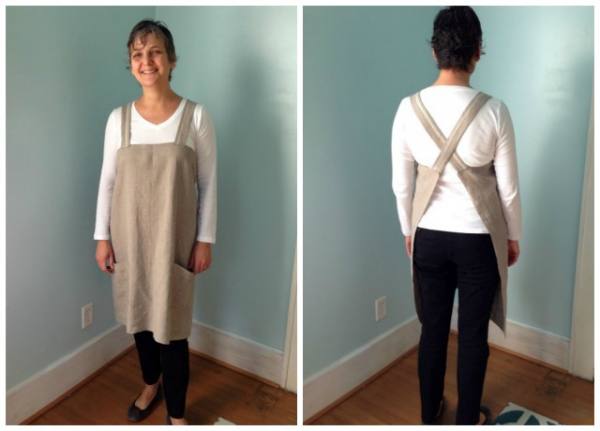 4C22 NATURAL 100% Linen Heavy (7.1 oz/yd2)
Slipcover made for couch using 4C22 softened mixed natural linen - beautiful to sew and has held up so well with many washings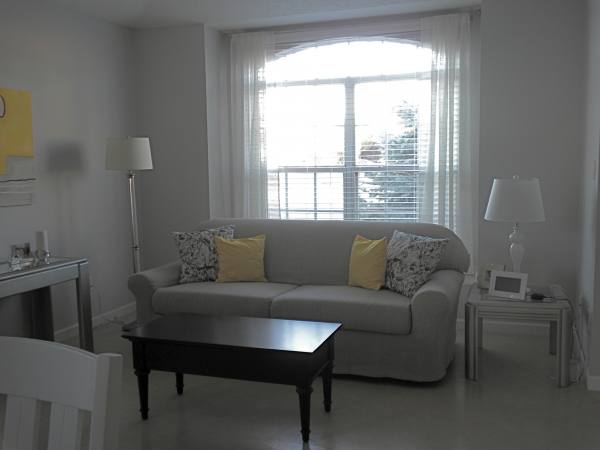 4C22 NATURAL 100% Linen Heavy (7.1 oz/yd2)
Natural linen made into a monogrammed baby book from Way Cool Designs. Please check our our site at; waycooldesigns.com These keepsake books are currently on sale ! Thank you, Susie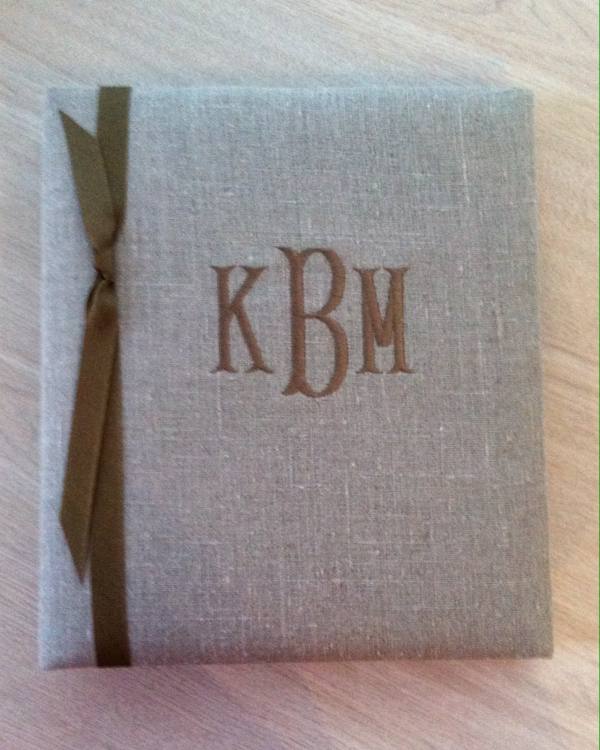 4C22 NATURAL 100% Linen Heavy (7.1 oz/yd2)
This was my first linen purchase from FS. Their customer service was very helpful with my questions about what type of linen to use for bath sheets. It's the perfect weight. The contrast material was a Doggie Bag purchase. I'm very happy with these and looking forward to other projects!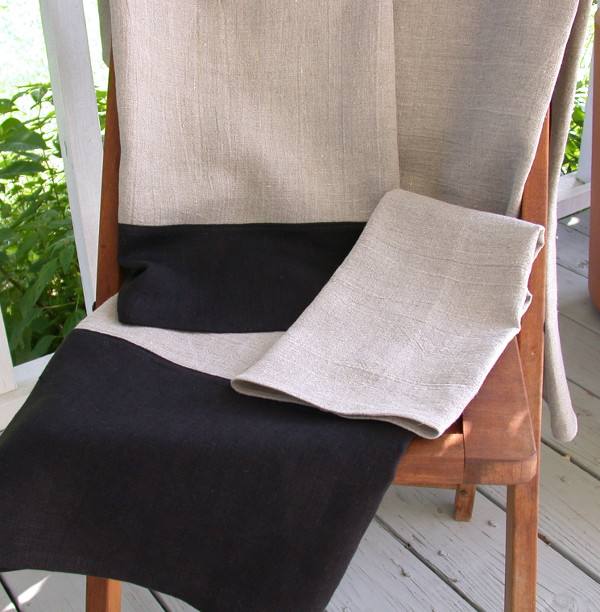 4C22 NATURAL 100% Linen Heavy (7.1 oz/yd2)
Shabby linen handbag with ribbon and applique embellishment etsy.com/listing/194056996/shabby-peony-linen-pleated-handbag-purse?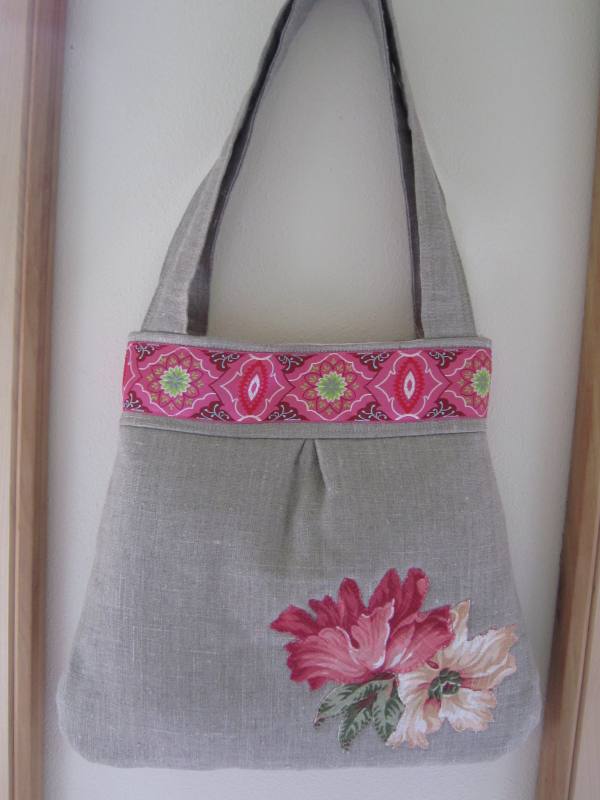 4C22 NATURAL 100% Linen Heavy (7.1 oz/yd2)
Double width floor to ceiling draperies to complement transitional decor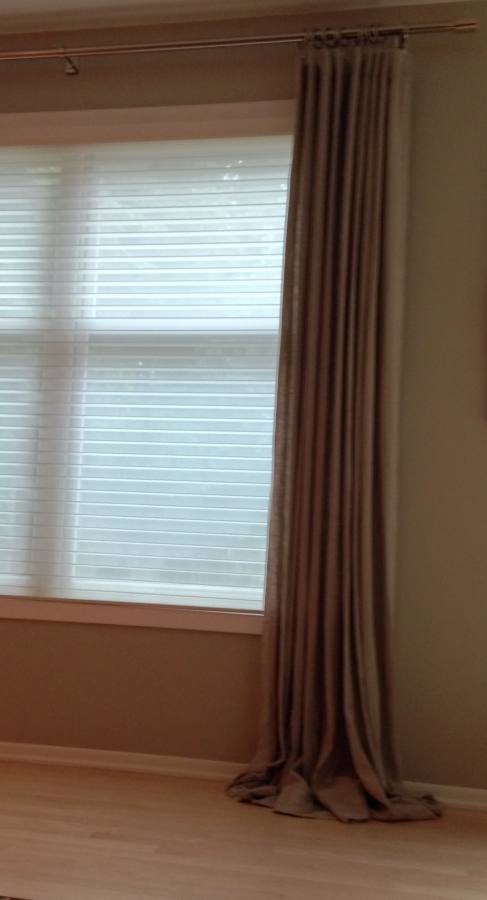 4C22 NATURAL 100% Linen Heavy (7.1 oz/yd2)
Retro bicycle wristlet hand stamped and accented with embroidery...can be found etsy.com/shop/Antiquebasketlady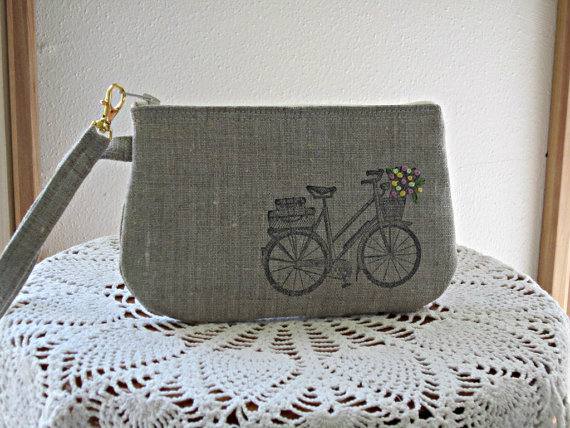 4C22 NATURAL 100% Linen Heavy (7.1 oz/yd2)
Perfect linen curtains. Beautiful fabric. I love the natural color.

4C22 NATURAL 100% Linen Heavy (7.1 oz/yd2)
natural linen with shell stamp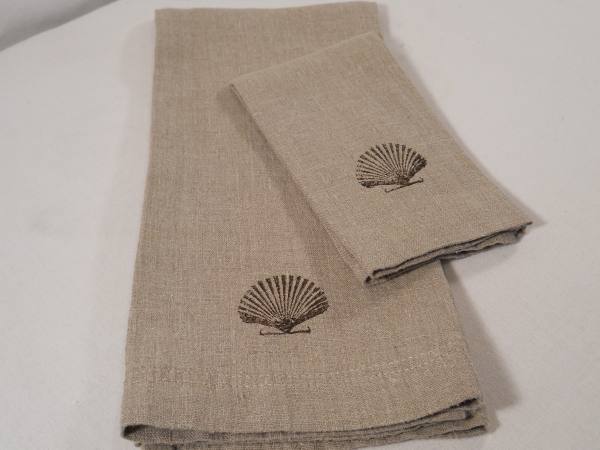 4C22 NATURAL 100% Linen Heavy (7.1 oz/yd2)
Rev war hunting shirt. Fringe was painful, as I had to unravel 1/2 yard for linen strips to make the fringe.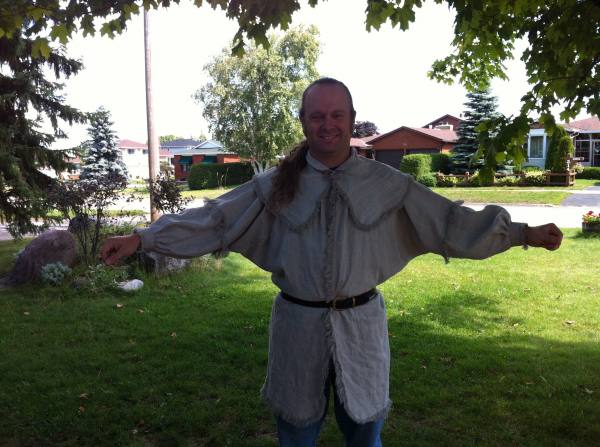 4C22 NATURAL 100% Linen Heavy (7.1 oz/yd2)
Attached are some pictures of pillows that were recently made by elderly adults at Sunflower Adult Day Services in Salina, KS.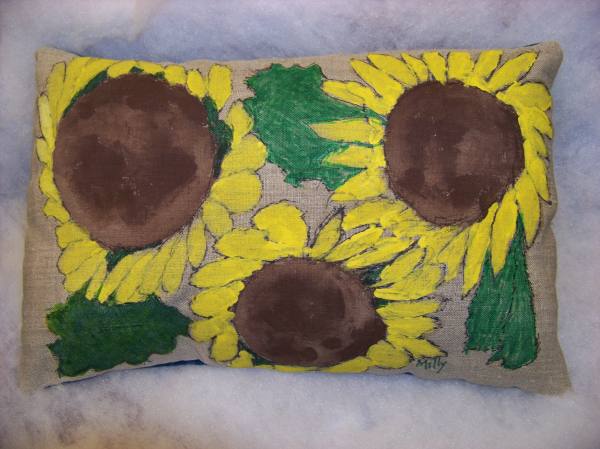 4C22 NATURAL 100% Linen Heavy (7.1 oz/yd2)
Attached are some pictures of pillows that were recently made by elderly adults at Sunflower Adult Day Services in Salina, KS.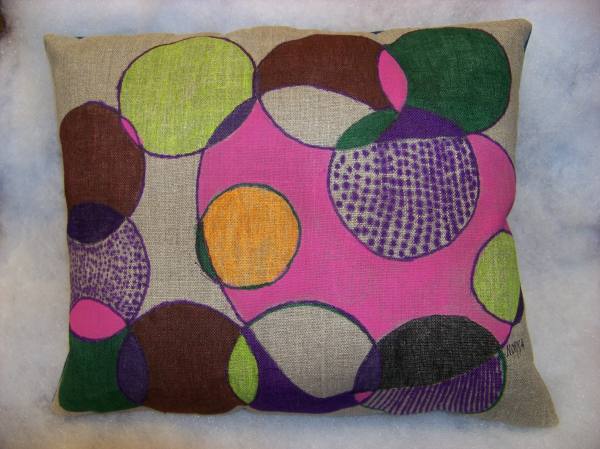 4C22 NATURAL 100% Linen Heavy (7.1 oz/yd2)


4C22 NATURAL - 100% Linen - Heavy (7.1 oz/yd2)
Sample Size: 2" x 3.5" (Including Swatch Card)
Free Standard Shipping
* Samples are pre-assembled and may not come from the same fabric bolt you order from. Color may vary. All fabric samples are shipped via USPS without tracking.

E-MAIL
Please contact us by following the link below.
SUBMIT A REQUEST

PHONE
1-866-620-2008
Call us Monday through Friday 10 am - 6 pm PST
Once you are happy with your order, please proceed to checkout where you are able to review your order and estimated shipping charges before you complete payment. Shipping charges are calculated by the weight and location your order is shipping to.
You will be able to choose from the following options:
Standard Shipping: 4 - 8 Business Days
Expedited Shipping: 3 - 4 Business Days
Priority Shipping: 2- 3 Business Days
International shipping charges are also calculated at the time of checkout. Please note there may be fewer shipping options available to you as the options are based on the destination of your package.
Delivery times begin one business day after the order is placed with a 24-48 hour time frame for processing.This processing period applies to all in stock items and allows for the time needed to manually cut and package your order to ensure it is checked for quality and accuracy before it leaves our facility.
Business days are Monday - Friday, 9AM - 4PM PST. Saturday, Sunday and Holdays are not considered business days.
Sample color chips are sent via regular mail and may take up to a week to arrive.
All goods are subject to prior sale and please feel free to Visit My Order to check the most up-to-date status of your order.
Making a return is quick and easy, you have 30 days from delivery to return the item or items in their original condition (unwashed, uncut and unaltered). Please include a copy of your packing list and once the return is received we will contact you to see if you would like an exchange, a credit to your Fabrics-store account or the monies returned to your original payment method.
Ship Returns to:
Fabrics-store.com
6013 Scott Way
Commerce, CA 90040
HOW DOES FREE SHIPPING WORK?
Take advantage of our Free Shipping offers on orders shipping within the contiguous US on the following days:
Every Monday and Wednesday on orders of $150 or more.
Every day on orders of $1,000 or more.
Your order will be shipped Standard Shipping (4-8 Business Days) with the shipper of our choice. No international orders. Standard shipping takes 24-48 hours for processing. Delivery times begin one business day after the order is placed. This is due to your order being manually cut and packaged to ensure quality.
Please note that some of our darker or more vibrant shades will have some residual dye run off or bleeding. It is important that you launder or treat like colors with like colors so that you do not compromise the integrity of any other colors, fabrics or garments during the launder process.
We also suggest that if you are combining one or more of these types of colors with lighter colors that you pre-wash the linens seperately and once the item is completed do not launder again, but Dry Clean.
Linen
Machine wash cold.
Gentle cycle.
Only non-chlorine. Bleach if needed.
Tumble dry low.
Medium steam iron.
Semilinen
Machine wash cold.
Gentle cycle.
Only non-chlorine. Bleach if needed.
Tumble dry low.
Medium steam iron.
Enter the e-mail address associated with your Fabrics-store.com account:
Temporary password has been emailed
Temporary password has been emailed to ivan@ecwm.com, and should arrive shortly. If you have any questions or problems, please contact our customer care center at 1-866-620-2008.
Your account has been disabled. If you believe this to be a mistake, please call our customer service at 1-866-620-2008 and we will help you with your order. We appreciate your cooperation.
Web Accessibility Toolbar