4C22 BLACK Softened - 100% Linen - Heavy (7.1 oz/yd2) - 1.00 Yard
Price:
$11.54 per item

Sale price:
$8.08 per item (30% off)
Only 0 in stock
Darkness pervades Tacita Dean's artworks, falling over craggy rocks and epic mountains into inky, bottomless wells. BLACK Linen shares Dean's endless black, a colour that intensifies mystery and drama, cloaking and concealing everything it touches.

At a heavier weight of 7.1 ounces this 100% linen is referred to as Rustic due to its more textured look and feel. Durable and perfect for projects that require just a bit more substance.
The cloth is Softened so we have added a softener to give it a silkier hand. The fabric has not been laundered so shrinkage will still have to be taken into consideration (shrinkage depends on fabric weave and laundering method).
Fabric specifications:
| | |
| --- | --- |
| Article : | 4C22 Rustic - Bortovka |
| Content : | 100% Linen |
| Type : | BASIC |
| Thread size warp : | 11.6 |
| Thread size weft : | 11.6 |
| Thread count warp : | 38 |
| Thread count weft : | 32 |
| Color : | BLACK |
| Weight : | 7.1 oz/yd2 |
| Width : | 57 inch |
Reviewer: Grace
I've been ordering from fabric-store for years, and this was the second time I ordered this heavy black linen by the bolt. My last bolt was beautiful...even after washing it was beautiful, dark, with a sheen. This bolt was a total disappointment. When washed, it looked washed out and faded. Won't match any of my dark blacks because of the dullness. Not sure if I received a bad bolt, or if the supplier changed, but had to put all 20 yards to the side for something else, and all my projects are on hold. VERY unhappy...this represented a large investment, and both this and the blue I ordered (which was too light to be called "royal blue") were not up to the quality I usually expect from fabric-store.
Maureen
I am sorry to hear that there was an issue with this color and the other color mentioned here as well, I will email you directly so we can work out an acceptable resolution for you.
Reviewer: Priscilla
I made the Cass pants with this weight as suggested in the pattern and it was entirely the perfect material/weight. I will make several modifications to the pattern for myself (see pattern blog review) but overall...just fantastic drape and hand.
Reviewer: Mariann
I bought quite a bit of this on sale. Finally used a yard or so to make Anna Allen Clothing company Pomona shorts. I diverged from the directions by adding flat felt seams. Love these--washed on receipt, still a little stiff, but fully expect them to soften with repeated washings. Next to do the same pattern in trousers.
Reviewer: Deb
I used this fabric to create a pair of pants for my daughter and a matching belt. I used a Saddle Stitch with a dark brown thread and it created a tooled leather look. Beautiful pants and my daughter was pleased. Thanks for the Linen - It's wonderful to work with.
Reviewer: Mikey
I used this fabric to make the Mariana Blazer and it was PERFECT. Easy to work with and the perfect weight.
Reviewer: Loretta
Makes an exceptional back drop for photographic works. There is not much light return from the fabric to obscure the colors, shapes and depth of the subjects. If it is draped with slight folding that will relieve the 'dead surface' effect.
Reviewer: Moxie
I made an apron out of this, it's perfect. Good weight, feels sturdy, looks stunning.
Reviewer: Rose
Recently, I made a dress out of this amazing fabric. Unlike every other linen I've ever sewn or worn, it hardly wrinkles. I wore this dress on a plane for eight hours then several times over the course of the two weeks I was traveling, and back home again for another eight hour trek. Incredible!! There was nary a crease. Of course, after time, there was a bit of "folding," let's say, but nobody would know I'd practically lived in the dress for two weeks. I will definitely buy this again. Thanks so much!
Reviewer: Anonymous
Used the black rustic linen for a bath towel. After 5 washes, an excessive amount of lint continues to rub off, onto the body. Hopefully, after a few more washes, it will dissipate, otherwise, I may have to repurpose the towel and make a linen tank top.
Reviewer: Sarah
Bought and used some of this for making myself baby carriers several years ago. It was great for that but now my kids are older and I still have lots leftover. Started making linen shorts for the summer and am in love with them.
Reviewer: Julie
I will use this black rustic 22 linen to sew a messenger style over the shoulder all purpose bag. I plan to use it to carry a variety of projects to work on when I travel or attend meetings. My knitting, crochet work, bento bag sewing, small quilt projects, etc. will fit easily with my tablet and phone so I am always in touch. This linen is easily laundered and coordinates with everything 😊. It's great
Reviewer: Karen
I wanted a heaver linen for pants and I found this to be the perfect weight, even in summer and you cannot beat the price of this fabric. I would describe it as medium/heavy weight but yet still drapes nicely for garments. The pants I made are a recent release of V9193 designed by Marcy Tilton. Modern & chic.
Reviewer: Sue
I ordered this 4C22 Black to make Medieval Clothing. Ordered on 28 April, and box arrived at my house in Brisbane Australia on 04 May (May The Fourth Be With You) How is that even possible? Time Travel? Thank You! I can get busy now before our History Alive programme on June 11/12.
Reviewer: Joseph
I love this linen. I typically use it for re-enactment garb specifically for SCA Armored Combat. I use the black in conjunction with gold and red with all of them keeping their color through dust and grime, sweat and tears, and through the wash and linen drying. It also is durable in combat yet allows heat to escape the body. Linen just feels 'right' whether for Armored Combat or the Medium Weights for garb.
Reviewer: Julie
I love the size and weight of this linen. I will be using this to sew a pair of all weather comfortable pants and I plan to use any scraps from the cutting out for smaller objects like a coin purse and a crochet hook holder. I have used this fabric in the past for an over the shoulder messenger bag, a purse and a nook cover. It sews up beautifully and wears well.
Reviewer: Judi
This was my first purchase from fabric-store.com and the quality is outstadpnding.
Reviewer: Erika
I have been buying linen from fabrics-store.com for a while now. As important as it is that I love it, its even more important that my customers love it, and they do! Its soft and durable, and has a great drape. The color options are fantastic! I have yet to find a place with a better selection of linen or lower prices. I'm so glad I found this place. I get the 7.1 oz heavy linen for my product, and its just the perfect weight - not too light and not too heavy. The first time you wash this fabric it will shed a lot, so check your lint trap! I only with they had the same daily discounts to include the 7.1 oz, and not just the 5.3 oz. Thanks guys! Love what your product! -Erika portlandaproncompany.com (My front page photo shows fabrics-store linen)
Reviewer: Heidi
I'm a fabric addict and this is one of my favorites, all colors. I make purses, makeup bags, totes and the like. Although it washes to a soft dream, these things aren't going to be worn next to the skin so I don't wash it beforehand. It has a subtle, beautiful weave and I love the crisp polish of it right out of the box. I also like that you can pull out a strand to reveal a perfect guide for cutting. Your scissors stay right there in that channel. I can use a heavy cotton interfacing for a pliable bag, or a stiff polyester stabilizer when I want something more structured. You just can't go wrong.
Reviewer: Sally
I ordered 2 doggie bag pieces of this fabric in January 2012 to make a Sunday nice dress. I prewashed in hot water which took care of the shrinkage problems and made the fabric wonderfully soft and a dream to sew. The doggie bag pieces were so generous that I made a simple A line dress and a pair of slacks from the 2 pieces! This fabric must be the original wash and wear fabric of civilization as it is wearable straight from the dryer. The clothing breathes and is as cool as it gets in our hot, humid south Texas summers. The dress is very comfortable under a polyester clerical robe and does not wrinkle unduly. After the robe comes off, I still look decent to go out to a nice restaurant for lunch.
Reviewer: Kathryn
I'm currently using this fabric for the lining of a doublet used for SCA Rapier combat. I've heat-treated it by boiling it in a big pot to tighten down the weave, which was relatively successful! It will be soft and breathable, but is durable enough to withstand a beating. SO much more comfortable, and much closer to the period practice of multiple layers of linen to provide protection!
just thought you might like to see that your fabric is useful for things other than sewing projects and clothes.This is your heavyweight black being used as a spine lining in a book repair.Shown is an 1866 Yale yearbook - Middlesex Bindery middlesexbindery.com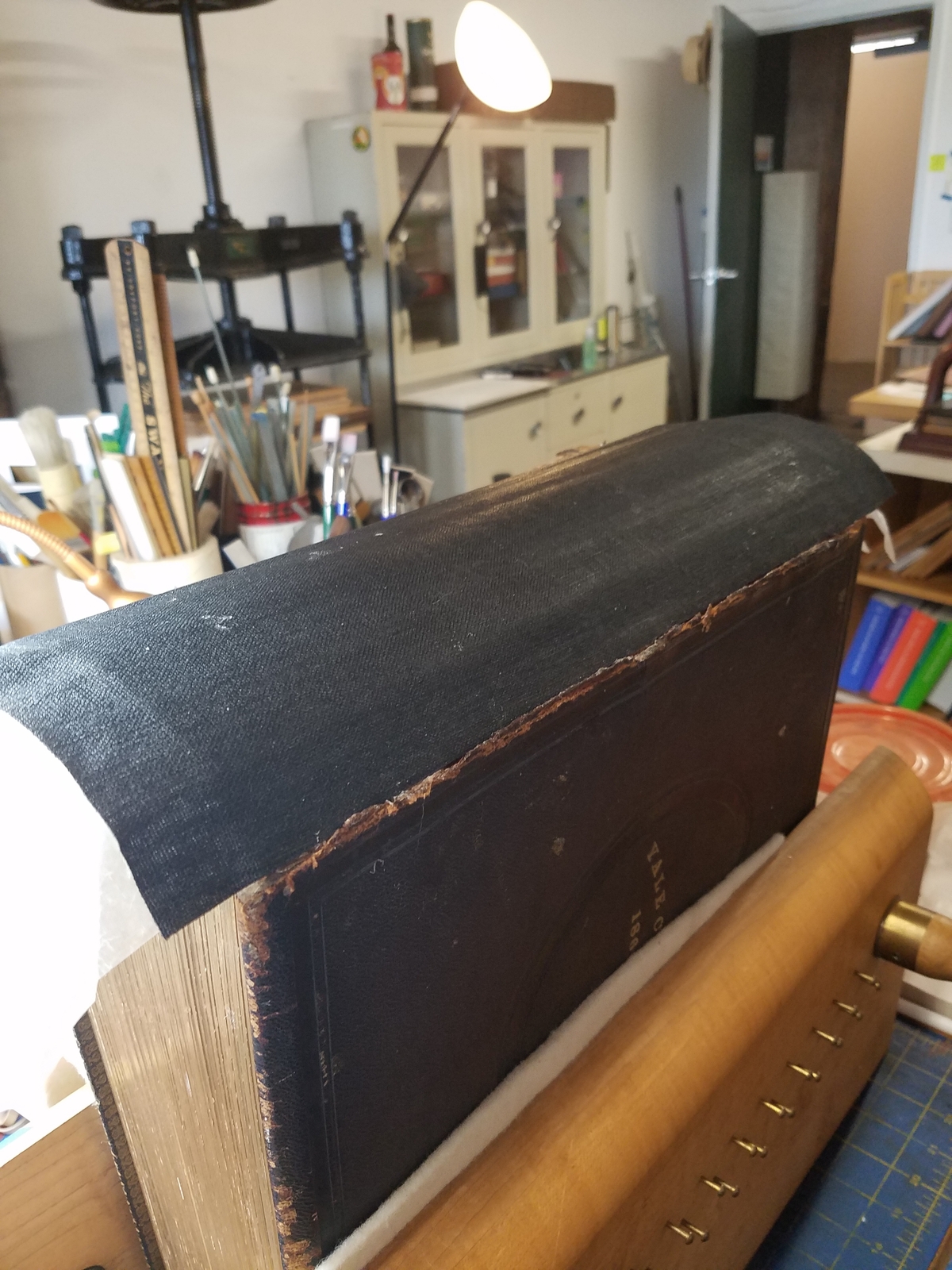 4C22 BLACK Softened 100% Linen Heavy (7.1 oz/yd2)
This is the Cass pant (free pattern with directions in blog). Loved working with this weight linen.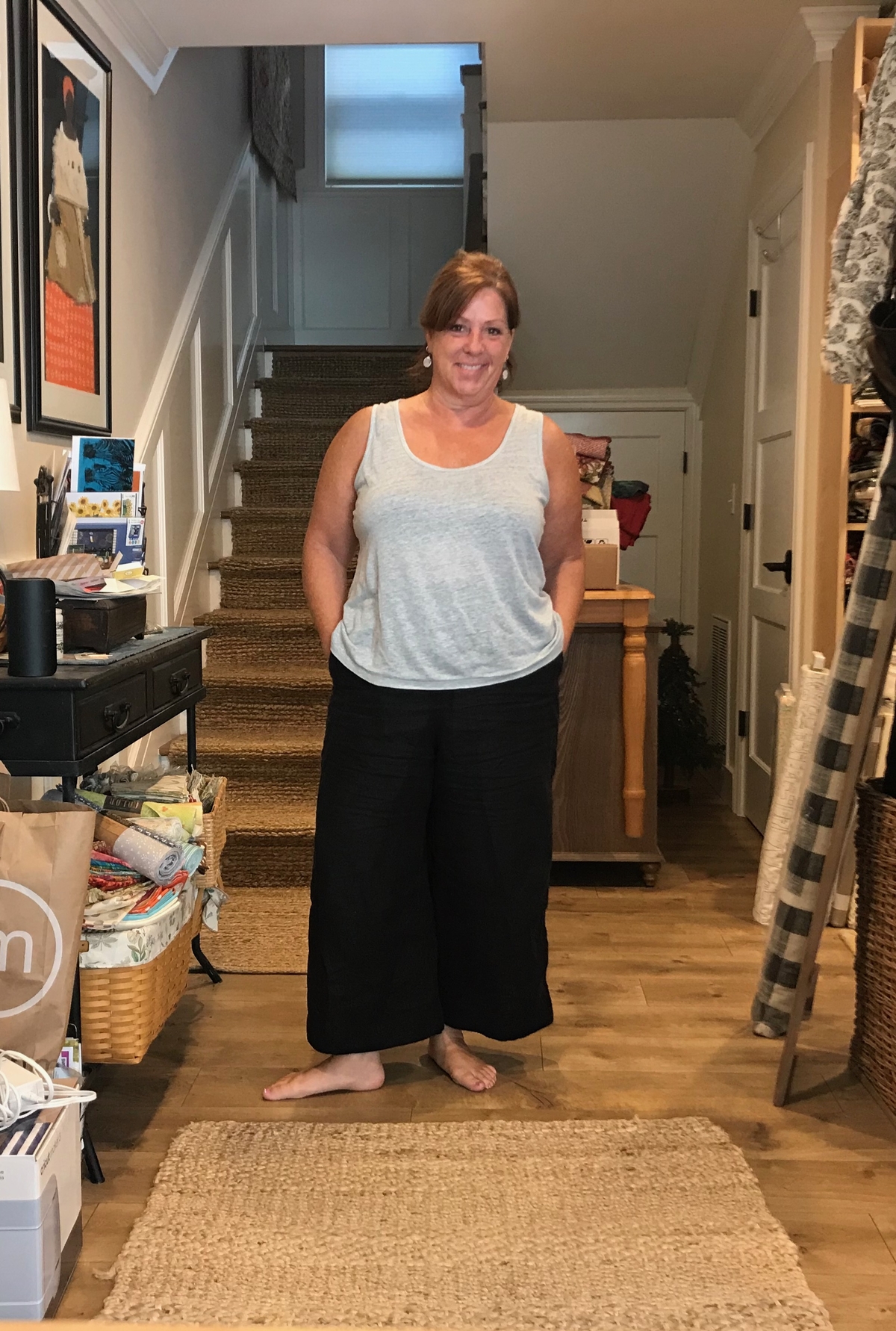 4C22 BLACK Softened 100% Linen Heavy (7.1 oz/yd2)
This bag is made of heavy natural linen and heavy softened black linen. It's available on my ETSY shop: etsy.com/shop/JustLinenShop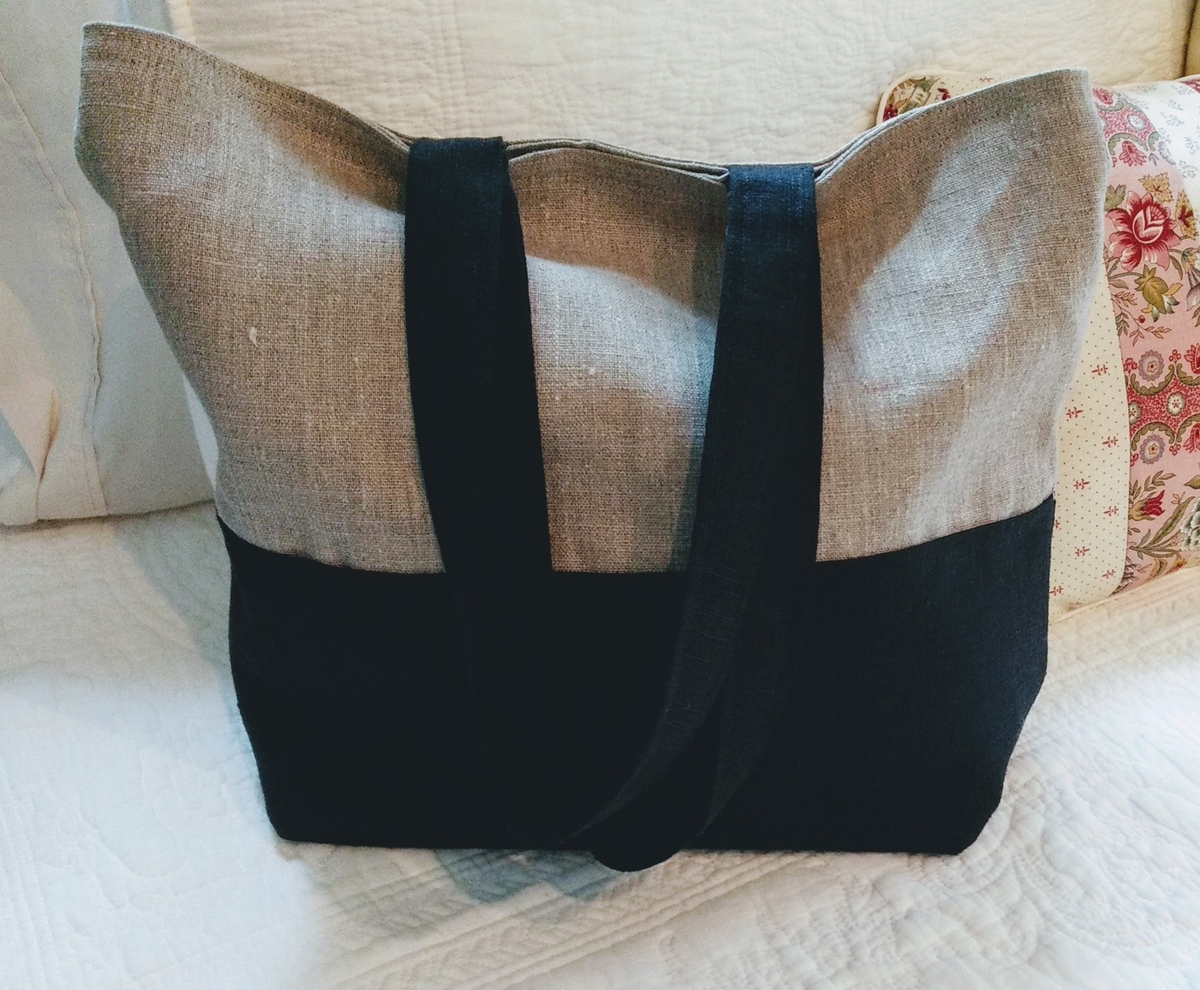 4C22 BLACK Softened 100% Linen Heavy (7.1 oz/yd2)
Made an apron with this black heavy linen. Was lovely to work with!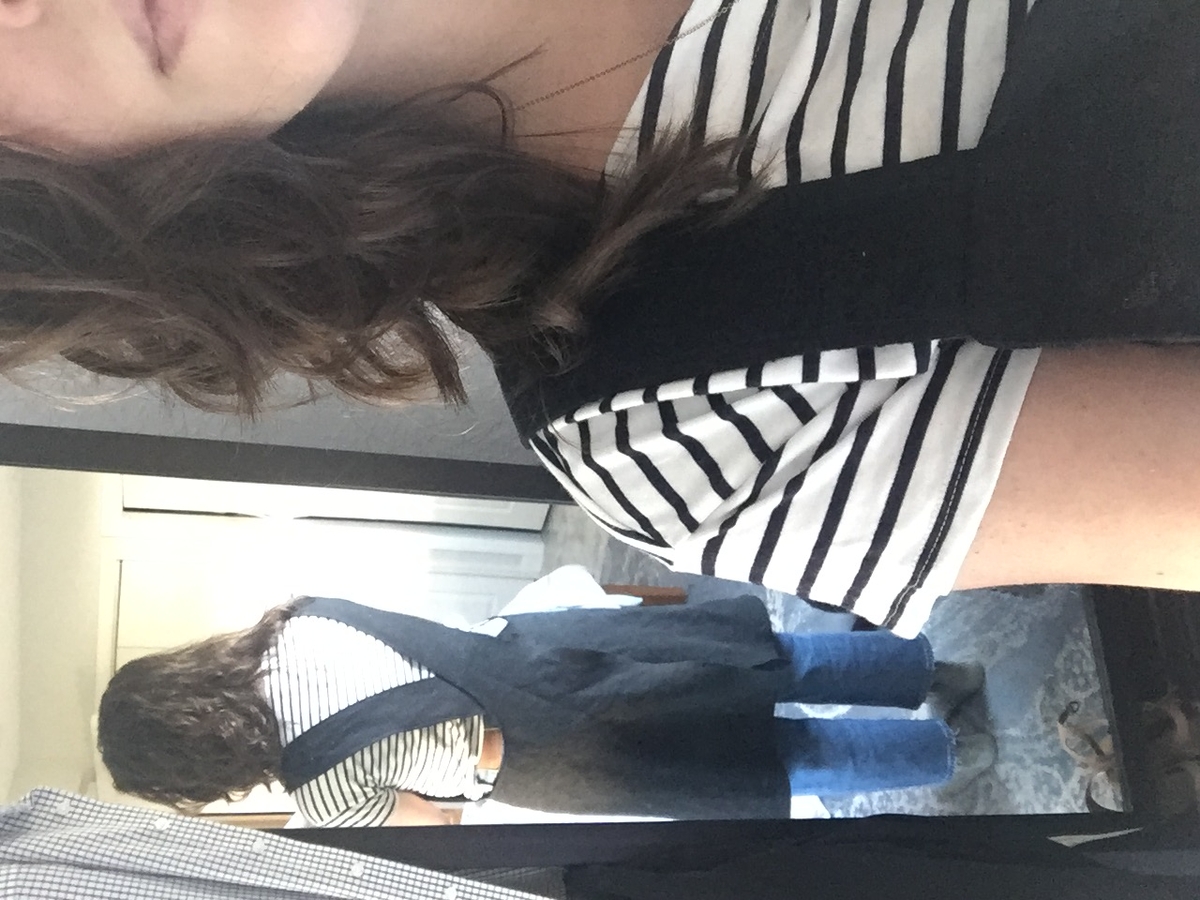 4C22 BLACK Softened 100% Linen Heavy (7.1 oz/yd2)
I made a couple of garments with this fabric and it's nice to work with. It is slightly stiff at first, but after only 2 or 3 washes it becomes much more soft. This top was made with this pattern: Simplicity 8658 veiw 4 (without ruffles).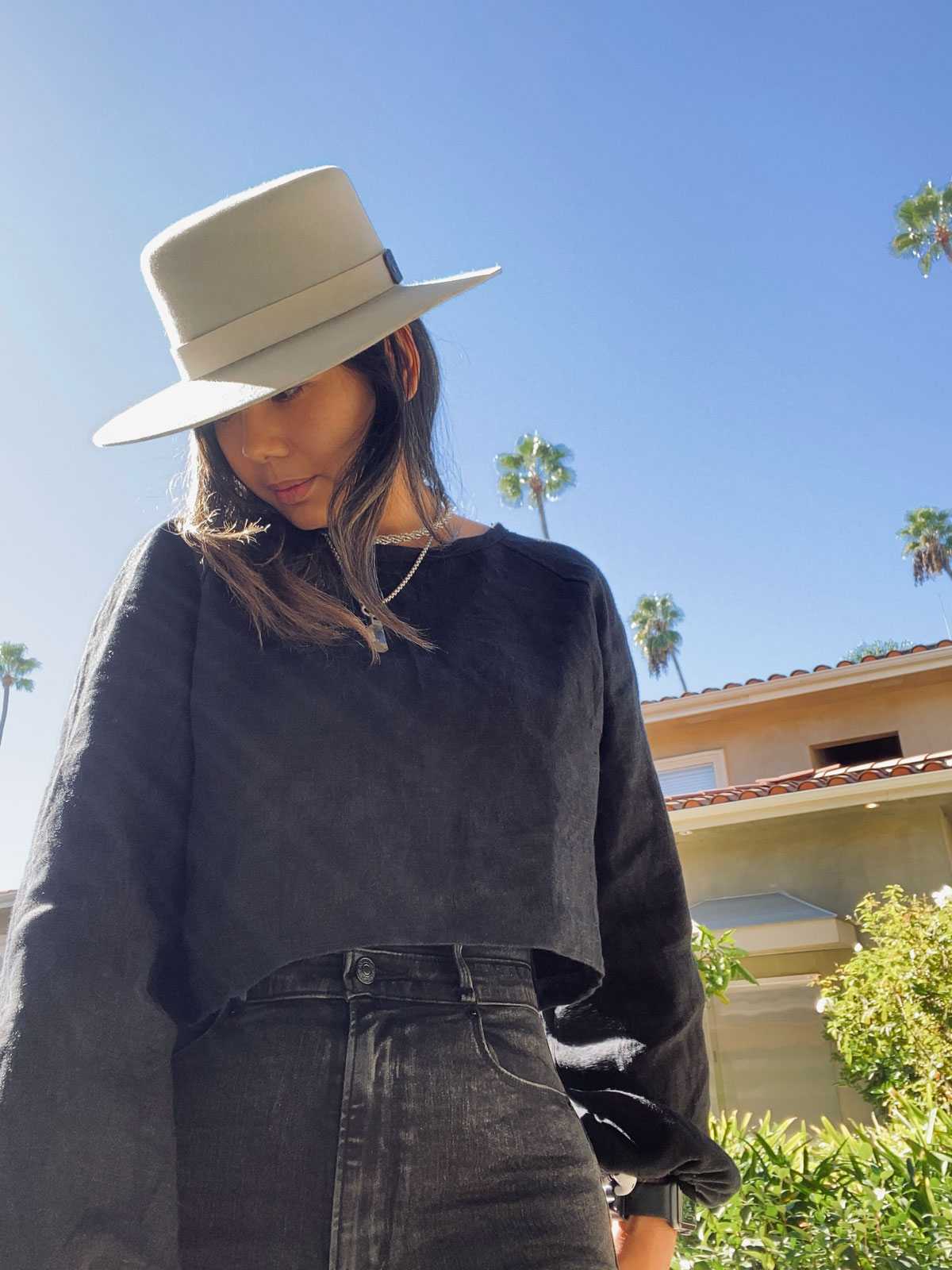 4C22 BLACK Softened 100% Linen Heavy (7.1 oz/yd2)
Paola Work Wear Jacket made with FS BLACK Heavyweight 100% Linen. For the men's jackets, I used the size guide to estimate which size might work for them even though it has women's sizing. This wasn't too tricky and I measured their shoulder width to make sure I got it correct comparing the width to the top of the back piece pattern. For men, you also need to put the buttons on the opposite side – buttons on the right, buttonholes on the left. More on how to alter the pattern can be found here: blog.fabrics-store.com/2020/11/05/pattern-review-fs-paola-workwear-jacket-pattern/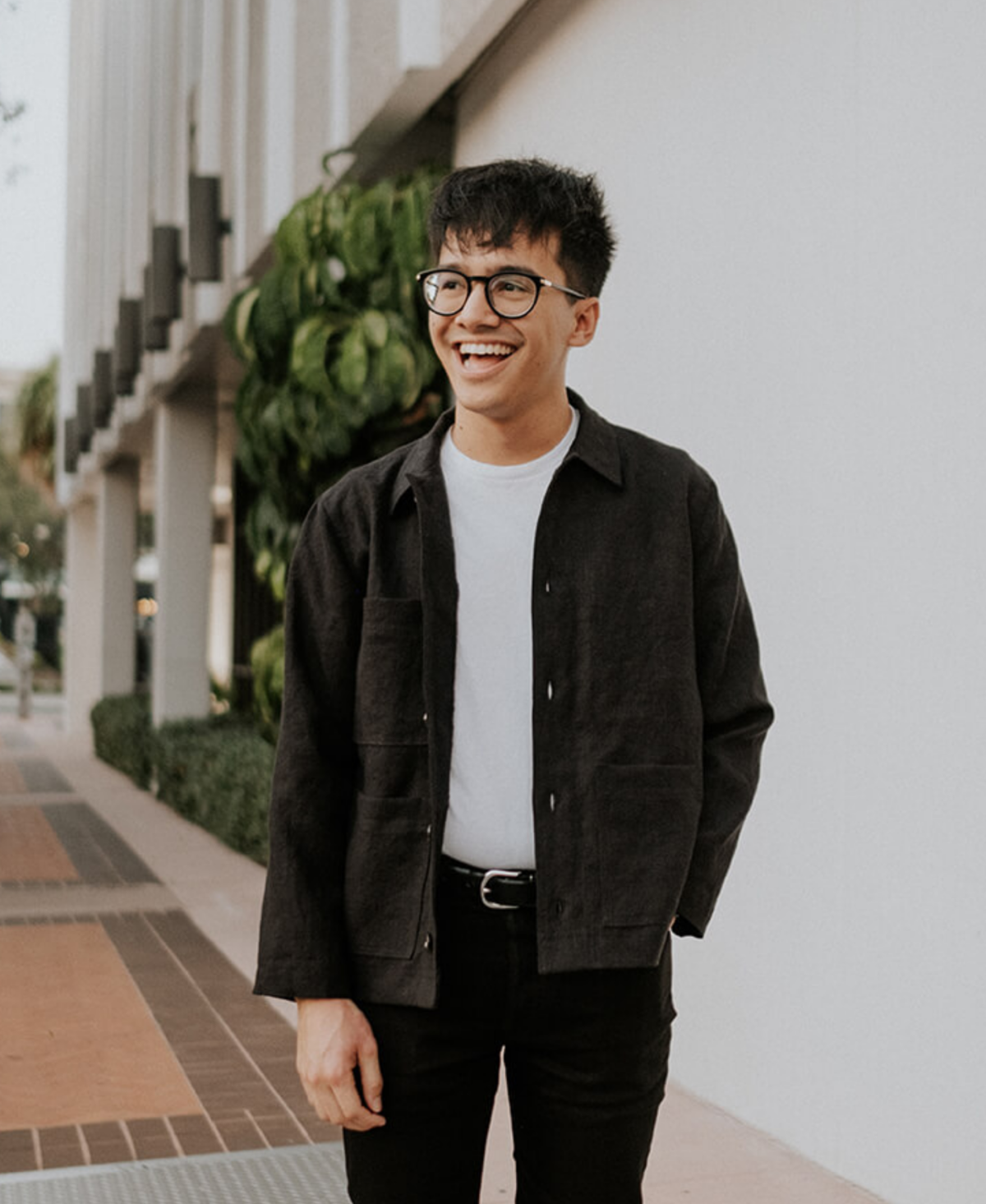 4C22 BLACK Softened 100% Linen Heavy (7.1 oz/yd2)
Mood Fabric Tecoma pattern. Turned out better than I even anticipated!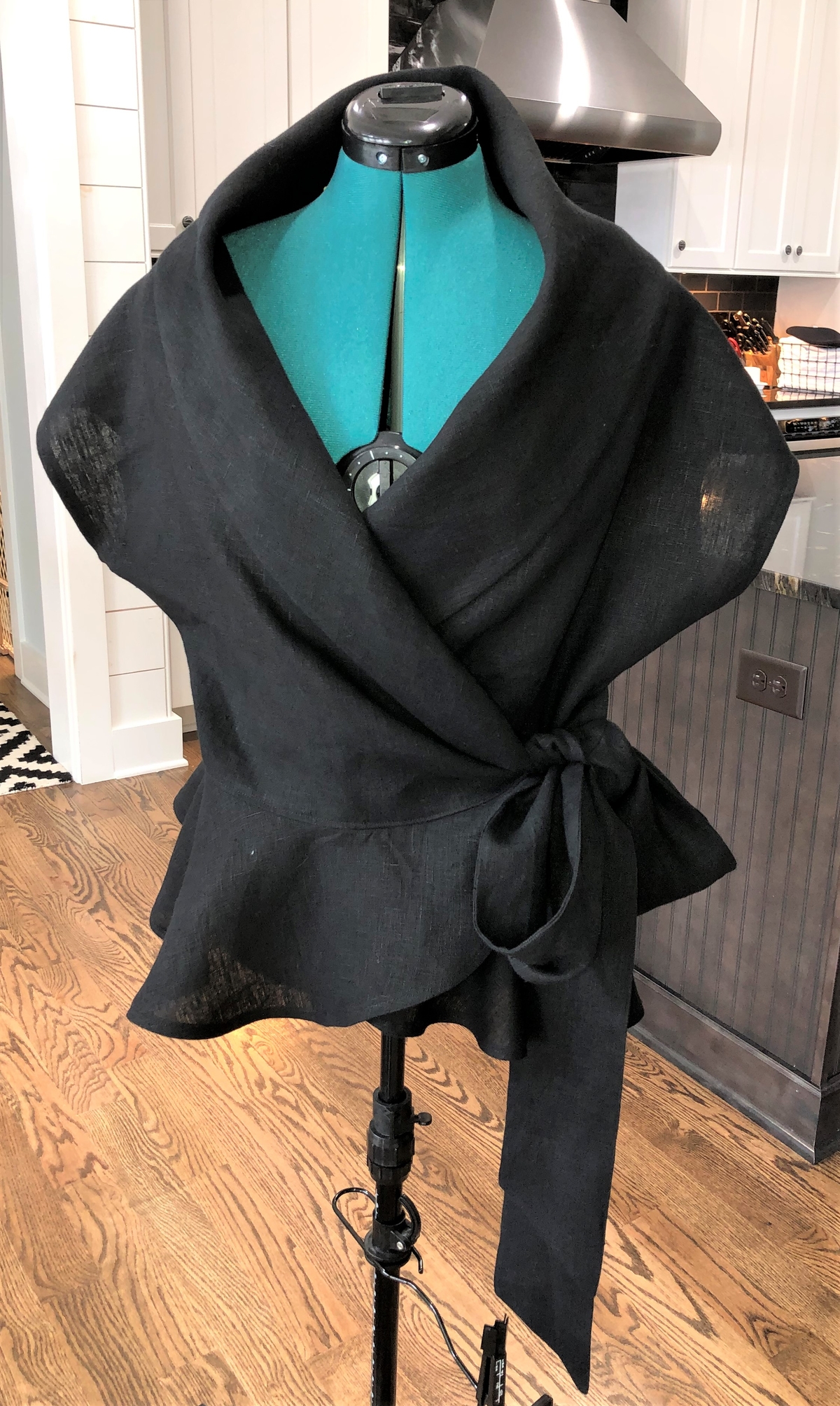 4C22 BLACK Softened 100% Linen Heavy (7.1 oz/yd2)
Some asked if 4C22 linen was suitable for the Hana Kimono Jacket pdf pattern. Yes The weight makes a great jacket for the Fall. Skye reversible dress is done in yarn dye IL078 940.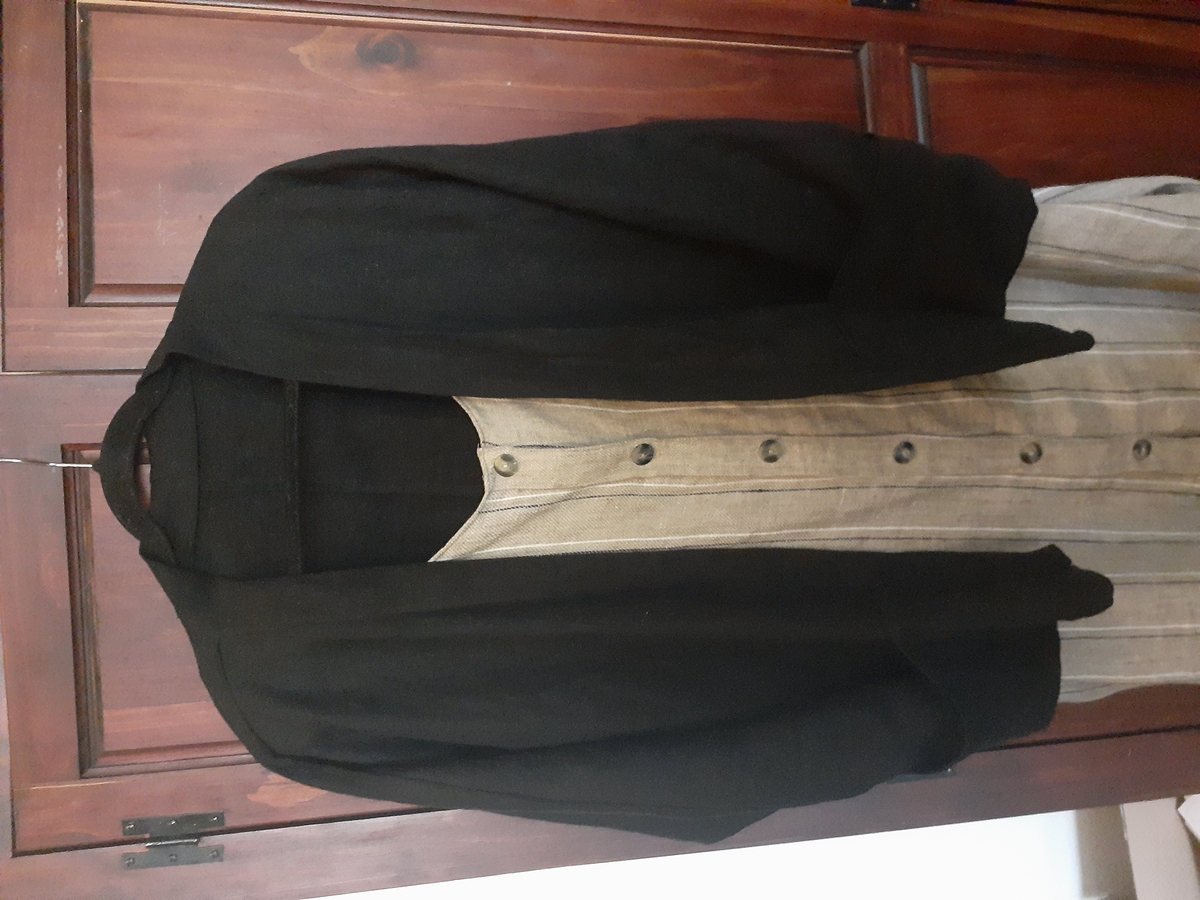 4C22 BLACK Softened 100% Linen Heavy (7.1 oz/yd2)
Made a summer shift for my daughter. Spaghetti straps are 1/2 wide cut on grain and folded like double bias - so 4 layers, top stitched gave a very nice tailored look. Simple side pockets and side slits. She belted for a lovely finished look. It is a great weight for more tailored cuts, I washed and dried on hot twice before cutting.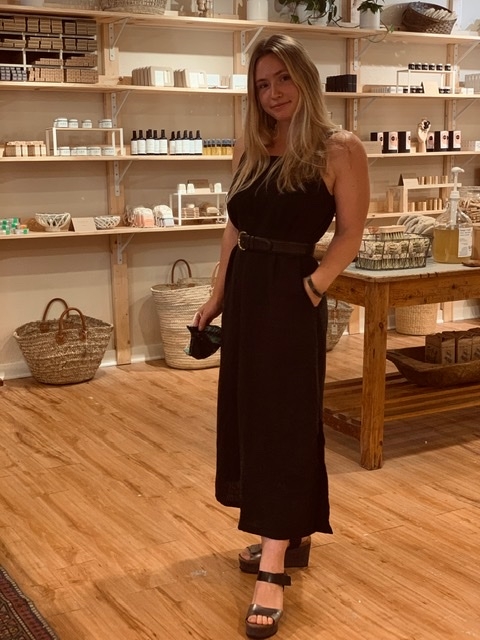 4C22 BLACK Softened 100% Linen Heavy (7.1 oz/yd2)
I made a fancy apron that wraps around to be a full skirt with three pockets and hand embroidered moth. Fabric has held up to three washings nicely.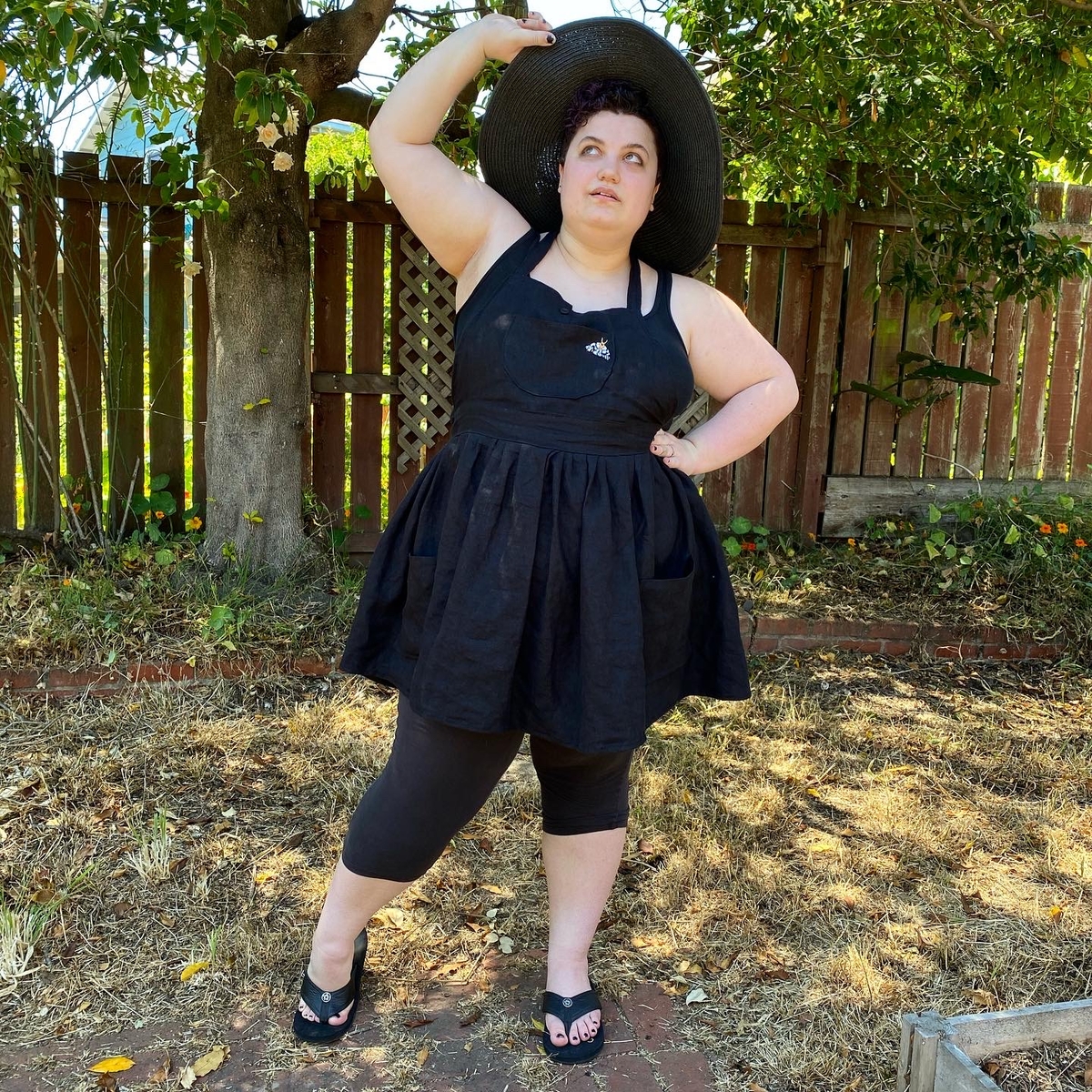 4C22 BLACK Softened 100% Linen Heavy (7.1 oz/yd2)
Witches costume made with 4 yards of Softened Heavy Black Linen. The linen was a dream to sew with.

4C22 BLACK Softened 100% Linen Heavy (7.1 oz/yd2)
Made these shorts with leftover scraps from another project. They are perfect for summer!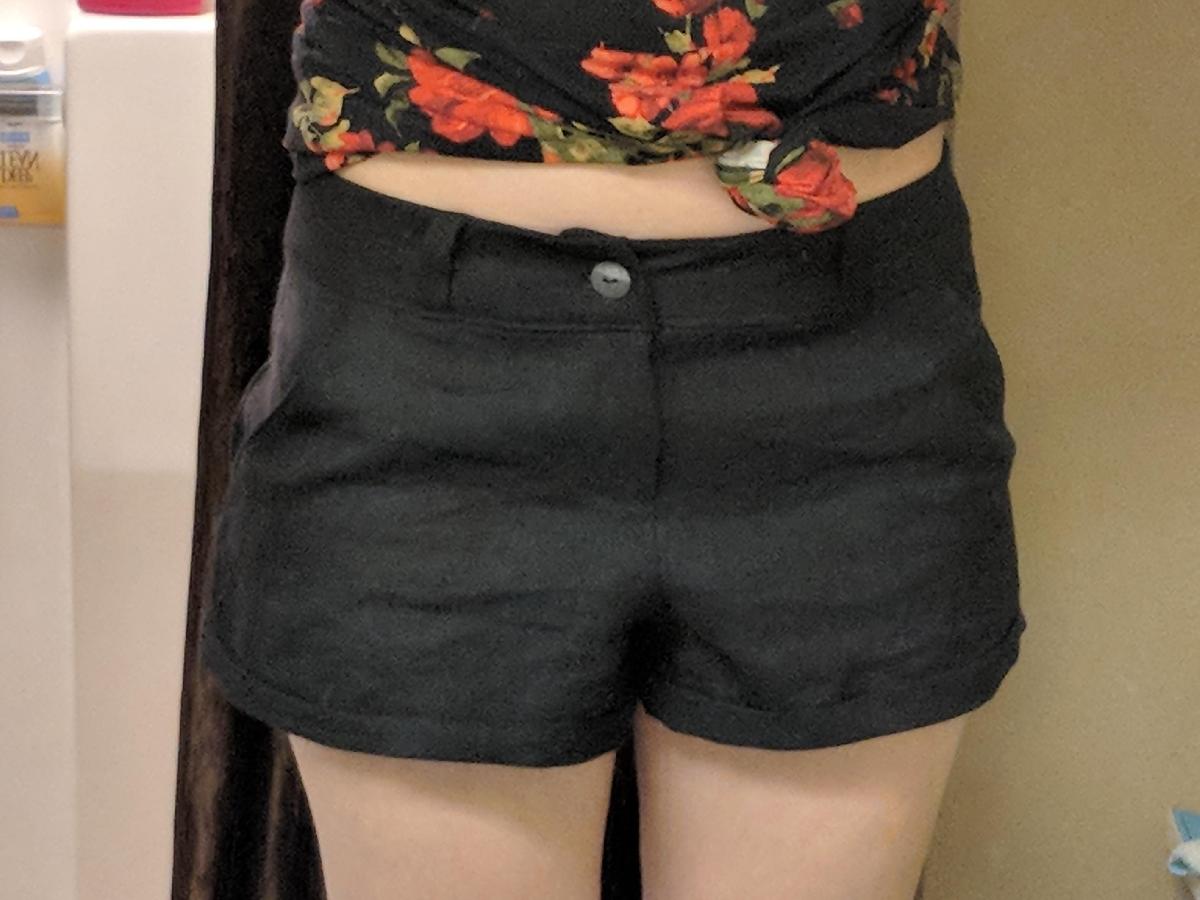 4C22 BLACK Softened 100% Linen Heavy (7.1 oz/yd2)
Ordered this fabric to make chef's aprons for Christmas. Pleased with the results. Prepared the fabric by washing in hot water five times but it still bled color. In future, plan to wash and soak in cool water bath with 1 cup white vinegar, then repeat wash.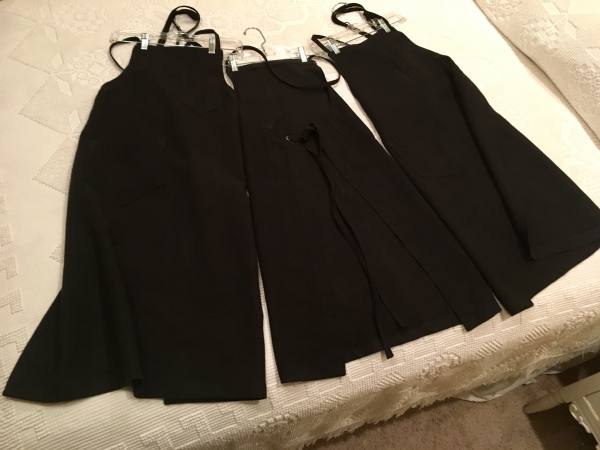 4C22 BLACK Softened 100% Linen Heavy (7.1 oz/yd2)
I made this using the free Nico pattern I got from your website. It's a great pattern and perfect for Arizona.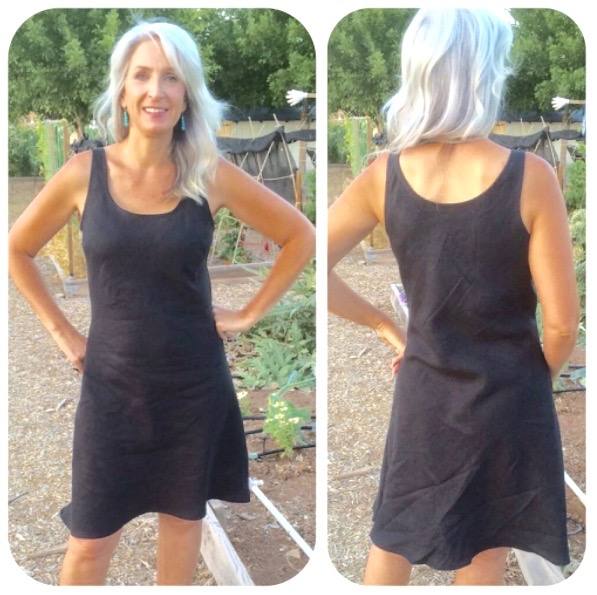 4C22 BLACK Softened 100% Linen Heavy (7.1 oz/yd2)
This linen is just perfect for pants. My daughter liked it so much that I had to buy more fabric to sew another pair of pants 👖 for her.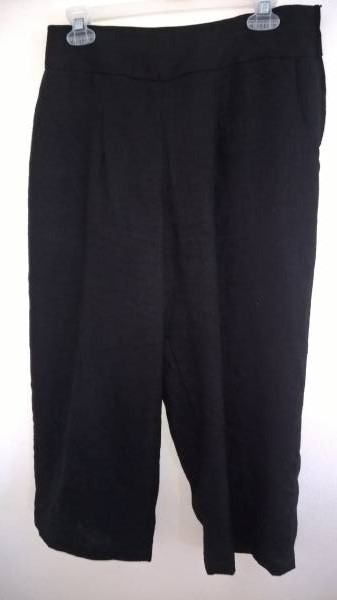 4C22 BLACK Softened 100% Linen Heavy (7.1 oz/yd2)
This linen is fantastic for making cross back aprons. (I use the pattern posted on The Thread with a few alterations) My Baby Lock II Sashiko machine is used for sewing the edges down. Makes a great gift for the cook, gardener, etc.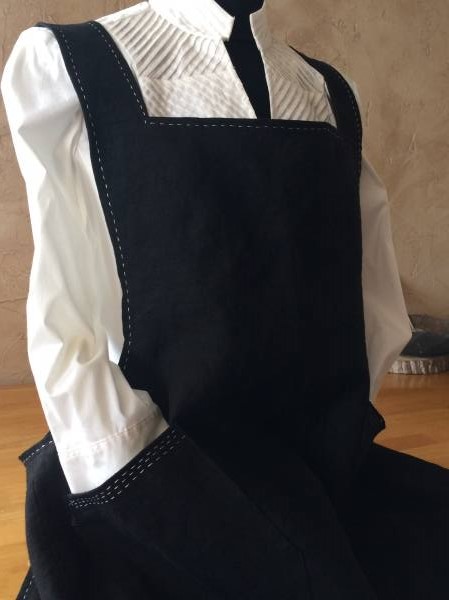 4C22 BLACK Softened 100% Linen Heavy (7.1 oz/yd2)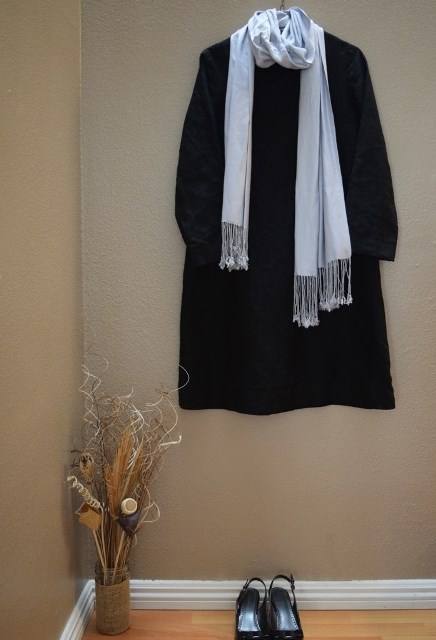 4C22 BLACK Softened 100% Linen Heavy (7.1 oz/yd2)
I used the 4C22 BLACK Softened - 100% Linen - Heavy Weight (7.1 oz/yd2) for my crossbody skull bag. I love how this fabric feels and how well it embroiders on! This is one of my top sellers!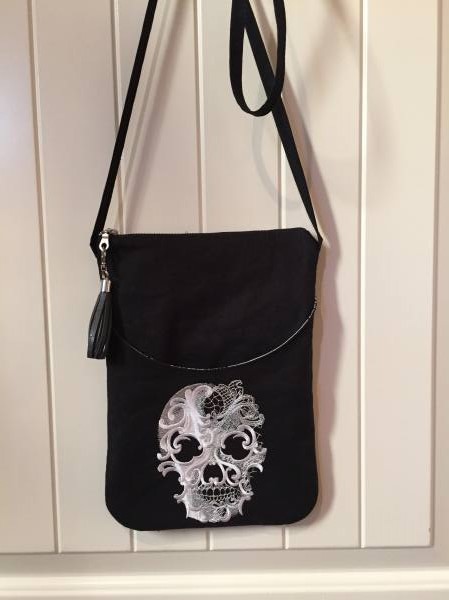 4C22 BLACK Softened 100% Linen Heavy (7.1 oz/yd2)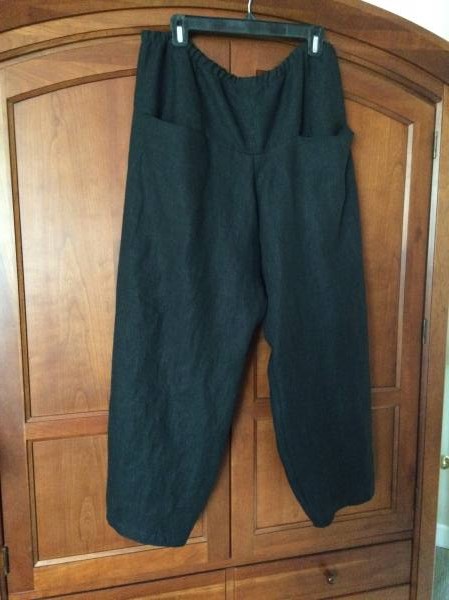 4C22 BLACK Softened 100% Linen Heavy (7.1 oz/yd2)
This kirtle is all in this beautiful black linen. I love this stuff. The skirt was so easy to make, since it was my first attempt at Venician. Love this! The bodice is the heavier linen too!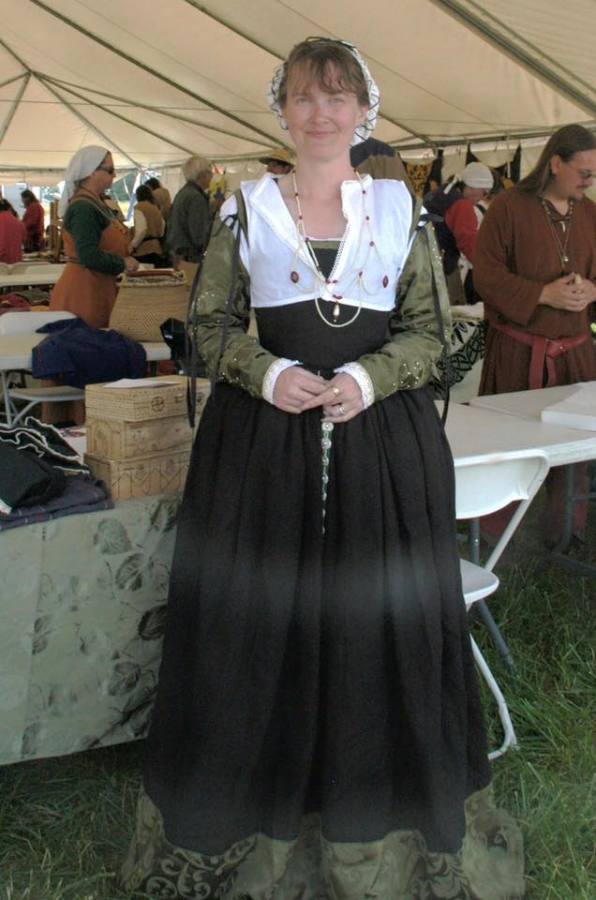 4C22 BLACK Softened 100% Linen Heavy (7.1 oz/yd2)
A pinafore apron made of 7.1 oz linen in Mixed Natural from Portland Apron Company.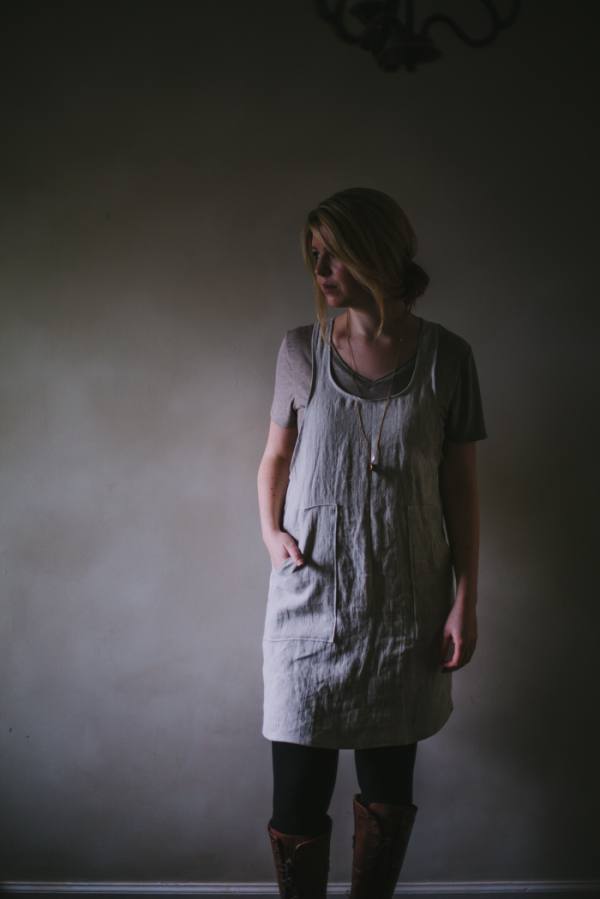 4C22 BLACK Softened 100% Linen Heavy (7.1 oz/yd2)
I love this black linen. I use all colors, weights for my drawstring bags.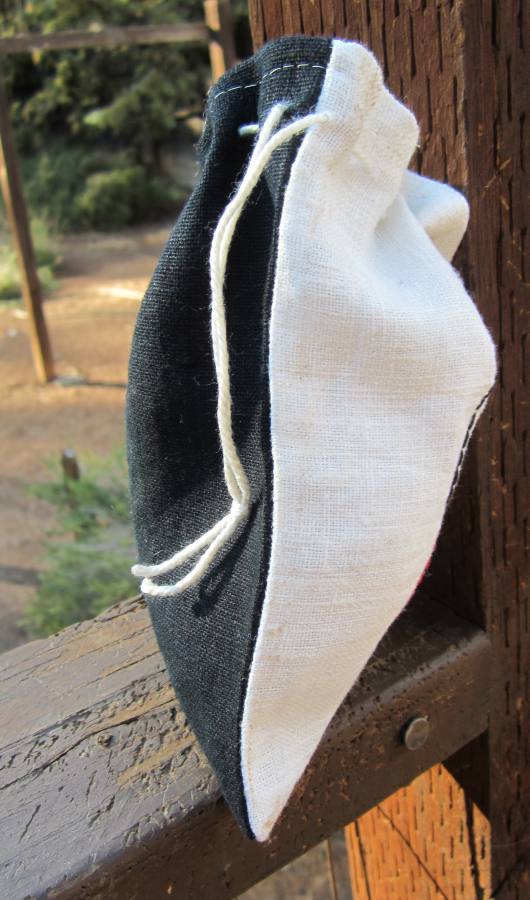 4C22 BLACK Softened 100% Linen Heavy (7.1 oz/yd2)
A friend and I put together a viking age A-frame tent using this linen. It worked out great!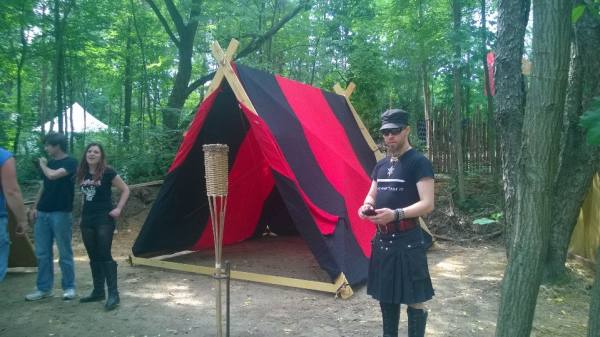 4C22 BLACK Softened 100% Linen Heavy (7.1 oz/yd2)
LOVE, Love, love this linen. Made my pirate outfit out of heavy crimson for the outer coat and all purpose medium natural linen for the lining. The waistcoat under the coat is also heavy black soften linen with the medium soft natural lining.. It looks marvelous. The linen gives the outfit a natural, comfort fit. The look is very authentic . I selected linen vs wool for summer, fall heat.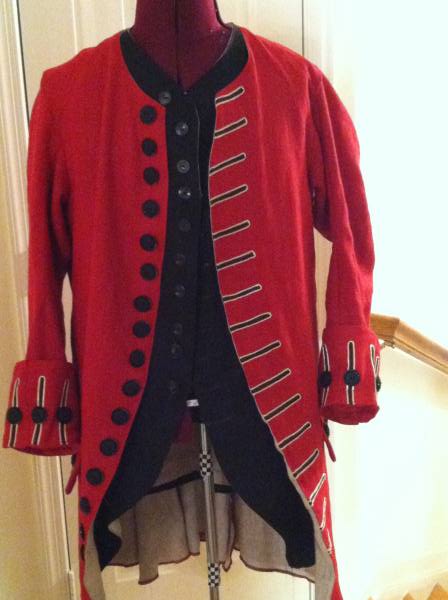 4C22 BLACK Softened 100% Linen Heavy (7.1 oz/yd2)
I use this heavyweight linen for Edo-period, deeply pleated hakama. The thickness and hand are perfect, it makes for comfortable yet rugged hakama that can take abuse and still hold crisp pleats. Highly recommended not just for costumes but martial arts wear.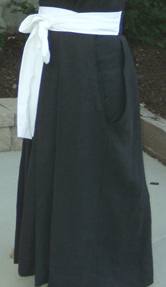 4C22 BLACK Softened 100% Linen Heavy (7.1 oz/yd2)
This 18th century black waistcoat was made from this linen, along with my breeches. The fabric is light, yet durable. It was a great choice form my Regimental Surgeon impression.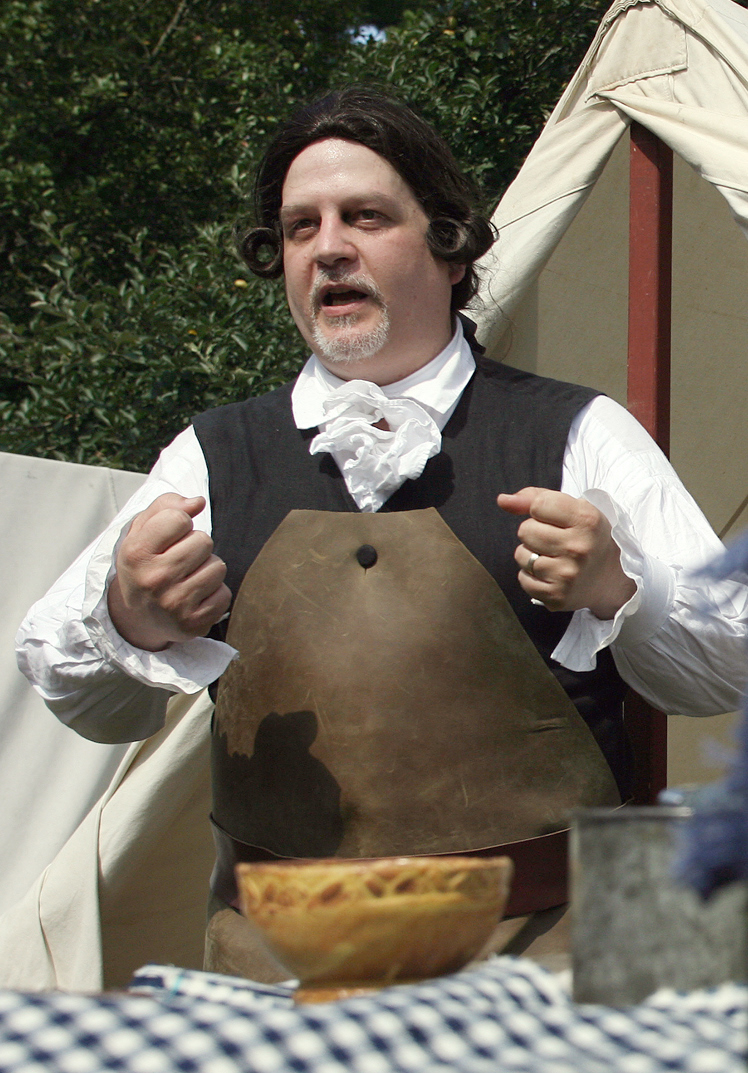 4C22 BLACK Softened 100% Linen Heavy (7.1 oz/yd2)
I made the pants and silk-lined cloak with the 7.1-ounce linen in black. The shirt is a lighter weight linen. (I made all the armor, too, but I claim no responsibility for the plush dragon on his shoulder.) The photo was taken at a Renaissance festival in Texas.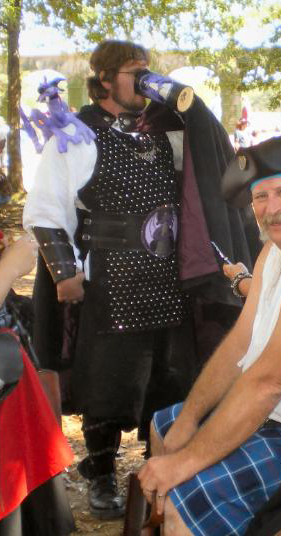 4C22 BLACK Softened 100% Linen Heavy (7.1 oz/yd2)


4C22 BLACK Softened - 100% Linen - Heavy (7.1 oz/yd2)
Sample Size: 2" x 3.5" (Including Swatch Card)
Free Standard Shipping
* Samples are pre-assembled and may not come from the same fabric bolt you order from. Color may vary. All fabric samples are shipped via USPS without tracking.

E-MAIL
Please contact us by following the link below.
SUBMIT A REQUEST

PHONE
1-866-620-2008
Call us Monday through Friday 10 am - 6 pm PST
Once you are happy with your order, please proceed to checkout where you are able to review your order and estimated shipping charges before you complete payment. Shipping charges are calculated by the weight and location your order is shipping to.
You will be able to choose from the following options:
Standard Shipping: 4 - 8 Business Days
Expedited Shipping: 3 - 4 Business Days
Priority Shipping: 2- 3 Business Days
International shipping charges are also calculated at the time of checkout. Please note there may be fewer shipping options available to you as the options are based on the destination of your package.
Delivery times begin one business day after the order is placed with a 24-48 hour time frame for processing.This processing period applies to all in stock items and allows for the time needed to manually cut and package your order to ensure it is checked for quality and accuracy before it leaves our facility.
Business days are Monday - Friday, 9AM - 4PM PST. Saturday, Sunday and Holdays are not considered business days.
Sample color chips are sent via regular mail and may take up to a week to arrive.
All goods are subject to prior sale and please feel free to Visit My Order to check the most up-to-date status of your order.
Making a return is quick and easy, you have 30 days from delivery to return the item or items in their original condition (unwashed, uncut and unaltered). Please include a copy of your packing list and once the return is received we will contact you to see if you would like an exchange, a credit to your Fabrics-store account or the monies returned to your original payment method.
Ship Returns to:
Fabrics-store.com
6013 Scott Way
Commerce, CA 90040
HOW DOES FREE SHIPPING WORK?
Take advantage of our Free Shipping offers on orders shipping within the contiguous US on the following days:
Every Monday and Wednesday on orders of $150 or more.
Every day on orders of $1,000 or more.
Your order will be shipped Standard Shipping (4-8 Business Days) with the shipper of our choice. No international orders. Standard shipping takes 24-48 hours for processing. Delivery times begin one business day after the order is placed. This is due to your order being manually cut and packaged to ensure quality.
Please note that some of our darker or more vibrant shades will have some residual dye run off or bleeding. It is important that you launder or treat like colors with like colors so that you do not compromise the integrity of any other colors, fabrics or garments during the launder process.
We also suggest that if you are combining one or more of these types of colors with lighter colors that you pre-wash the linens seperately and once the item is completed do not launder again, but Dry Clean.
Linen
Machine wash cold.
Gentle cycle.
Only non-chlorine. Bleach if needed.
Tumble dry low.
Medium steam iron.
Semilinen
Machine wash cold.
Gentle cycle.
Only non-chlorine. Bleach if needed.
Tumble dry low.
Medium steam iron.
Enter the e-mail address associated with your Fabrics-store.com account:
Temporary password has been emailed
Temporary password has been emailed to ivan@ecwm.com, and should arrive shortly. If you have any questions or problems, please contact our customer care center at 1-866-620-2008.
Your account has been disabled. If you believe this to be a mistake, please call our customer service at 1-866-620-2008 and we will help you with your order. We appreciate your cooperation.
Web Accessibility Toolbar