Mykonos — Linen Shirts, Pants, and Shorts, Type - Premium Paper, Single Size - 2 to 8
Mykonos — Linen Shirts, Pants, and Shorts Sewing Pattern (Premium Paper)
EXCLUSIVE - Only At Fabrics-Store
Purchased By:

1231 people!
Price: $45.00
Size Guide and Yardage Requirements
Description:
The Mykonos pattern collection is made of four pieces and takes inspiration from men's casual tailoring. The button-front shirt is semi-fitted with a camp-style collar, front & back yoke, and two sleeve options. Pocket lovers rejoice- two at the chest seam and two in the side seams! The Mykonos pants and shorts keep the menswear-inspired theme with subtle drawstring at the waist, front zipper fly, front & back pockets, and straight-leg shaping.

What you get with your pattern:
1:1 fit and pattern consultation with our in-house pattern maker and fit expert.
The latest in sizing. We use up-to-date technology and body shape data to get you a better fit.
Professional clothing construction techniques. Developed by industry insiders with 100 years of shared experience.
Illustrated instructional booklet to get you from start to finish. Written with the beginner in mind.
Comes printed on crease-free, rolled plotting paper. Professional quality.
Your pattern comes with only the sizes you requested printed in vibrant colors. Less clutter for easier cutting.
Complimentary pattern storage tube and pattern hook.
Pattern card for easy reference.
Sew for your business? The pattern license is free with purchase.
Specifications:
| | |
| --- | --- |
| Type: | Paper Pattern |
| Skill Level: | Advanced |
| Design Variations: | 4 |
| Sizes: | 2 to 8, 10 to 16, 18 to 24 |
| Illustrations: | Yes |
| Instructions: | Yes |
Customer Questions and Answers
Would I be able to purchase just the pant/short pattern on the Mykonos?
Charlene • September 14, 2023
I'm sorry, the pants are sold as a set with the other garments and cannot be separated.
Lauren • September 14, 2023
I want to buy this pattern and fabric for it, but you do not give fabric recommendations, so I don't know what to buy. Lightweight? Midweight? Handkerchief? Your fabric descriptions also do not say if they are opaque or sheer. What do you recommend for the shirt? For the pants?
Jill • August 9, 2023
If it is your first time working with our linen, we recommend our Signature Finish IL019 MEDIUMWEIGHT 100% LINEN (5.3 oz/yd2) because of its versatility and super soft finish. For added durability and a rustic appearance, choose 4C22 HEAVYWEIGHT 100% LINEN (7.1 oz/yd2). The heavier weight drapes beautifully, is opaque, and is less prone to wrinkling. IL020 LIGHTWEIGHT 100% LINEN (3.5 oz/yd2), our lightest linen fabric, has a silk-like hand because of the finer threads it's woven from and is great option for the shirt for hotter weather. Lighter colored fabrics will always be a little sheer if worn with bright or contrasting undergarments, but are Ok with nude or matching colors.
Lauren • August 9, 2023
This is a beautifully designed shirt, and if a pattern doesn't include pockets, I always add them - no need with this one! I also appreciated the squared-off collar band, rather than a rounded one - much easier, and more crisp. The construction was new for me in terms of the breast pockets; very unusual, and pretty classy. There are two reasons this didn't get 5 stars. The first is that, for a summer shirt (i.e. linen), 3 layers required for the breast pockets make it very heavy/thick. The second is that I have not been able to set in the sleeves without puckering (I've ripped them out & re-sewn them twice so far). I even used basting stitches to ease in the sleeve cap and still get unacceptable puckers. I'm a pretty accomplished sewist, but not a fashion designer, so I'm kind of at a loss as to how to fix this. When I reached out to FS for assistance, I was told it was a drop sleeve, but no hints as to how to alter things to eliminate the real issue. Anyway, I'd love to make this again (and probably will) after I figure out how to eliminate the breast pockets (I only use the side ones, anyway) and resolve the sleeve issue. And, I may try the light-weight (handkerchief) linen instead of the medium weight. It really is a lovely design.
Toni • May 22, 2023
This is not the fault of the pattern or instructions; I was not expecting so complicated a pants pattern for casual wear. I wanted a pair that were straight legged and not baggy in the seat, two in seam pockets, and elastic waist. I made pants using the free Moroccan pattern, but did not like the fit. I will follow my usual method and painfully remove the stitching from a pair I like, and use them as a pattern for some new duds. Susan in Tucson
Susan • May 31, 2022
I am almost done with the Mykonos shorts. Size 16 is too small and size 18 are too big and I didn't want to buy two patterns. I added a little bit to the 16 and made the seam allowance a little smaller and came out with a good fit. But the most exciting part is I figured out the fly zipper installation. Between the booklet and the tutorial for the Riva pants in the help center I made it work, and I only had to rip it out once! Now all that's left is the waistband. Just Curious - which weight do you recommend for these pants? I made them in the IL09 Feather.
Bev • May 21, 2022
Lauren
Hello, It's lovely to hear your Mykonos Pants came out with a good fit, and our Help Center Tutorials were able to help. We recommend our IL019 mediumweight or 4C22 heavyweight for the pants/shorts in this pattern
The Mykonos patterns are too complicated for me, although it looked simple in the picture. The top is too "front heavy" with four pockets and the bottom is even more complicated so I can't use the pattern. I like simple patterns like those that can be downloaded, but the downloading doesn't work all the time.
Helena • April 5, 2022
Lauren
We're sorry you found the Mykonos Collection complicated. This pattern is for the Advanced skill level. Please lookout for an email from us so we can help out best :)
I was pretty frustrated by this shorts pattern. Haven't made the top yet. This was my first zipper fly pattern, though I've installed invisible zips and even a separating zip once, so I'm not completely new to zipper installation. I found the instructions and the markings to be insufficient. Sometimes I didn't know where markings were supposed to line up. The waist band gave me so much grief. I'm sure I did something wrong, but I reviewed every step as I did it and couldn't find any errors in my work, everything I did matched the diagram layouts but then didn't line up correctly. The waist band specifically didn't line up with the markings on the shorts and I had to make the pleats deeper so the waist would fit the shorts. Luckily they still fit me, so I'm not sure where I went wrong. There were no pattern markings for where to install the zipper, specifically where the top of the zipper should be, which was very frustrating. I guessed it should start ½" down based on the SA, but I'm not sure that was right either since the inner waistband now covers the top. Sometimes the instructions would refer to a piece and I was unsure which piece that was; for instance, it noted to sew the zipper onto the fly extension. Why not continue to include the pattern piece letters? I had to dig out my pattern pieces and see what was labeled as the fly extension. The diagrams were sometimes more confusing than helpful. I sewed the Charlie shorts and had no problems at all and expected a similar experience (that pattern gets 5 stars). I was very disappointed. Would not recommend to someone who isn't an expert, as it seems to assume some construction knowledge, specifically as related to the zipper fly installation. Also, as a general note on these patterns, I dislike that only 4 sizes are included. I have daughters who are young teenagers, and I would love to be able to use these patterns for them as well, but I am tall enough that my measurements usually put me in the middle size category which is far too big for them. Sometimes I also worry I need sizes not on my pattern sheet for grading. I wish we could add a second size range for a small fee, or that they would include 6 sizes instead of just 4, maybe have some overlap between the size ranges or something. Considering these patterns cost double what other premium patterns cost, it's frustrating to have so few sizes available.
Rebecca • March 17, 2022
Lauren
Thanks for your honest review of this pattern. Please lookout for an email from me, Lauren. I provide 1:1 fit and pattern support for all of our Premium Patterns, and I'm always just an email or even Zoom Video call away to help you through any queries you may have about our patterns. We have a detailed tutorial for this type of Zipper installation in our Help Center too, and we have more tutorials for the Mykonos Collection in the works for those who would like photos to accompany the illustrations in your booklet.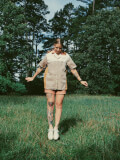 Now if I said anyone has ever called my style whimsical and playful, I'd be lying. I'm practical through and through. But I got to thinking about what my version of dopamine sewing would be, and then as luck would have it, I stumbled across the Mykonos pattern. I was instantly enamored with the short-sleeved view of the button up. The plethora of pockets–four total–and unusual side piecing with so much color-blocking potential felt playful and practical. Does a shirt really need that many pockets? Maybe not. Does it make me feel like the coolest extra from The Big Lebowski during the bowling alley scene? Absolutely. And spoiler, now that I have a shirt with four pockets, I can confirm they're all necessary.
Alyx • August 5, 2023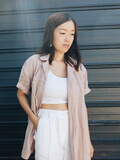 The Mykonos shirt is a fun new take on the classic button up shirt. It is an oversized shirt; the kind you'd borrow from a boyfriend or perhaps grandpa. Sleeves rolled up, front left unbuttoned, it is the kind of shirt you put on and feel instantly confident and cool, without trying too hard. I was drawn to the Mykonos set after seeing the model photo and how comfortable the ensemble looked. It seemed so well put together, but effortless at the same time. I noted from the description that the design drew inspiration from men's tailoring and was intrigued. I would describe my style as feminine and wondered if I could make the Mykonos my own.
Mel • July 5, 2022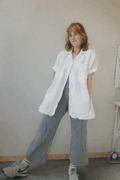 The MYKONOS shirt is a perfect wardrobe staple, fun to sew, effortless to style and full of pockets. It's equal parts lunch lady, grandpa, french janitor, professional oil painter, teddy girl and rich glamorous auntie. I hope to see many of you try it out and get lost in the pockets and gender neutral ease of the silhouette. The instructions for the shirt are simple and clear. I was able to follow along with very few mistakes which is unusual for me on a cold sew of a new pattern. I had never sewn inseam chest pockets before, and although I didn't totally understand what or why I was doing certain steps, it all came out lovely and crisp in the end. There are many top stitching details throughout the shirt that add to the purposeful oversized yet tailored look. I found the construction of the shirt enjoyable and thoughtful, which is not always the case with often tedious button-downs.
Sadie • September 15, 2021

E-MAIL
Please contact us by following the link below.
SUBMIT A REQUEST

PHONE
1-866-620-2008
Call us Monday through Friday 10 am - 6 pm PST
Once you are happy with your order, please proceed to checkout where you are able to review your order and estimated shipping charges before you complete payment. Shipping charges are calculated by the weight and location your order is shipping to.
You will be able to choose from the following options:
Standard Shipping: 4 - 8 Business Days
Expedited Shipping: 3 - 4 Business Days
Priority Shipping: 2- 3 Business Days
International shipping charges are also calculated at the time of checkout. Please note there may be fewer shipping options available to you as the options are based on the destination of your package.
Delivery times begin one business day after the order is placed with a 24-48 hour time frame for processing.This processing period applies to all in stock items and allows for the time needed to manually cut and package your order to ensure it is checked for quality and accuracy before it leaves our facility.
Business days are Monday - Friday, 9AM - 4PM PST. Saturday, Sunday and Holdays are not considered business days.
Sample color chips are sent via regular mail and may take up to a week to arrive.
All goods are subject to prior sale and please feel free to Visit My Order to check the most up-to-date status of your order.
Making a return is quick and easy, you have 30 days from delivery to return the item or items in their original condition (unwashed, uncut and unaltered). Please include a copy of your packing list and once the return is received we will contact you to see if you would like an exchange, a credit to your Fabrics-store account or the monies returned to your original payment method.
Ship Returns to:
Fabrics-store.com
6013 Scott Way
Commerce, CA 90040
HOW DOES FREE SHIPPING WORK?
Take advantage of our Free Shipping offer on orders shipping within the contiguous US.
Every day on orders of $150 or more - we will pay for your shipping.
Your order will be shipped Standard Shipping (4-8 Business Days) with the shipper of our choice. No international orders.
Standard shipping takes 24-48 hours for processing. Delivery times begin one business day after the order is placed. This is due to your order being manually cut and packaged to ensure quality.
Beginner: A beginner sewist is someone who is new to sewing and has limited experience using a sewing machine or hand sewing techniques. They are ready to follow basic patterns and sew simple projects, but may struggle with more complex designs.
Intermediate: An intermediate sewist has some experience with sewing and can tackle more challenging projects, such as making clothing with more intricate details or using more advanced techniques including sewing invisible zippers or sewing a partial placket. They likely have a good understanding of pattern making, fabric selection, and sewing machine maintenance.
Advanced: An advanced sewist is someone who has years of experience and can tackle complex projects, including custom designs or alterations. They have a good understanding of fabrics, garment construction, and tailoring. They may also have advanced skills in pattern drafting, draping, and couture sewing techniques.
Mykonos — Linen Shirts, Pants, and Shorts Sewing Pattern (Premium Paper)
Ladies Size Guide Based on Body Measurements in Inches*
| Size | 2 | 4 | 6 | 8 |
| --- | --- | --- | --- | --- |
| Bust | 33 1/4 | 34 1/4 | 35 1/4 | 36 1/4 |
| Waist | 25 | 26 | 27 | 28 |
| Hip | 36 1/4 | 37 1/4 | 38 1/4 | 39 1/4 |
Approximate Finished Garment Measurements in Inches
| Size | 2 | 4 | 6 | 8 |
| --- | --- | --- | --- | --- |
| A, B - Bust | 42 1/2 | 43 1/4 | 44 1/8 | 44 7/8 |
| A, B - Waist | 42 5/8 | 43 1/2 | 44 1/4 | 45 |
| A, B - Hip | 43 1/2 | 44 3/8 | 45 1/8 | 45 7/8 |
| A, B - Shirt Length | 29 7/8 | 29 7/8 | 29 7/8 | 29 7/8 |
| A, B - Shoulder Length | 6 3/4 | 6 3/4 | 6 3/4 | 6 3/4 |
| A - Sleeve + Shoulder Length | 16 1/2 | 16 1/2 | 16 1/2 | 16 1/2 |
| B - Sleeve + Shoulder Length | 28 7/8 | 28 7/8 | 28 7/8 | 28 7/8 |
| A, B - Bicep | 16 1/4 | 16 3/4 | 17 1/8 | 17 1/2 |
| C, D - Waist | 29 3/4 | 30 5/8 | 31 3/8 | 32 1/8 |
| C, D - Hip | 39 1/4 | 40 | 40 3/4 | 41 5/8 |
| C - Pants Length (incl. waistband) | 41 1/2 | 41 1/2 | 41 1/2 | 41 1/2 |
| D - Shorts Length (incl. waistband) | 21 3/4 | 21 3/4 | 21 3/4 | 21 3/4 |
Estimated Yardage in 55"-Width Linen**
| Size | 2 | 4 | 6 | 8 |
| --- | --- | --- | --- | --- |
| View A - Shirt | 2 1/4 | 2 1/4 | 2 1/4 | 2 1/4 |
| View B - Shirt | 2 1/2 | 2 1/2 | 2 1/2 | 2 1/2 |
| View C - Pants | 2 1/2 | 2 1/2 | 2 1/2 | 2 1/2 |
| View D - Shorts | 1 3/4 | 1 3/4 | 1 3/4 | 1 3/4 |
Additional Materials and Notions
| Size | 2 | 4 | 6 | 8 |
| --- | --- | --- | --- | --- |
| 36" Width Fusible Interfacing - View A | 7/8 | 7/8 | 7/8 | 7/8 |
| 36" Width Fusible Interfacing - View B | 5/8 | 5/8 | 5/8 | 5/8 |
| 36" Width Fusible Interfacing - View C and D | 5/8 | 5/8 | 5/8 | 5/8 |
| Drawstring in Inches - View C and D | 40 1/2 | 41 | 41 1/2 | 42 |
* Upper bust measurement provided for reference
** Extra 10% of fabric is included due to shrinkage
*** Elastic length may vary depending on your fit preference and elastic type
ALL SEAM ALLOWANCES ARE INCLUDED AND NOTED ON THE PATTERN AND IN THE TUTORIAL
Ladies Size Guide Based on Body Measurements in Inches*
| Size | 10 | 12 | 14 | 16 |
| --- | --- | --- | --- | --- |
| Bust | 37 1/4 | 38 3/4 | 40 1/4 | 41 3/4 |
| Waist | 29 | 30 1/2 | 32 | 33 1/2 |
| Hip | 40 1/4 | 41 3/4 | 43 1/4 | 44 3/4 |
Approximate Finished Garment Measurements in Inches
| Size | 10 | 12 | 14 | 16 |
| --- | --- | --- | --- | --- |
| A, B - Bust | 45 7/8 | 47 1/2 | 49 | 50 5/8 |
| A, B - Waist | 46 | 47 5/8 | 49 1/8 | 50 3/4 |
| A, B - Hip | 46 7/8 | 48 1/2 | 50 | 51 5/8 |
| A, B - Shirt Length | 30 1/4 | 30 1/4 | 30 1/4 | 30 1/4 |
| A, B - Shoulder Length | 7 | 7 | 7 | 7 |
| A - Sleeve + Shoulder Length | 17 1/8 | 17 1/8 | 17 1/8 | 17 1/8 |
| B - Sleeve + Shoulder Length | 29 1/2 | 29 1/2 | 29 1/2 | 29 1/2 |
| A, B - Bicep | 17 7/8 | 18 1/2 | 19 1/8 | 19 3/4 |
| C, D - Waist | 33 1/8 | 34 3/4 | 36 1/4 | 37 7/8 |
| C, D - Hip | 42 1/2 | 44 1/8 | 45 3/4 | 47 1/4 |
| C - Pants Length (incl. waistband) | 42 | 42 | 42 | 42 |
| D - Shorts Length (incl. waistband) | 22 3/8 | 22 3/8 | 22 3/8 | 22 3/8 |
Estimated Yardage in 55"-Width Linen**
| Size | 10 | 12 | 14 | 16 |
| --- | --- | --- | --- | --- |
| View A - Shirt | 2 1/2 | 2 1/2 | 2 1/2 | 2 1/2 |
| View B - Shirt | 2 3/4 | 2 3/4 | 2 3/4 | 2 3/4 |
| View C - Pants | 2 1/2 | 2 1/2 | 2 1/2 | 2 1/2 |
| View D - Shorts | 2 | 2 | 2 | 2 |
Additional Materials and Notions
| Size | 10 | 12 | 14 | 16 |
| --- | --- | --- | --- | --- |
| 36" Width Fusible Interfacing - View A | 7/8 | 7/8 | 7/8 | 7/8 |
| 36" Width Fusible Interfacing - View B | 5/8 | 5/8 | 5/8 | 5/8 |
| 36" Width Fusible Interfacing - View C and D | 6/8 | 6/8 | 6/8 | 6/8 |
| Drawstring in Inches - View C and D | 42 1/2 | 43 1/4 | 44 | 44 3/4 |
* Upper bust measurement provided for reference
** Extra 10% of fabric is included due to shrinkage
*** Elastic length may vary depending on your fit preference and elastic type
ALL SEAM ALLOWANCES ARE INCLUDED AND NOTED ON THE PATTERN AND IN THE TUTORIAL
Ladies Size Guide Based on Body Measurements in Inches*
| Size | 18 | 20 | 22 | 24 |
| --- | --- | --- | --- | --- |
| Bust | 45 | 47 | 49 | 51 |
| Waist | 39 1/2 | 41 3/4 | 44 | 46 1/4 |
| Hip | 49 | 51 | 53 | 55 |
Approximate Finished Garment Measurements in Inches
| Size | 18 | 20 | 22 | 24 |
| --- | --- | --- | --- | --- |
| A, B - Bust | 56 1/4 | 58 1/4 | 60 1/4 | 62 1/4 |
| A, B - Waist | 55 3/8 | 57 3/8 | 59 1/4 | 61 1/4 |
| A, B - Hip | 55 1/8 | 57 1/8 | 59 | 61 |
| A, B - Shirt Length | 31 5/8 | 31 5/8 | 31 5/8 | 31 5/8 |
| A, B - Shoulder Length | 7 3/4 | 7 3/4 | 7 3/4 | 7 3/4 |
| A - Sleeve + Shoulder Length | 18 1/4 | 18 1/4 | 18 1/4 | 18 1/4 |
| B - Sleeve + Shoulder Length | 30 1/2 | 30 1/2 | 30 1/2 | 30 1/2 |
| A, B - Bicep | 19 3/4 | 20 5/8 | 21 1/2 | 22 3/8 |
| C, D - Waist | 42 1/4 | 44 1/2 | 46 3/4 | 48 7/8 |
| C, D - Hip | 52 1/4 | 54 1/2 | 56 5/8 | 58 3/4 |
| C - Pants Length (incl. waistband) | 43 1/2 | 43 1/2 | 43 1/2 | 43 1/2 |
| D - Shorts Length (incl. waistband) | 23 5/8 | 23 5/8 | 23 5/8 | 23 5/8 |
Estimated Yardage in 55"-Width Linen**
| Size | 18 | 20 | 22 | 24 |
| --- | --- | --- | --- | --- |
| View A - Shirt | 3 | 3 | 3 | 3 |
| View B - Shirt | 3 1/8 | 3 1/8 | 3 1/8 | 3 1/8 |
| View C - Pants | 3 1/4 | 3 1/4 | 3 1/4 | 3 1/4 |
| View D - Shorts | 2 1/2 | 2 1/2 | 2 1/2 | 2 1/2 |
Additional Materials and Notions
| Size | 18 | 20 | 22 | 24 |
| --- | --- | --- | --- | --- |
| 36" Width Fusible Interfacing - View A | 7/8 | 7/8 | 7/8 | 7/8 |
| 36" Width Fusible Interfacing - View B | 5/8 | 5/8 | 5/8 | 5/8 |
| 36" Width Fusible Interfacing - View C and D | 7/8 | 7/8 | 7/8 | 7/8 |
| Drawstring in Inches - View C and D | 47 3/4 | 48 7/8 | 50 | 51 1/8 |
* Upper bust measurement provided for reference
** Extra 10% of fabric is included due to shrinkage
*** Elastic length may vary depending on your fit preference and elastic type
ALL SEAM ALLOWANCES ARE INCLUDED AND NOTED ON THE PATTERN AND IN THE TUTORIAL