IL041 BLEACHED - 100% Linen - Middle (5.01 oz/yd2) - 1.50 Yards
Price:
$17.42 per item

Sale price:
$13.94 per item (20% off)
Only 2 in stock
At 5.1 ounces this Open Weave linen has a unique slightly sheer look and feel that sets it apart from other medium weight linens. Open weave does not make it less durable or versatile, just loosely woven.
This linen should be laundered in a cold wash-tumble dried on air setting or very low heat--line dry if possible.
Fabric specifications:
| | |
| --- | --- |
| Article : | IL041 Open Weave |
| Content : | 100% Linen |
| Type : | OPEN WEAVE |
| Thread size warp : | 9.09 |
| Thread size weft : | 9.09 |
| Thread count warp : | 20 |
| Thread count weft : | 19 |
| Color : | BLEACHED |
| Weight : | 5.01 oz/yd2 |
| Width : | 57 inch |
Reviewer: Clara
I needed to make some 2/3 length curtains to soften the intense summer sunshine pouring into our large front room windows, and this fabric made the most beautiful curtains ever. The open weave lets in a soft light while affording privacy, when otherwise our living room becomes something like a stage lit up by the afternoon sun. The curtains are add a nice touch when open, and provide a soft, airy look when shut. I washed the fabric in cold water, as I usually do, and am very happy with the results. The open weave is perfect. Now I'm thinking about other ideas for this fabric fabric ... after I finish the backed-up projects ahead, LOL.
Reviewer: Beth
I was a little concerned by the rating, but the reviews sold me. It's good at what it's good at, and expecting it to be what it isn't is going to cause frustration. I love it! It does come like canvas, but that makes it VERY easy to overcast before washing (it would be a disaster to skip this step!!) and pulling threads was easy, exactly as it's supposed to be. I'm doing simple embroidery along the edges both to prevent fraying and to embellish in a very simple way. I will post pictures soon.
Reviewer: Janet
This linen fabric makes the most incredible washcloths ever! My husband and I are wild about them, they make you feel so clean and polished. I'm buying several yards to make more, we love them so much! I mistakenly put my review of this fabric under another type of linen but this is the one you want if you would like to have the best washcloths ever! Will never use a terrycloth washcloth again if I can help it! And so perfect with my new linen towels!!
Reviewer: Helen
I ordered this about a million years ago, and I've just pulled it out!!! Y'all need to find and reorder this again! It's a big hit with all my friends! Repeat Repeat Repeat!!!
Reviewer: Anonymous
This is one of my favorite favorite fabrics. It does require some prep and special handling but you will be rewarded. You need to overlock the raw edges before washing. Wash on the hottest cycle for the longest time with your choice of suds and add softner to the rinse cycle and high spin. In the dryer medium heat checking the lint trap often.remove almost dry . Iron the whole piece..The fabric will be very supple. care will need to be taken cutting and handling pieces in sewing . overlock and staystitch as much as possible. topstitching also helps secure the loose weave.
Reviewer: Barbara
I have fallen in love with yet another Fabrics Store linen. This is gorgeous fabric that takes on many looks and uses. Washed hot / dried hot and it came out textured, soft, ready for use on a multitude of projects. Currently being used on a quilted curtain. This (like most linen) takes dyes and inks beautifully!!! Just order more of it!! Pulled thread techniques are made for this fabric!!!
Reviewer: Carol
I used this fabric to make sheers to go under the jacquard "Flowering Star"(no longer available) linen scalloped curtains. The color worked well and cuts the heat from my west facing windows. I washed a sample and since it didn't shrink or pucker I didn't wash the fabric I worked with. The raw ends did tend to fray so I finished them with the widest and longest stitch on my 4 thread serger. I hemmed the ends with the default zigzag stitch, catching one side of the serged edge and other other side just off the serged edge. It gave me a sort of hemstitched look which I was pleased with. I used a similar technique on the sides using the selvage edge. The unwashed fabric was stiffer than the sample I washed and possibly that made the threads thicker but I found that if my needle was dull it would stab the thread rather than sliding past it. This cause the fabric to snag and pucker. A new needle fixed the problem. I was so pleased with my bedroom curtains I made more for the bathroom!
Reviewer: Ivy
I made curtains for my bedroom out of this fabric. It was the first time I used an open weave like this and it became so soft and loose (can't think of a better word) that it was a little challenging to make straight, squared-up panels, but the results are lovely. I love watching the way the curtains billow in the breeze and the fabric seems to bounce when I move it. It's bouncy. Delightful!
Reviewer: Kathy
I bought this for bedroom curtains (9' windows). It looks plain out of the box but once you start working with it, its texture is almost alive. I will send photos of the finished product, but I am sure this fabric will be nothing less than gorgeous, pressed or unpressed. The bleached is the perfect color for summer clothes. Just beautiful high quality fabric.
Reviewer: Helen
I got this fabric because it was on sale and I was looking to try different linens for different jobs. I wanted to make some linen long johns for bedtime and for the Healing that linen provides.. Cut on the bias this makes Great under pant leggings, and tight pajama pants. they provide an even warmth, and I think they give me a little more strength in my legs. I like this fabric and I can see it made into very comfortable ( sexy ) lounge around outfits.
Reviewer: Anonymous
I want to make an underdress that has embroidered sleeves so I wanted a larger weave. It was heavier than I thought, very stiff. washed up softer but shed like a son of a gun. I have to remove a lot of pills now from it. very rustic looking not light and sophisticated. not sure it will work for my project.
Reviewer: Elizabeth
I've looked around for fabric to sew curtains for a craftsman style house, and this fabric inspired me. I was worried the weight would be too flimsy, but it was just right. The open weave made the drawn-work hemstitching by hand a pleasure. Measuring and making straight lines with linen is a breeze. And the width of the fabric was just right to have 1.5'' double-turned side hems and still have close to 1.5x window fullness for a standard window size.
Open weave linen, love the wrinkly look. This linen hangs beautifully.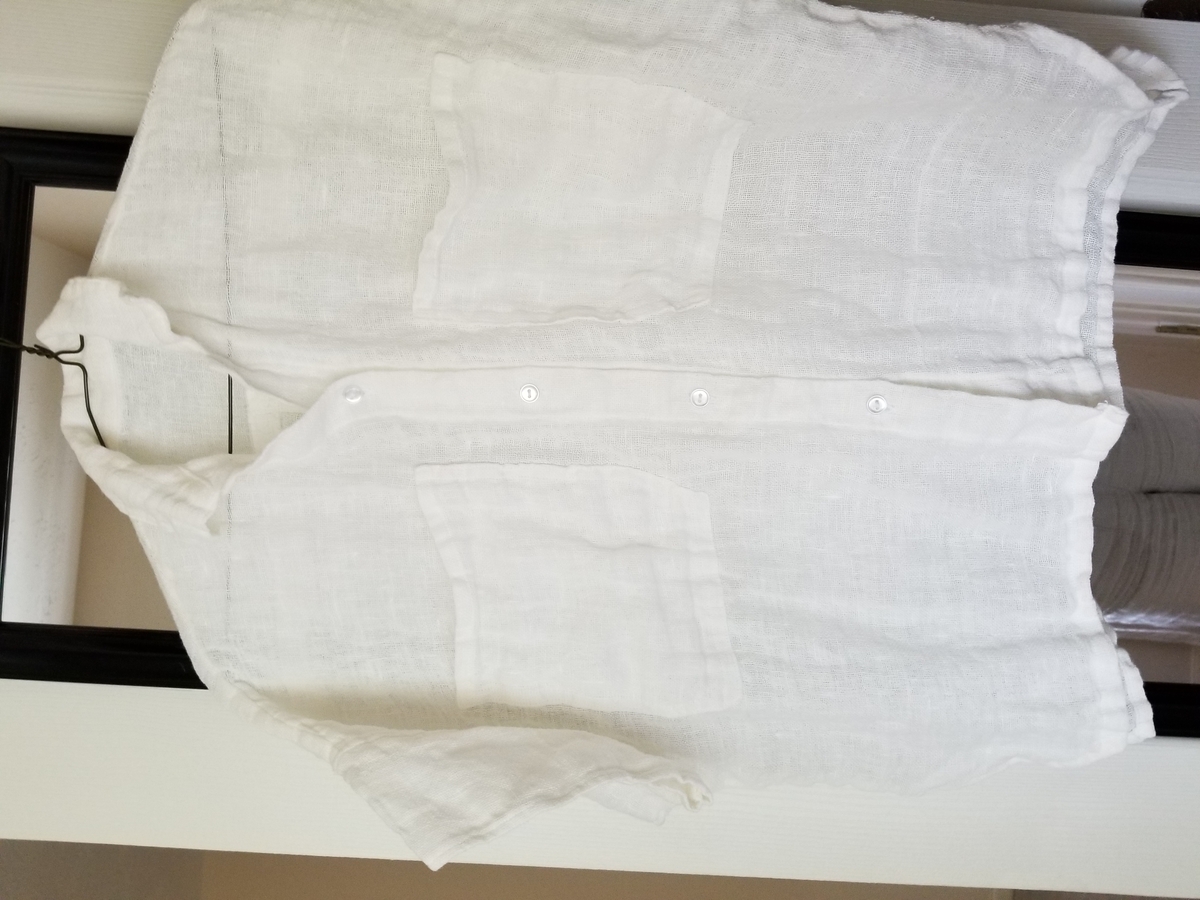 IL041 BLEACHED 100% Linen Middle (5.01 oz/yd2)
Just finished these single panel curtains for my sewing room. I repurposed some crocheted corners from an old table cloth on the bottom of each panel. The bleached white was a perfect match for the crocheted corners and created the look I was trying to achieve.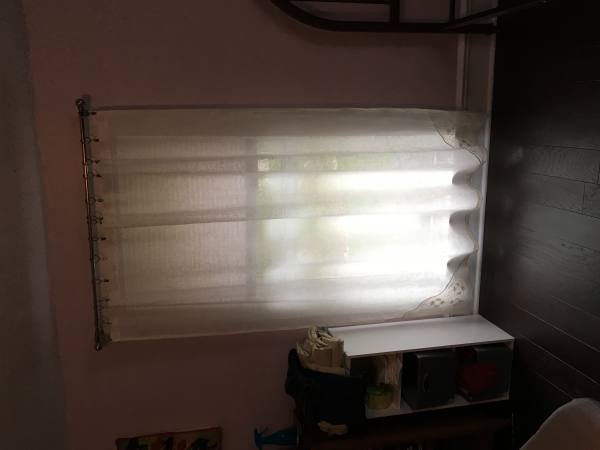 IL041 BLEACHED 100% Linen Middle (5.01 oz/yd2)
My mother's Christmas gift - semi-sheer linen kitchen curtains with a hand-crocheted lace insert. IL041 Bleached is a beautiful off-white, with quite a large weave, making it semi-sheer but sufficiently opaque to block outsiders from looking in. Lets in light beautifully, is very easy to sew, and does shed a lot of lint at first.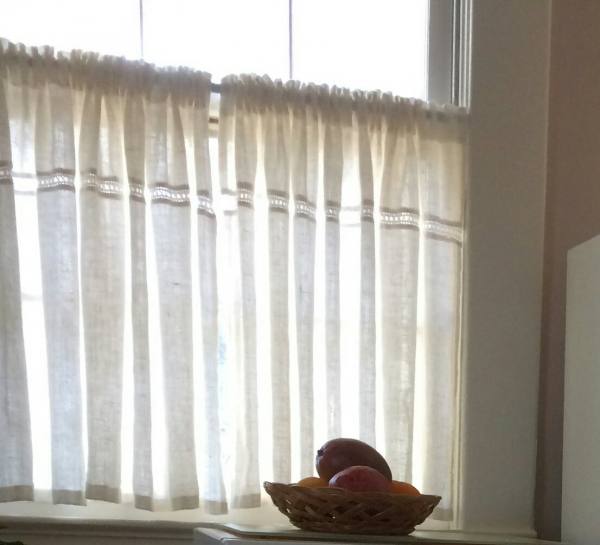 IL041 BLEACHED 100% Linen Middle (5.01 oz/yd2)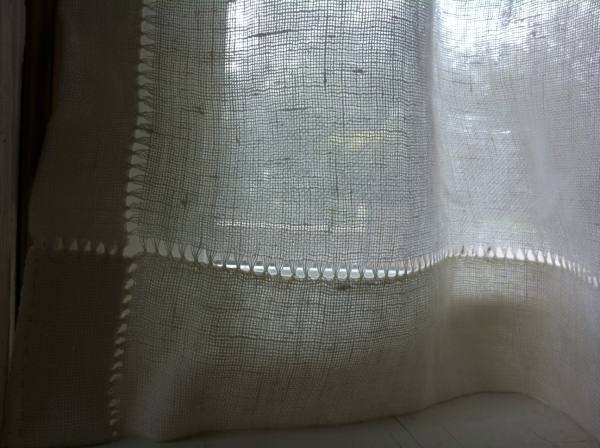 IL041 BLEACHED 100% Linen Middle (5.01 oz/yd2)
Unacceptable color when it's called bleached white. The bottom is the fabric, the top are the white linen sheets its supposed to match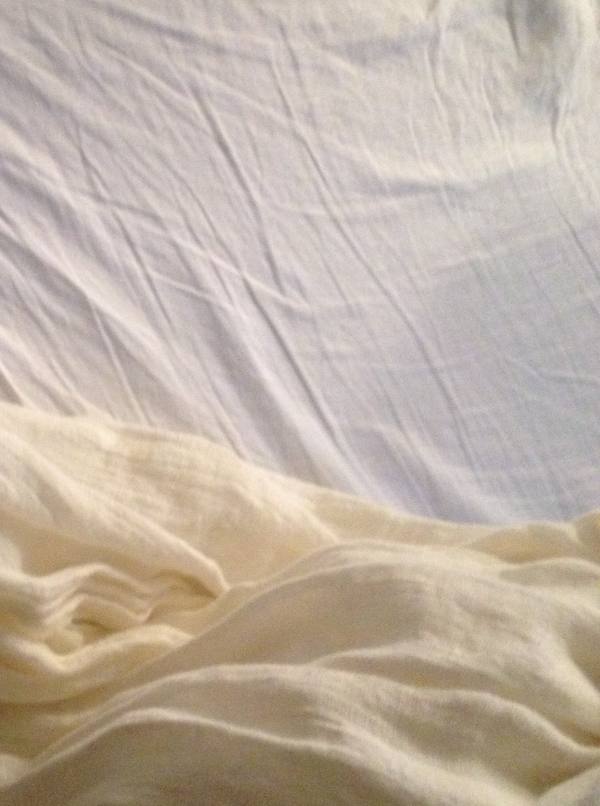 IL041 BLEACHED 100% Linen Middle (5.01 oz/yd2)
Once you have this linen on your windows you will never go back to plain drapes again. I LOVE this look. Thanks Fabrics-store.com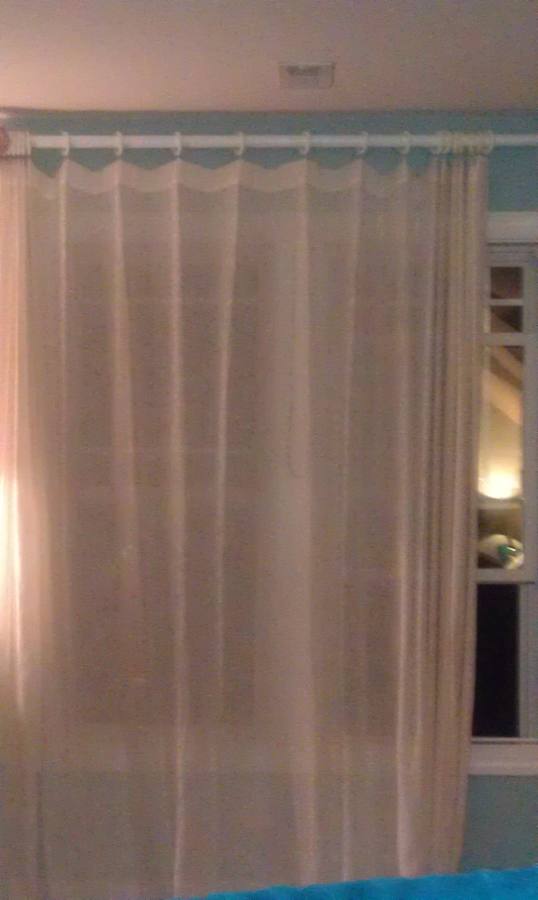 IL041 BLEACHED 100% Linen Middle (5.01 oz/yd2)
Another look at the drape in my "beach bedroom" overlooking the pasture!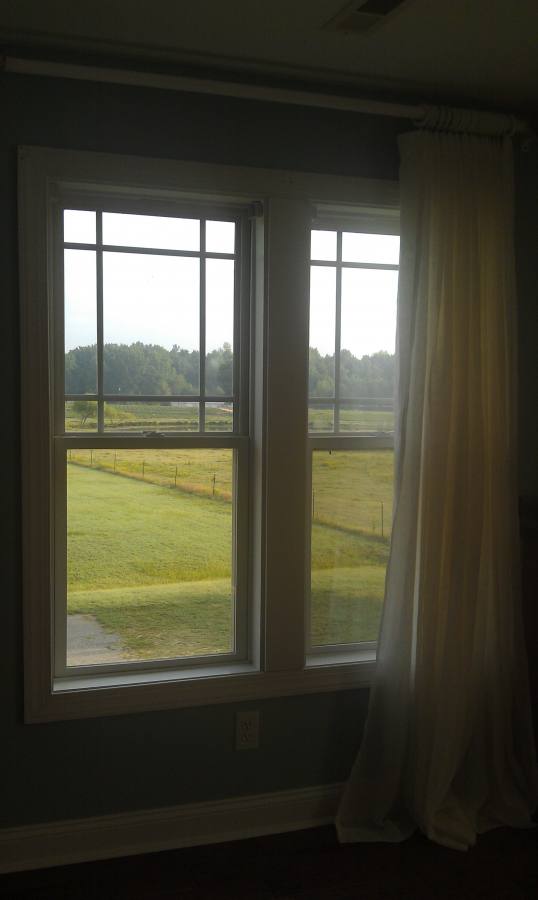 IL041 BLEACHED 100% Linen Middle (5.01 oz/yd2)
Love the transparency of this lovely linen so I can still see the pasture behind my house! Perfect and exactly what I was hoping for.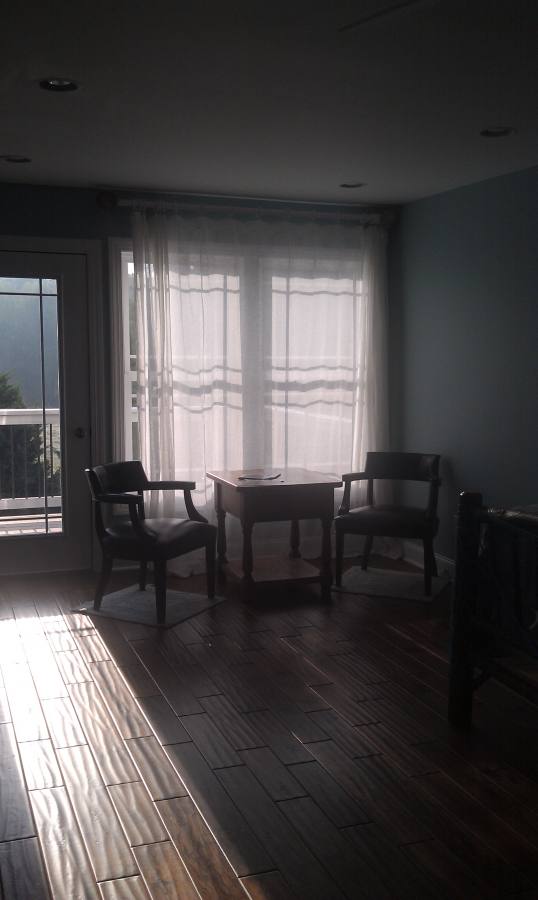 IL041 BLEACHED 100% Linen Middle (5.01 oz/yd2)
Just to say "thank you!" and share this picture with you, of one of the sets of drapes I made from your wonderful linens...... With a peek at NYC's historic West Village, Jefferson Clock Tower!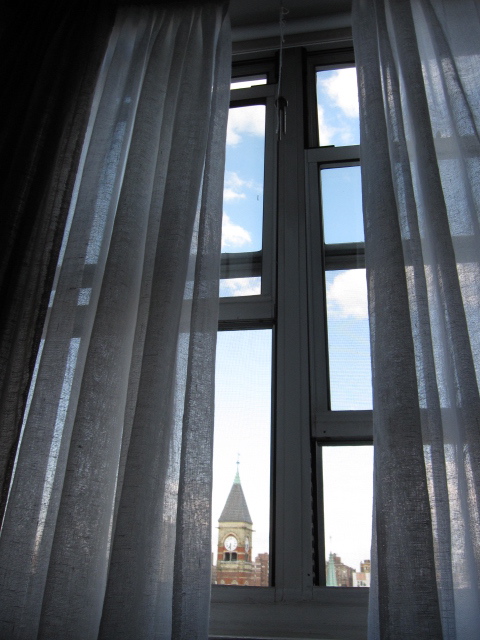 IL041 BLEACHED 100% Linen Middle (5.01 oz/yd2)


IL041 BLEACHED - 100% Linen - Middle (5.01 oz/yd2)
Sample Size: 5.5" x 7.0" (Including Swatch Card)
Free Standard Shipping
* Samples are pre-assembled and may not come from the same fabric bolt you order from. Color may vary. All fabric samples are shipped via USPS without tracking.

E-MAIL
Please contact us by following the link below.
SUBMIT A REQUEST

PHONE
1-866-620-2008
Call us Monday through Friday 10 am - 6 pm PST
Once you are happy with your order, please proceed to checkout where you are able to review your order and estimated shipping charges before you complete payment. Shipping charges are calculated by the weight and location your order is shipping to.
You will be able to choose from the following options:
Standard Shipping: 4 - 8 Business Days
Expedited Shipping: 3 - 4 Business Days
Priority Shipping: 2- 3 Business Days
International shipping charges are also calculated at the time of checkout. Please note there may be fewer shipping options available to you as the options are based on the destination of your package.
Delivery times begin one business day after the order is placed with a 24-48 hour time frame for processing.This processing period applies to all in stock items and allows for the time needed to manually cut and package your order to ensure it is checked for quality and accuracy before it leaves our facility.
Business days are Monday - Friday, 9AM - 4PM PST. Saturday, Sunday and Holdays are not considered business days.
Sample color chips are sent via regular mail and may take up to a week to arrive.
All goods are subject to prior sale and please feel free to Visit My Order to check the most up-to-date status of your order.
Making a return is quick and easy, you have 30 days from delivery to return the item or items in their original condition (unwashed, uncut and unaltered). Please include a copy of your packing list and once the return is received we will contact you to see if you would like an exchange, a credit to your Fabrics-store account or the monies returned to your original payment method.
Ship Returns to:
Fabrics-store.com
6013 Scott Way
Commerce, CA 90040
HOW DOES FREE SHIPPING WORK?
Take advantage of our Free Shipping offers on orders shipping within the contiguous US on the following days:
Every Monday and Wednesday on orders of $150 or more.
Every day on orders of $1,000 or more.
Your order will be shipped Standard Shipping (4-8 Business Days) with the shipper of our choice. No international orders. Standard shipping takes 24-48 hours for processing. Delivery times begin one business day after the order is placed. This is due to your order being manually cut and packaged to ensure quality.
Please note that some of our darker or more vibrant shades will have some residual dye run off or bleeding. It is important that you launder or treat like colors with like colors so that you do not compromise the integrity of any other colors, fabrics or garments during the launder process.
We also suggest that if you are combining one or more of these types of colors with lighter colors that you pre-wash the linens seperately and once the item is completed do not launder again, but Dry Clean.
Linen
Machine wash cold.
Gentle cycle.
Only non-chlorine. Bleach if needed.
Tumble dry low.
Medium steam iron.
Semilinen
Machine wash cold.
Gentle cycle.
Only non-chlorine. Bleach if needed.
Tumble dry low.
Medium steam iron.
Enter the e-mail address associated with your Fabrics-store.com account:
Temporary password has been emailed
Temporary password has been emailed to ivan@ecwm.com, and should arrive shortly. If you have any questions or problems, please contact our customer care center at 1-866-620-2008.
Your account has been disabled. If you believe this to be a mistake, please call our customer service at 1-866-620-2008 and we will help you with your order. We appreciate your cooperation.
Web Accessibility Toolbar