IL020 Handkerchief Apricot Softened - 100% Linen - Light (3.7 oz/yd2) - 1.00 Yard
Price:
$17.09 per item

Sale price:
$11.96 per item (30% off)
Only 0 in stock
The earthy ginger of Apricot linen echoes Pierre Bonnard's spicy Mediterranean oranges - colors that became a central focus in his flickering, light speckled canvases.

At a lighter weight of 3.5 ounces this 100% linen is woven with finer threads to give it a smoother appearance. Referred to as lightweight or handkerchief linen, this fine, but surprisingly sturdy linen brings new meaning to the term "sheer elegance".
The cloth is Softened so we have added a softener to give it a silkier hand. The fabric has not been laundered so shrinkage will still have to be taken into consideration (shrinkage depends on fabric weave and laundering method).
Fabric specifications:
| | |
| --- | --- |
| Article : | IL020 Handkerchief |
| Content : | 100% Linen |
| Type : | PLAIN WEAVE |
| Thread size warp : | 33.3 |
| Thread size weft : | 33.3 |
| Thread count warp : | 57 |
| Thread count weft : | 44 |
| Color : | APRICOT |
| Weight : | 3.7 oz/yd2 |
| Width : | 58 inch |
Customer Questions and Answers
Is this fabric suitable for pants or is it too light weight
Rose • October 16, 2022
Yes it is and is widely used for pants, shorts and skirts.
Maureen • October 16, 2022
Love this linen for shirts! Perfect drape, so soft and it sews like a dream.
Christy • December 17, 2021
I purchased this mid weight linen to use with with blue heaven for a modified blouse/jumper two piece outfit. It feels wonderful and the color is actually as pictured.
Cindy • June 5, 2021
I used this fabric for a camisole-style nightgown. Can't say enough about how beautifully this sews up (like all of these linens!). Any step that requires pressing will stay in place and rarely needs careful pinning. I often embellish my projects with some simple embroidery, and this fabric accepts the stitching very nicely. Love it.
Alinda • March 18, 2021
the colour is slightly different than shown a little more orange in it and slightly paler - very beautiful - warm and subtle at the same time
Robin • January 1, 2018
Beautiful color nice feel
Ann • January 1, 2018
I needed to find good looking shells for underneath suits for my job. My search for high quality/attractive tops ended in vain. Which led me to making my own. Happily, I landed on Fabric-Store and their high quality linens and free patterns. Here is one of my favorites: the Chelsea T, in Apricot 3.5. Great color, comfortable, and so easy to work with. I love using their linens for my sewing projects. The drape of their fabric means the piece is always flattering and the quality of the fabric means that the piece holds up under many a wear and wash. I couldn't be more delighted to have found Fabric Store and to have launched into a new hobby--sewing my way into a new wardrobe!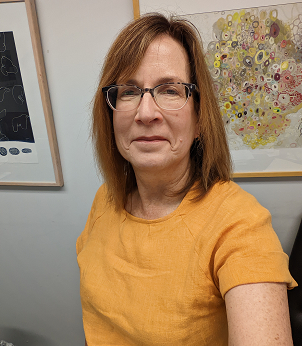 IL020 APRICOT Softened 100% Linen Light (3.7 oz/yd2)
I actually bought this fabric intending to make curtains but it's such a nice color, I decided instead to make a romper from one of my mom's c.1970 patterns...and you can tell from the wrinkles I've been living in it since! Such a beautiful color, very light-weight but not too sheer for a garment and holds its shape very well for cutting and sewing.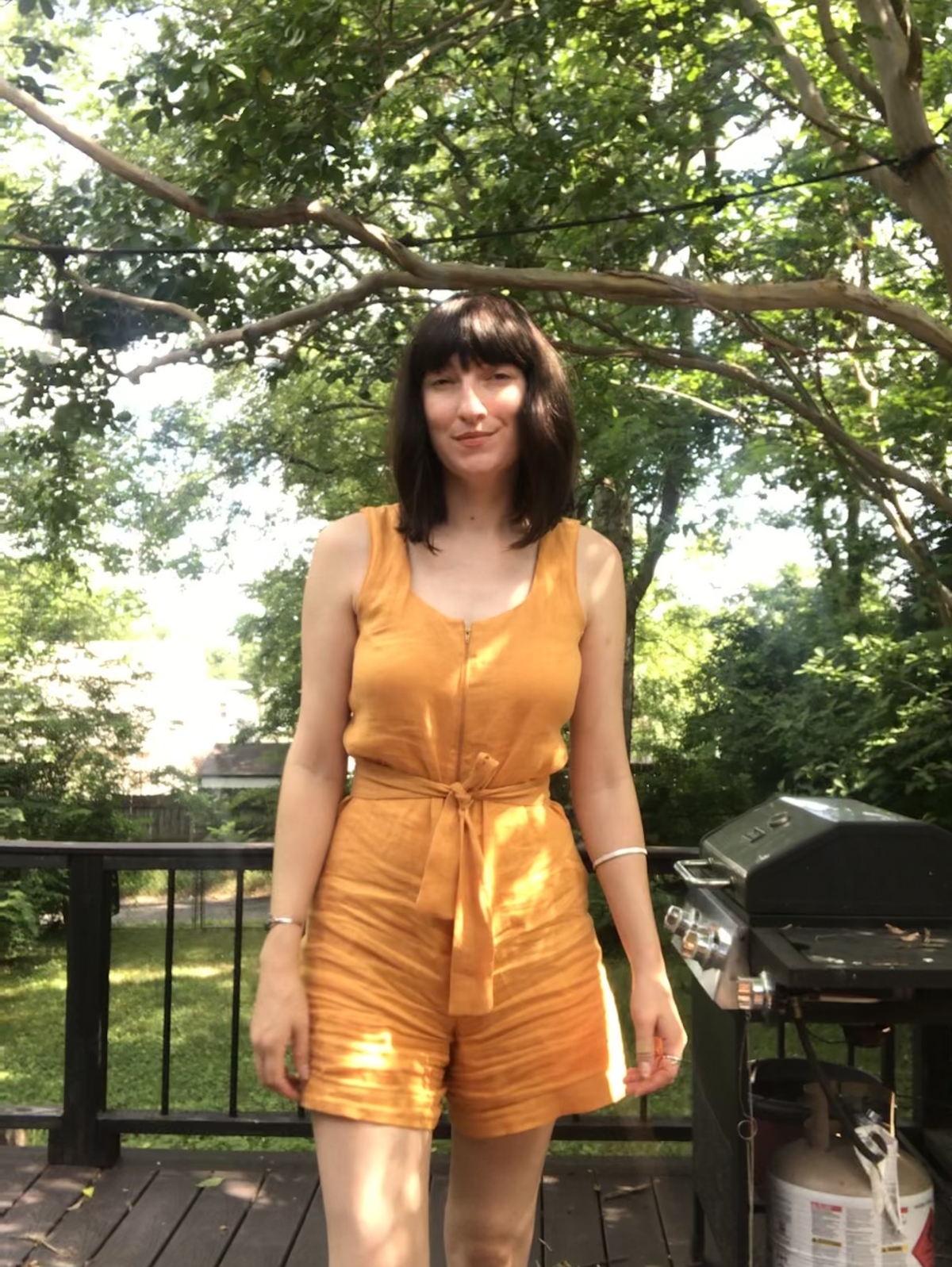 IL020 APRICOT Softened 100% Linen Light (3.7 oz/yd2)
Allwell sleeveless box top size 2, added 1/2" to sleeve to make it easier to sew.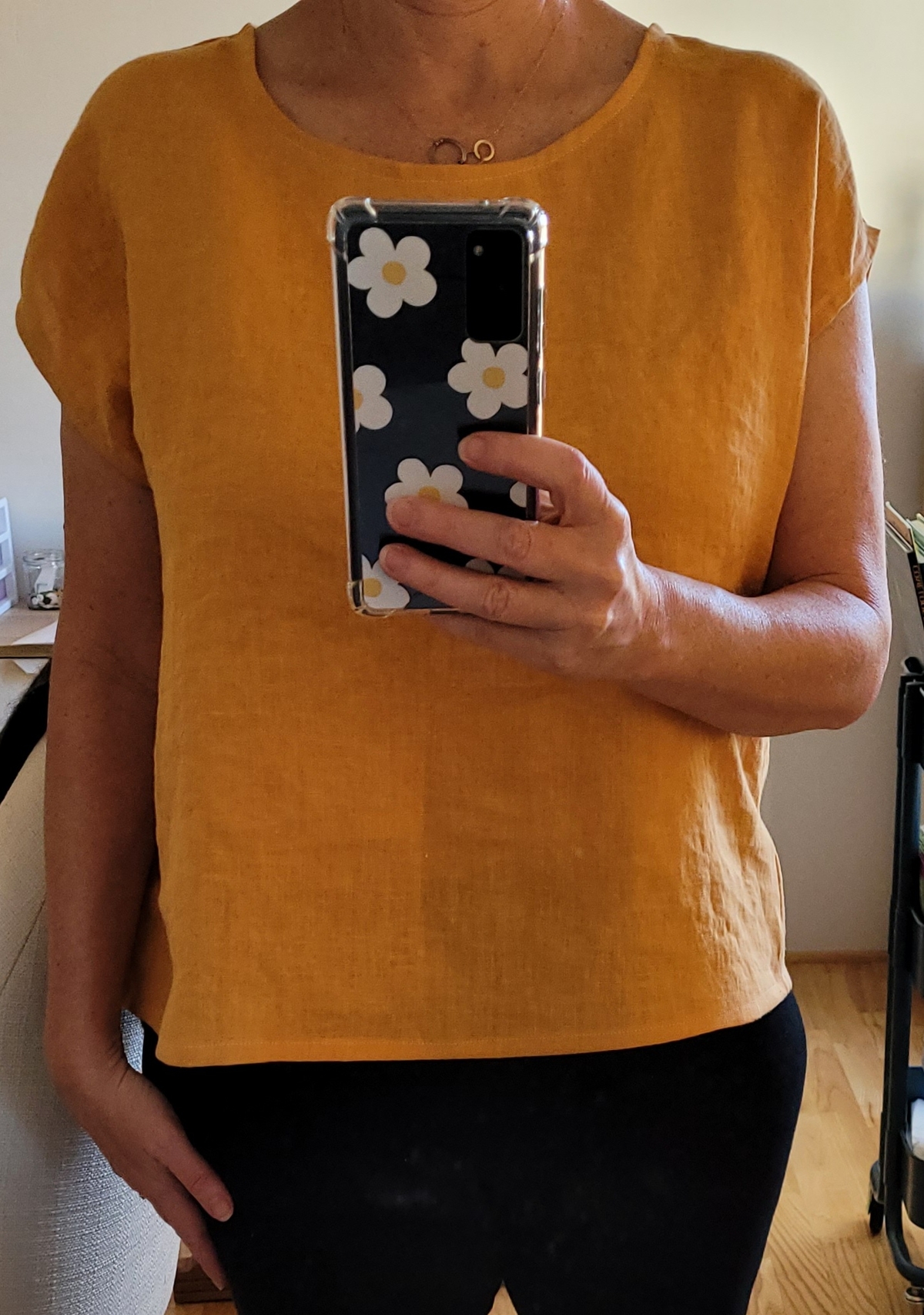 IL020 APRICOT Softened 100% Linen Light (3.7 oz/yd2)
Used this lighter weight linen to make the Linen Swing blouse by Fabrics-Stores. Perfect combination of fabric and pattern.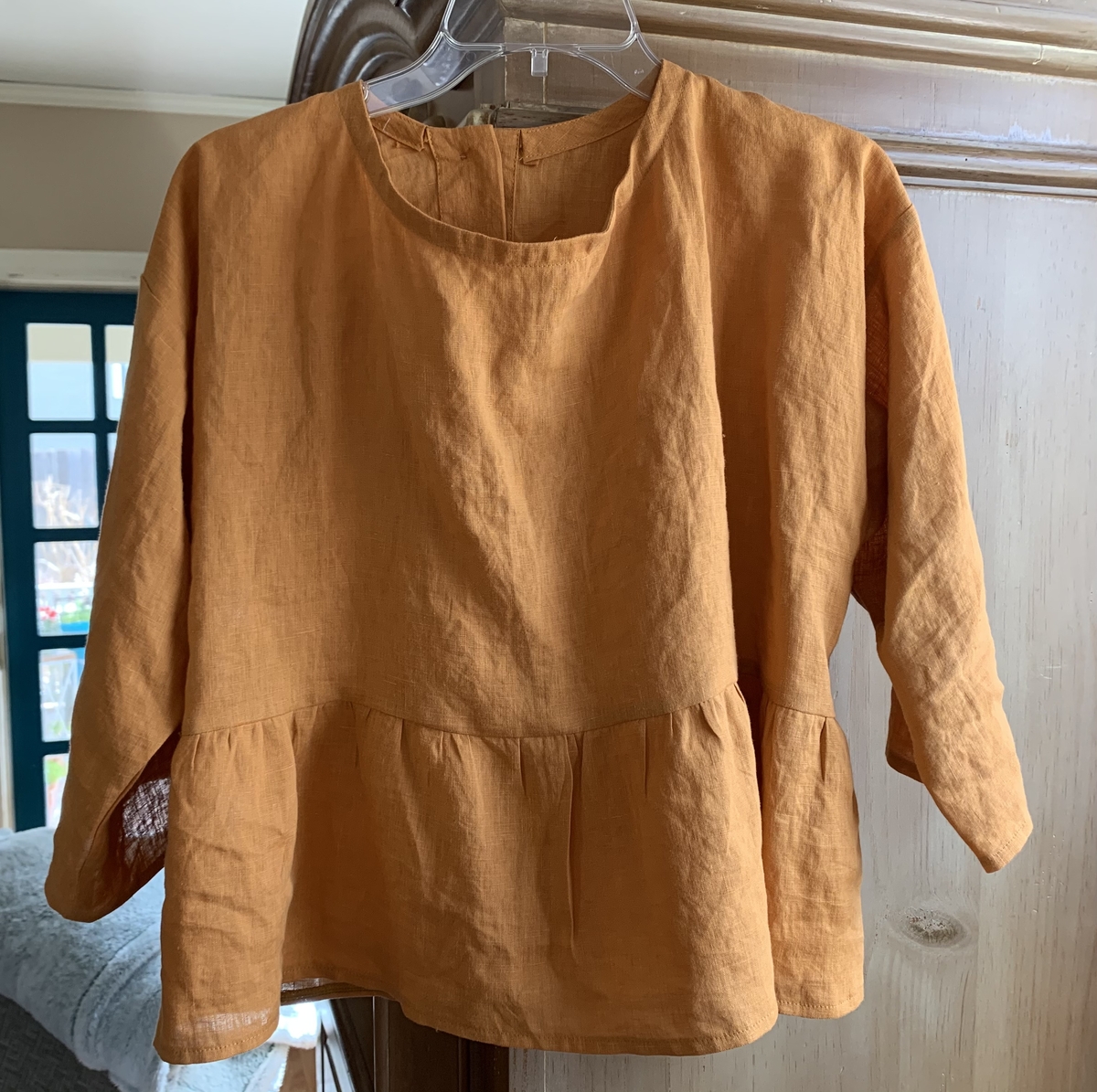 IL020 APRICOT Softened 100% Linen Light (3.7 oz/yd2)
IL020 Apricot for this nightgown. So fun to sew on - and a great canvas for embroidery.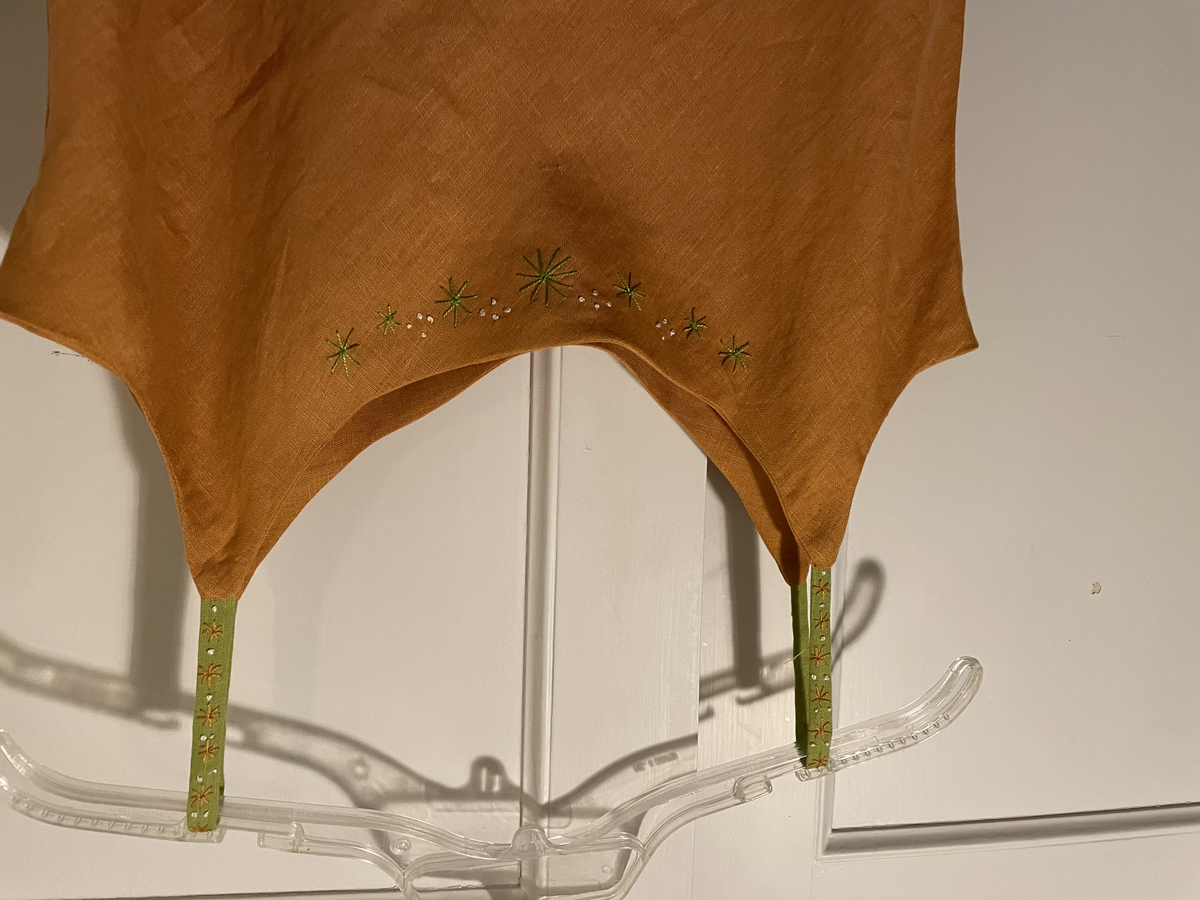 IL020 APRICOT Softened 100% Linen Light (3.7 oz/yd2)


IL020 Handkerchief Apricot Softened - 100% Linen - Light (3.7 oz/yd2)
Sample Size: 2" x 3.5" (Including Swatch Card)
Free Standard Shipping
* Samples are pre-assembled and may not come from the same fabric bolt you order from. Color may vary. All fabric samples are shipped via USPS without tracking.

E-MAIL
Please contact us by following the link below.
SUBMIT A REQUEST

PHONE
1-866-620-2008
Call us Monday through Friday 10 am - 6 pm PST
Once you are happy with your order, please proceed to checkout where you are able to review your order and estimated shipping charges before you complete payment. Shipping charges are calculated by the weight and location your order is shipping to.
You will be able to choose from the following options:
Standard Shipping: 4 - 8 Business Days
Expedited Shipping: 3 - 4 Business Days
Priority Shipping: 2- 3 Business Days
International shipping charges are also calculated at the time of checkout. Please note there may be fewer shipping options available to you as the options are based on the destination of your package.
Delivery times begin one business day after the order is placed with a 24-48 hour time frame for processing.This processing period applies to all in stock items and allows for the time needed to manually cut and package your order to ensure it is checked for quality and accuracy before it leaves our facility.
Business days are Monday - Friday, 9AM - 4PM PST. Saturday, Sunday and Holdays are not considered business days.
Sample color chips are sent via regular mail and may take up to a week to arrive.
All goods are subject to prior sale and please feel free to Visit My Order to check the most up-to-date status of your order.
Making a return is quick and easy, you have 30 days from delivery to return the item or items in their original condition (unwashed, uncut and unaltered). Please include a copy of your packing list and once the return is received we will contact you to see if you would like an exchange, a credit to your Fabrics-store account or the monies returned to your original payment method.
Ship Returns to:
Fabrics-store.com
6013 Scott Way
Commerce, CA 90040
HOW DOES FREE SHIPPING WORK?
Take advantage of our Free Shipping offers on orders shipping within the contiguous US on the following days:
Every Monday and Wednesday on orders of $150 or more.
Every day on orders of $1,000 or more.
Your order will be shipped Standard Shipping (4-8 Business Days) with the shipper of our choice. No international orders. Standard shipping takes 24-48 hours for processing. Delivery times begin one business day after the order is placed. This is due to your order being manually cut and packaged to ensure quality.
Please note that some of our darker or more vibrant shades will have some residual dye run off or bleeding. It is important that you launder or treat like colors with like colors so that you do not compromise the integrity of any other colors, fabrics or garments during the launder process.
We also suggest that if you are combining one or more of these types of colors with lighter colors that you pre-wash the linens seperately and once the item is completed do not launder again, but Dry Clean.
Fabric Care
Machine wash cold.
Gentle cycle.
Only non-chlorine. Bleach if needed.
Tumble dry low.
Medium steam iron.
Do not use Perm Press cycle in wash or dry