4C22 - MOONFLOWER FS Premier Finish
4C22 MOONFLOWER FS Premier Finish - 100% Linen - Heavy (7.1 oz/yd2) - 2.00 Yards
Price:
$32.08 per item

Sale price:
$25.66 per item (20% off)
Only 2 in stock
Ice cold and shot through with mint, the sharp blue of MOONFLOWER linen played a vital role in Pieter Bruegel the Elder's paintings, bringing fresh light into his rippling water and wide-open skies.
A leading painter of the Dutch Renaissance, Breugel pioneered a new brand of genre painting that was larger and more imaginative than ever before, combining Biblical subjects with elements of mythology and everyday life. But the color was the driving force in his work, allowing him to create luminescent scenes that glisten with fresh light.

At a heavier weight of 7.1 ounces this 100% linen is referred to as Rustic due to its more textured look and feel. Durable and perfect for projects that require just a bit more substance.
The Premier Finish undergoes a two-step process to give the cloth a luxurious, supple feel right out of the box.
First, we apply a softener to give the fabric a silkier surface. Then, strong blasts of air are blown into the woven cloth. This beats up the fibers to make them softer and mimics the fiber bending process that the fabric undergoes when you've used it a lot.
This finishing process gives the fabric a much softer and more luxurious hand. It will be less prone to deep creases and have less linting. Shrinkage will still have to be taken into consideration based on the fabric type ( thread size, count, weave type).
Fabric specifications:
| | |
| --- | --- |
| Article : | 4C22 Rustic - Bortovka |
| Content : | 100% Linen |
| Type : | BASIC |
| Thread size warp : | 11.6 |
| Thread size weft : | 11.6 |
| Thread count warp : | 38 |
| Thread count weft : | 32 |
| Color : | MOONFLOWER |
| Weight : | 7.1 oz/yd2 |
| Width : | 57 inch |
Customer Questions and Answers
Can I get a Moon flower sample?
Phyllis • July 25, 2022
Hi! Can you please send us an email so we can look up your account and add in a handmade cut of the Moonflower to your order? We are still perfecting the comment system, and I don't have a way to see your info from here yet :) Thank you!
Oksana • July 25, 2022
Although this is heavyweight linen (and there is no doubt about this) this fabric becomes very soft after a couple of washes. My Paola jacket and no-side-seam pants feel more like pajamas than workwear. In fact, I would very much recommend this particular linen for cold night pajamas. Cuddly and snuggly.
Stephanie • August 22, 2021
I was surprised by how beautiful this linen was when I saw it in person. Of course, it's beautiful online, but in person, it's a bit of a softer color with a little more green, but more blue than green. The fabric has more slubs than the normal mid-weight linen, but it just adds to the soft color and texture. It washes beautifully on a normal cycle. I normally hang to dry and tug at the fabric a little to pull out the bigger creases.
Jailyn • May 5, 2021
Thank you for having the most beautiful linen that I have gotten. This color is going to look gorgeous on my six month old great niece. I have as yet to start on making the clothes for little Lavender Anne, but hope to get started within the next two weeks. The soft fabric will lay ever so lightly on her, and against her red hair. I will greatly enjoy sewing a wardrobe out of the linen and the colors that I purchased from You. Thank You Sincerely, Linda A.
Linda • April 28, 2021
Folklore Metropolitan hat pattern This color not as heavy as natural color of WC22. Worked well for this floppy hat. I set the creases on the band by steaming. This fabric does what you want.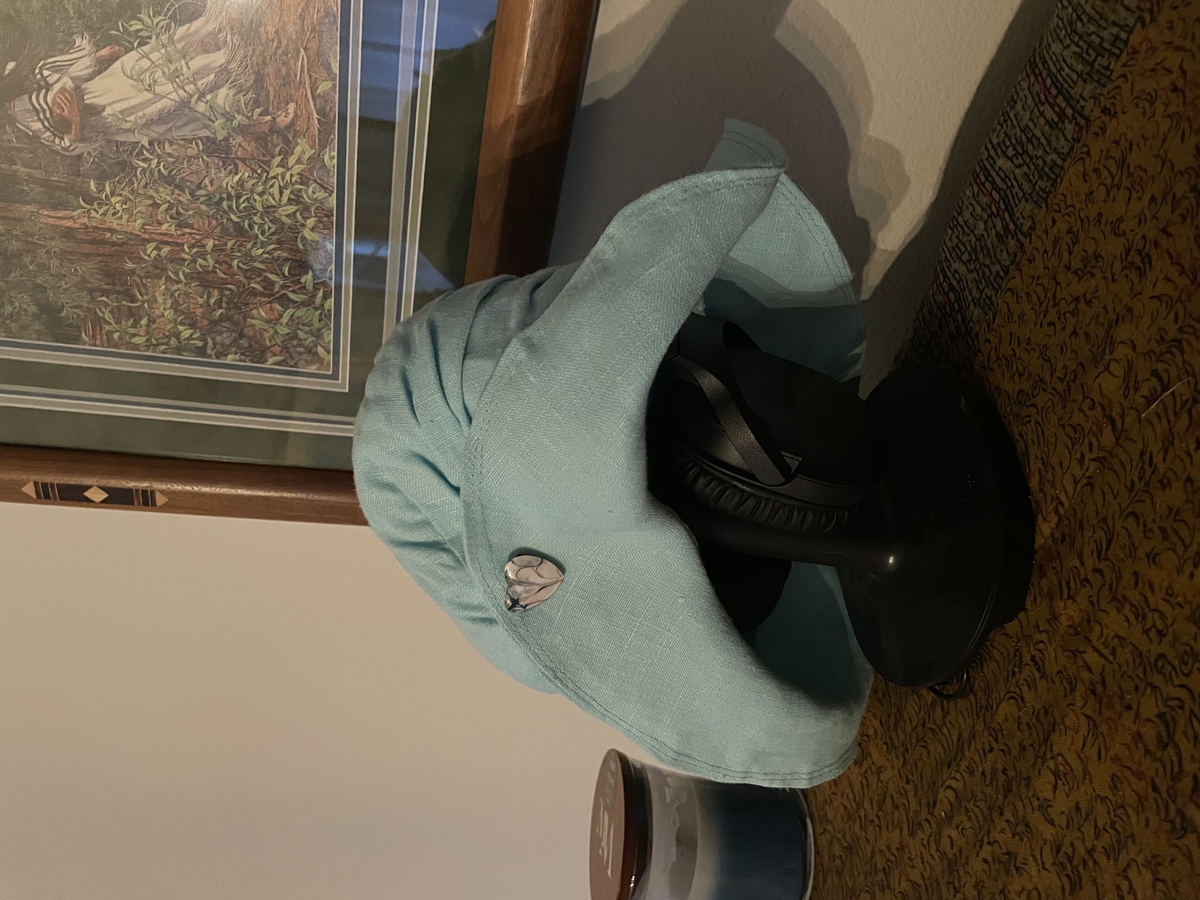 4C22 MOONFLOWER FS Premier Finish 100% Linen Heavy (7.1 oz/yd2)
Gorgeous color, and substantial, yet silky look and feel to this fabric. I made myself a simple open summer dress and wanted to adore it with embroidered pockets. However, the weight of seed beads and all the cotton embroidery threads was too much for my idea. So, I decided to turn my "pockets-that-didn't-happen" into embroidery samples. Just for beauty and sheer joy of creativity sake.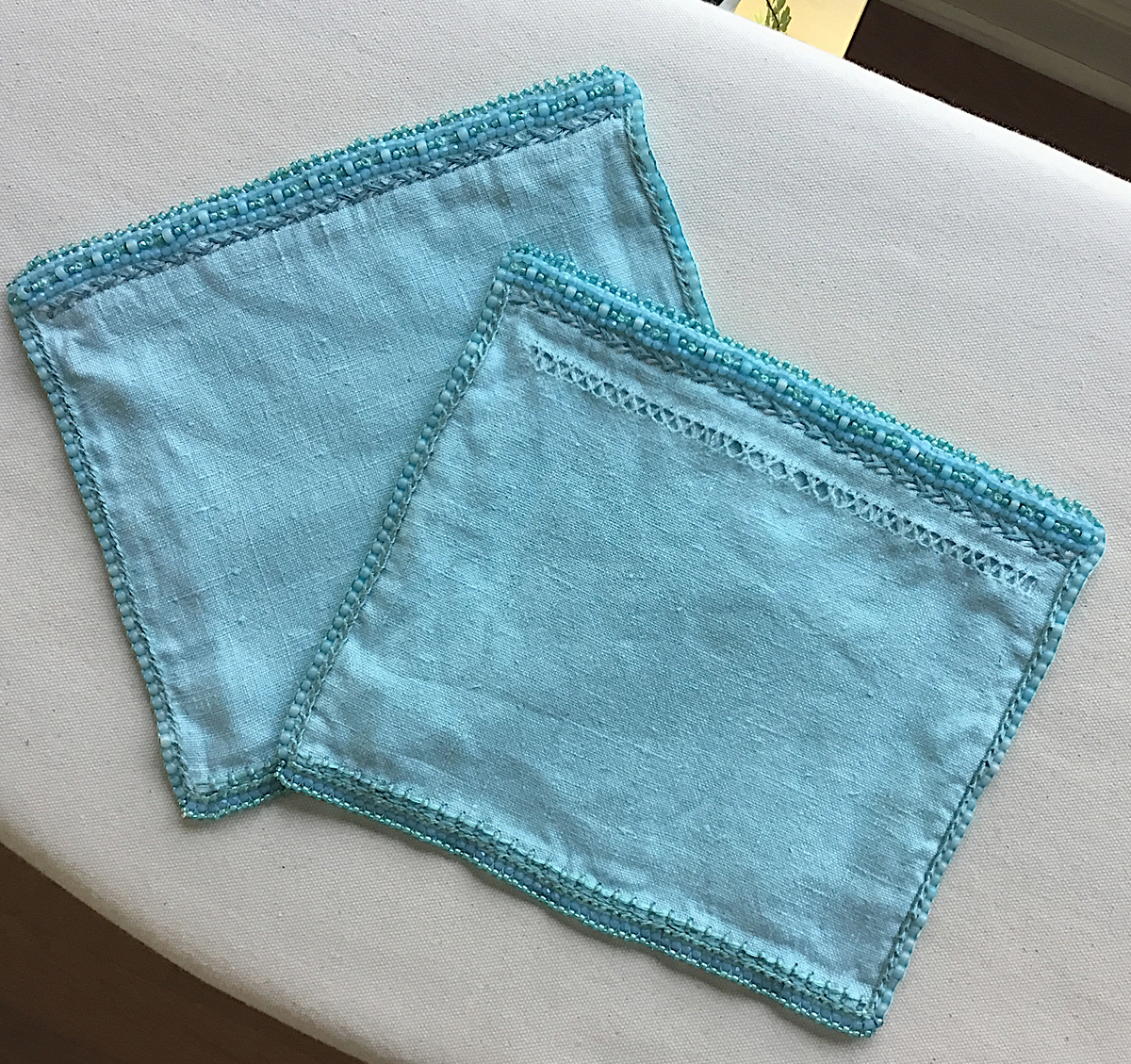 4C22 MOONFLOWER FS Premier Finish 100% Linen Heavy (7.1 oz/yd2)
Best Pajamas Ever! FS Paola workwear jacket and Butterick B6851 no side seam pants in heavy weight 4C22 Moonflower Premier Finish. Very soft and comfortable. Warm in cold temps, cool in warm temps. This is the *perfect* fabric for pajamas! I might make the Faye Duster next from this wonderful fabric.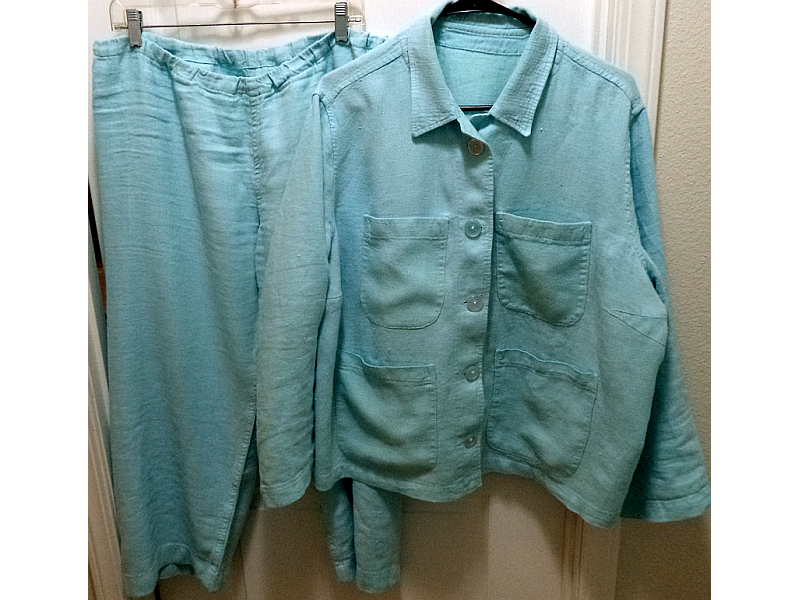 4C22 MOONFLOWER FS Premier Finish 100% Linen Heavy (7.1 oz/yd2)
Paola Jacket with large bust alteration in heavy weight 4C22 MOONFLOWER Premier Finish . I still need to find the right buttons for it. This is a pretty good representation of the color.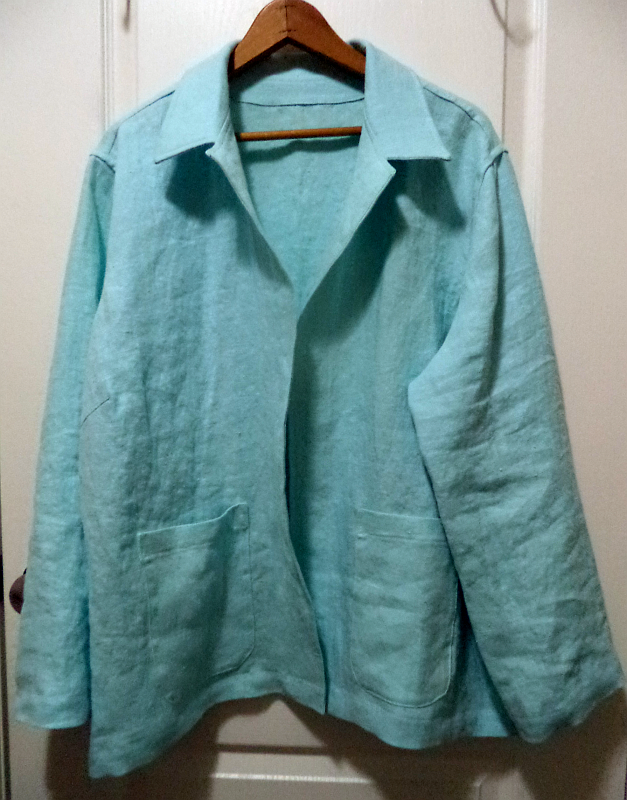 4C22 MOONFLOWER FS Premier Finish 100% Linen Heavy (7.1 oz/yd2)
The fabric is beautiful. I used it to make the Wide Strap Maxi dress from Peppermint Magazine & Elbe Textiles. It sewed up beautifully and even though it's a heavyweight fabric, I was able to sew French seams without bulk. I still have a few sewing problems to fix, but the fabric is really wonderful to sew with.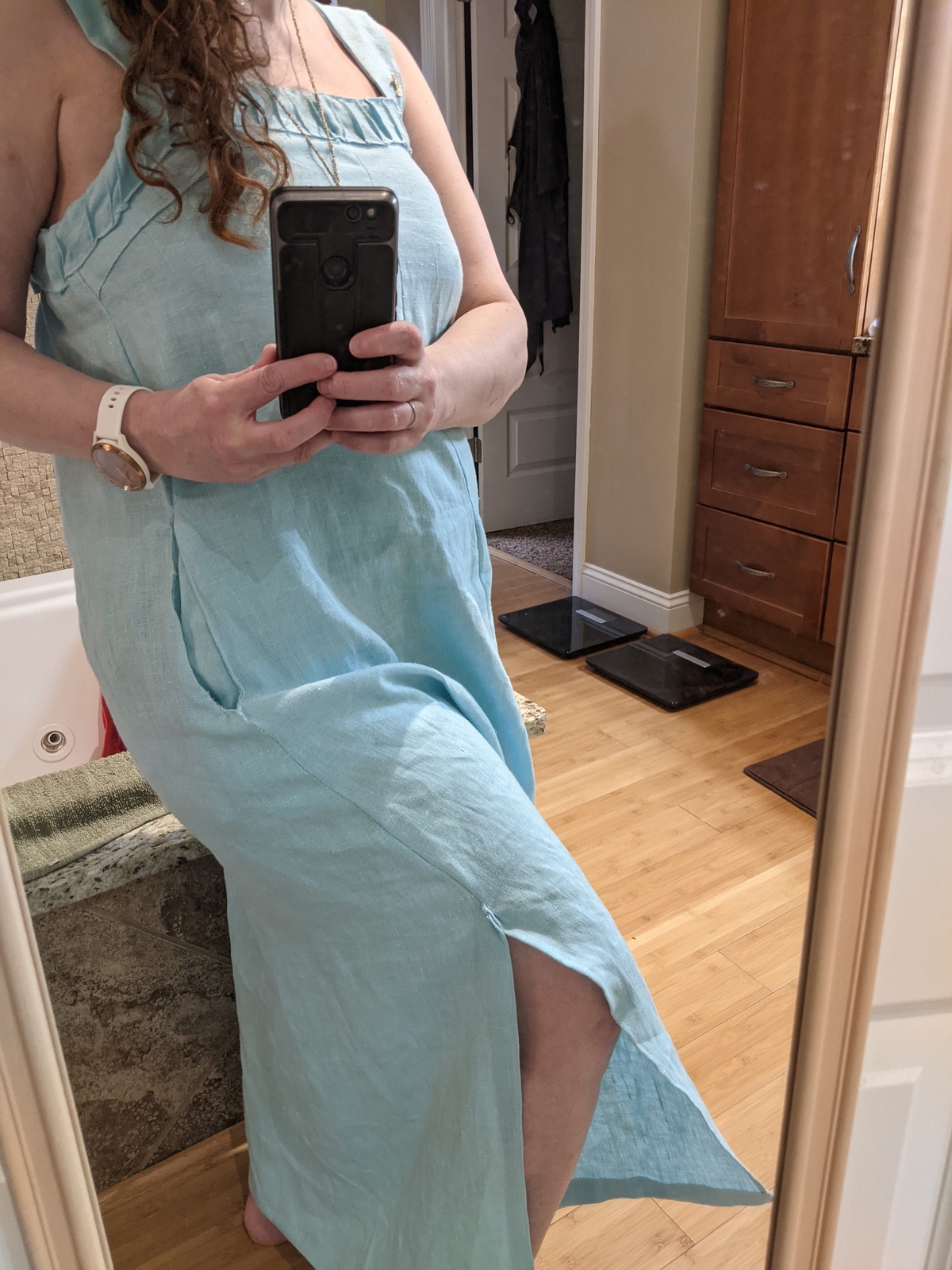 4C22 MOONFLOWER FS Premier Finish 100% Linen Heavy (7.1 oz/yd2)


4C22 MOONFLOWER FS Premier Finish - 100% Linen - Heavy (7.1 oz/yd2)
Sample Size: 2" x 3.5" (Including Swatch Card)
Free Standard Shipping
* Samples are pre-assembled and may not come from the same fabric bolt you order from. Color may vary. All fabric samples are shipped via USPS without tracking.

E-MAIL
Please contact us by following the link below.
SUBMIT A REQUEST

PHONE
1-866-620-2008
Call us Monday through Friday 10 am - 6 pm PST
Once you are happy with your order, please proceed to checkout where you are able to review your order and estimated shipping charges before you complete payment. Shipping charges are calculated by the weight and location your order is shipping to.
You will be able to choose from the following options:
Standard Shipping: 4 - 8 Business Days
Expedited Shipping: 3 - 4 Business Days
Priority Shipping: 2- 3 Business Days
International shipping charges are also calculated at the time of checkout. Please note there may be fewer shipping options available to you as the options are based on the destination of your package.
Delivery times begin one business day after the order is placed with a 24-48 hour time frame for processing.This processing period applies to all in stock items and allows for the time needed to manually cut and package your order to ensure it is checked for quality and accuracy before it leaves our facility.
Business days are Monday - Friday, 9AM - 4PM PST. Saturday, Sunday and Holdays are not considered business days.
Sample color chips are sent via regular mail and may take up to a week to arrive.
All goods are subject to prior sale and please feel free to Visit My Order to check the most up-to-date status of your order.
Making a return is quick and easy, you have 30 days from delivery to return the item or items in their original condition (unwashed, uncut and unaltered). Please include a copy of your packing list and once the return is received we will contact you to see if you would like an exchange, a credit to your Fabrics-store account or the monies returned to your original payment method.
Ship Returns to:
Fabrics-store.com
6013 Scott Way
Commerce, CA 90040
HOW DOES FREE SHIPPING WORK?
Take advantage of our Free Shipping offers on orders shipping within the contiguous US on the following days:
Every Monday and Wednesday on orders of $150 or more.
Every day on orders of $1,000 or more.
Your order will be shipped Standard Shipping (4-8 Business Days) with the shipper of our choice. No international orders. Standard shipping takes 24-48 hours for processing. Delivery times begin one business day after the order is placed. This is due to your order being manually cut and packaged to ensure quality.
Please note that some of our darker or more vibrant shades will have some residual dye run off or bleeding. It is important that you launder or treat like colors with like colors so that you do not compromise the integrity of any other colors, fabrics or garments during the launder process.
We also suggest that if you are combining one or more of these types of colors with lighter colors that you pre-wash the linens seperately and once the item is completed do not launder again, but Dry Clean.
Linen
Machine wash cold.
Gentle cycle.
Only non-chlorine. Bleach if needed.
Tumble dry low.
Medium steam iron.
Semilinen
Machine wash cold.
Gentle cycle.
Only non-chlorine. Bleach if needed.
Tumble dry low.
Medium steam iron.