IS010 Waffle Sky Softened - 54% Linen / 46% Cotton - Medium (6.2 oz/yd2) - 2.00 Yards
Price:
$40.52 per item

Sale price:
$32.42 per item (20% off)
Only 0 in stock
Fluffy, dimensional, and simply a joy to live with - you'll feel like a sewing maestro when you pull this cloth out of its first dry cycle.

The fabric arrives flat with a subtle basket-like weave. This weaving technique comes with a delightful surprise once it goes through its first wash and dry.


The threads that are woven to make the outside of the squares - they "lift up".

The threads that are used to weave the inside of the squares - those "drop-down".


You get a cloth that looks like squares of a freshly made waffle deliciousness. It is just that yummy!


This cloth is wider than our usual selection at 84" wide. Once it is washed - the cloth will shrink to get that dimensional waffle surface.
Approximate shrinkage - the
width of cloth shrinks 17% (weft of the fabric) and 28% on the length ( warp of the fabric).
Shrinkage is based on a warm wash and low-heat dry.
Waffle weave cloth is great for:
- Bath towels
- Robes
- Throws
- Duvet covers
- Pillow shams

- Lounge garments
- Decorative pillows
- Curtains
- Beach towels
- Picnic blankets

- items that need to have dimension and softness
The cloth is Softened so we have added a softener to give it a silkier hand. The fabric has not been laundered so shrinkage will still have to be taken into consideration (shrinkage depends on fabric weave and laundering method).
Fabric specifications:
| | |
| --- | --- |
| Article : | IS010 Waffle |
| Content : | 54% Linen / 46% Cotton |
| Type : | WAFFLE |
| Thread size warp : | 20 |
| Thread size weft : | 17.9 |
| Thread count warp : | 52 |
| Thread count weft : | 49 |
| Color : | SKY |
| Weight : | 6.2 oz/yd2 |
| Width : | 84 inch |
Customer Questions and Answers
How much fabric do I need to make a set of bath towels?
Bonnie • November 21, 2022
Please follow this link to our blog blog.fabrics-store.com/2021/07/21/tutorial-how-to-make-waffle-bath-towels/
Maureen • November 21, 2022
My family loves oversized towels for the bath. So with this fabric I am making towels large enough that one could "wrap themselves up like a burrito". The fabric is 84" selvage to selvage, so that's the length of the new towel. Since most of our family members are under 6 foot tall, I'm making the towels generous enough to cover them well. Ranging from 45"-55". Once they've been washed a few times, they will shrink to a comfortable size and still be very generous. Extra feature: they can do double duty as a toddlers blanket. I've made the standard size towel earlier this year and I love how soft they get, how absorbent they are, and how light weight they are, even oversized. I don't feel like I'm wrapped in a carpet as the terry cloth towel can feel. We hang our towels from hooks to dry off. They dry quickly and if they get too wet, the laundry shares space in the main bathroom. Easy fix.
Susan • October 8, 2022
Bought two yards to make our grandson a blanket. The color, Sky, is such a beautiful soft color of blue. Love it and the texture! He gets sweaty when he sleeps, and the linen helps keep him cooler. I made our other grandson one out of Mist. Everyone loves them both! Excellent linen. Simply beautiful to touch and look at.
Cynthia • July 30, 2022
I had tried making my own bath sheet and hand towels about six months ago from this fabric and absolutely LOVE them. Especially for drying my chin length hair. I also appreciate how the towels dry (even in Florida!) after each use. No musty, damp smell. I'm visiting friends next month, so I ordered 4 yards and made two bath sheets, three hand towels and two washcloths. These will be thankyou gifts for wonderful friends. I have told two friends about this fabric and they have both placed orders.
Donna • June 5, 2022
I bought one yard of this fabric to try. I made 4 kitchen towels and I love them! Fabric preformed as described and I now have lovely fluffy and absorbent kitchen towels.
Roberta • May 15, 2022
I made 2 bath sheets, 2 bath towels and 2 hand towels and still plenty left for more out of the 6 yards I bought. I used the pattern for making towels from this fabric, and after two washings I found that they were plenty long but too short for tall people like us. I have enough to make at least one deeper bath towel. In both washes they shed an enormous of very short-fibered fluff. After two washes and dryings without using fabric softener (which interferes with absorption) they are quite scratchy to feel. I wrecked my back by bending over the cutting table, the ironing board and the sewing machine to make these, but they are nice. I don't like the rough feel on my face so no washcloths. The pretty light blue goes with my blue and turquoise bath mats. I showed a finished towel to my massage therapist and she fell in love with it. I would recommend adding depth to any towels you make if you are tall, and maybe not so long if you are very slender.
Deborah • May 9, 2022
See All >
Makes such a soft comfy pillow!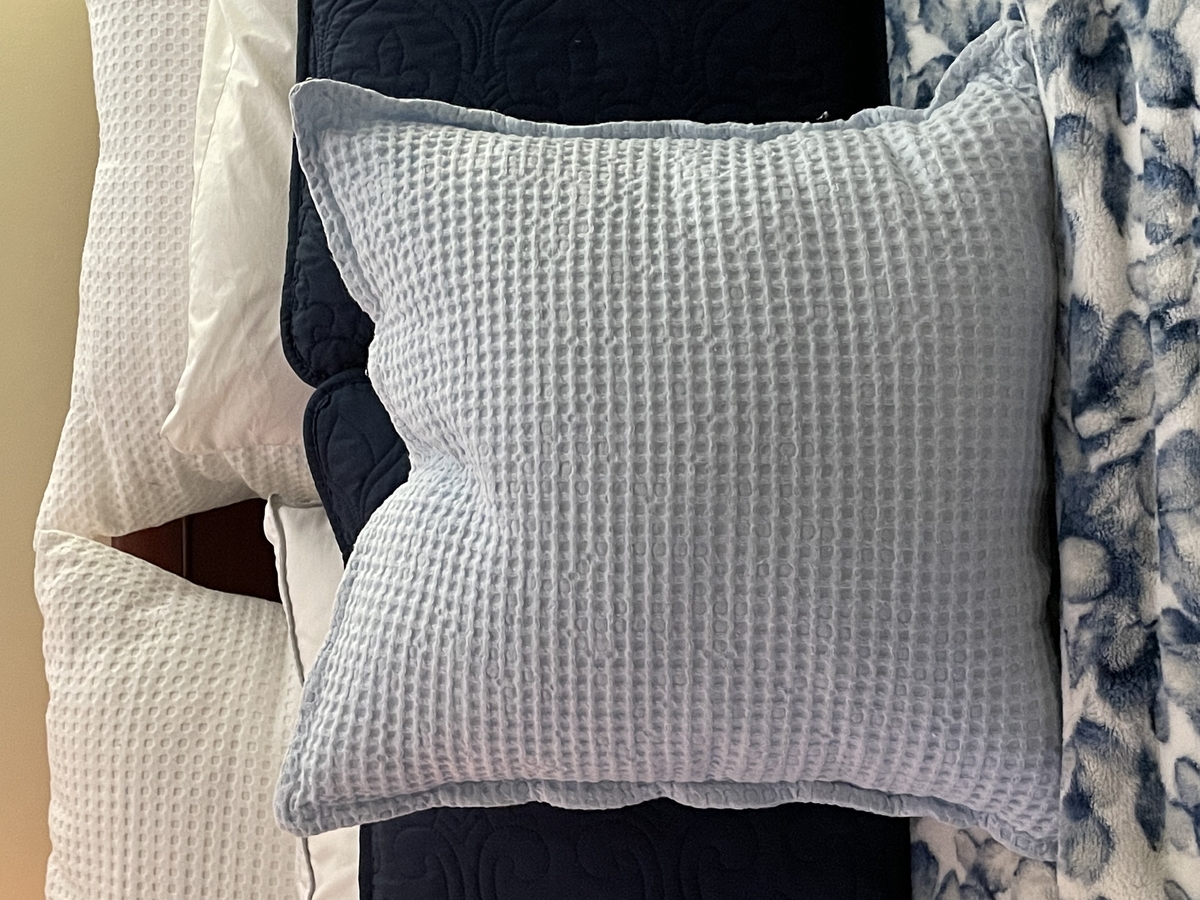 IS010 SKY Softened 54% Linen / 46% Cotton Medium (6.2 oz/yd2)
Waffle linen made into baby swaddle blanket towel and washcloths.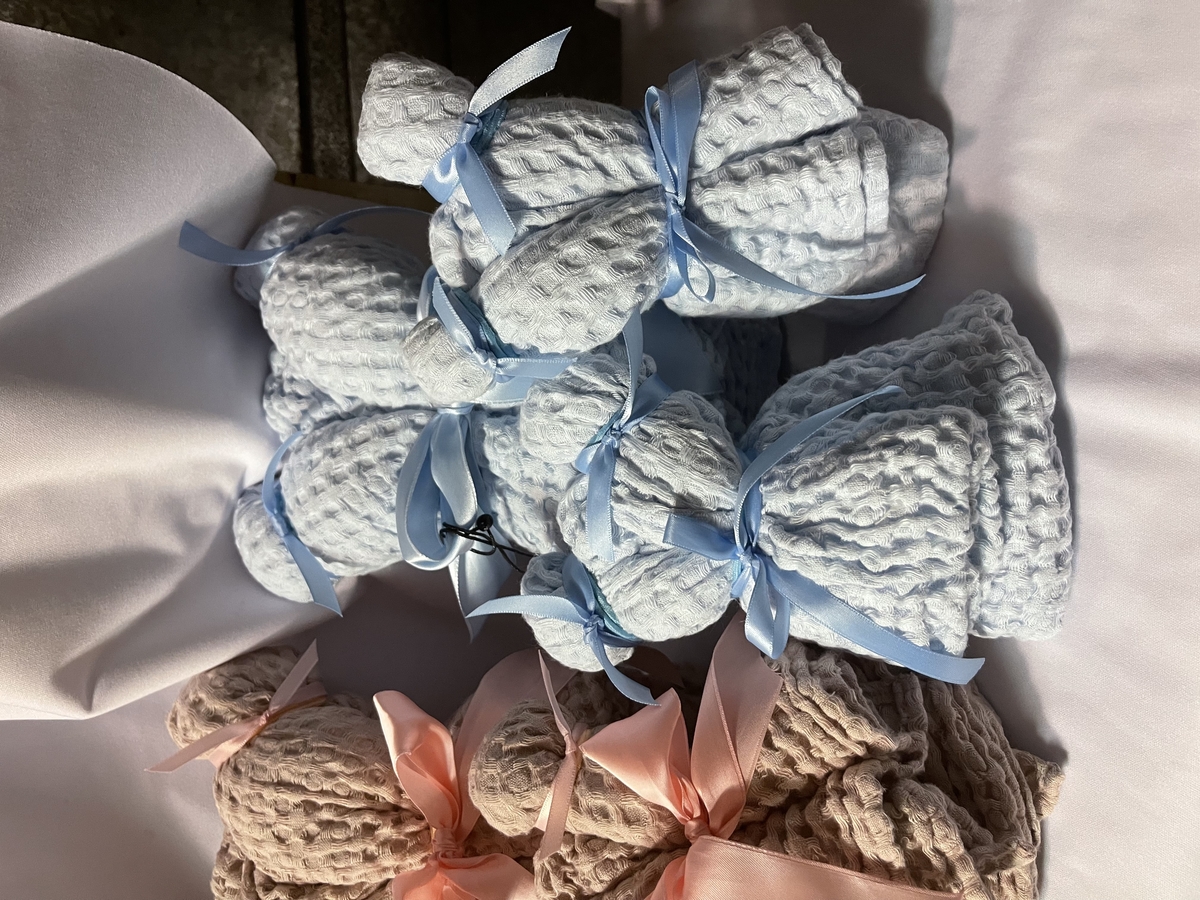 IS010 SKY Softened 54% Linen / 46% Cotton Medium (6.2 oz/yd2)
Pink works too for a baby girl it is orchid pink .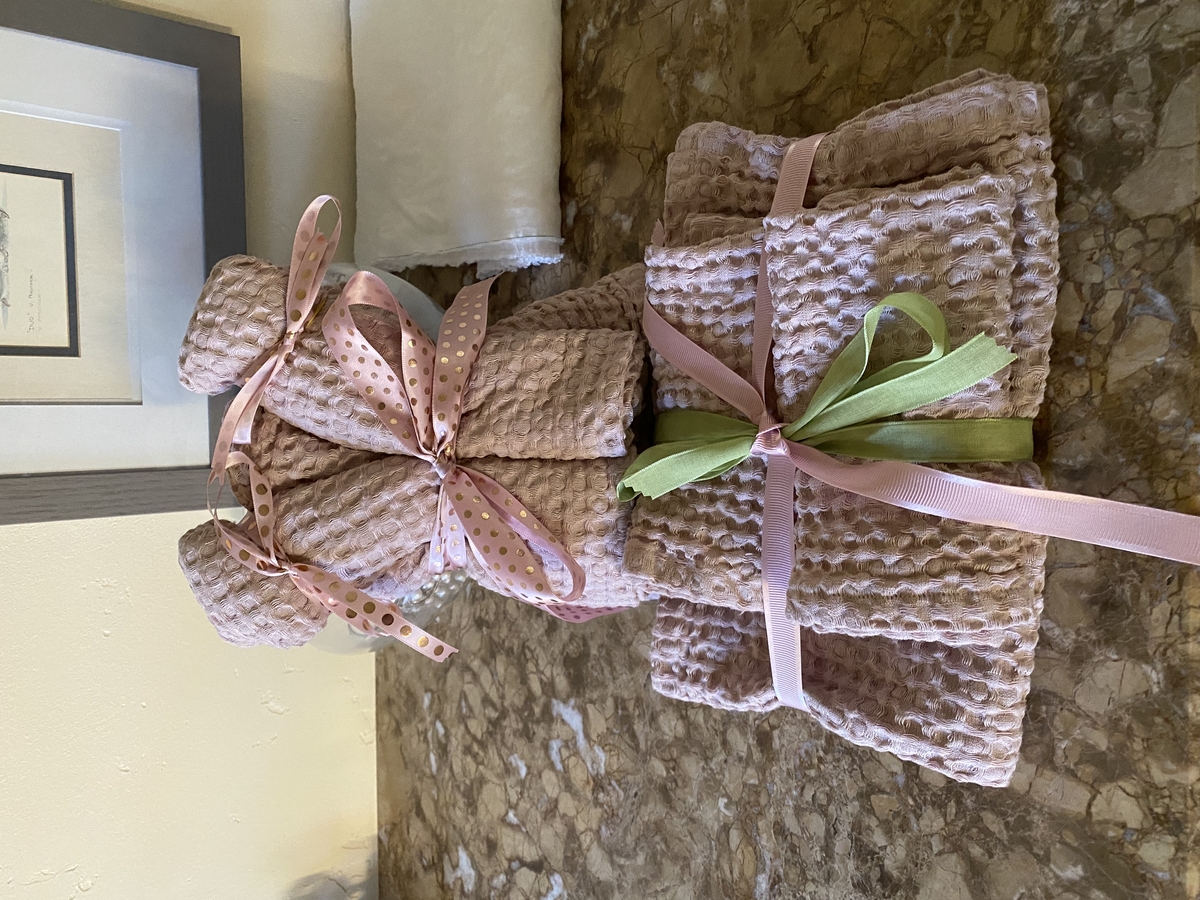 IS010 SKY Softened 54% Linen / 46% Cotton Medium (6.2 oz/yd2)
Great fabric for baby gifts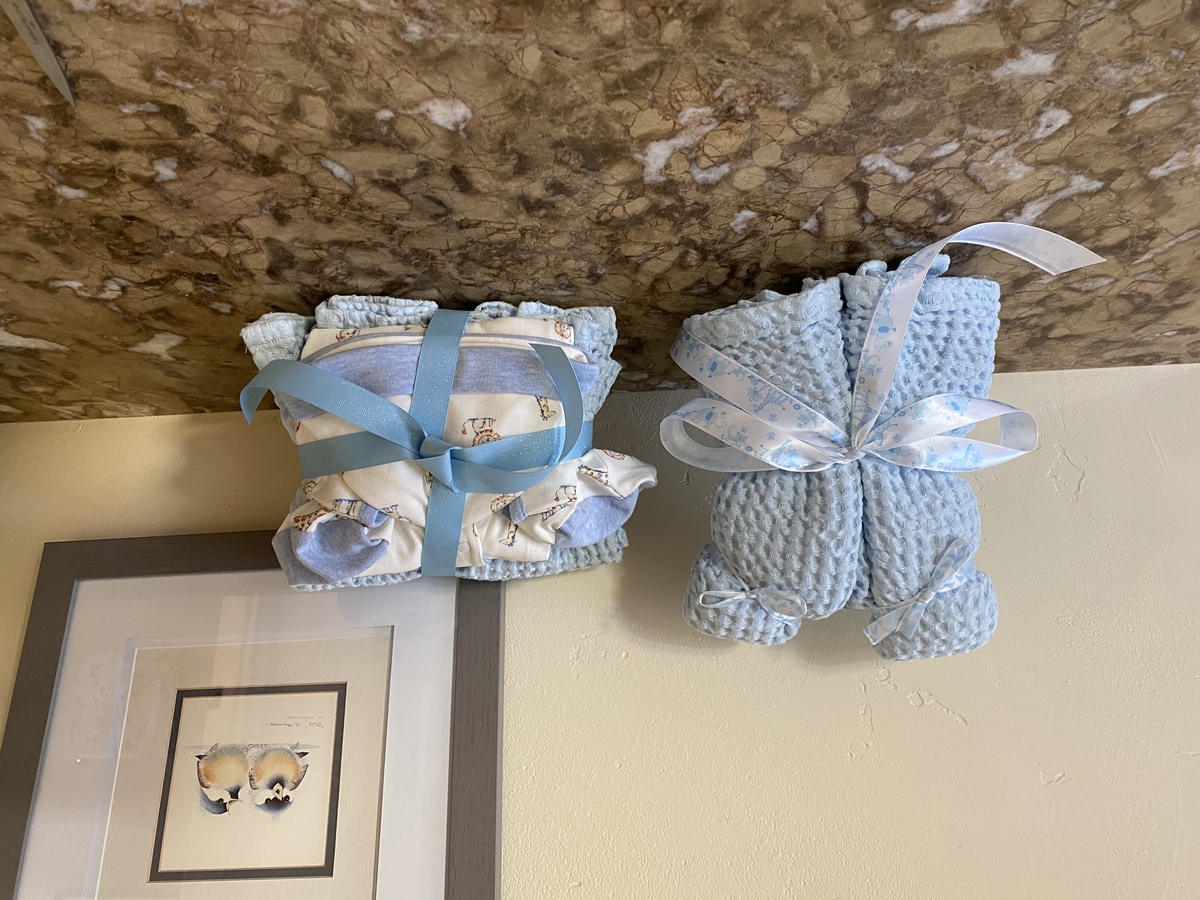 IS010 SKY Softened 54% Linen / 46% Cotton Medium (6.2 oz/yd2)
I used the waffle weave for this baby bath towel (added organic flannel trim) for my grand baby. Soft, absorbent, cozy. Very happy with it. Will be ordering more for 'grown-up' bath sheets!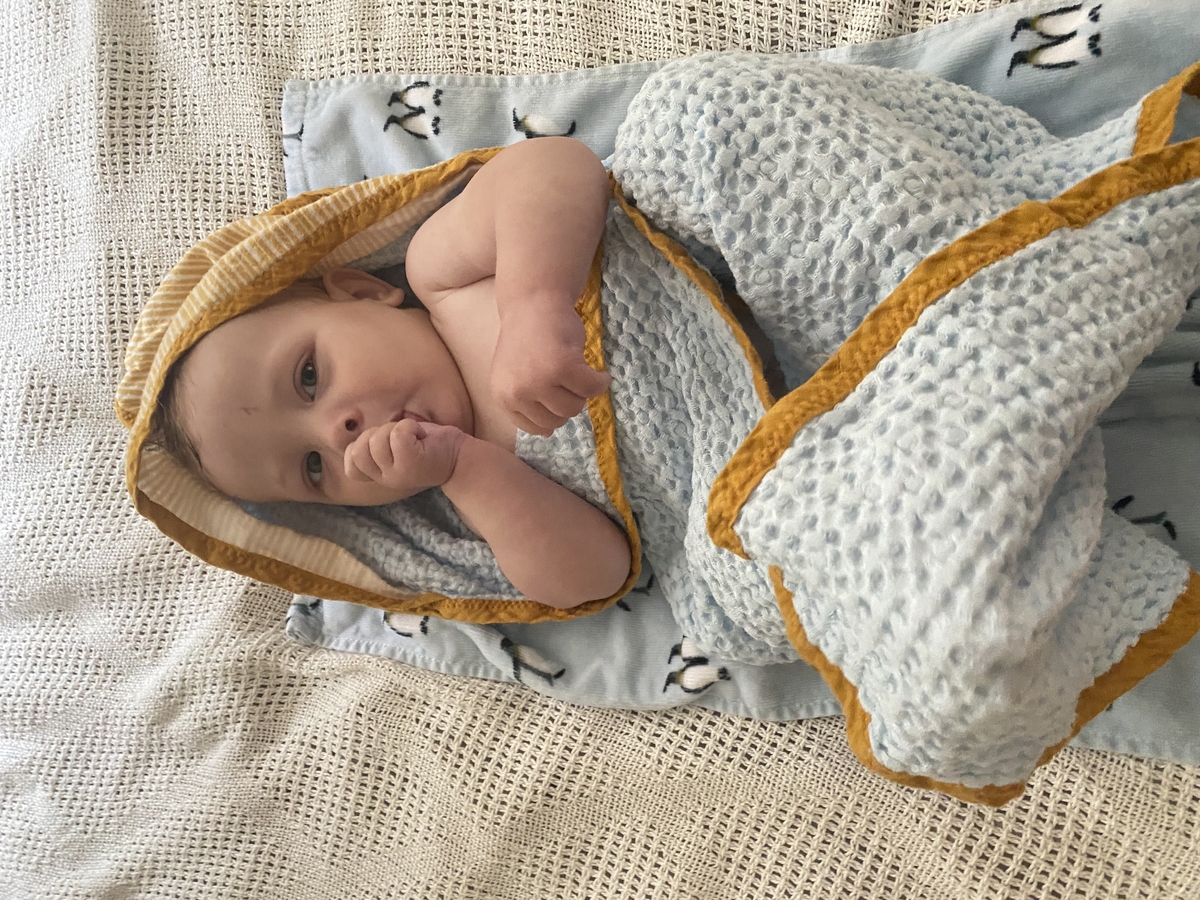 IS010 SKY Softened 54% Linen / 46% Cotton Medium (6.2 oz/yd2)


IS010 Waffle Sky Softened - 54% Linen / 46% Cotton - Medium (6.2 oz/yd2)
Sample Size: 5.5" x 7.0" (Including Swatch Card)
Free Standard Shipping
* Samples are pre-assembled and may not come from the same fabric bolt you order from. Color may vary. All fabric samples are shipped via USPS without tracking.

E-MAIL
Please contact us by following the link below.
SUBMIT A REQUEST

PHONE
1-866-620-2008
Call us Monday through Friday 10 am - 6 pm PST
Once you are happy with your order, please proceed to checkout where you are able to review your order and estimated shipping charges before you complete payment. Shipping charges are calculated by the weight and location your order is shipping to.
You will be able to choose from the following options:
Standard Shipping: 4 - 8 Business Days
Expedited Shipping: 3 - 4 Business Days
Priority Shipping: 2- 3 Business Days
International shipping charges are also calculated at the time of checkout. Please note there may be fewer shipping options available to you as the options are based on the destination of your package.
Delivery times begin one business day after the order is placed with a 24-48 hour time frame for processing.This processing period applies to all in stock items and allows for the time needed to manually cut and package your order to ensure it is checked for quality and accuracy before it leaves our facility.
Business days are Monday - Friday, 9AM - 4PM PST. Saturday, Sunday and Holdays are not considered business days.
Sample color chips are sent via regular mail and may take up to a week to arrive.
All goods are subject to prior sale and please feel free to Visit My Order to check the most up-to-date status of your order.
Making a return is quick and easy, you have 30 days from delivery to return the item or items in their original condition (unwashed, uncut and unaltered). Please include a copy of your packing list and once the return is received we will contact you to see if you would like an exchange, a credit to your Fabrics-store account or the monies returned to your original payment method.
Ship Returns to:
Fabrics-store.com
6013 Scott Way
Commerce, CA 90040
HOW DOES FREE SHIPPING WORK?
Take advantage of our Free Shipping offers on orders shipping within the contiguous US on the following days:
Every Monday and Wednesday on orders of $150 or more.
Every day on orders of $1,000 or more.
Your order will be shipped Standard Shipping (4-8 Business Days) with the shipper of our choice. No international orders. Standard shipping takes 24-48 hours for processing. Delivery times begin one business day after the order is placed. This is due to your order being manually cut and packaged to ensure quality.
Please note that some of our darker or more vibrant shades will have some residual dye run off or bleeding. It is important that you launder or treat like colors with like colors so that you do not compromise the integrity of any other colors, fabrics or garments during the launder process.
We also suggest that if you are combining one or more of these types of colors with lighter colors that you pre-wash the linens seperately and once the item is completed do not launder again, but Dry Clean.
Fabric Care
Machine wash cold.
Gentle cycle.
Only non-chlorine. Bleach if needed.
Tumble dry low.
Medium steam iron.
Do not use Perm Press cycle in wash or dry