IS010 - ROSE SMOKE Softened
IS010 Waffle Rose Smoke Softened - 54% Linen / 46% Cotton - Medium (6.2 oz/yd2) - 0.30 Yard
Price:
$6.08 per item

Sale price:
$2.13 per item (65% off)
Only 0 in stock
ROSE SMOKE's sweet, tart pink colored Robert Delaunay's kaleidoscopic art, filling it with the bright freshness of summer.
Delaunay was a leading figure in the early 20th century School of Paris, and his art encapsulated the joyful anticipation of the era, a time when rising industrial change promised a life of danger, thrill and adventure. Alongside his wife Sonia, they spearheaded the spirited styles of Simultanism and Orphism, made from concentric circles and halos of prismatic, transcendent light. Delaunay observed with fascination, "Painting is by nature a luminous language."
Fluffy, dimensional, and simply a joy to live with - you'll feel like a sewing maestro when you pull this cloth out of its first dry cycle.

The fabric arrives 84 inches wide, flat and with a subtle basket-like weave. This weaving technique comes with a delightful surprise once it goes through its first wash and dry.


The threads that are woven to make the outside of the squares - they "lift up".

The threads that are used to weave the inside of the squares - those "drop-down".


You get a cloth that looks like squares of a freshly made waffle deliciousness. It is just that yummy!


This cloth is wider than our usual selection at 84" wide. Once it is washed - the cloth will shrink to get that dimensional waffle surface.
Approximate shrinkage - the
width of cloth shrinks 17% (weft of the fabric) and 28% on the length ( warp of the fabric).
Shrinkage is based on a warm wash and low-heat dry.
Waffle weave cloth is great for:
- Bath towels
- Robes
- Throws
- Duvet covers
- Pillow shams

- Lounge garments
- Decorative pillows
- Curtains
- Beach towels
- Picnic blankets

- items that need to have dimension and softness
The cloth is Softened so we have added a softener to give it a silkier hand. The fabric has not been laundered so shrinkage will still have to be taken into consideration (shrinkage depends on fabric weave and laundering method).
Fabric specifications:
| | |
| --- | --- |
| Article | IS010 Waffle |
| Content | 54% Linen / 46% Cotton |
| Type | WAFFLE |
| Thread size warp | 20 |
| Thread size weft | 17.9 |
| Thread count warp | 52 |
| Thread count weft | 49 |
| Color | ROSE SMOKE |
| Weight | 6.2 oz/yd2 |
| Width | 84 inch |
Customer Questions and Answers
I sewed up these towels back in December and have been pleased with them. Do make sure to adjust your machine tension before doing so! I didn't, and wish I had! The towels themselves dry you off very well and "cleanly" if that's the word for it. There's no leftover film of water that other towels don't really absorb. True, they aren't exactly *fluffy* towels, but I am pleased. I also just have a linen obsession. There was a bit of a learning curve in regards to getting them to not shrink up terribly in the dryer, but getting it at about 80-90% dry and stretching the edges back to square does the trick. They were really linty for the first 4-5 washes, don't wash them with anything else before then! Fabrics Store recommends a cool wash for their linen, but I wash these in hot to actually get them clean and prevent that nasty "wet towel" smell and have had no problems so far! I'd love to attach a photo of the finished product/color, but there doesn't seem to be a way to?
Nicole • March 4, 2023
This color is stunning. Muted and soft. I made a birthday gift of a bath sheet and a hair towel. I washed it three times before I gave the gift so most of the lint came out. Of course, I had to make a set for myself after I saw how nice it was!
Patricia • September 22, 2022
1 bath towel (61" x 38" unwashed unhemmed, finished 54 x 34) 1 hand towel (23" x 32" unwashed unhemmed, finished 18 x 24) 1 small drawstring bag from the remaining rectangle. Haven't used the towels as they are a gift but they look pretty.
RP • September 9, 2022
I bought this in a light blue for my daughter's birthday made 2 bath towels, 2 hand towels and several washcloths. She LOVED them!!! I have bought this rose smoke color for some towel sets and some white for a loose and comfty top! I love this fabric SO MUCH!!!
Mary • August 26, 2022
I have made several baby blankets from this fabric, as well as bath towels and bath mitts. All have been a big hit! I use the scraps to make tubular headbands (earmuffins, as I call them) with wide elastic inside, and I use the smaller scraps to fashion "ragged rose" pins to attach to the headbands. I have made several of these from different colors, and the pins can be made from one or more colors, mix and match!
MM • January 22, 2022
See All >
A a lovely color, I think the photo is relatively true to life.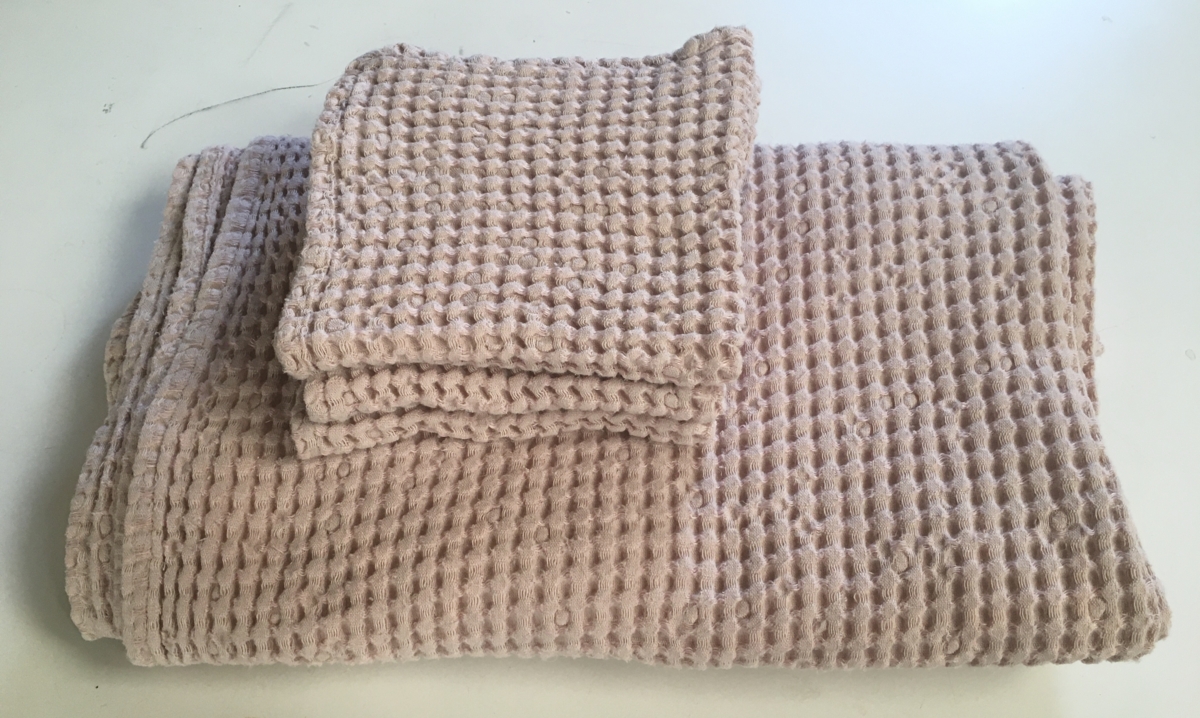 IS010 ROSE SMOKE Softened 54% Linen / 46% Cotton Medium (6.2 oz/yd2)
Let's start with the fabric choice that made this super fun! The pattern suggests woven medium weight linen 55" width and all the photos in the instructions are made with traditional texture linen but you MUST consider the linen/cotton waffle fabric as an option when you make this robe! We picked the Orchid Tint Softened Linen/Cotton Blend. I have been sewing for over 20 years and the first thing I learned was to launder your fabric to avoid shrinking issues later! The FS waffle fabric comes to you flat and when you wash it, something magical happens because of the weave when it shrinks. The warp and the weft and the cotton and the linen, one shrinks a percentage one way and the other a different percentage making the delicious waffle texture. So I washed and dried this beautiful fabric immediately to watch the magic happen. Then I panicked. Ha! Don't worry, I still endorse this step. The robe turned out amazing so as a sewing instructor, I will continue to endorse pre washing /drying most fabrics....forever and always.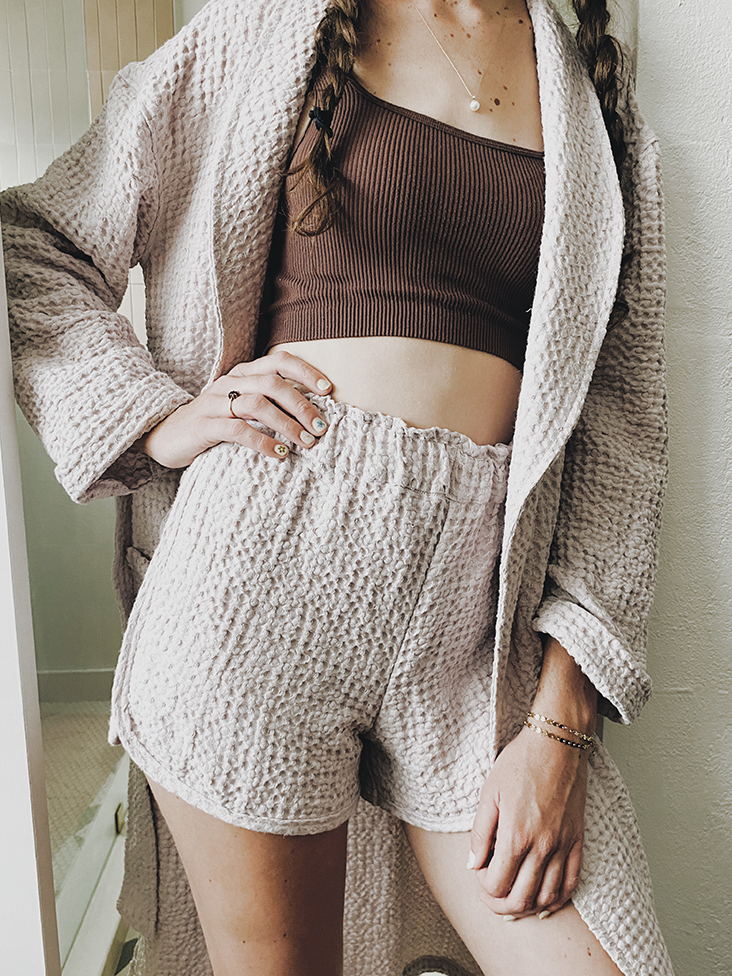 IS010 ROSE SMOKE Softened 54% Linen / 46% Cotton Medium (6.2 oz/yd2)
I took a chance on this being the right fabric for a summer robe! I am so pleased with the weight, and look of the fun fabric after it was washed and dried. I will enjoy this in the warmer weather!!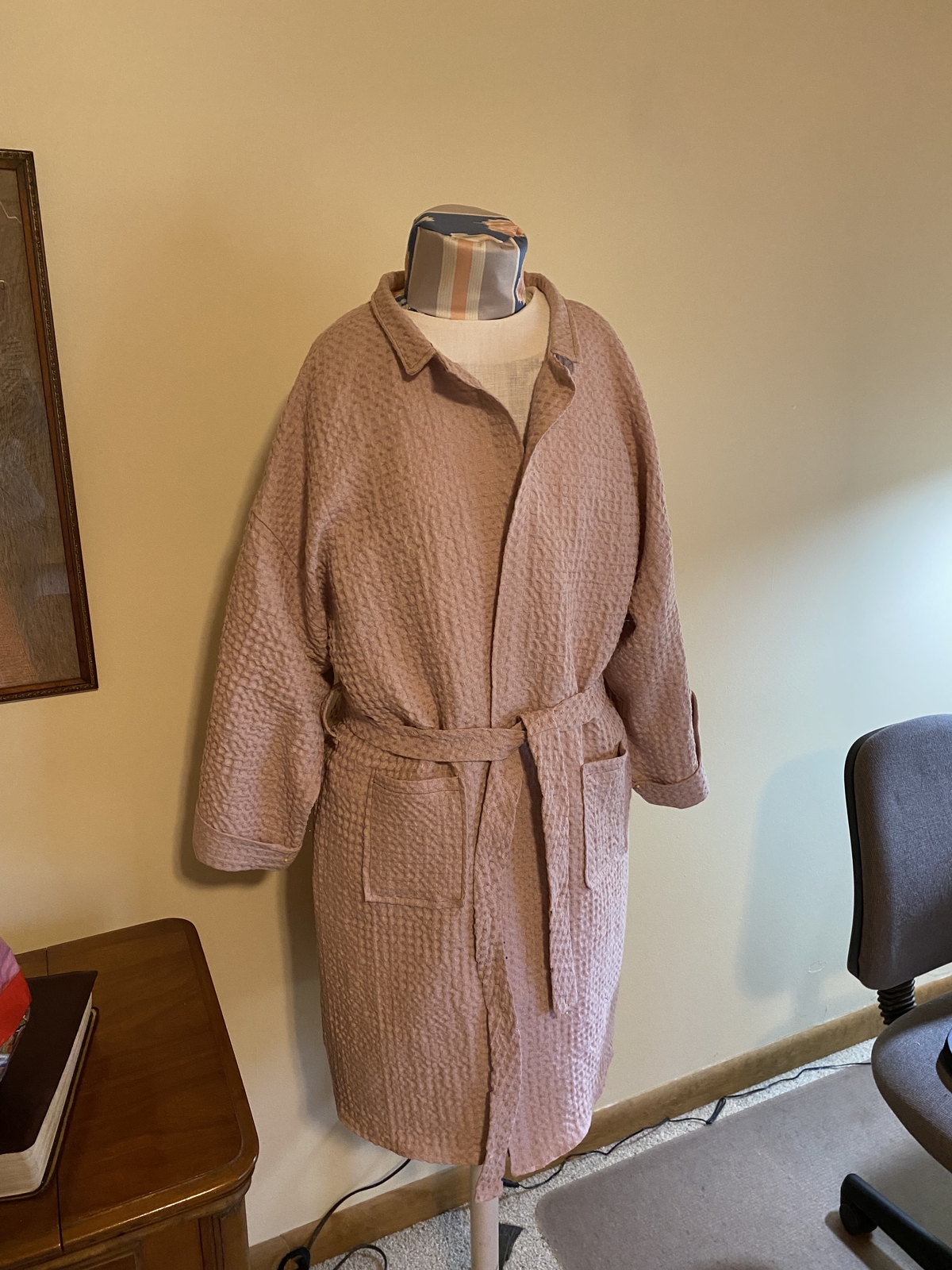 IS010 ROSE SMOKE Softened 54% Linen / 46% Cotton Medium (6.2 oz/yd2)
Picture of my finished item to go with my review.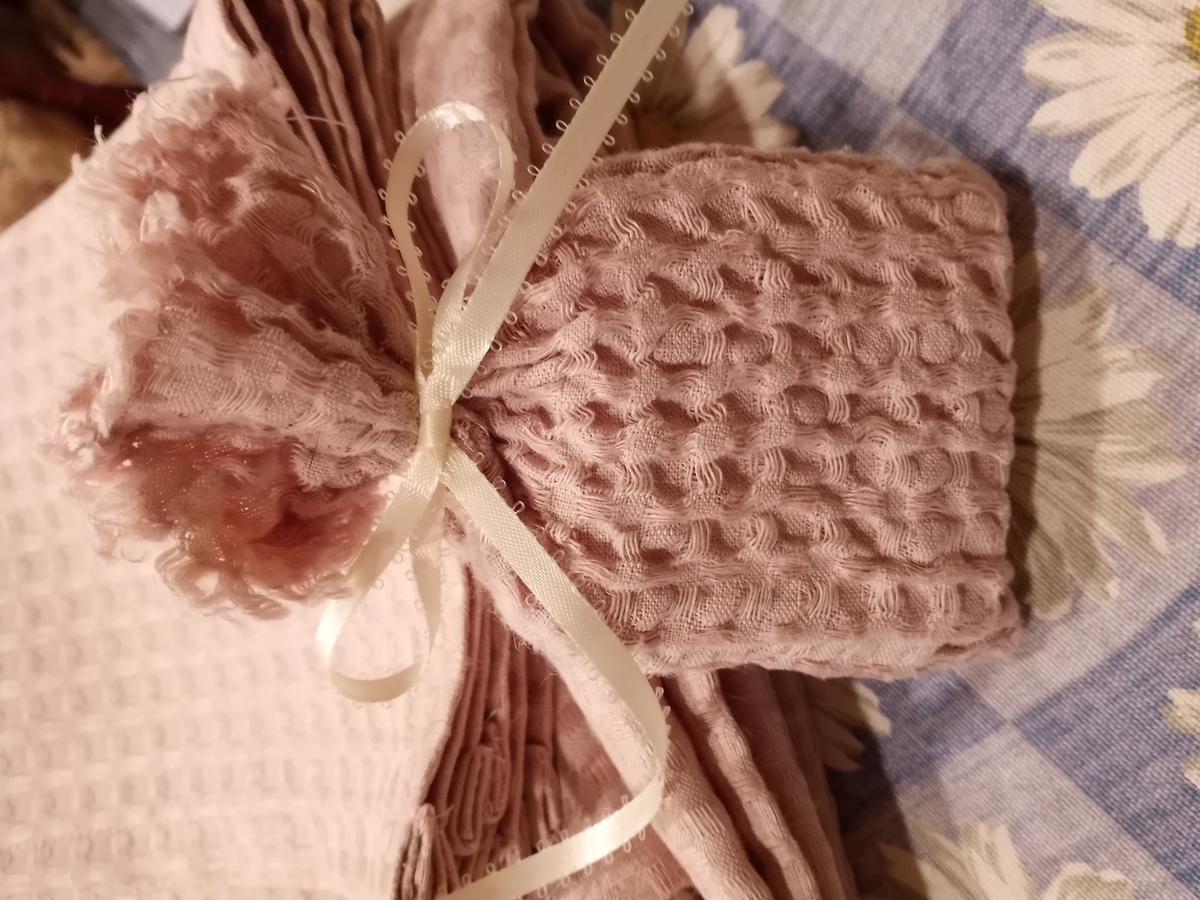 IS010 ROSE SMOKE Softened 54% Linen / 46% Cotton Medium (6.2 oz/yd2)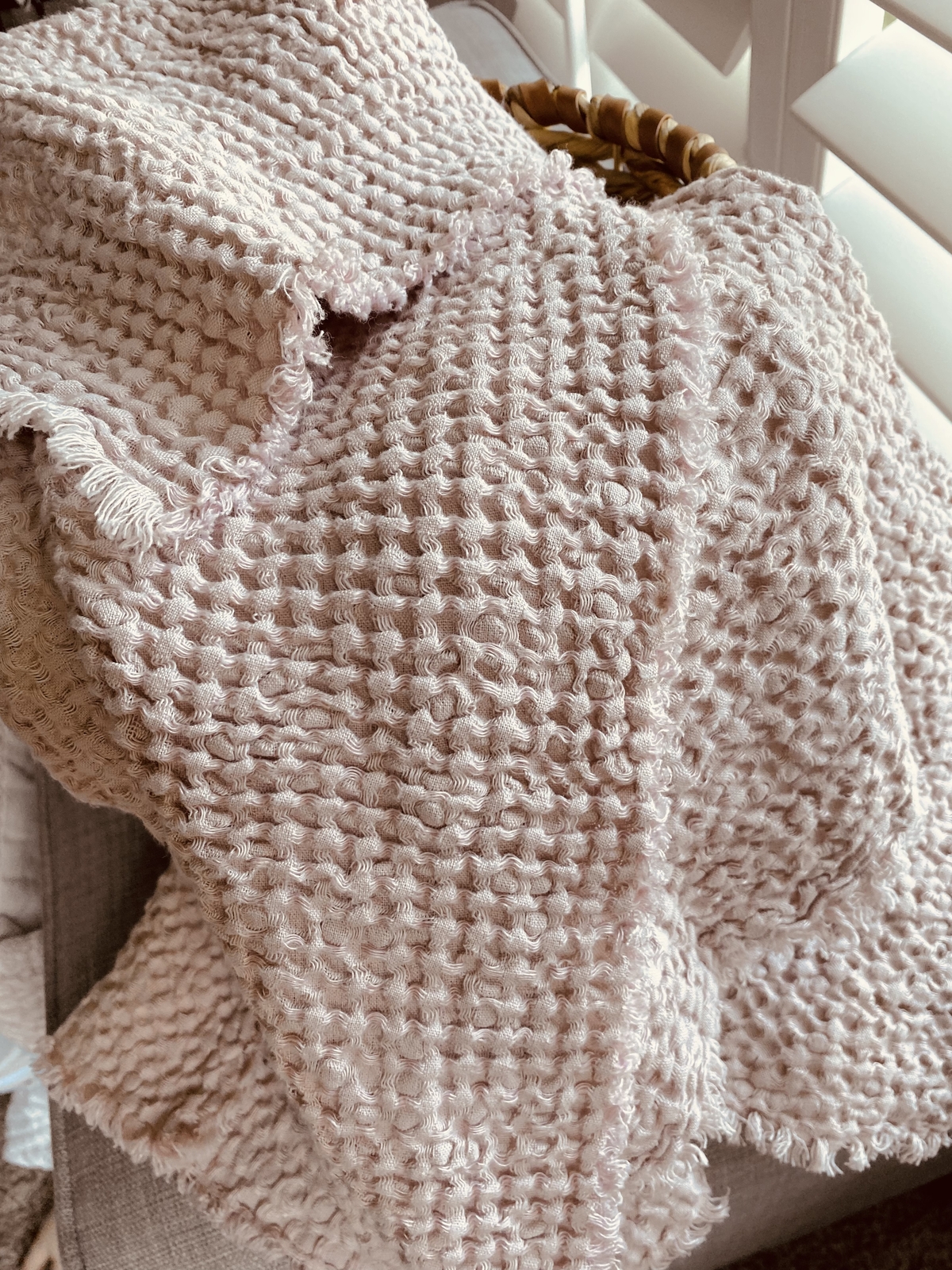 IS010 ROSE SMOKE Softened 54% Linen / 46% Cotton Medium (6.2 oz/yd2)


IS010 Waffle Rose Smoke Softened - 54% Linen / 46% Cotton - Medium (6.2 oz/yd2)
Sample Size: 5.5" x 7.0" (Including Swatch Card)
Free Standard Shipping
* Samples are pre-assembled and may not come from the same fabric bolt you order from. Color may vary. All fabric samples are shipped via USPS without tracking.

E-MAIL
Please contact us by following the link below.
SUBMIT A REQUEST

PHONE
1-866-620-2008
Call us Monday through Friday 10 am - 6 pm PST
Once you are happy with your order, please proceed to checkout where you are able to review your order and estimated shipping charges before you complete payment. Shipping charges are calculated by the weight and location your order is shipping to.
You will be able to choose from the following options:
Standard Shipping: 4 - 8 Business Days
Expedited Shipping: 3 - 4 Business Days
Priority Shipping: 2- 3 Business Days
International shipping charges are also calculated at the time of checkout. Please note there may be fewer shipping options available to you as the options are based on the destination of your package.
Delivery times begin one business day after the order is placed with a 24-48 hour time frame for processing.This processing period applies to all in stock items and allows for the time needed to manually cut and package your order to ensure it is checked for quality and accuracy before it leaves our facility.
Business days are Monday - Friday, 9AM - 4PM PST. Saturday, Sunday and Holdays are not considered business days.
Sample color chips are sent via regular mail and may take up to a week to arrive.
All goods are subject to prior sale and please feel free to Visit My Order to check the most up-to-date status of your order.
Making a return is quick and easy, you have 30 days from delivery to return the item or items in their original condition (unwashed, uncut and unaltered). Please include a copy of your packing list and once the return is received we will contact you to see if you would like an exchange, a credit to your Fabrics-store account or the monies returned to your original payment method.
Ship Returns to:
Fabrics-store.com
6013 Scott Way
Commerce, CA 90040
HOW DOES FREE SHIPPING WORK?
Take advantage of our Free Shipping offer on orders shipping within the contiguous US.
Every day on orders of $150 or more - we will pay for your shipping.
Your order will be shipped Standard Shipping (4-8 Business Days) with the shipper of our choice. No international orders.
Standard shipping takes 24-48 hours for processing. Delivery times begin one business day after the order is placed. This is due to your order being manually cut and packaged to ensure quality.
Please note that some of our darker or more vibrant shades will have some residual dye run off or bleeding. It is important that you launder or treat like colors with like colors so that you do not compromise the integrity of any other colors, fabrics or garments during the launder process.
We also suggest that if you are combining one or more of these types of colors with lighter colors that you pre-wash the linens seperately and once the item is completed do not launder again, but Dry Clean.
Fabric Care
Machine wash cold.
Gentle cycle.
Only non-chlorine. Bleach if needed.
Tumble dry low.
Medium steam iron.
Do not use Perm Press cycle in wash or dry