IS010 - GRAY CASHMERE Softened
IS010 Waffle Gray Cashmere Softened - 54% Linen / 46% Cotton - Medium (6.2 oz/yd2) - 2.00 Yards
Price:
$40.52 per item

Sale price:
$32.42 per item (20% off)
Only 0 in stock
Contemporary Japanese artist Hiroshi Sugito draws us deep into his world of meditative calm, where softly diffused gray light like that of GRAY CASHMERE Linen expands across vast areas of empty space.
Sugito made his name in the 1990s as a leader in the Tokyo-pop movement alongside Takashi Murakami and Yoshitomo Nara, but his brand of the style was quieter and more contemplative, combining tranquil expanses of empty space with tiny, barely seen trees, furniture, or mystical kawaii creatures.
Fluffy, dimensional, and simply a joy to live with - you'll feel like a sewing maestro when you pull this cloth out of its first dry cycle.

The fabric arrives 84 inches wide, flat and with a subtle basket-like weave. This weaving technique comes with a delightful surprise once it goes through its first wash and dry.


The threads that are woven to make the outside of the squares - they "lift up".

The threads that are used to weave the inside of the squares - those "drop-down".


You get a cloth that looks like squares of a freshly made waffle deliciousness. It is just that yummy!


This cloth is wider than our usual selection at 84" wide. Once it is washed - the cloth will shrink to get that dimensional waffle surface.
Approximate shrinkage - the
width of cloth shrinks 17% (weft of the fabric) and 28% on the length ( warp of the fabric).
Shrinkage is based on a warm wash and low-heat dry.
Waffle weave cloth is great for:
- Bath towels
- Robes
- Throws
- Duvet covers
- Pillow shams

- Lounge garments
- Decorative pillows
- Curtains
- Beach towels
- Picnic blankets

- items that need to have dimension and softness
The cloth is Softened so we have added a softener to give it a silkier hand. The fabric has not been laundered so shrinkage will still have to be taken into consideration (shrinkage depends on fabric weave and laundering method).
Fabric specifications:
| | |
| --- | --- |
| Article : | IS010 Waffle |
| Content : | 54% Linen / 46% Cotton |
| Type : | WAFFLE |
| Thread size warp : | 20 |
| Thread size weft : | 17.9 |
| Thread count warp : | 52 |
| Thread count weft : | 49 |
| Color : | GRAY CASHMERE |
| Weight : | 6.2 oz/yd2 |
| Width : | 84 inch |
Customer Questions and Answers
Where is this fabric manufactured?
Laerta • December 29, 2022
You will find the information listed in our help center: support.fabrics-store.com/hc/en-us/articles/360000218746-Linen-Quality-Certification
Maureen • December 29, 2022
Just received my 4 yards of this fabric & I can,'t wait to try it. Please email directions on how to make the towels. Thank you.
Sarah • February 1, 2023
someone mentioned that the material (grey cashmere) should not be washed before sewing it. Doesn't mention that in the description. So when is the best time to wash? Before or After?
Deva • October 26, 2022
When using the IS010 there are certain items, such as towels, where you want to sew before you lander. I will email our towel tutorial to you for review.
Maureen • October 26, 2022
I made a single set of towels in a different color of this fabric. And won the rest of the family over to this fabric. I have been making oversized bath , hand towel and matching wash cloths for each family member for Christmas (6 couples). Each set took 6 yards. I made the 3 big burrito bath sheets the full width of the fabric by 52" long. Next came 3 hand towels 28" wide by 30" long. Then 4 wash cloths 21" wide by 24" long. This is the pre-washed measurements. I hemmed each towel with a 1 1/4" hem fold under. I'll let each couple wash it themselves for the first time so they can really see the amount it shrinks and enjoy how much they can wrap it around themselves. This grey cashmere will become my next project : a robe that can double as a Viking Style coat for a re-enacter. It will make a good extra layer of warmth for sitting around the campfire after the days events are done when it gets cooler.
Susan • December 3, 2022
I really like using this fabric and have made a couple of projects using it now, the first was a throw blanket and the second was a baby receiving set that turned out fantastic. I really like working with fabric and how easy care items I make from it are. I purchased this in a different color to follow the towel set tutorial and they turned out fantastic. It is a little different getting used to not washing the fabric before doing my sewing project with this fabric but after using it for a few projects I completely understand why washing should happen after sewing and why it's important to read the description of the fabric and the shrinkage percentage of the warp and weft when working with this material, but one I got the hang of keeping that in mind using this material is no problem.
Amy • August 14, 2022
I was not sure if I would like a linen/cotton towels being accustomed to terry cloth, but wanted to give them a try as my terry cloth ones were not holding up well and quickly looked dingy from hard water despite having a water softener. I'm so glad I did. Each time I wash these towels they become more textured, get softer and the color has stayed true. The towels are larger than the ones I normally buy, but guests have mentioned they loved wrapping up in a larger towel. Next time I would make the hand towels a bit larger in order to serve as a head wrap since they are so absorbant. I have made two sets. the first set took a long time because I pulled out my ruler and iron and started to fold the edges perfectly. Luckily before I tackled the second set, I happened to read someone else reveiw that mentioned they finger press seams when sewing with linen. Simply finger pressing and using the woven grid as a guide made all the difference in terms of time and the finished towels look no different. These would definitely make a wonderful gift!
IRIS • September 28, 2021
I have made towels out of this material. I really love how soft they feel. I left the edges unsewn and I love the feathery edges. Love all the linen I have bought from Fabric-Store over the years and the patterns.
Vicki • August 29, 2021
This was made into a throw. I turned in the edges 1/2 inch then 1 inch and the edges were perfect. Very soft and cuddly. Would love to make a big bouncy sweater with this fabric.
Diane • August 25, 2021
See All >
Baby receiving blanket and shoulder cloth set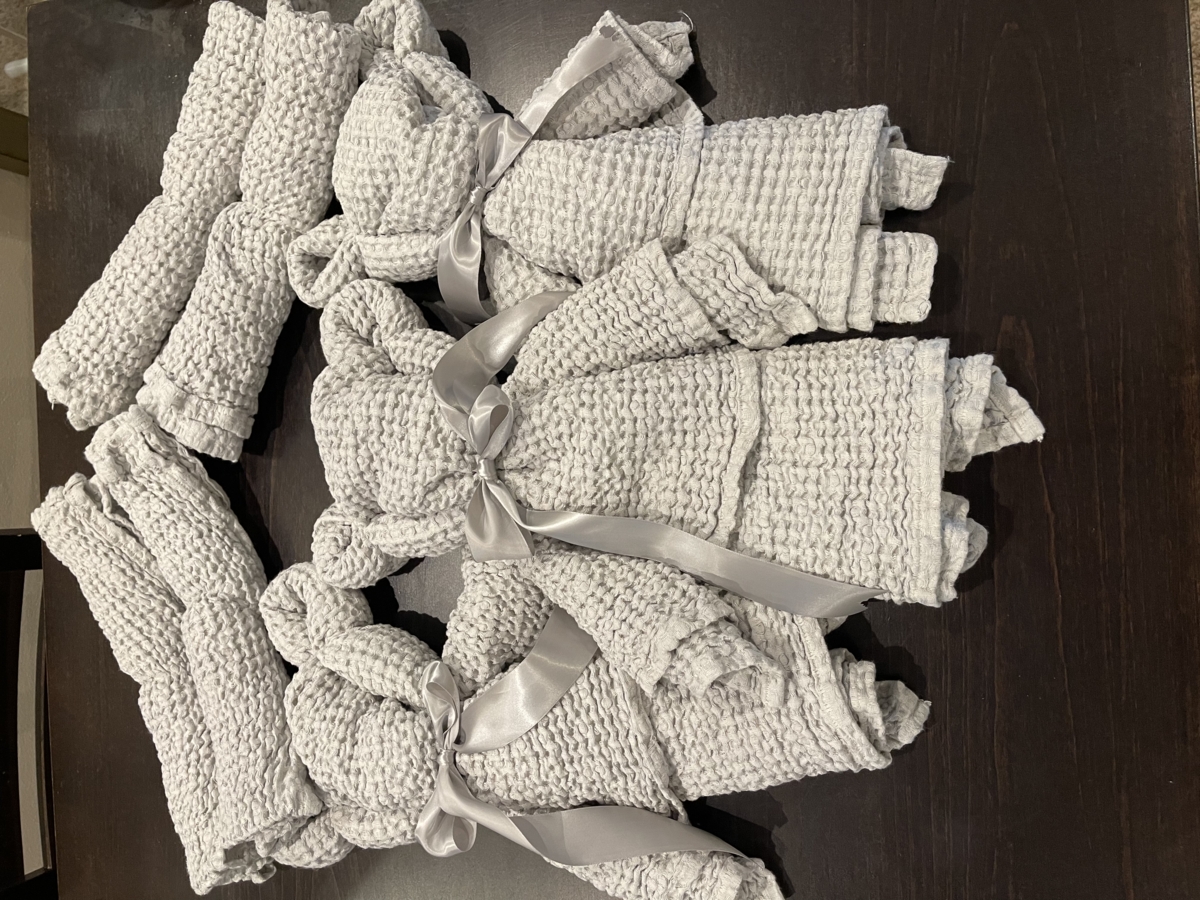 IS010 GRAY CASHMERE Softened 54% Linen / 46% Cotton Medium (6.2 oz/yd2)


IS010 Waffle Gray Cashmere Softened - 54% Linen / 46% Cotton - Medium (6.2 oz/yd2)
Sample Size: 5.5" x 7.0" (Including Swatch Card)
Free Standard Shipping
* Samples are pre-assembled and may not come from the same fabric bolt you order from. Color may vary. All fabric samples are shipped via USPS without tracking.

E-MAIL
Please contact us by following the link below.
SUBMIT A REQUEST

PHONE
1-866-620-2008
Call us Monday through Friday 10 am - 6 pm PST
Once you are happy with your order, please proceed to checkout where you are able to review your order and estimated shipping charges before you complete payment. Shipping charges are calculated by the weight and location your order is shipping to.
You will be able to choose from the following options:
Standard Shipping: 4 - 8 Business Days
Expedited Shipping: 3 - 4 Business Days
Priority Shipping: 2- 3 Business Days
International shipping charges are also calculated at the time of checkout. Please note there may be fewer shipping options available to you as the options are based on the destination of your package.
Delivery times begin one business day after the order is placed with a 24-48 hour time frame for processing.This processing period applies to all in stock items and allows for the time needed to manually cut and package your order to ensure it is checked for quality and accuracy before it leaves our facility.
Business days are Monday - Friday, 9AM - 4PM PST. Saturday, Sunday and Holdays are not considered business days.
Sample color chips are sent via regular mail and may take up to a week to arrive.
All goods are subject to prior sale and please feel free to Visit My Order to check the most up-to-date status of your order.
Making a return is quick and easy, you have 30 days from delivery to return the item or items in their original condition (unwashed, uncut and unaltered). Please include a copy of your packing list and once the return is received we will contact you to see if you would like an exchange, a credit to your Fabrics-store account or the monies returned to your original payment method.
Ship Returns to:
Fabrics-store.com
6013 Scott Way
Commerce, CA 90040
HOW DOES FREE SHIPPING WORK?
Take advantage of our Free Shipping offer on orders shipping within the contiguous US.
Every day on orders of $150 or more - we will pay for your shipping.
Your order will be shipped Standard Shipping (4-8 Business Days) with the shipper of our choice. No international orders.
Standard shipping takes 24-48 hours for processing. Delivery times begin one business day after the order is placed. This is due to your order being manually cut and packaged to ensure quality.
Please note that some of our darker or more vibrant shades will have some residual dye run off or bleeding. It is important that you launder or treat like colors with like colors so that you do not compromise the integrity of any other colors, fabrics or garments during the launder process.
We also suggest that if you are combining one or more of these types of colors with lighter colors that you pre-wash the linens seperately and once the item is completed do not launder again, but Dry Clean.
Fabric Care
Machine wash cold.
Gentle cycle.
Only non-chlorine. Bleach if needed.
Tumble dry low.
Medium steam iron.
Do not use Perm Press cycle in wash or dry