Hand towel and wash cloth before and after washing, cut from opposite direction of instructions (see my review).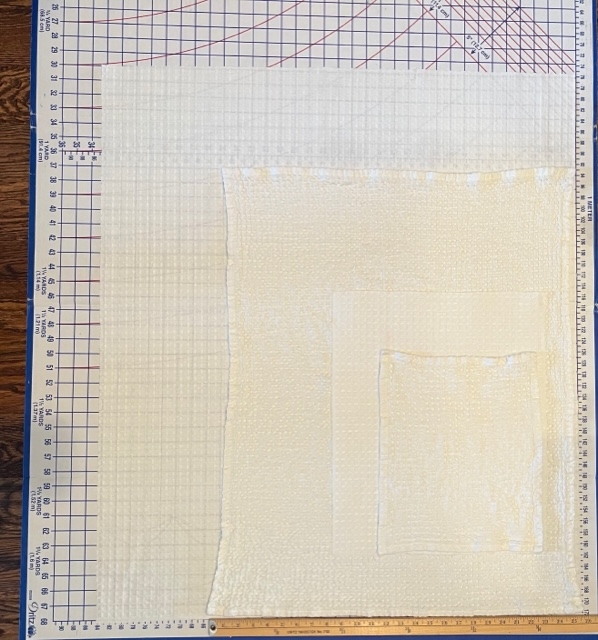 IS010 BLEACHED 54% Linen / 46% Cotton Medium (6.2 oz/yd2)
Cut my flat fabric into 2 fairly large pieces and 4 finger tip towels. The finger tip towels were hemmed, laundered and put into service. Very happy results. The first of the larger two pieces was hemmed, laundered and crocheted into- the waffle fabric accepted a 5.0 (G) hook easily. Eight rows later --- a baby blanket.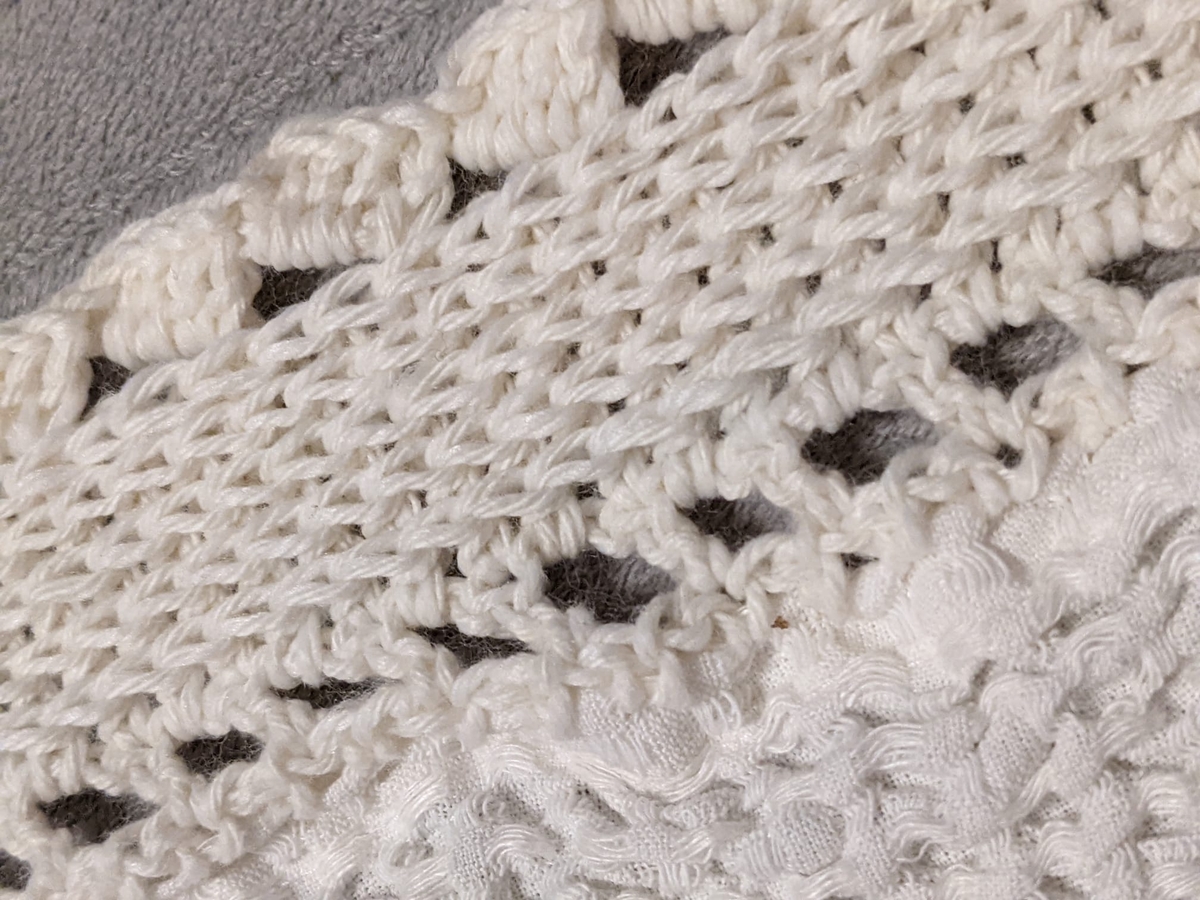 IS010 BLEACHED 54% Linen / 46% Cotton Medium (6.2 oz/yd2)
Shown are towel sets made from the "bleached" waffle fabric and "bleached" IL020 linen. 5 yds of the waffle, and 1 yd of the lightweight linen, made 3 bath sheets (31" x 58"), 2 twist hair towels, and 5 washcloths. Instead of turning up the edges and sewing before washing & drying, I washed both fabrics 4 times, and dried them after each wash on medium. Essentially cut the waffle into quarters - 3 went to bath sheets, the other for the hair towels & washcloths. Bound all of the items with double fold bias tape made from the lightweight linen, then washed again. Cheated a bit by curving the edges so I didn't have to mess with mitered corners. A salad plate works great. For fussy, perfectionist, OCD sewers like myself, have a drink or 3 before you start working with this fabric. It is snaky like 100% linen, the waffles make for tricky cutting, & the fabric does not shrink equally in both directions (as is stated in fabric description). That being said, I love these towels and plan on making more. Please bring back the graphite color.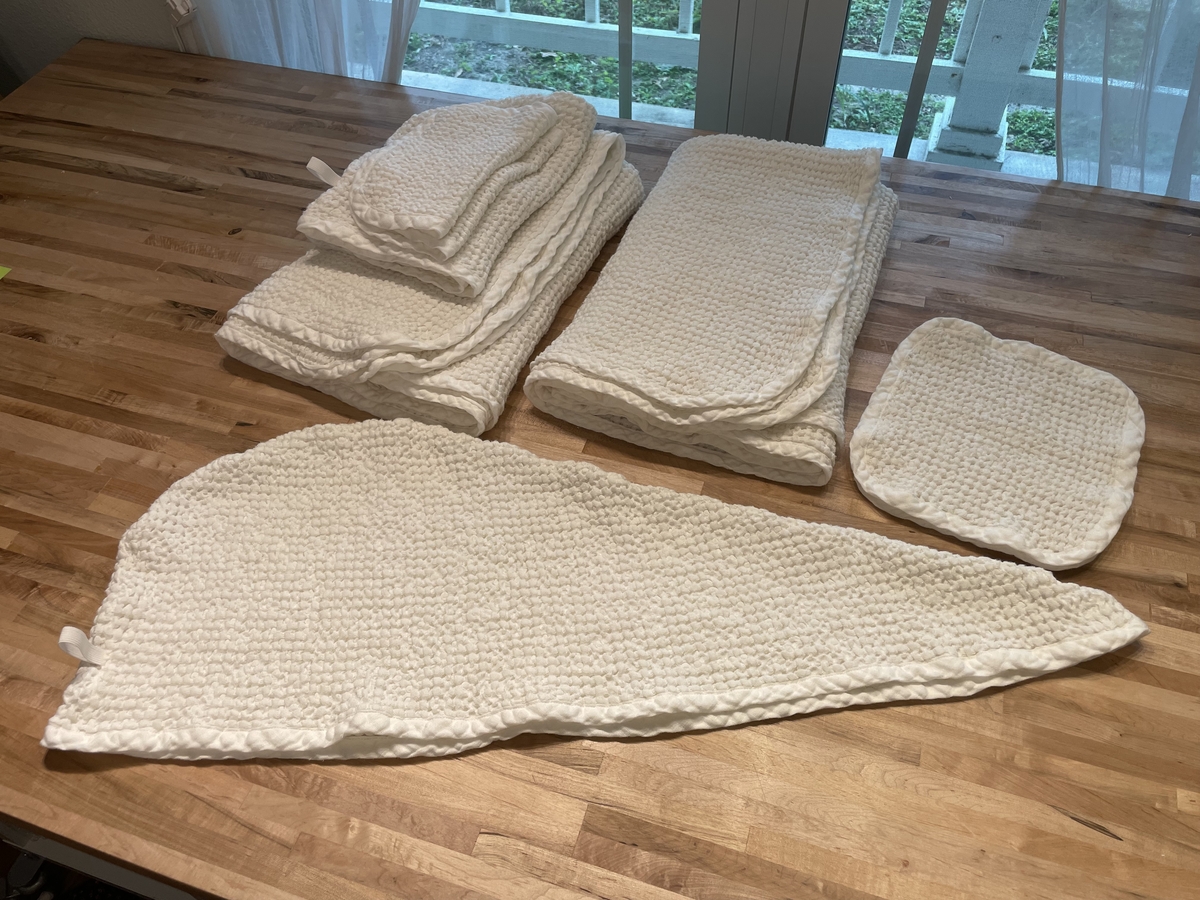 IS010 BLEACHED 54% Linen / 46% Cotton Medium (6.2 oz/yd2)
I was so excited to find this material! It says in the description that this material will shrink 28%... Well, I wanted to make sure before I bought some for some projects. You can see in the picture, this material shrunk 60%. I have NO idea how you could possibly accurately make something before washing. I'm now considering blankets. I did put it in the dryer normal heat, since if you give away blankets as presents, I'd expect normal washing. But even at this price point, if you need to buy an extra 60% that's expensive!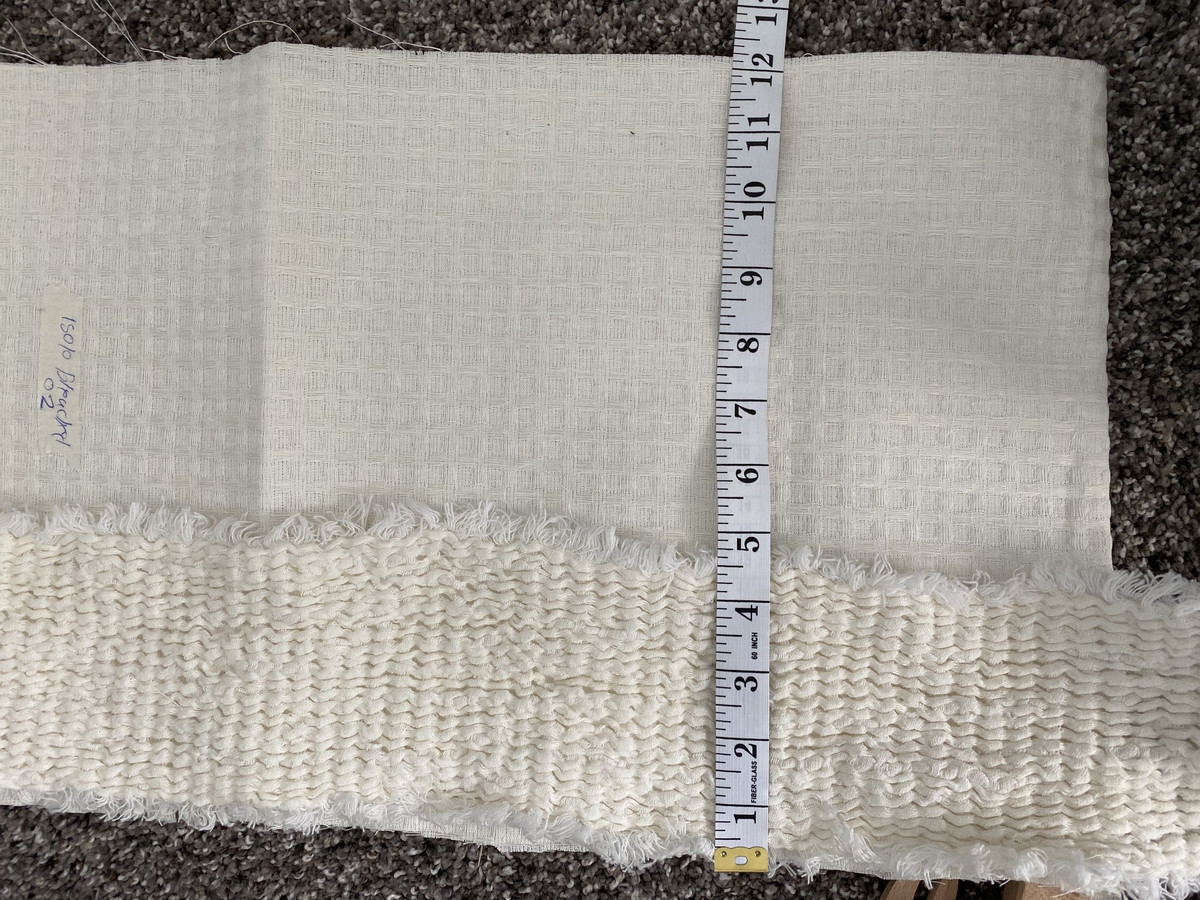 IS010 BLEACHED 54% Linen / 46% Cotton Medium (6.2 oz/yd2)
I used a decorative stitch to hem the edges and created a simple matching embroidery using a wash away stabilizer! Then tied a matching ribbon! Fun for a 'babe' gift. Planning to make a large lap sized blanket as well! These are soft and wash up so nicely.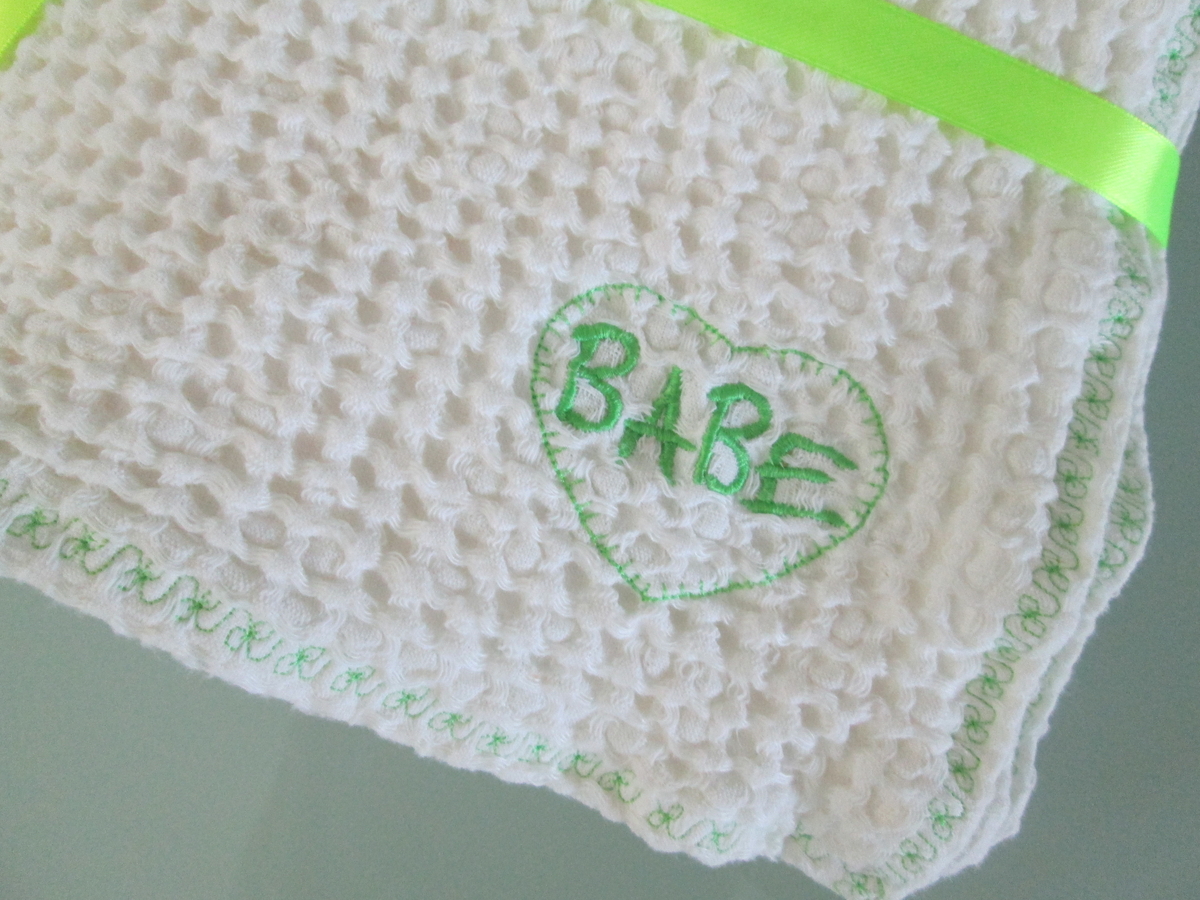 IS010 BLEACHED 54% Linen / 46% Cotton Medium (6.2 oz/yd2)


IS010 Waffle Bleached - 54% Linen / 46% Cotton - Medium (6.2 oz/yd2)
Sample Size: 5.5" x 7.0" (Including Swatch Card)
Free Standard Shipping
* Samples are pre-assembled and may not come from the same fabric bolt you order from. Color may vary. All fabric samples are shipped via USPS without tracking.

E-MAIL
Please contact us by following the link below.
SUBMIT A REQUEST

PHONE
1-866-620-2008
Call us Monday through Friday 10 am - 6 pm PST
Once you are happy with your order, please proceed to checkout where you are able to review your order and estimated shipping charges before you complete payment. Shipping charges are calculated by the weight and location your order is shipping to.
You will be able to choose from the following options:
Standard Shipping: 4 - 8 Business Days
Expedited Shipping: 3 - 4 Business Days
Priority Shipping: 2- 3 Business Days
International shipping charges are also calculated at the time of checkout. Please note there may be fewer shipping options available to you as the options are based on the destination of your package.
Delivery times begin one business day after the order is placed with a 24-48 hour time frame for processing.This processing period applies to all in stock items and allows for the time needed to manually cut and package your order to ensure it is checked for quality and accuracy before it leaves our facility.
Business days are Monday - Friday, 9AM - 4PM PST. Saturday, Sunday and Holdays are not considered business days.
Sample color chips are sent via regular mail and may take up to a week to arrive.
All goods are subject to prior sale and please feel free to Visit My Order to check the most up-to-date status of your order.
Making a return is quick and easy, you have 30 days from delivery to return the item or items in their original condition (unwashed, uncut and unaltered). Please include a copy of your packing list and once the return is received we will contact you to see if you would like an exchange, a credit to your Fabrics-store account or the monies returned to your original payment method.
Ship Returns to:
Fabrics-store.com
6013 Scott Way
Commerce, CA 90040
HOW DOES FREE SHIPPING WORK?
Take advantage of our Free Shipping offer on orders shipping within the contiguous US.
Every day on orders of $150 or more - we will pay for your shipping.
Your order will be shipped Standard Shipping (4-8 Business Days) with the shipper of our choice. No international orders.
Standard shipping takes 24-48 hours for processing. Delivery times begin one business day after the order is placed. This is due to your order being manually cut and packaged to ensure quality.
Please note that some of our darker or more vibrant shades will have some residual dye run off or bleeding. It is important that you launder or treat like colors with like colors so that you do not compromise the integrity of any other colors, fabrics or garments during the launder process.
We also suggest that if you are combining one or more of these types of colors with lighter colors that you pre-wash the linens seperately and once the item is completed do not launder again, but Dry Clean.
Fabric Care
Machine wash cold.
Gentle cycle.
Only non-chlorine. Bleach if needed.
Tumble dry low.
Medium steam iron.
Do not use Perm Press cycle in wash or dry