Taylor — Linen Swing Blouse Pattern
Taylor — Linen Swing Blouse Pattern
An easy project to sew, this loose fitting and flattering blouse is great on warmer days. Visit The Thread for the original article and instructions on sewing this item.
What you get with your pattern:

- Free PDF download for our registered customers.
- Print-at-home format on Letter/A4 paper.
- Layered PDF to print just the sizes you want.
- Most patterns available graded in size 0/2 to 28/30.
- Step-by-step instructions on The Thread blog.
- No licensing restrictions. Sew as many as you like for yourself, your family, even your sewing business.

Pattern specifications:
| | |
| --- | --- |
| Type: | PDF Pattern |
| Design Variations: | 1 |
| Sizes: | |
| Illustrations: | No |
| Instructions: | No |
Reviewer: Maris
Nothing about this top was flattering for me. I'm a size 6. I wound up taking the sides in, extending the buttons all the way down, putting in some darts, taking the shoulders up and making the sleeves short... it's basically a whole different shirt now, but done in an annoying roundabout way...
Reviewer: Kate
Some patterns on here come with a size guide as well as a finished garment size guide together. This only comes with finished bust size. I think it would be useful considering how much ease people are finding the finished garment has maybe add both of the sizing guides so ladies can choose which size they would prefer based on how much ease.
Reviewer: Elizabeth
Doesn't mention how much yards needed?!
Catina
Thank you for pointing that out. Some of our older free patterns do not have yardage charts for each size but we are hoping to upgrade them soon. :) The 2 yards listed in The Thread tutorial for this pattern will work for all the included sizes.
Reviewer: Shari
This has become my go to blouse. I have made it 5 times, in linens and rayons, and loved it every time. Thank you for making it a free download!!!!
Reviewer: Annamarie
The pattern sizing is generous. I normally take a size 8-10 in pattern sizes. Note: I am small, but not a petite size. I cut a size 8/10 and pin fit it before sewing since I wasn't sure of the design ease. My bust measures 32 inches. So, I had 8 inches of ease. The size 8/10 was way too big on me. It looked like a large, oversized shirt from the 80s. I then cut the pattern pieces down to a size 4/6. Now, I can actually see the blouse design. I also extended the center back in width by 1 5/8" for a self facing; I didn't want the extra bulk of an attached facing. Also, the "cut line" on the right back pattern piece is actually an overlap line, NOT a line for cutting. The next time that I make this pattern, I will add an armcye and slightly curve it under the arm to prevent the fabric from bunching.
Reviewer: Sally
I love this pattern. I french-seamed it, made it a little longer in back, and used a contrasting fabric for facing at wrists and neck.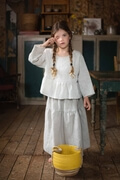 Here the beautiful little Dalia wearing the Taylor top for children (size 7-8 years) in Natural mix with a skirt in Natural.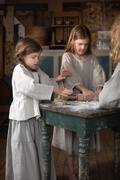 I'm in love with the Taylor top for women. I'm a photograher and a creator and I have make the Taylor top for children and keep the name also. I have sewn it in Natural mix and in Natural from Fabrics Store. I love the grain, the texture, the fall of this 5.3 oz long staples linen. My little handmade pure linen collection is sold on my website, lelinquotidien.com. I will add the beautiful Taylor top and a dress also inspired by the top very soon. I will also change all my collection with the time, using Oeko-Tex linen from Fabrics Store.

I used the lighter weight linen from Fabrics-Store in Apricot for this top. Cut bias for neck facing at 1.5 inches, and serged seams and hems. Instructions are a bit sparse but an experienced beginner should be able to successfully complete the project and have a very cute top!
We're proud to share our patterns without licensing restrictions. You may use our patterns to sew for personal use or for your business. For paid digital patterns, we do not offer returns. Please make sure to ask any questions you may have before purchasing a digital pattern.
Please read: Our patterns are formatted to work reliably across all devices that run Adobe Acrobat Reader applications. Each patterns comes with detailed printing instructions on terms of use. If you have any questions, e-mail us at ask@fabrics-store.com and our pattern makers will reply to you as quickly as possible.

E-MAIL
Please contact us by following the link below.
SUBMIT A REQUEST

PHONE
1 866 620 2008
Call us Monday through Friday 10 am - 6 pm PST
Enter the e-mail address associated with your Fabrics-store.com account:
Temporary password has been emailed
Temporary password has been emailed to ivan@ecwm.com, and should arrive shortly. If you have any questions or problems, please contact our customer care center at 1-866-620-2008.
Your account has been disabled. If you believe this to be a mistake, please call our customer service at 1-866-620-2008 and we will help you with your order. We appreciate your cooperation.
Web Accessibility Toolbar