Crisp Linen Pants Pattern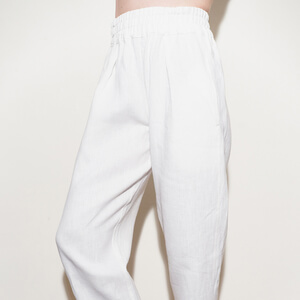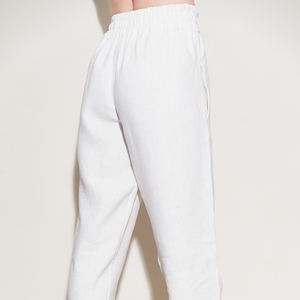 Crisp Linen Pants Pattern
Nothing says summer like a crisp pair of white linen pants! These tapered pants have pockets and a comfortable elastic waistband. Wear with sneakers or heels!
Pattern specifications:
| | |
| --- | --- |
| Type: | Digital PDF |
| Design Variations: | 0 |
| Sizes: | Ladies sizes 0/2 to 28/30 |
| Illustrations: | No |
| Instructions: | No |
Review This Item
Reviewer: Barbara
I tried to delete my previous review but it didn't show up in my reviews on my account. I got the pattern to work (click attachments). Sorry for the confusion.
Reviewer: Barbara
Unfortunately, there doesn't seem to be a pattern in this file. I opened in Acrobat Reader (Pro) and found no pattern, only 4 pages of intro. Other patterns downloaded from this site work fine.
Reviewer: Anonymous
I have been waiting for this pattern to be up for download for a while! I'm excited that I can select my own size on printable patten. Please upload the pattern for "Linen Bow Blouse Tutorial" as well! Thanks :)
Reviewer: Catina
.. thank you for the compliment on the style and pictures! Per the cover page, please launch your Adobe Reader program to open/view/print our PDF patterns, which include the printable files as attachments in Adobe Reader. Adobe Reader is free and works reliably across all devices and platforms. Attachments will not show up in browser windows or third-party readers. We do this to avoid having to use "zip" files, which do not work across all device/platforms. We really enjoy providing these free patterns to our members.. please kindly consider contacting customer service if you need download help.
Reviewer: Rhonda
there seems to be no actual pattern in this file just a four page thankyou & pretty pictures of garment with sizing chart.???
We're proud to share our patterns without licensing restrictions. You may use our patterns to sew for personal use or for your business. For paid digital patterns, we do not offer returns. Please make sure to ask any questions you may have before purchasing a digital pattern.
Please read: Our patterns are formatted to work reliably across all devices that run Adobe Acrobat Reader applications. Each patterns comes with detailed printing instructions on terms of use. If you have any questions, e-mail us at ask@fabrics-store.com and our pattern makers will reply to you as quickly as possible.

E-MAIL
Please contact us by following the link below.
SUBMIT A REQUEST

PHONE
1 866 620 2008
Call us Monday through Friday 10 am - 6 pm PST