Buy One Pattern Get 3 Yards of 100% Linen Signature Finish FREE
Bundle and Save Today Only - Supplies Limited
How Many Hours Have you Wasted on Sewing and Ending up with Poorly Fitted Clothes?
You see the perfect pattern - the dream dress you've been searching for and just couldn't find in a department store.
I can make that, you think - I can sew that up, and the dream dress is mine!
Endless hours later you finally have your dream garment. You put it on, ready to seize the day, you check it out in the mirror - looks great. You bend down to put on a shoe and realize your dream dress didn't include the sitting down or the bending options. Oops.
Ugh, the tears of frustration! Not just the wasted fabric and time. But that dream dress also returned to being just a dream.
The problem with the big 4 brand home sewing patterns is that that they haven't changed their methods of design or production since the '60s.
The sizes are drafted arbitrarily on 2-D models that don't accommodate how our bodies change between the different sizes
Their patterns are not tested for fit or movement on actual humans. Most styles remain just an illustration that was never even sewn to be tried on as a made garment

Those patterns are built for optimal printing, not for ease of cutting the grading lines
Storing the tissue paper is a headache in itself. Ever had to search youtube just on how to refold and store the tissue paper mess?

How about the 5 page sewing guide with vague instructions that leave you guessing how to "finish" a seam. Or gives you outdated sewing techniques that make the item look like it time-traveled from the 60's.

And, their list of problems can just go on and on and on
So we decided to change that…
New Breed of "No-Fuss" Home Sewing Patterns that Guarantees the Garment Fit!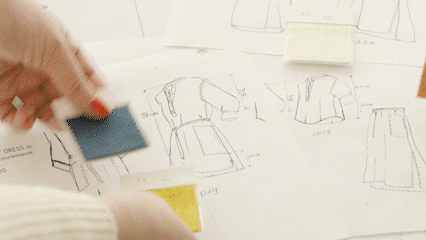 Sounds crazy, but what is the point of spending your time sewing if you are not guaranteed to spend time wearing and ENJOYING your finished garment.
Size grading is done on 3D models to accommodate how our shape changes in-between sizes - that means your size will fit around you and not demand you fit into the size
Each base size 2,10, and 20 are sewn and tested on real people - you get to make an outfit that is actually comfortable to wear ( sit, bend, walk, even run if you wish)
Step by step illustrated instruction booklet. Written with the beginner in mind - this full on sewing manual is presented in a small and sturdy book. No more vague, oversized instruction sheets that leave you alone and confused
Each pattern comes with only four, brightly colored cutting lines - easily see your needed line, cut comfortably and avoid costly slip ups

Multiple garment variations are included in each pattern collection - this puts you in the designer seat. Pick the style that suits your lifestyle best and get to sewing
I have made this pattern six times and varied it slightly with each garment. This dress/top pattern is one of Fabrics-Store.com's best. I raised the neckline about an inch and a half. (Just tape more paper to your pattern top.) This is the perfect dress pattern for garments that you can dress up with jackets, light knit sweater cardigans, or chunky jewelry. It can also serve as a slip or under dress for layering under other garments if you get very sheer linen.
Easy and quick sew. I did botanical printing on it when finished with sumac leaves. First I made the tunic and have started on the maxi dress
Try Fabrics-Store.com Premium Home Sewing Pattern "NICO Bias Dresses and Tops" and Get 3 FREE Yards of 100% Linen Fabric
Regular Price $95.28 for Just $45.00+Shipping
You are covered by our 30-day guarantee. 
For any reason, if you don't absolutely love this fabric - please just send it back and I'll reimburse you immediately. Take 30 days to decide. No need to rush.
One on One Sewing Support
When you buy from this page - you also get one-on-one sewing support from a professional seamstress and never get stuck on a sewing step alone again.
A Timeless Garment Designed to Take You from the Beach to Out To Dinner
Nico Collection is flattering and comfortable for all body types - truly something for all the women in the family.
A beginner seamstress can make these gorgeous, sleeveless, bias-cut dresses and tops — with side bust darts and a scoop neckline that easily slips over the head. No complicating closures or buttonholes are needed.
And you don't get just one garment from this pattern - you get 4 garments from NICO Collection:
a maxi dress
a short dress
a tunic
AND a camisole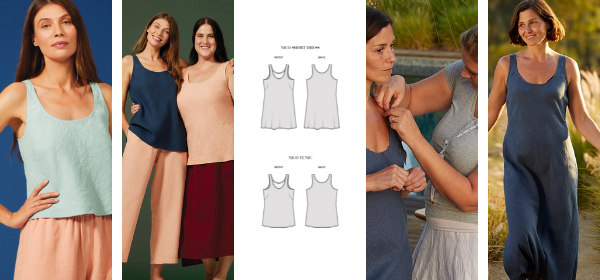 And once you try it, you might just find — like 50,000 others — that you simply can't stop sewing it.
It's versatility makes it a hacker's dream. You can also easily adjust the gorgeous scoop neckline to your liking. Nico's flexibility gives you limitless possibilities.
It's easy and fast to make. Nico sews up in no time at all — even if you're a fairly new seamstress. 
No matter your body shape, Nico flatters you. The secret is the Bias Cut of the garments in this collection - NICO Collection "bias-cut" is simple genius.
Pattern designed specifically for linen fabric. Yep, those 3 yards of our best-selling 100% linen in the softest finish that YOU GET FREE WITH THIS OFFER! Naturally soft, barely shrinks, and sews like butter.
Try Fabrics-Store.com Premium Home Sewing Pattern "NICO Bias Dresses and Tops" and Get 3 FREE Yards of 100% Linen Fabric
Regular Price $95.28 for Just $45.00+Shipping
You are covered by our 30-day guarantee. 
For any reason, if you don't absolutely love this fabric - please just send it back and I'll reimburse you immediately. Take 30 days to decide. No need to rush.
One on One Sewing Support
When you buy from this page - you also get one-on-one sewing support from a professional seamstress and never get stuck on a sewing step alone again.
This Deal is Not Available on Our Regular Site.
That's right. We're only sharing this secret sale with our subscribers. This deal is not available on our regular site.
And it won't be available anywhere else except this page…
AND There is MORE Bells and Whistles this Pattern Offers
The superb fit, the easily hackable design, and the 1-on-1 sewing support is already a great start to being the best pattern out there. 
But we overhauled everything that ever gave us a hard time using the outdated paper patterns.
The pattern storage problem has been resolved for you - the sturdy paper we've used lets you hang it with ease — no need to transfer to a stiffer paper. In fact, inside the tube, you'll find a complementary pattern hook for this purpose. But if you wish to store the pattern for longer-term safekeeping, that's easy too — you can simply roll up the pattern and store it inside the sturdy storage tube.
License FREE pattern - that's right - when you purchase NICO we grant you an unlimited license to make NICO for personal use or business. If you were to try and replicate the cost and time behind perfecting a style like Nico — the fit, the printing technology, the model fees, the design improvements, you could expect to pay thousands of dollars out of your pocket. You can use this pattern to make as many garments as you need without license restrictions!
You don't have to take our word for it: Check out the Glowing Customer Reviews
I had bought the Nico pattern in May of 2019 but did not make the tunic and dress until January of this year (2021). As some reviewers mentioned I, too, had much difficulty with the fit even though my measurements fell well within the size 12 measurements posted in the size chart. I found that the bust fit, but the hip section did not have enough ease which caused a bubble of material to form in the back waist area. I was surprised by this as I have several patterns from the Fabric Store and never had issues with fit. I bought the Nico pattern again this year (2021) in size 10-16 thinking that I would have to alter the hip area to a larger size, but to my delight I found the pattern had been altered radically and for the better! The new pattern now has plenty of ease needed for the bias cut which allows the material to sway around the body. The only alteration I made was to shorten the shoulder straps and shorten the length of the maxi dress. Bravo! I have made the tunic, short dress and maxi dress and I love them all. I now highly recommend this beautiful, easy pattern.
This pattern is part of what drew me when I discovered the Fabrics Store this spring. If I make several variations of the pattern, I love that for the cost of less than three yards of high quality linen, I now have a dress that FITS ME for less than $50 and about 2 hours of my time. Bonus, I have enough yardage left to make a linen tank. I made my first one in Medium weight, signature finish, Autumn Gold and could not be happier! I put off making this partly intimidated by the massiveness of the pattern pieces. I knew I would need to lay my fabric out on the floor due to width and I am old and my knees hurt :). I made the maxi dress, graded size 10 on top, 12 for hips. I did not make a muslin, instead opted for flat-felled seams throughout. I made certain to allow for enough material in the hips, tried it on before finishing seams in case i wanted to take in more. Did the should seams after the sides so I could adjust length (cut off 2 inches each side). The fit is perfect! I felt like a dancer when wearing it! Color so lovely, outside my usual blues and greens, many compliments. As an aside, after reading some of the reviews, Please don't change the paper weight. I use tracing paper to create the size I need, never cutting out the actual pattern received. I love the ability to make several sizes without damaging the original. This gold Nico is my first of several, picture later...Love your stuff!
Pattern was easy to make up, especially in your linen. It amazes me how well the bias binding goes on when I use linen. I had to reposition the dart because I'm thick around the middle. I made the Cami first to test fit. Very cute.
Beautiful: the presentation, the excellence of instruction, the design, and the source. I have been a Fabrics-Store customer since 2014 but had no experience with the site apart from buying the wonderful linen. Being so impressed with the pattern led to digging deeper in the offerings of the site. Imagine visiting the Metropolitan Museum of Art wearing a blindfold. That is how I felt I had visited Fabrics-Store before getting this pattern. The fabric - I remember the stock number by thinking of it as I LOve 19. Having retired from a career custom dressmaking, and currently a consultant to a manufacturer, I don't need to curry favor, nor do I have anything to gain from giving a good review. Except the pleasure of sharing a very good thing.
I really debated a long time on whether to pay that much for a pattern. I decided to take the plunge and am glad I did. I really appreciate the thick paper and detailed instructions. I am getting back into sewing, so this dress (maxi version, size 6) was a bit of a challenge for me. I needed to shorten it about 2" and wasn't sure where to do that. I ended up taking it up just above the top of the side slit near the bottom. In retrospect, I should have taken some there and also some at the shoulder straps. Or is there a better place? The other modification I would make would be to take small tucks in under the arms. All-in-all, though, it is a good pattern for a variety of body types. I only had 1.5 yards instead of 2, but I managed to make it work. My main problem was with the triangles at the bottom, which I must not have gotten on the bias right and they ended up a little wonky. My biggest mistake, though, was that I wanted to eco-dye it with my garden plants, and so I serged the edges & pre-washed the fabric (ILO19 bleached, softened), and cut out the pieces so I could better arrange the leaves & flowers. BUT I should have serged the edges of the cut pieces first. Steaming the fabric & hanging out to dry caused the edges to fray a bit & the triangles to stretch (and possibly also the shoulder straps). Still, the dress turned out absolutely beautiful! Very forgiving fabric! I am looking forward to making another one! Love the options provided for in this multi-purpose pattern & hope the designers will perhaps provide an option for short sleeves. I give 4 stars only because of lack of direction on how to shorten or lengthen. A more experienced sewist probably wouldn't have a problem.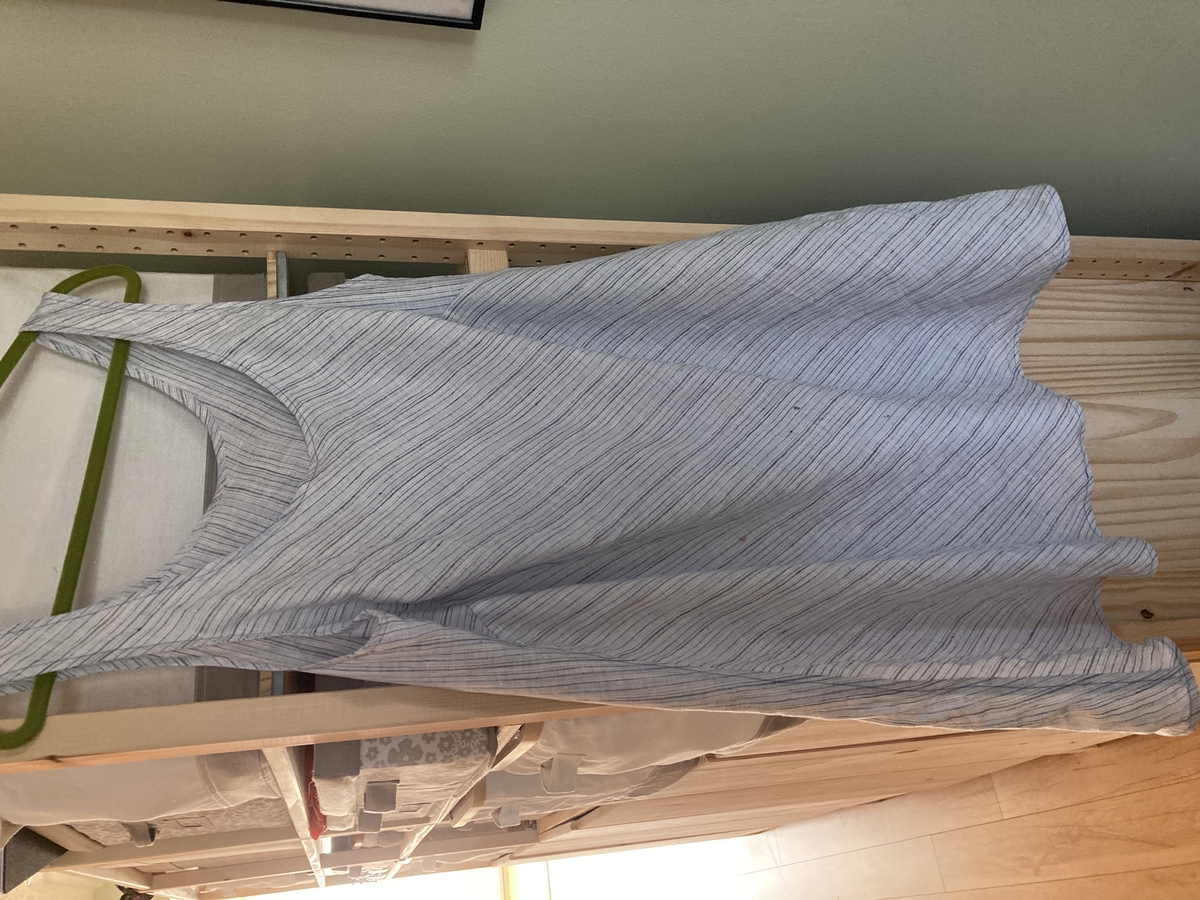 Beautiful very light soft material for Florida weather. Nico pattern short dress.
Posted by Pamela Orshaw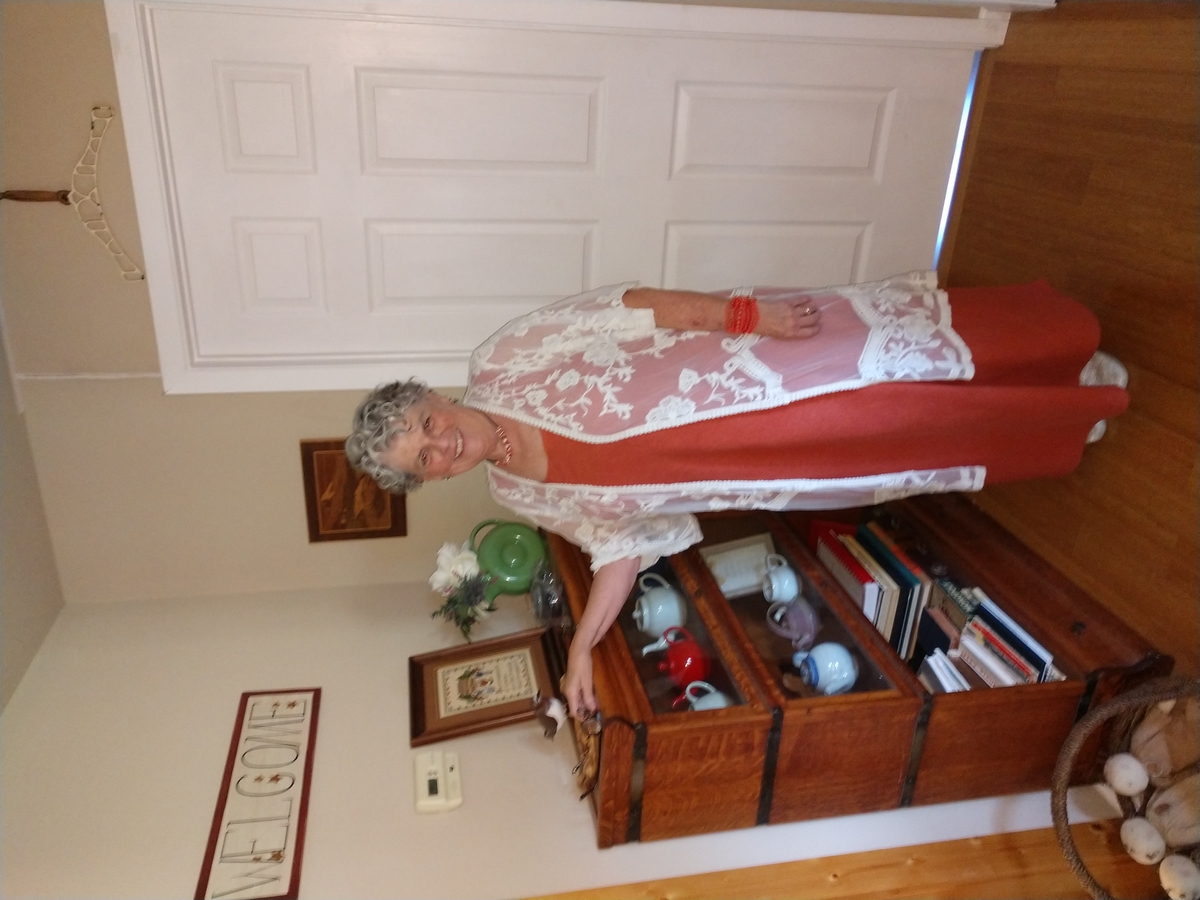 My Nico dress: Love my dress going to make a pink one with small ruffle in the lower diagonal line.
Posted by Janet Anderson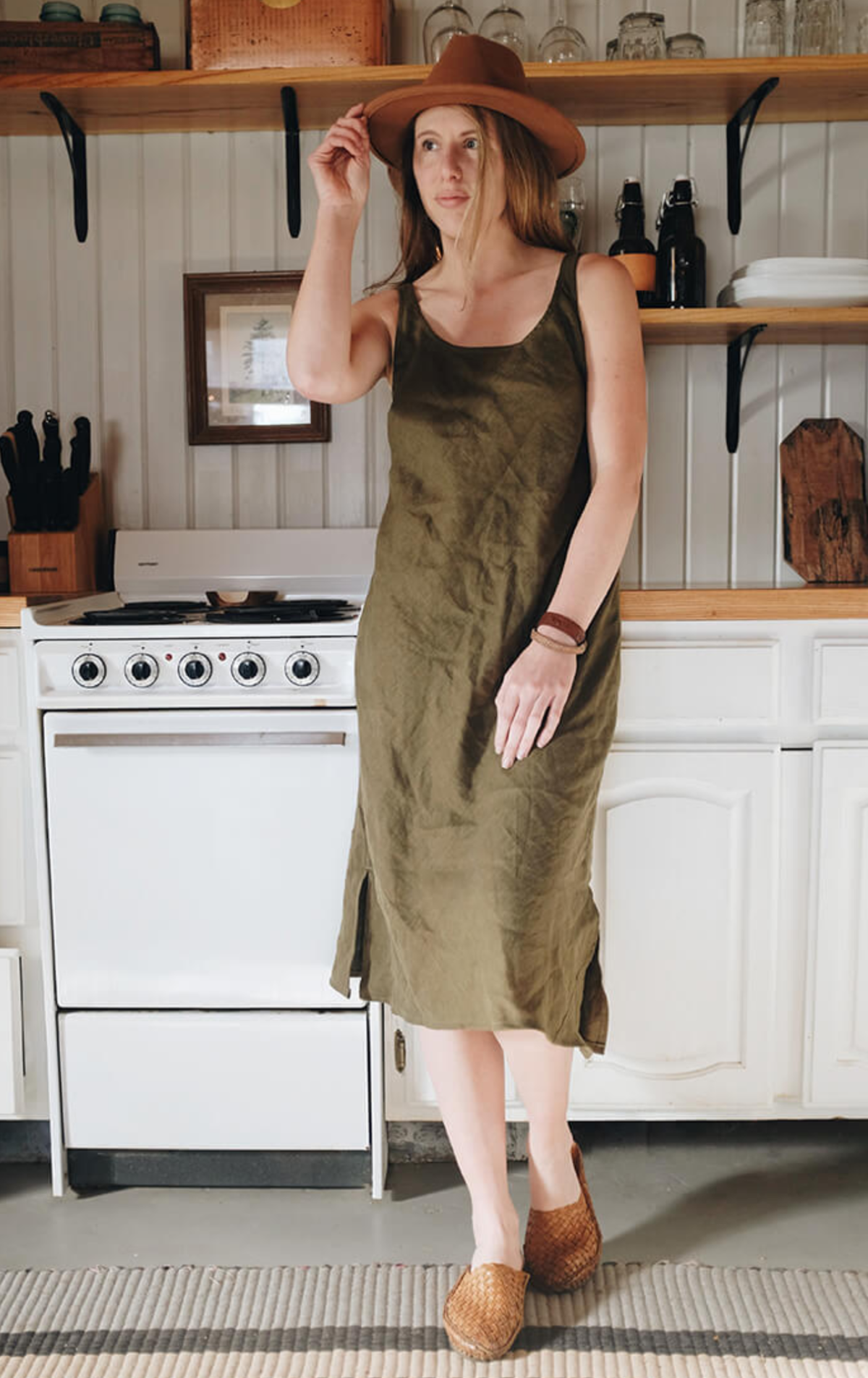 The making of the dress went so smoothly and took only a couple hours. It's a simple design that is well patterned and easy to follow. I was drawn to the NICO pattern set for its French seams and bias binding neckline/armholes. These are two of my favorite sewing techniques because they are simple to sew, while producing a high-end finished seam with enclosed raw edges. The little details like the bust dart, bias cut, and side slits make this dress fit wonderfully and feel so comfortable. I followed the pattern exactly, with the exception of shortening the hem by six inches so it hits right below the knee instead of a maxi length. For reference, I'm 5'7" and typically wear a size 2.
Posted by Morgann Mccoy
In my over two decades of sewing I don't think I have sewn more than one piece that is cut on the bias. The NICO Dress Pattern was a very good pattern for me to stretch myself on bias cut pieces. The NICO Pattern has two dress length options and one top. All three are cut on the bias. I decided to make the first one for my youngest daughter Amanda. My daughters call this style a "slip dress" and she had been asking sweetly if I could make one. She is a stunning 6'1" and because of her great shape, we found that she needed two different sizes per the pattern measurement estimate given: one for the bust, one for the hips. We went with the higher size and then took in the top under the arms to the dart once we started the side seams. You can read more about this project here: blog.fabrics-store.com/2020/12/17/pattern-review-fs-nico-dress-in-black-midweight-linen/
Posted by Alisha Cooke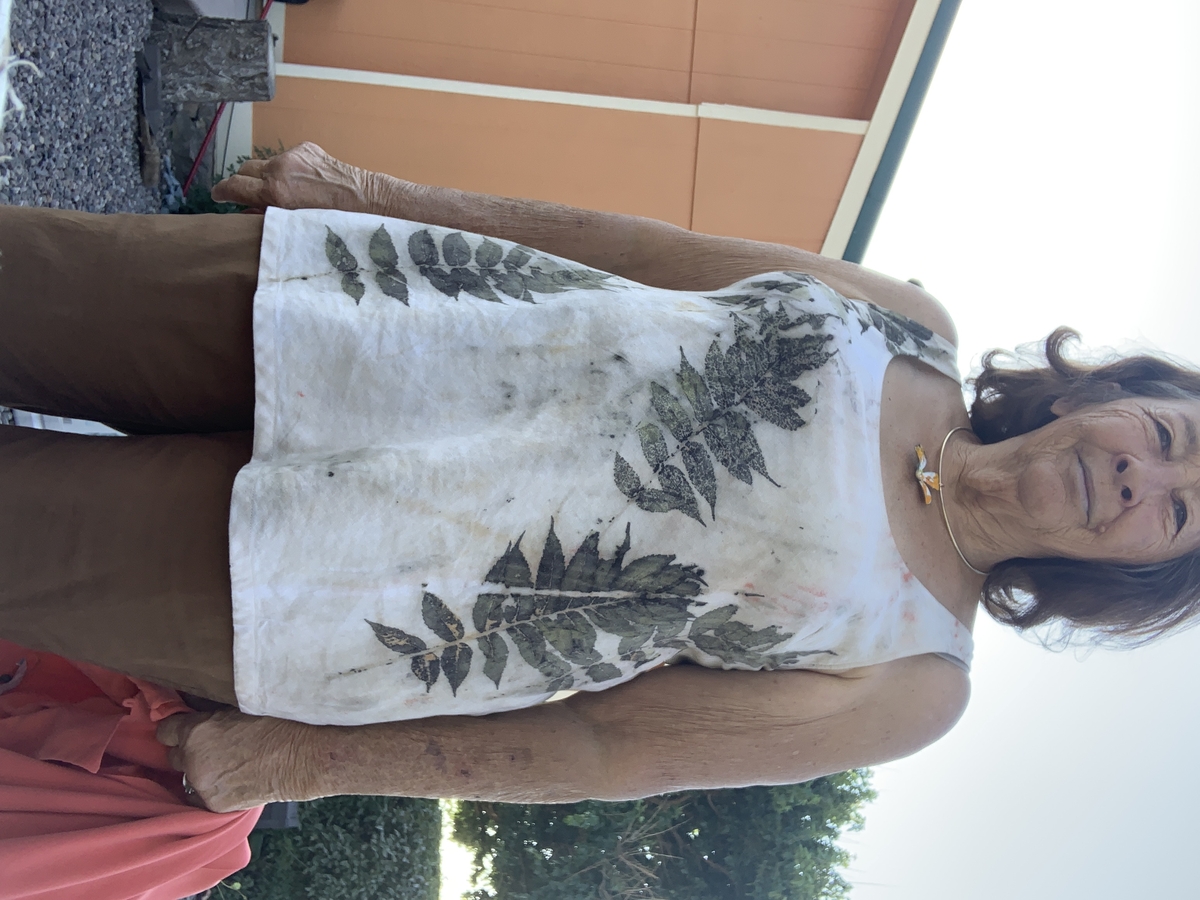 Lovely easy sew with good fit. After completing the sew, I did botanical printing with sumac leaves from my yard. The linen from this site is so great for botanical printing.
Posted by Trish Ferguson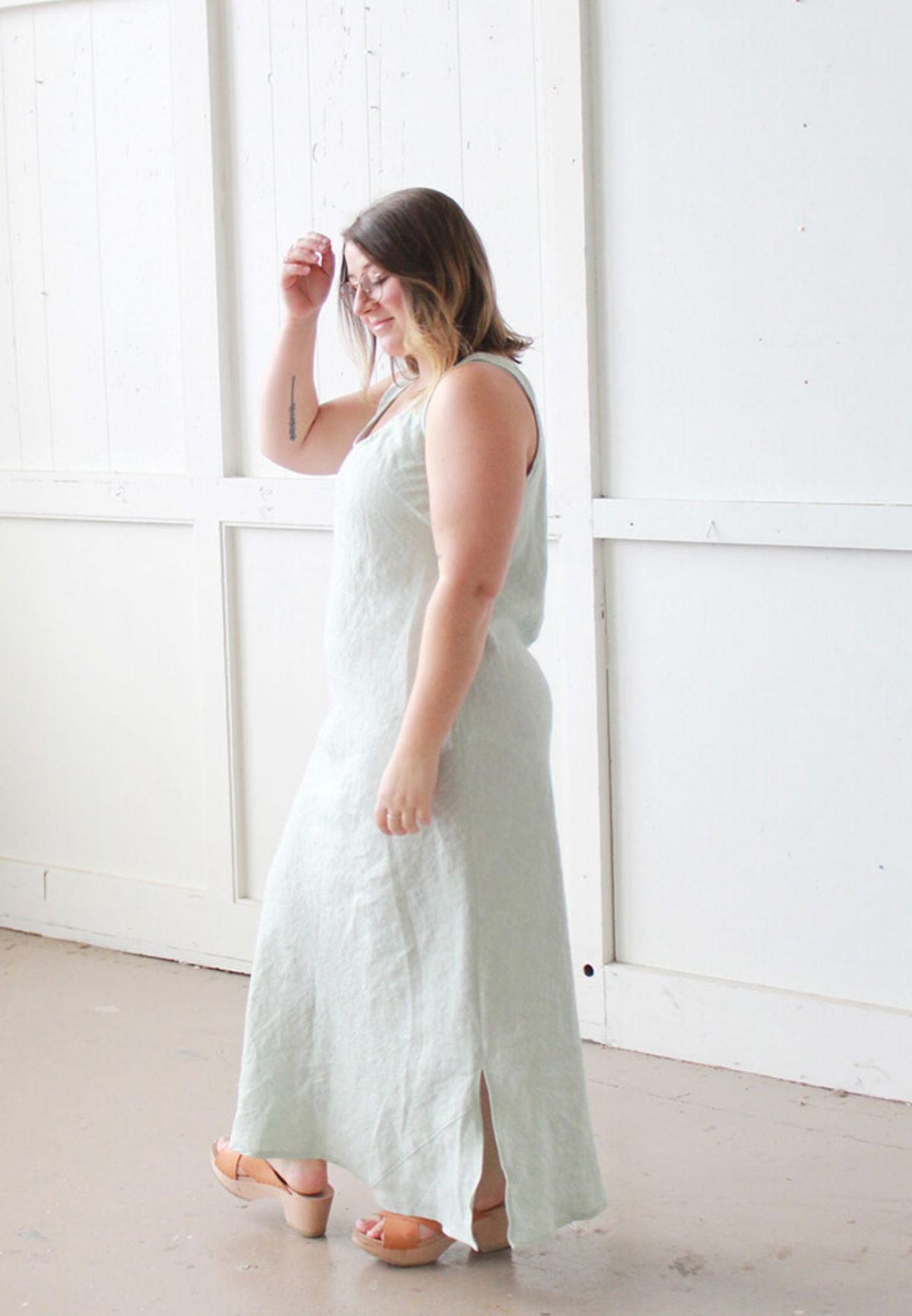 First things first, this NICO pattern is great. Not only does it come in the most high quality packaging, but it is simple to follow, gives you four styles to sew, and looks brilliant when finished. This dress will fit perfectly into my wardrobe. The size I chose was spot on, which is hard for these hips! I usually have problems with this kind of more fitted maxi dresses because of my curvy body, but I was so happy to find out that it fit me perfectly! I chose to sew the maxi version because I love the side slits and unique triangle accent at the bottom.
Posted by Brooke Anderson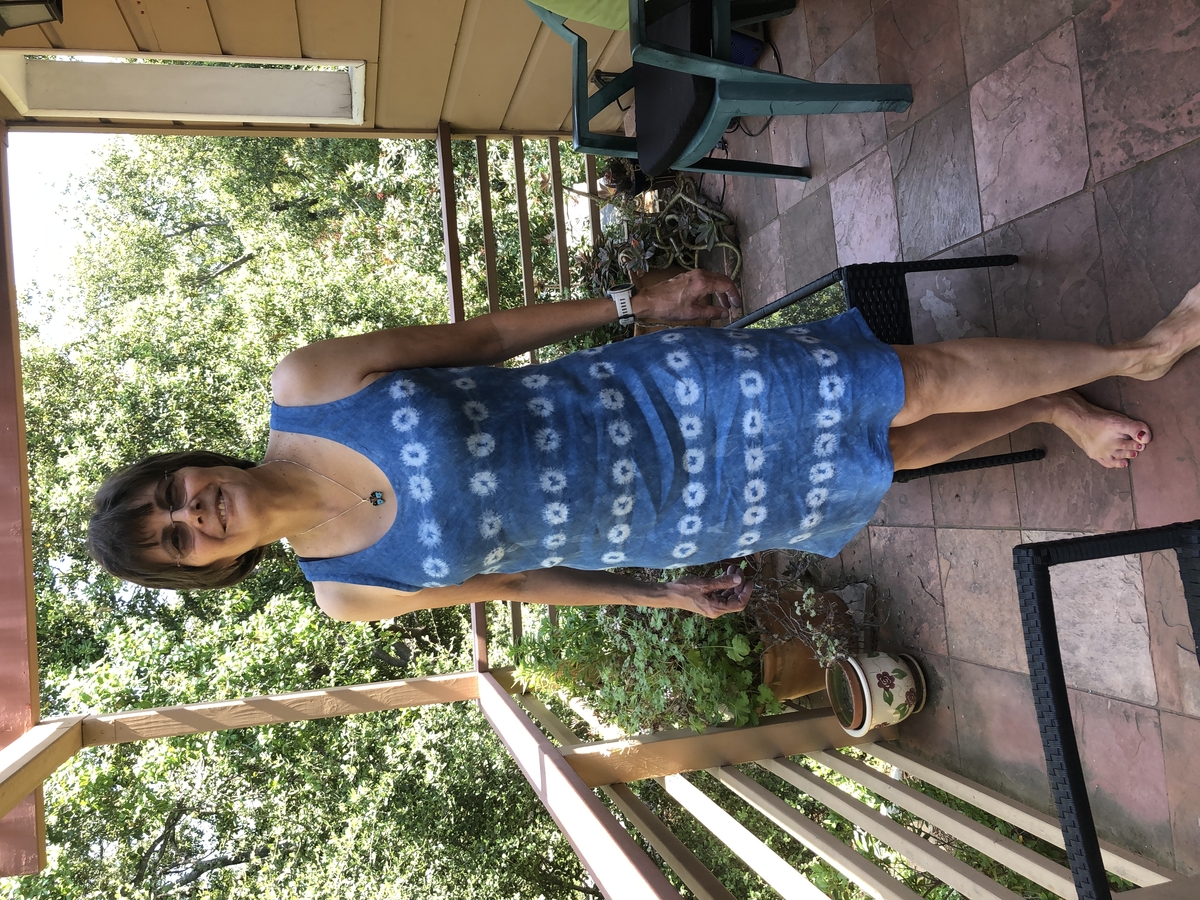 This is the Nico short dress. I raised the front neckline and slightly reduced the depth of the armhole. This was bleached mid-weight linen that I modified with shibori stitching and indigo dye.
Posted by Kathleen Kunysz
The Nico dress layered with the Zina shirt. I LOVE the way it turned out, but I too had some sizing issues. BUT what I LOVE about your patterns is the attention to detail and the use of quality sewing techniques like hiding seams and the way cuffs & collars are applied. I haven't used these techniques since college tailoring classes. I know my garments will last a LONG time which is critical to me as I have started a NO CLOTHES buying campaign about a year ago. With the help of the FS team I'm sure everyone can make this pattern fit. I had to add a little to the hips, shorten the top area, but it works!
Posted by Julie Sharrer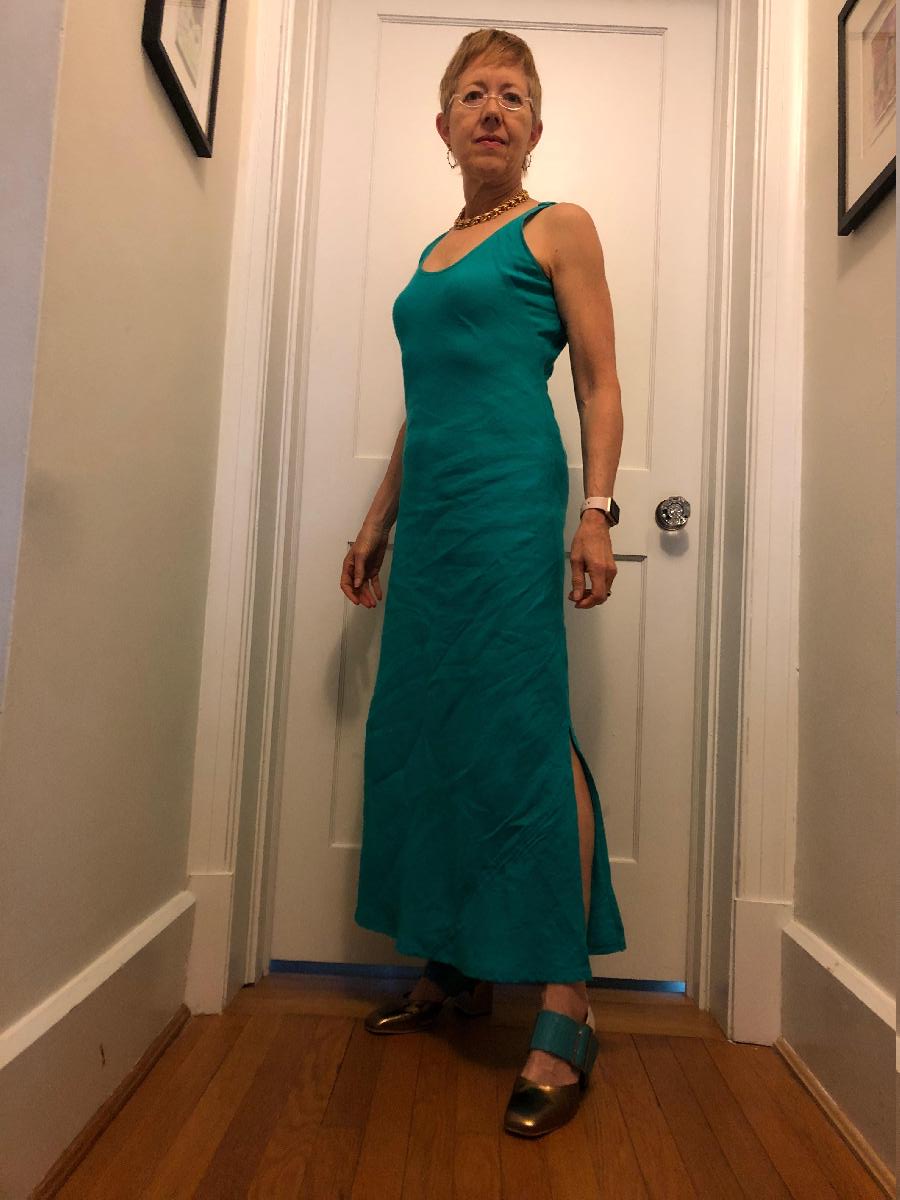 Long Nico in ceramic linen, from the pieced pattern right before the printed one came available. I chose the color to match these shoes! I ended up taking it in at the shoulders once it was all done, with the extra folds visible on the outside and embellished with abalone buttons.
Posted by Maggi Tinsley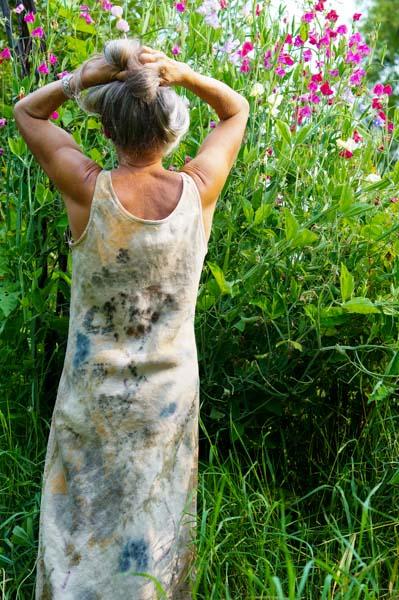 Back side of the Nico dress with plant dyes.
Posted by Blythe Barbo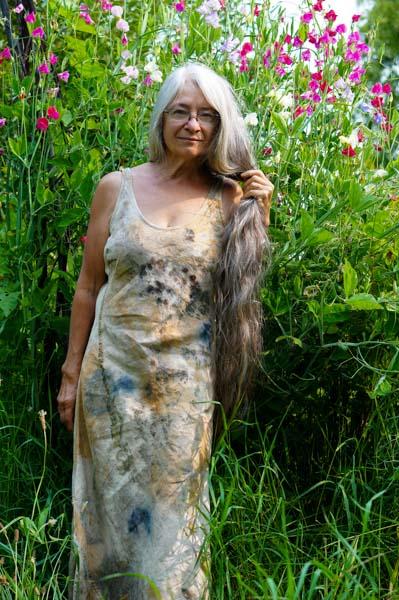 Eco-dyed Nico Dress in ILO19 bleached & softened
Posted by Blythe Barbo
Try Fabrics-Store.com Premium Home Sewing Pattern "NICO Bias Dresses and Tops" and Get 3 FREE Yards of 100% Linen Fabric
Regular Price $95.28 for Just $45.00+Shipping
You are covered by our 30-day guarantee. 
For any reason, if you don't absolutely love this fabric - please just send it back and I'll reimburse you immediately. Take 30 days to decide. No need to rush.
One on One Sewing Support
When you buy from this page - you also get one-on-one sewing support from a professional seamstress and never get stuck on a sewing step alone again.